Delicious, moist Lemon Loaf with a sweet glaze is easy to make at home! Even better than Starbucks lemon bread, this quick loaf is bursting with fresh lemon flavor.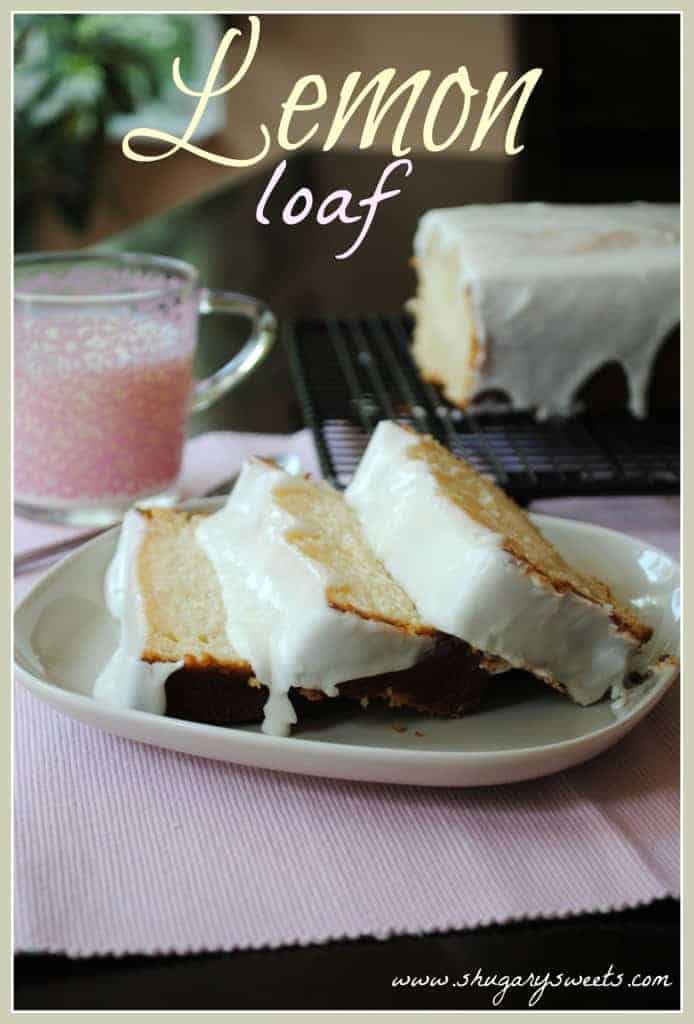 Another recipe inspired by a Starbucks bread! I love a slice of Starbucks lemon loaf, especially during the spring and summer. The texture is just the right balance between a firm crumb and a moist one that melts in your mouth.
Finally, I have perfected the recipe at home!
Why this recipe is best
The Internet is full of various lemon bread recipes, but I've yet to try another one that holds the smallest of candles to this one. Here are a few reasons why:
It uses real lemons! I'm not opposed to lemon extract or artificial flavoring in all cases, but in lemon loaf freshly squeezed juice and zest from real lemons makes all the difference.
Sour cream makes it moist. Ever make a bread that tasted great the first day but turned into a dry crumbly mess by day 2? That won't happen with this recipe. The sour cream locks in moisture so it tastes just as good the next day (or 2 or 3 days later!).
Simple syrup: Before topping your baked lemon loaf with lemon glaze, you poke it with tiny holes and drizzle lemon simple syrup over the whole thing.
It's lemon on lemon on lemon, folks. Need I say more?
Ingredient Notes
Like I mentioned above, you'll need fresh whole lemons to make this bread. I used 5 medium sized lemons and juiced and zested all of them just before making the batter.
I love using sour cream for the flavor and moisture. You can also substitute plain unsweetened Greek yogurt! It'll add even more tang to the finished loaf.
Step by Step Instructions
STEP 1. Make the bread
Mix the dry ingredients together in a medium sized bowl. In separate large mixing bowl, beat butter with sugar until fluffy and beat in eggs until fully incorporated.
Beat in lemon zest and 1/4 cup of lemon juice. Beat in flour mixture and sour cream in batches until fully combined.
Pour the batter into a loaf pan and bake for 50 minutes. Cover with foil and bake an additional 20 minutes.
Remove from oven and let sit in pan to cool about 15 minutes. Remove to wire rack.
STEP 2. Add the simple syrup
To make simple syrup, whisk together 1/4 cup sugar and 1/4 cup of the remaining lemon juice. Heat in a saucepan on low until sugar is completely dissolved and then remove from heat.
Use a toothpick to poke holes all over the top of your warm loaf. Spoon simple syrup over the top of the bread slowly until it's all dissolved into the bread. Allow to cool completely while you make the glaze.
STEP 2. Lemon glaze
Whisk together the powdered sugar, heavy cream and remaining lemon juice. Pour over cooled loaf and allow to sit for about 15 minutes so the glaze sets.
Slice and serve!
Tips and Tricks
Store this at room temperature tightly covered or in the fridge. I love the way this tastes cold too!
For the glaze, you can add as much or as little cream as you need to achieve the consistency you prefer.
I used a 9 x 5 inch loaf pan for this bread.
Make sure to spray your pan with baking spray! I also add a layer of parchment paper on the bottom just to be safe. It makes it easy to slide the baked loaf out of the pan without breaking.
I like cutting my slices extra thick, and I get about 10 slices per loaf. Then, I proceed to eat half of them if my family isn't quick to come get their share.
This bread will be going on the rotation of quick breads I make regularly. it's the perfect sweet quick bread that goes well with coffee, milk, tea and laughter!
With just the right amount of zing from the lemons and plenty of sweetness in the glaze, my fellow lemon dessert addicts will adore this Starbucks Lemon Bread too.