Paired with a cup of coffee and shared with a friend, Swedish Almond Cake makes any occasion sweeter! Dense cake with sweet almond topping.
Love almonds? These sweet Almond Bars are a favorite, for the holidays and all year long! For a chewy bar, try baking a batch of Coconut Almond Bars!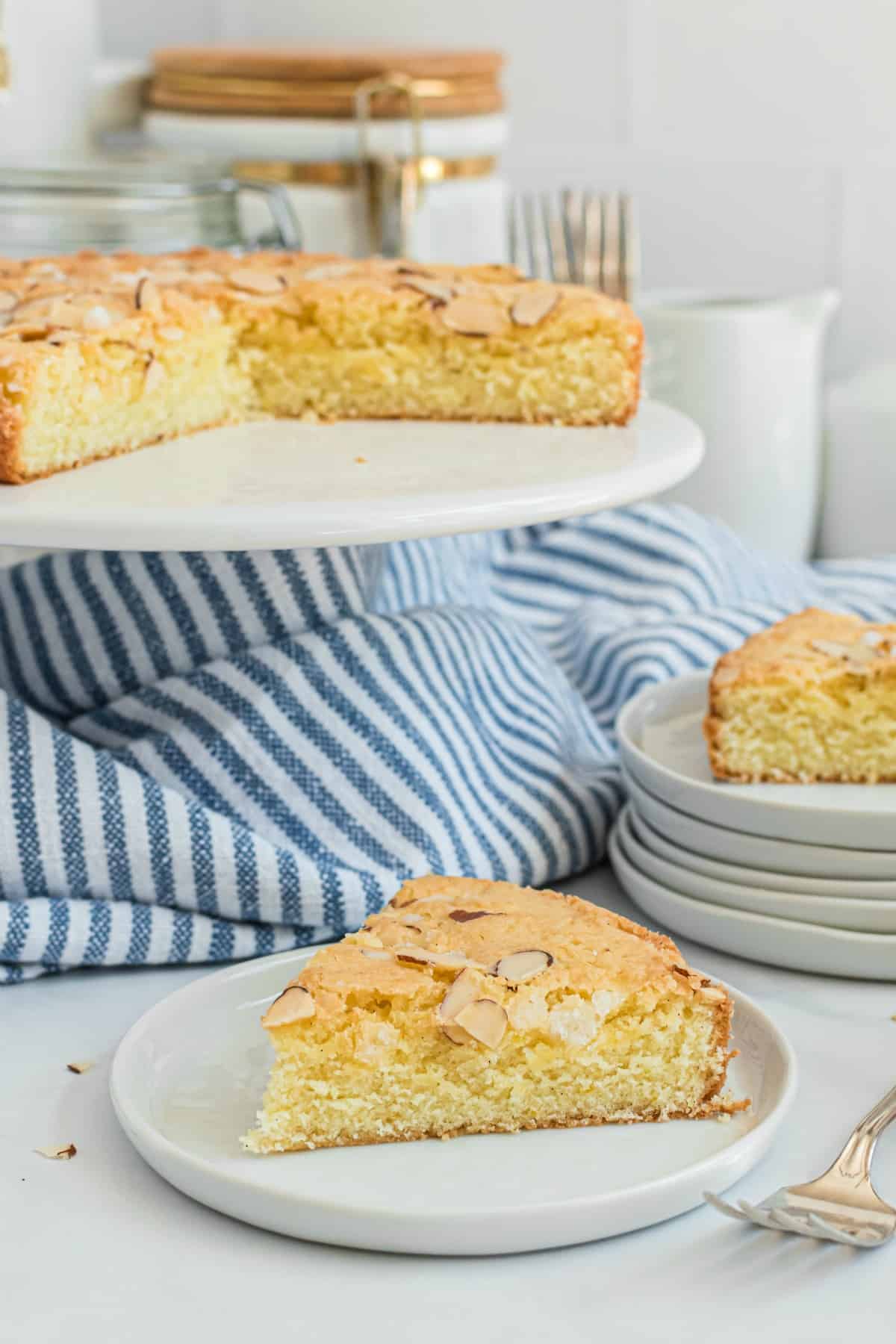 Cake for Breakfast
I love a perfect cake to go with my afternoon coffee. This friends, is that perfect cake. It's super moist, dense, and has a hint of lemon and almond.
In Sweden, there's a custom I love called "Fika." It translates to "have coffee" but means a little more than that.
The practice of Fika involves sitting down with a friend to chat over a cup of coffee and a snack. It's considered an essential part of each day; don't you love that?
I think we could all do with taking more time out of our busy lives to enjoy uninterrupted time with our friends–especially if cake is involved!
A slice of this Swedish Almond Cake or a plate of Swedish Heirloom Cookies are ideal accompaniments to that afternoon coffee and conversation.
While other coffee cakes are airy with a crumb topping, Swedish Almond Cake is closer to a cookie in texture and crusted with sugared almonds.
The moist dense texture and not-too-sweet almond flavor make it a delightful afternoon pick-me-up or tea party treat.
I've even been known to sneak a slice or two with my morning coffee for breakfast! Best of all, this tasty almond cake recipe is one of the least complicated cakes to make. There's no messing with frosting or toppings, just mix the batter, bake and enjoy.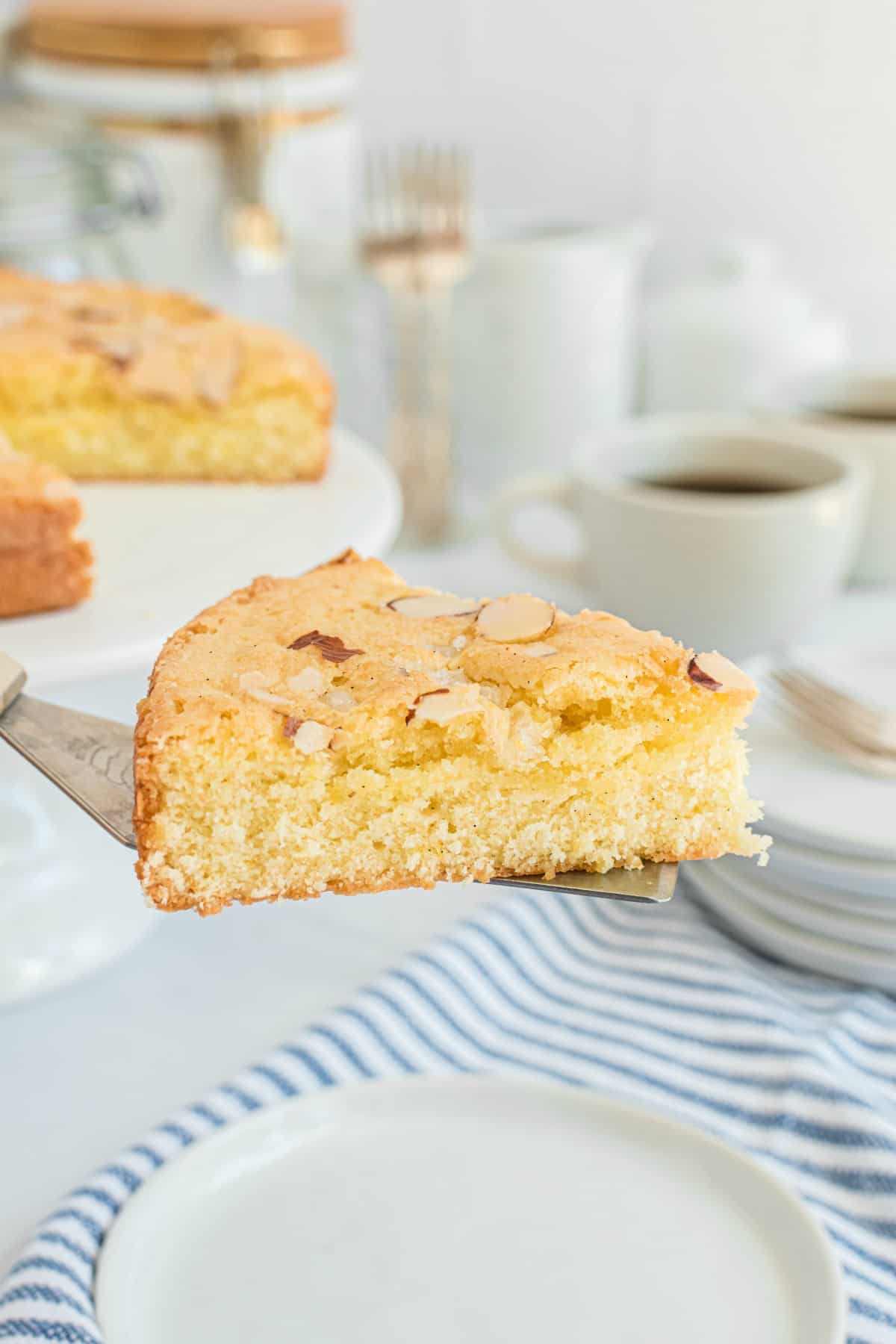 Vanilla Sugar – Secret Ingredient
This Swedish Almond Cake gets its great flavor from vanilla sugar and almond extract. Lemon zest brightens everything up while using melted butter in the batter is key for achieving the texture that makes this cake irresistible.
If you've never baked with vanilla sugar before, you're in for a treat. Vanilla sugar is sugar infused with vanilla beans.
It's typically made by letting vanilla beans sit in a jar of white granulated sugar for a long period of time.
While not as common in the U.S.A., it's a central ingredient to many Swedish, Hungarian and German recipes, like this almond cake.
NOTE: Vanilla sugar is NOT just sugar mixed with vanilla extract! Using vanilla extract in this recipe will affect the texture and may overwhelm the almond and lemon. Vanilla sugar brings a light vanilla taste and aroma to the cake in a way that vanilla extract can't quite acheive.
You can purchase vanilla sugar at some specialty food stores but it's also easy to make your own!
The process takes a little time, as you leave fresh vanilla beans straight from the pod in a jar of sugar for at least a week to infuse it with flavor.
But once you have it on hand, you'll be ready to make so many delicious recipes, including Swedish Almond Cake. (also delicious in your coffee!)
How to Make Swedish Almond Cake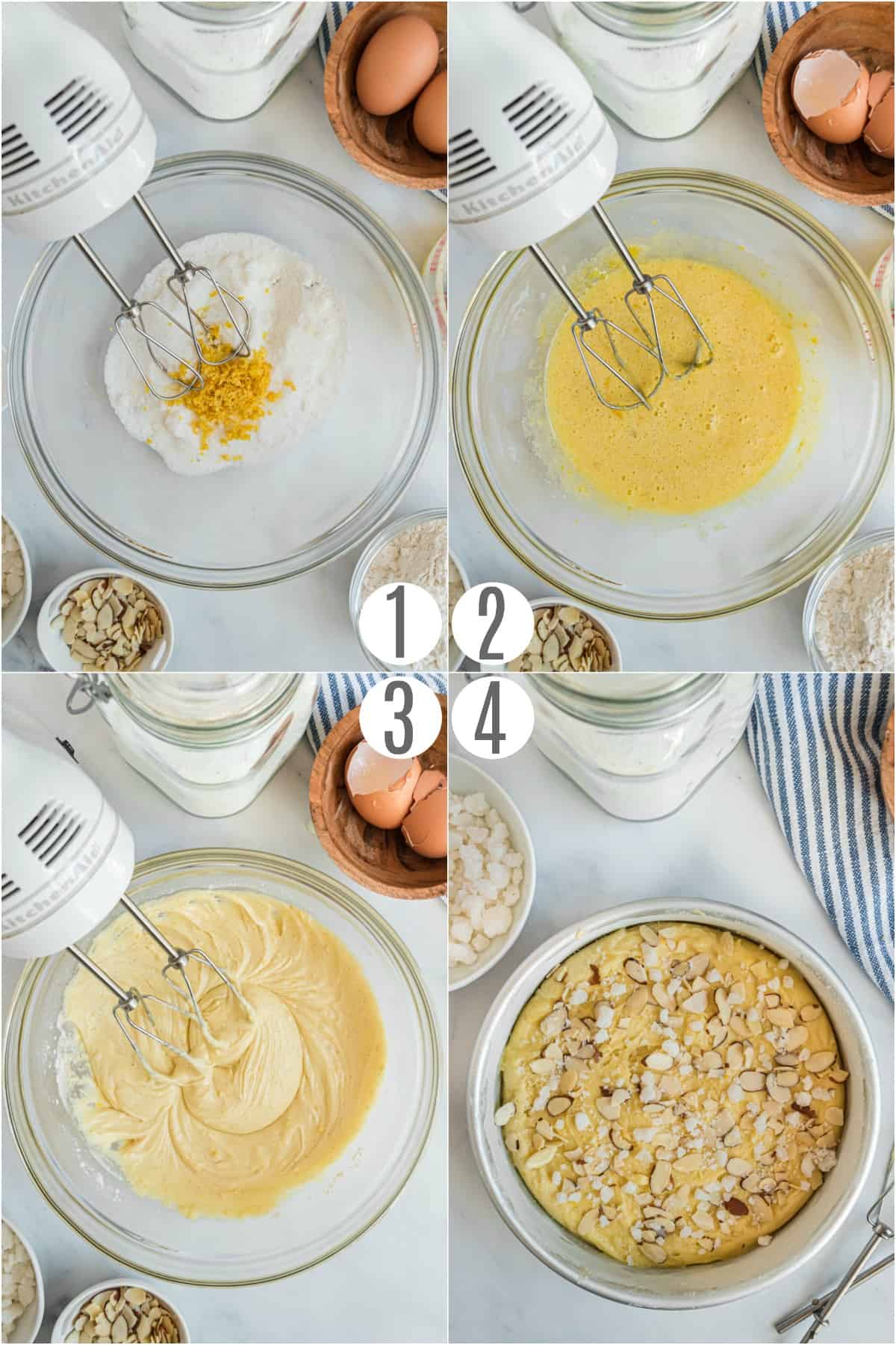 My almond cake recipe comes together in just three steps.
STEP 1. Make the cake batter
In a mixer, blend vanilla sugar with zest from one lemon. Beat in eggs, one at a time. Add in salt and almond extract then mix in the flour and melted butter.
STEP 2. Top with Almonds
Pour the cake batter into a greased and floured 9 inch cake pan (You can also use my homemade cake release for the pans).
Sprinkle the top with coarse sugar and sliced almonds. You can get fancy with a pattern here or just sprinkle free form. Either way the cake will look elegant and taste wonderful.
STEP 3. Bake
Bake in a 350 degree oven for about 25 minutes. Remove from oven, cool several minutes before turning out of pan.
Swedish Almond Cake can be enjoyed warm or cooled to room temperature. I love it served both ways!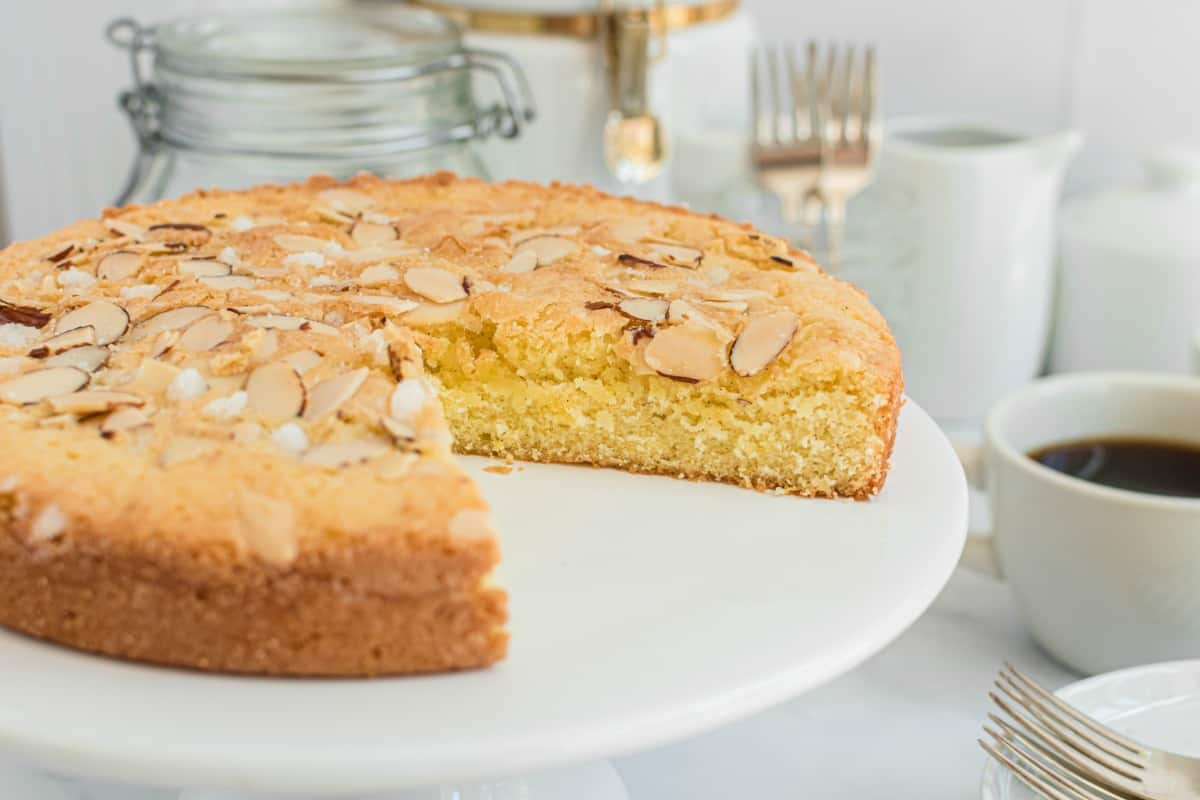 Take a break from the hustle and bustle to enjoy a slice of almond cake and a cup of coffee with a friend. This traditional Swedish cake is easy to make with a one-of-a-kind texture and delightful almond flavor.