Cream Cheese Coffee Cake
Thick Cinnamon Coffee Cake has a layer of Cream Cheese and topped with a crunchy Cinnamon Streusel. This coffee cake NEEDS to be made for family and friends. I dare you!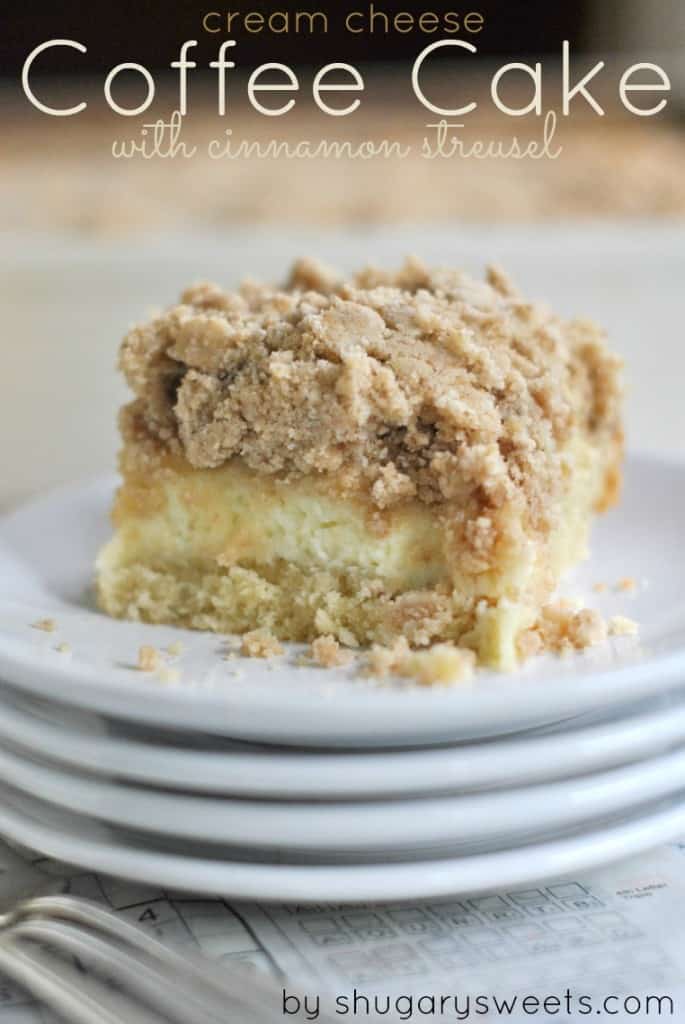 I love coffee. I think I may have mentioned this once or twice on the blog.
I'm not much of a breakfast eater though. Unless of course it involves some sort of pastry or baked good. Then I'm all. over. it.
Today I've teamed up with Jocelyn and Keurig to bring you not only this delicious coffee cake recipe, but a giveaway so you can have your own Keurig brewing system.
I LOVE my Keurig. Here's how far my addiction to coffee goes. Sometimes, while my pot of coffee is brewing in the morning, I'm too impatient so I make myself a delicious cup of coffee in my Keurig while I wait. Yep, I've done that.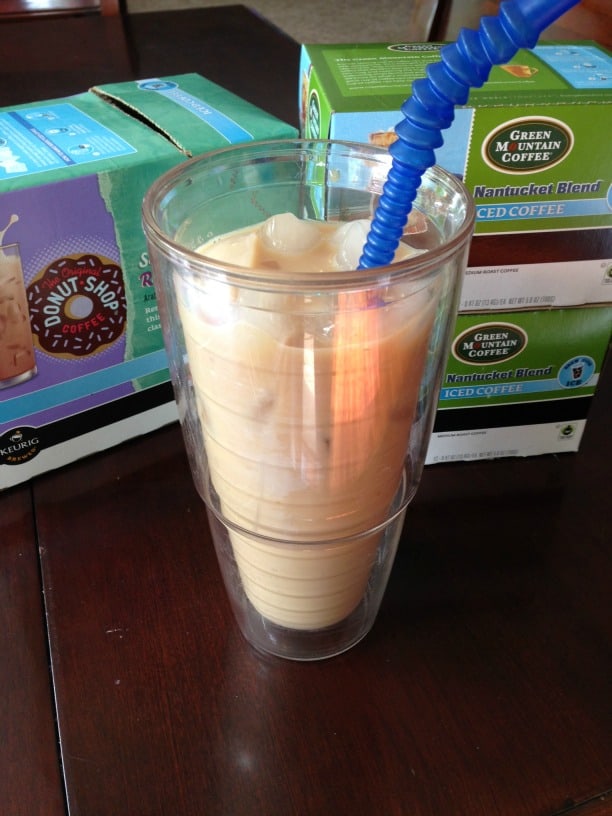 But my favorite way to use my Keurig is for my afternoon coffee. Around 2pm I start hitting a wall. I'm usually swamped in writing and editing photos. Now that summer is here my schedule has changed. You can now find me sitting outside reading a book while my kids are playing with friends, or working in my garden, or lounging at the pool. All of these activities REQUIRE coffee. Iced coffee. You know, cause it's summer.
Did you know you can brew Iced Coffee in your Keurig? Fill a big cup with ice and use the special Iced Coffee k-cups. My favorite is the Donut Shop Sweet & Creamy. They are already sweetened and so good! One lucky winner will not only receive the Keurig brewing system, but they will also some Sweet and Creamy Iced coffee and a box of Nantucket Blend Iced Coffee. Very cool right? Be sure you enter the Rafflecopter below. It's super easy!
But first. Before the giveaway. This coffee cake. This THICK, gorgeous coffee cake.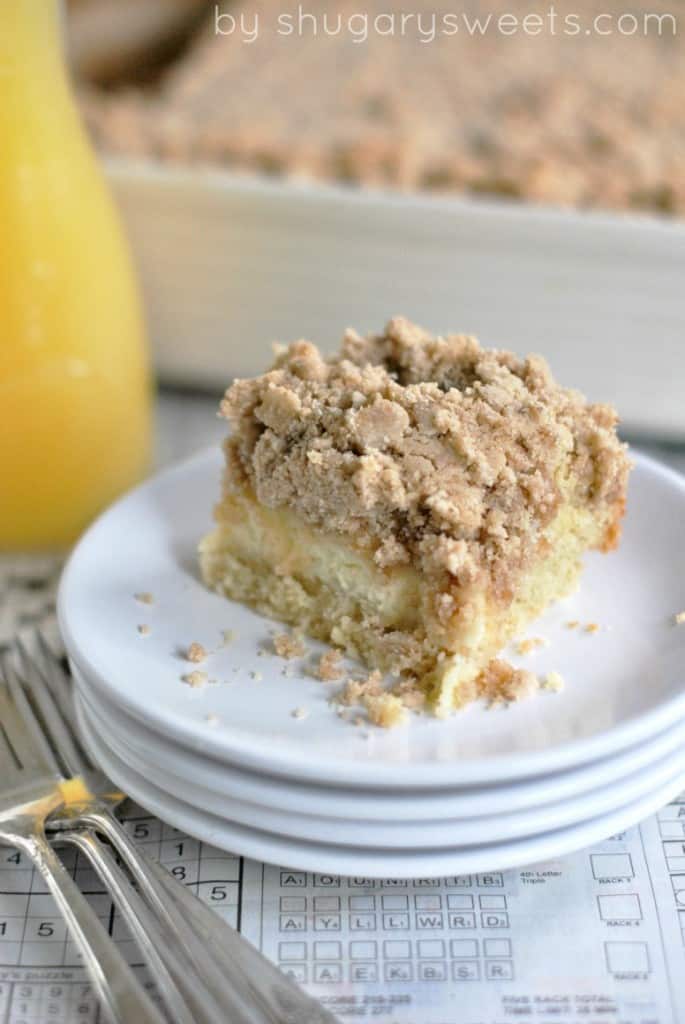 Not only does this coffee cake have a moist texture, but I've added in a layer of cream cheese (don't question my decisions!) and topped it with a generous helping of cinnamon streusel. The streusel is very necessary. Yes? Are we in agreement here?
Check out Jocelyn's recipe today for Salted Caramel Mocha Bundt Cake. I'm pretty sure I can get addicted to that too!
Connect with Keurig
***Keurig provided some product for review and giveaway to Shugary Sweets and Inside Brucrew Life. All opinions expressed are 100% my own.***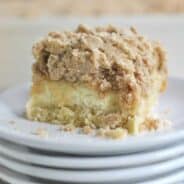 Cream Cheese Coffee Cake with Cinnamon Streusel
Yield: 16 servings
Prep Time:20 minutes
Cook Time:40 minutes
Thick Cinnamon Coffee Cake has a layer of Cream Cheese and topped with a crunchy Cinnamon Streusel. This coffee cake NEEDS to be made for family and friends. I dare you!
Ingredients:
For the Cake:
2 1/2 cup all purpose flour
1 cup granulated sugar
1/2 tsp baking powder
1/2 tsp baking soda
1/4 tsp kosher salt
3/4 cup unsalted butter, softened
3 eggs
2 tsp vanilla extract
2/3 cup buttermilk
For the Filling:
2 pkg (8oz each) cream cheese, softened
1/2 cup granulated sugar
1 egg
For the Streusel:
1 cup light brown sugar
1/3 cup granulated sugar
2 tsp ground cinnamon 1/4 tsp kosher salt
1 cup unsalted butter, melted
3 cup all purpose flour
Directions:
For the cake, grease and flour a 13x9 baking dish and set aside. In a mixing bowl, beat flour, sugar, baking powder, baking soda and salt on low until combined. Beat in softened butter until mixture is crumbly. Add in eggs, vanilla and buttermilk and beat until fully combined and fluffy! Pour half the batter into baking dish, spreading evenly.
In a separate mixing bowl, beat cream cheese with sugar and egg until light and fluffy, about 3-5 minutes. Pour over batter. Top with remaining half of cake batter.
For the topping, mix sugars with cinnamon and salt. Add in butter and combine fully. Add flour and mix with hands until fully combined.
Pour crumb topping over batter, sprinkling with hands until evenly distributed.
Bake cake in a 325 degree oven for about 45 minutes, until fully cooked. Cool completely and serve.
**recipe inspired by Cook's Illustrated May 2007**
MAKING THIS RECIPE? Share it with me on Instagram using the hashtag #ShugarySweets so I can see what you're cooking up in the kitchen!