Thick Cream Cheese Coffee Cake has a layer of cheesecake and is topped with a crunchy Cinnamon Streusel. This coffee cake NEEDS to be made for family and friends. I dare you!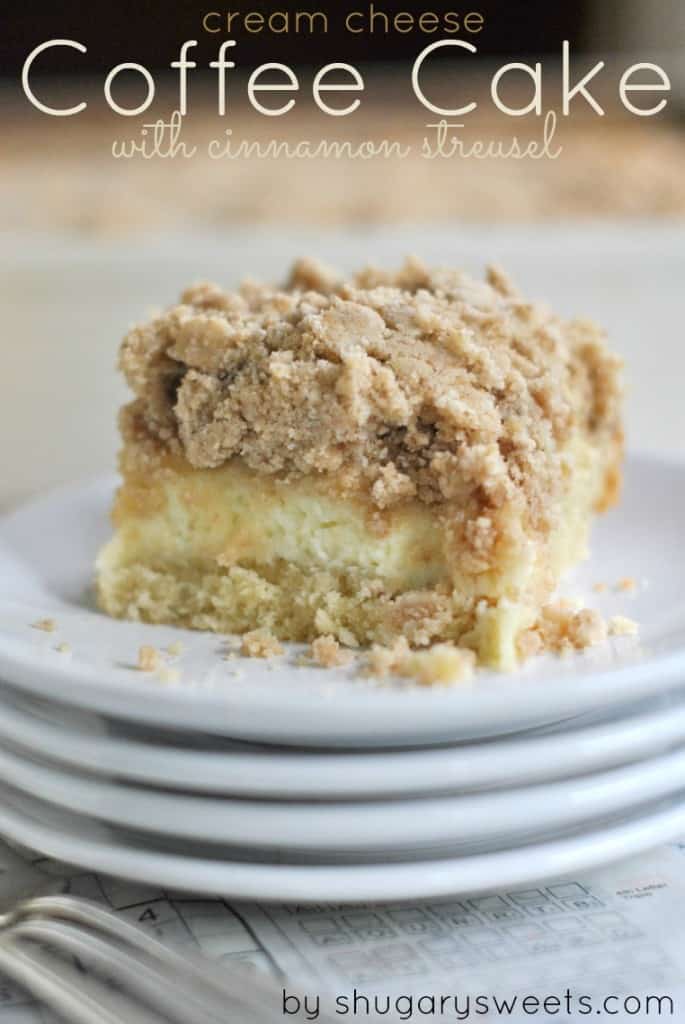 Click HERE to save recipe to Pinterest!
I love coffee. Maybe I may have mentioned this once or twice on the blog?
I'm not much of a breakfast eater though. Unless of course it involves some sort of pastry or baked good. Then I'm all. over. it.
Making breakfast cakes is totally my jam.
But, not going to lie, this Cream Cheese Coffee Cake is one of my favorites, with it's thick filling and crunchy streusel topping!
Not only does this coffee cake have a moist texture, but I've added in a layer of cream cheese (don't question my decisions!) and topped it with a generous helping of cinnamon streusel. The streusel is very necessary. Yes? Are we in agreement here?
How to make Cinnamon Coffee Cake:
You'll want to grease and flour your 13×9 baking dish. Or, this can be made in two 9-inch cake pans (same oven temperature and bake time).
Once you make the cake batter and pour it into the dish, you'll need to make the cream cheese filling. Make sure you start with softened cream cheese!
Pour your cheesecake filling onto the cake batter, and get started on your streusel. I like to use my hands to combine the streusel ingredients, but a pastry blender works too!
Generously cover your cake in streusel and bake in a 325 degree oven for 45 minutes. Remove from oven and cool. ENJOY!

What do I need to make homemade Cream Cheese Coffee Cake?
Decide if you'll be using a 13×9 or two 9-inch cake pans
Have all your ingredients ready before starting.
An appetite. This cake is amazing, and you'll find yourself enjoying slice after slice!
If you love this Cinnamon Streusel Coffee Cake, here are some more delicious ideas:
Cream Cheese Coffee Cake recipe:
Yield: 16 servings
Cream Cheese Coffee Cake with Cinnamon Streusel
Thick Cinnamon Coffee Cake has a layer of Cream Cheese and topped with a crunchy Cinnamon Streusel. This coffee cake NEEDS to be made for family and friends. I dare you!
Ingredients
For the Cake:
2 1/2 cup all purpose flour
1 cup granulated sugar
1/2 tsp baking powder
1/2 tsp baking soda
1/4 tsp kosher salt
3/4 cup unsalted butter, softened
3 eggs
2 tsp vanilla extract
2/3 cup buttermilk
For the Filling:
2 pkg (8oz each) cream cheese, softened
1/2 cup granulated sugar
1 egg
For the Streusel:
1 cup light brown sugar
1/3 cup granulated sugar
2 tsp ground cinnamon 1/4 tsp kosher salt
1 cup unsalted butter, melted
3 cup all purpose flour
Instructions
For the cake, grease and flour a 13x9 baking dish and set aside. In a mixing bowl, beat flour, sugar, baking powder, baking soda and salt on low until combined. Beat in softened butter until mixture is crumbly. Add in eggs, vanilla and buttermilk and beat until fully combined and fluffy! Pour half the batter into baking dish, spreading evenly.
In a separate mixing bowl, beat cream cheese with sugar and egg until light and fluffy, about 3-5 minutes. Pour over batter. Top with remaining half of cake batter.
For the topping, mix sugars with cinnamon and salt. Add in butter and combine fully. Add flour and mix with hands until fully combined.
Pour crumb topping over batter, sprinkling with hands until evenly distributed.
Bake cake in a 325 degree oven for about 45 minutes, until fully cooked. Cool completely and serve.
Notes
**recipe inspired by Cook's Illustrated May 2007**


**This delicious Cream Cheese Coffee Cake recipe was originally published on Shugary Sweets on June 9, 2013 and has been republished in April 2018.