Cinnamon Glazed Banana Streusel Muffins
I love banana muffins! Especially these delicious Cinnamon Glazed Banana Streusel Muffins!! Perfect for a weekday breakfast, weekend brunch, or after dinner treat!
Be sure to follow me on Bloglovin'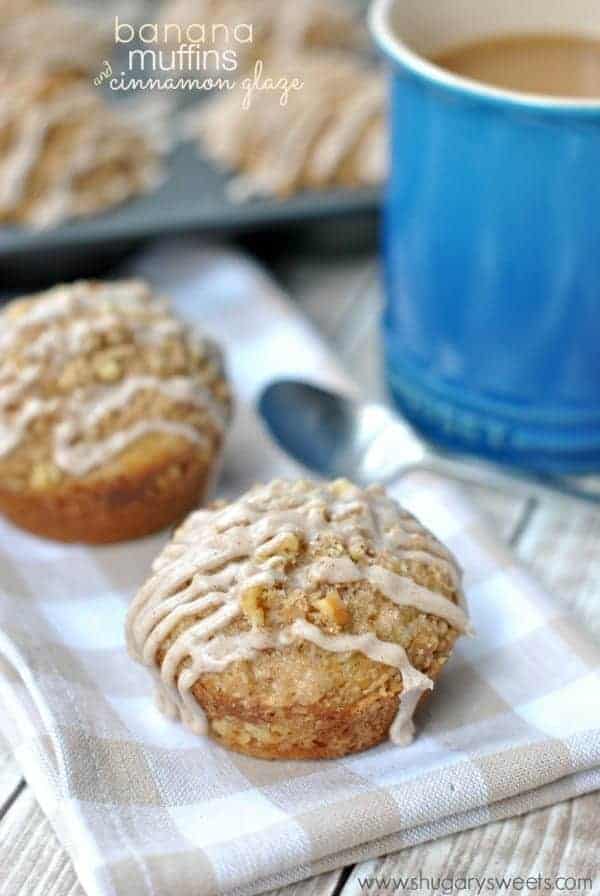 So. It happened. We bought a house!! We will be back in Illinois in one month!
It's so crazy the way life takes twists and turns. I never imagined moving back there…but as it turns out we are moving back to the same town we came from. Weird, right?
I'm pretty excited.
We are moving closer to family and friends.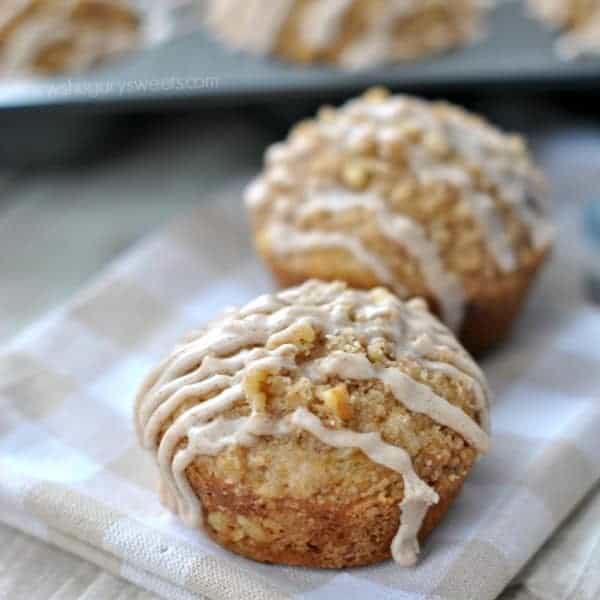 Which translates into more people to share baked goods with!  No seriously guys. I am looking forward to having my parents over for coffee and muffins.
Or my grandma.
Or some of my BFF's.
It's funny because I didn't start my blog until I moved away. This little blog of mine was originally a way to share pictures of my kids with family and friends (after we moved away).
In 2011 I eventually started sharing recipes (and getting comments from strangers!). I changed the name of the blog to Shugary Sweets in April 2011 and started taking this job seriously.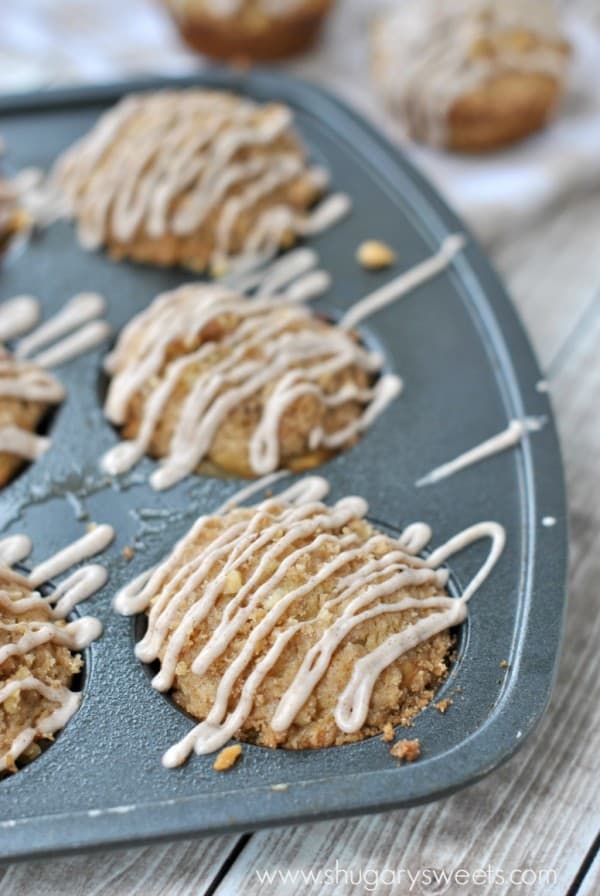 But tell me, how does making delicious food for a living sound to you? Sometimes I have to pinch myself when I realize how awesome my "job" is!
I get companies sending me products to try. I get paid to write recipes. I get paid to EAT products and recipes.
Life is good.
And so are these muffins!
Between the crumble on top and the cinnamon glaze, I'm pretty sure I ate half the batch during the "photo shoot."
I did freeze some after glazing too. Obviously the glaze gets sticky when you go to thaw them out, but they still tasted amazing. You could freeze them BEFORE glazing too, and add the glaze after they are thawed. Your choice!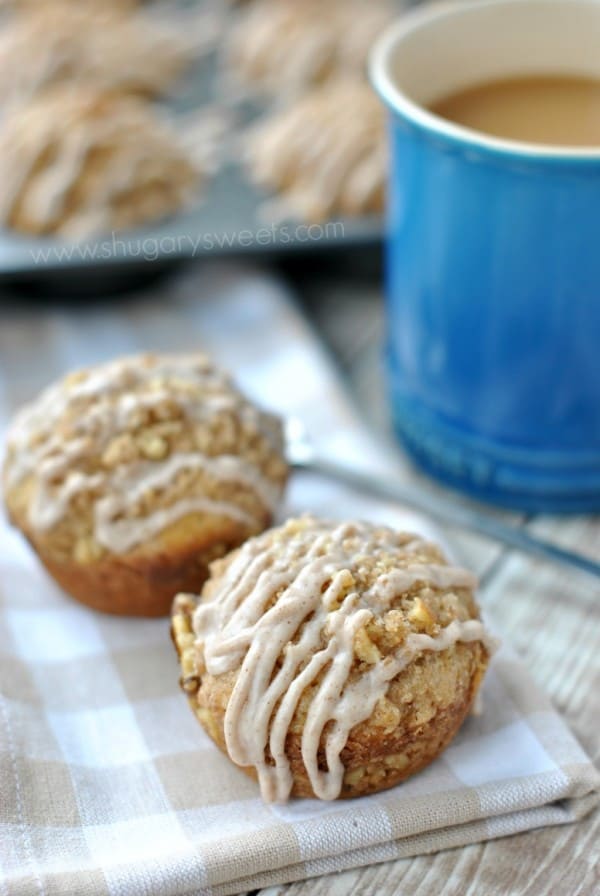 Connect with Shugary Sweets! Be sure to follow me on my social media, so you never miss a post!
Pinterest | instagram | Bloglovin'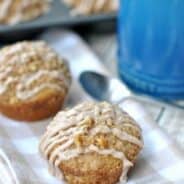 Cinnamon Glazed Banana Streusel Muffins
Yield: about 18 muffins
Prep Time:10 minutes
Cook Time:15 minutes
Ingredients:
For the muffins:
1/2 cup unsalted butter, softened
1 cup granulated sugar
2 large eggs
1 tsp vanilla extract
3 large bananas (about 1 1/2 cup mashed)
2 cup all-purpose flour
1 tsp baking soda
1 tsp baking powder
1/2 tsp kosher salt
1/2 cup chopped walnuts
1/4 cup buttermilk
For the streusel:
1/4 cup all-purpose flour
1/4 cup granulated sugar
1/4 cup light brown sugar, packed
1 tsp cinnamon
2 Tbsp unsalted butter, softened
1/4 cup chopped walnuts
For the glaze:
1 cup powdered sugar
1 tsp cinnamon
1/3 cup heavy cream
Directions:
For the muffins, beat butter with sugar for about 3 minutes. Add eggs and vanilla, beat until combined. Add bananas, beating until combined (you can mash before, or toss them in whole and let them mash in the mixer). Add flour, baking soda, baking powder and salt until blended. Beat in buttermilk, fold in walnuts.
Spray cupcake tin with baking spray. Batter will fill about 18 muffins.
In a small bowl, mix streusel topping ingredients together. I use my hands to combine the butter with the remaining ingredients until crumbly. Divide topping evenly over muffins (about 1 Tbsp each).
Bake muffins in a 350 degree oven for about 15-18 minutes. Remove and cool completely before applying glaze.
For the glaze, whisk together the powdered sugar, cinnamon and heavy cream until smooth.
Drizzle over cooled muffins and allow to set (about 10 minutes). Store in airtight container at room temperature for up to 5 days. Or freeze in freezer bags. ENJOY.
MAKING THIS RECIPE? Share it with me on Instagram using the hashtag #ShugarySweets so I can see what you're cooking up in the kitchen!
Love Banana recipes?
Cream Cheese Frosted banana nut scones….frosting for breakfast? Yes please!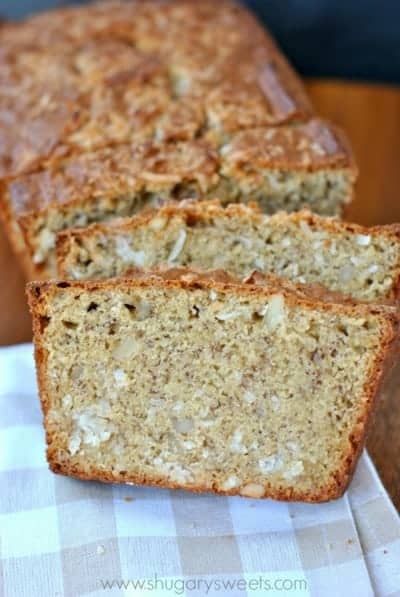 Coconut Banana Bread…moist banana bread with coconut and macadamia nuts!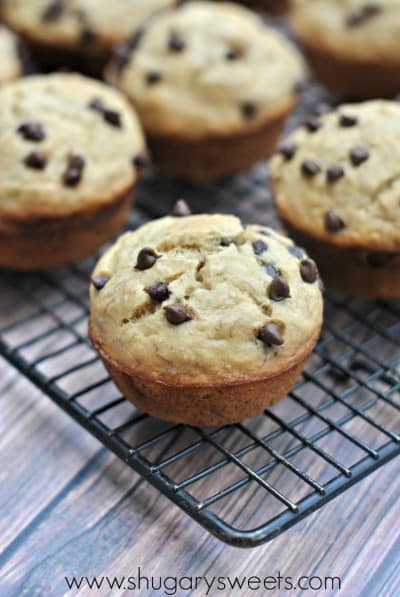 Skinny Banana Chocolate Chip Muffins…a perfect, low fat muffin recipe. You will LOVE how good this tastes!
More Banana goodies from some of my favorite blogs: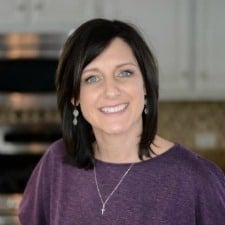 Aimee is a dessert lover (specifically rice krispie treats), workout enthusiast, self-taught foodie, and recipe creator. Her recipes have been featured in over 15 magazines, and her passion is to share her love of cooking with the everyday home cook! Learn more about Aimee.