Banana Streusel Coffee Cake with Maple Glaze is the perfect breakfast for your family and friends. This easy recipe has a moist, banana crumb cake with crunchy streusel topping and sweet maple icing. Makes two delicious, freezer friendly cakes!
Love classic banana recipes? This Classic Banana Bread Recipe has been in our family for years. If it's coffee cake you're after, Cinnamon Roll Coffee cake is my idea of perfection!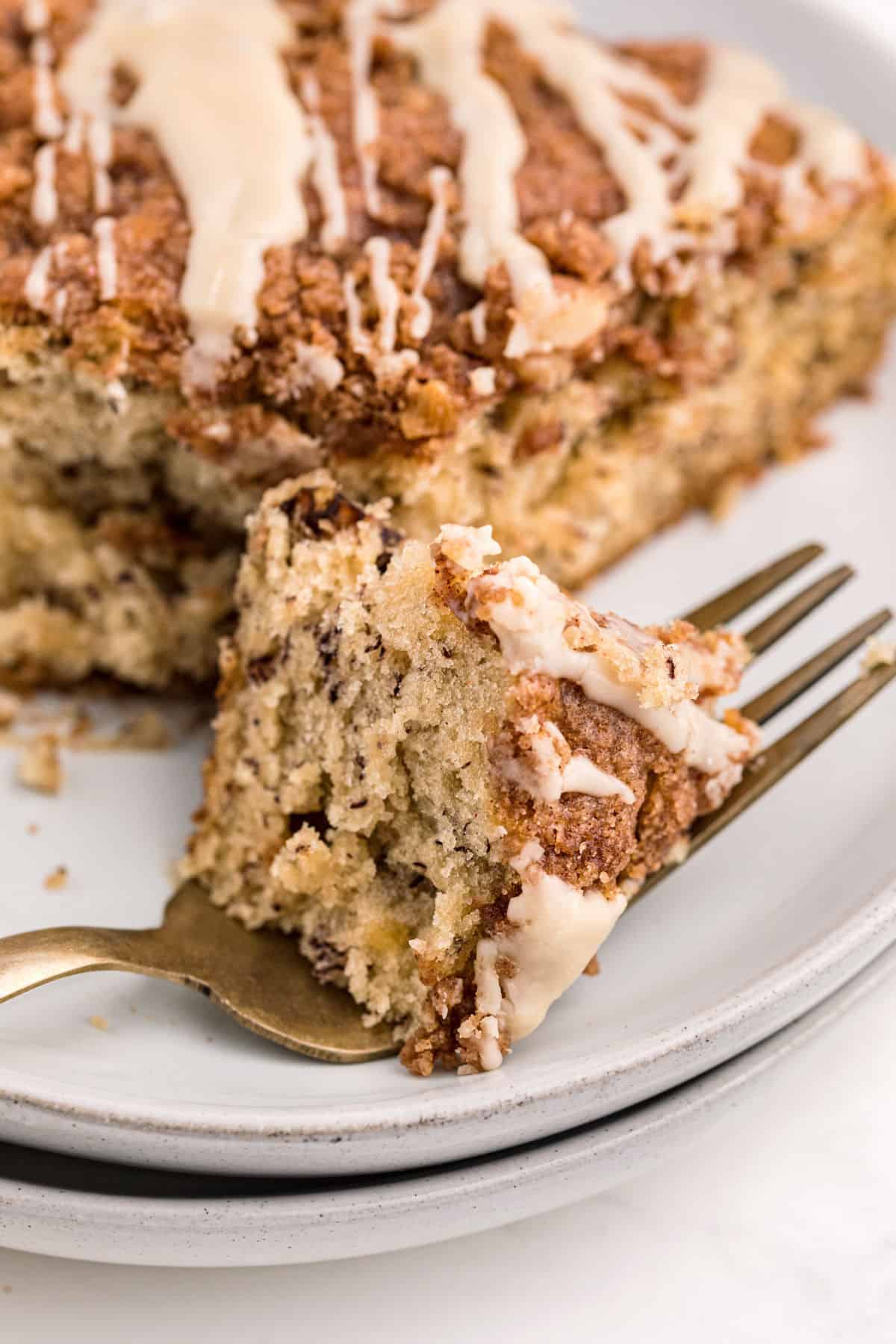 Why this Recipe Works
Today's recipe brings together two classics: banana cake and coffee cake!
Both fall firmly into the category of baked goods I call "Breakfast Dessert." Because you can serve it for dessert one day, then dig into the leftovers for breakfast the next morning!
This Banana Coffee Cake is also amazing baked fresh for a special brunch or breakfast.
Tender, moist banana cake
Brown sugar streusel
Maple glaze to top it off
Bakes TWO freezer friendly cakes, perfect for a crowd, or sharing.
If you're looking for a banana cake recipe that feels a little extra special, Banana Streusel Coffee Cake is the answer!
Ingredient Notes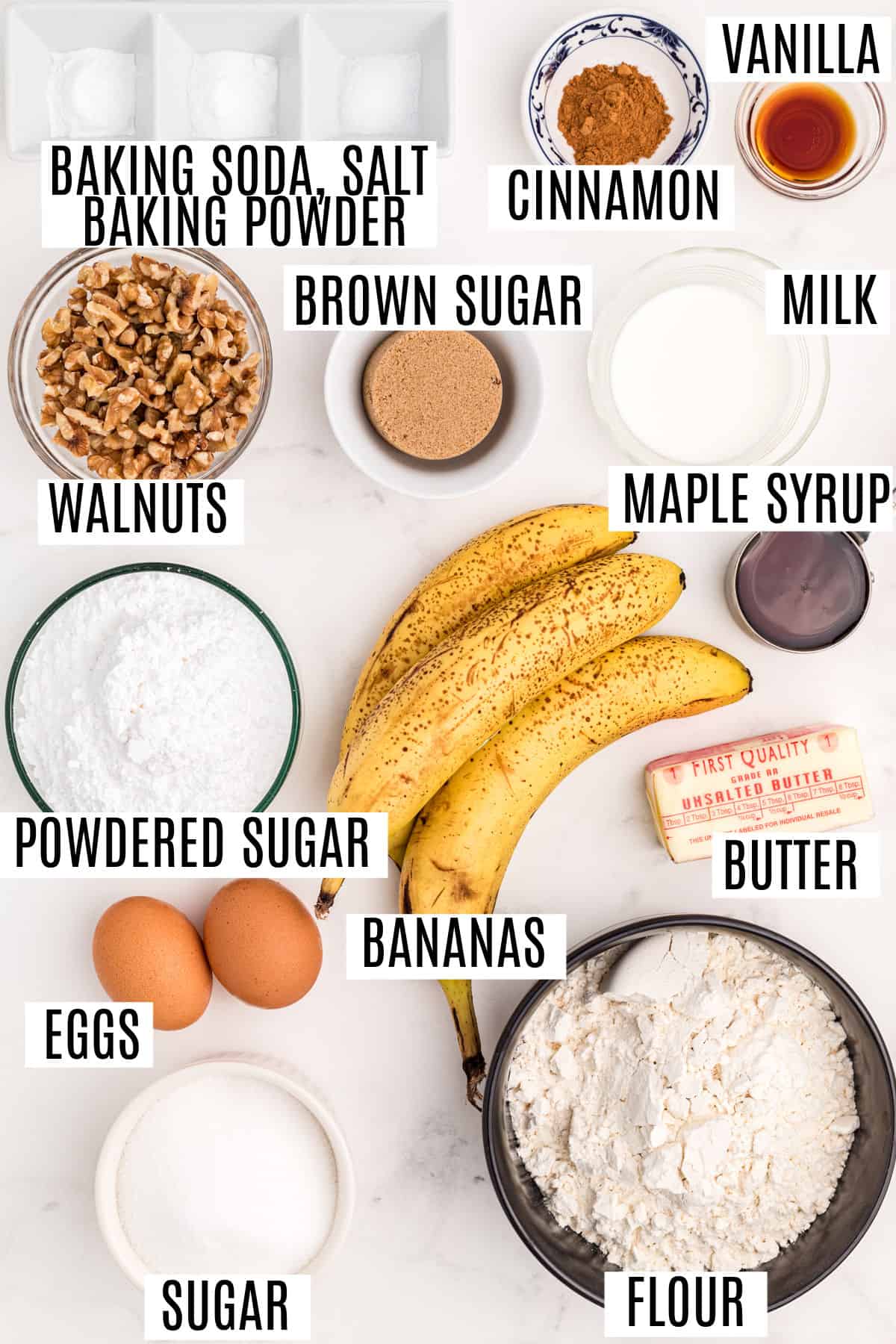 Bananas. Ripe to overripe bananas are best for this cake and all my banana baked goods. Brown spots means they're extra sweet and moist. Use our guide on how to ripen bananas in 20 minutes!
Flour. Be sure to measure the flour correctly, you'll need all-purpose flour for today's cake.
Sugars. The brown sugar topping is perfect on this moist cake!
Butter. You'll need to soften the butter before starting. I always use unsalted butter, unless noted. If using salted butter, omit the kosher salt in this recipe.
Vanilla Extract. Use real vanilla (not imitation). My homemade vanilla extract is perfect for baking!
Walnuts. The nuts are completely optional, you could also substitute toasted pecans if desired.
Maple syrup. Please use REAL maple syrup in this glaze (not pancake syrup!).
TOOLS: You'll need two 9-inch round cake pans. Use a baking spray with flour to grease them, or my homemade cake release works perfect.
Easy Instructions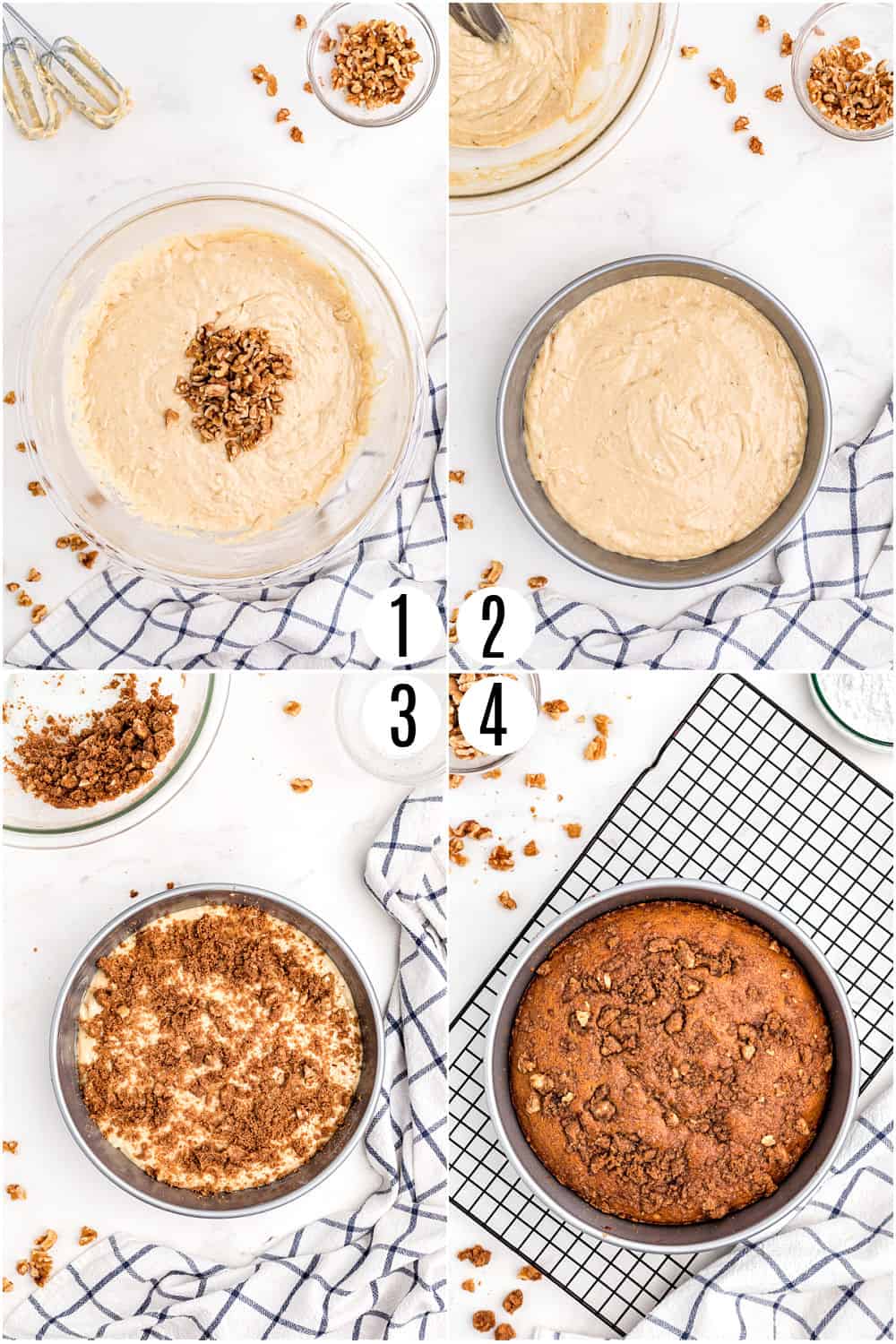 How to make banana coffee cake:
Start by beating the butter and sugar together in a large mixing bowl. Add eggs, vanilla and mashed bananas. Beat to combine.
Next, add the dry ingredients, nuts and milk to form a batter. Pour the cake batter into greased cake pans.
For the streusel topping:
Mix the streusel ingredients together in a bowl. Use your hands to work the butter into the other ingredients to form crumbs. Sprinkle the streusel over the unbaked cakes.
Bake banana coffee cakes for 25 minutes. Let cool completely.
Add the maple glaze.
Beat powdered sugar with maple syrup.
Drizzle over the baked cooled cakes before serving.
Tips and Tricks
The more maple syrup you add to the glaze, the thinner it will be. If it's too thick to pour over your cakes, add more syrup a little at a time.
Cool the cakes in the pans for about 10 minutes to make them easier to remove. Then, turn them out of their pans to finish cooling on a wire rack.
Store the cakes in an airtight container at room temperature until ready to serve.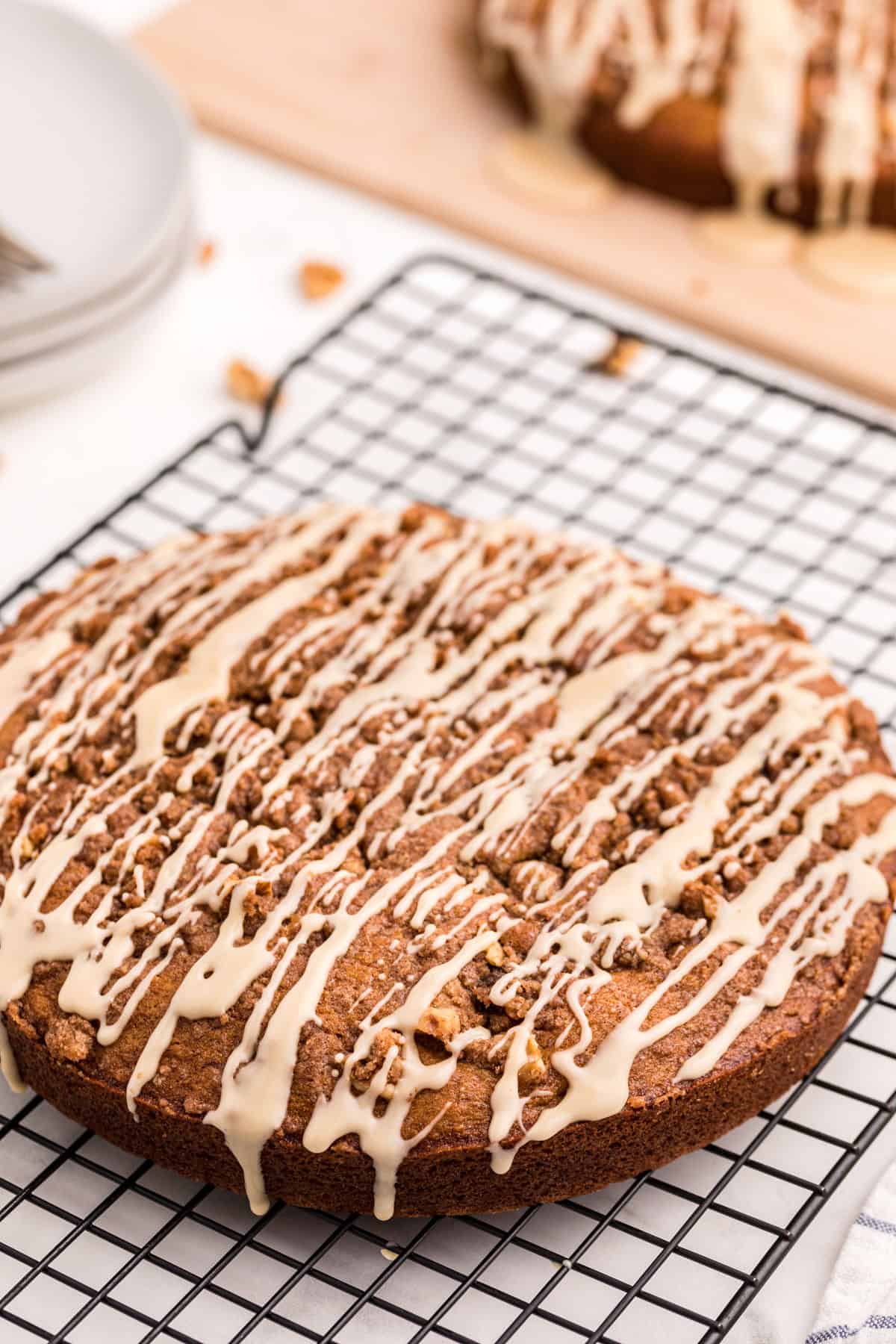 Recipe FAQS
Can I freeze coffee cake?
You can absolutely freeze coffee cake! It freezes well with or without the glaze. Just know that the glaze may look different after freezing. Once you've cooled your cake completely, slide it into a large gallon sized, freezer ziploc bag. Remove air and freeze. When ready to enjoy, thaw overnight at room temperature (in bag). 
Can I leave the nuts out of this Classic Coffee Cake?
Whether you like to add the walnuts to this coffee cake recipe is completely optional. I love the nutty flavor and texture the walnuts add, but they can also be easily left out. Simply remove them from the recipe and there are no substitutions, continue as written.
Does coffee cake have coffee in it?
No, these kinds of coffee cakes do not contain coffee or coffee flavor. They're called coffee cakes because they are meant to be eaten with coffee!
Love Coffee Cake Recipes?
A slice of coffee cake with my hot coffee is one of my favorite ways to start the day. Here are a few of my favorite treats.
Breakfast just got a whole lot tastier with this Apple Cinnamon Roll Coffee Cake recipe! Easy to assemble, hard to wait for it to finish baking!
Looking for a delicious coffee cake to serve friends and family? Or just a great recipe to enjoy on a Saturday morning? This Blueberry Cream Cheese Coffee Cake is your answer!
Tender and moist, this Blueberry Buckle Breakfast Cake recipe is the perfect start to your day. Packed with fresh berries and topped with a thick cinnamon streusel, you'll love a slice for breakfast or dessert!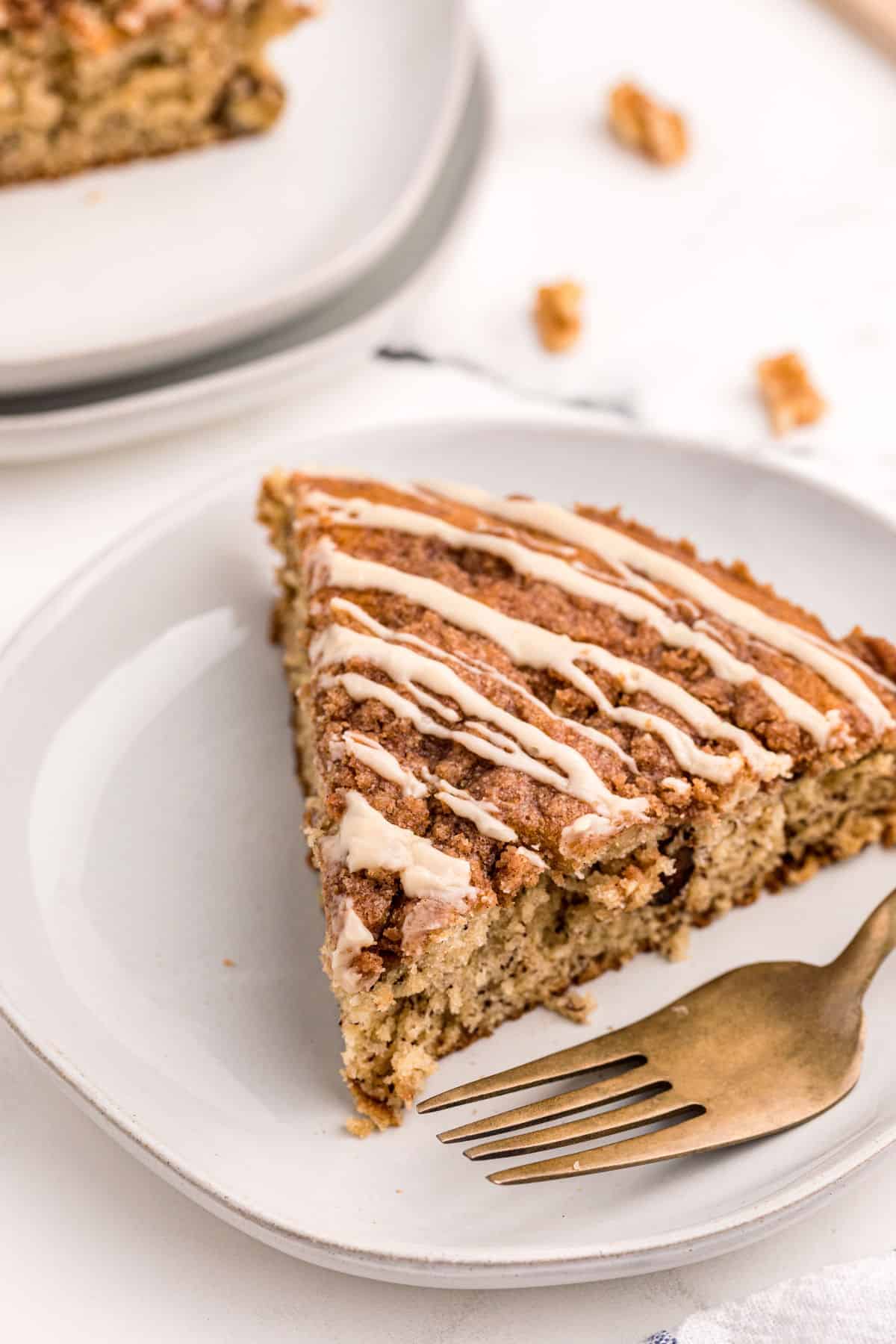 Got some extra bananas going brown on the counter? Instead of making another banana loaf, try this Banana Streusel Coffee Cake!