Blueberry Cream Cheese Coffee Cake
Looking for a delicious coffee cake to serve friends and family? Or just a great recipe to enjoy on a Saturday morning? This Blueberry Cream Cheese Coffee Cake is your answer!
Be sure to sign up for my email…new recipes in your inbox!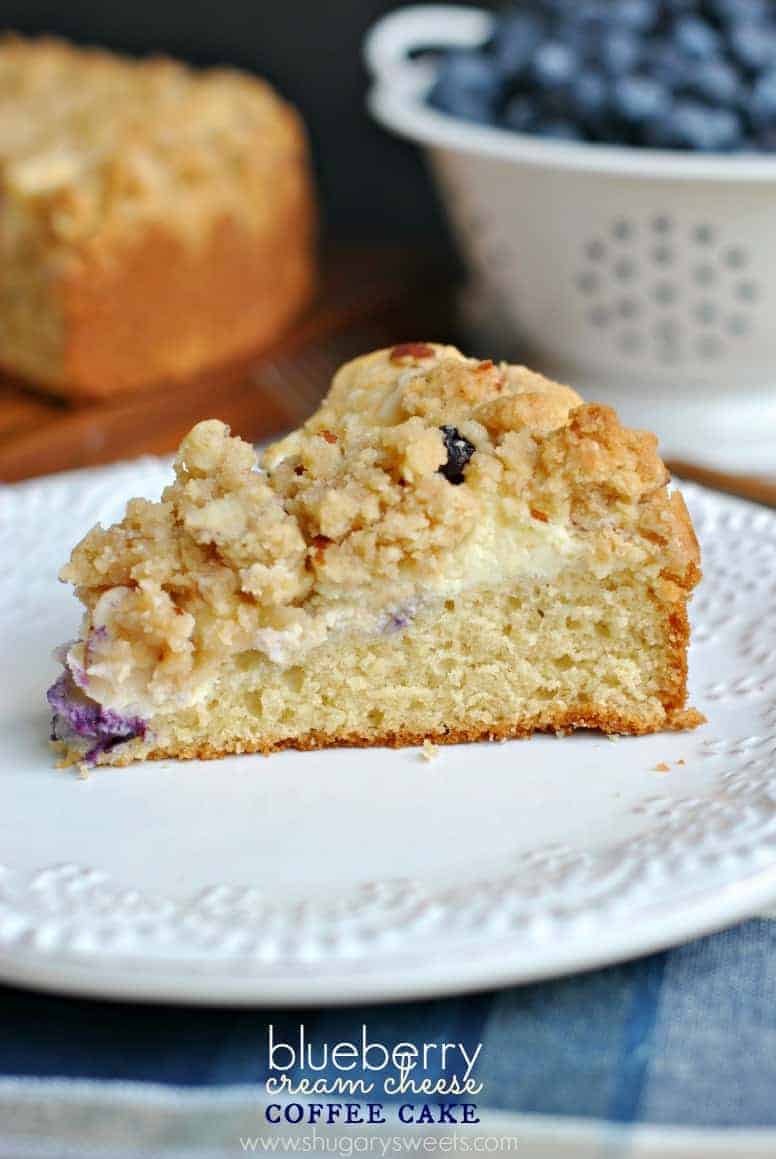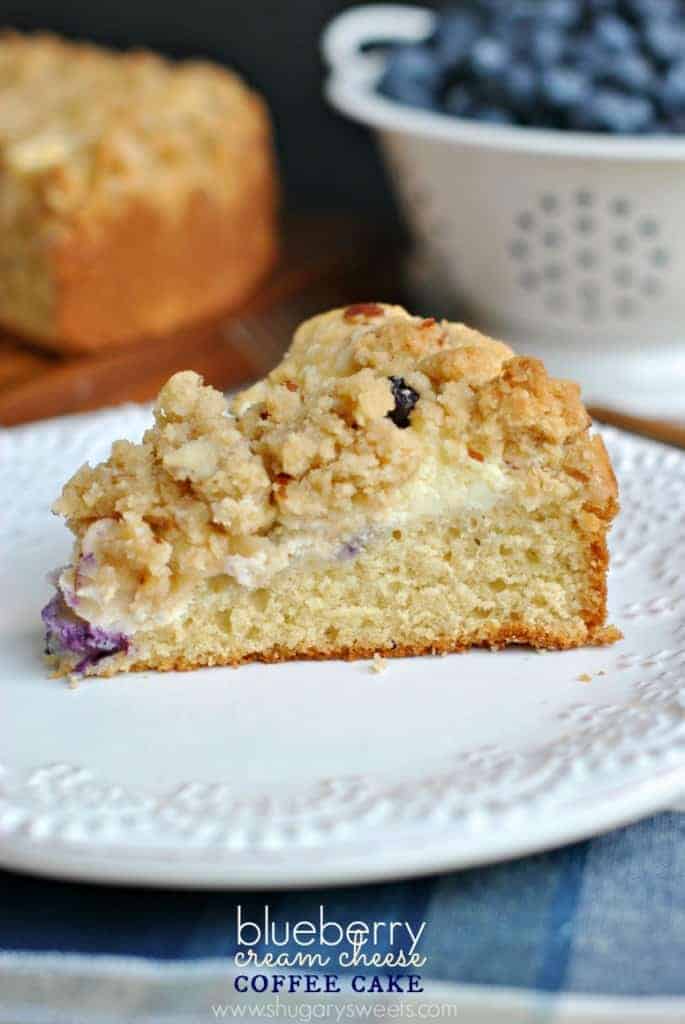 Are you a morning person? Do you rise and shine and jump out of bed?
I'm not that cheery, sunny person in the mornings. Nope. Definitely not. Takes a few cups of coffee and a hot shower to even wake me up. And even then it's usually lunch time when I start thinking about eating. I know. Breakfast is the most important meal of the day, blah blah blah.
The only time I find myself eating breakfast is if I have some sort of pastry (yes, donut, hehe) with my coffee.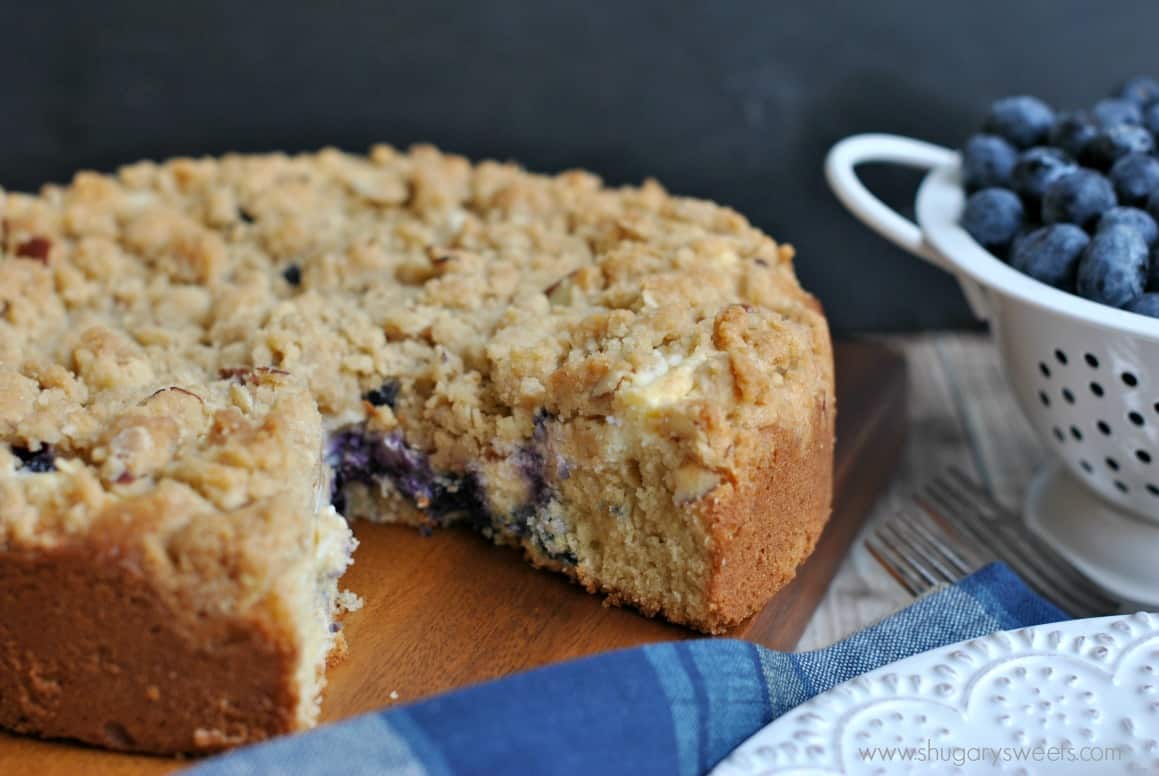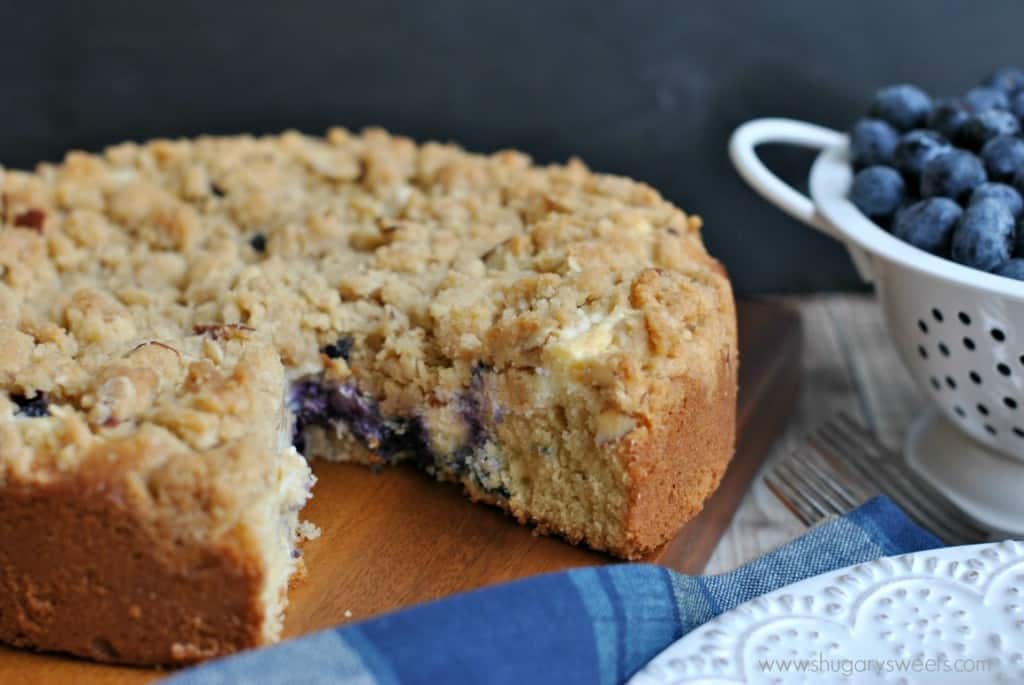 Or a big slice of coffee cake. Or a piece of sweet bread.
Carbaholic much? I totally admit my weakness. For some it's cheese. Others have chocolate cravings. For me….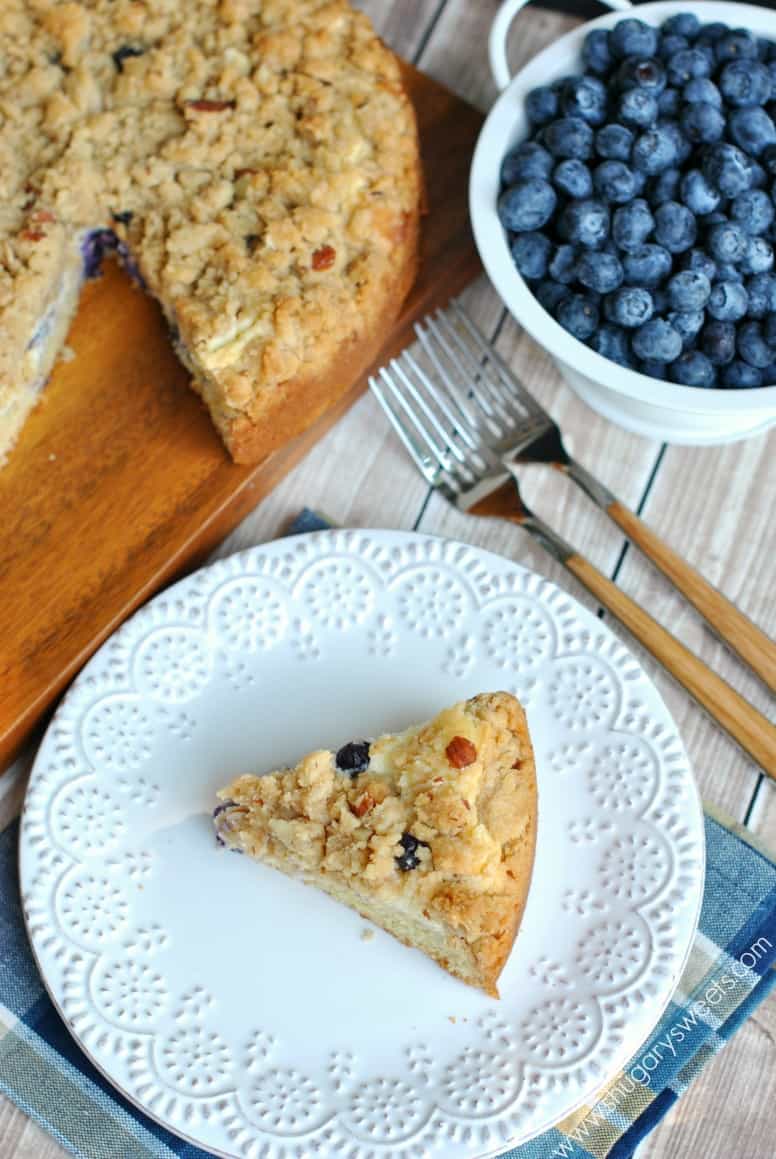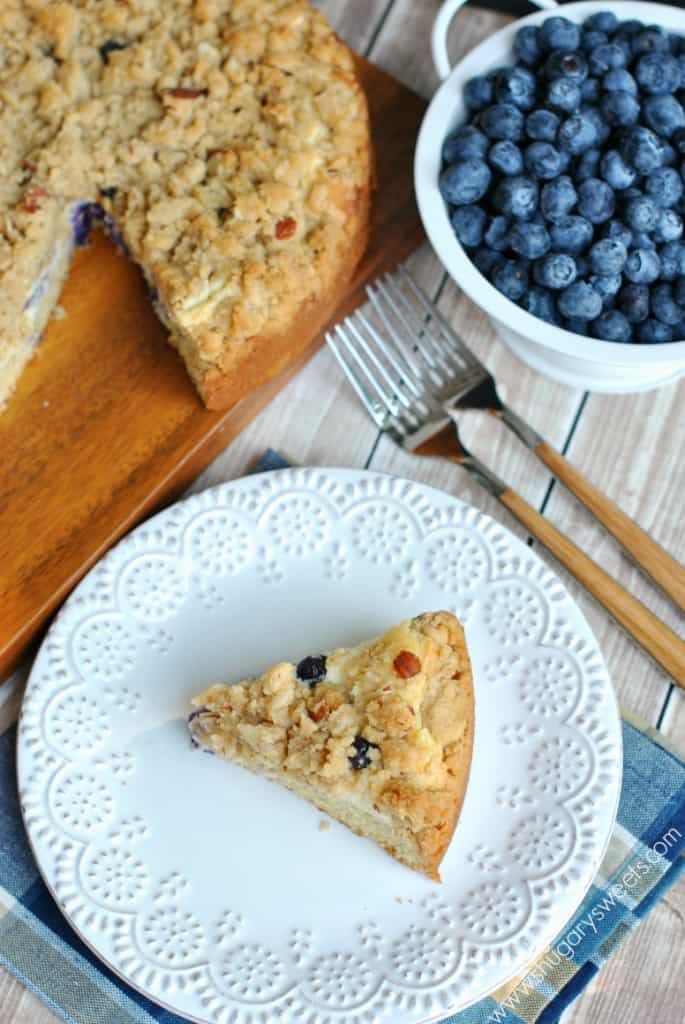 It's pastries.
Today's recipe is totally easy. And it makes TWO cakes. Which is perfect, because you can stick one in the freezer to serve later. Or share it with a friend who needs cheering up!
I used my favorite Cinnamon Coffee Cake with cream cheese as my base for this recipe. But I added in blueberries and almonds (because blueberry and almond go together perfectly). I also added almond extract to the cake. The aroma of this cake in the oven is so divine.
To freeze the second cake, allow it to cool completely. Once cooled, wrap in aluminum foil and slide into a gallon sized ziploc freezer bag. Label and freeze for later use. Thaw in fridge overnight to serve! ENJOY.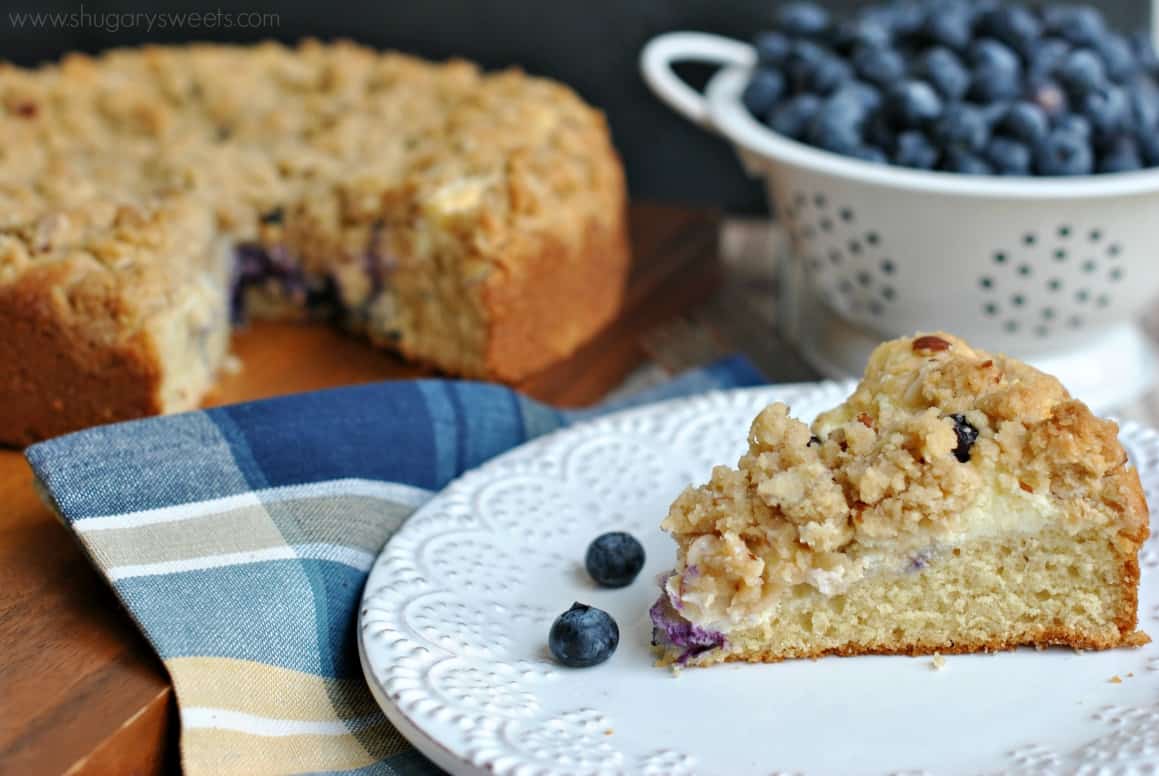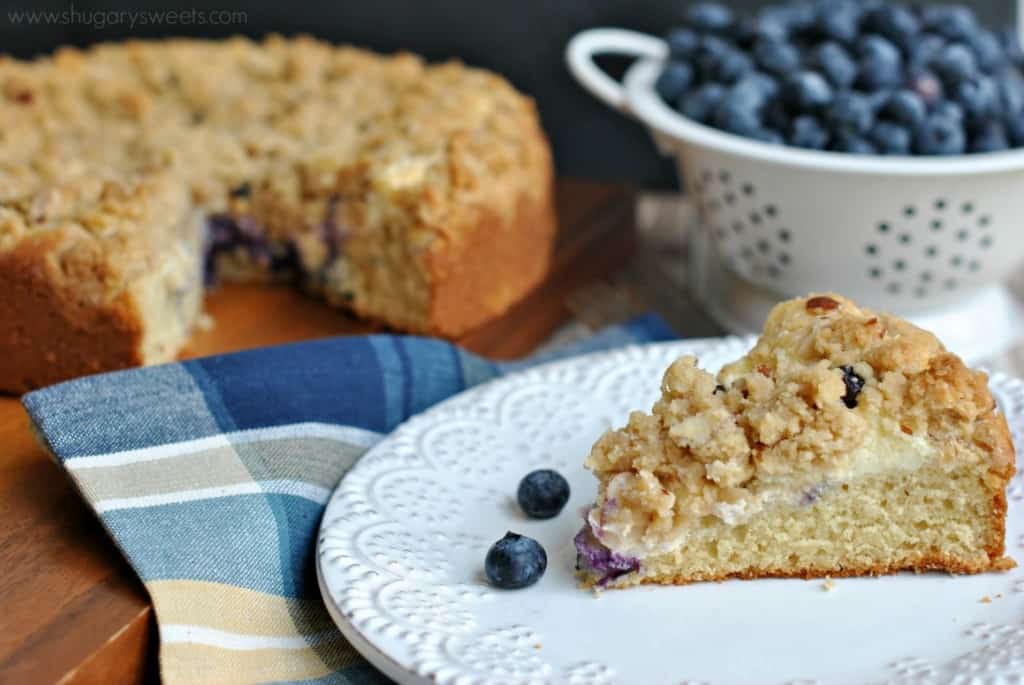 Connect with Shugary Sweets! Be sure to follow me on my social media, so you never miss a post!
Facebook | Twitter | Google+ | Pinterest | instagram | Bloglovin'
Yield: 2 cakes
Blueberry Cream Cheese Coffee Cake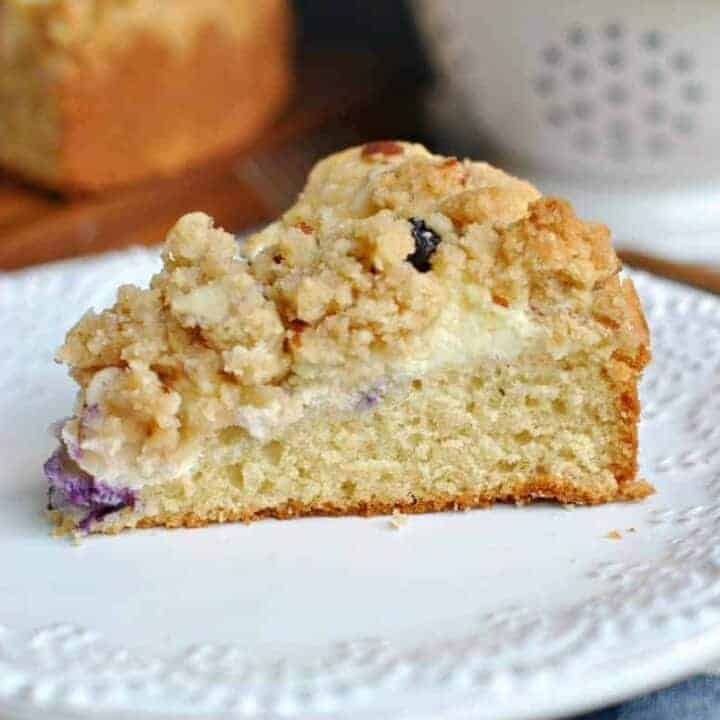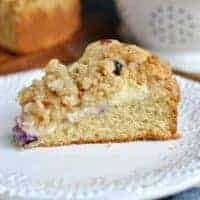 Prep Time 20 minutes

Cook Time 45 minutes
Ingredients
For the Cake:
2 1/2 cup all-purpose flour
1 cup granulated sugar
1/2 tsp baking powder
1/2 tsp baking soda
1/2 tsp kosher salt
3/4 cup unsalted butter, softened
3 large eggs
2 tsp almond extract
2/3 cup milk
For the filling:
2 packages (8 oz each) cream cheese, softened
1/2 cup granulated sugar
1 large egg
1 cup fresh blueberries
For the struesel:
1 cup light brown sugar, packed
1/2 cup granulated sugar
1/4 tsp kosher salt
1 cup unsalted butter, melted
2 cup all-purpose flour
1 tsp almond extract
1/2 cup almonds, chopped
Instructions
To begin making the cake, in a large mixing bowl, beat flour, sugar, baking powder, baking soda, salt and butter together until crumbly. Add eggs, almond extract and milk, beat for about 2 minutes until fluffy and smooth.
Pour cake batter evenly into bottoms of two 9inch round cake pans that have been sprayed with non-stick baking spray. Set aside.
In a mixing bowl, beat cream cheese with sugar and egg for 3-4 minutes until smooth. Fold in blueberries. Pour evenly into the two cake pans over the cake batter. Set aside.
In a bowl, combine brown sugar, sugar and salt. Pour melted butter, flour and almond extract into bowl and combine until crumbly. It will feel like a thick dough. Add in chopped almonds and drop by tablespoon over cream cheese layer.
Bake cakes in a 325 degree oven for 45 minutes.
Remove from oven and allow to cool about 15 minutes in pan. Remove from pan and cool completely. Slice and enjoy. Store remaining coffee cake in airtight container in refrigerator or freeze for later use.
Are you also obsessed with breakfast cakes (aka coffee cakes)? Here are a few of my favorites….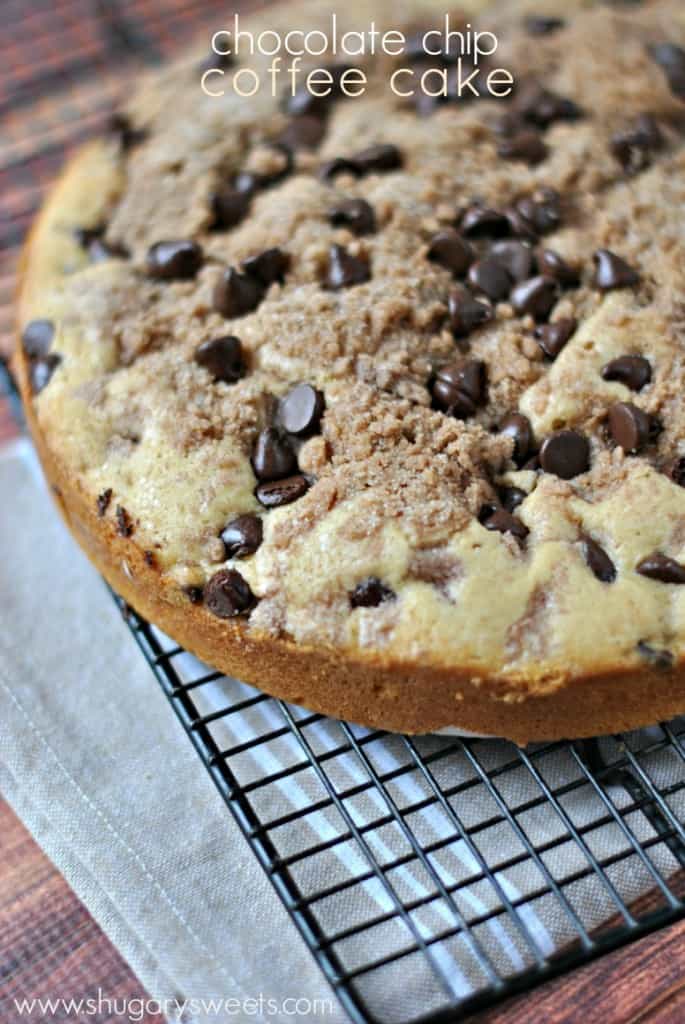 RECIPE: Chocolate Chip Coffee Cake
Pin it: Chocolate Chip Coffee Cake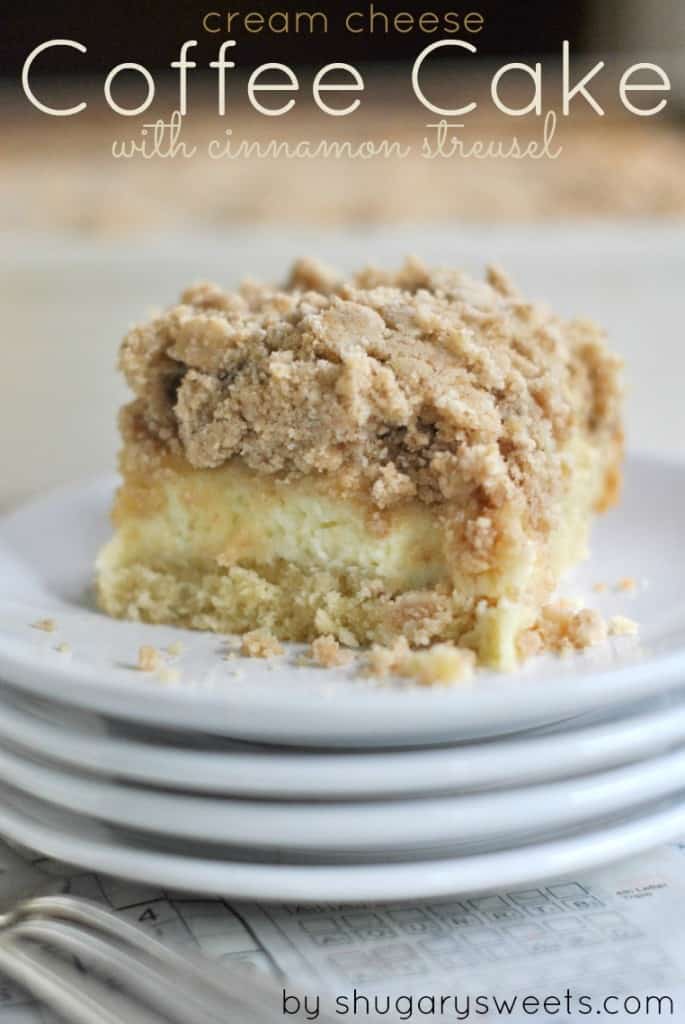 RECIPE: Cream Cheese Coffee Cake
Pin It: Cream Cheese Coffee Cake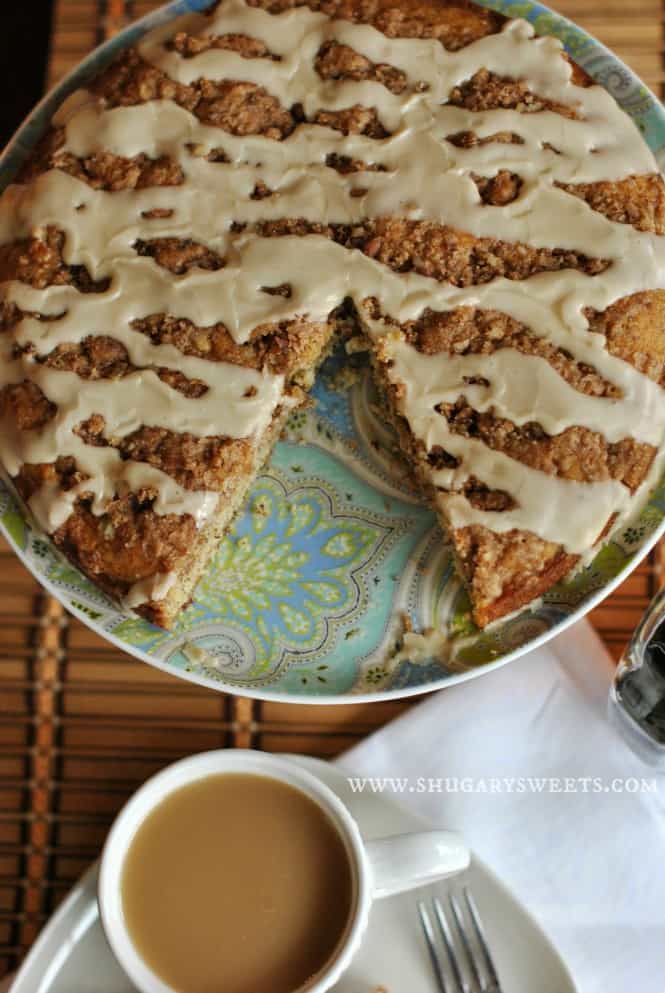 RECIPE: Banana Streusel Coffee Cake
Pin It: Banana Streusel Coffee Cake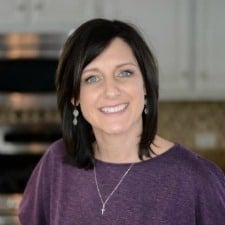 Aimee is a dessert lover (specifically rice krispie treats), workout enthusiast, self-taught foodie, and recipe creator. Her recipes have been featured in numerous magazines, and her passion is to share her love of cooking with the everyday home cook!