These healthy Banana Chocolate Chip muffins are full of banana flavor, with much less fat than the traditional version. This recipe makes it possible to eat healthier while still indulging in delicious baked goods!
Looking fore more lightened up desserts? These Skinny Pineapple Cupcakes are a reader favorite.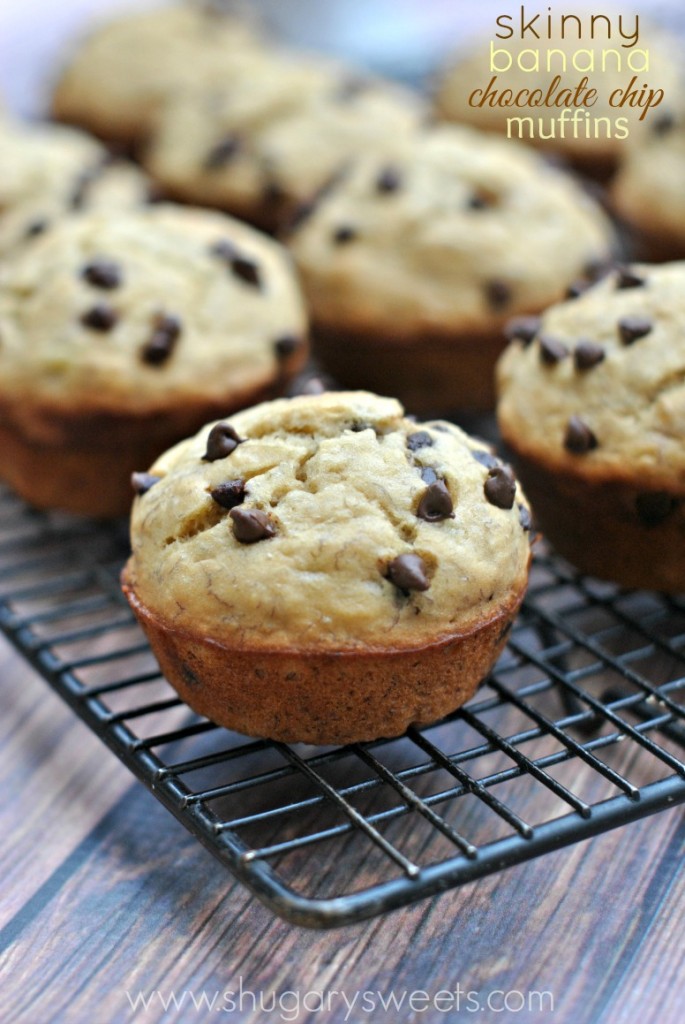 Why this Recipe Works
We love the combination of bananas and chocolate. If you like our Chocolate Chip Banana Bread, today's skinny banana muffin recipe is going to blow you away.
These banana muffins are oil free! Greek yogurt and banana make the muffins plenty moist.
Naturally sweetened for delicious flavor.
More fiber and fewer calories than traditional banana muffins.
Enjoy them any time of day. Banana chocolate chip muffins are perfect for breakfast, but they have just enough sweetness to work as a dessert too!
Despite the fact that these skinny banana muffins are definitely healthier than your average chocolate chip muffin, they don't taste like diet food. The insides are soft and fluffy with the perfect ratio of soft crumb to chocolate chips.
No one will miss the oil or butter!
Ingredient Notes
Greek yogurt – We used a vanilla flavored version which contains a little extra sweetness that works well in these muffins.
Sweeteners – This bread is sweetened with a combination of agave nectar and honey.
Flours – Using half all purpose flour and half whole wheat flour is best. You get the fiber and nutrients of whole wheat with the softer texture of white flour.
Bananas – The riper the better! You will need three large bananas, mashed.
Chocolate morsels – We used semisweet mini morsels to add that little bit of decadence to the low fat banana muffins.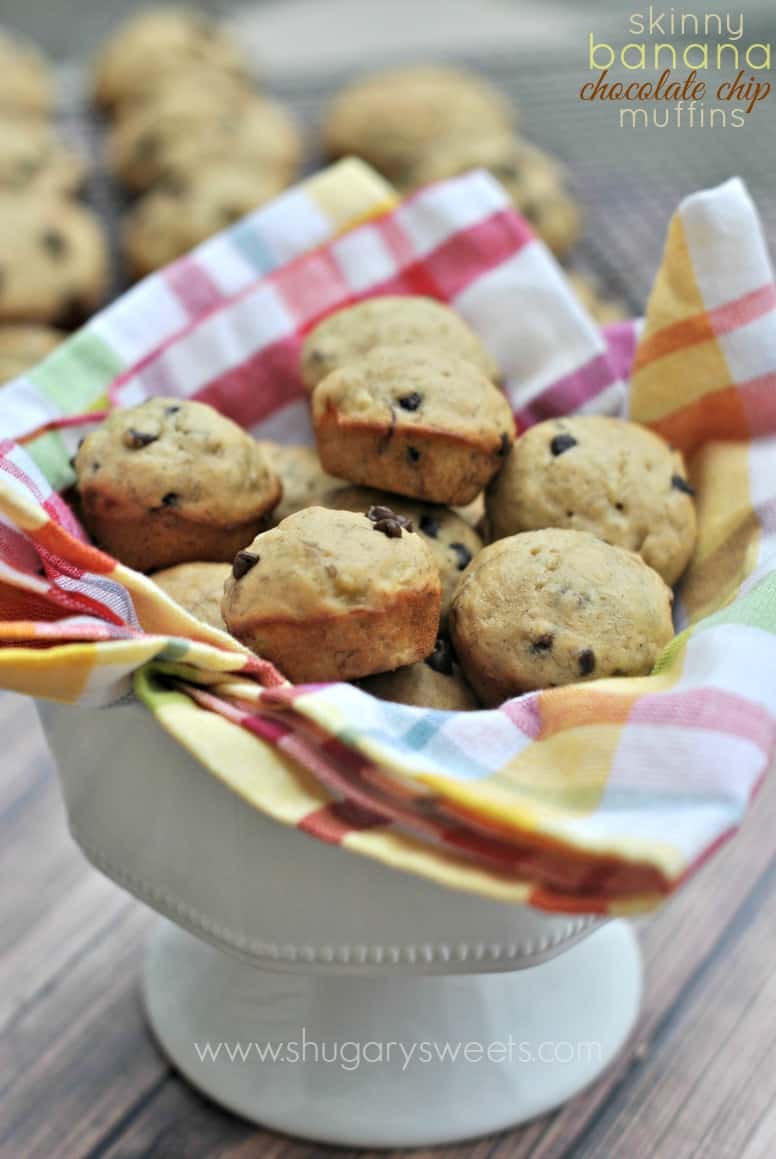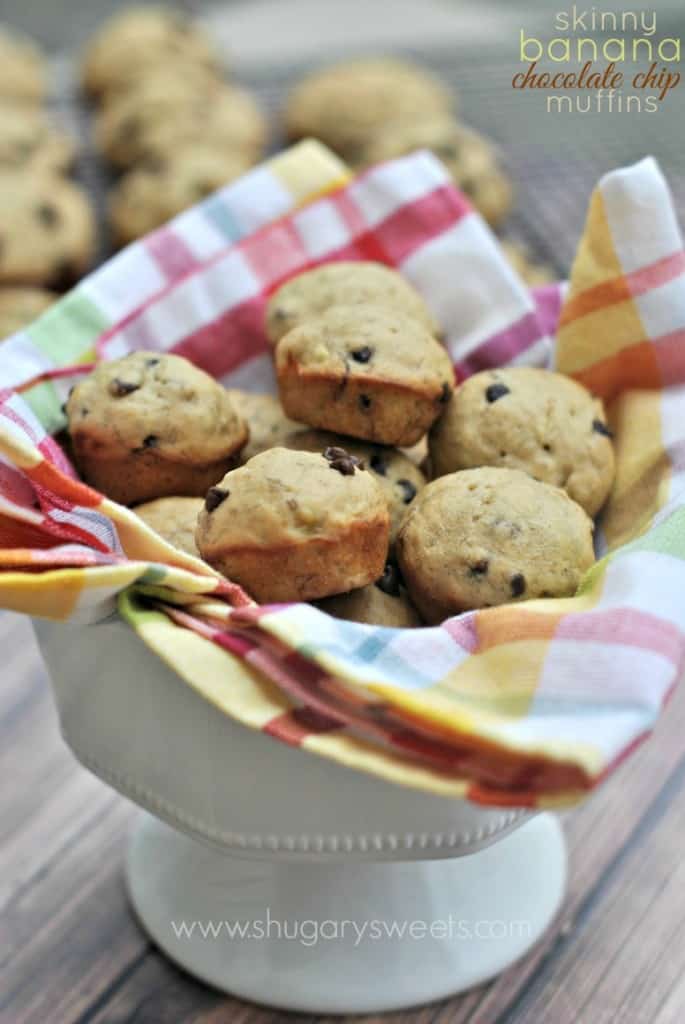 Tips and Tricks
This recipe yields about 18 standard sized muffins or 36 mini muffins.
To make mini muffins you will need to shorten the baking time. Smaller muffins cook through faster!
Feel free to swap out the chocolate chips for other favorite muffin mix-ins like chopped walnuts or pecans. Or use a little of both!
Add walnuts like we did in our banana nut muffins!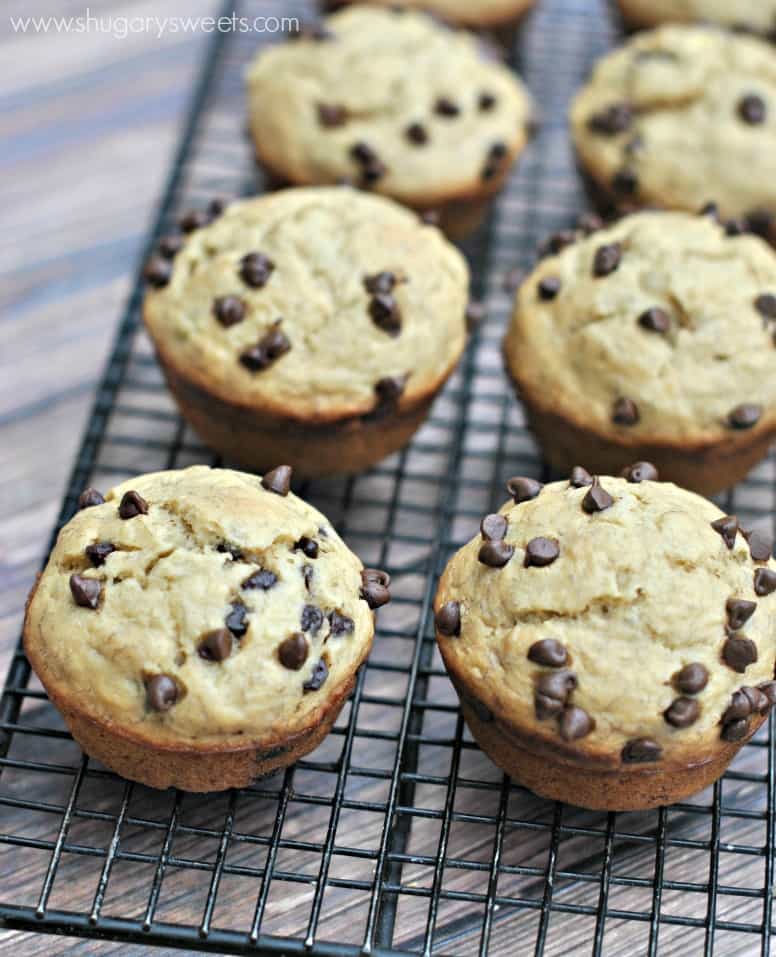 Recipe FAQs
Are these muffins fat free?
These muffins are not completely fat free because Greek yogurt does contain some fat. They are, however, much lower in fat than most muffins.
One of our healthy banana chocolate chip muffins contains just 2 grams of fat. Compared to the 6 grams of fat found in the full-calorie version, that's not too shabby!
Can I freeze these banana muffins?
Yes, these banana muffins can be frozen for up to one months. After cooling, transfer them to freezer bags or a freezer safe container.
Do I need to mash the banana before adding it to the recipe?
We usually suggest mashing the banana with a fork or masher before combining it with the other ingredients. This ensures you won't end up with big chunks of un-mashed banana in the batter.
That said, if your banana is very ripe and you're using an electric mixer, mashing it separately may not be necessary.
Can I make this with all whole wheat flour?
Yes, but the taste and texture will be affected. Whole wheat flour is less refined with a stronger taste than all-purpose flour. If you choose to use only whole wheat flour your muffins will taste drier, denser and grainier.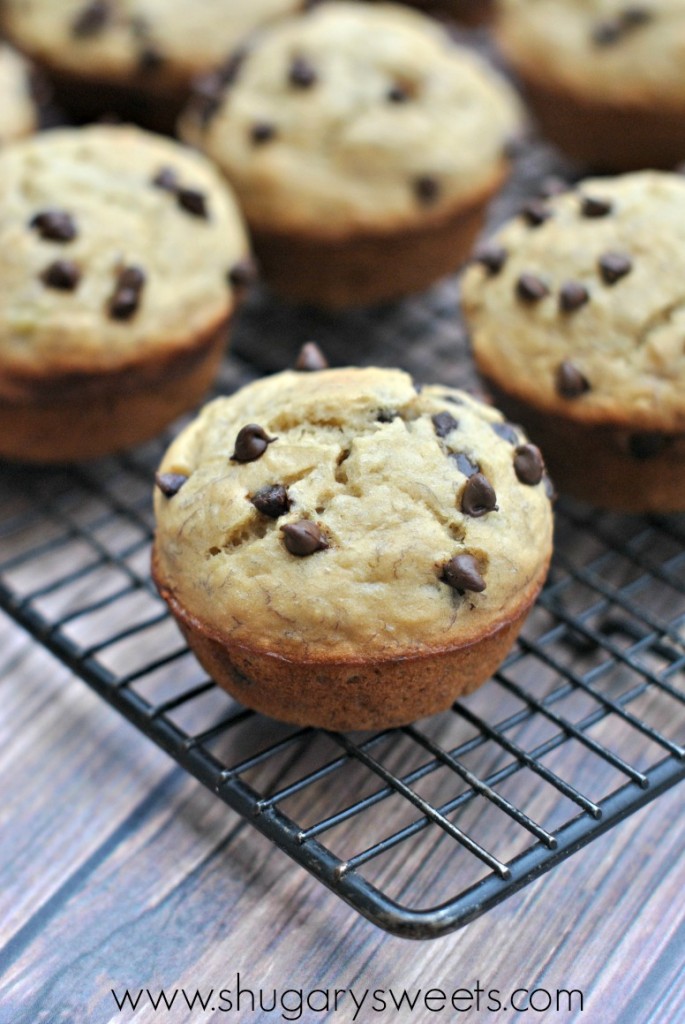 Healthy Banana Chocolate Chip Muffins are a "better-for-you" version of a classic muffin flavor. Sweet, easy to make and freezer friendly!