Banana Nut Muffins are easy-to-make breakfast treats with a sweet moist crumb. A hint of cinnamon and crunchy walnuts add the perfect touch to a classic banana muffin.
Love muffin recipes? Try our Carrot Cake Muffins next. You'll like these Chocolate Zucchini Muffins too!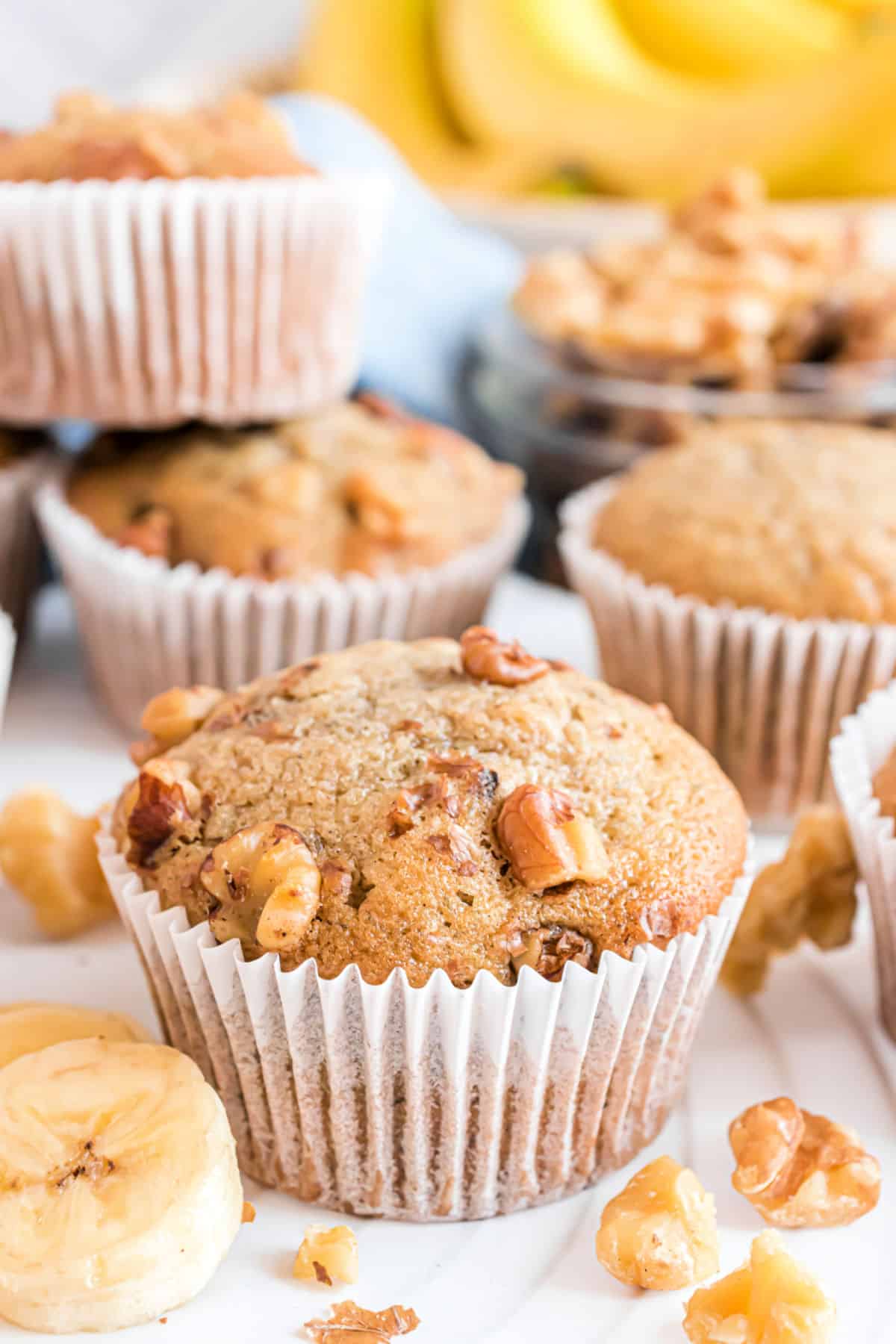 Why this Muffin is Best
This Banana Nut Muffin recipe is based on my Sour Cream Banana Bread but even quicker to make! In just over a half hour, you'll have incredible homemade muffins to enjoy.
Made with plenty of ripe bananas for delicious flavor.
The muffins stay moist even days after baking.
The perfect ratio fluffy muffin to crunchy walnuts.
A quick and easy freezer friendly muffin recipe.
Meanwhile, your kitchen fills with the incredible aroma of bananas and cinnamon as the muffins bake. The hardest part is waiting for them to cool down enough to eat!
You'll love these easy banana nut muffins for breakfast, a midmorning snack or a sweet pick-me-up any time of day.
Swap out the nuts and make some chocolate chip banana muffins instead!
Ingredient Notes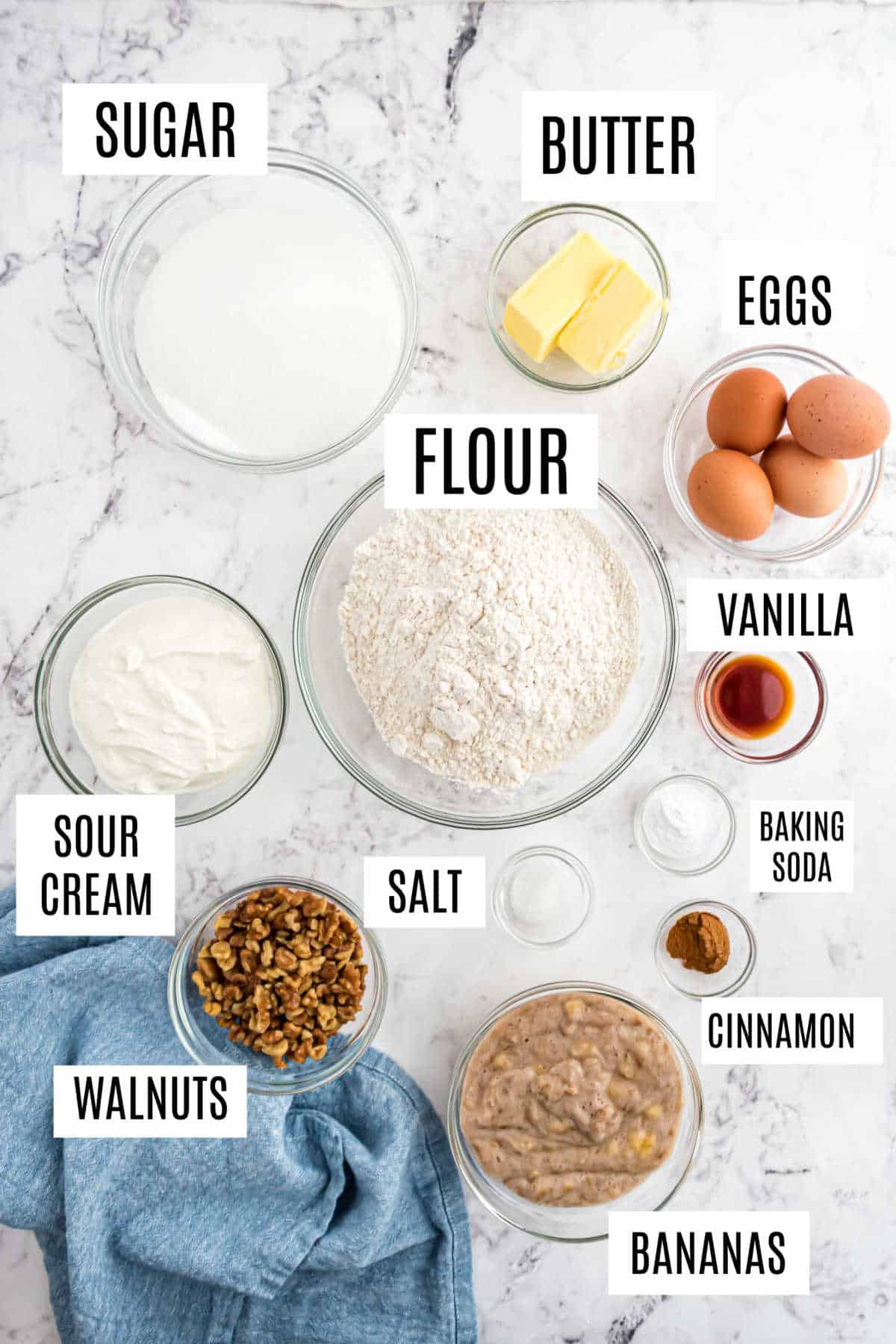 Using our favorite banana bread recipe, we are excited that these muffins came out so perfect!
Ripe Bananas – Got underripe bananas on your hands? Use this method for ripening bananas in the oven before adding them to the muffins.
Unsalted butter – The butter is essential for bananas with a rich taste and tender crumb. If you only have salted butter, feel free to use that instead, just don't add any additional salt to the muffin batter.
Sour cream – The moisture helps keep the banana muffins soft for days, while the acidity activates the baking soda added to the batter making the muffins soft and fluffy.
Walnuts – This is our nut of choice for banana nut muffins. Pecans are a delicious choice too–or you can leave out the nuts if you prefer. Toast the nuts for best flavor!
Cinnamon – We use just a teaspoon of this warming spice to complement the sweetness of the banana and add an additional depth of flavor.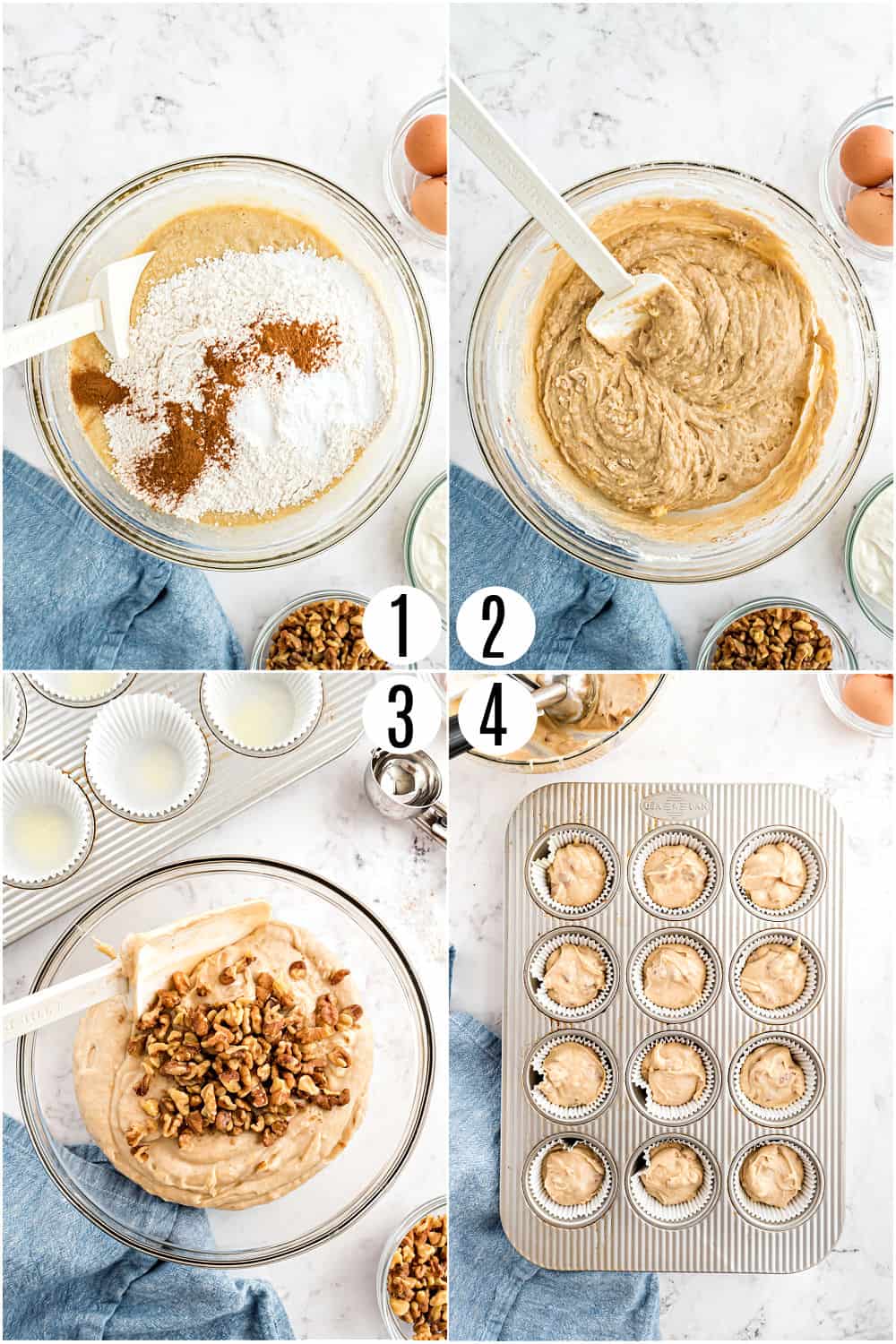 Easy to Make
Homemade Banana Muffins are simple to make with delicious results. Start by combining butter and sugars. Then add eggs, vanilla, mashed bananas and dry ingredients to form a batter. Fold in the chopped nuts last.
Pour the batter into a prepared muffin tin, bake, cool and enjoy!
Tips and Tricks
Sprinkle a few extra chopped walnuts on top of each muffin before baking. This makes the nuts more visible in the baked muffins while adding a nuttier taste to each bite.
Baking time varies. The darker your bakeware, the quicker the banana nut muffins will bake. If you're using dark nonstick muffin pan, reduce the recommended baking time by a minute or two.
Storing and freezing. Store banana muffins at room temperature for up to 5 days. Or freeze them in a zip top bag for up to 3 months.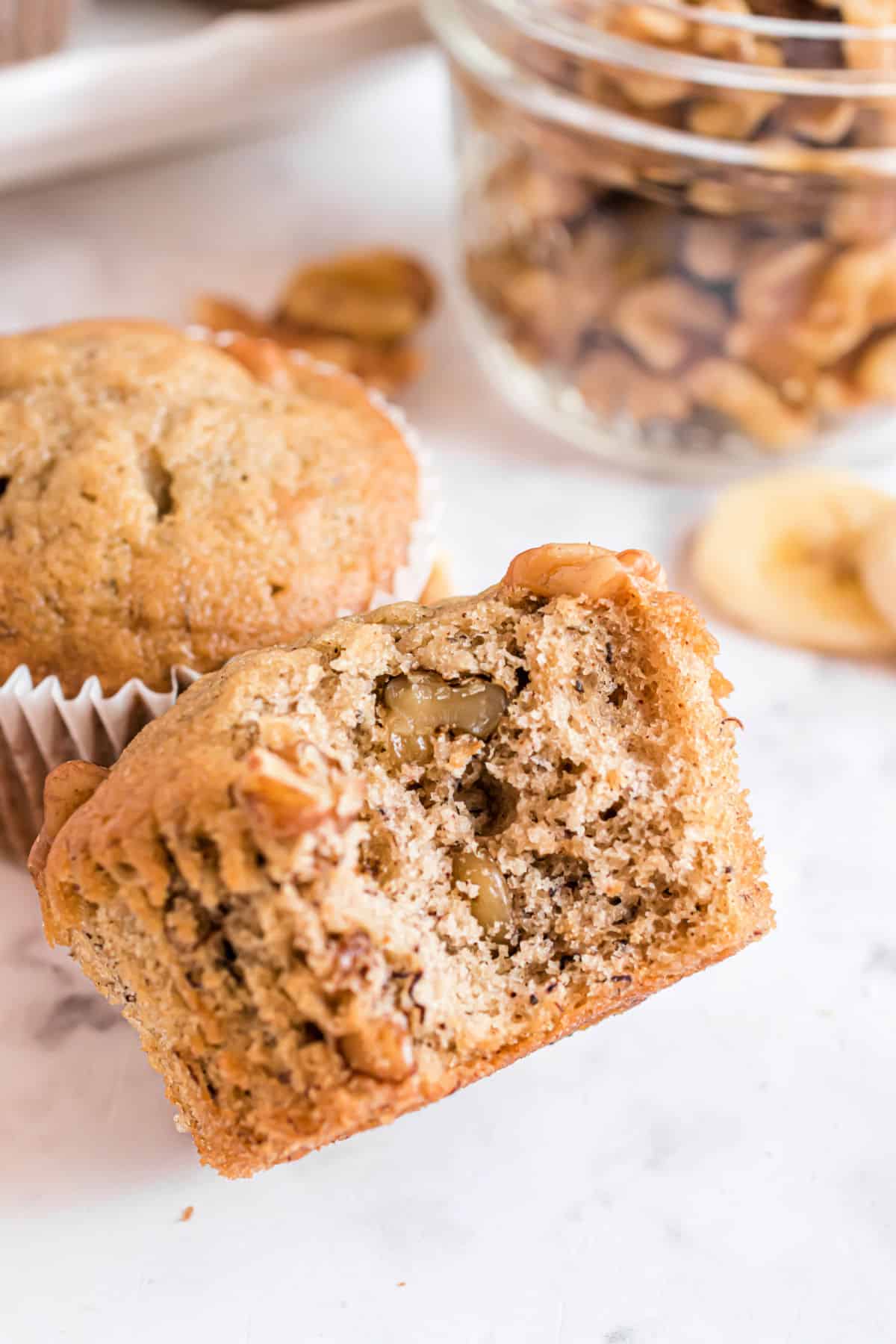 Recipe FAQs
How can I make these as jumbo sized muffins?
To convert this banana nut muffin recipe for jumbo muffins, we doubled the amount of batter in each well of the muffin pan and baked 6 at a time. The jumbo muffins take about 28 to 30 minutes to bake, so plan accordingly!
Can I make this recipe as a banana nut loaf instead?
Yes, you can! In fact, this muffin recipe was a bread recipe originally. Follow the instructions for this Sour Cream Banana Bread and add a cup of chopped walnuts to the batter before baking. It's perfect as a banana nut bread!
Why are my muffins tough?
If your banana muffins are tough, you may have overmixed the batter. Mix gently after adding the dry ingredients, stopping when the batter is just combined with no visible clumps of flour.
Mixing too long activates the proteins in the flour which can result in tough, dry muffins.
How can I tell when the muffins are done baking?
These Banana Nut Muffins are done when the tops are golden brown, the nuts on top look slightly toasted and a toothpick inserted into the center comes out clean. Baking times may vary depending on how much batter you add to each well, the color of your muffin tin and your oven. Keep an eye on these muffins as you bake to prevent them from overbrowning.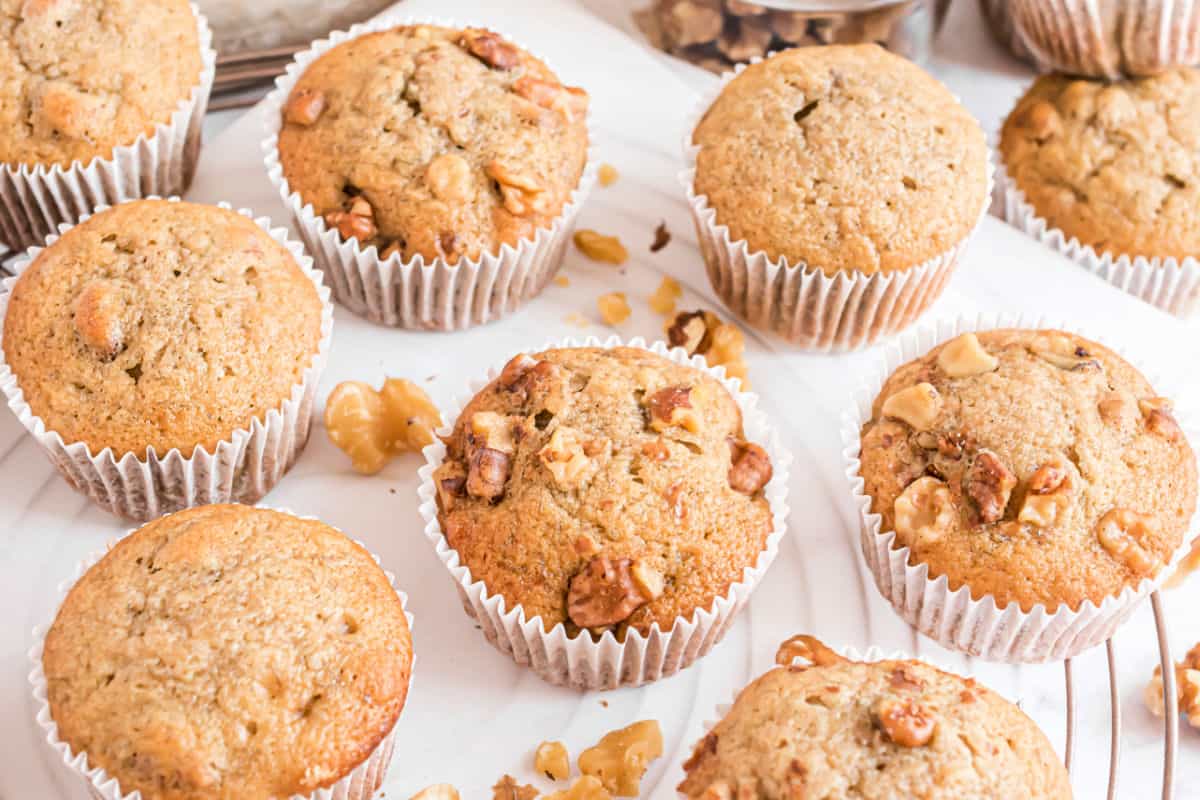 Who doesn't love waking up to the smell of freshly baked Banana Nut Muffins? This recipe creates perfectly moist and fluffy muffins that no one can resist.