Carrot Cake Muffins–a moist and sweet breakfast treat! Topped with cream cheese frosting and walnuts, these easy to make muffins are the best way to start your day.
Give me carrot cake everything, please! For a sweeter take on handheld carrot cake, try my Carrot Cake Cupcakes Recipe next.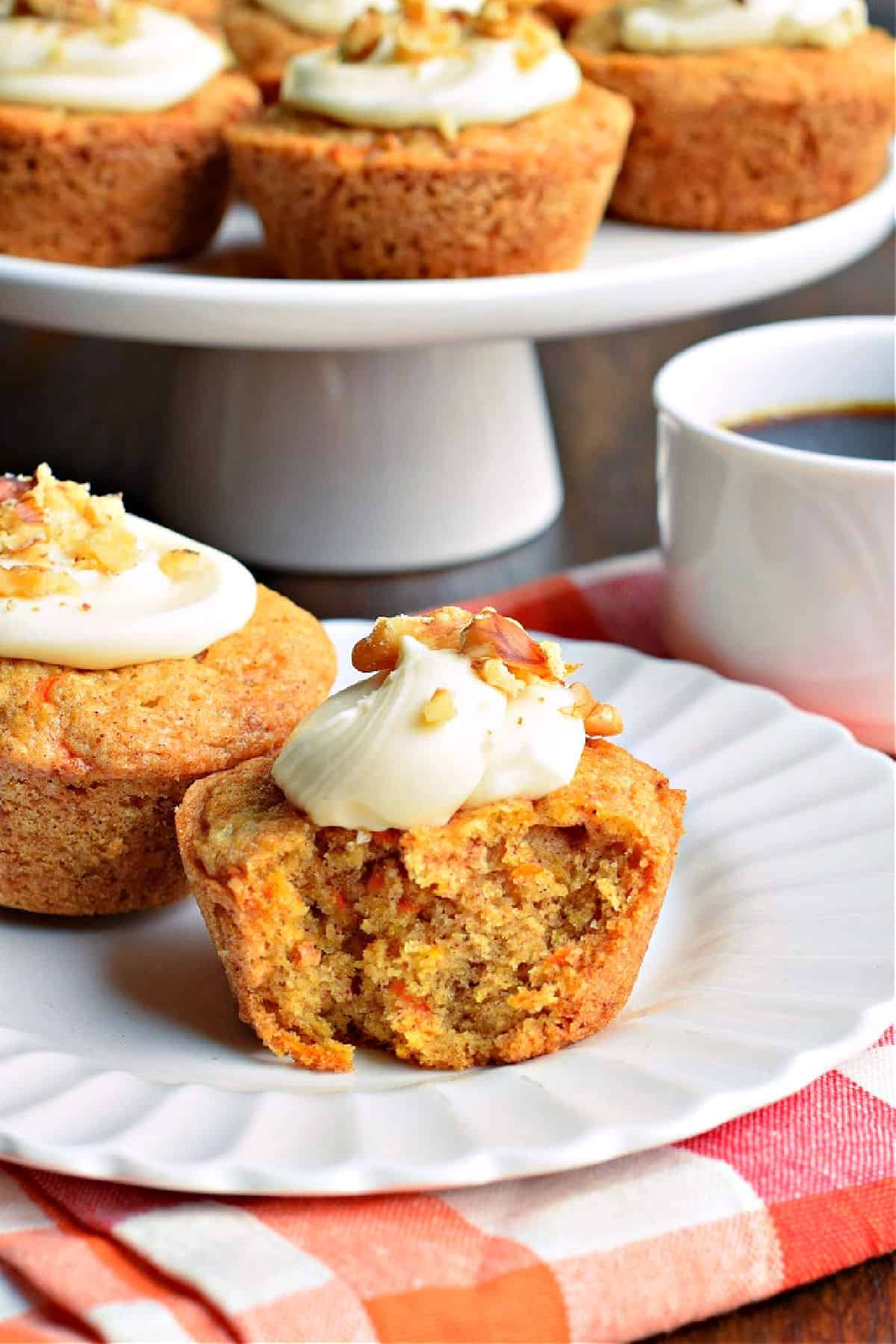 Why this Recipe Works
Every spring we stock up on fresh carrots to make all the carrot recipes. From our favorite carrot cake, to carrot banana bread!
Today's muffins are the perfect way to start your morning!
Filled with real shredded carrot for incredible color and flavor.
A perfect blend of spices complements and enhances the carrots' natural sweetness!
Freezer friendly muffins mean you can bake these ahead of time and stock up the freezer.
You'll love the rich cream cheese frosting and crunchy nuts on top.
If you love carrot cake recipes, be sure to try our carrot cake cookies next!
Ingredient Notes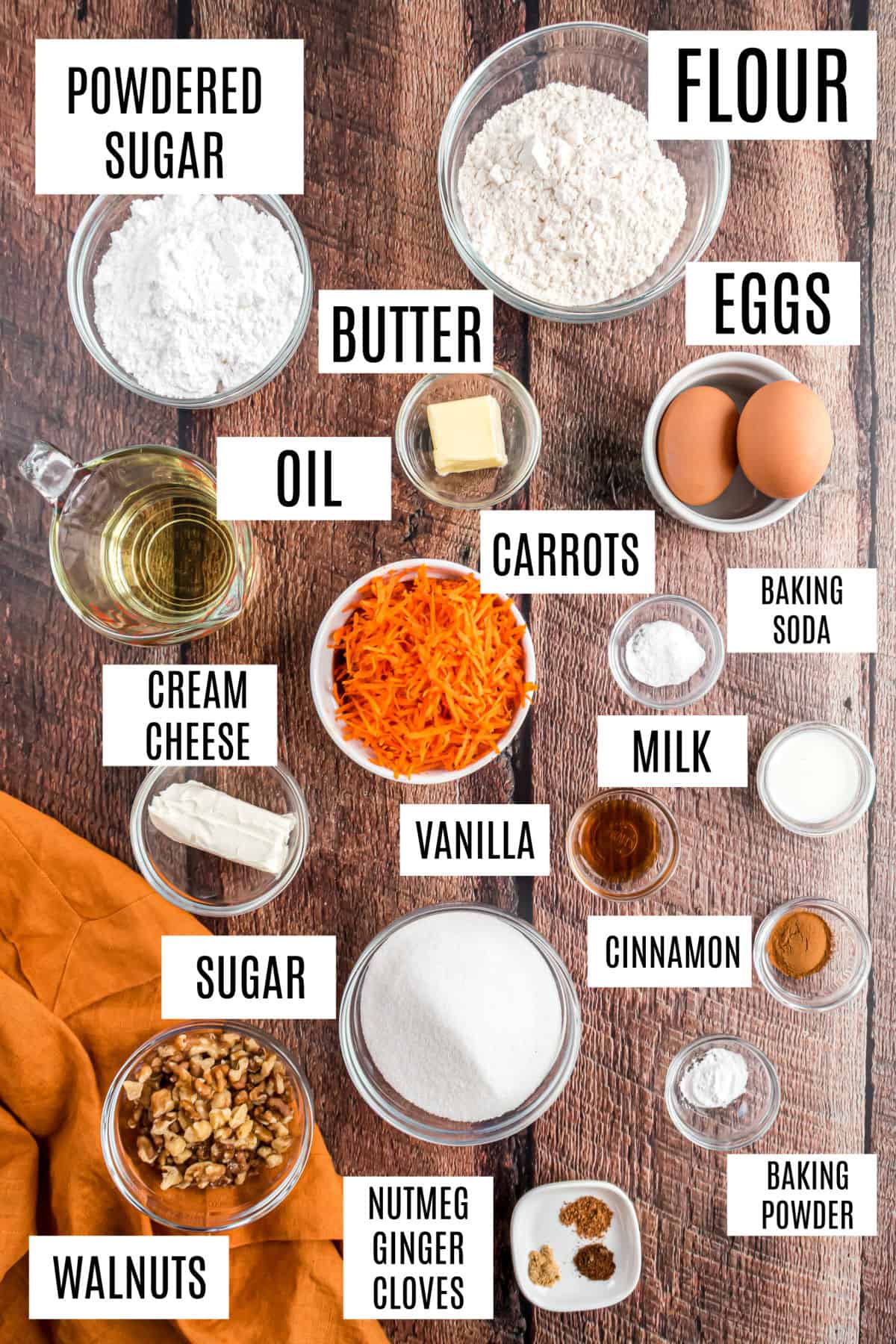 You've got your usual suspects for baking, from the sugar to the flour.
Oil. Provides moisture to the muffins!
Shredded carrots. It's best to use freshly shredded carrots here for the moistest muffins. Store bought shredded carrots tend to be drier with a more muted flavor.
Walnuts. I add these on top of the baked and frosted muffins. You can omit them for a nut free recipe. We like to toast the walnuts before using!
Spices. Nutmeg. Ginger. Cloves. Cinnamon. You can also swap this out in a pinch if you want to use our homemade pumpkin pie spice mix.
Easy Instructions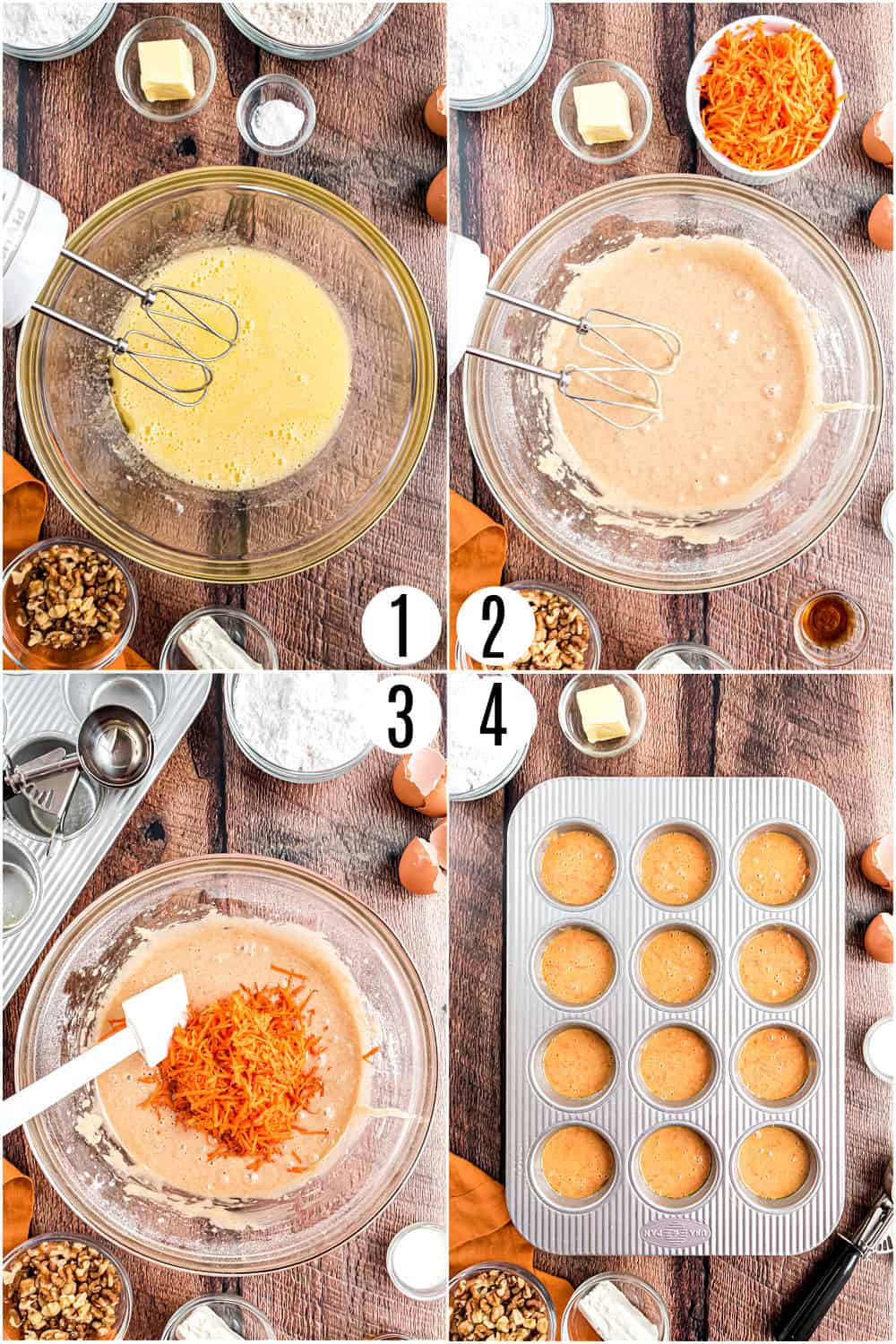 These carrot cake muffins couldn't be any easier to make!
Start by combining your oil, sugar and eggs in a mixing bowl. Mix in the dry ingredients. Then, fold in the shredded carrots.
Scoop the batter into muffin tins. Bake in a preheated oven for about 20 minutes.
To make the cream cheese frosting, simply combine all the frosting ingredients in a bowl. Beat until fluffy and smooth.
Once the muffins are baked and fully cooled, spread the tops with cream cheese frosting. Press a few chopped walnut pieces onto each muffin.
Serve and enjoy!
Tips and Tricks
Spray a muffin tin with baking spray. You don't need to use liners for these muffins!
If your batter is really thick, don't worry, it should be! Don't overbeat it.
Use a large cookie scoop (I like this one) to portion out your muffin batter so they are even. This recipe makes 10-12 muffins!
Let your muffins cool COMPLETELY before adding the glaze!
Store muffins in an airtight container in the refrigerator for best results. You'll want to keep that cream cheese frosting chilled. If you're skipping the icing, you can store these at room temperature.
Recipe FAQs
Why do my muffins get stuck in the muffin tin?
Make sure to generously spray the tin cavities with baking spray! I also recommend taking the muffins out of the pan pretty soon after baking. If they cool in the pan they're more difficult to remove.
Can I freeze these muffins?
You sure can! These keep well in the freezer for 2 -3 months (with or without the glaze).

How do you shred carrots for carrot cake muffins?
You can grate carrots for carrot cake muffins using a box grater. Wash and peel the carrots before grating. Place the carrot against the side of the grater and run the carrot downward over a bowl. You can also grate carrots using a food processor with a grating attachment. If using a food processor, be careful not to puree the carrots by accident.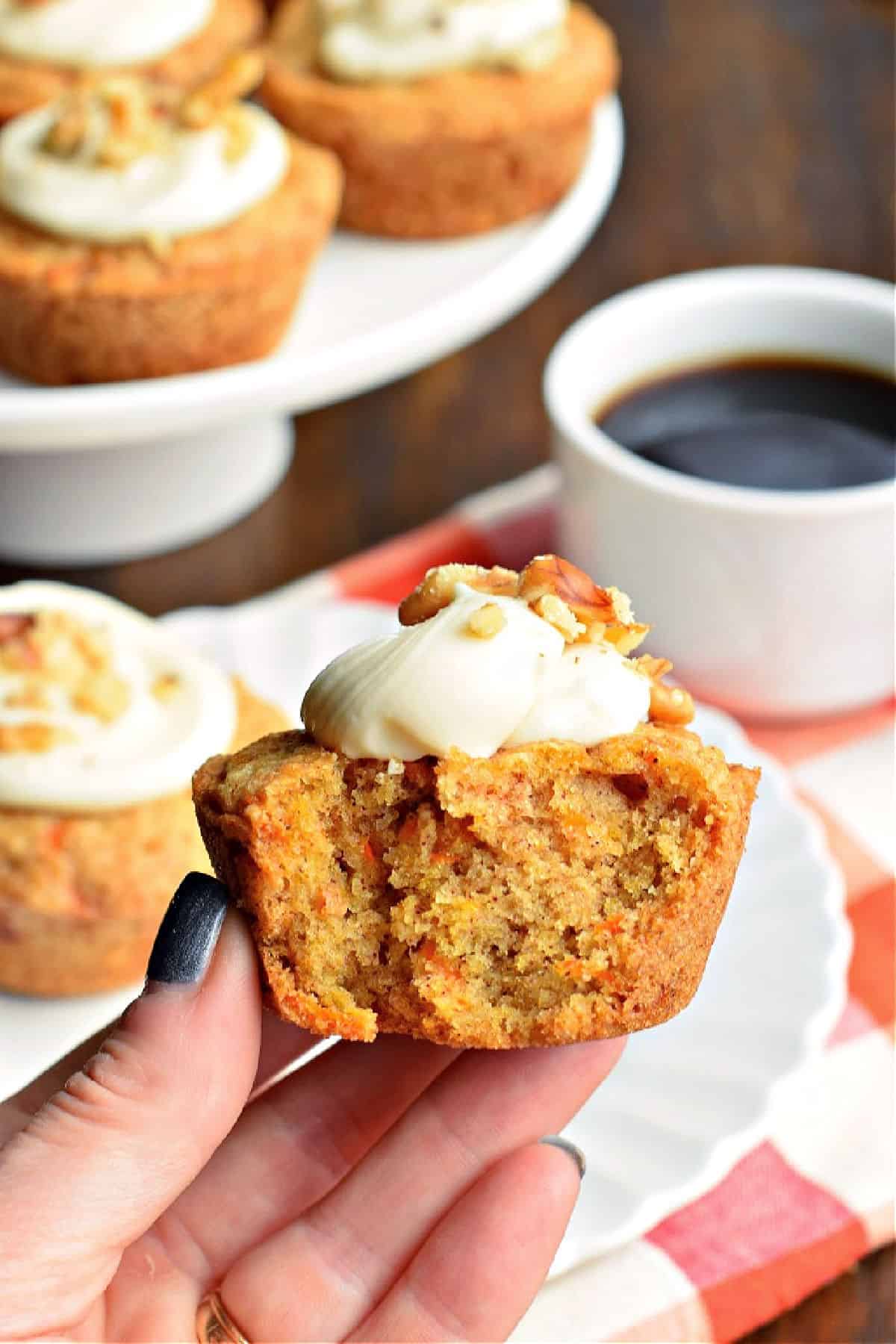 If you love carrot cake, it's time to meet your new favorite muffin! Carrot Cake Muffins have the perfect amount of sweetness, a hint of spice and a moist crumb. Pour yourself a cup of coffee and enjoy!