Sugar coated and lightly fried Jam Doughnuts are pure breakfast heaven. Pick your favorite jelly or jam flavor and enjoy a batch with coffee or tea any time of day.
Doughnuts are my weakness. From Chai donuts to easy baked chocolate donuts, I crave it all. Our powdered sugar donut holes are a reader favorite, too!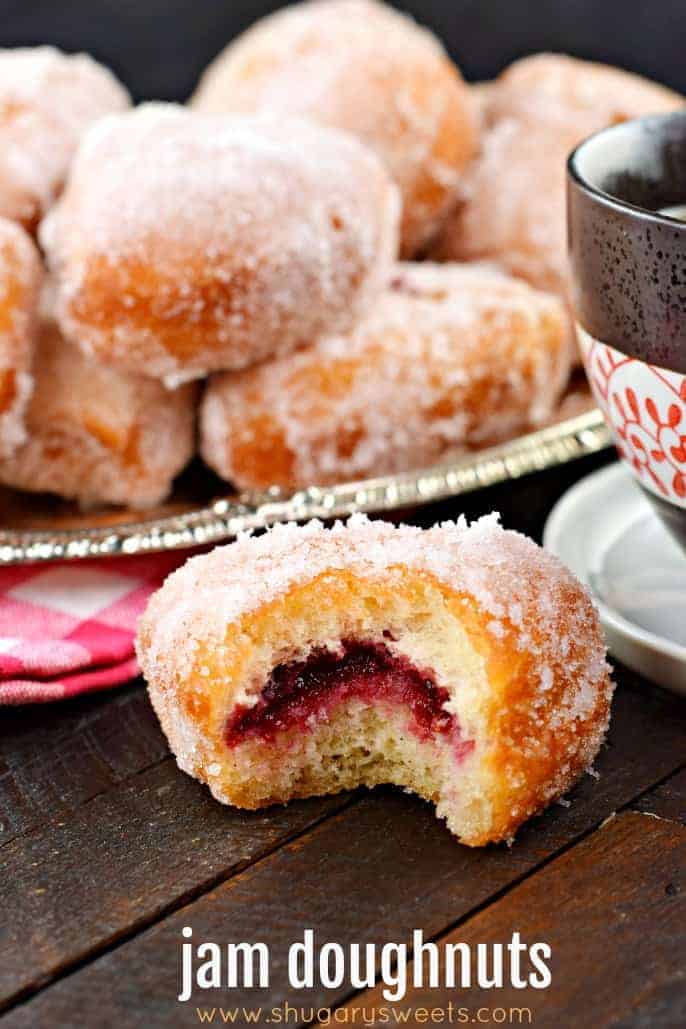 Why These Doughnuts are Best
If you crave a little sweetness in the morning, you can't beat the taste of homemade jam-filled doughnuts!
They're made from scratch with an east yeast dough.
This recipe makes 36 freezer-friendly doughnuts. Perfect for sharing or saving for later!
You can make them with any flavor of jam, jelly or other fruit preserves you like.
Rolled in sugar for a crisp sweet coating.
No deep fryer needed!
If you love these full size doughnuts, be sure to try our bite size jelly donut holes. So good and easy.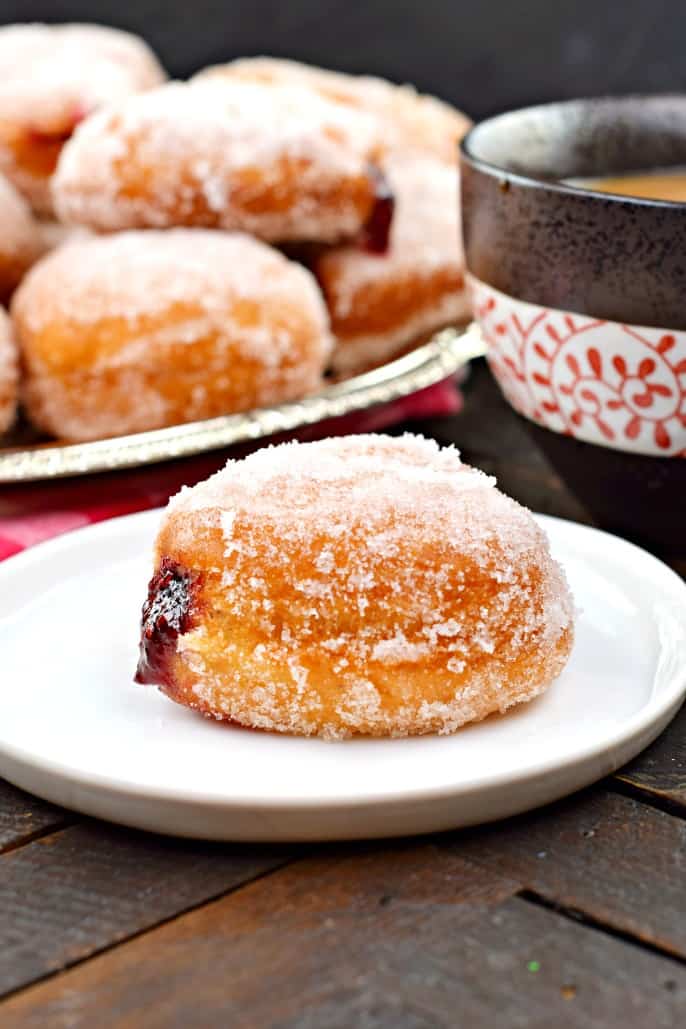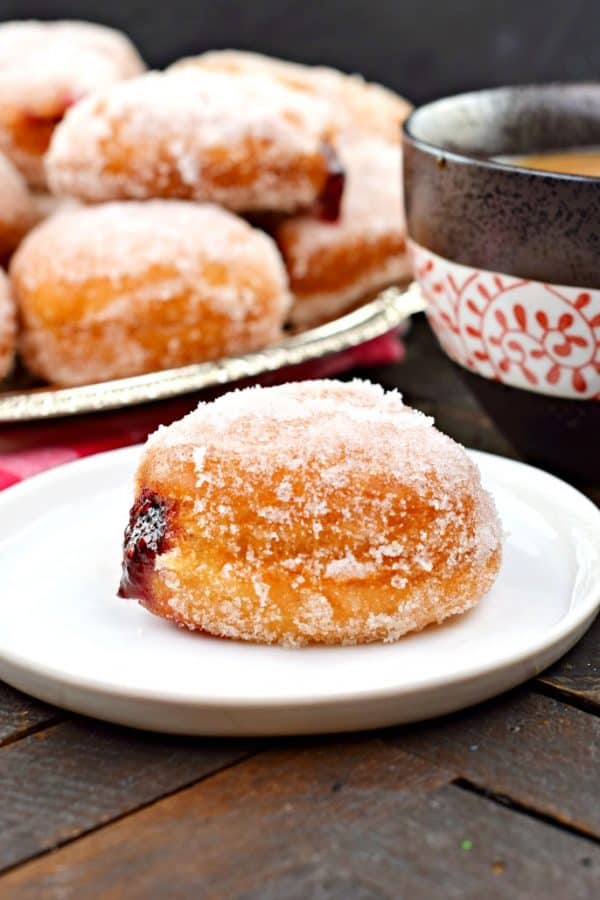 Ingredient Notes
Yeast. You will need two packages active dry yeast for the dough. Make sure to check the expiration dates; old yeast won't rise as well (or at all!).
Heavy cream. The added milk fats in cream condition the dough so the doughnuts fry up soft and fluffy. If you don't have any, whole milk can be substituted.
Fruit preserves. I used raspberry preserves in today's batch of donuts. They're also delicious with our homemade strawberry jam or any fruit jams you have on hand.
Granulated sugar. You will need sugar to sweeten the dough along with additional sugar for rolling the donuts right after frying.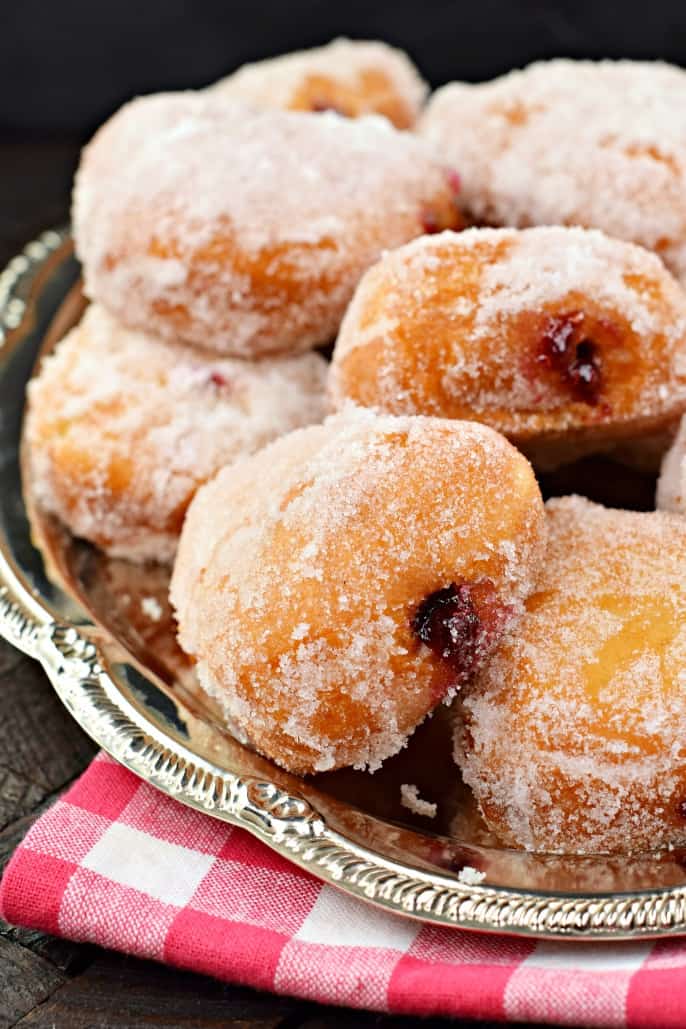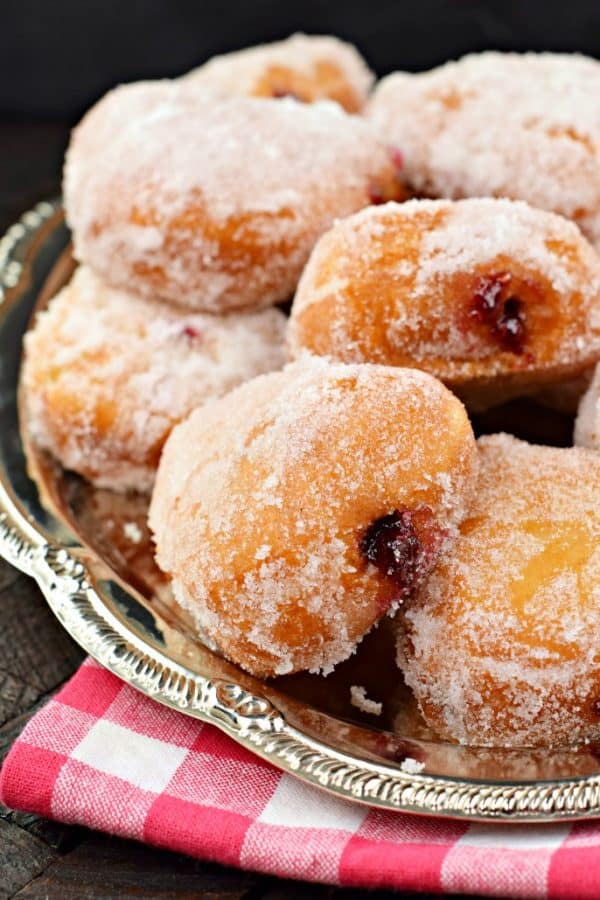 Tips and Tricks
If you're wondering how to make jam doughnuts, this recipe is a great way to learn.
If you're new to making yeast doughnuts, here are a few tips for success.
Proof the yeast. The recipe includes instructions for sprinkling yeast over warm water and letting it rest until it looks foamy and bubbly. This is how you know your yeast is alive! If it doesn't become foamy after 5-10 minutes, discard and try again with a fresher packet of yeast.
Place the dough in a warm place to rise. I usually turn my oven on to 200°F and place my bowl on the stovetop. My house is ALWAYS cold, so this works for me. You can even put your bowl over the clothes dryer while it's running!
Do not overhandle the dough. Be gentle when rolling the doughnuts or they can become tough and dense when fried.
Cook a few at a time. I fry my doughnuts in oil in a rimmed skillet. They brown quickly, so adding only 3 or 4 small doughnuts to the pan at once reduces the likelihood you'll accidentally burn one!
Dip in sugar right away. This is another reason why I only cook a few at a time. The sugar sticks best when the donuts are hot, immediately after coming out of the oil.
Cool the doughnuts completely before adding the jam filling. You can get your jam and your piping bags ready while the doughnuts cool—and put on a pot of coffee to serve with them!
Recipe FAQs
How do you add jam to doughnuts?
Start by stirring the jam until it's almost runny. Then put it in a pastry bag with a an open tip.
Stick the open tip of the pastry bag in one end of the doughnut and squeeze. You'll see the doughnut puff up.
Be careful not to overfill the doughnuts. If you add too much the donuts will explode or ooze jam from the entry hole.
This may take a few trial attempts—which means, you may need to cut open a few to see if your "pressure" is enough or too much.
Can jam doughnuts be made ahead of time?
Jam doughnuts are best enjoyed fresh within a day of frying. If you won't be eating them all the same day, freeze them for later!
If frozen shortly after frying, thawed frozen doughnuts taste as delicious as freshly made ones.
How do I freeze these doughnuts?
Once the doughnuts are filled, place them in a single layer in an airtight container or ziploc gallon freezer bag. Freeze for up to 3 months.
When you're ready to serve them, remove the doughnuts from freezer and let them thaw at room temperature.
They may be slightly sticky after thawing. Just give them another dip in some granulated sugar and all will be well!
Can I fill them with jelly instead?
You sure can. All kinds of jelly flavors taste delicious in the center of a yeast doughnut!
Can these be baked instead of fried?
I don't recommend baking these donuts. If you're looking for an easy baked donut recipe, you'll love my Cinnamon Coffee Cake Donuts.