Love donuts for breakfast but hate all the work? These Powdered Sugar Donut Holes are baked (not fried) and ready in under 30 minutes.
After tasting these, you'll want to try my Chocolate Glazed Donut Holes next! Or give our easy cinnamon breakfast muffins a try.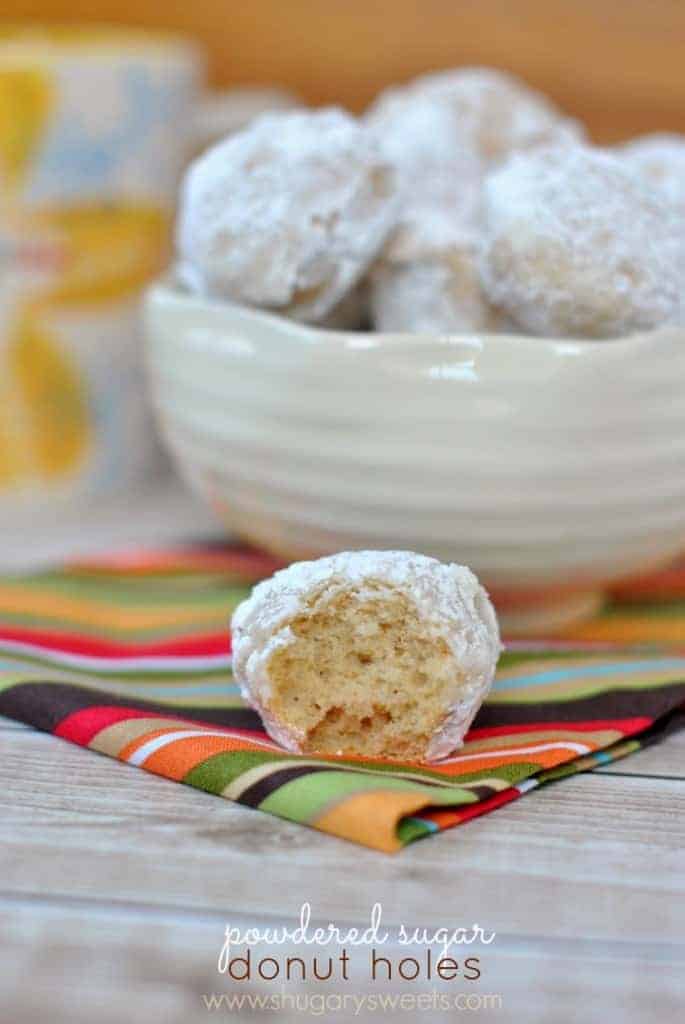 Why this Recipe Works
These little bites of donut bliss are even easier to eat than they are to make. You'll want to pop one in your mouth every time you see them!
Homemade donut holes are baked, not fried.
Made in a mini muffin pan for easy baking.
Perfect powdered sugar coating!
This recipe takes all the work and mess out of making donut holes, without sacrificing the classic taste you love.
Try our chocolate powdered sugar donut holes next!
Ingredient Notes
Unsalted butter – Softened butter in the batter gives the donuts their rich flavor. Rolling donut holes in melted butter helps the powdered sugar topping stick!
Egg – Eggs help leaven the donut holes and keep their shape.
Baking Powder – This ingredient works with the eggs to make baked donut holes light and fluffy. Use a room temperature egg so it's easier to incorporate.
Milk – You can use any milk (skim, whole, 2%, etc.) in the batter. Nondairy milk works too!
Cinnamon – This spice adds just a hint of flavor to enhance the sweetness of these donuts.
Easy Instructions
Make the batter:
First, beat together the sugar and butter. Mix in the remaining ingredients and beat until fully combined.
Bake:
Drop batter by the tablespoon into a greased mini muffin tin. Bake for 13 to 15 minutes.
Powdered sugar topping:
Dip each cooled donut hole into melted butter then roll them in powdered sugar.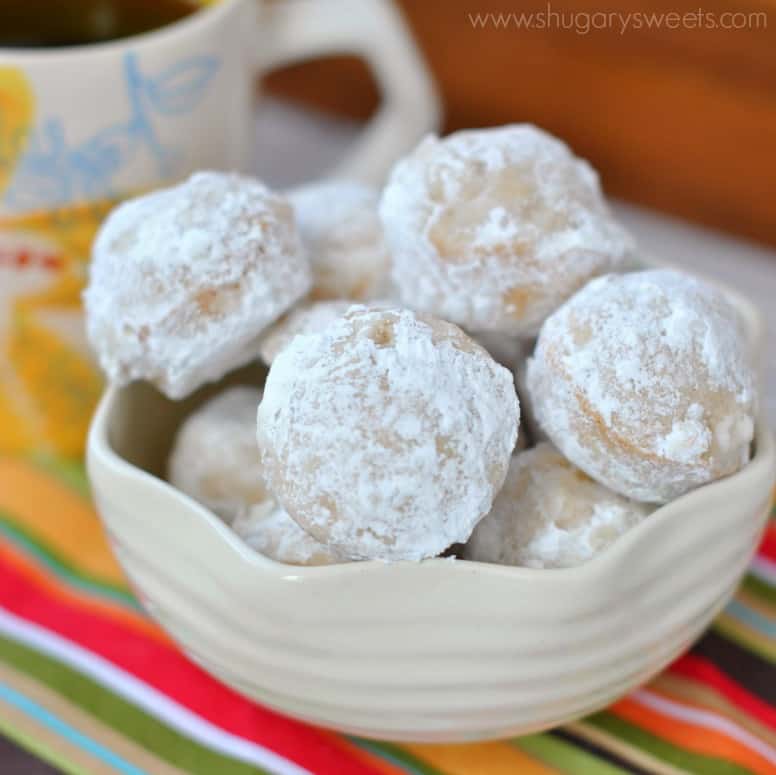 Tips and Tricks
Store powdered donut holes in an airtight container at room temperature. Enjoy within 5 days.
For an alternate topping, try rolling these donut holes in cinnamon-sugar instead of powdered sugar.
Spray the mini muffin tin with baking spray before adding the batter. This prevents them from sticking and makes it easy to remove donut holes from the pan.
Recipe FAQs
Can I make these in a regular muffin pan?
You can use a regular sized muffin tin but then they won't be donut holes! You would also need to adjust the baking time.
Can you freeze baked donut holes?
These donut holes can be stored in the freezer without the powdered sugar coating for up to 3 months.
After thawing, roll them in the melted butter and powdered sugar before serving.
How do you keep the powdered sugar from melting on donuts?
Make sure your donuts are completely cooled before adding the powdered coating. The melted butter should also be cooled before you use it to coat the donut holes.
More Breakfast Recipes
Homemade Powdered Donut Holes are simply delicious! Skip the hassle of frying with this easy recipe.