These baked Chocolate Glazed Donut Holes can be on your table in under 30 minutes. Make a batch for the whole family to share. Just don't forget to hide a few for yourself. They disappear fast!
With baked chocolate donuts this good, who needs a fryer? After you try these glazed donut holes, give our chocolate powdered sugar donuts a try next.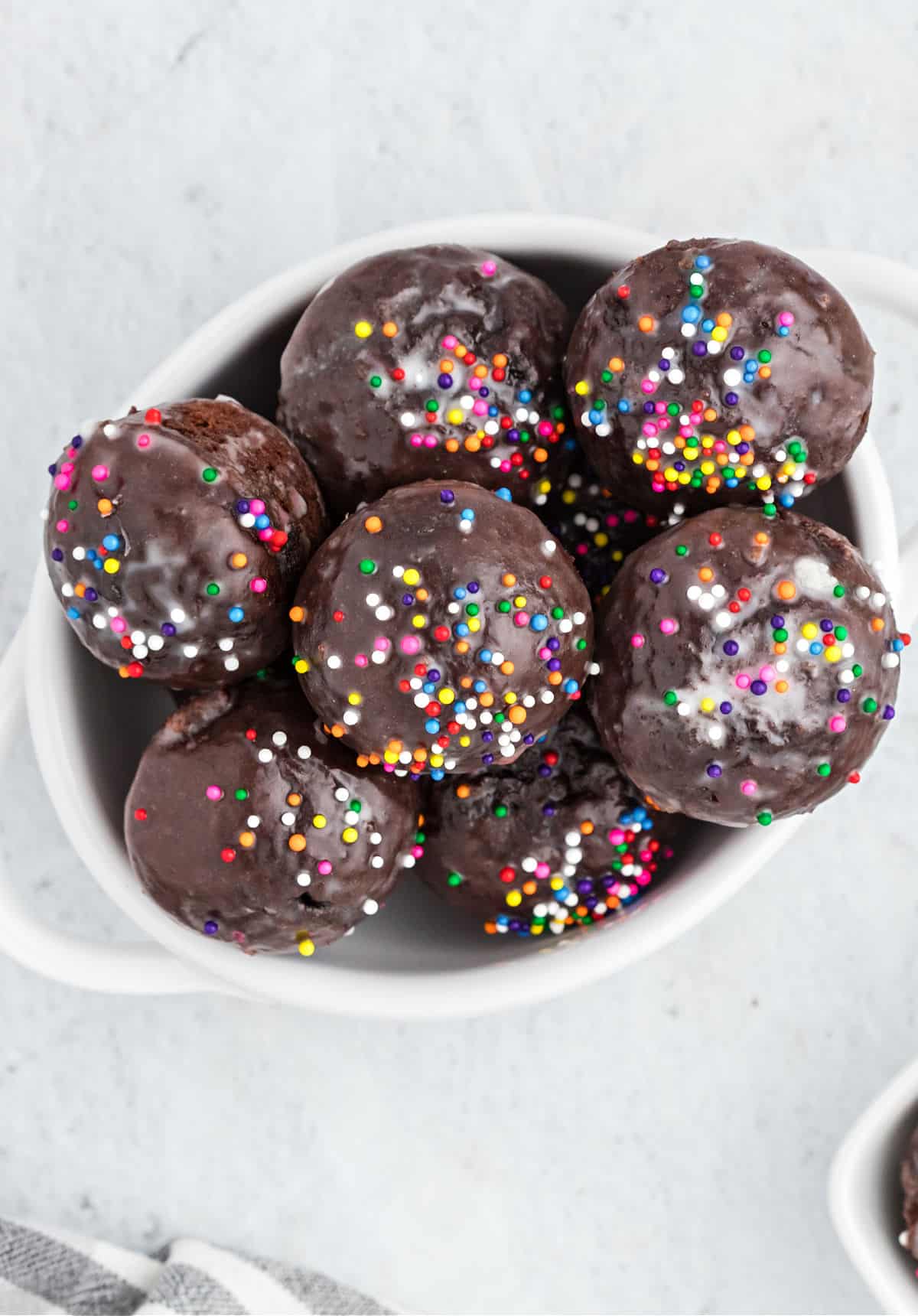 Why this Recipe Works
Bring these to your next breakfast meeting or coffee date and watch how quickly they disappear. Everyone loves Chocolate Glazed Donut Holes.
These chocolate glazed donut holes are baked not fried.
No splattering grease or oil burns to worry about!
A simple two ingredient glaze sets in a crackly layer over the moist donut holes. Add sprinkles for a fun finishing touch.
You can easily double the recipe to feed a crowd!
They're simply irresistible! Love easy breakfast recipes? Try our homemade cheese danish!
Ingredient Notes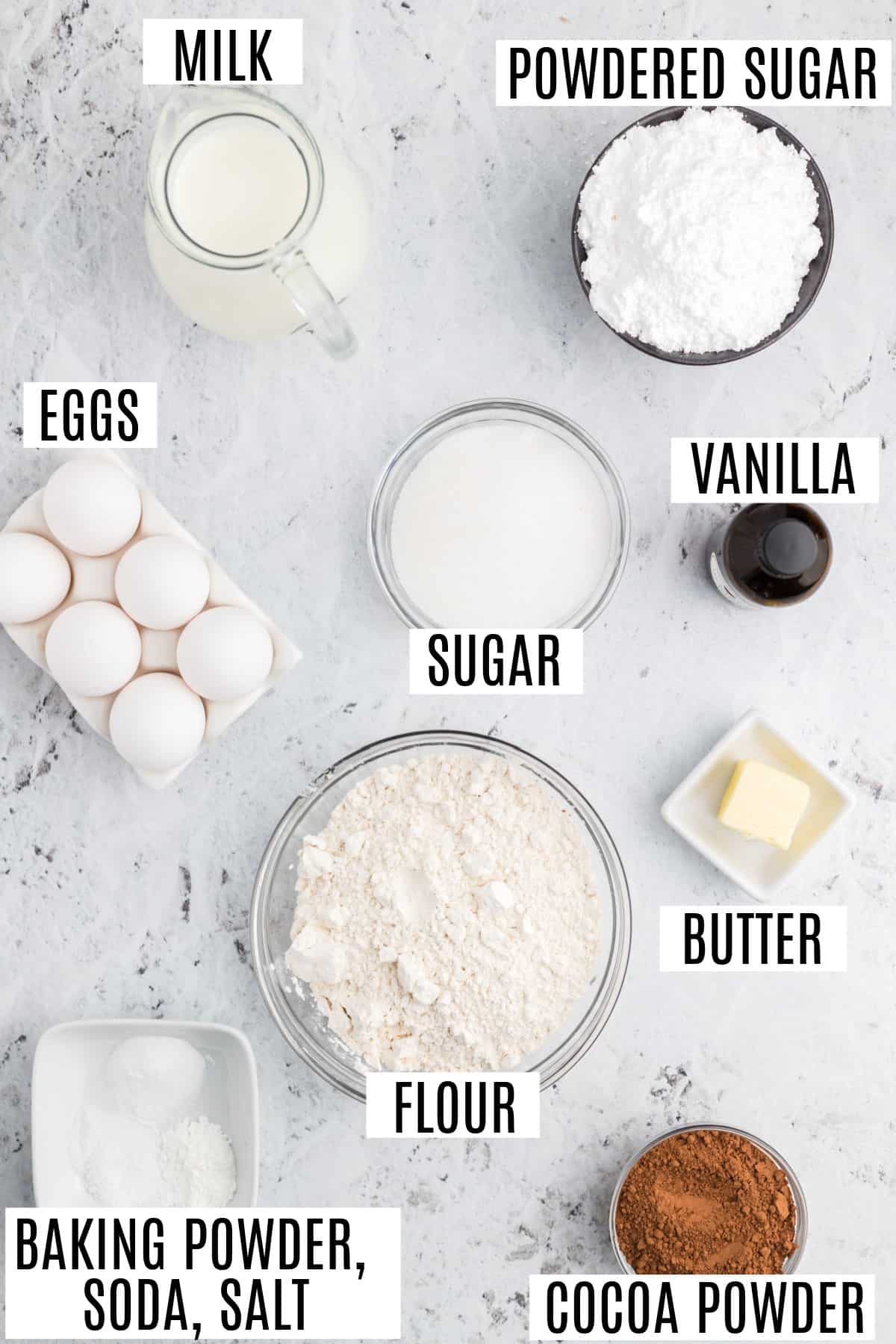 Unsalted butter. Melt the butter in the microwave or on the stove before adding to the recipe. If using salted butter, use half the amount of kosher salt called for in the recipe.
Unsweetened cocoa powder. Use a good quality cocoa for best flavor.
Powdered sugar. Also called confectioner's sugar, this gets dissolved with milk to make a sweet glaze to coat the baked donut holes.
Milk. Any milk works for the glaze. Skim, fat free, whole milk—whatever you have on hand!
TOOLS: Just a mini muffin pan is all you need. I love this one on Amazon (under $15- it's an affiliate link). I use it for brownie bites too!
Easy Instructions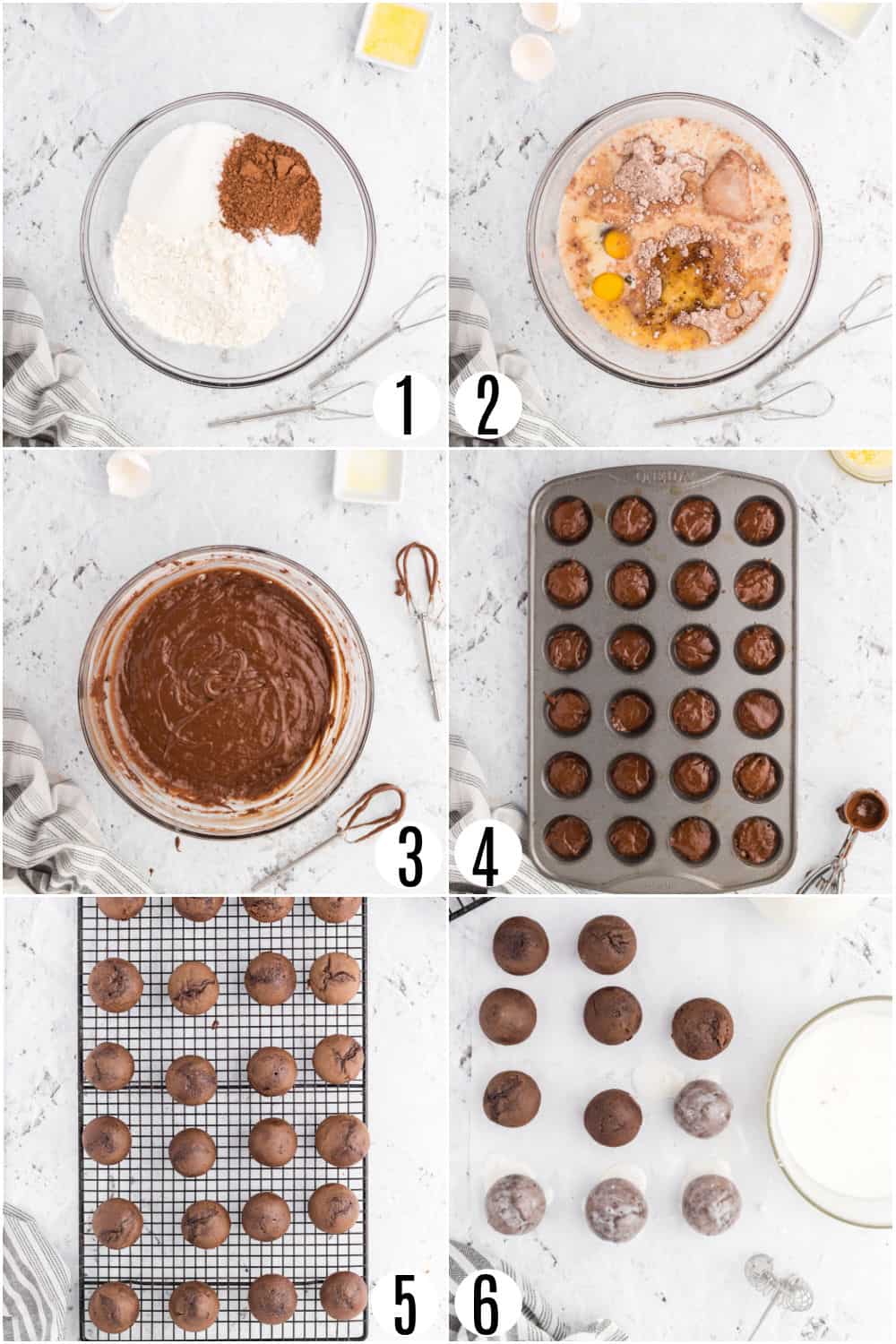 STEP 1. Make the donut batter
Mix the dry ingredients together in a large bowl. Add the eggs, vanilla extract and melted butter. Beat to combine.
STEP 2. Bake the donut holes
Divide the batter into a greased mini muffin tin. Fill each muffin cup about half way.
Bake for 7 to 9 minutes.
STEP 3. Add glaze
Once the donut holes are cooled, whisk together the powdered sugar and milk until smooth.
Dip the top of each donut hole into the glaze. Place dipped donut holes on a sheet of parchment paper to catch the excess glaze dripping off the sides.
Let the chocolate glazed donut holes set for about 10 minutes. Eat and enjoy!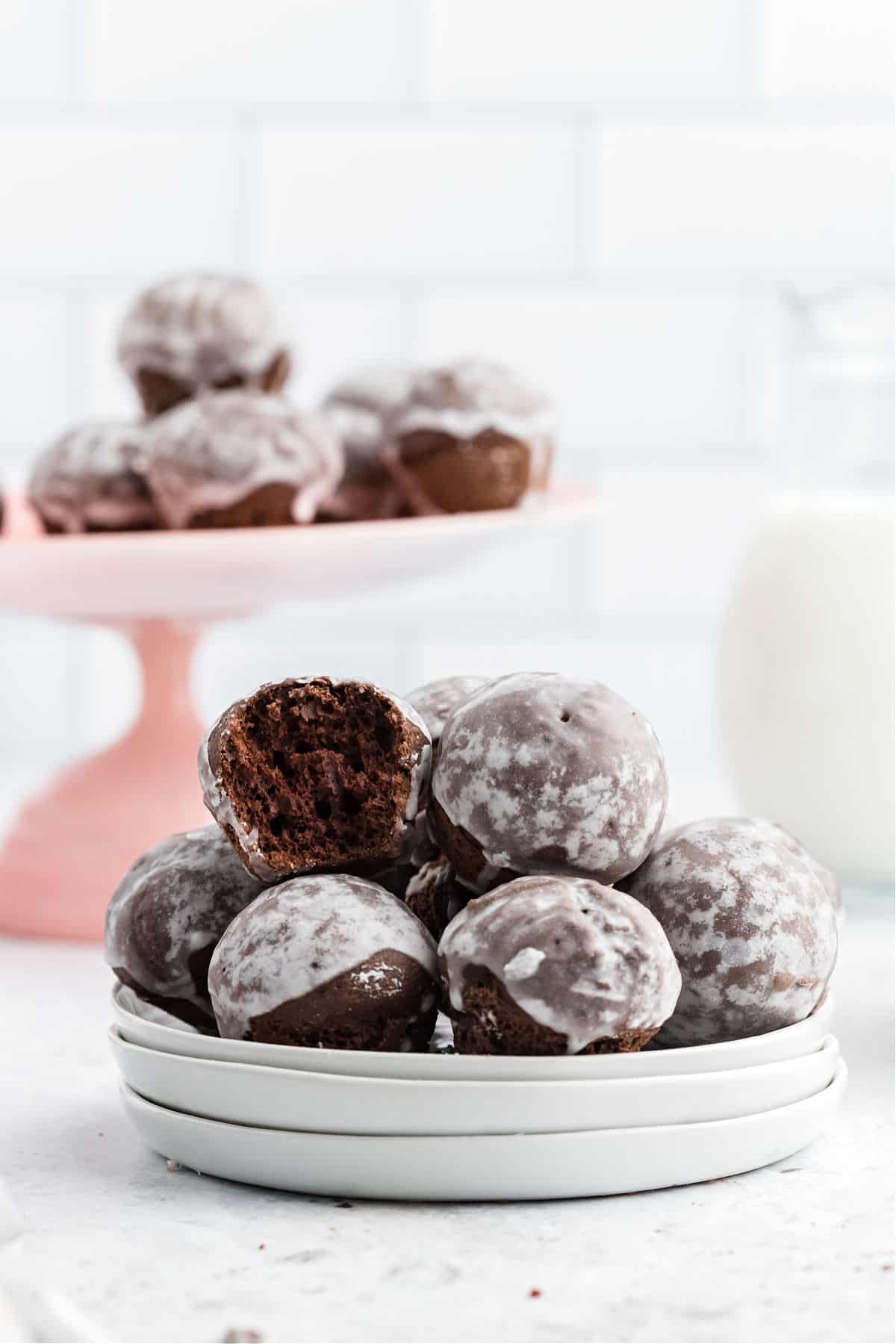 Tips and Tricks
Baked Glazed Donuts are best eaten fresh! Do not put them in a container to store. The glaze will get sticky. If you need to store them, put pieces of parchment paper between layers.
The glaze will drip down the sides of the donut hole after dipping. To make clean up easier, place parchment paper under the bowl of glaze as you dip.
Freeze donut holes BEFORE adding the glaze for best results.
Recipe FAQs
Can I make these donuts ahead of time?
I don't recommend baking these more than a few hours in advance. Like most donuts, they really taste best when they're fresh from the oven.
Will this recipe work in a donut pan instead?
Yes, you can use a donut pan to make donuts instead of donut holes. You will need more baking time and will (obviously) yield fewer individual servings.
Why did my donut holes get stuck in the pan?
Make sure to spray the muffin tin cups really well with baking spray. You can also rub the inside of a butter wrapper over each tin to grease it.
How many donut holes does this recipe make?
This recipe yields about 36 donut holes. The size of your muffin tin and how full you fill each cup may affect how many you get.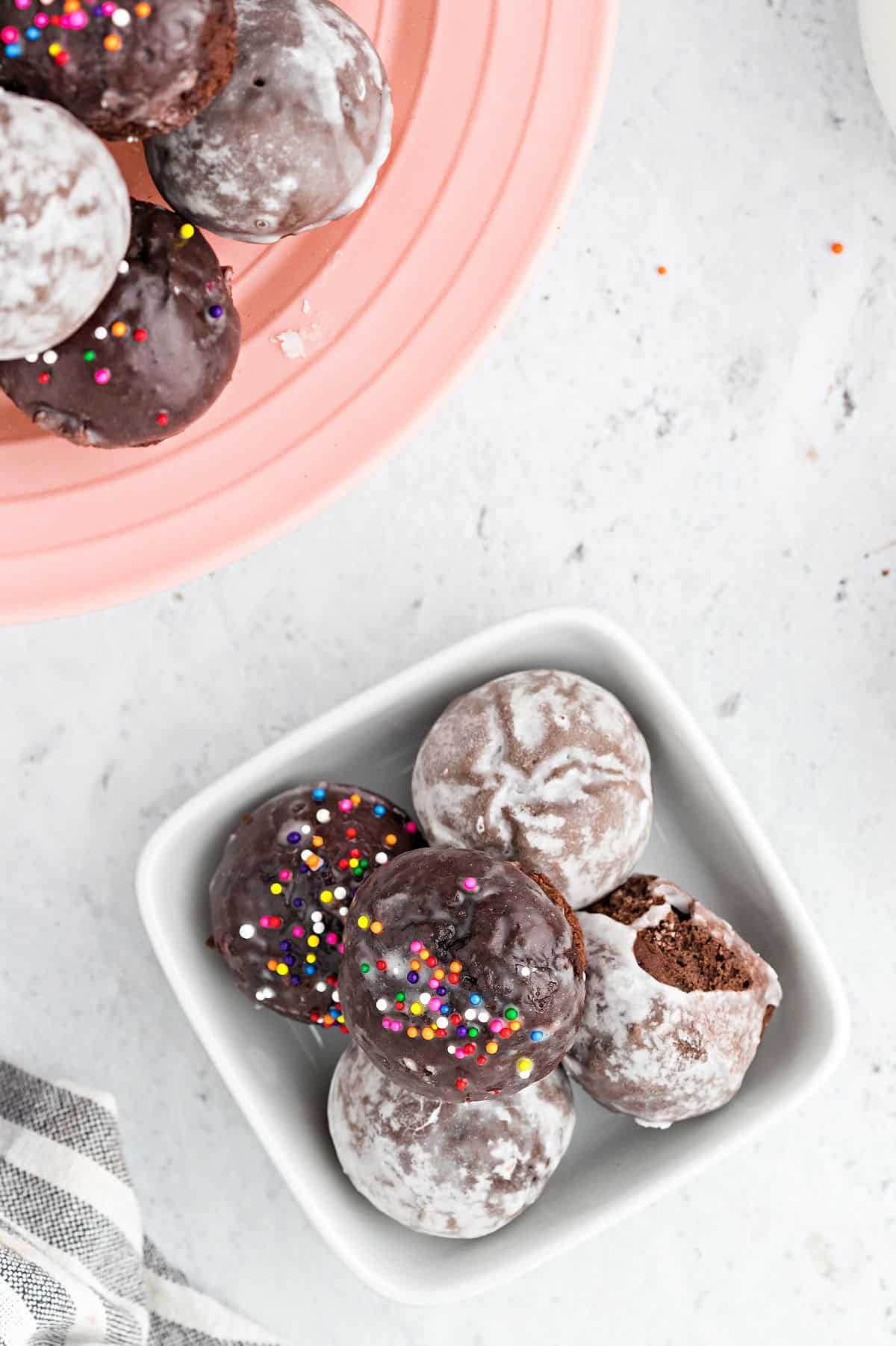 Perfect bites of donut heaven! This Chocolate Glazed Donut Holes recipe will have everyone racing to the breakfast table.