These baked Chocolate Glazed Donut Holes can be on your table in under 30 minutes! They will only take 5 minutes to eat the entire batch. Just sayin!
Be sure to follow me on Bloglovin'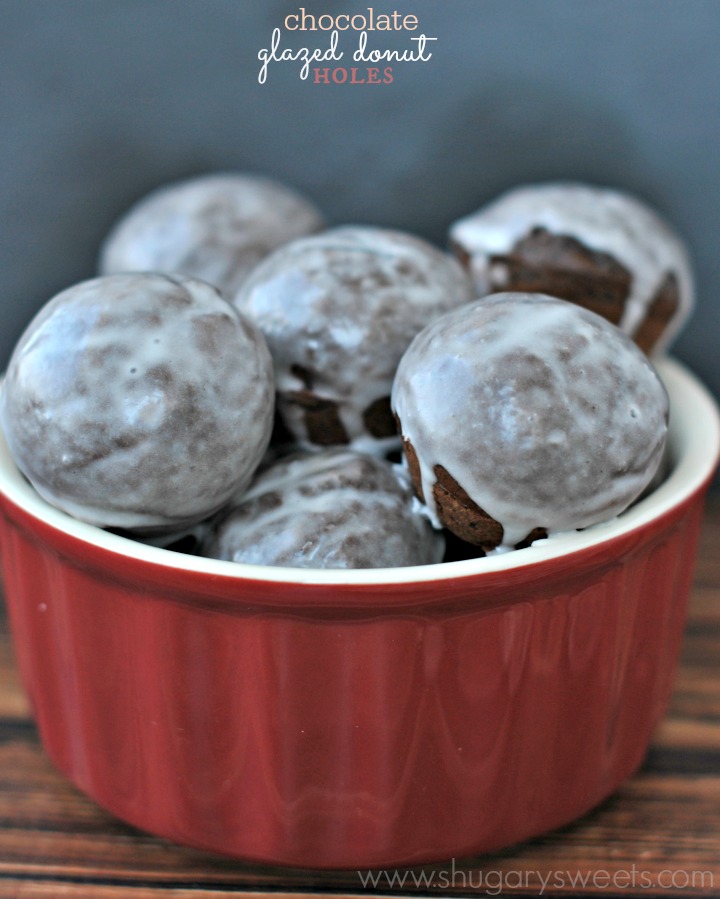 Chocolate Glazed Donut Holes have been on my  mind for ages. My kids love when I make these baked chocolate donuts, and I've been wanting to make a mini version ever since.
But then cheesecake bars, taco chili, boston cream donuts, and much more got in the way.
Remember a couple weeks ago I shared this recipe for Jelly Filled Donut Holes? I mentioned that I made FIVE different varieties? Well, I couldn't wait any longer to share this chocolate glazed version with you.
Because you bake these in your oven, there is no greasy oil mess and there is no waiting. Whip up a batch in your mixer, bake for 8 minutes. While they are cooling whisk together your glaze, and dunk your donut holes. Seriously in under thirty minutes, you can have a batch of Chocolate Glazed Donut Holes for breakfast.
Don't wait 2 1/2 years to make these. You'll regret it.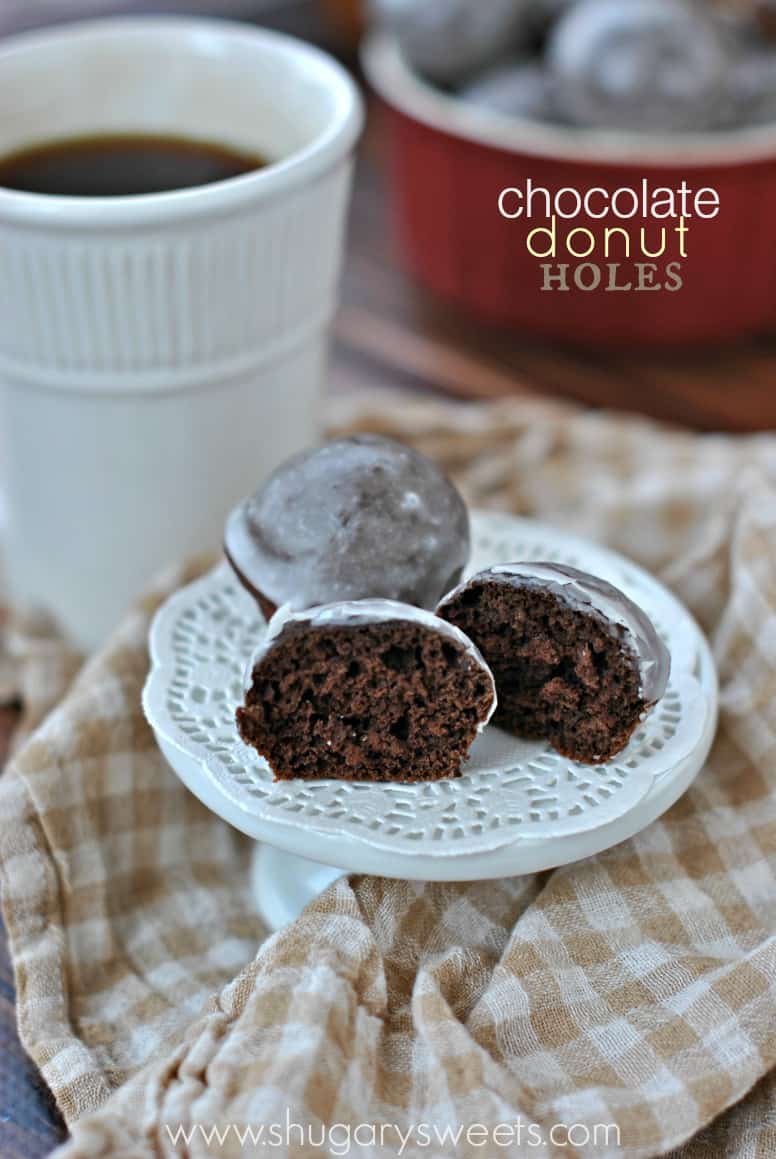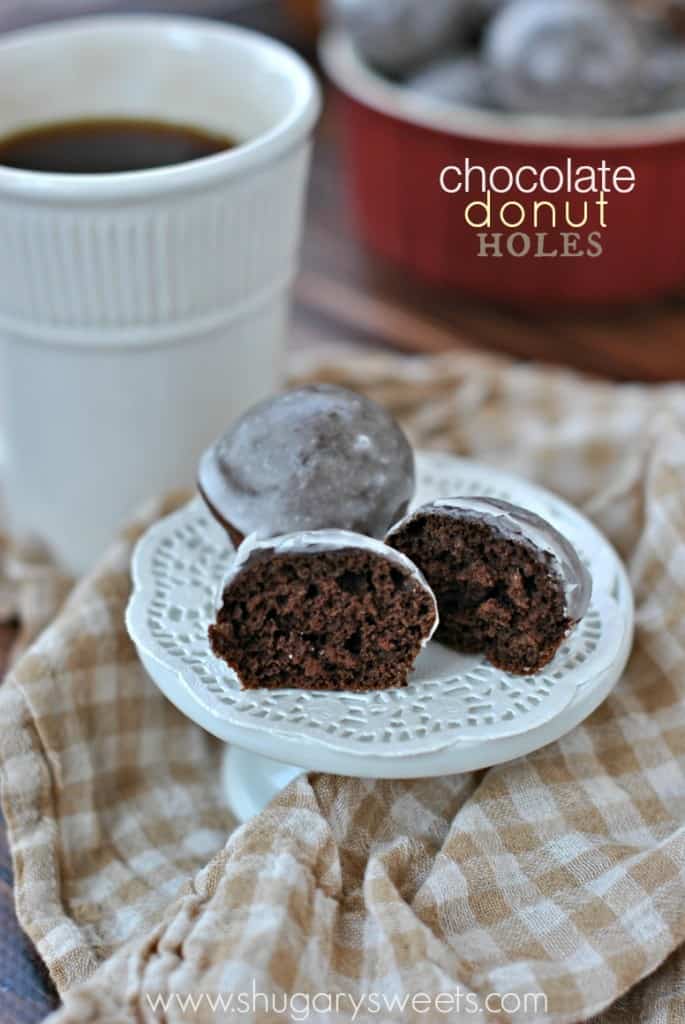 This recipe made 36 donut holes for me (I think) because we were eating them as they were cooling (before glazing). I had to keep asking my kids how many have you eaten!! Ha! Okay fine, I ate quite a few too. Have I mentioned yet how great they are with a quiet house, a cup of coffee and good book?!?
Speaking of books…summer is almost here and I need some great book recommendations! It's going to be a crazy summer here (stay tuned for my big announcement), but I know I'll procrastinate on work and cleaning to sit on the deck with a good book. So if there's one that you have absolutely loved, leave me the name in the comments! I pretty much love all kinds of books. Except Stephen King. I just can't get into his works. Sorry.
Anyways, enjoy some donut holes. Leave me some book recommendations, and get outside and enjoy the weather! Unless it's raining. Or cold. Then grab a blanket, cup of coffee and a donut hole.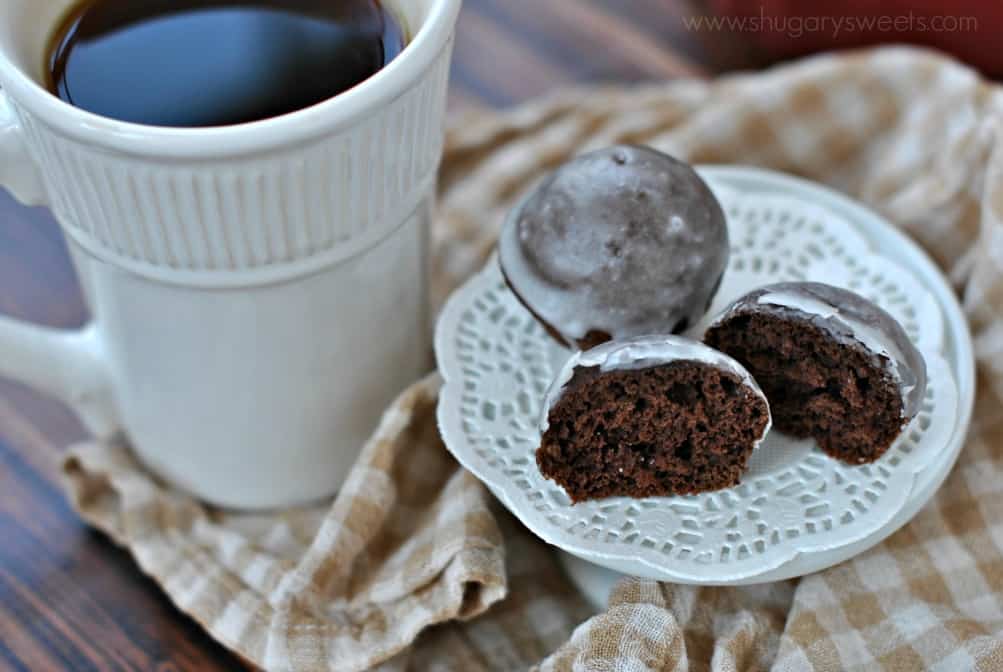 Connect with Shugary Sweets! Be sure to follow me on my social media, so you never miss a post!
Pinterest | instagram | Bloglovin'
Save your favorite recipes to your personal recipe box with the   

  button on all my recipes! Create a Meal Plan with your "favorited" recipes and the ingredients will automatically be added to your own Grocery List!
Yield: 36 donut holes
Chocolate Glazed Donut Holes
Ingredients
For the Donut holes:
2 cup all-purpose flour
3/4 cup granulated sugar
1/2 cup unsweetened cocoa powder
1 tsp baking powder
1 tsp baking soda
1 tsp kosher salt
1 cup milk
2 large eggs
1 tsp vanilla extract
2 tablespoon unsalted butter, melted
For the Glaze:
2 cup powdered sugar
3-4 tablespoon milk
Instructions
For the donuts, mix flour, sugar, cocoa powder, baking powder, baking soda and salt in a large bowl. Add in eggs, milk, vanilla and butter. Beat for 2-3 minutes.
Spray mini muffin pan with baking spray. Fill each muffin cup about 1/2 full and bake in a 325 degree oven for about 7-9 minutes.
Remove and cool in pan about 10 minutes, then cool completely on wire rack.
For the glaze, whisk together the powdered sugar and milk until smooth. Dip each donut hole top into the glaze and place on parchment paper. Repeat until all donut holes are dipped. Glaze will run down the sides, so there is no need to dip entire thing (unless you want to of course). Allow to set, about 10 minutes. ENJOY.
Notes
Donuts are best eaten fresh. The glaze will get translucent (and sticky) if placed in airtight container.
 I love breakfast pastries. Here are some of my favorites….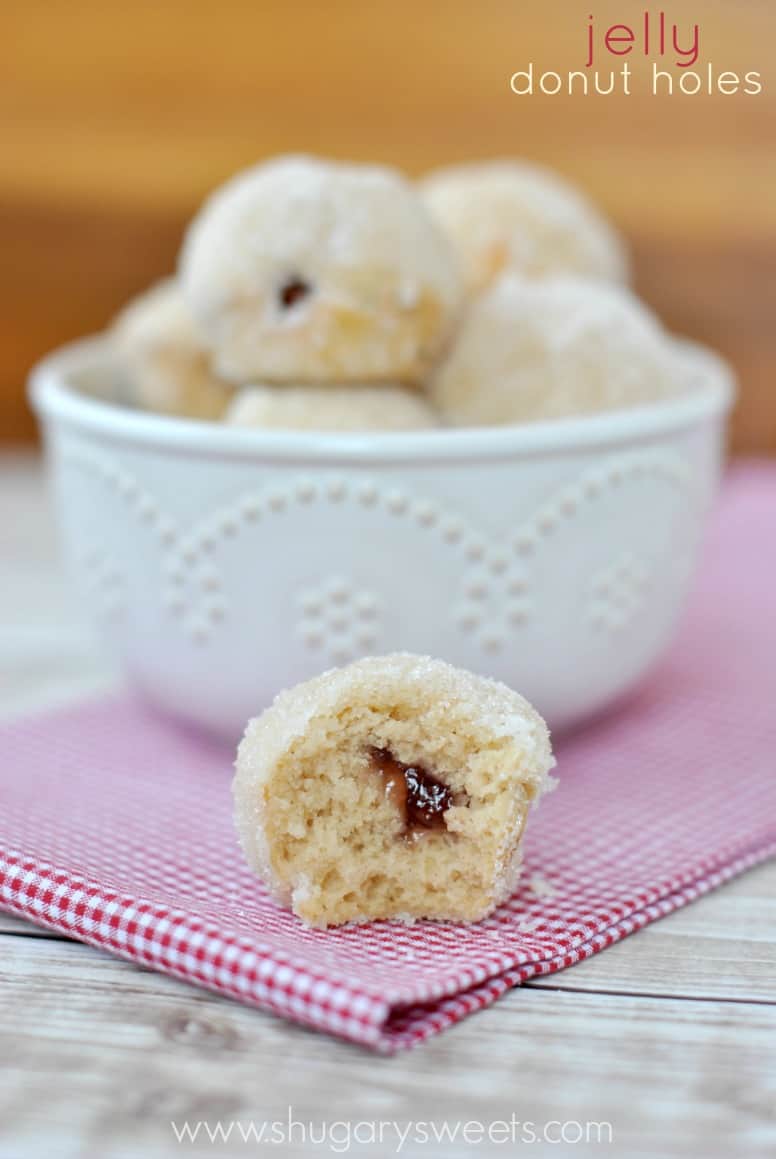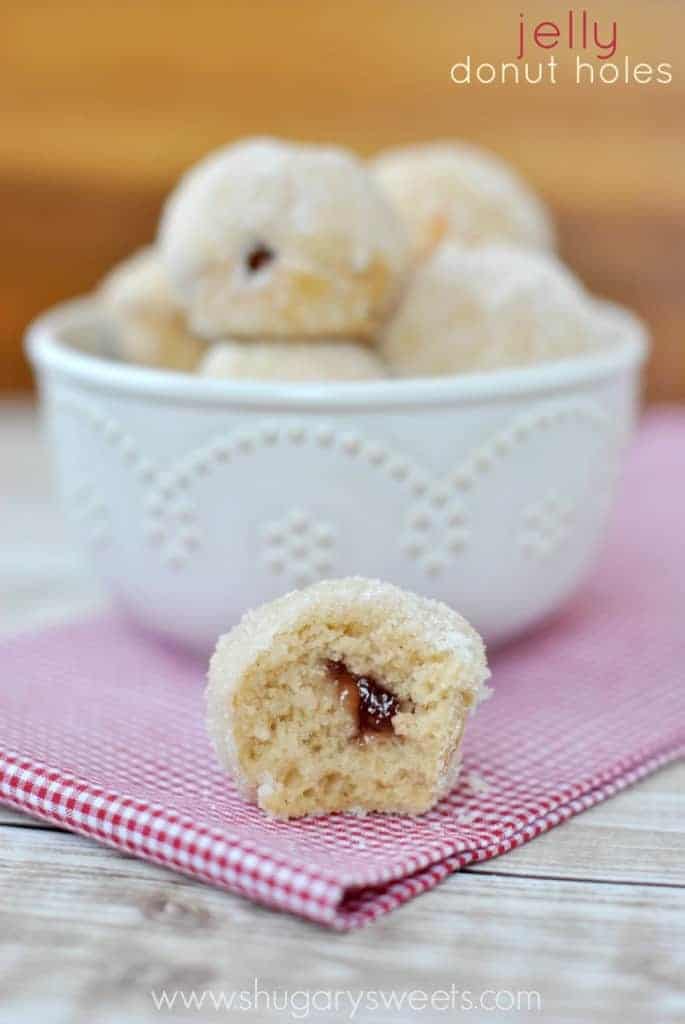 Jelly Filled Donut Holes, use your favorite jam or preserve in these sweet bites!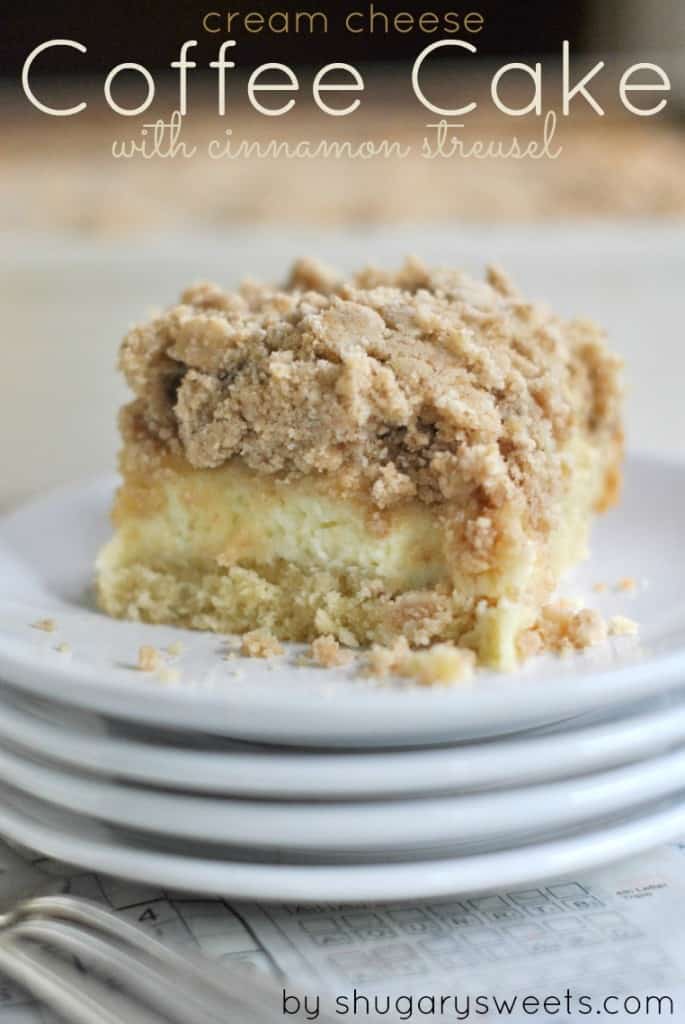 This is my FAVORITE breakfast cake: Cream Cheese Coffee Cake with Cinnamon Streusel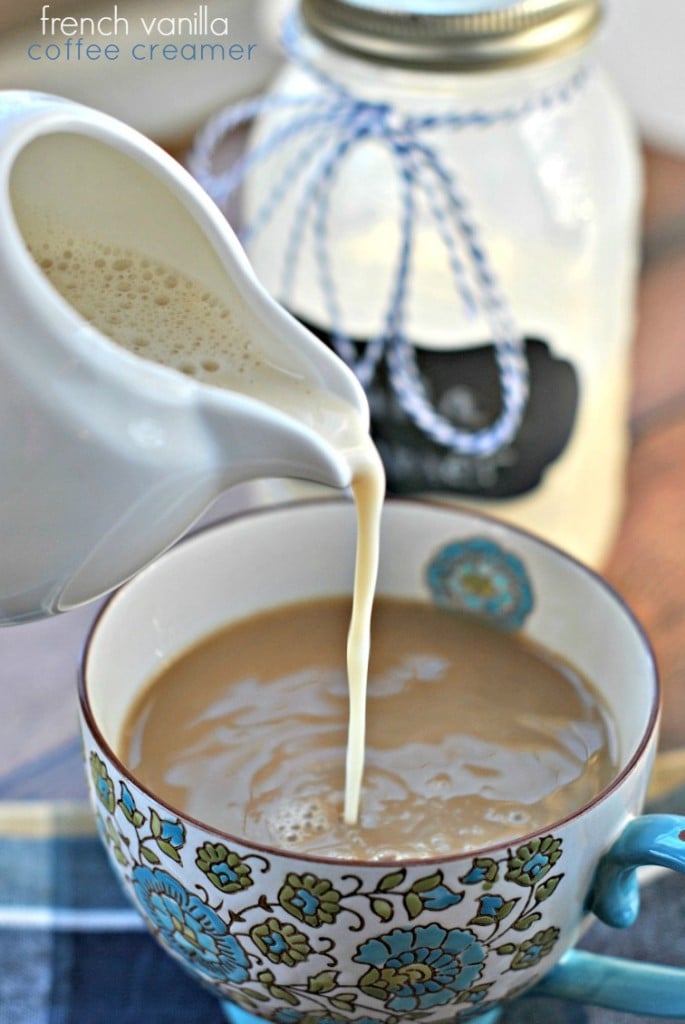 No breakfast is complete in my house until a steaming hot coffee is served…with my favorite homemade French Vanilla creamer!
Be sure to follow my Breakfast Table Goodies Pinterest Board:
Follow Shugary Sweets's board Breakfast Table Goodies on Pinterest.

More Breakfast ideas from some of my favorite blogs: