Love chocolate and peanut butter together? These delicious Peanut Butter Brownie Bites are fudgy brownies with peanut butter frosting and a Reese's peanut butter cup on top.
Who can resist this combination of chocolate and peanut butter? Fans of Peanut Butter Brownies will flip for these easy to make brownie bites. Or give our Peanut Butter Chocolate Chip Bars a try. Those puddles of peanut butter are irresistible.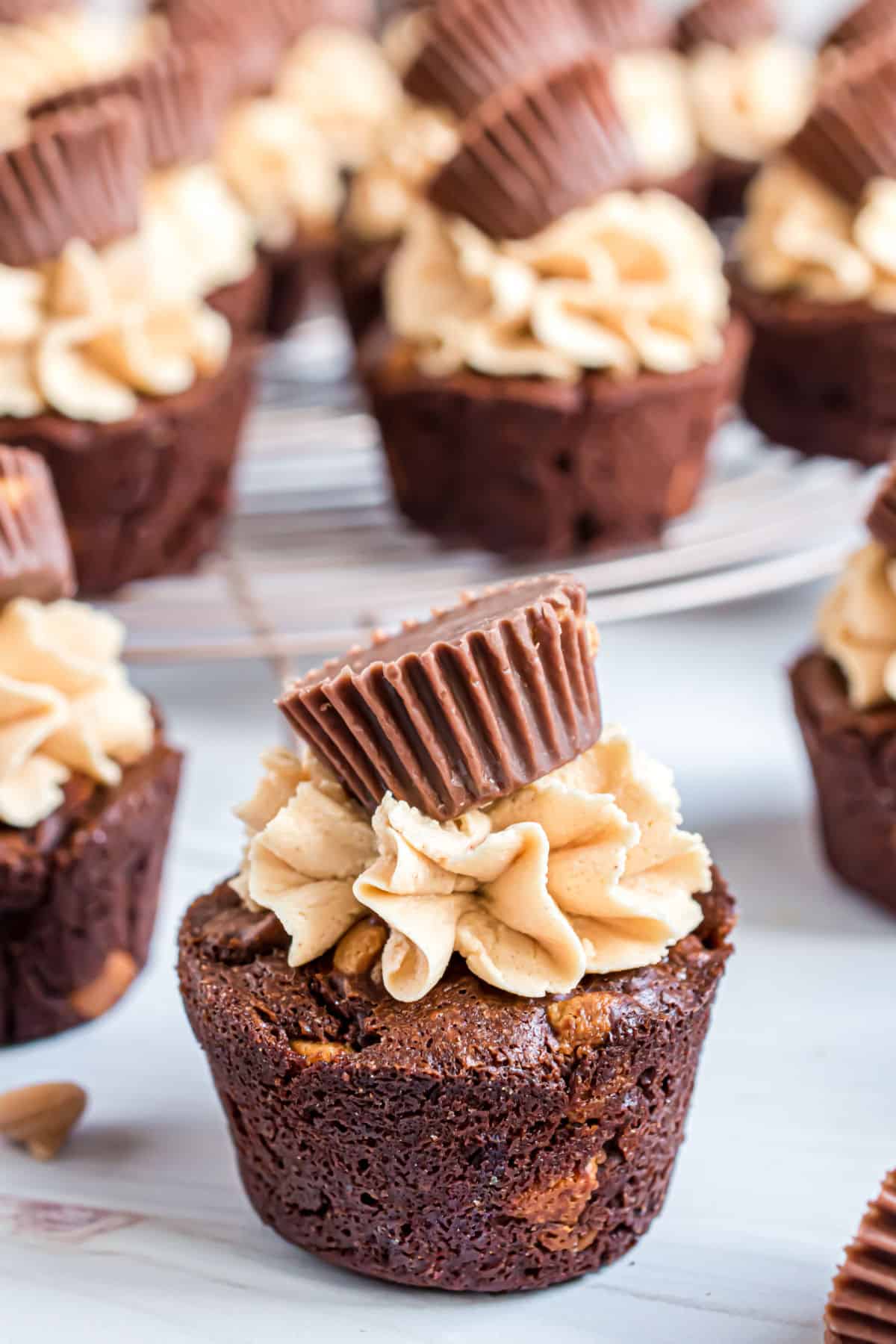 Why this Recipe Works
When you want to make brownies but don't want to deal with cutting them, brownie bites are the solution. Baked in individual servings, these Peanut Butter Brownie Bites are easy to transport and perfect for sharing.
These delicious, bite sized brownies are loaded with Reese's peanut butter morsels.
Then topped with a creamy peanut butter frosting and a mini Reese's cup.
Brownie bites are easy to freeze so feel free to make a big batch. Store and leftovers (as if) in the freezer for emergencies. You know–those days when ONLY peanut butter and chocolate will do.
It's peanut butter chocolate overload! And I will not apologize.
Ingredients Notes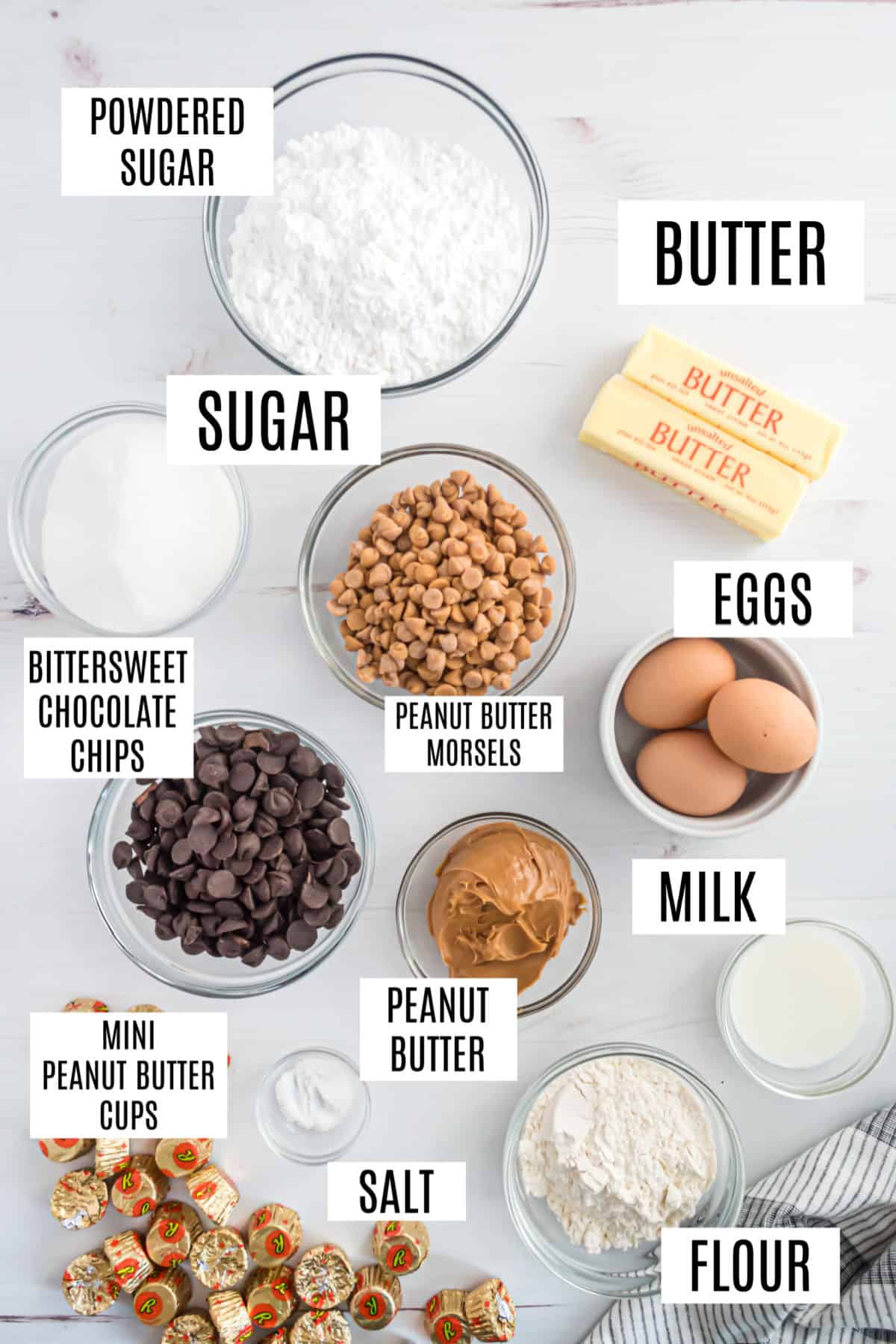 Chocolate morsels. I use the bittersweet chocolate chips with 60% cocoa for the richest chocolate flavor.
Peanut butter. Creamy sweetened peanut butter works best in the frosting. The natural styles (the kind you keep in the fridge) have oils that separate making the frosting texture less smooth and fluffy.
Reese's cups. The mini Reese's that come in the pouch (unwrapped) are the best size for topping these mini brownie bites. Or make a batch of our homemade peanut butter cups, and use those instead!
Easy Instructions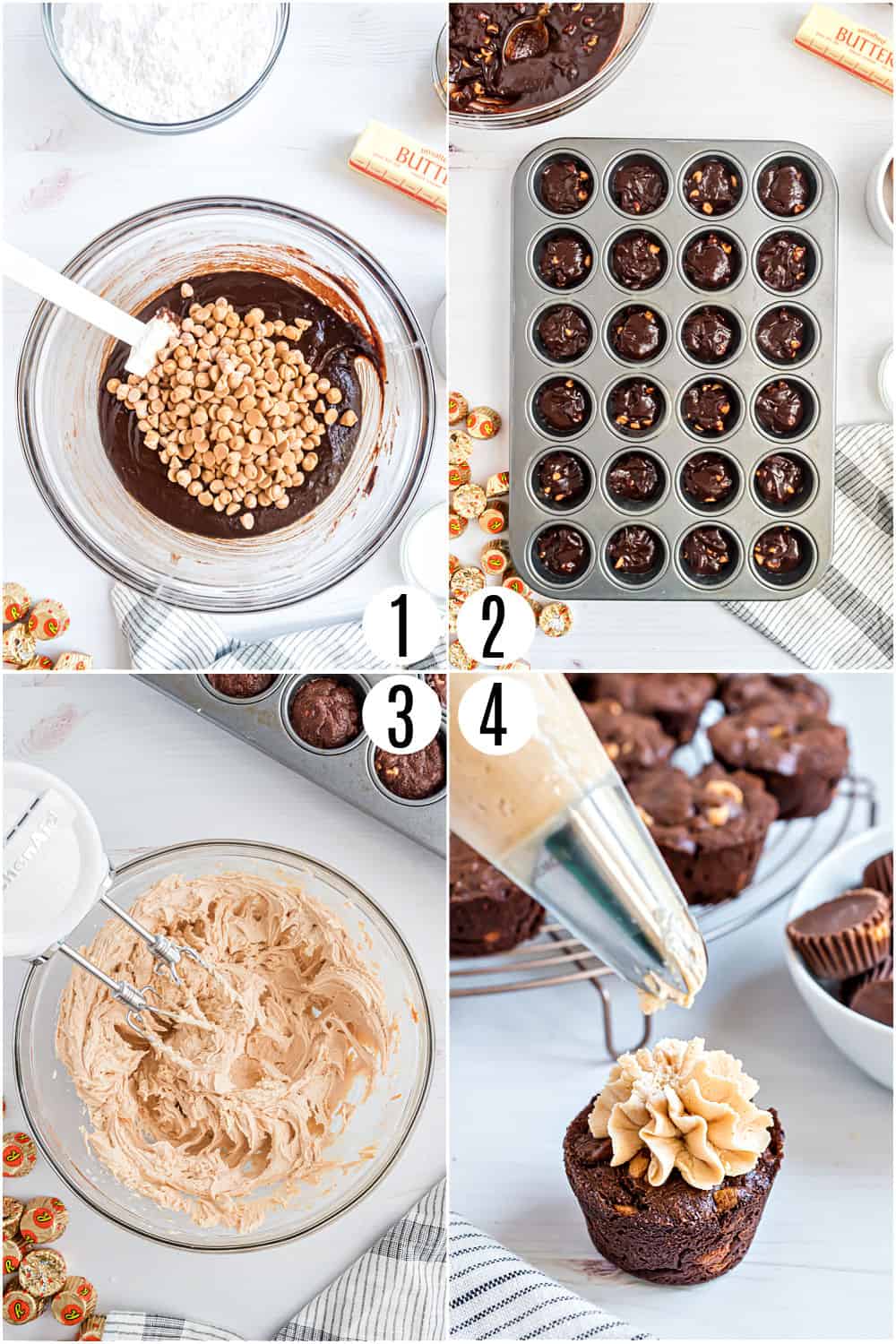 For the brownie bites:
Melt the chocolate and butter together. Add the remaining ingredients and stir to combine. Drop the batter by the spoonful into a greased mini muffin tin. Fill each cavity as evenly as possible.
Bake 12 to 14 minutes, then remove and let cool before frosting.
For the frosting:
Beat butter and powdered sugar together until fluffy. Then, add in the peanut butter and the milk and beat until smooth. Pipe or spread onto the cooked brownie bites!
Top each frosted peanut butter brownie bite with a mini Reese's cup.
Tips and Tricks
I used a mini muffin pan to bake these with a round shape. A silicone brownie bites pan would be a great choice too for square brownie bites.
Do not overmix the brownie batter. If you like your brownie bites fudgy, mix until the ingredients are just combined. The more you stir, the more cakey the finished brownies will be.
Be sure to lightly grease or spray your muffin tin with baking spray before adding the brownie batter.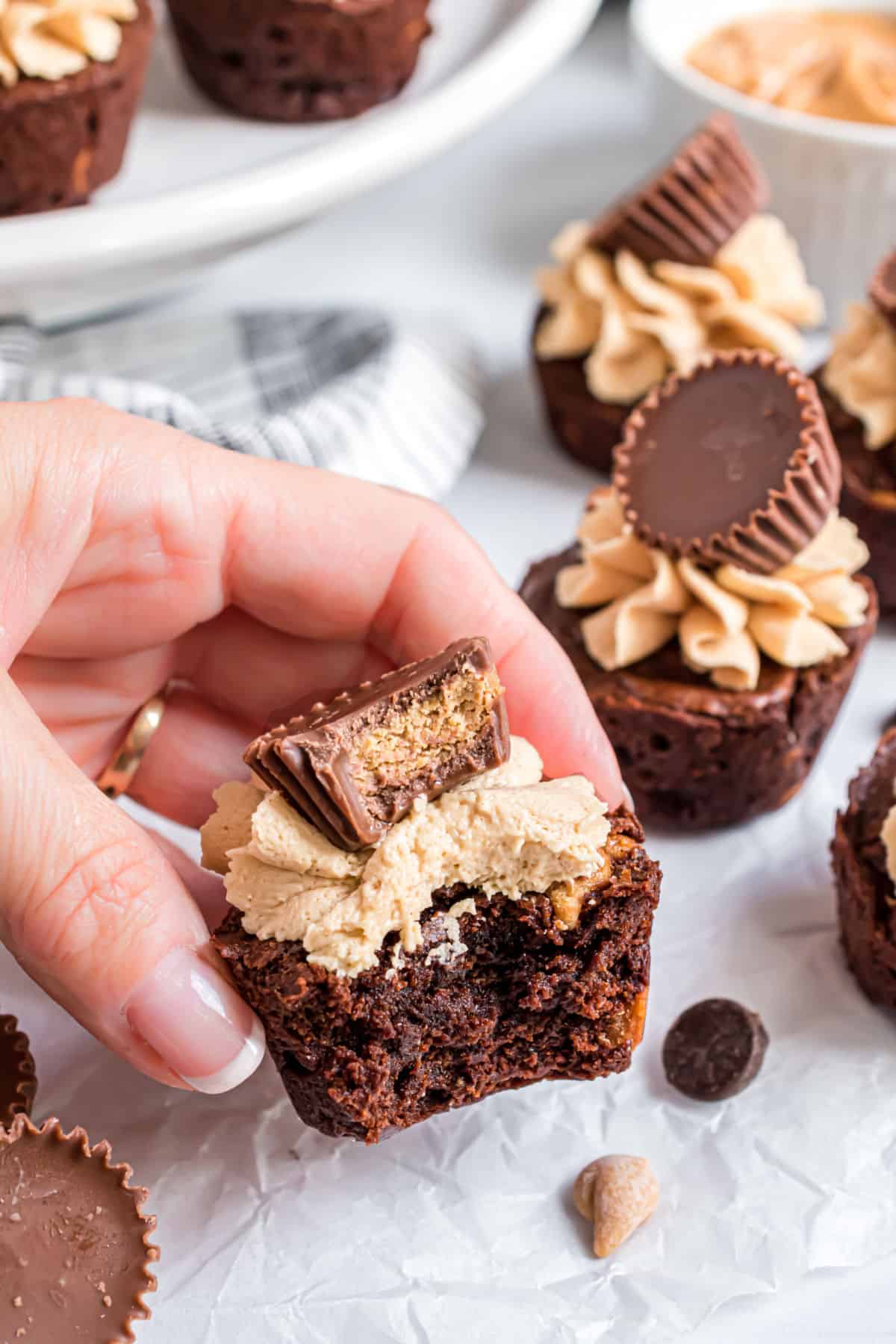 Recipe FAQs
Can this recipe be made as full sized brownies?
Yes, you can use this recipe for delicious peanut butter frosted brownie bars. Follow instructions for baking the batter, then pour into a 9 inch brownie pan. You will need to add more baking time, too. Don't forget to let brownies cool completely before cutting.

How should you store peanut butter brownie bites?
After frosting, transfer the brownie bites to an airtight container in a single layer. Store at room temperature. Enjoy within 3 days for best taste.
Can you freeze these brownie bites?
Yes, brownie bites are a perfect choice for freezing! I prefer freezing them unfrosted in freezer bags. Let them thaw at room temperature and pipe on fresh peanut butter frosting before serving.
More Brownie Recipes