Homemade Brownies topped with gooey caramel, chocolate chips and Fisher Pecans. A decadent dessert!
**This post is sponsored by Fishers Nuts. I am excited to be partnering with them this year and bringing you all some delicious recipes! **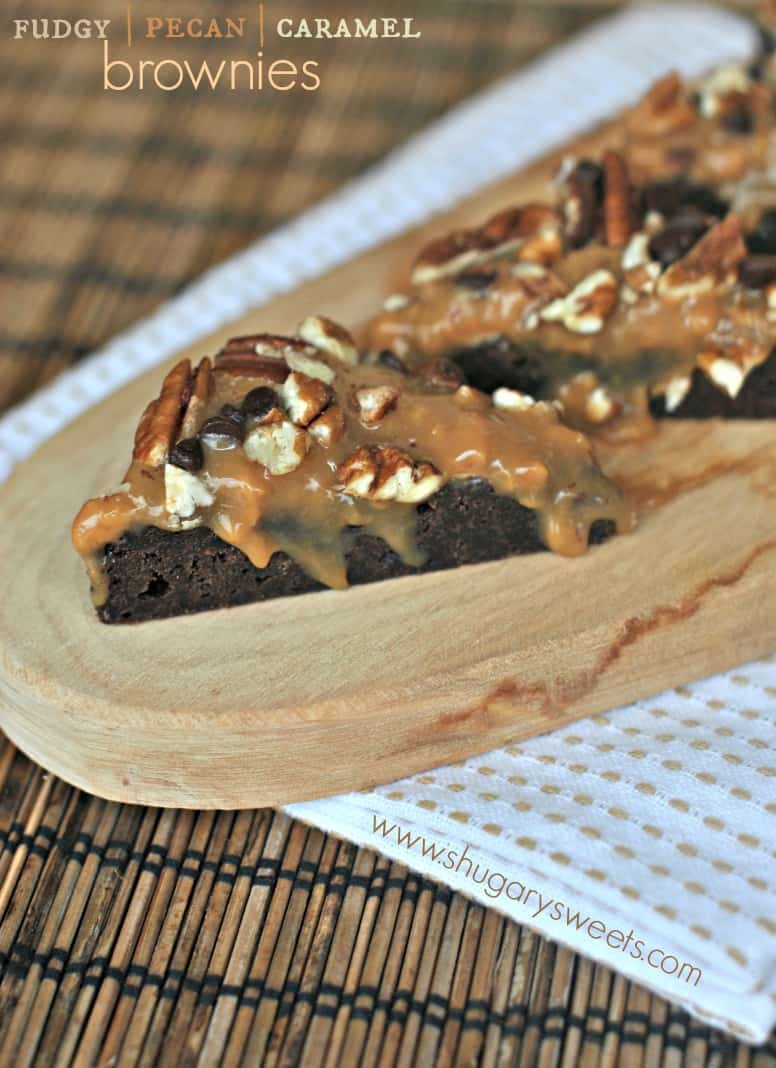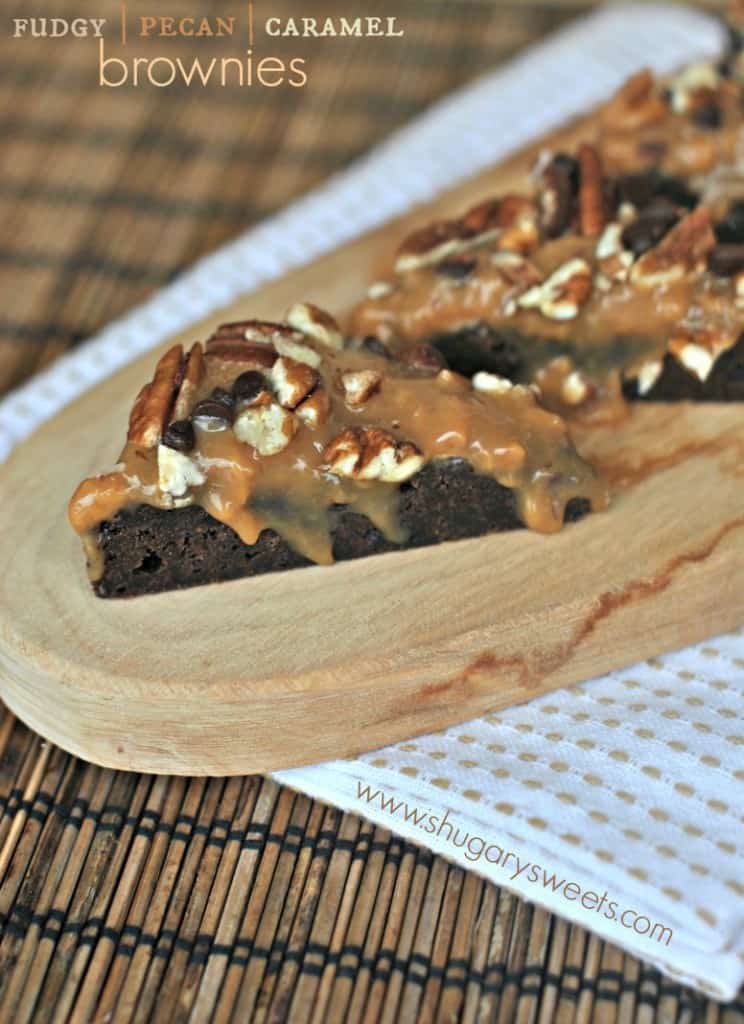 Here is something I learned early on in my marriage. Either you like nuts in your brownies, or you don't.
My husband is one of those anti-nuts in brownies kind of guy. I know. Clearly opposites attract because I LOVE nuts in my brownies (and cookies, and frosting, etc)!
When Fisher approached me about being a brand ambassador for the next year, I was excited. It means more NUTS.
There is one thing though that I can always count on my husband to eat. And it's turtles. I played the turtle card and not only added pecans to the brownies, but I topped these brownies with a thick layer of caramel, chocolate chips and pecans.
I mean seriously, could YOU resist eating these?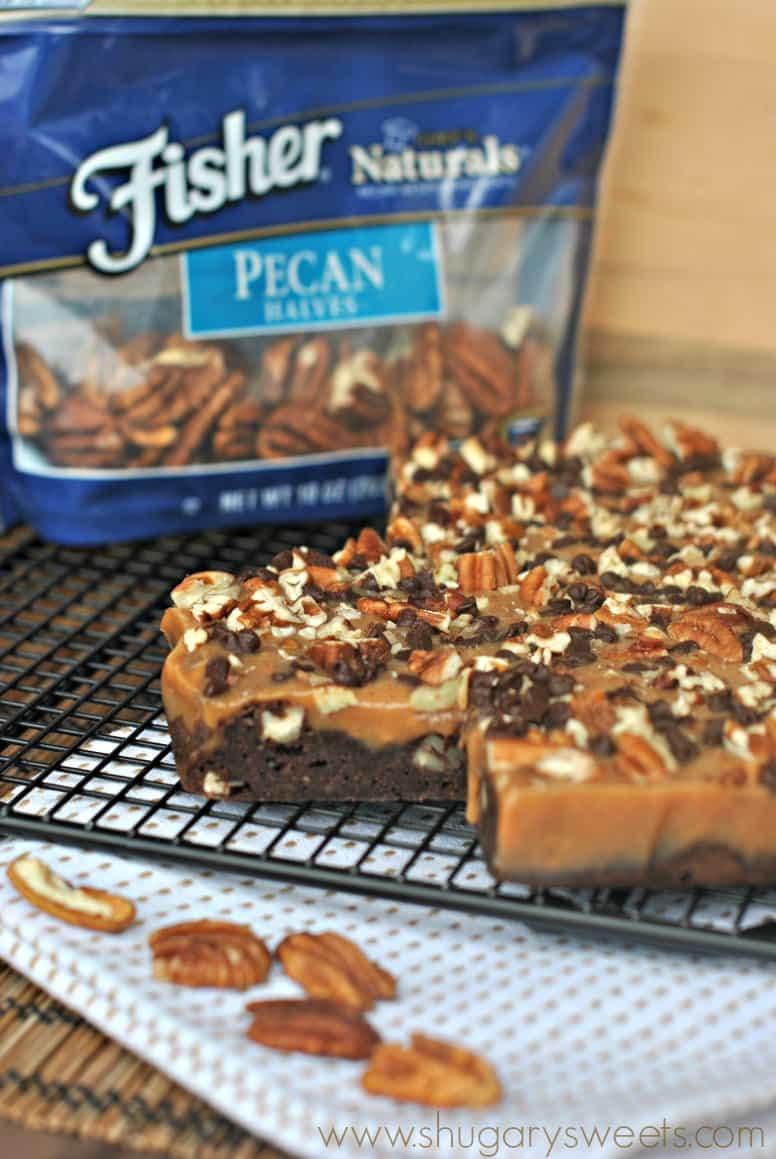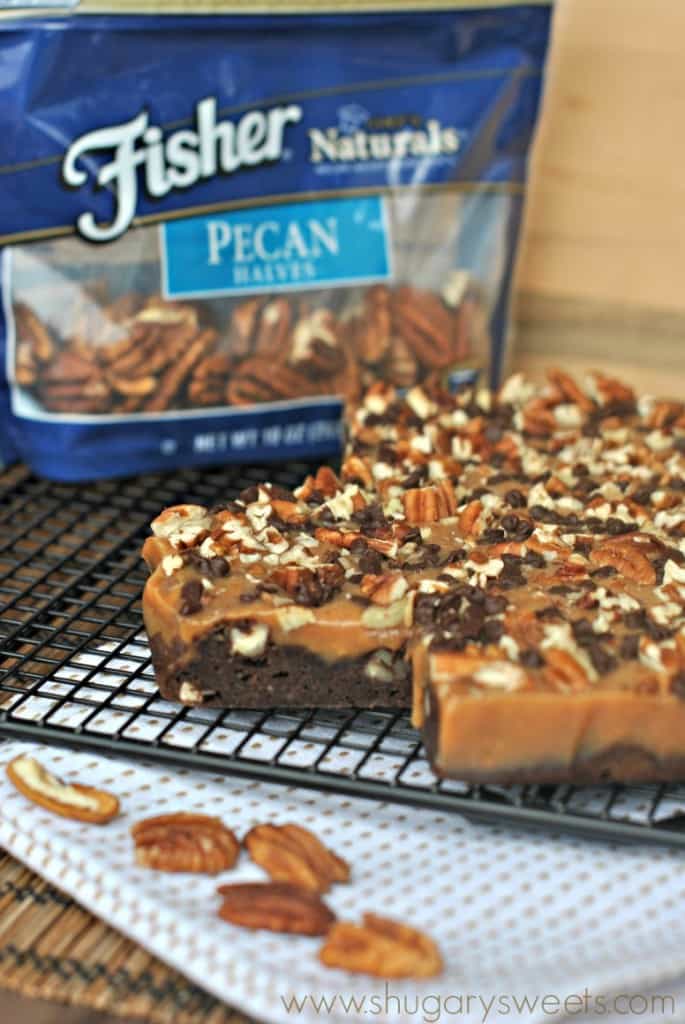 If you're as nuts about nuts as I am, then you must go check out the recipe contest being held from now until October 22, 2013 at www.myfreshtwist.com. Your recipe must include pecans, walnuts, almonds or peanuts and will be judged on originality, integration of nuts, taste and visual appeal. Go check out all the details now, time's a wastin'!! Oh, and the prizes for this contest? Thought you'd never ask!
Prizes:
Grand Prize Winner:
Trip for 2 to NYC including airfare, dinner and accommodations
Meet Chef Alex Guarnaschelli
Opportunity for Chef Alex Guarnaschelli to sign a copy of her debut cookbook: Old-School Comfort Food
$500 cash
 9 Semi-Finalists:
$100 Visa gift card
Signed copy of Chef Alex Guarnaschelli's cookbook: Old-School Comfort Food
Weekly Prizes:
Fisher Nut Products
Copy of Chef Alex Guarnaschelli's cookbook: Old-School Comfort Food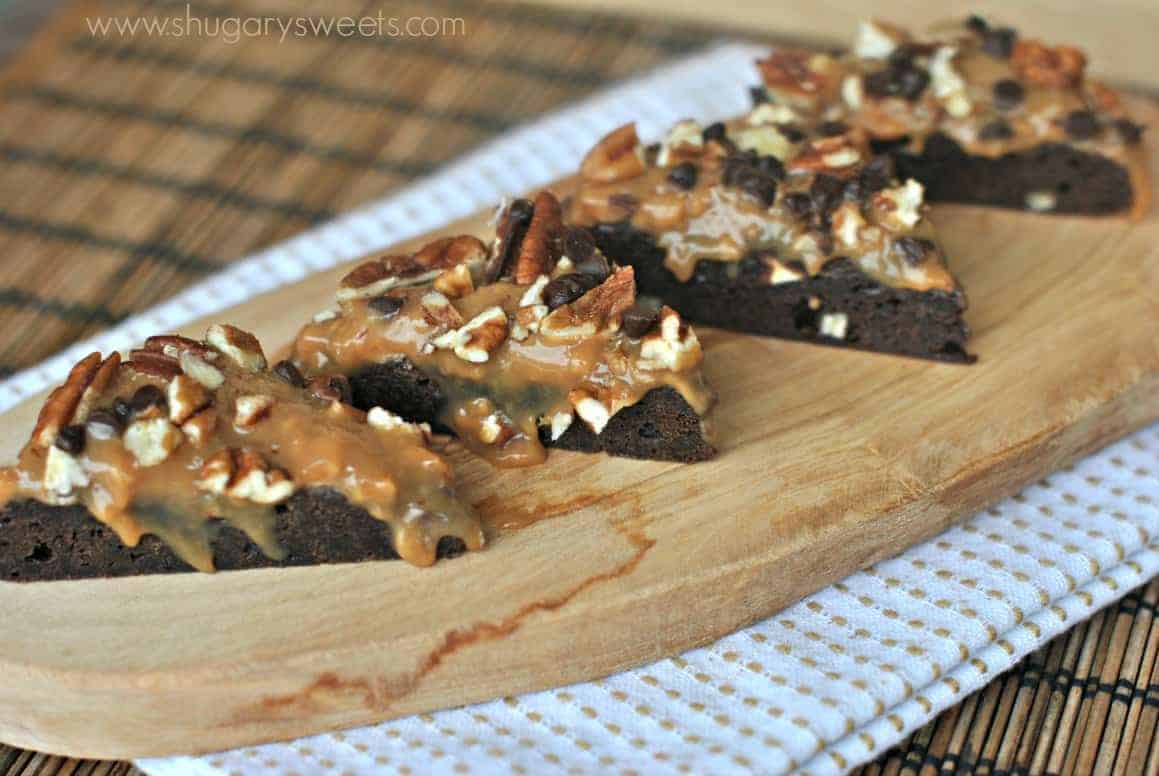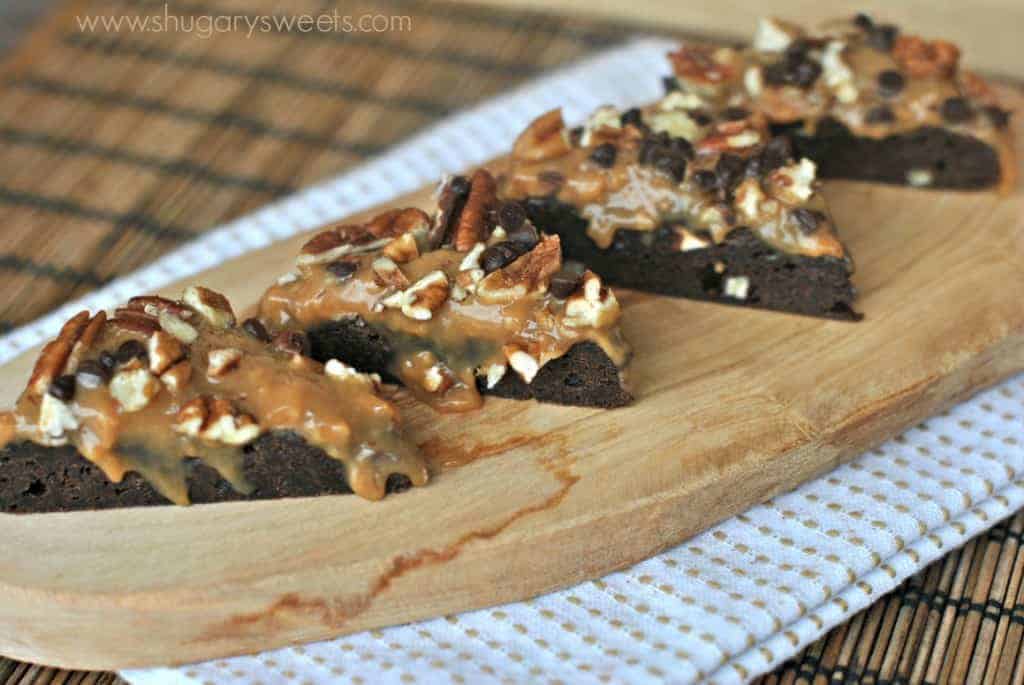 As for these brownies? You can't enter them in the contest, but you can certainly make them, be inspired, and enjoy a decadent treat! And follow the hashtag #ThinkFisher on social media to see more delicious recipes and ideas throughout the year. I'm already dreaming of what I can do with nuts next!
Connect with Fisher Nuts:
website | facebook | pinterest
Yield: 32 brownies
Turtle Brownies
Prep Time 2 hours

Cook Time 25 minutes

Homemade Brownies topped with gooey caramel, chocolate chips and Fisher Pecans. A decadent dessert!
Ingredients
For the brownies:
6 Tbsp unsalted butter
1/4 cup dark chocolate, chopped
1/2 cup semi-sweet chocolate, chopped
1/4 cup unsweetened dark chocolate cocoa powder
1 cup granulated sugar
2 large eggs
1 tsp vanilla extract
3/4 cup all-purpose flour
1/4 tsp baking powder
1/4 tsp kosher salt
1/2 cup Fisher pecans, chopped
For the topping:
11oz caramel bits
1/3 cup heavy cream
3/4 cup Fisher pecans, chopped
1/4 cup semi-sweet mini morsels
Instructions
In a large glass bowl (or other microwave safe bowl), add butter, chopped chocolates and cocoa powder. Microwave for about one minute until butter has melted. Stir until chocolate is smooth.
Add eggs, sugar and vanilla and whisk in quickly and vigorously. Add in flour, baking powder and salt, using a spatula to mix until just blended (do not overbeat).
Fold in chopped nuts.
Pour batter into a parchment paper lined 8'x8' square baking dish. Place in a 350 degree F preheated oven and bake for 25-30 minutes.
Meanwhile, add caramel bits (or unwrapped caramels) to a large glass bowl. Add the cream and microwave for two minutes, stirring every 30 seconds until fully blended and smooth.
Remove brownies from oven and spread melted caramel over them immediately. Sprinkle with chopped pecans and mini morsels. Allow brownies to cool to room temperature, then cover and place in refrigerator for 2 hours (or overnight). Cut brownies while chilled for a "cleaner" looking cut.
Make 16 squares and cut each square in half (corner to corner) to make a total of 32 triangles. Enjoy!
Notes
**Store in an airtight container for up to one week in the refrigerator. Best served cooled.
Love Fisher Nuts?
Here are some other great recipes to use with Fisher…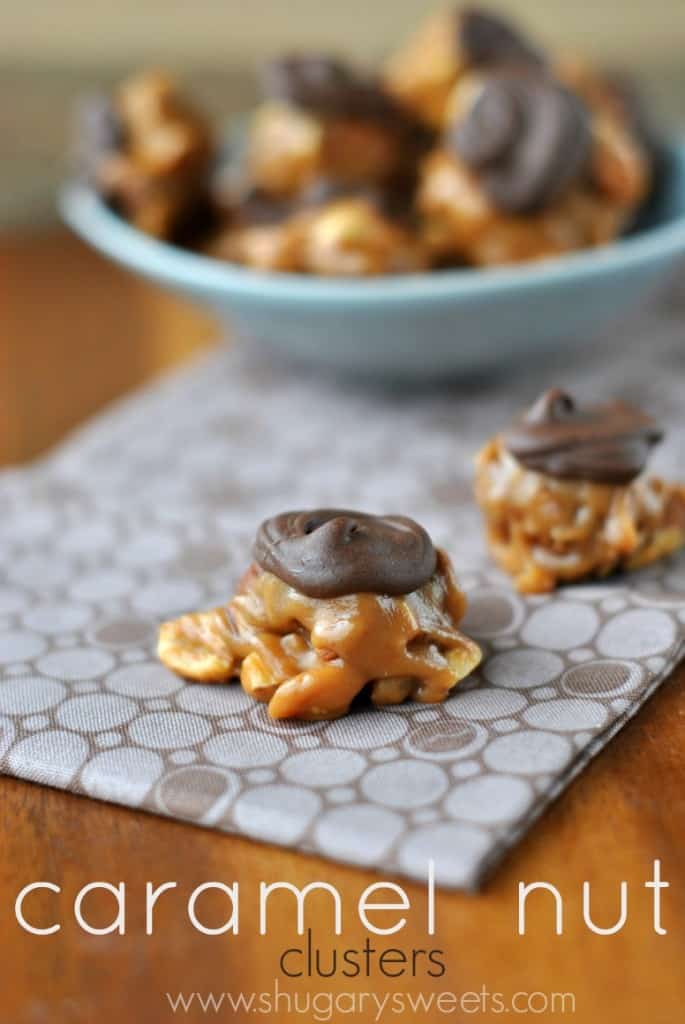 Easy, delicious Caramel Nut Clusters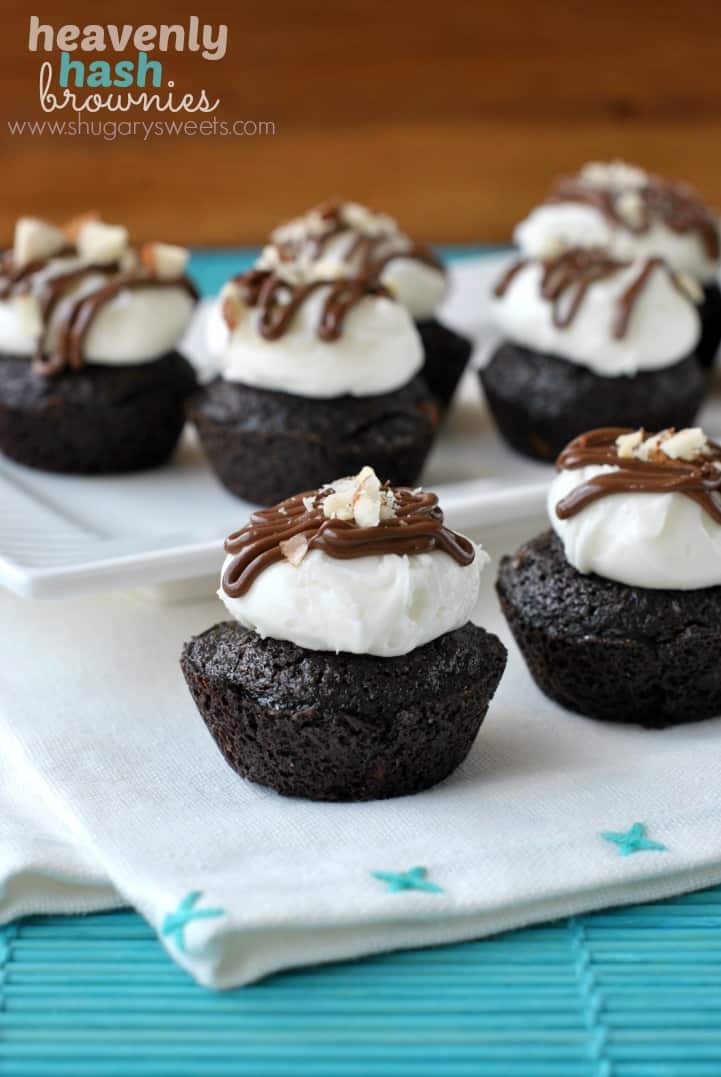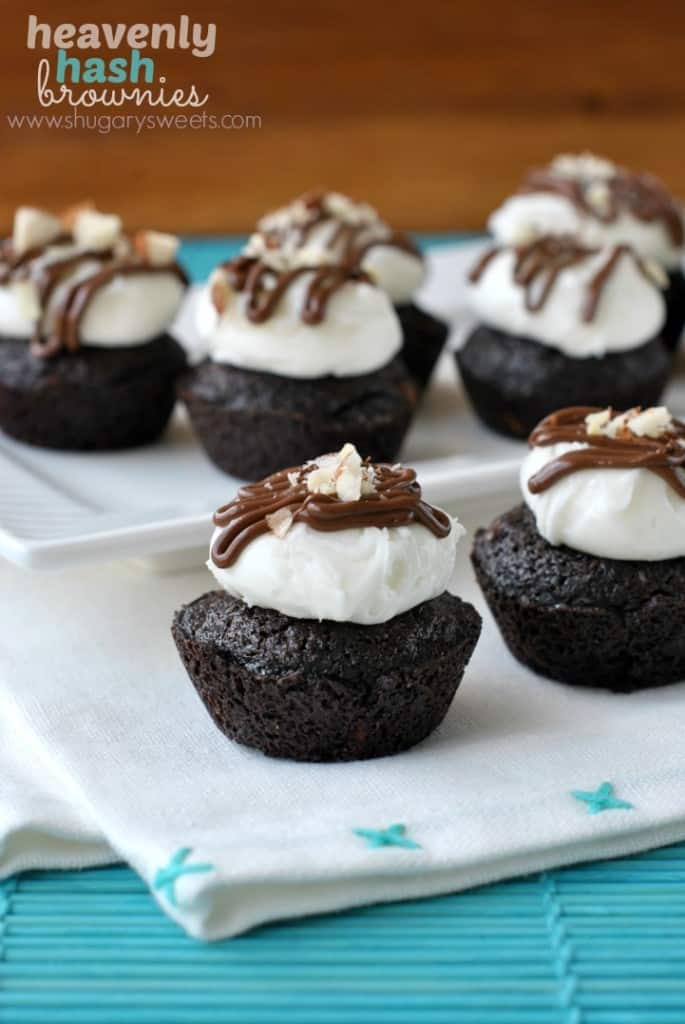 Rocky Road Brownies (with Almonds!!)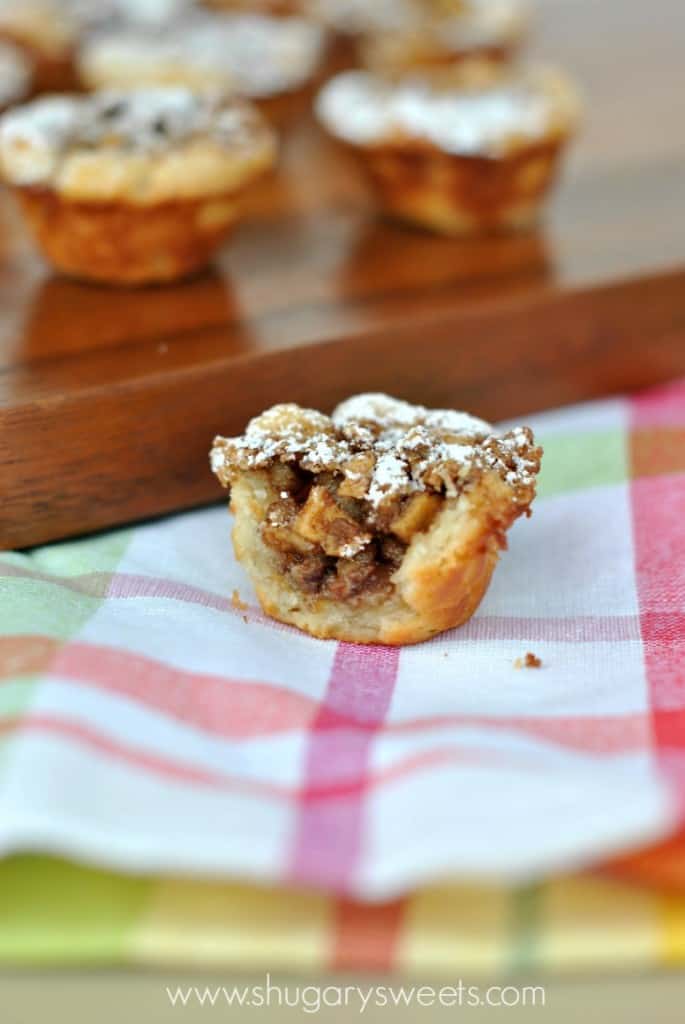 **This is a sponsored post on behalf of Fisher Nuts. I was compensated for my time, however all opinions expressed are 100% my own!