Homemade Brownies topped with gooey caramel, chocolate chips and pecans. Turtle Brownies are a decadent dessert the whole family will love!
These Turtle Brownies are every bit as decadent as a brownie sundae or a Turtle Cheesecake except you can eat them with your hands! Try our Turtle Fudge for another gooey caramel treat.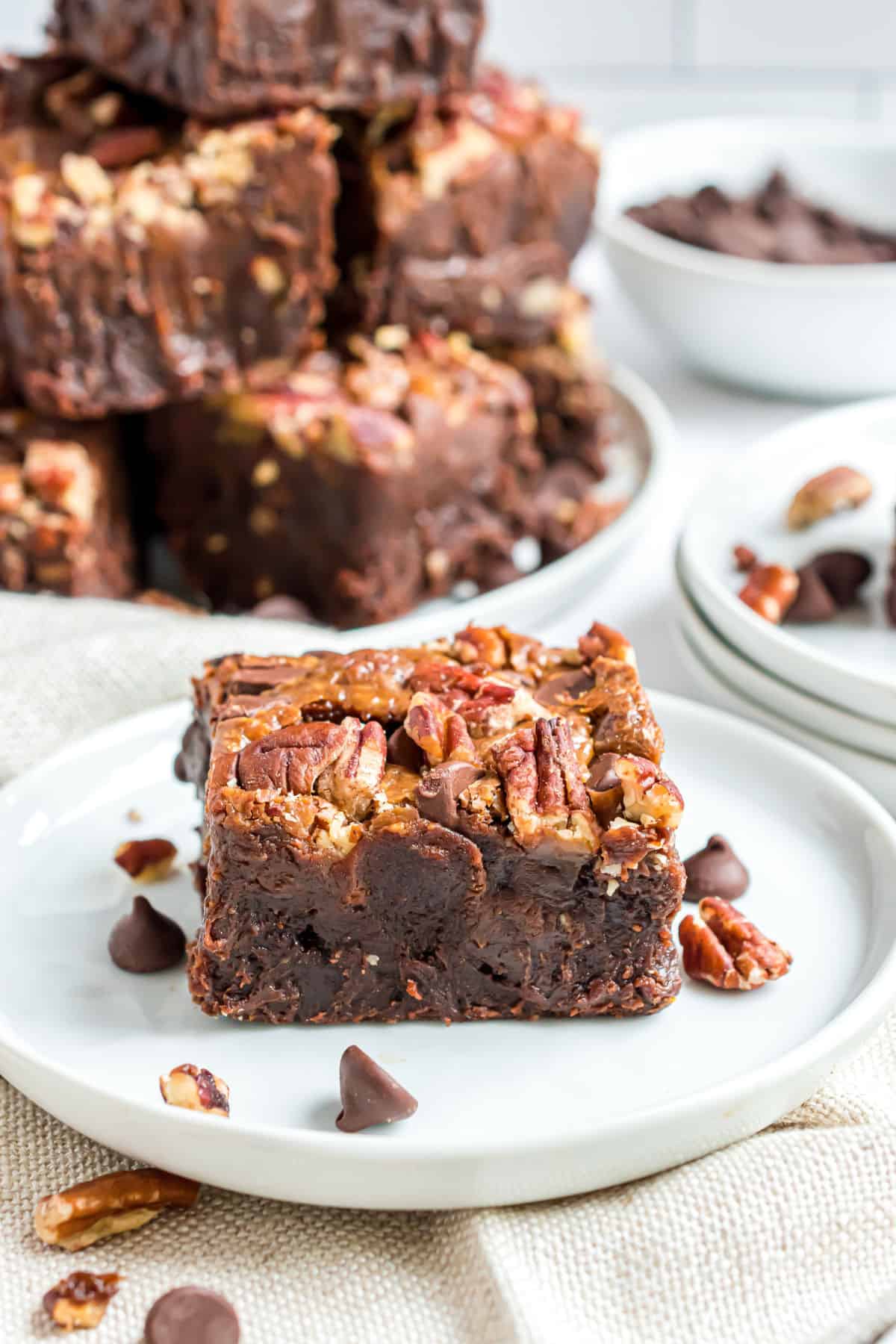 Why this Recipe is the Best
You know what often gets lost in turtle candies and desserts? The chocolate.
I mean, there's chocolate in some form.
But too often, the chocolatiness of it all is overtaken by the caramel or the pecans. Don't get me wrong, I am ALL ABOUT caramel and pecans on my chocolate desserts. I just also want to TASTE the chocolate!
Enter: this recipe.
This recipe uses cocoa powder AND semi-sweet chocolate chips in the brownies. It's based off my favorite brownie recipe!
The result is a Turtle Brownie where the rich, complex flavors of chocolate exist in harmony with the sweet caramel and nutty pecans. In short, this is the very best Turtle Brownie recipe you will ever make.
You can thank me later.
Ingredient Notes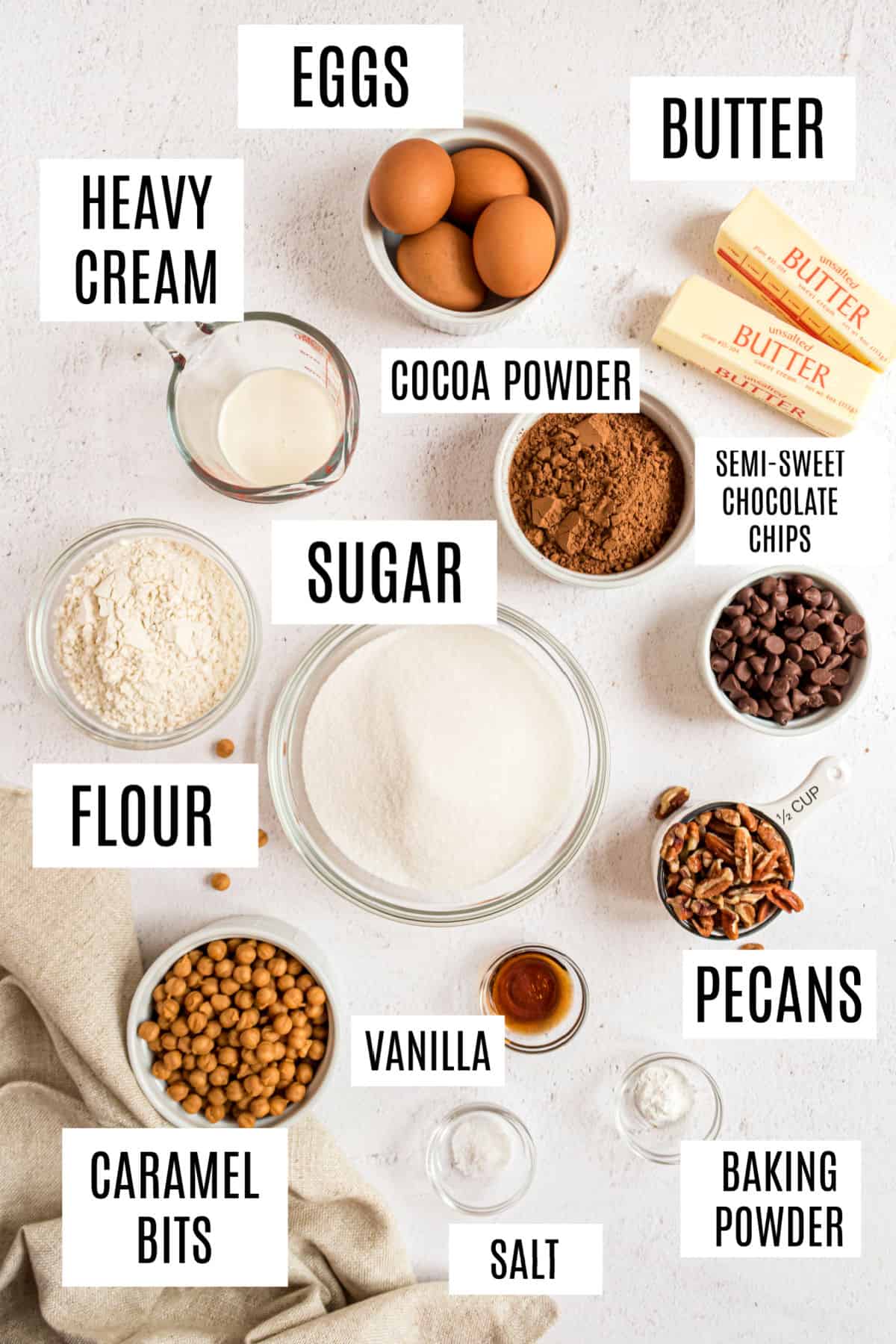 Chocolate – You'll need semi-seet chocolate chips as well as unsweetened cocoa powder in this brownie recipe. I choose Ghirardelli for both!
Eggs. This recipe calls for FOUR eggs. THAT is how you achieve gooey brownies with a chewy center and crispy crust. And they puff up to a thick, chewy treat.
Pecans – Nut pieces are baked right into the batter to give them an irresistible crunch in every bite. Toast the pecans for best flavor.
Caramel bits – The Kraft baking bits are my pick for topping turtle brownies. Larger caramel candies can work too, if you unwrap them first and chop them into small pieces. You can also use your own caramel sauce if you prefer.
Step by Step Instructions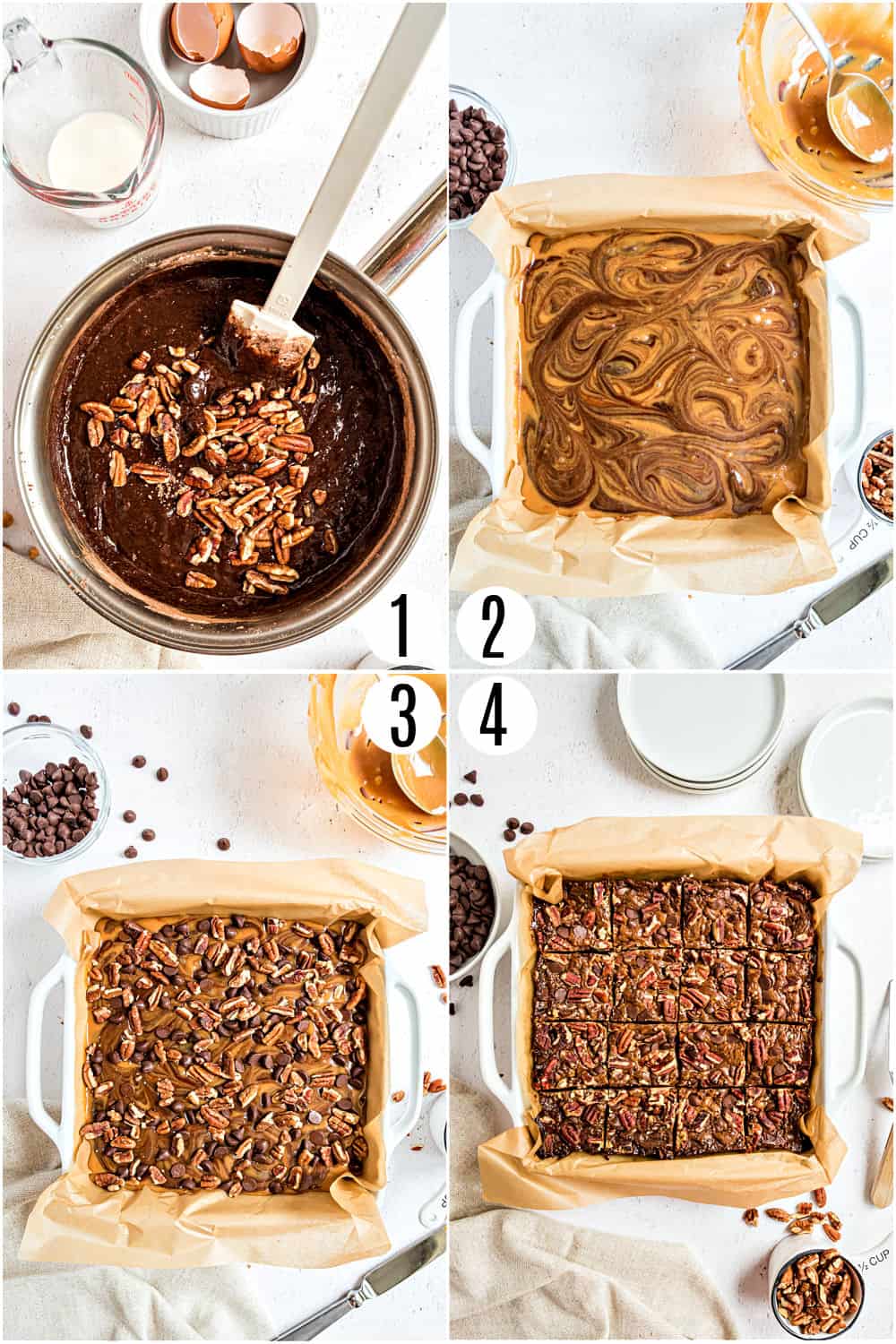 STEP 1. Make the brownie batter
In a medium sized saucepan, melt butter then remove from heat.
Add chocolate chips and sugar, stirring until melted and well blended.
Add in dry ingredients JUST until blended, being careful not to overmix.
Fold in the chopped pecans.
STEP 2. Add toppings
Pour the batter into a square baking dish lined with parchment paper.
In a small bowl, melt caramel bits with cream. Stir until smooth. Drizzle over brownie batter, using a knife to swirl. Add additional pecans and chocolate chips on top.
STEP 3. BAKE
Bake for 35-40 minutes.
STEP 4. Cool.
Remove the baked brownies from the oven and cool completely before slicing.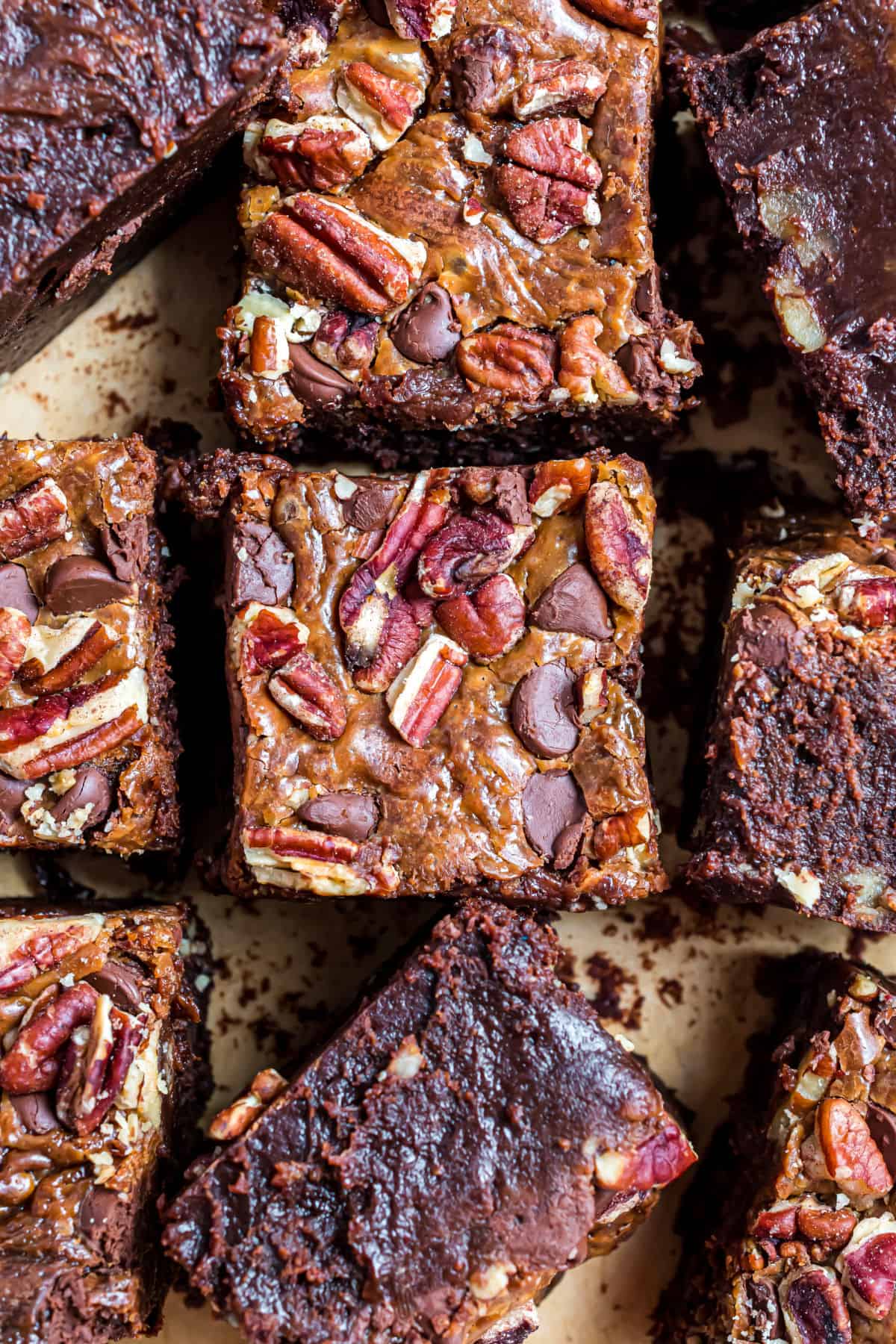 Tips and Tricks
For a "cleaner" look, cut the brownies into bars or triangles while they're still cold. A plastic knife works like a charm for evenly and cleanly cutting cooled brownies.
LINE your baking dish with parchment paper (or foil). Not only does it make clean up easier, but you can just lift your fudgy brownies out of the pan and cut them!
DO NOT OVER STIR. When you add in the dry ingredients, use slow but big stirs to incorporate the dry into the wet. Just when you see no more dry, STOP STIRRING!
Want to eat them sooner? Chill them in the refrigerator so they are easier to cut. Want to make a brownie ice cream sundae? Eat them warm with homemade vanilla ice cream!
Store these Turtle Brownies for up to one week in an airtight container in the fridge. I think they taste best cold, but you can also enjoy them at room temperature.
Love Pecans? If you love pecans with brownies you'll have to give our pecan pie brownies a try next. So good!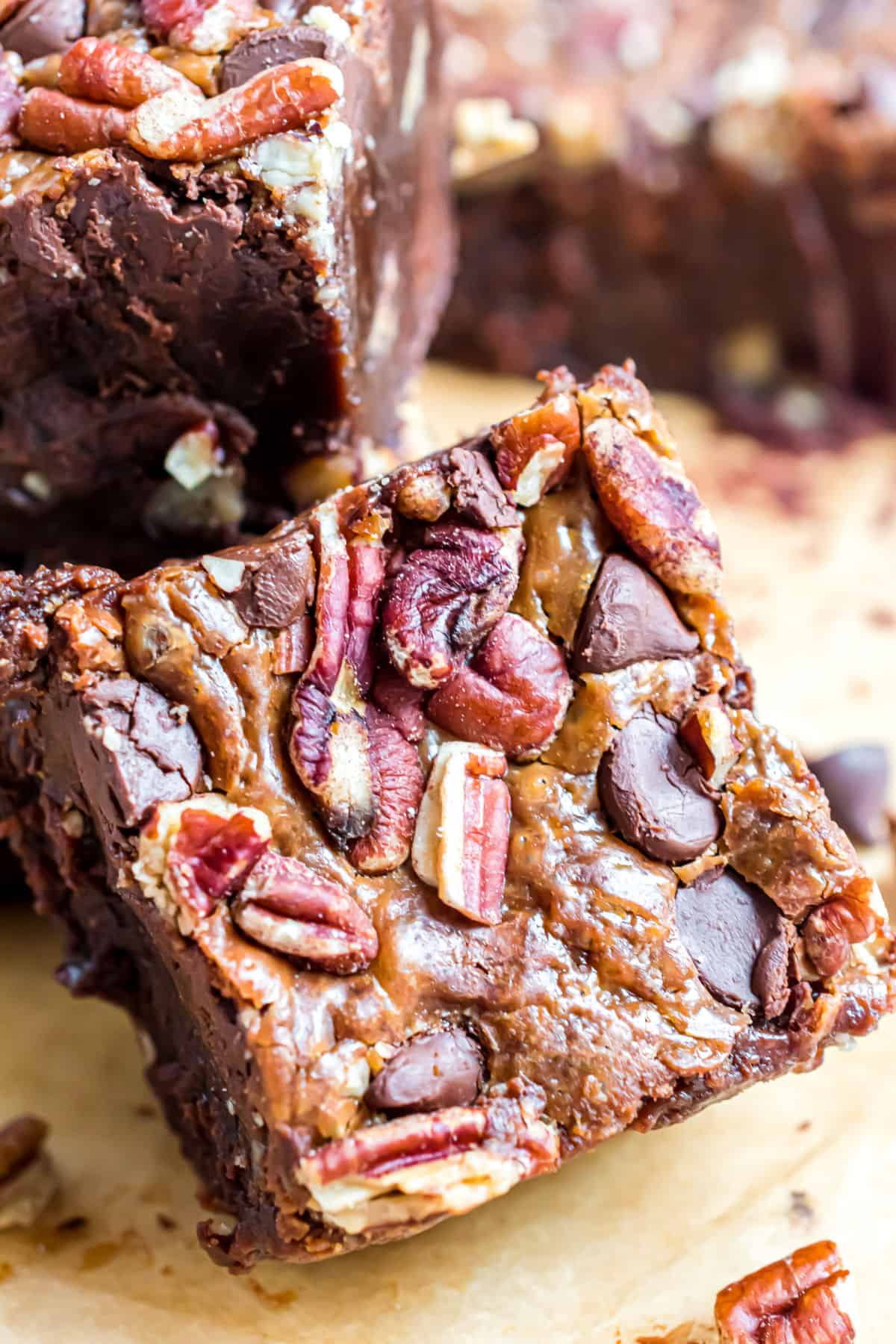 Recipe FAQs
Can you make brownies without the topping?
Of course. If you're looking for a delicious, chocolate brownie without the turtle garnishes, feel free to make these as a regular pecan brownies!
What size pan do you need for brownies?
I use a 9-inch square baking dish, then cut these into squares. A 9 x 13 inch dish will work too, but the brownies will be thinner.

How many brownies does this recipe make?
This recipe yields about 16 brownies. Feel free to cut them into smaller pieces to serve a crowd if desired.
More Brownies
Making thick and fudgy brownies is my specialty (well, in addition to making the perfect rice krispie treat recipe)!
Here are a few of our favorite flavors!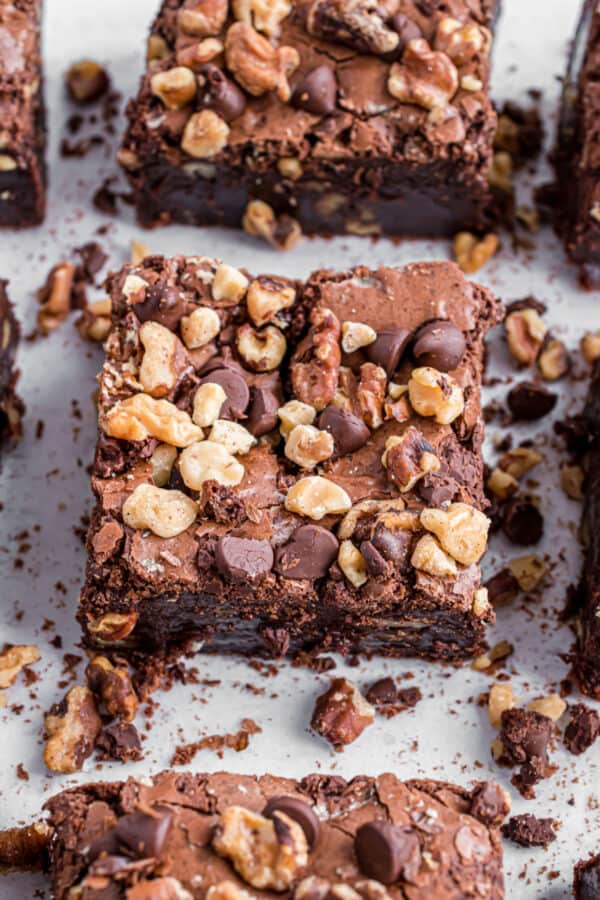 Turtle Brownies take a a delicious dessert (brownies) and make them even better by adding caramel and pecans! No one can resist this delicious and indulgent dessert filled with chocolate and nuts.