When you can't decide between cheesecake and brownies: make both! Fudgy chocolate brownies are topped with a sweet cream cheese layer in this easy recipe for Cheesecake Brownies.
Did you know you can add cheesecake filling to all kinds of other desserts? Sandwich it between cookie or cake layers to make treats like cheesecake cakes or these chocolate chip cheesecake cookies!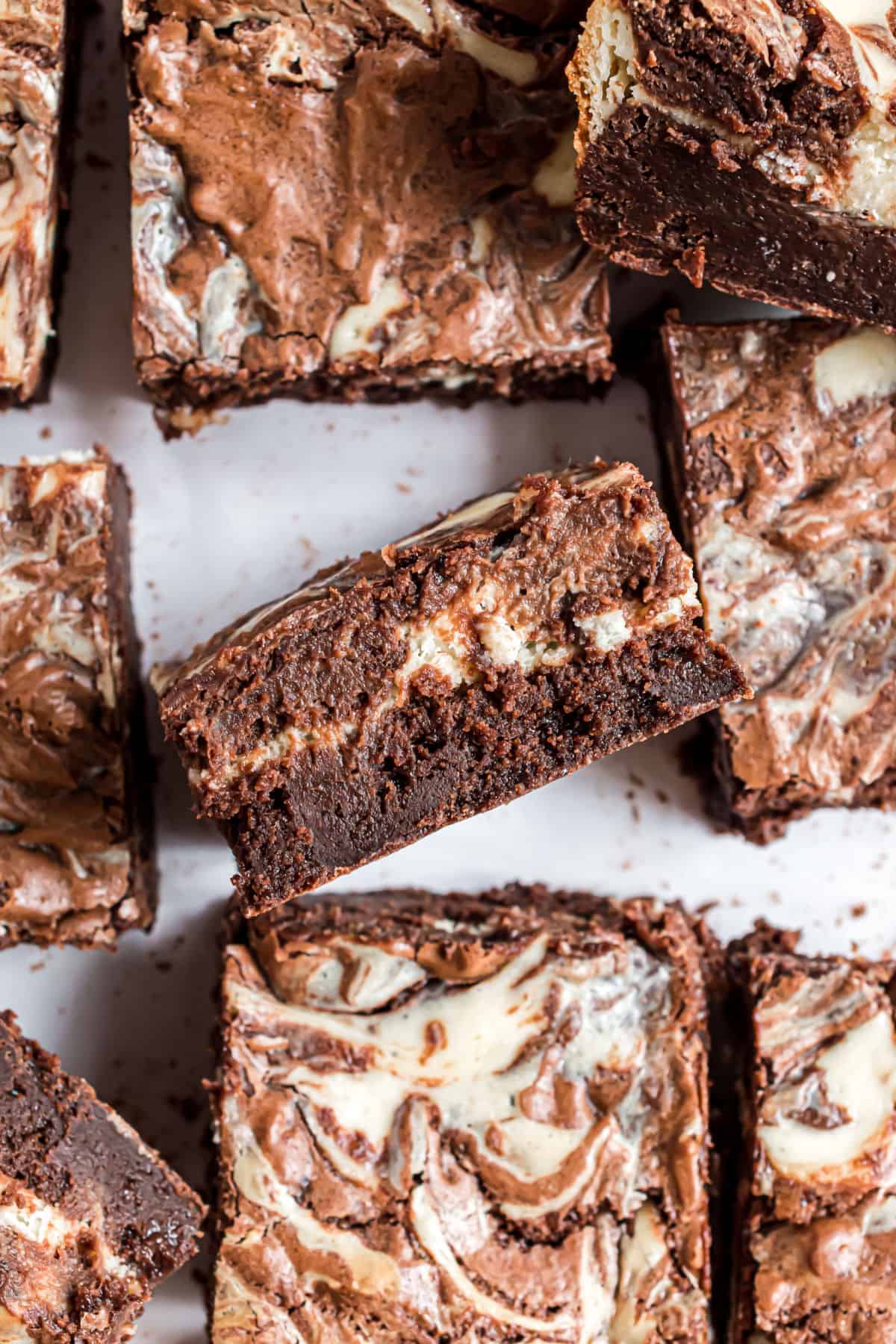 Why These Brownies Are Best
These Cheesecake Brownies are a perfect example of how two contrasting flavors can combine to make something extraordinary.
Think about our brookies– a combo of cookie and brownie.
Today, we've got an even richer treat!
Cheesecake and brownies in one!
Rich chocolate meats tangy cream cheese.
Impressive, decadent and easy to make.
Here, the acidity in the cheesecake enhances that rich, deep cocoa flavor in the brownies. It's the same reason that brewed coffee makes such a great addition to chocolate cake.
It's not just the flavors that work well together here. The consistency of the creamy soft cheesecake paired with the dense, chewy brownie is out-of-this-world glorious!
If you love our dark chocolate brownies, you can add the cheesecake swirls on top of that recipe instead!
Ingredient Notes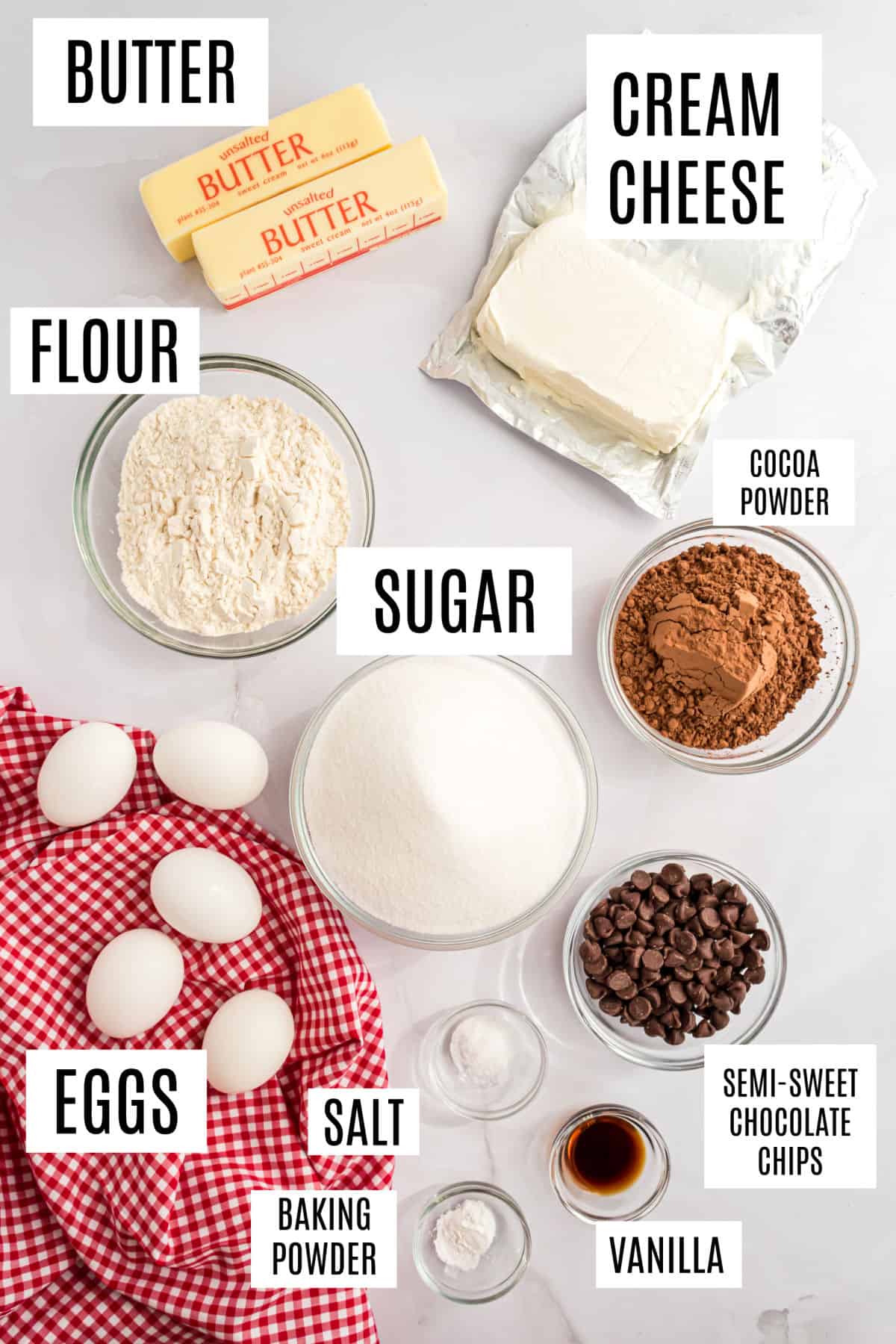 Unsweetened cocoa powder – A high quality cocoa like Ghirardelli or Guittard will yield the best brownie flavor.
Chocolate chips – These get melted with butter and sugar to make the brownies thick and fudgy.
Cream cheese – Make sure to use the full fat cream cheese that comes in blocks, not spreadable tubs.
Vanilla extract – Choose a pure extract to give a creamy, aromatic dimension of flavor to both the cream cheese layer and the brownies. Our homemade vanilla extract is perfect.
Tips and Tricks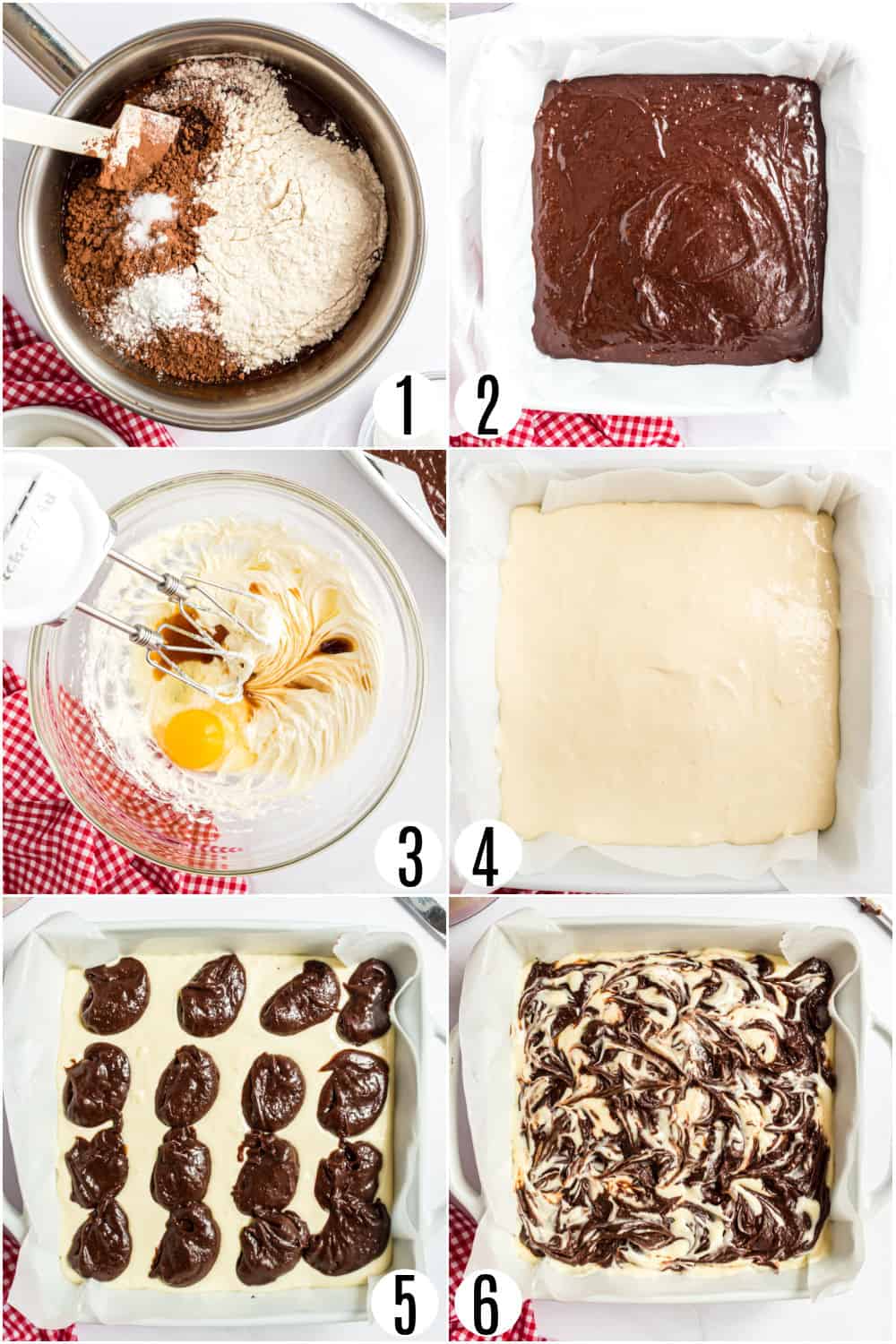 Making Cheesecake Brownies may sound like twice the work, but it's actually not much more effort than making a try of plain brownies.
First, make the brownie batter. Use a large spoon to combine the ingredients using large strokes, being careful not to overmix when adding the dry ingredients.
Spoon three quarters of the brownie batter into a square baking dish.
Now beat together all the ingredients for the cheesecake filling.
Pour cheesecake filling over the batter.
Spoon the remaining brownie batter on top.
Gently swirl the two layers with a knife to create a marbled pattern.
Bake, let cool and enjoy!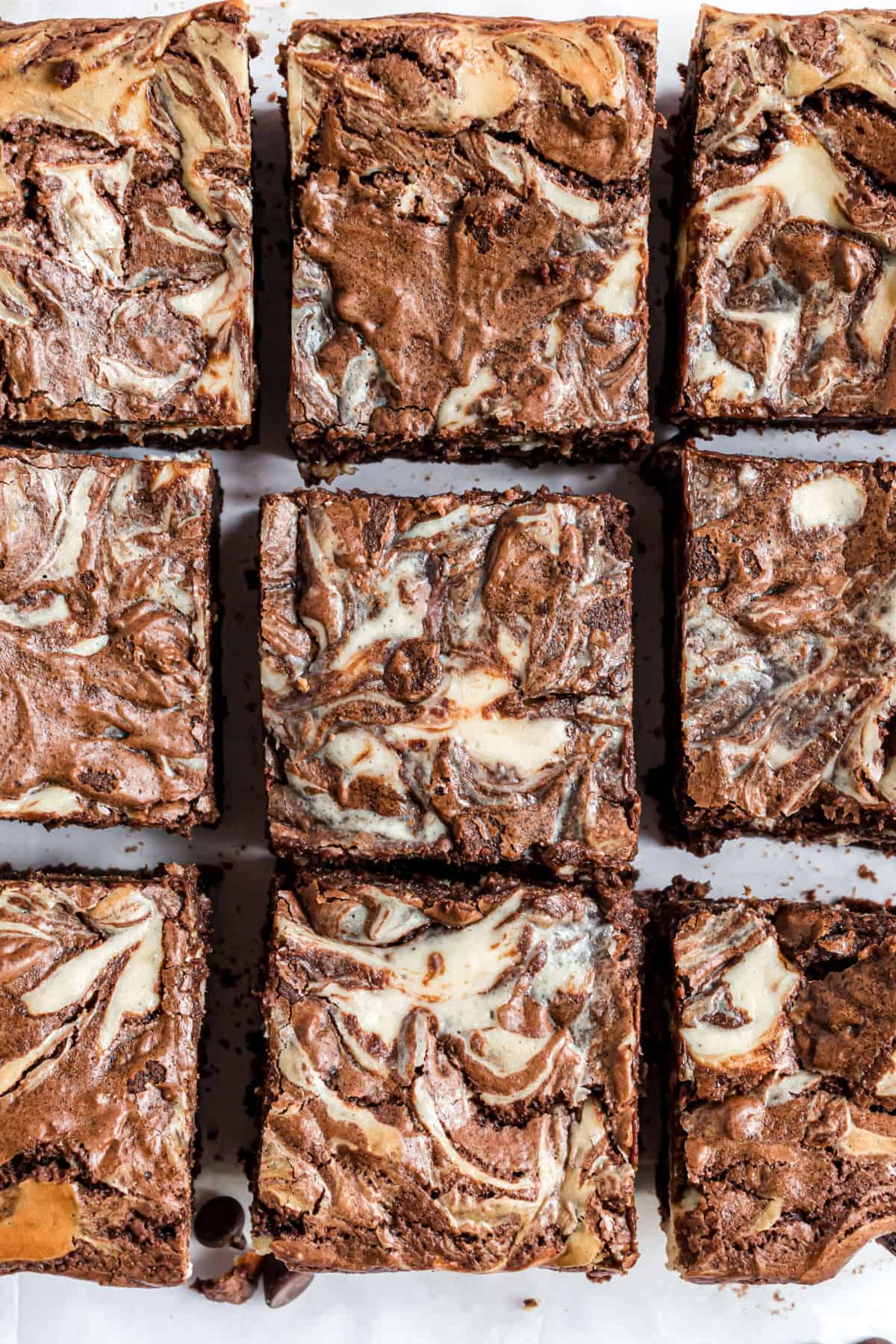 Recipe FAQs
How do you keep cheesecake from over browning?
The biggest hurdle to making cheesecake brownies is that the top of the cream cheese layer has a tendency to burn before the brownies have completely baked. We solve that issue by covering the cheesecake brownies with foil during the last 10 minutes of baking. This shields the delicate cheesecake from direct heat to prevent burning.
How do I store Cheesecake Brownies?
These brownies are best enjoyed chilled. At room temperature, they tend to become gooey and difficult to eat. Store them in an airtight container in the refrigerator to keep them looking and tasting extraordinary!
Can I freeze cheesecake brownies?
Both cheesecake and brownies are freezer friendly so it follows that these cheesecake brownies would freeze well too!
Transfer sliced brownies to a freezer safe container for up to three months. Thaw and enjoy.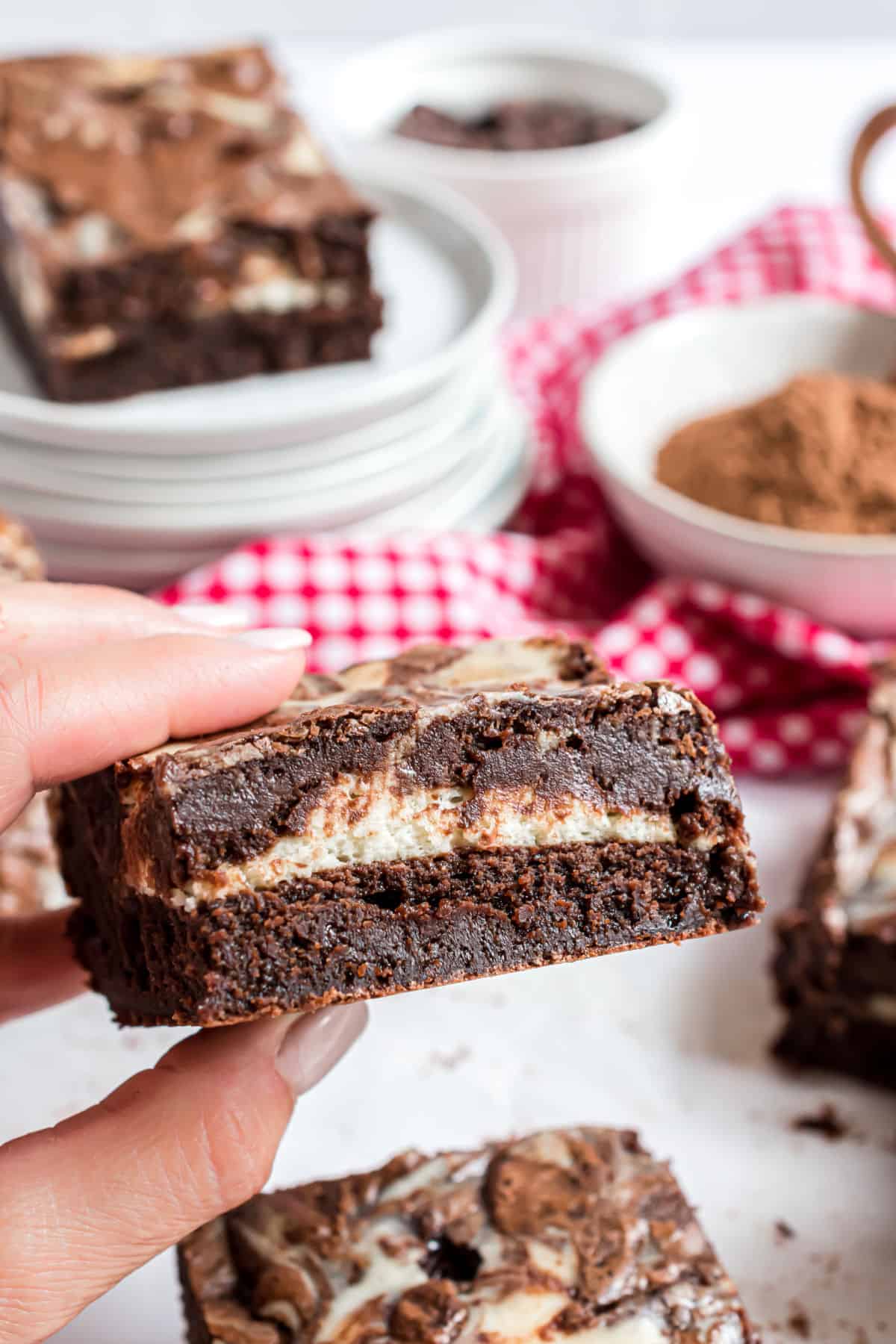 More Brownie Recipes
Cheesecake Brownies bring together two decadent desserts in one simple, jaw-droppingly delicious recipe!