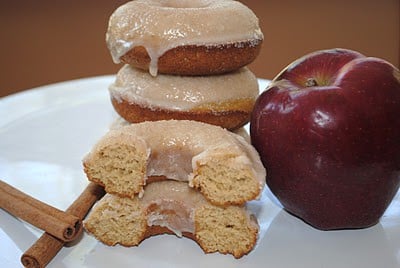 I know. They're not pumpkin. But in my defense I had this big jug of apple cider to use from when I made the pumpkin butter. Plus, I don't want my pumpkin hater fans to be upset at TWO pumpkin recipes in one week (although how you can be a pumpkin hater is beyond me!!). Lastly, these are just plain delicious so I don't know why I have to defend them.
The cake-like texture of these are fantastic.
So, go make some doughnuts. Today. It's the right thing to do. And if you don't have a pan yet, you better get one soon. I see more doughnut recipes on the horizon!
Yield: 10
Apple Cider Donuts (baked)
Ingredients
for the doughnuts:
2 cup flour
3/4 cup sugar
1 tsp baking soda
1 tsp baking powder
1/4 tsp nutmeg
1/4 tsp allspice
1/2 tsp cinnamon
1 tsp salt
1/2 cup apple cider
1/4 cup applesauce
2 eggs
 for the glaze:
2 Tbsp apple cider
1 1/4 cup powdered sugar
1/4 tsp allspice
1/4 cup sugar
1 Tbsp cinnamon
Instructions
In large mixing bowl add flour, sugar, baking powder, baking soda, salt, nutmeg, allspice, and cinnamon. Mix until blended. Add in the apple cider, applesauce, eggs, and vanilla extract. Beat for about 2 minutes until smooth and creamy.
Lightly grease doughnut pan (I use Norpro brand). Pour batter into a large ziploc bag, seal, and snip corner. I find this the easiest and cleanest way to get batter into pan without dripping. Bake doughnuts in 325 degree oven for about 10 minutes, until they spring back when touched. Cool slightly before removing from pan.
To make glaze, whisk together the apple cider, powdered sugar and allspice until completely smooth. In separate bowl mix sugar and cinnamon.
Dip each doughnut into glaze (top of doughnut only) and then into cinnamon/sugar mix. The glaze will down the sides and coat nearly the whole donut. Allow to dry on a cooling rack. Enjoy!