Embrace all the fun and flavor of fall with these baked Apple Cider Donuts! Topped with buttery cinnamon sugar, these are the best donuts to celebrate the season.
Love fall baking? Be sure to try my favorite Pumpkin Streusel Donuts and Apple Pie Donuts. Or start your day with a batch of these Apple Cinnamon Rolls instead!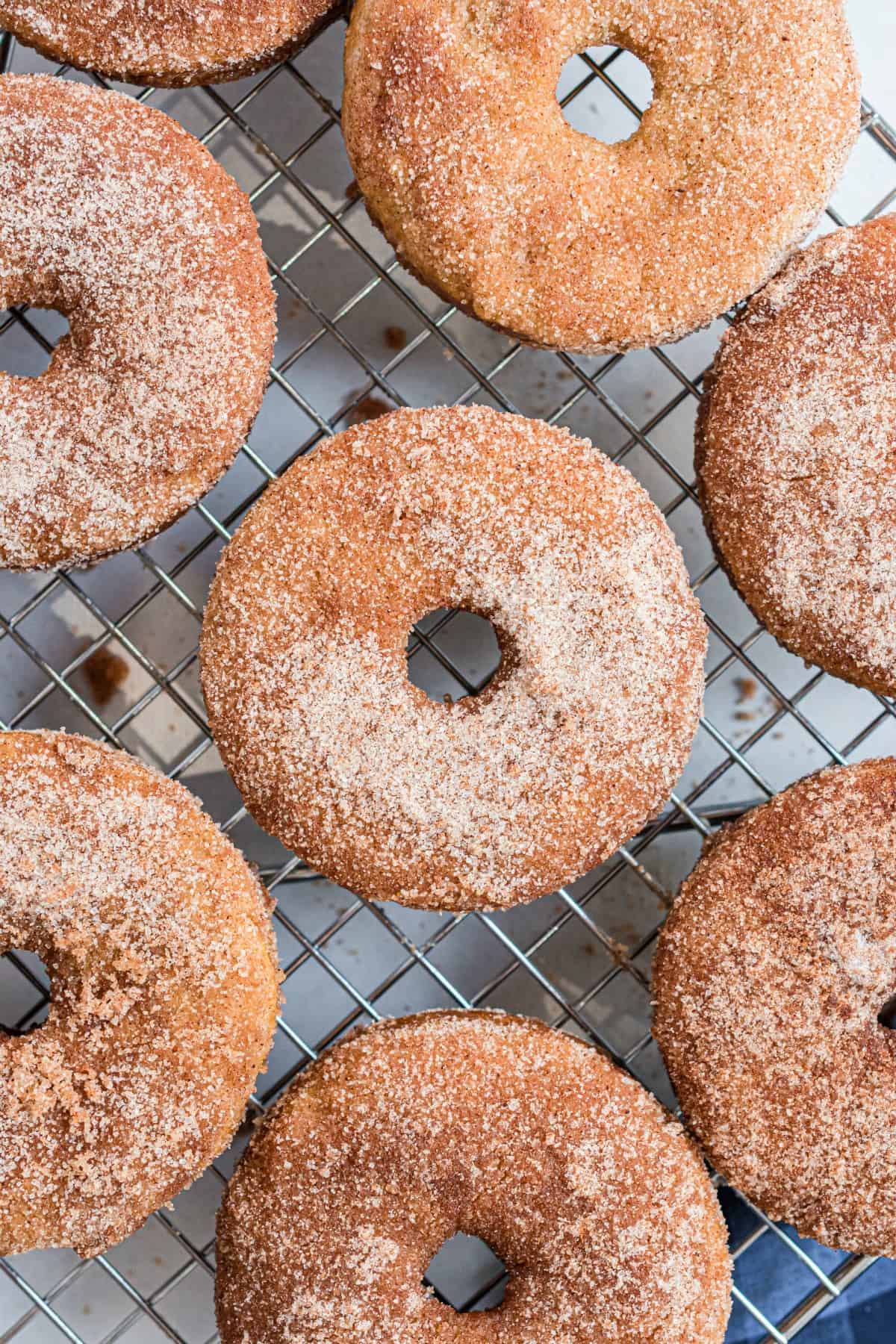 Apple Cider Season
It's officially apple cider season and I couldn't be more excited. Hot and mulled with spices or sipped cold, apple cider just tastes like fall!
Especially this Apple Cider Sangria!
Hands down, my FAVORITE way to get my cider fix is in donut form. It took me a while to get these perfect, but the effort was well worth it.
Using an apple cider reduction gives these donuts rich apple flavor in every bite.
Because these are baked vs. fried, you can make them at home with no mess or fuss. Just the aroma while these bake makes your kitchen smell like a cider mill!
Did I mention that each one is dipped in butter and cinnamon sugar? If that's not enough to convince you these are worth a try, I don't know what is.
Grab a mug of Pumpkin cold brew coffee, snuggle on the couch with a movie, and enjoy an apple cider donut!
Ingredient Notes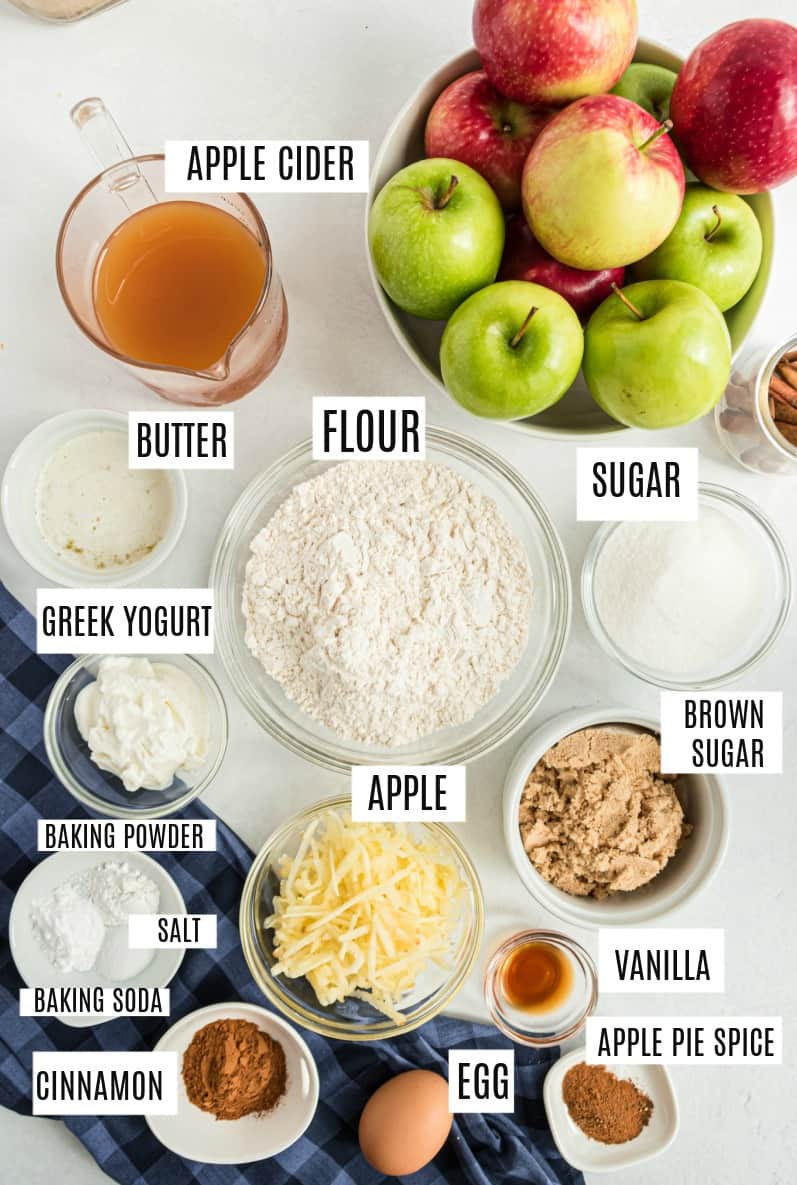 Apple Cider- The key to apple cider donuts that actually taste like apple cider is simmering the cider to reduce it before using it in the donut recipe.
Use real, fresh apple cider for this recipe (not apple juice or instant cider from a packet). You can make the reduction in advance to save some time when you're ready to bake the donuts.
You can also use the cider straight out of the carton instead, but reducing it definitely brings out more flavor.
Fresh Apples- This recipe also gets its unbeatable taste from fresh apples shredded then folded into the batter before baking.
I tried several versions of this recipe, with and without the fresh shredded apple, and hands down, it was so much better with the fresh apple.
Granny smith are best for this, balancing the sweetness of the apple cider reduction with some tartness.
To spice these donuts, use your favorite apple pie spice. Alternatively, substitute 1/2 teaspoon of cinnamon and 1/4 teaspoon each of nutmeg and allspice for the teaspoon of pie spice in the recipe.
Greek yogurt keeps the baked donuts moist, even a day or two later. An equal amount of sour cream or 1/4 cup buttermilk can be used in its place.
Step by Step Instructions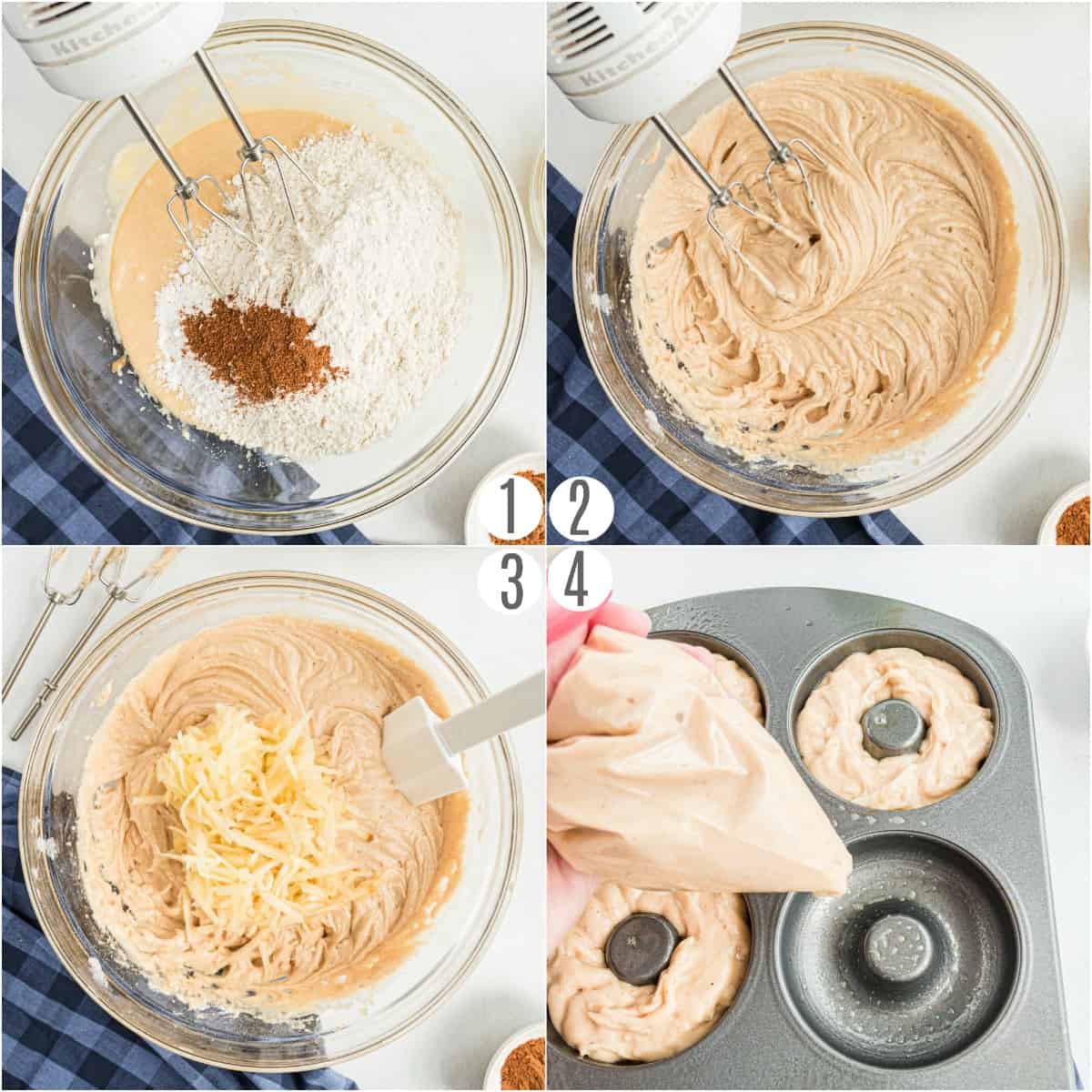 STEP 1. Make the apple cider reduction
Simmer the apple cider over low heat, stirring occasionally, until all that remains is 1/2 cup. This takes about 30 minutes. Set it aside and let cool.
STEP 2. Prepare the donut batter
In a mixing bowl, beat the melted butter, egg, sugars, yogurt, and vanilla extract until creamy. Add in the flour, baking soda, baking powder, apple pie spice, and salt.
Slowly pour in the reduced apple cider and beat until batter is smooth.
STEP 3. Bake
Spray your donut pan with baking spray. Or grease with homemade cake release.
Spoon the donut batter into a large ziploc bag. Snip off the corner and pipe into prepared donut pan, filling each cavity about half full. You should have enough batter for 12 donuts.
Bake at 350 F for 12 – 14 minutes until the donuts are lightly browned at the edges. Remove and let cool for a minute in the pan, then transfer the baked donuts to a wire rack.
STEP 3. Dip in topping
Melt butter and set aside. Combine cinnamon and sugar in a separate small bowl. Dip each donut into the melted butter and then into the cinnamon sugar mixture. Cover all sides completely!
Enjoy warm for peak flavor and cozy fall feelings.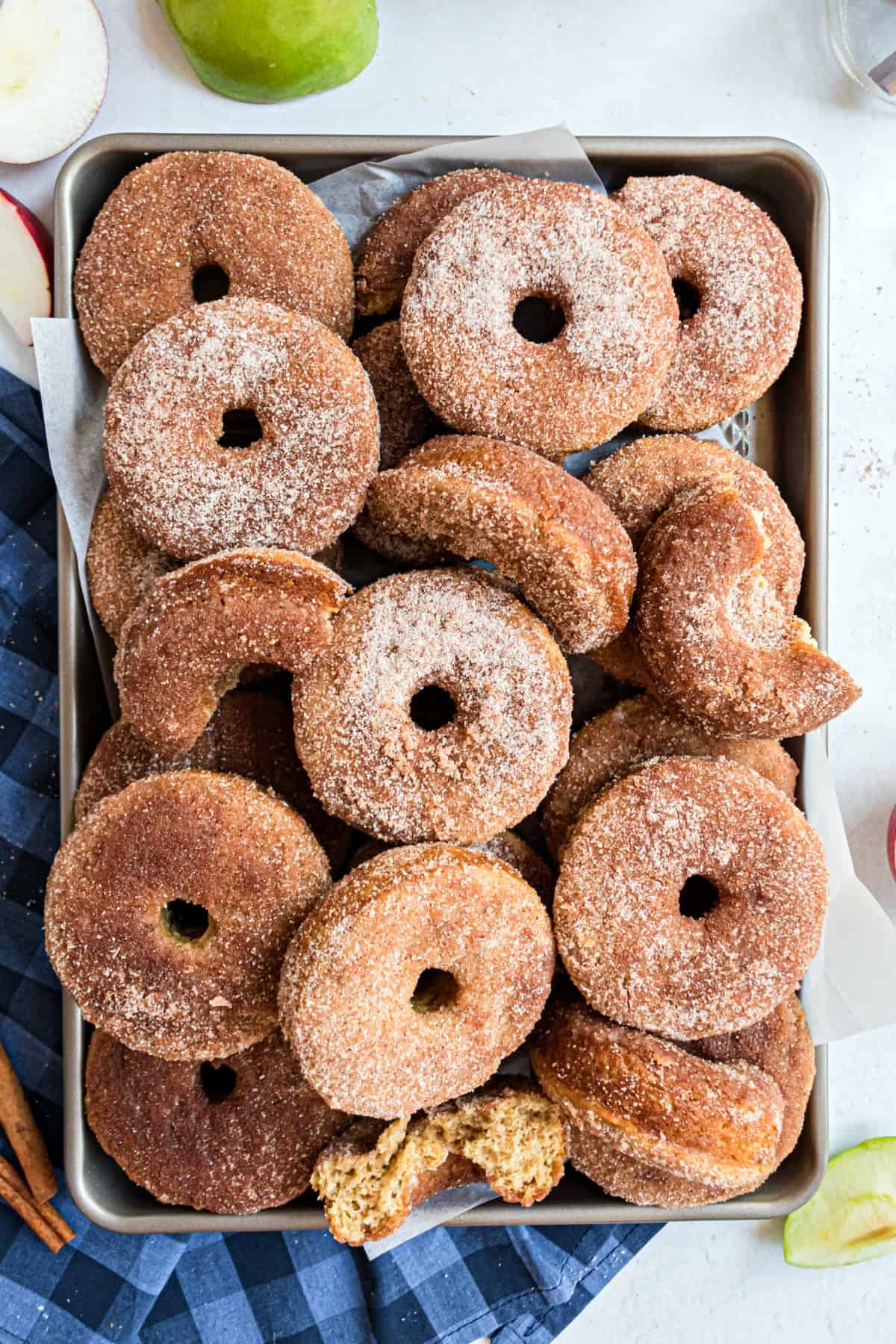 Tips and Tricks
You can make these as apple cider muffins too! Use a mini muffin tin and reduce the baking time to 8 – 10 minutes.
Make the apple cider reduction the day before and store in the fridge until ready to use.
To check if the apple cider donuts are done baking, lightly touch one with your finger tips quickly. If it springs back, the donuts are ready to come out of the oven.
Store in an airtight container for up to 3 days or freeze for up to 3 months.
Love Apple Recipes? Try our Homemade Apple Fritters for a fried treat the whole family will love!
Recipe FAQs
Can I freeze apple cider donuts?
Yes. After coating in cinnamon sugar, slide into a ziploc freezer safe bag or airtight container. Freeze up to three months, thaw at room temperature for 2 hours.
How long do apple cider donuts last?
For best flavor, store apple cider donuts in airtight container at room temperature for up to three days. Reheat in microwave for 10-15 seconds if desired.
Can I use apple juice instead of apple cider?
Yes. Skip the reductions and use the 1/2 cup of juice. You'll lose out on some of the rich, deep apple flavor, but it will still be delicious.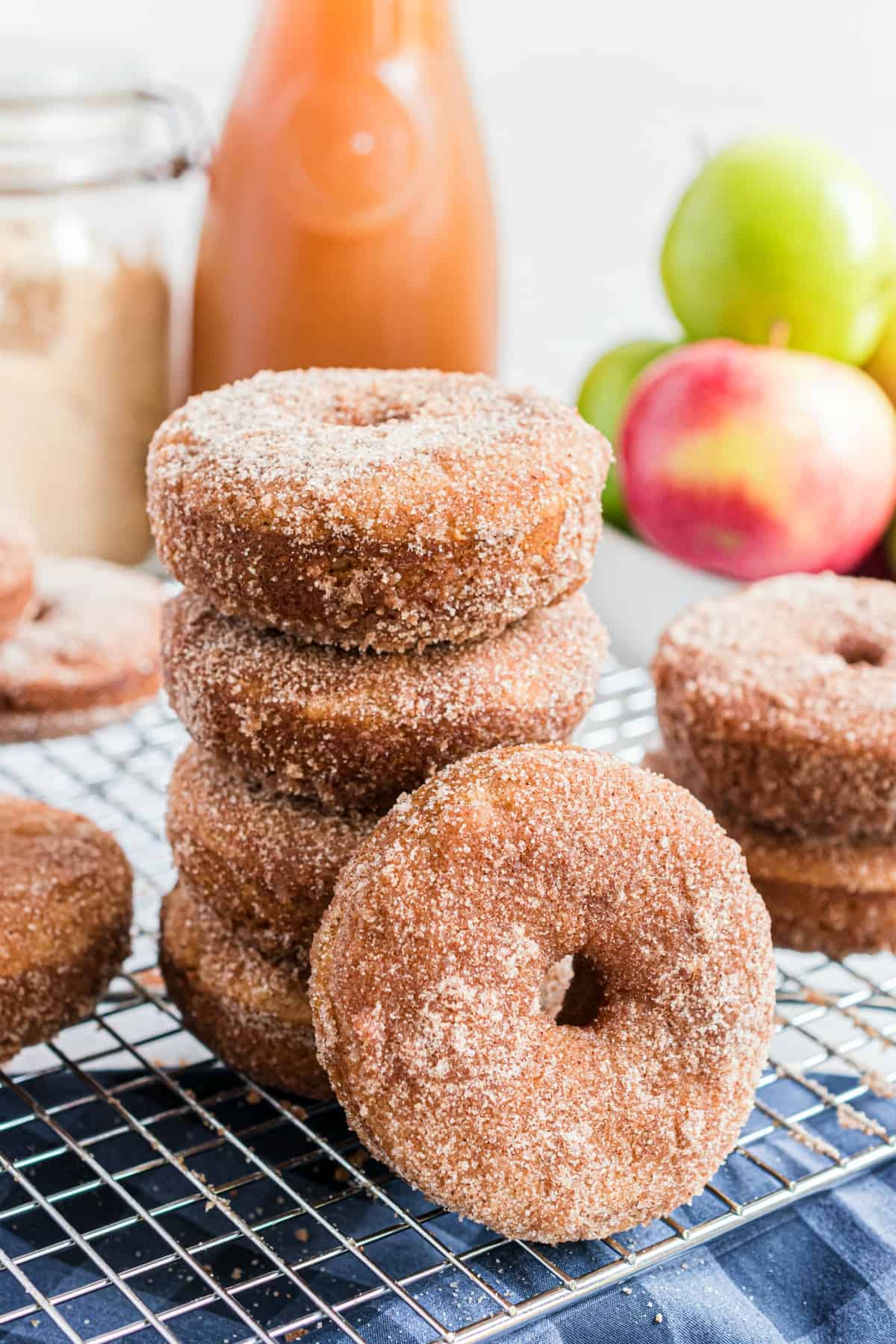 More Fall Recipes
Brew a pot of coffee, put on your favorite cozy sweater and get ready to enjoy the best ever apple cider donut you've ever tasted!