Easy Gourmet Doughnuts made in 30 minutes! Biscuits are the perfect base to these doughnuts piled high with Cream Cheese frosting, apple pie filling, caramel and peanuts!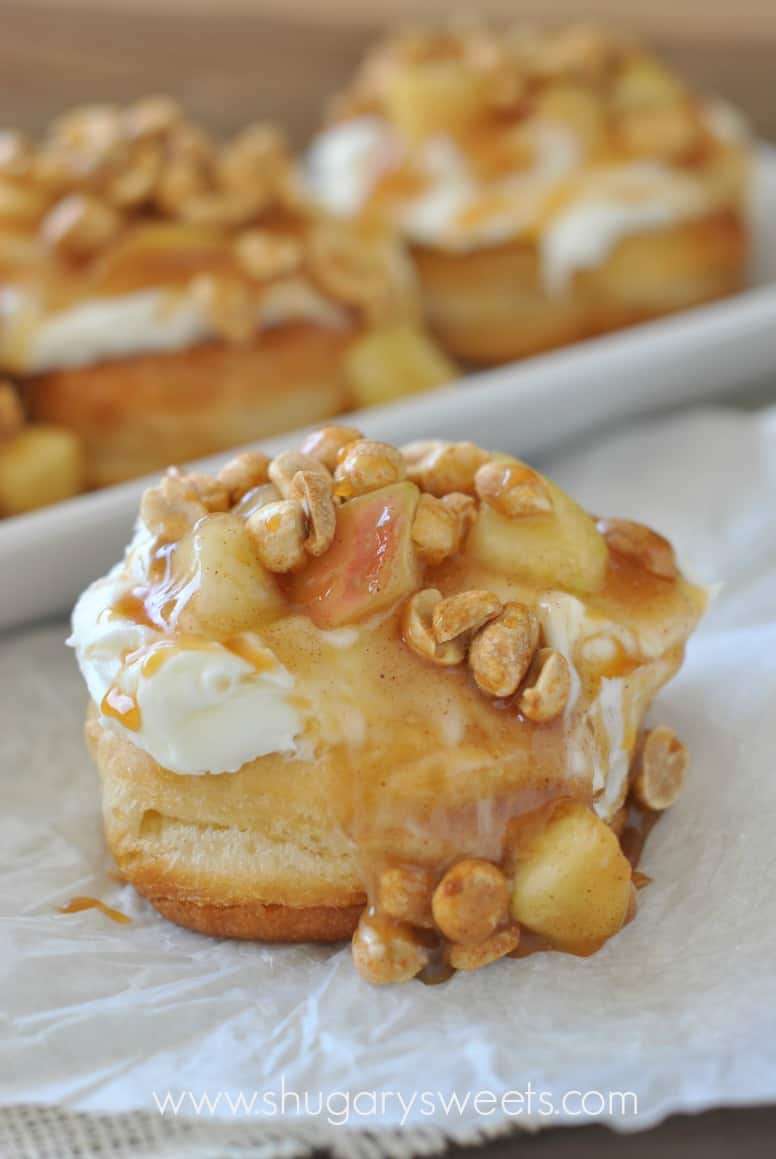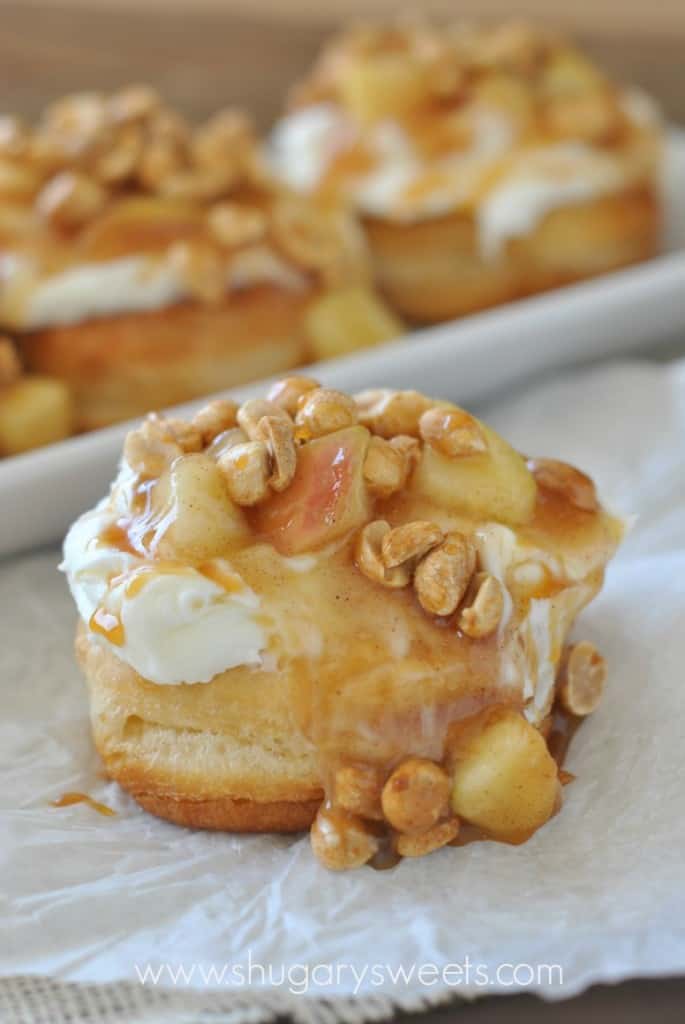 Let's all do a quick, collective, "OMG." Yes, I'm for real with these doughnuts.
You may recall my trip to Austin Texas when I happened to eat my weight in doughnuts. These Apple Pie Doughnuts, AKA "The Carney" were by far my favorite that I tried!
And today, you can make them at home, in under 30 minutes.
Need a showstopper of a breakfast to serve your mother in law? One that will make your friends fatter than you in their swimsuits at the pool this summer?? Drop off a plate of these!
Okay, maybe not the best selling gimmick? Let's just say, if you eat these once in a while, and balance your life with exercise and healthy eating, these are a perfect treat. I made my own apple pie filling, but you can certainly skip that step and buy canned or jarred filling too. (you can even use canned frosting, but I do think homemade is better, duh!!)
I also used Pillsbury Grands Biscuits to make the biggest doughnut I could! Only a Grands biscuit could puff up high enough to endure the topping overload that was about to happen. And it still tasted buttery and rich, and soft!!
How to Make Apple Pie Doughnuts
Step 1: In a large, heavy bottomed skillet, heat oil about 1/2-3/4 inch high. Depending on your size skillet will determine how much oil is necessary. Bring oil to a sizzle when you drop a couple drops of water into it.
Step 2: Separate canned biscuits and using a one inch circle cutter (I used a cannoli tube) pop center hole out of each biscuit so it resembles a donut. Fry each biscuit for 2-3 minutes each side. Allow to cool and dry on paper towels.
Step 3: While donuts are cooling, prepare apple pie filling (or use jarred/canned to save time). In a small saucepan, bring sugar, cornstarch, cinnamon, salt, nutmeg and water to a boil. Boil for 2 minutes, whisking constantly. Add apple slices (or diced) and reduce heat to simmer.
Step 4: Cover and simmer for about 6-8 minutes, until apples are fork tender. Remove from heat and cool.
Step 5: For the frosting, beat softened butter and cream cheese for 3 minutes until fluffy. Add in powdered sugar and milk and beat an additional 3-5 minutes.
Step 6: To assemble, frost cooled doughnut with cream cheese frosting. Top with cooled apple pie filling, peanuts and caramel sauce (divide evenly among the 8 doughnuts). ENJOY.

Some of my friends who devoured doughnuts with me in Texas are also creating copycat versions today! Be sure you check everyone out.
PB & J by Capturing Joy
Granny's Pie by Crazy for Crust
Heavenly Hash by Something Swanky
The Flying Pig by The Novice Chef
Bring the Heath by Mom on Timeout
Son of a Peach by Chef-in-Training
Mama's Cake by The Domestic Rebel
The Mother Clucker by Oh Sweet Basil
Cherry Bombs by My Life as a Mrs.
The Funky Monkey by The Little Kitchen
Black Out Cupcakes {inspired by Gourdoughs} by Cookies & Cups
ODB by Sweet Treats and More
The Puddin' by Lauren's Latest
Miss Shortcake by Kevin & Amanda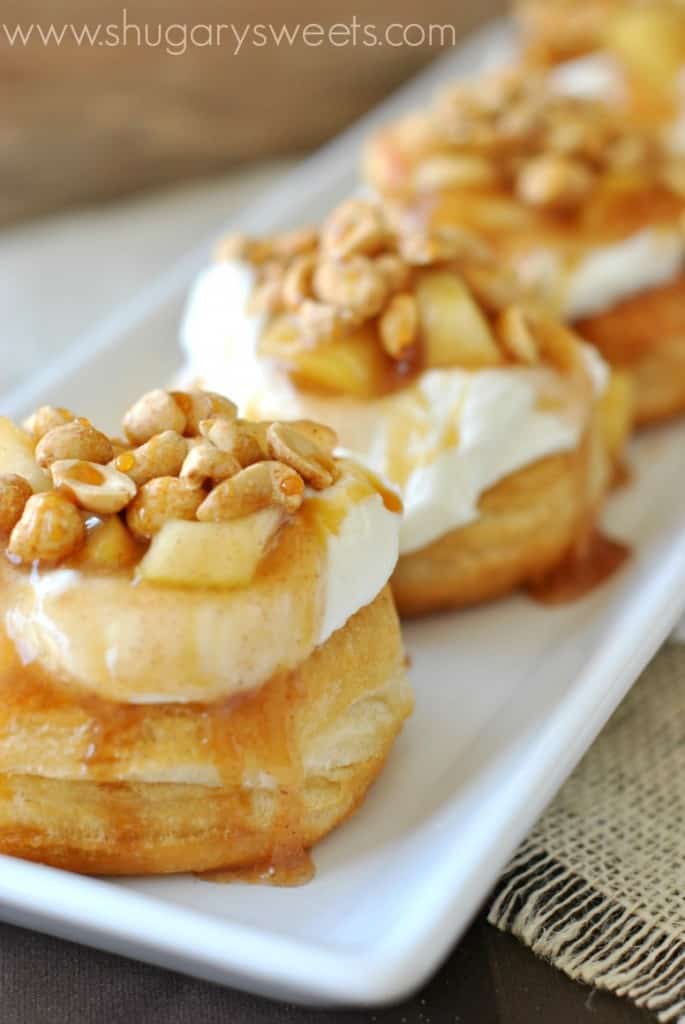 More Apple Recipes: