Make Gourmet Doughnuts in 30 minutes with this easy recipe. Using a can of biscuits as a base, these Apple Pie Donuts are decadently sweet, with a tangy creamy cheese frosting and lots of caramel!
You can't go wrong with caramel and apples. This Caramel Apple Cinnamon Roll Coffee Cake is another breakfast treat to add to your rotation.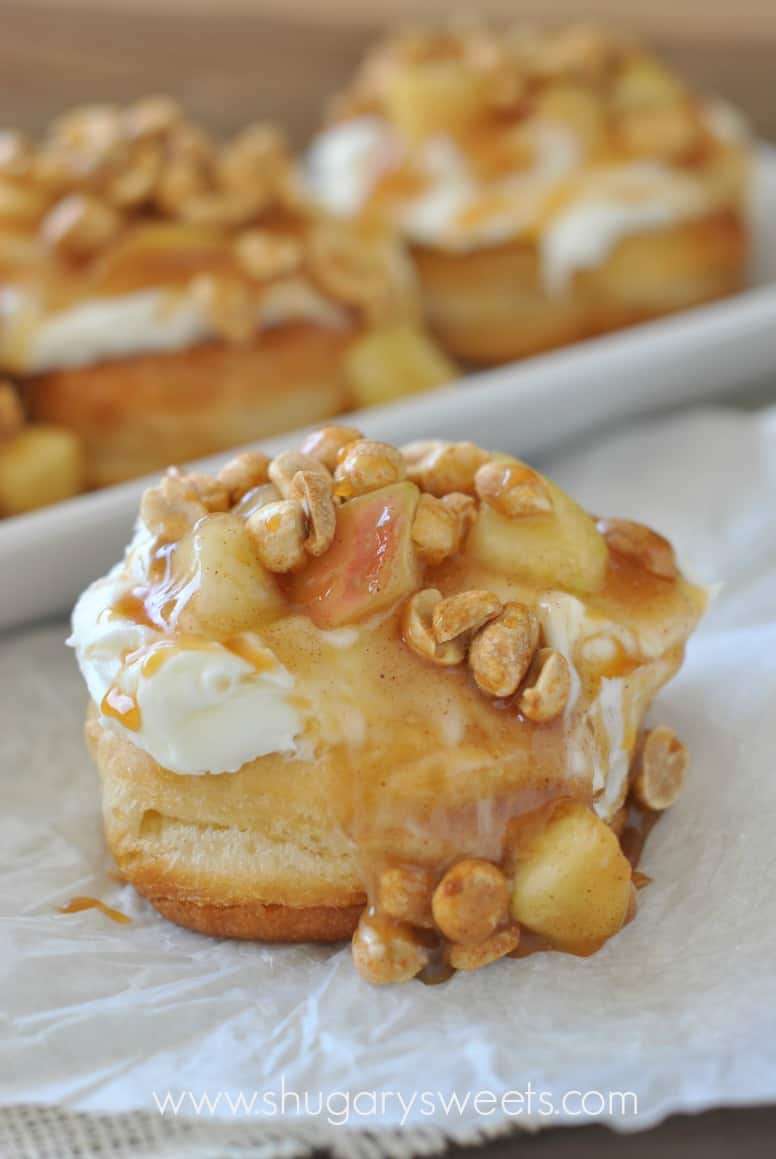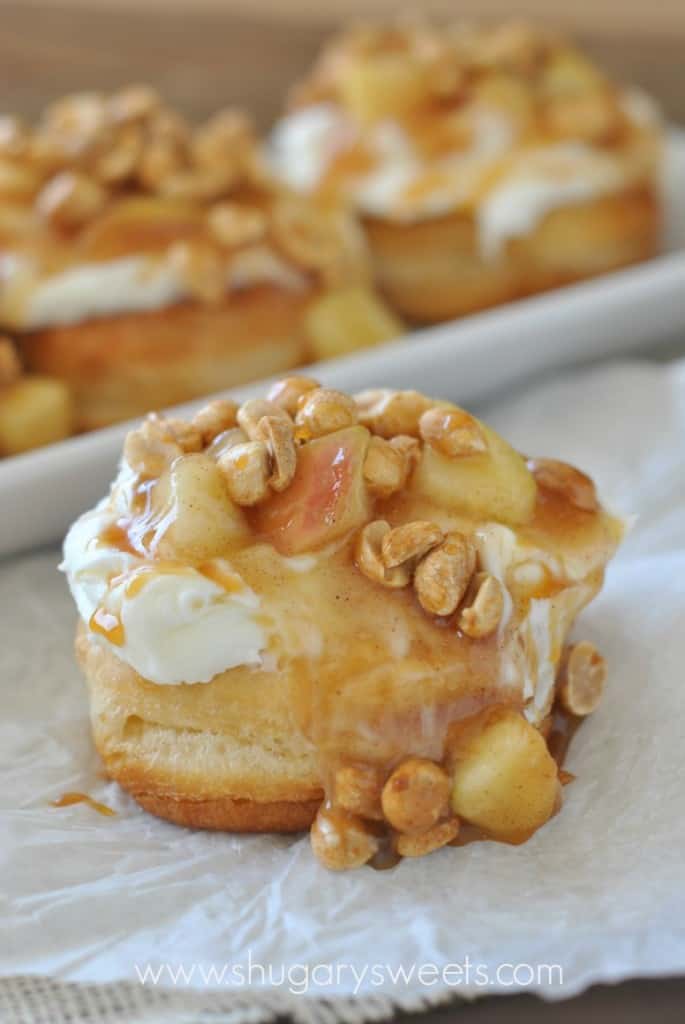 Breakfast or Dessert
Some might call doughnuts topped with caramel, frosting and peanuts a little over the top. I call them perfection. If you're going to eat doughnuts, you might as well go all in, right?
These Apple Pie Doughnuts are inspired by doughnuts sold by a well known donut shop in Austin, Texas. Only these are made with refrigerated biscuits and ready in just 30 minutes.
Buttery, rich, and soft, these apple pie pastries are a perfect special occasion breakfast. With all that caramel sauce and cream cheese frosting, they're an obvious choice for dessert too.
One bite of these incredible apple doughnuts and you'll understand why I became obsessed!
Ingredient Notes
Pillsbury Grand Biscuits. These get super big and puffy when fried, making them ideal for doughnuts.
Cream cheese frosting. The frosting here is based on my favorite Cream Cheese Frosting Recipe, made by beating cream cheese with butter and powdered sugar.
Apples. Any variety of apples will work! I like to use a combination of sweet and tart ones like Honeycrisp and Fuji.
Caramel sauce. Any bottled or jarred caramel ice cream topping will taste delicious drizzled on your finished doughnuts.
Peanuts. I recommend salted, dry-roasted peanuts to complement the sweetness of the caramel.
Tips and Tricks
In a hurry? Use canned apple pie filling instead of making it from scratch.
Give the biscuits a more doughnut-like appearance by poking a hole in the center with a 1-inch circular cookie cutter. I used a cannoli tube!
Fry the biscuits for 2 to 3 minutes per side, or until they're golden brown and puffy.
While the doughnuts are cooling, make the apple pie filling and frosting. By the time they're done the doughnuts will be ready for frosting and topping!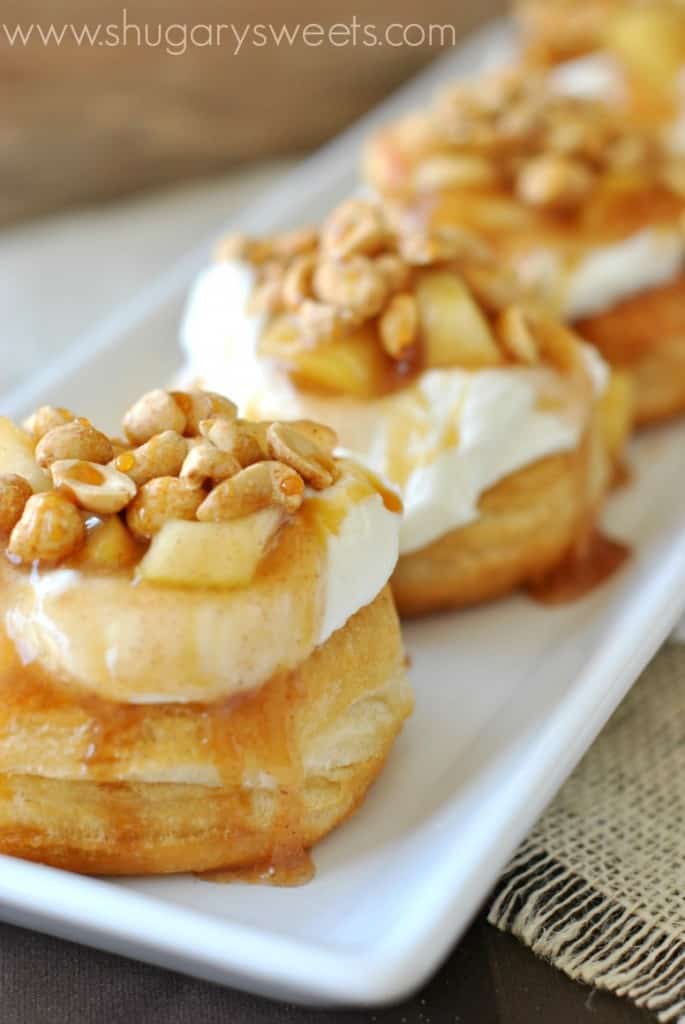 Recipe FAQs
Do I need a deep fryer to make doughnuts?
No deep fryer needed for this recipe! These apple pie doughnuts are fried on the stove top. Any large skillet with a heavy bottom and rimmed sides will work.
How much oil do I need?
The amount of oil you need for frying doughnuts depends on the size of your pan. Add enough to cover the bottom of the pan with about a half inch of oil.
Can these be baked instead of fried?
Baking these apple pie doughnuts won't produce the same results. They'll taste more like sweet biscuits than true doughnuts. Still delicious if that's what you're going for. If you're looking for a baked donut recipe, try my Apple Cider Donuts or these Pumpkin Streusel Donuts.
Can these be made ahead of time?
Fried doughnuts are best served fresh the same day they are made. You can make the cream frosting and apple pie filling in advance and store them in the refrigerator until ready to use. Then all you have to do is pop open the biscuits, fry 'em up and add the caramel apple toppings. Quick and easy!
More Apple Recipes
Caramel apple doughnuts are easy to make in 30 minutes! Delicious for breakfast, dessert or anytime of day.