One slice of this Butter Pecan Apple Skillet Cake with Bourbon Caramel Sauce and you'll name this your favorite dessert ever eaten.
Love easy skillet desserts? This delicious Sugar Cookie Cake is baked in a skillet and topped with colorful holiday candy! Or whip up this easy Apple Cobbler Skillet recipe.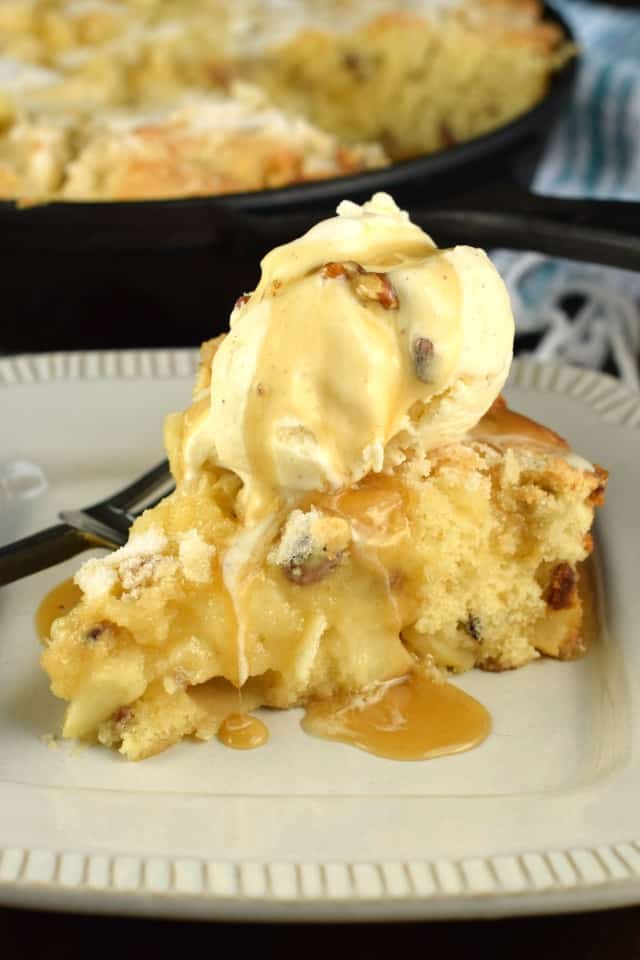 Why this Recipe Works
There are times when I make a delicious dessert, and I just can't stop thinking about it. That's today.
This Butter Pecan Apple Skillet Cake with Bourbon Caramel Sauce is simply irresistible.
The thick cake, packed with pecans and apples has a custard center and crunchy sugar topping.
Add a scoop of butter pecan ice cream and some homemade bourbon caramel sauce, and YOU will be dreaming about this dessert as well.
If you're looking for an impressive dessert to share with family and friends, look no further.
I'm totally putting this one back on the rotation this holiday season, it's that good. Just writing about it makes me crave this sweet cake!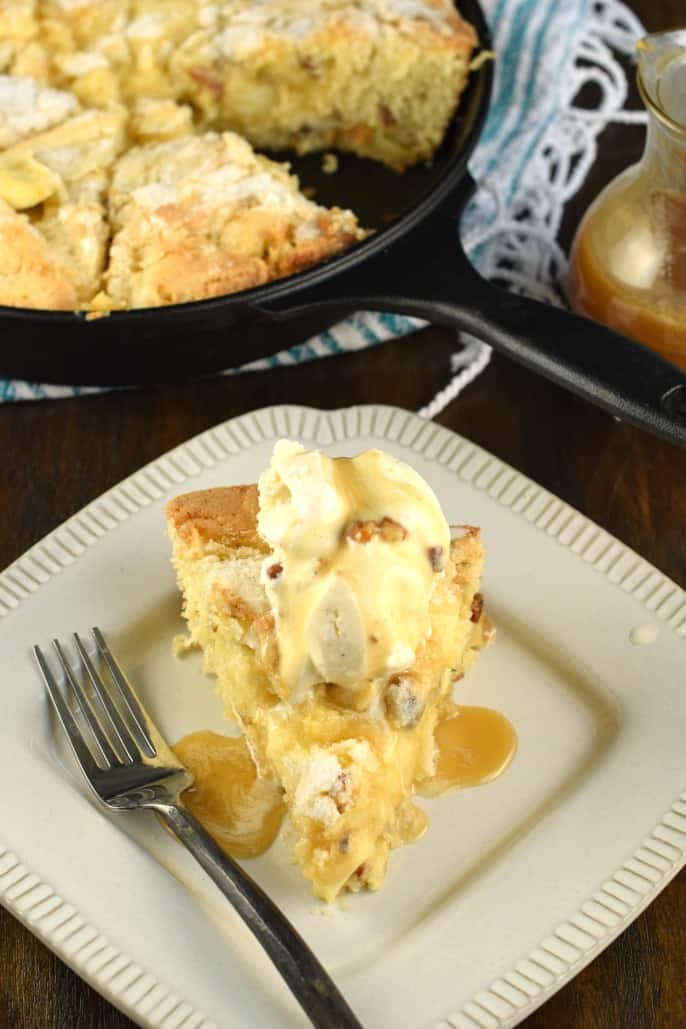 How to make Butter Pecan Apple Skillet Cake
Sometimes referred to as a Kentucky Skillet cake, today's recipe is cooked in a cast iron skillet. Use at least a 9-inch size skillet up to a 12 inch skillet.
In a mixing bowl, beat the butter and sugar together until pale and fluffy. This takes about 3-4 minutes. Add in the eggs and vanilla, and beat until smooth.
Add in flour, baking powder, and salt, mixing just until combined. Slowly add in sour cream.
Fold in apples and pecans and pour into your skillet. I greased mine with a little shortening, as it's new and not well seasoned yet.
Sprinkle the top of your cake with sugar. Bake for 40-45 minutes and allow to cool slightly in skillet before serving.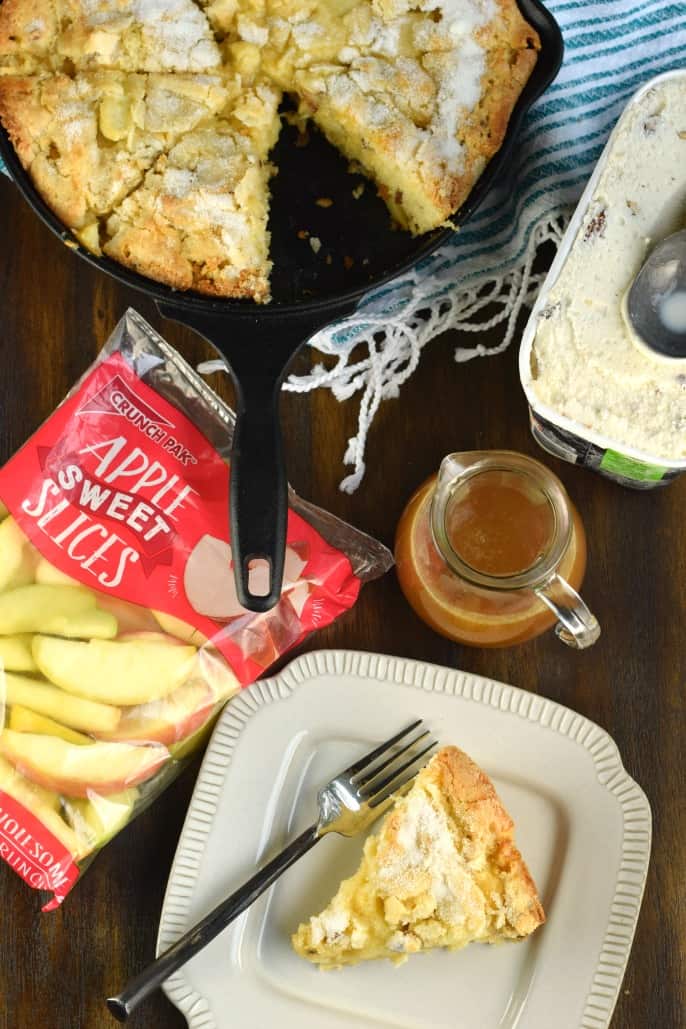 How to make Bourbon Caramel Sauce
In a small saucepan over medium heat, melt butter.
Add in brown sugar, cream, salt, and bourbon. Whisk over medium-high heat until boiling. Boil one full minute.
From start to finish, the caramel sauce takes about 5-7 minutes.
To serve this cake, plate each slice with a scoop of butter pecan ice cream and add a big spoonful of warm bourbon caramel sauce to the top! So good.
This is seriously a restaurant quality dessert with only minutes of prep time!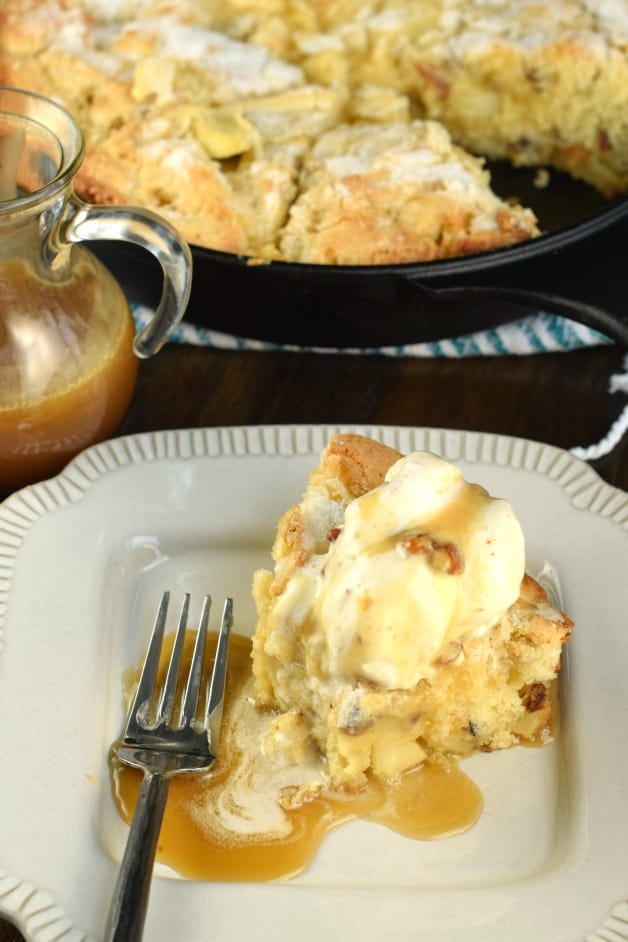 Tips and Tricks
If you're looking for a few shortcuts, skip the bourbon caramel sauce (I know, I can't believe I said that), and use a good quality caramel sauce instead (you can find them in the grocery store with the other ice cream toppings).
When choosing apples, I like granny smith best. However, any apple works great, and there's no need to peel (unless you like the extra work!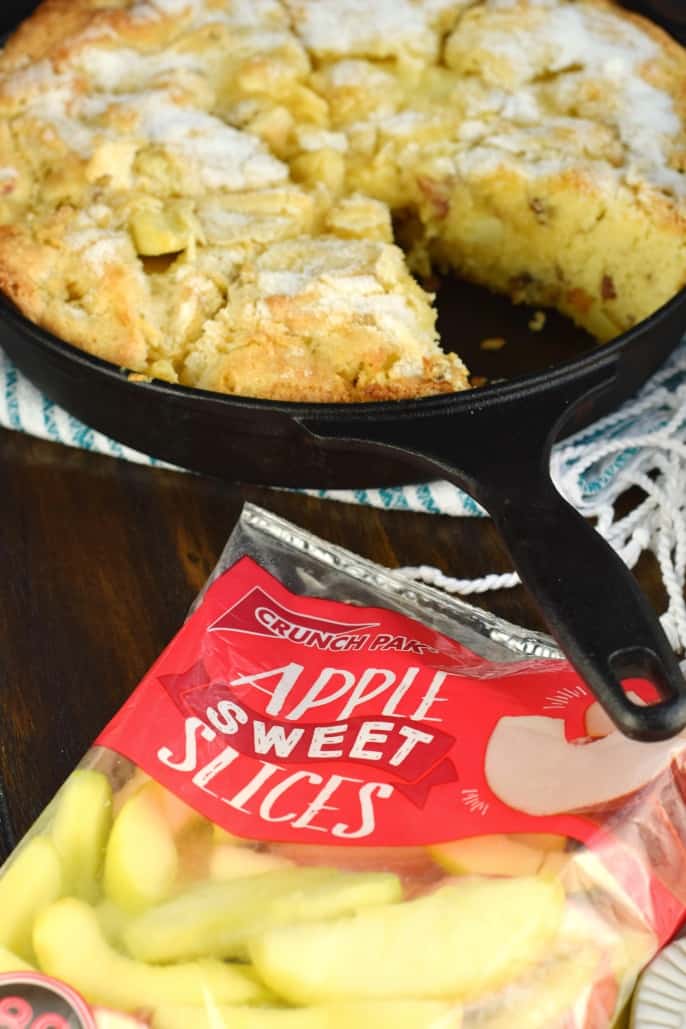 More Apple Recipes