Apple Bread recipe bursting with cinnamon and apple pie filling! You'll love this easy 5 ingredient recipe for a delicious comfort food treat!
For more apple recipes, you've got to try these sweet Apple Hand Pies. Or you may also love my homemade Apple Cider Donuts.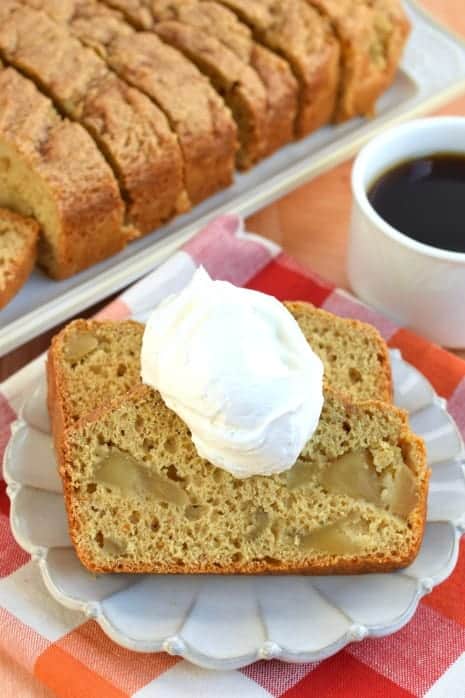 Why this Recipe Works
While I definitely consider myself a summer girl, loving the sun, sand, and relaxation….there is one thing I love about fall.
The abundance of apples.
Today's Apple Bread is so easy, it takes 5 ingredients and makes two delicious loaves of bread.
You'll love the aroma in your kitchen! My family thought I was baking apple pie, and that's exactly how this sweet bread tastes.
Imagine a cross between a sweet quick bread and Apple Pie!
Step by Step Instructions
STEP 1: In a small bowl, empty can of apple pie filling. Using a fork and knife, cut the pieces of apple into smaller bits, or mash with the back of a fork. You want some pieces, just not too big or it makes slicing the bread difficult.
STEP 2: Preheat oven to 325 degrees F. Spray two 9×5-inch loaf pans with baking spray. Or grease and flour pans generously.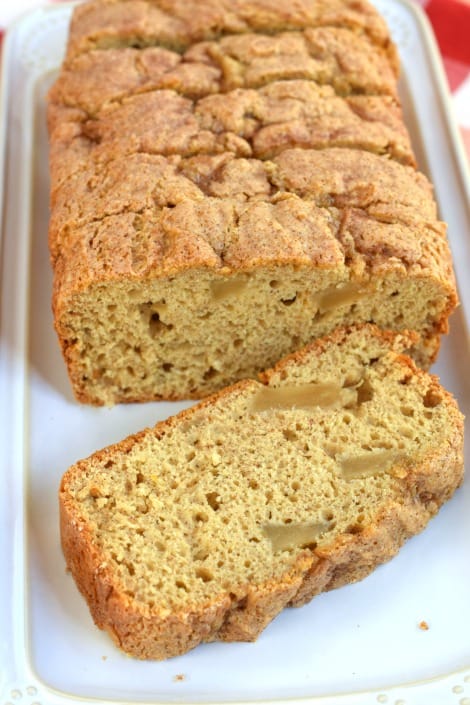 STEP 3: In a large mixing bowl, combine self rising flour, yellow cake mix, cinnamon, eggs, and apple pie filling. Mix by hand until well combined.
STEP 4: Pour batter evenly between the two baking pans. Sprinkle the top generously with cinnamon sugar blend. Bake for 45 minutes, or until toothpick inserted in the center comes out clean.
Remove from pan and cool on wire rack.
ENJOY!
For a delicious twist, make this peach bread recipe, chock full of fresh peaches!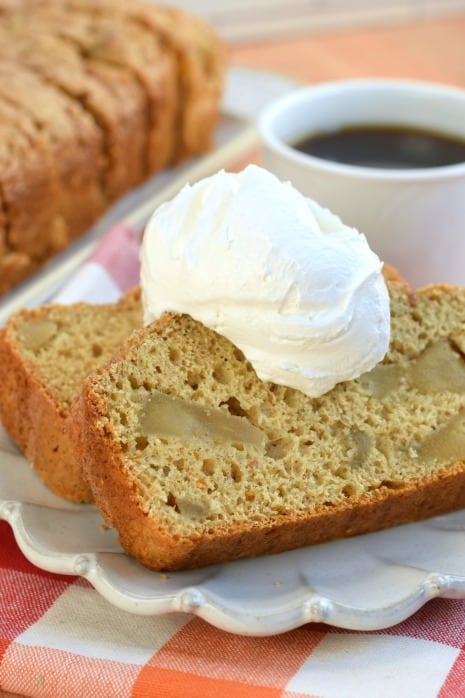 Recipe FAQs
How do you store Apple Bread?
You can store this bread at room temperature in an airtight container.
I prefer to wrap it in foil, then slide into a ziploc freezer bag for best results.
Can you freeze Apple Bread?
Yes! After your loaves of bread have cooled completely, wrap in aluminum foil and place in a freezer safe container or ziploc bag. Freeze for up to 3 months. To serve, thaw on counter overnight.
What if I don't have self rising flour?
If you don't have 1 cup self rising flour you can substitute with 1 cup all-purpose flour, 1/2 tsp baking powder, and 1/2 tsp kosher salt. You can see all my tips for how to measure flour.
What is Quick Bread?
You'll often hear me refer to "quick bread" recipes, like this Lemon Zucchini Bread. What defines a quick bread recipe?
No yeast is used.
No rise time.
Bread should be baked quickly after mixing and now allowed to sit for very long before putting in the oven.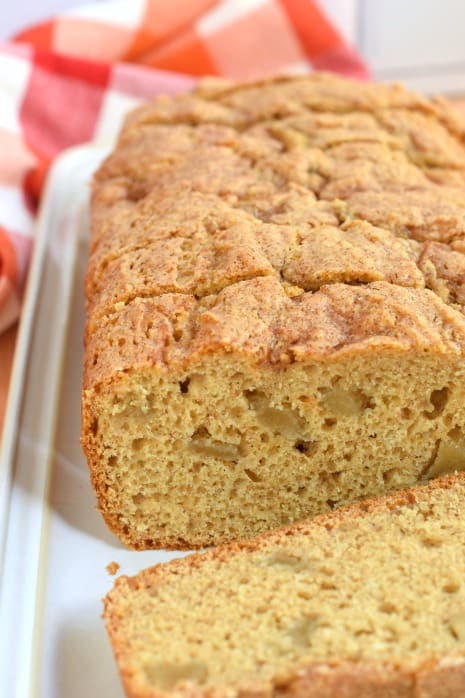 Tips and Tricks
Grease and flour the loaf pans. Occasionally I'll even put parchment paper in the bottom just to be safe.
Do NOT over mix the batter. Mix just until everything is combined.
Slice with serrated bread knife for best results.
Serve warm with a scoop of ice cream or homemade whipped cream
If your bread cracks on top, it's okay! That's nothing to worry about.
More Apple Desserts:
This easy Apple Pie Bread recipe is bursting with cinnamon and apple pie filling! The perfect breakfast or dessert!