Rich, buttery, cream cheese Pound Cake filled with chunks of Apples. Take it to the next level with a Cinnamon glaze!
While baking our apple slab pie is always a treat, today's pound cake is equally delicious!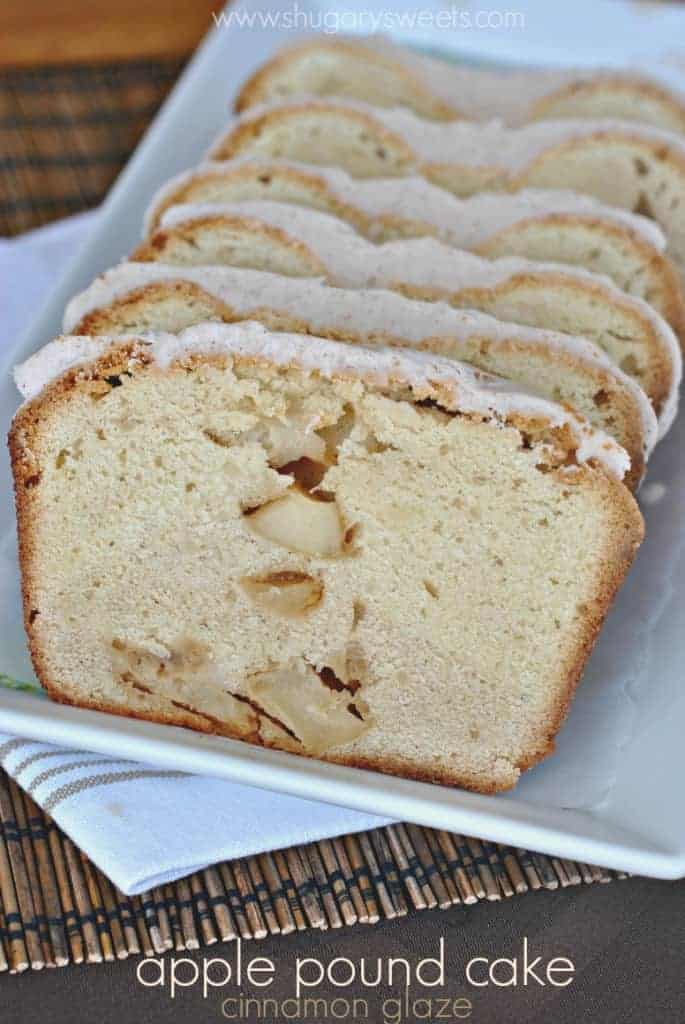 Why this Recipe is Best
Apples and pound cake are a match made in dessert heaven. The classic butter crumb of a pound cake tastes even better when it's filled with sweet bits of apple.
This recipe uses cream cheese to make the Apple Pound Cake super moist while giving the cake a slight tang that complements the apple flavor beautifully.
Then, there's the topping: a cinnamon glaze that sets in a thick layer on top of the cake.
I love how easy pound cakes are to make from scratch, too. You just mix everything together, bake and pour on the glaze–no need to mess with layers or frosting bags. And because the recipe makes TWO cakes, you can eat one now and stash the other one in the freezer for later.
This Apple Pound Cake makes a perfect dessert for a holiday gathering or a coffee date with a friend!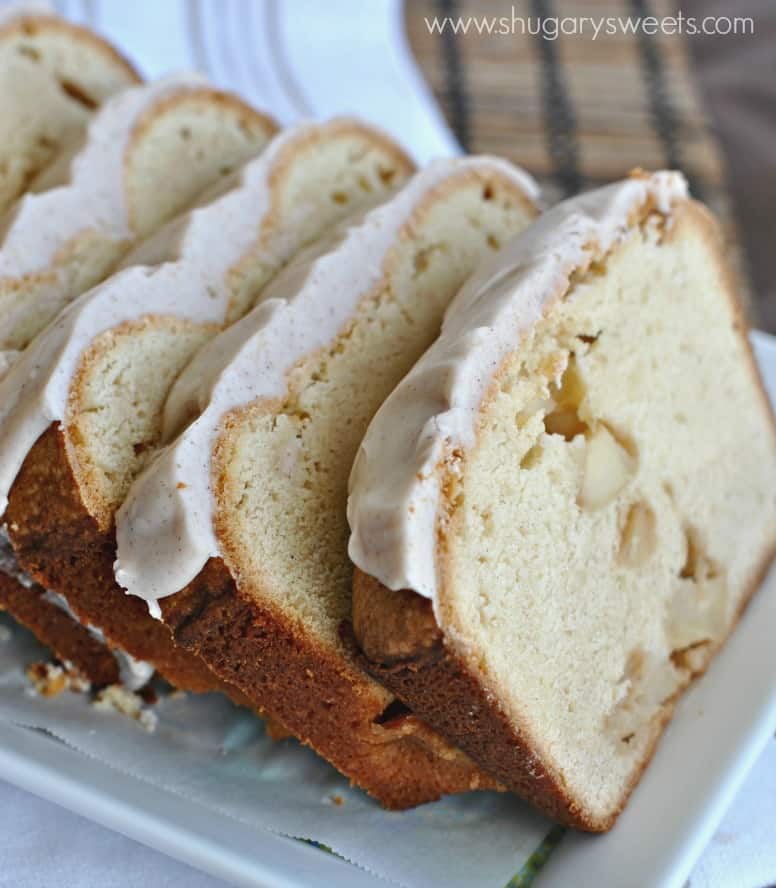 Ingredient Notes
Apples – I like to use gala or granny smith apples for baking.
Cream cheese – Let it soften at room temperature for a few minutes before adding it to the cake batter.
Heavy cream – Use real heavy whipping cream in the glaze for best results. It helps keep the glaze thick while still allowing it to spread over the top of the cake.
Easy Instructions
I mix all the ingredients for the cake together in a bowl and use my electric mixer to beat everything together. After folding in the diced apples, pour the batter into two loaf pans to bake for 75 minutes.
While the cakes were cooling on a wire rack, make the glaze by whisking powdered sugar with cinnamon and heavy cream until it's smooth with no lumps of powdered sugar remaining. Once the cakes are completely cool, spread the glaze on top, slice and enjoy!
Tips & Tricks
Place a sheet of parchment paper on the bottom of the loaf pans in addition to greasing them to prevent the cakes from sticking.
To prevent the tops of the cakes from getting too brown, you can place a sheet of foil lightly on top of the pans during the last 15 minutes of baking.
Store pound cake in an airtight container for up to a week or freeze for up to 3 months.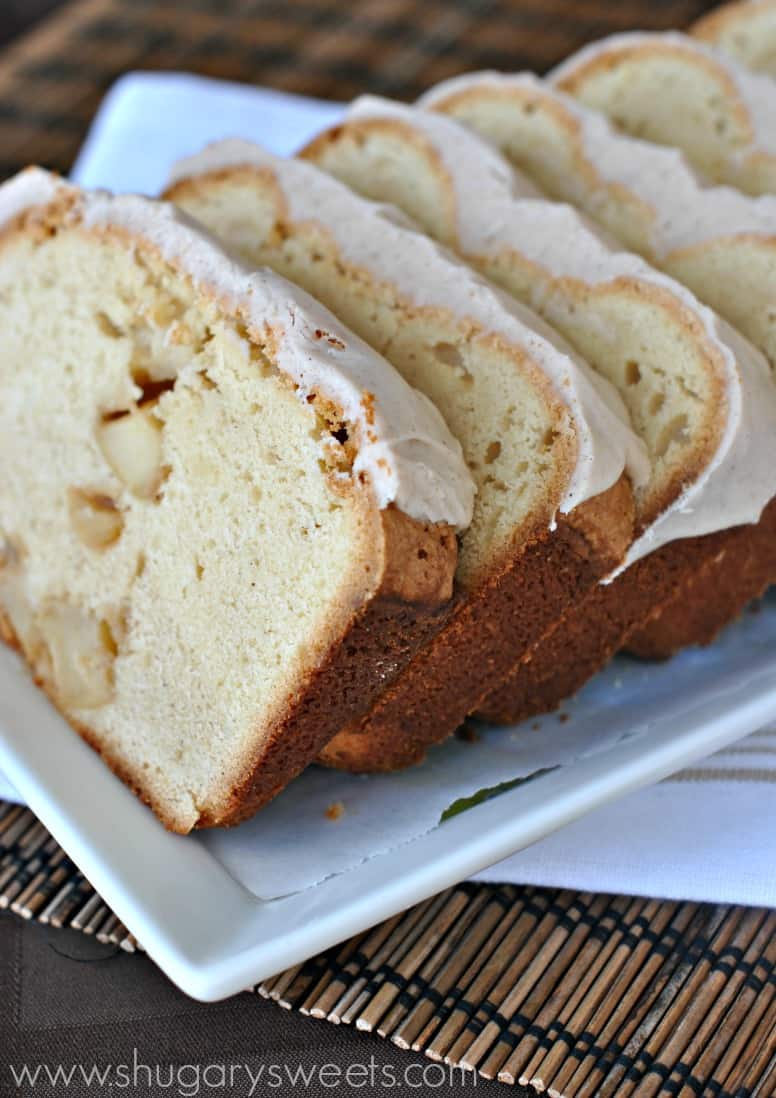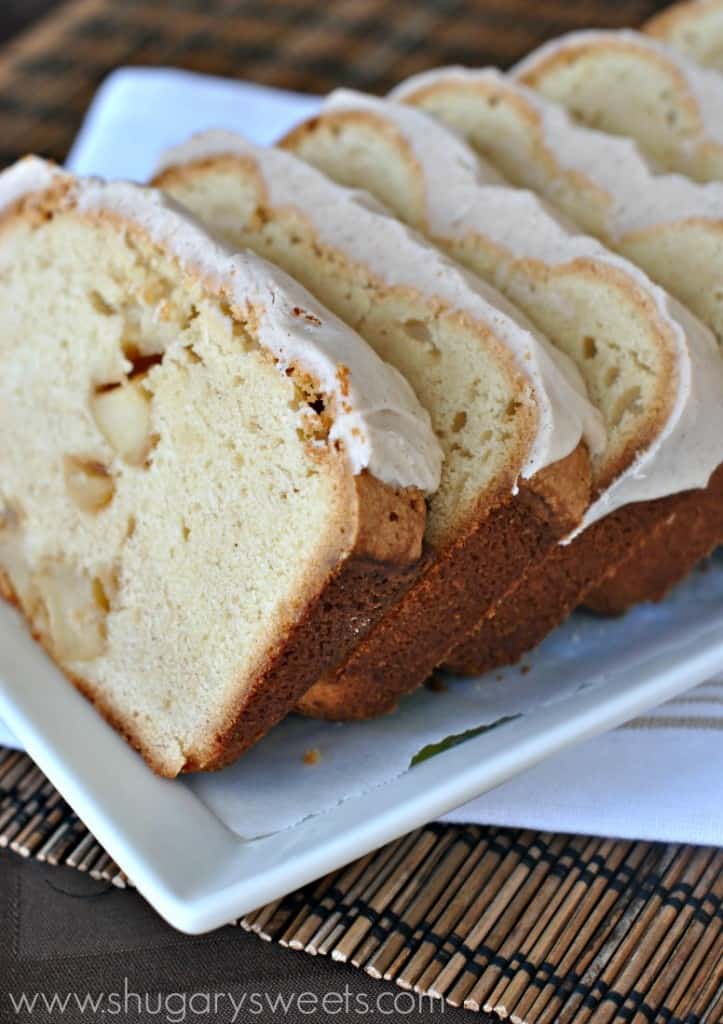 Recipe FAQs
What is pound cake?
Pound cakes get their name because traditionally they were made with a pound each of butter, sugar, flour and eggs. They are denser than other styles of cake and usually baked in a loaf or bundt pan.
What types of apples are best for this recipe?
I love tart types of apples for baking such as Granny Smith, Pink Lady or Honeycrisp.
Can you freeze pound cake?
Yes, this Apple Pound Cake freezes beautifully! Freeze in slices or as whole cakes wrapped in foil and freezer bags for up to 3 months.
What sized pans do you need?
I baked these pound cakes in 8.5 x 4.5 inch loaf pans.
Pound Cake never tasted so good! Believe me–you'll want more than a small slice of this Apple Pound Cake with Cinnamon Glaze!