Rich, buttery, cream cheese Pound Cake filled with chunks of Apples. Take it to the next level with a Cinnamon glaze!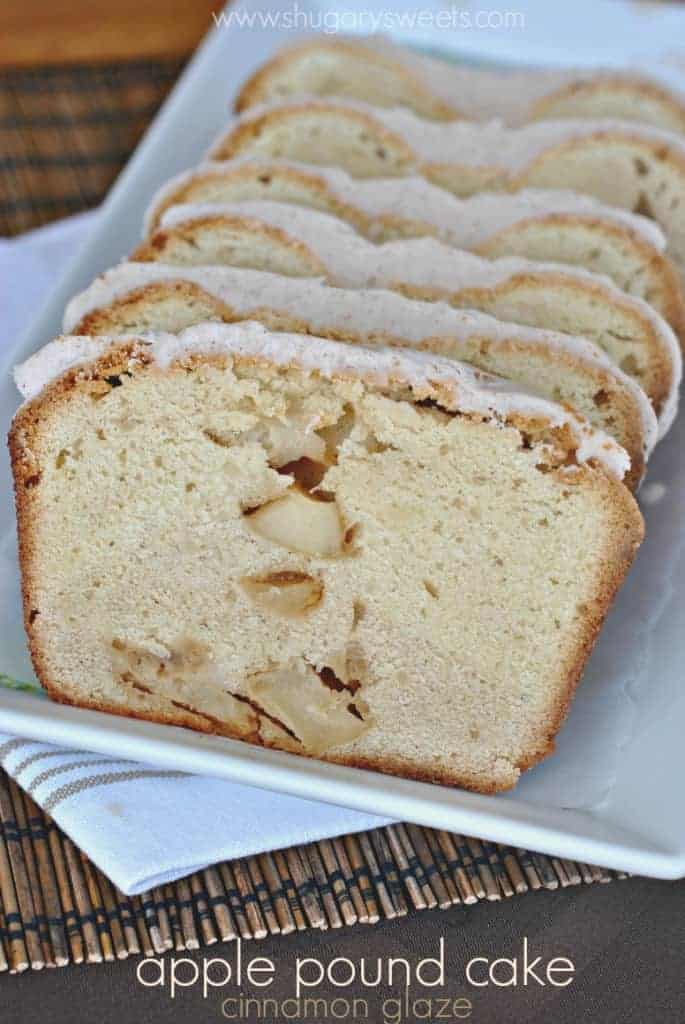 I sure hope you aren't tired of the apple recipes this week! It was so much fun trying to incorporate apples into all my delicious desserts.
Speaking of dessert, raise your hand if you LOVE pound cake! I pretty much can slice myself pieces all day long until before I know it the whole loaf is gone!
Today's recipe was no exception. I started with my favorite pound cake recipe and altering it slightly I added in some diced Crunch Pak apples.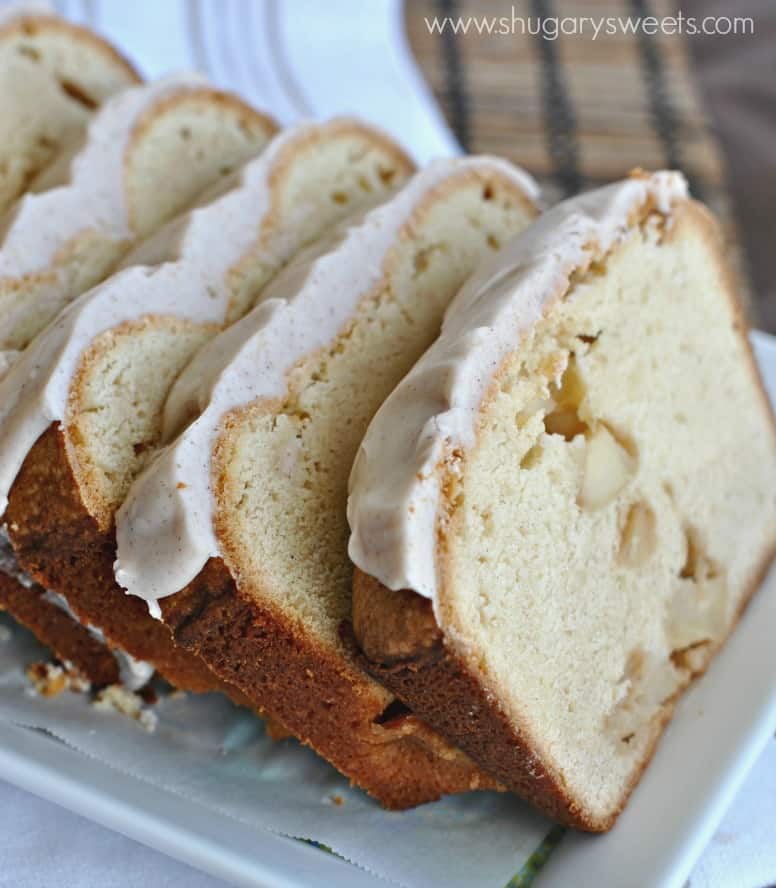 But, if you've been reading my blog for any period of time, you KNOW I can't stop there. I topped this loaf of apple bread with a sweet cinnamon glaze!
Or is it icing? Seriously, what's the difference. It was covered in a smooth frosting, k? And then I ate the whole loaf in 2 days. No. Joke.
Good thing this recipe makes TWO loaves of pound cake. I was able to wrap the second loaf in foil and a ziploc and get in the freezer before devouring it!
Connect with Shugary Sweets! I know you want to see behind the scenes…check out my instagram!
Don't miss a single recipe!
Facebook | Twitter | Pinterest |
Be sure to stop by Jocelyn's blog today for her Caramel Apple Bundt Cake recipe! Sharing Apple Week with her has been a treat. Although it would have been better if I had sampled her recipes! ya know?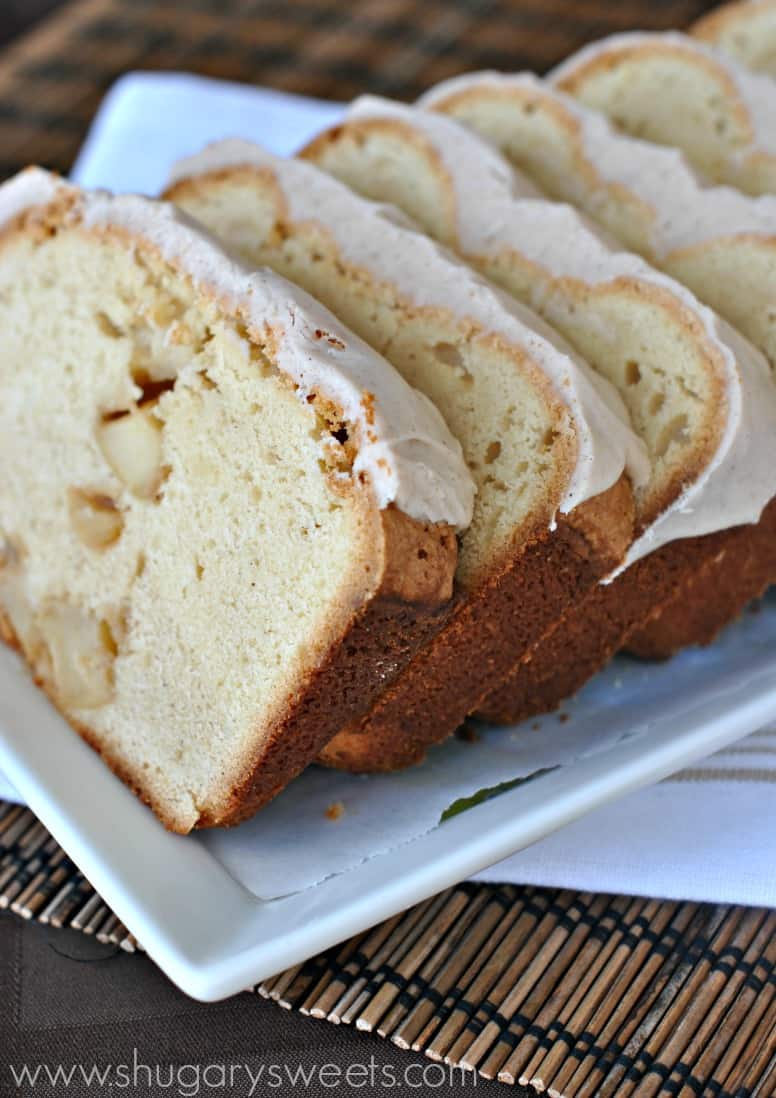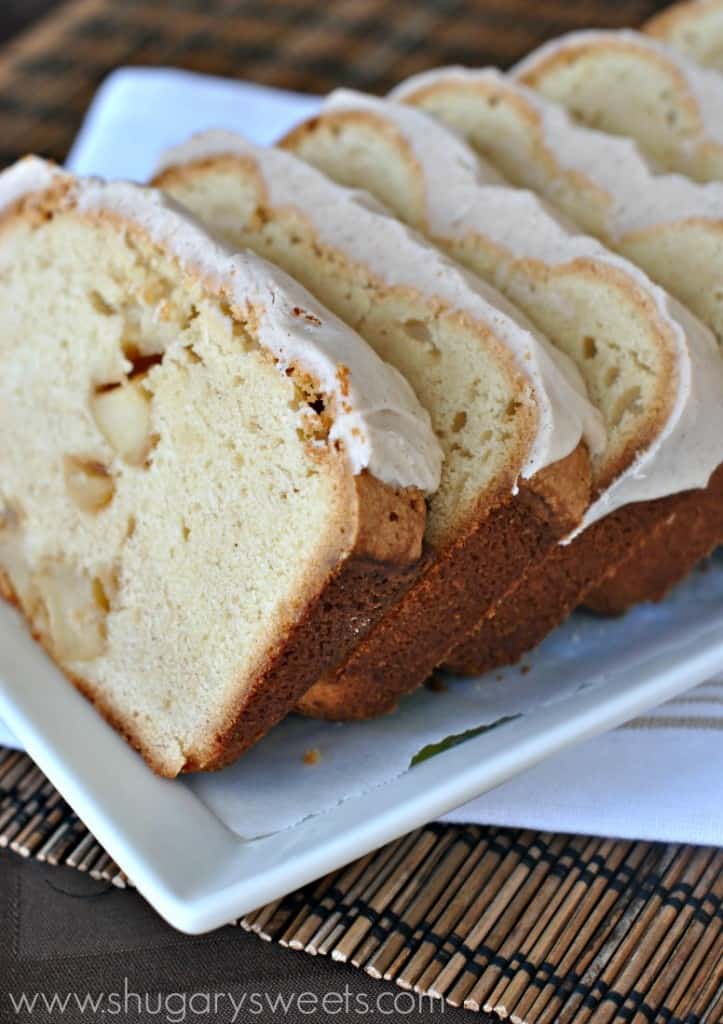 Yield: 2 loaves
Apple Pound Cake with Cinnamon Glaze
Cook Time
1 hour
15 minutes
Rich, buttery, cream cheese Pound Cake filled with chunks of Apples. Take it to the next level with a Cinnamon glaze!
Ingredients
For the cake:
1 1/2 cup unsalted butter, softened
8oz cream cheese, softened
3 cups granulated sugar
6 large eggs
1 tsp vanilla extract
3 1/2 cup all-purpose flour
1 cup apples, diced and peeled
2 tsp kosher salt
For the glaze:
2 cup powdered sugar
1 tsp ground cinnamon
4 Tbsp heavy cream
Instructions
In a large mixing bowl, beat butter and cream cheese until smooth (about 3 minutes). Add sugar, beating until fluffy (an additional 5 minutes). Add eggs, one at a time, beating well after each addition. Beat in vanilla. Turn mixer to low and beat in flour and salt. Fold in the diced apples.
Pour batter into TWO bread loaf pans that have been greased generously.** Bake in a 350 degree oven for 75 minutes.***
Remove from oven and coo in pans for about 10 minutes. Turn out and cool completely on a wire rack, with top sides up.
For the glaze, beat powdered sugar, cinnamon and heavy cream with a whisk until smooth. Spread over completely cooled cakes. Store in airtight container. These freeze well too!
Notes
*I like to line the bottom of my loaf pans with parchment paper as an additional step to ensuring the cake removes easily. **I use 8 1/2 inch by 4 1/2 inch by 2 1/2 inch loaf pans. ***Lightly place a piece of foil over the tops of the loaf pans during the last 15-20 minutes to prevent burning.
Looking for more Apple recipes?
Check out my "Applicious Goodies" Pinterest board!