Sweet and comforting, this Praline Topped Apple Bread is the perfect start to your day! Our recipe makes two loaves, and freezes well too!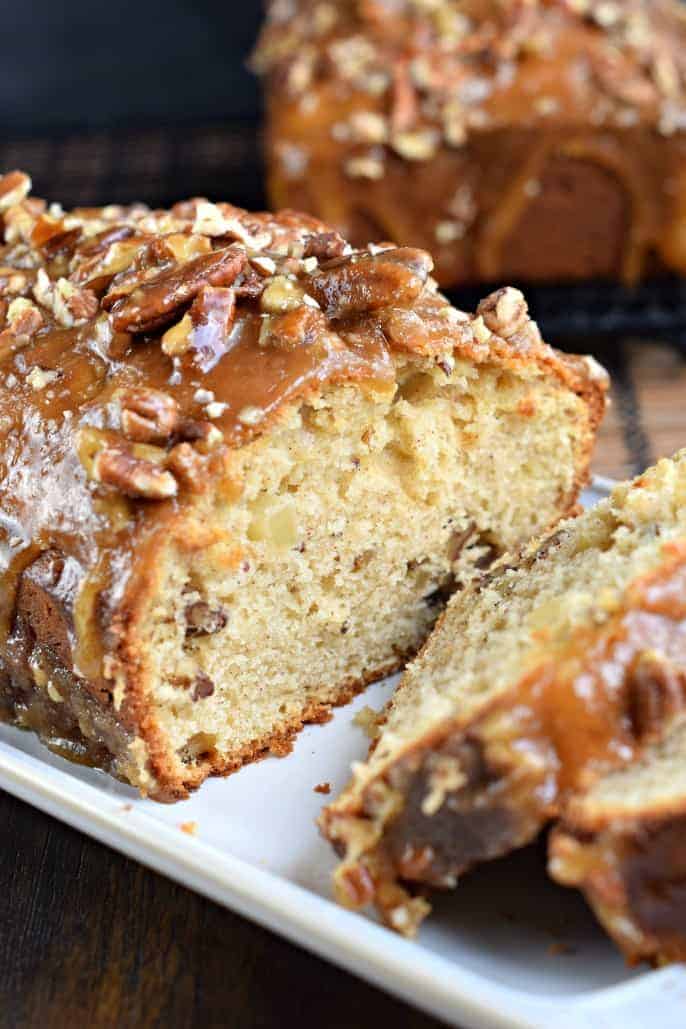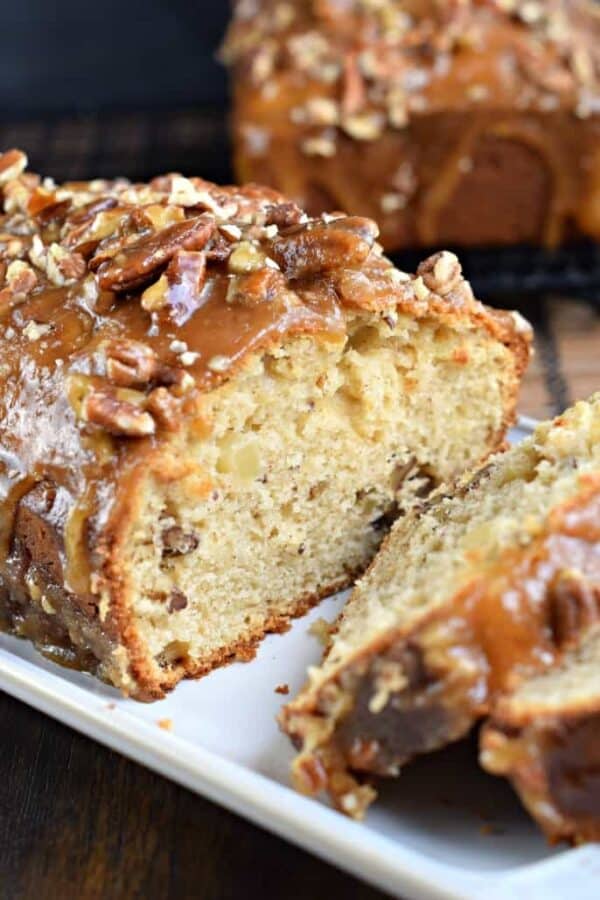 Moist, sweet bread filled with apples and cinnamon. What could be better?
Why This Recipe is Best
Apple bread with praline topping!
This is a dense, sweet quick bread.
Filled with chunks of apple and pecan.
Topped with a brown sugar glaze and more pecans.
The glaze sets into a crunchy praline layer!
Get two loaves with one recipe!
Everyone loves this Praline Topped Apple Bread! I especially enjoy a big slice first thing in the morning. The cinnamon apple flavor and buttery pralines pair perfectly with that first coffee of the day.
Like all the best quick breads, this one smells pretty incredible too. Your kitchen will smell like autumn heaven as this apple bread bakes. You'll love it so much you'll want to make this bread all year long, not just in the fall!
Ingredient Notes
A few key ingredients make this bread taste so magical.
Sour cream – We use a whole cup and a half in the batter. It adds tang, moisture and richness.
Apples – You can peel and chop them yourself, or do what I do and buy the pre-peeled Crunch Pak apples!
Pecans – Half of the pecans go right in the dough. Save the other half for the praline topping.
Vanilla and almond extracts – Enhance the flavors of the pecan and apples.
Light brown sugar – It's boiled with melted butter to create the caramelized coating for the pralines.
Easy Instructions
First, you'll mix together a thick bread batter. Fold in apples and pecans, then divide it into two loaf pans to bake.
Once the loaves have cooled, make a glaze with brown sugar and butter. Spoon glaze over the bread. Sprinkle pecans on top. Let the glaze set for about 30 minutes, then slice and enjoy.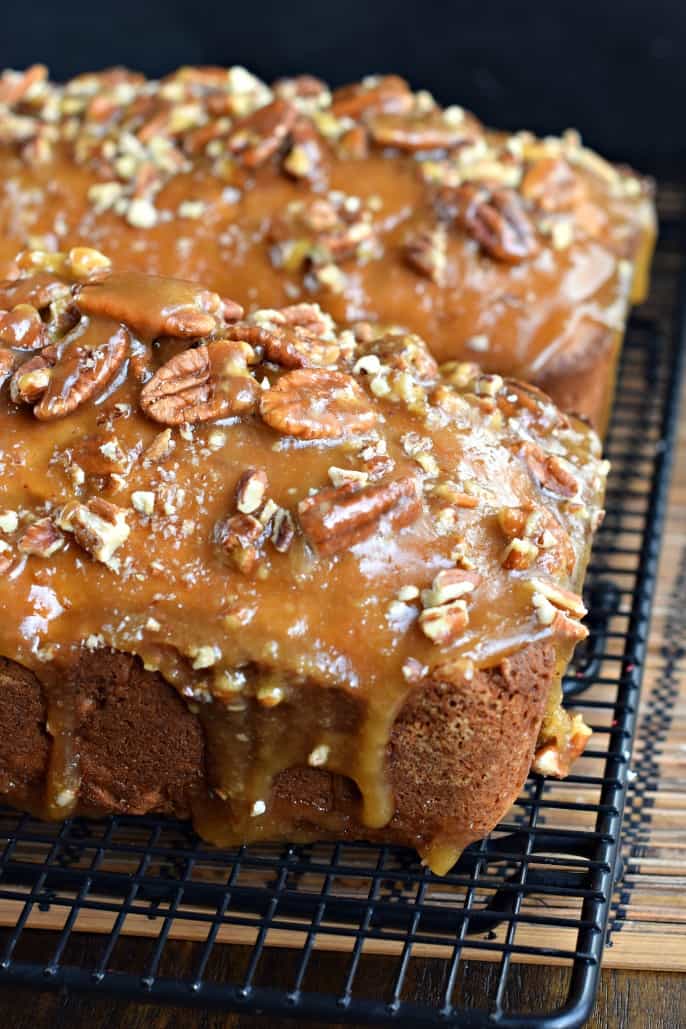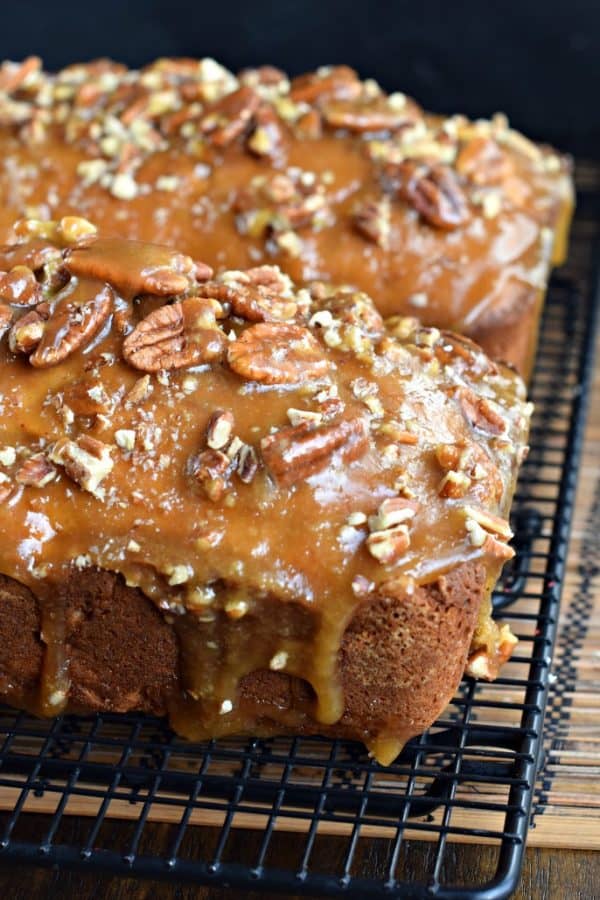 Tips and Tricks
Prepare your bread pans by spraying them with baking spray AND lining the bottom with a small piece of parchment paper. Nobody wants their bread to stick to the bottom and be ruined. This extra step guarantees they will come out perfect!
Make sure you dice your peeled apples into thumbnail sized pieces, and your pecans too!
If you don't have sour cream, you can substitute plain (or vanilla) GREEK yogurt in this recipe. It must be Greek though, as it's thicker in consistency.
For the glaze, once you've boiled the brown sugar and butter, spoon small amounts over your bread then sprinkle with pecans. Repeat several layers until all the glaze is used!
Once the glaze hardens, wrap in foil and keep at room temperature until ready to serve! ENJOY!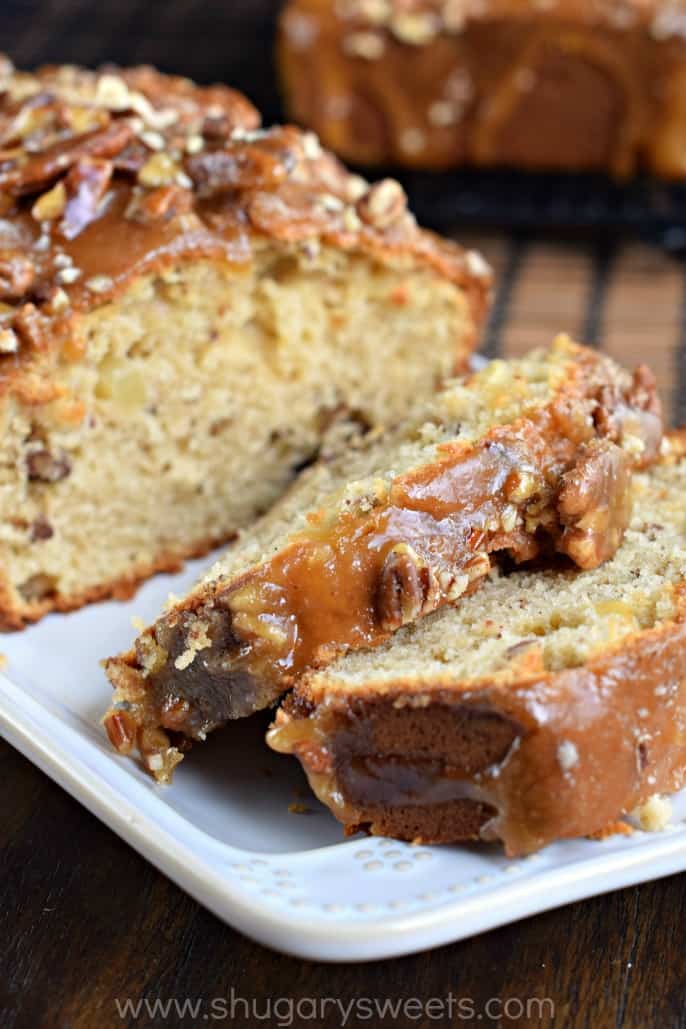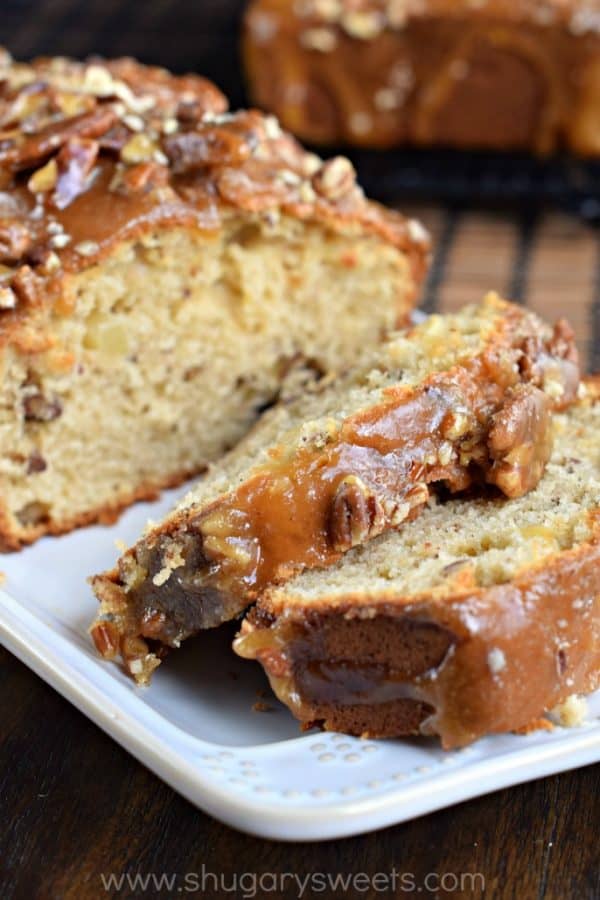 Recipe FAQs
What are pralines?
Pralines are nuts with a sugared candy coating. We use pecans as the praline base for this recipe.
What size loaf pan do I need?
I used two 9×5 inch loaf pans for this recipe.
I only need one loaf. What should I do with the second one?
Freeze it! Double wrap the praline topped apple bread with foil, then place in a freezer bag with a zip top. It stays good in the freezer for about 3 months.

Homemade apple bread also makes a great gift! Make someone's day by gifting them your second loaf.
What kind of apples are best?
I use the Crunch Pak apples. They're already peeled and sliced, so all you have to do is chop them into smaller pieces.
If you can't get those, then use apples a bit of tartness. I like Granny Smith, Pink Lady and Fujis for baking.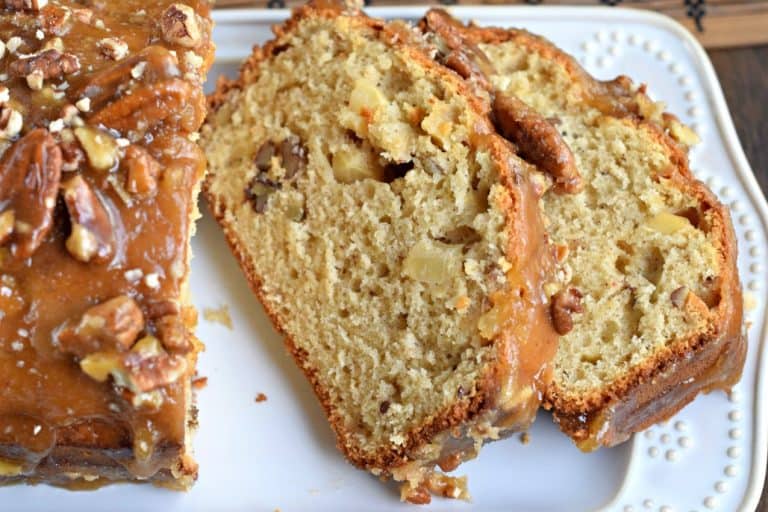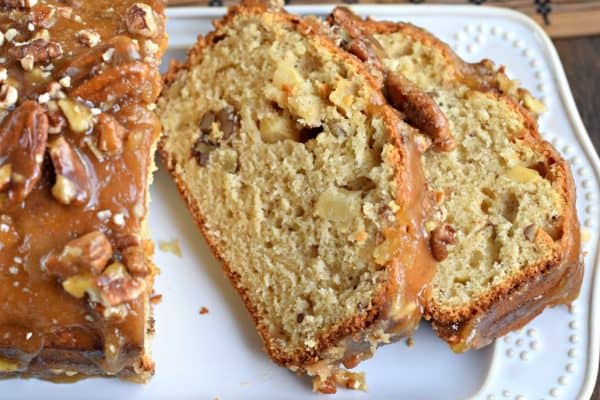 More Bread Recipes: