Make this fresh and delicious Blueberry Zucchini Bread recipe with your abundance of garden zucchinis this year. Freezer friendly recipe, bursting with flavor and color!
We love adding blueberries to our baked goods. These classic Blueberry Muffins are a reader favorite! Or this luscious Lemon Blueberry Cake for the ultimate dessert idea.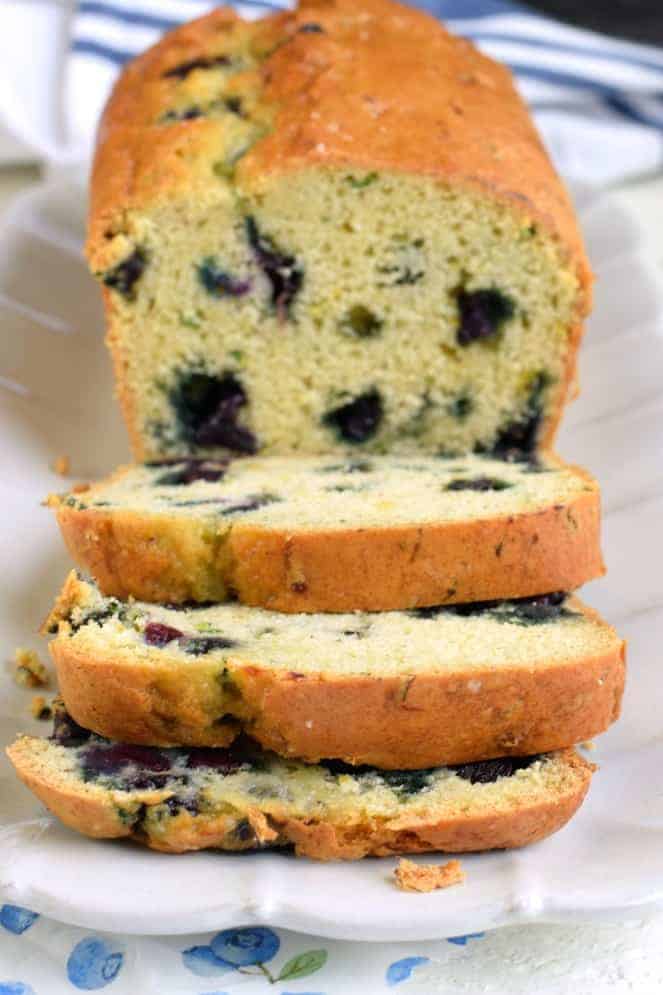 Why Make Zucchini Bread
I had already made fried zucchini, zucchini meatballs, chocolate zucchini muffins and plenty of quick breads, including zucchini banana bread and pumpkin zucchini bread. I didn't think I could eat any more zucchini.
While blueberries are delicious in these blueberry cheesecake bars, they also make a great addition to bread!
Quick breads are great to enjoy with a cup of coffee in the morning or as an afternoon snack or dessert. I love the diversity of them and that my whole family wants to eat them. They're also great for enjoying fresh or freezing to enjoy later!
One bowl cleanup (no mixer needed).
Fresh flavor from blueberries and zucchini.
Freezer friendly!
Read more to learn how to make the best zucchini bread!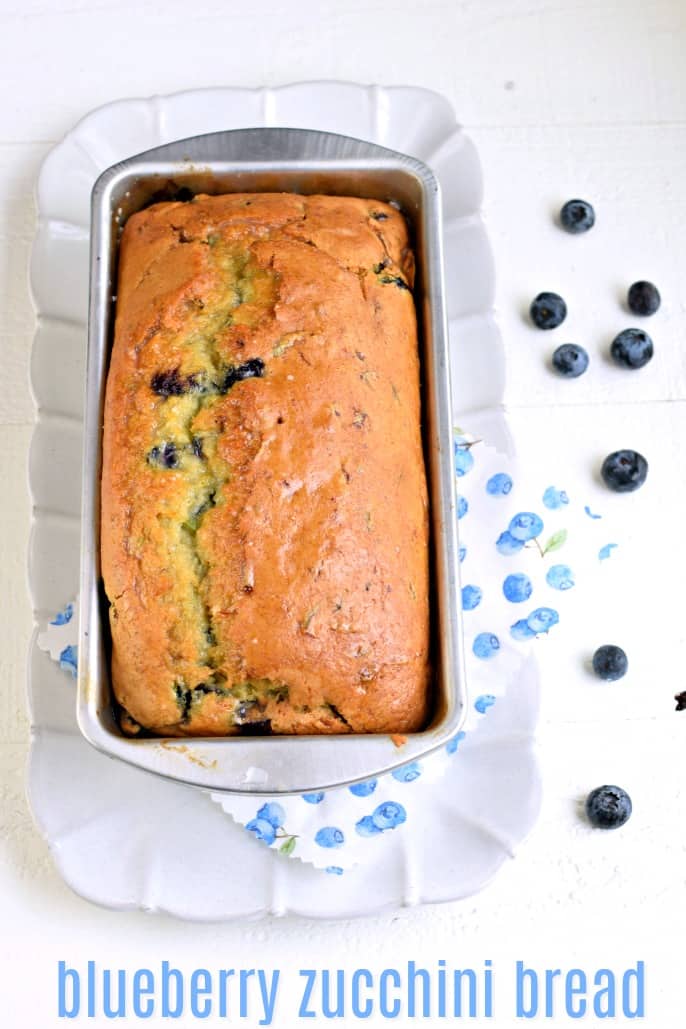 Easy Instructions
Prep Pan. Preheat oven to 350 degrees. Lightly grease a loaf pan and line it with parchment paper. Set aside.
Combine Ingredients. In a large bowl, combine the flour, kosher salt, baking powder, baking soda, sugar, milk, nutmeg, butter, and lemon, stirring to blend. Fold in the shredded zucchini and then gently fold in the blueberries. Stir together.
Bake. Pour batter into greased pan and bake for 50 to 60 minutes, until completely cooked. You can check if the bread is done by having a toothpick inserted in the center and see if it comes out clean. You can also have a knife inserted instead of a toothpick.
Allow the zucchini bread to cool for 10 minutes in the pan, then remove it from the pan and allow it to cool completely on a wire rack.
Serve. OPTIONAL. To make a lemon glaze, whisk together powdered sugar with milk and the juice from 1/2 lemon. Drizzle over your zucchini blueberry bread and enjoy!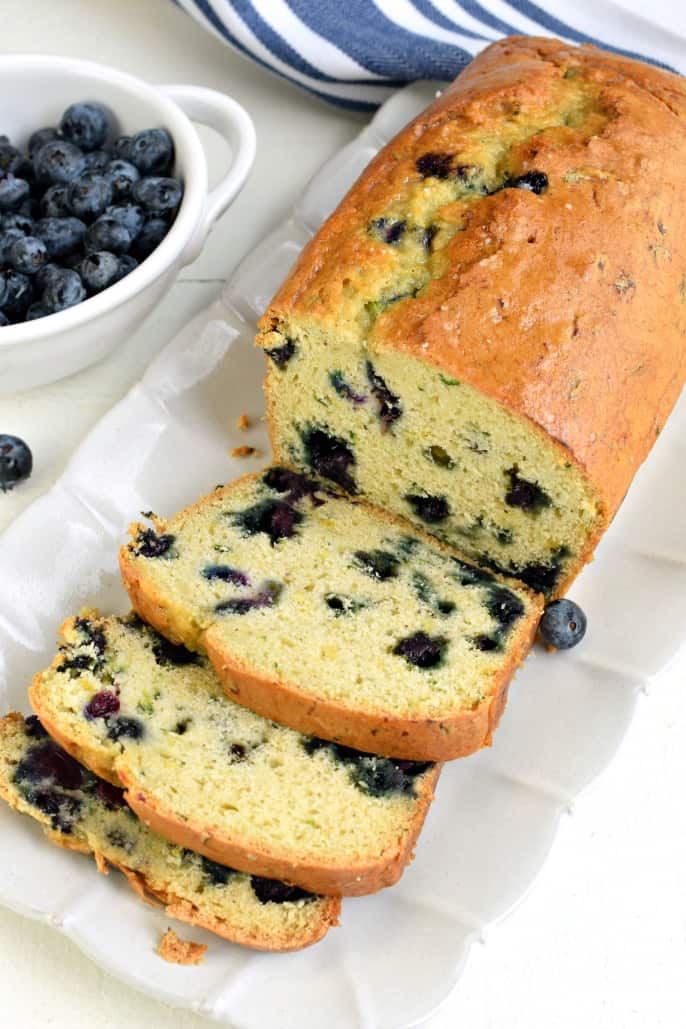 Storage Tips
To freeze this zucchini bread, wrap the whole loaf, once cooled, in a layer of aluminum foil and then slide it into a freezer sealed bag. If you want, you can wrap it in plastic wrap first, then wrap it in foil, and then slide it into your freezer bag for extra protection.
This bread can be frozen for up to three months.
When you're ready to enjoy the bread, remove it from the freezer but keep it in the sealed bag. Allow it to thaw overnight at room temperature and then you can enjoy it the next morning for breakfast or as a dessert.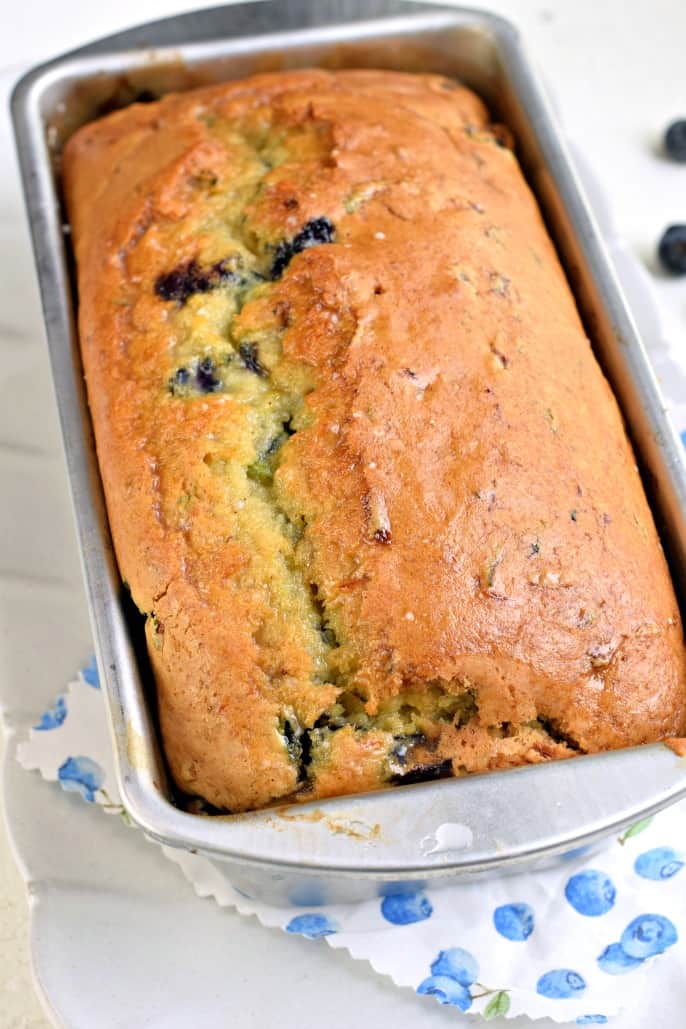 Tips and Tricks
You can use fresh blueberries or frozen blueberries for this recipe. Frozen blueberries will color your bread blue a bit, but won't alter the taste.
Add a yummy lemon glaze topping to this to make it extra sweet and delicious! If freezing the recipe, I usually freeze it without the glaze and then add that later.
Get our tips on how to zest a lemon!
It's completely up to you if you want to peel your zucchini or not. It really doesn't matter as far as the taste or texture goes. If you want to hide the fact that this bread has zucchini in it from your children, then peel it! Use our guide on how to shred zucchini.
I put my bread in the refrigerator and enjoy it cold for a refreshing treat.
Zucchini Blueberry Bread recipe is freezer friendly and bursting with flavor and color!