This meatless, healthy dinner recipe will satisfy even your hungriest and pickest eaters. These vegetarian Greek Zucchini Meatballs are packed with flavor, and even the texture is perfect. Serve them up with a side of homemade tzatziki sauce and pita bread!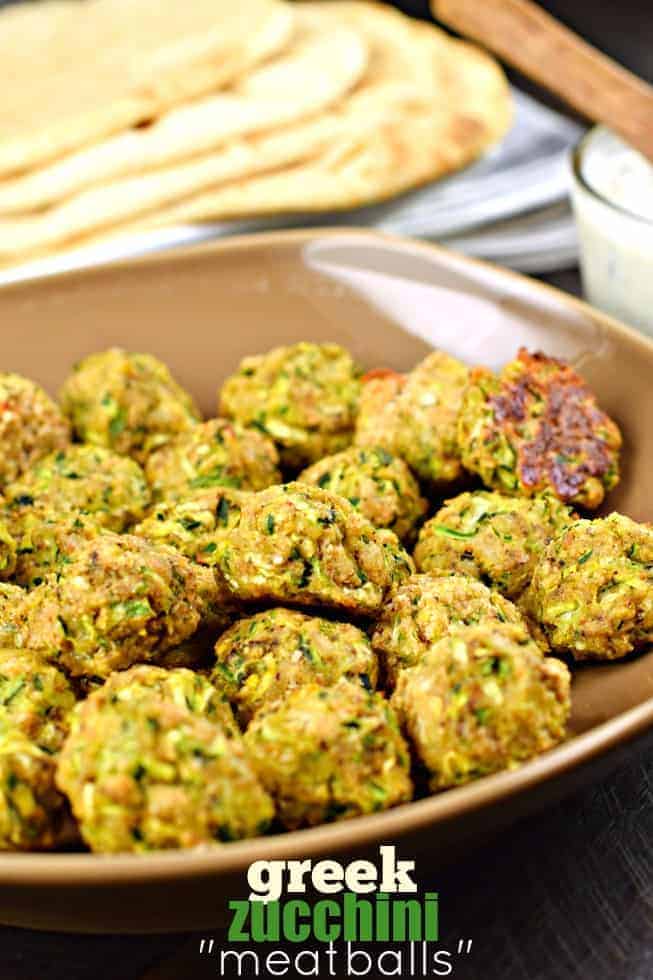 Remember that time I made delicious, healthy Zucchini Meatballs? Well I'm back with a new twist!
Having gone vegetarian, over four months ago, then giving it up again (I think I just like meat too much, what can I say) I found a new love for meatless meals.
We were looking for a meal that uses zucchini, that wasn't zoodles.
Even though I eat meat again (yes it was short lived), I still try to make our family more meatless meals through the week.
Those zucchini meatballs were a hit with everyone! We enjoyed them over noodles with spaghetti sauce, and on sub sandwiches!
Now, I've got a new flavor of meatballs to share.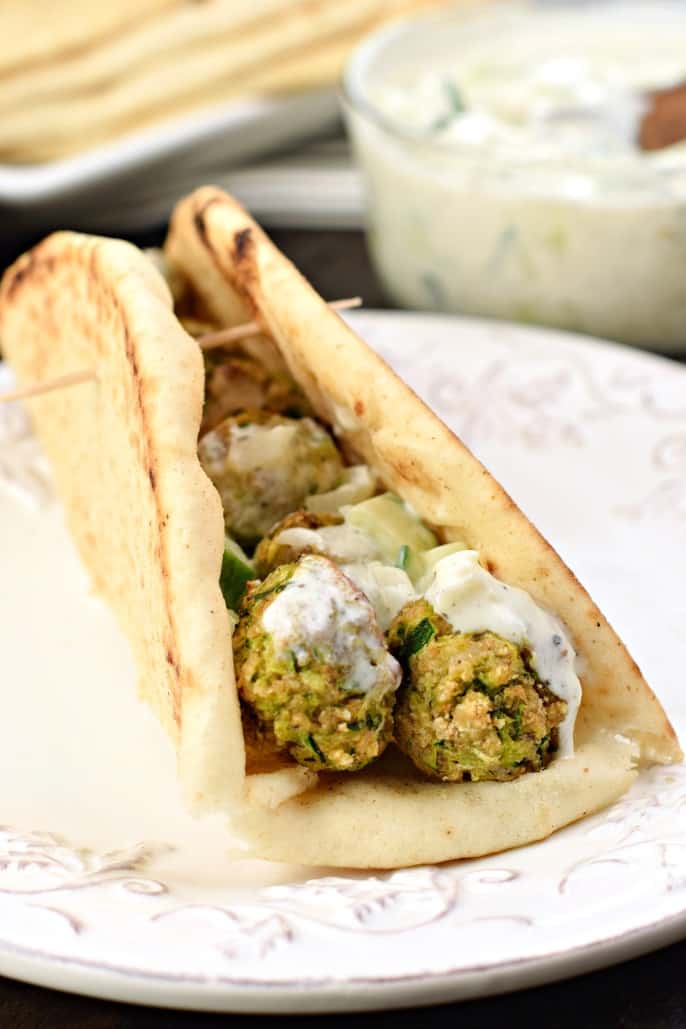 Greek!
One of my favorite take out indulgences used to be getting a big, fat gyro, complete with tzatziki!
My mouth still waters thinking about gyros. So I gave these meatballs a greek twist, and added a homemade tzatziki sauce!
You guys. These are fantastic. Even if you're NOT vegetarian you'll enjoy them!
And who doesn't want to eat a little healthier after the holidays?
FAVORITE VEGETARIAN MEALS: Zucchini Lasagna Roll Ups | Chili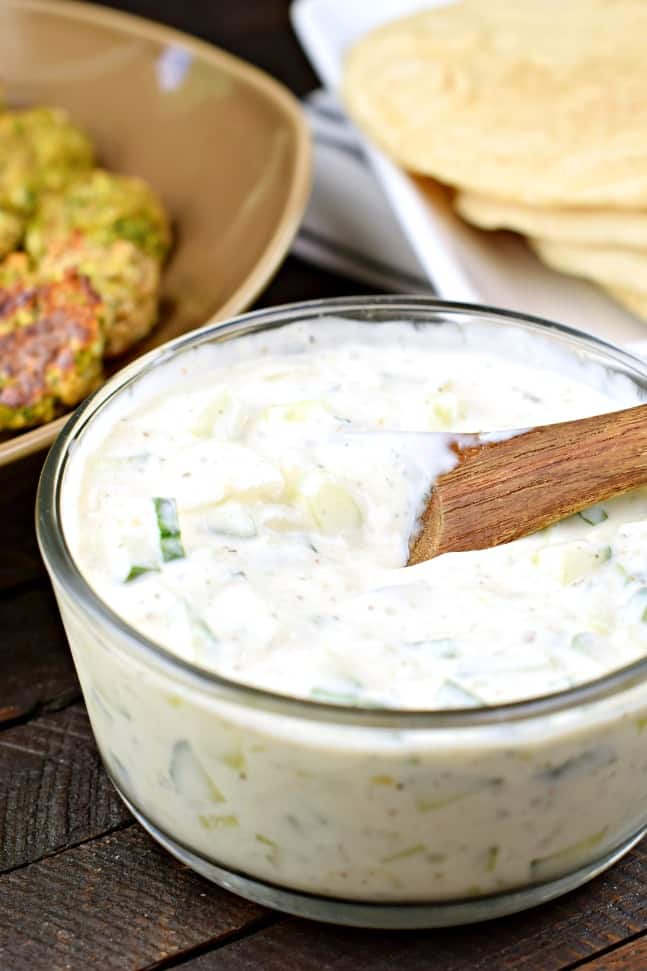 Tips and Tricks
Cook your zucchini first, then press out all the liquid (or as much as possible). I used a mesh strainer, but if you don't have one, use a clean, thin kitchen towel and place all the cooked zucchini in the center. Twist it up and wring out the liquid! The less liquid the better when it comes to these meatballs!
Cavender's Greek Seasoning is by far my favorite blend. Use YOUR favorite!
I use a 2 Tbsp cookie scoop to evenly portion out my "meatballs" so that the cooking time is even as well. Place them on a parchment paper lined baking sheet (or foil lined for easy clean up). Do no skip this part, as these do tend to STICK. I find parchment paper works the best! Or you can use the Reynold's non-stick foil which is amazing too!
Eat immediately. Or freeze them in ziploc gallon freezer bags after cooling. Perfect to make a few batches in late fall when you have TONS of zucchini.
For the tzatziki sauce, try to make it ahead of time. In the morning, the night before, whatever you can. The longer the flavors mingle, the better it tastes. No time for that? It's okay, it will still be amazing. Make sure you dice your onion and cucumber SMALL.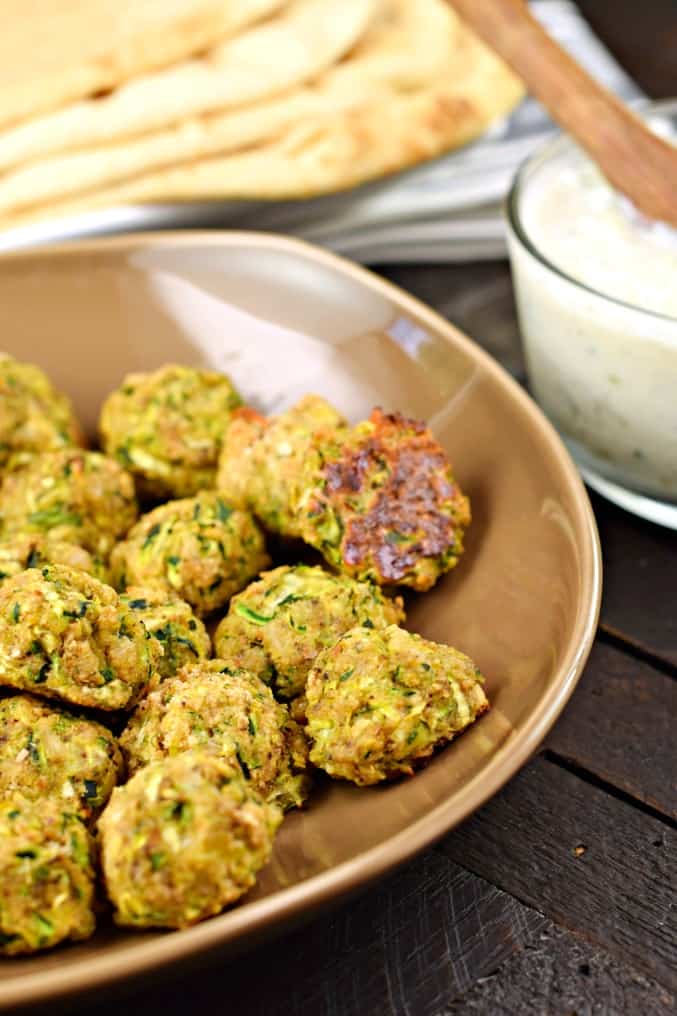 Love Greek food?
Have you tried making homemade hummus yet? This LEMON Hummus sounds bizarre but it's my FAVORITE flavor, hands down!
This Greek Rice from A Family Feast is seriously on my menu for the week. Doesn't it look amazing?
I've also got this American Greek Salad from Kalyn's Kitchen on the menu (for the same night). LOVE how easy it is to make.
And finally, for the main dish, we'll be having this Greek Chicken Skewers with the avocado tzatziki. Which would you choose??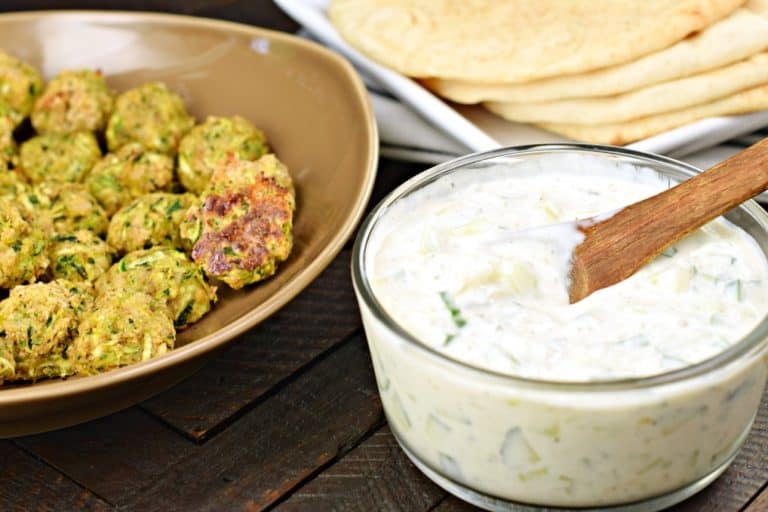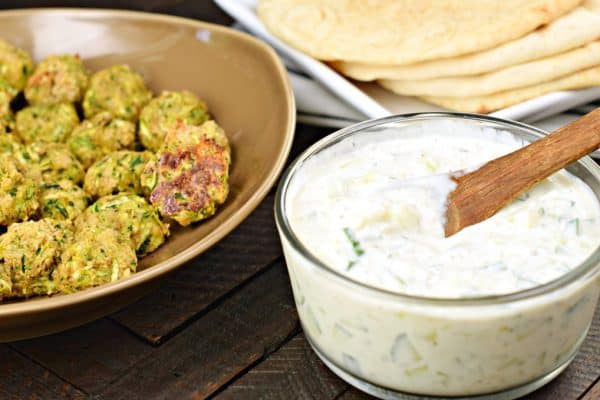 More Meatballs