You don't need meat to make meatballs! These vegetarian Zucchini Meatballs make a delicious meatless meal paired with pasta and your favorite sauce.
Add some zucchini meatballs to your Spaghetti and Meatballs recipe. Or serve them with your favorite Olive Garden salad and garlic bread!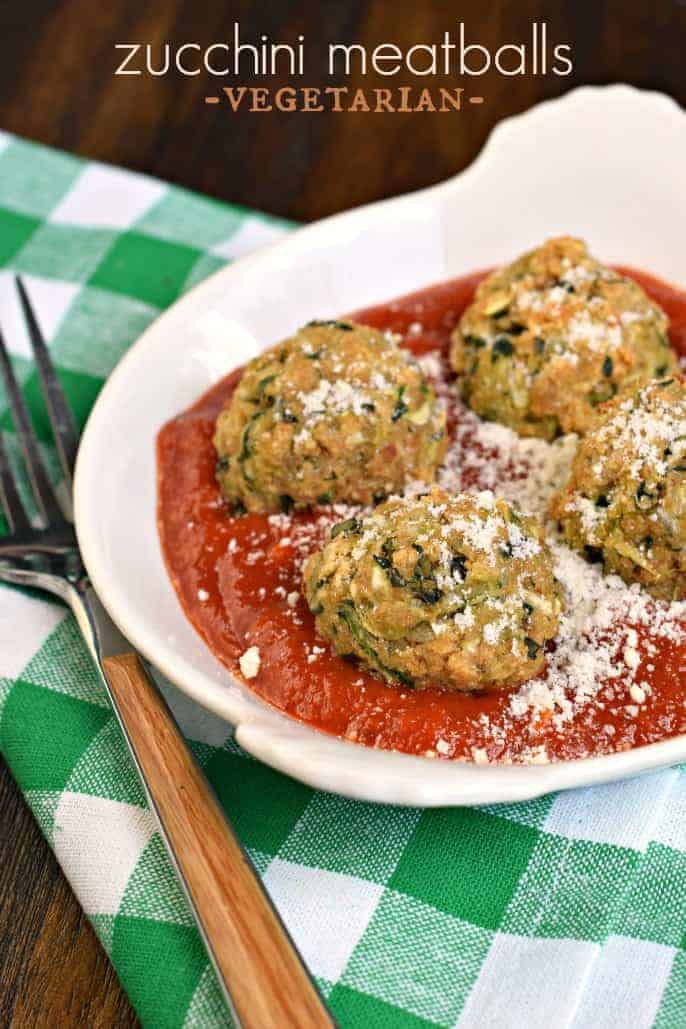 Vegetarian Meatballs
The search for the perfect meatless Monday dinner is over with these Zucchini Meatballs! So here's what you want to ask me: DO THEY TASTE LIKE MEAT?
No. They don't. I'll be honest. But they taste AMAZING. Just as hearty and satisfying as biting into a meaty meatball but with a lighter twist.
In fact, I prefer meatless options that don't try to imitate the taste of meat. It's entirely it's own thing! Pile your Zucchini Meatballs onto a sub or a bowl of pasta and you have a healthier alternative to meat that's truly delicious.
The texture of these meatballs is wonderful. The breadcrumbs help hold them together, and baking them browns them up slightly. Zucchini meatballs are an easy vegetarian dinner idea that everyone at the table will enjoy.
Ingredient Notes
Zucchini – I shredded my zucchini with my food processor. If you want it even finer, return it to the bowl of the food processor for a second round of shredding. I don't mind the coarsely shredded zucchini, however, I know my kids prefer it to be not as noticeable when you take a bite.
Breadcrumbs – White or whole wheat breadcrumbs (not Panko) work best. For a low carb alternative, substitute ground chickpeas or pork rinds!
Parmesan cheese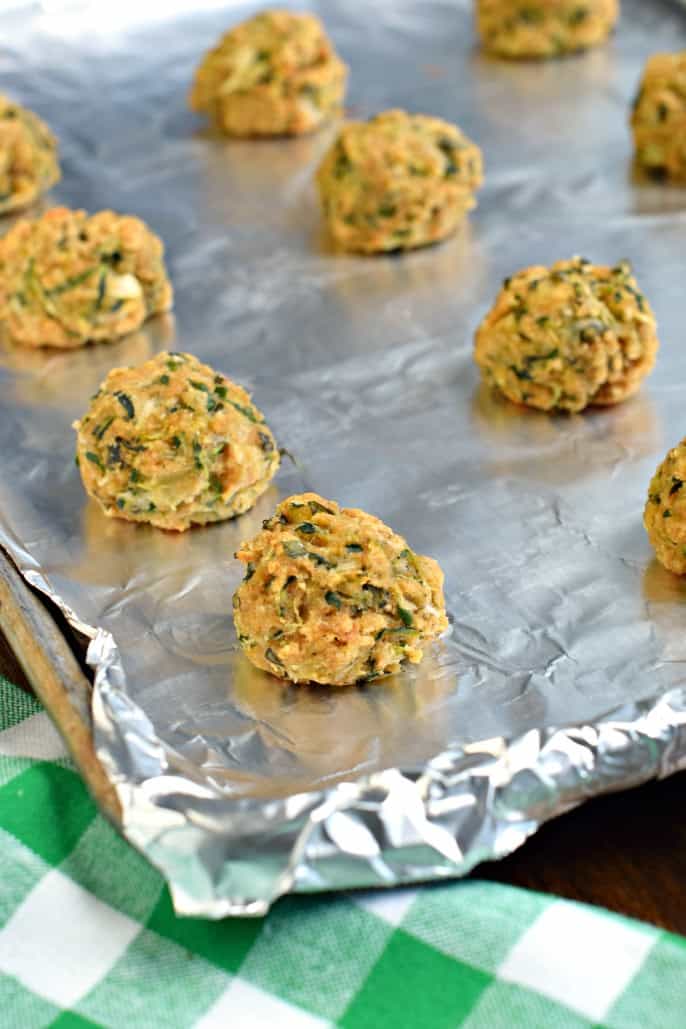 Easy Instructions
Cook Zucchini. The perfect meatless meatballs start like so many good things: sauteeing garlic in olive oil! Add the zucchini to create a tender texture and infuse it with that irresistible garlic flavor.
Most of the moisture will cook out of the zucchini as you saute it but you'll still need to squeeze the extra water out using a colander or clean towel.
Make "meatball." Combine the zucchini with the other ingredients for the meatballs, then roll the mixture into balls.
Bake. Place the meatballs on a foil lined cookie sheet and bake for about 20 minutes or until firm and lightly browned.
Serve over spaghetti or Zoodles with a flavorful spaghetti sauce or on a toasted hoagie. Don't forget the extra cheese on top!
Tips and Tricks
Do not skip the draining of the zucchini process. Unless, of course, you want soggy meatballs that fall apart!
For an even browner meatball, you can flip them over after the 20 minutes, and brown them on the other side for an additional ten minutes. The extra baking time will also dry them out even more, giving them a chewier texture. I enjoy them both ways!
I use a 2 Tablespoon scoop to make my perfect meatballs. Scoop the "meat" then use your hands to press and roll them into a ball. Place them on a foil lined baking sheet.
Once these are cooked, add your sauce and enjoy warm. OR, let them cool, place them in a freezer safe ziploc bag and freeze until ready to use! Each batch makes about 20 meatballs.
Recipe FAQs
Can you substitute dried herbs for fresh?
I don't recommend it as the flavor won't be nearly as vibrant. The fresh basil adds an amazing dimension to these meatballs.
Can these be made gluten free?
Yes, swap out the breadcrumbs for a gluten free variety or ground up pork rinds for an easy gluten free option!
Are these meatballs vegan?
No. The cheese and egg in the meatballs make these unsuitable for vegan diets, but they are 100% vegetarian.
More Vegetarian Dishes
Meatless Monday might just become your favorite day of the week when Zucchini Meatballs are on the menu! Whether you eat them with pasta, in a sub sandwich or on their own, these meatballs are heaven for vegetarians and meat eaters alike.