You'll love these meatless, easy, healthy, vegetarian Zucchini Meatballs for a delicious dinner! Serve them up with your favorite pasta sauce and noodles for a dinner your friends and family will love!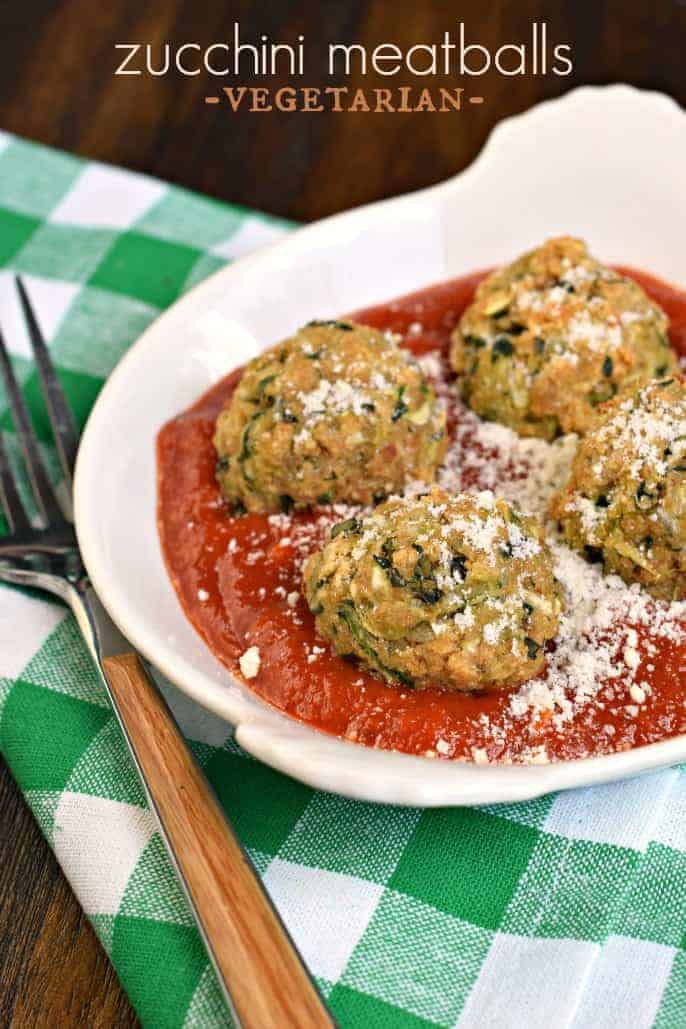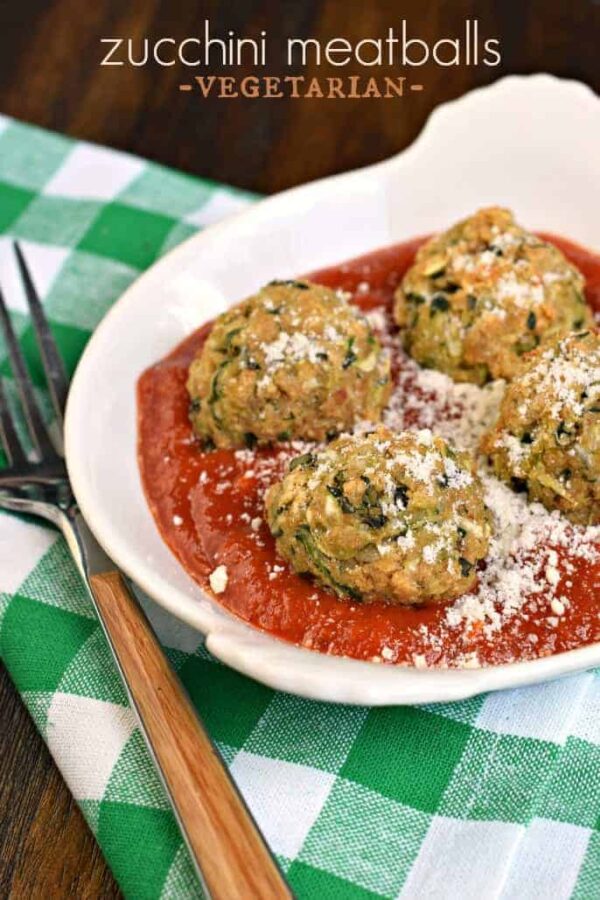 We are now nearly one month into this vegetarian lifestyle, and you guys, I feel amazing. Cutting out most meat (I still do eat the occasional seafood…so basically I'm a pescatarian), has been quite easy as of now. We'll see how I feel come Thanksgiving with no TURKEY!
That said, using fresh vegetables and herbs from my garden has made these even easier. Planning meals is still tricky, as I try to include meat several days a week for my carnivorous husband and children…but me and the youngest are doing quite well. She is very helpful in the kitchen too!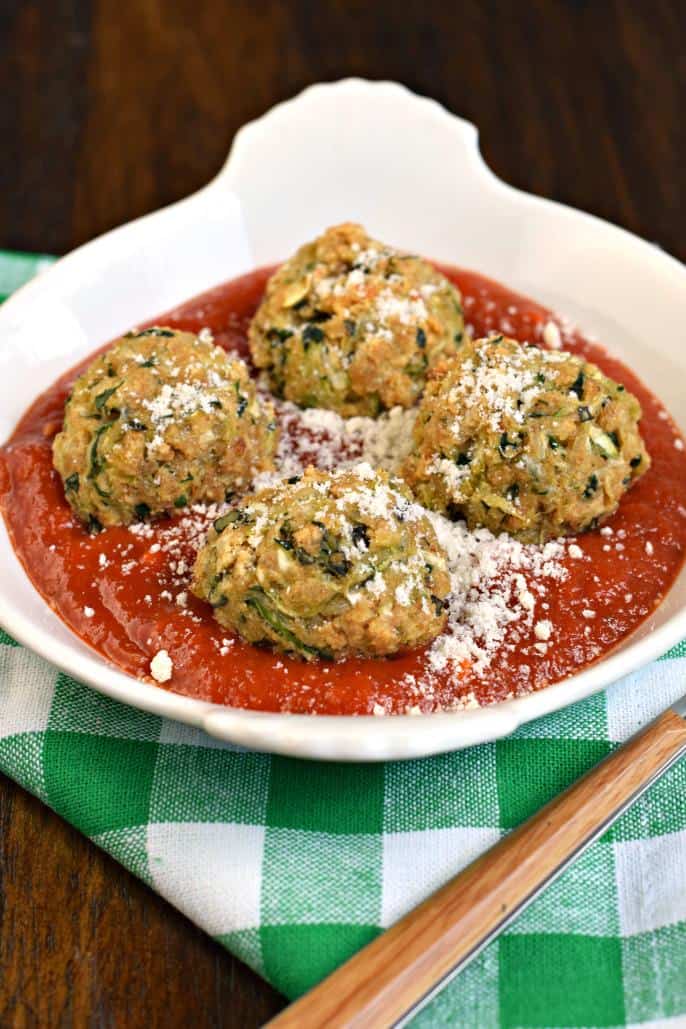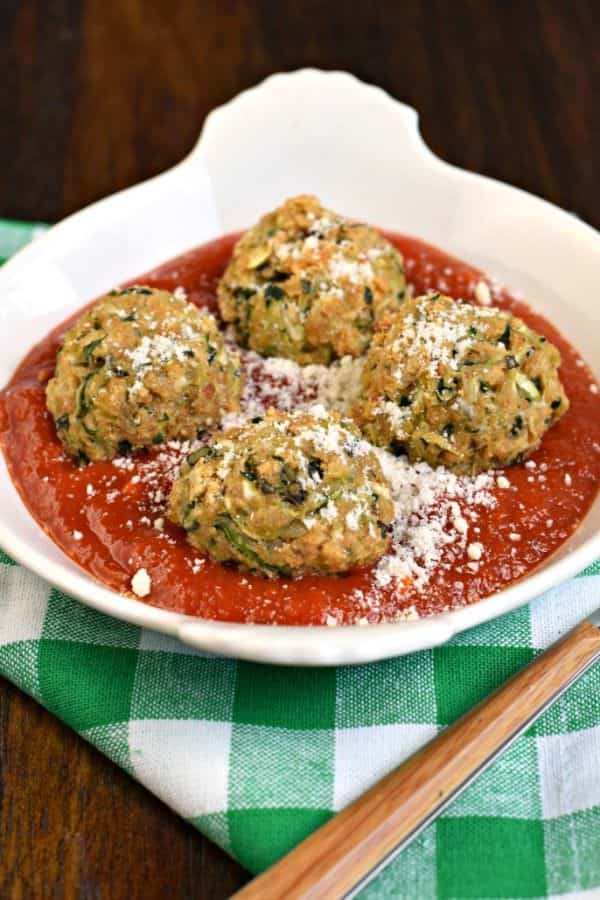 One recipe that has had my eye for quite some time is a recipe for Zucchini Meatballs from Skinnytaste. Have you seen these yet? I wasn't so sure about trying them, up until now. When I'm ready to try any sort of meat replacement (say hello BBQ Jackfruit Sliders)!
Remember last week when I told you I had several zucchini recipes in the works? In addition to the best Zucchini Bread recipe and Lemon Zucchini Bread, today's Zucchini Meatballs recipe topped the list of things to share ASAP!
So here's what you want to ask me: DO THEY TASTE LIKE MEAT?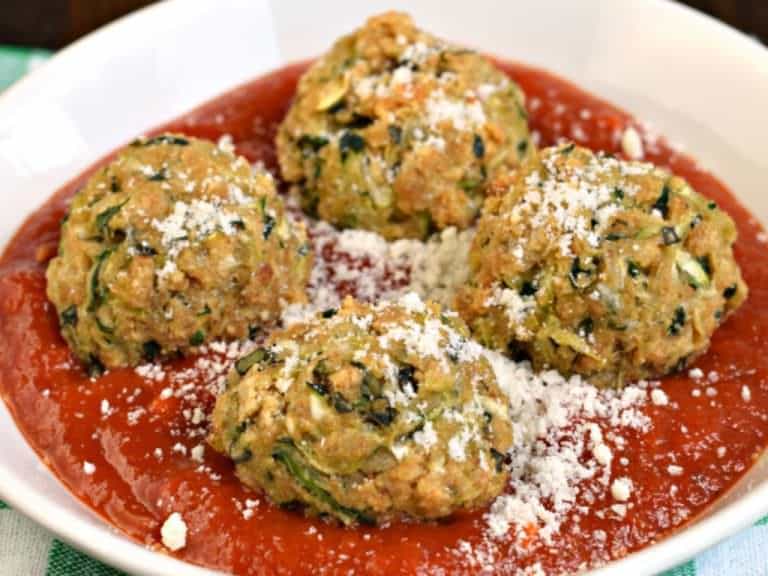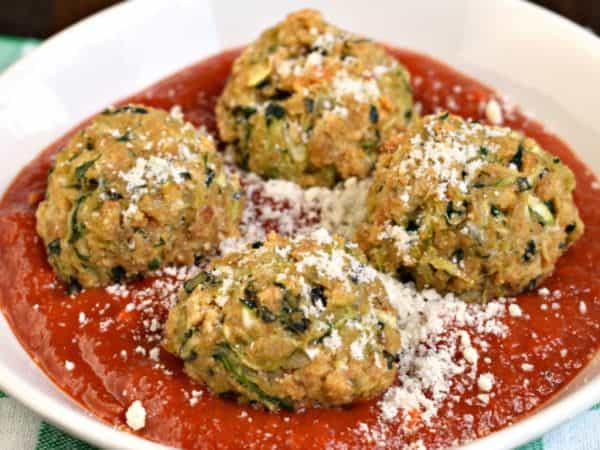 No. They don't. I'll be honest. However, they taste delicious. And when you pile them on a sub or a plate of pasta, these are a great low calorie, healthy alternative that truly tastes good. I shredded my zucchini with my food processor, however, you can even toss it into the food processor for a second ROUND, making it even finer. I don't mind the shredded zucchini, however, I know my kids prefer it to be not as noticeable when you take a bite.
The texture of these meatballs is wonderful. The breadcrumbs help hold them together, and baking them browns them up slightly. If you prefer them even more browned. You can flip them over after the 20 minutes, and brown them on the other side for an additional ten minutes. It will also dry them out even more, giving them a chewier texture.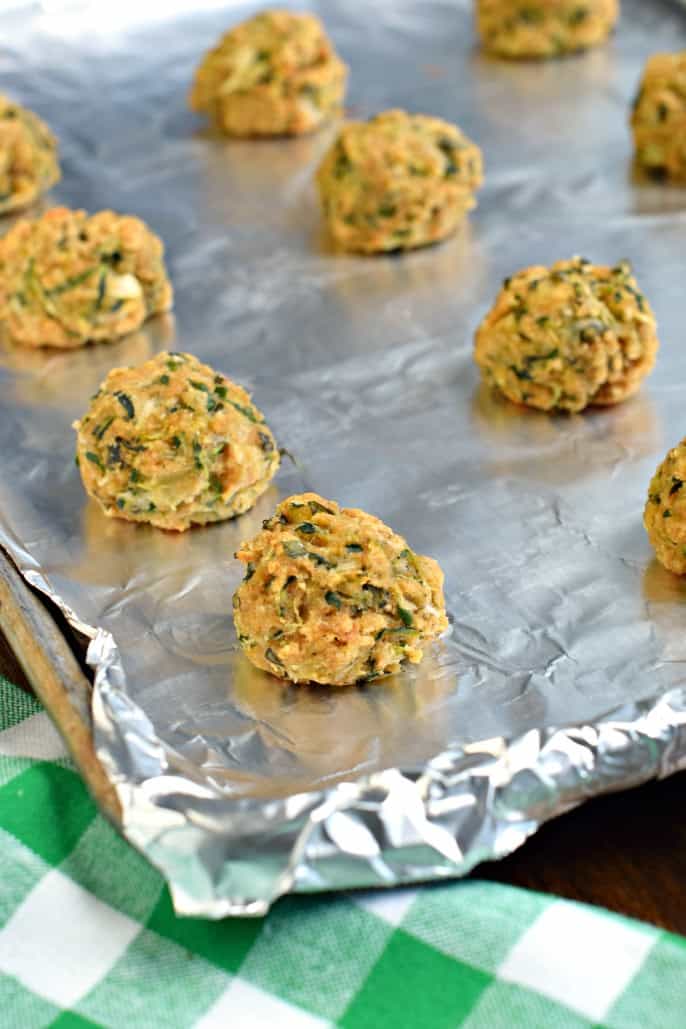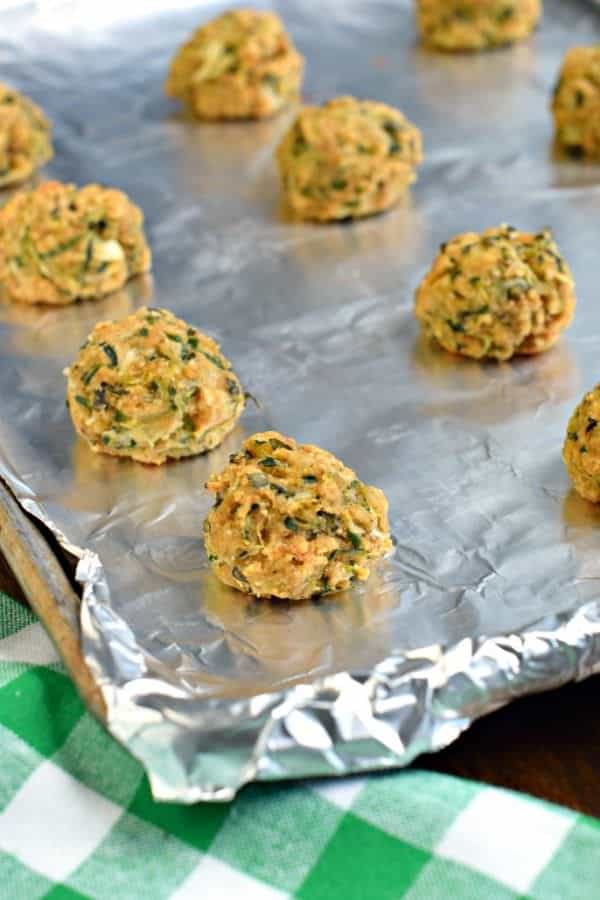 Here are a few things you need to know on HOW TO MAKE ZUCCHINI MEATBALLS:
Do not skip the first step of sauteing the zucchini and garlic. This cooks the zucchini to a more tender texture, and infuses the garlic into the zucchini.
Do not skip the draining process either! Using a colander or even a clean towel, you'll want to press out any extra liquid. Otherwise you may find yourself with some soggy meatballs that fall apart!
I use a 2 Tbsp scoop to make my perfect meatballs. Scoop the "meat" then use your hands to press and roll them into a ball. Place them on a foil lined baking sheet (I love the Reynold's Non Stick Foil for this)!
Once these are cooked, add your sauce and enjoy warm. OR, let them cool, place them in a freezer safe ziploc bag and freeze until ready to use! Each batch makes about 20 meatballs.
I created a fun little group on facebook and I'd love for you to join in! It's a place where you can share YOUR favorite recipes, ask questions, and see what's new with Shugary Sweets (so that you never miss a new recipe)! If you'd like to check it out, you can request to join HERE.
Connect with Shugary Sweets! Be sure to follow me on my social media, so you never miss a post!
Facebook | Twitter | Pinterest | instagram
Yield: 20 meatballs
Zucchini Meatballs
Additional Time
5 minutes
You'll love these meatless Zucchini Meatballs for a healthy, fresh vegetarian dinner! Serve them up with your favorite pasta sauce and noodles for a dinner your friends and family will love!
Ingredients
1 Tbsp olive oil
2 garlic cloves, pressed
4 cups shredded zucchini
1/2 tsp kosher salt
several cranks of black pepper
1/4 cup fresh basil, chopped
1 cup plain breadcrumbs
1 tsp Italian seasoning
1 large egg
1/4 cup parmesan cheese
Instructions
Preheat oven to 375°F. Line a baking sheet with non stick foil. Set aside.
In a large skillet, drizzle olive oil and heat over medium high heat. Add garlic and saute for about 1 minute. Add in shredded zucchini.
Cook for about 5 minutes, until most of the water in the skillet has evaporated. Transfer to a colander and press out remaining liquid.
In a large bowl combine bread crumbs, egg, seasoning, basil, and parmesan cheese. Mix with the zucchini until fully blended.
Using a 2Tbsp scoop, form 20 balls, rolling tightly, and transfer to prepared baking sheet. Bake for about 20-25 minutes, until firm and lightly browned.
Serve meatballs with your favorite sauce on pasta, zoodles, or a hoagie with cheese! ENJOY!