Sweet and nutty, this Banana Zucchini Bread is a great breakfast or dessert. With two loaves coming out of the oven, it's perfect to share or freeze for later!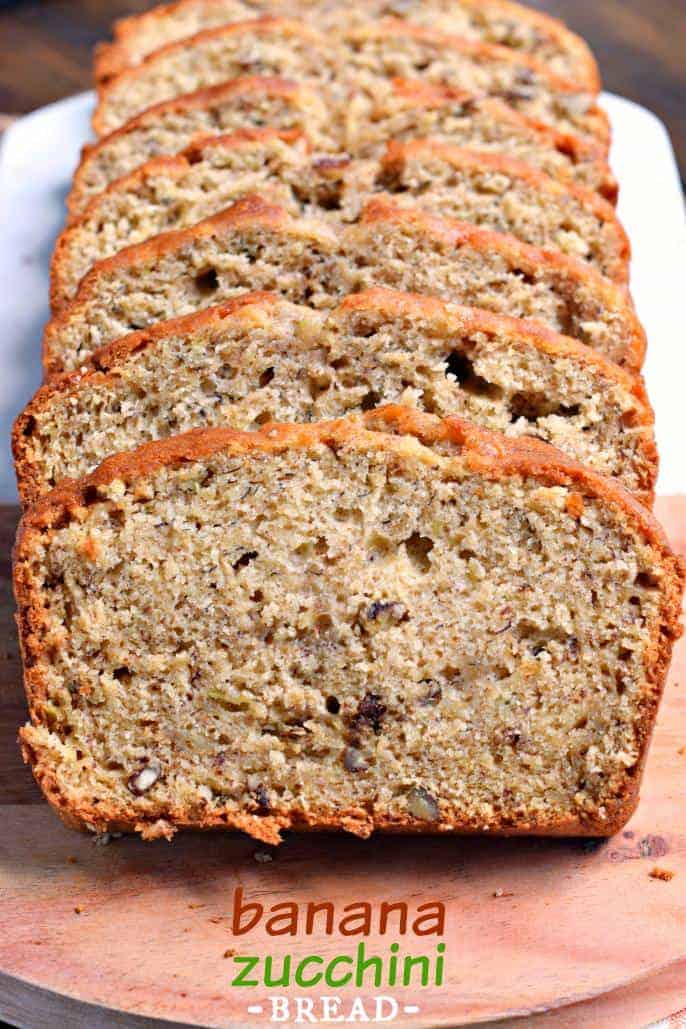 I have never posted so many zucchini recipes in a row…but this is number 4, in case you're counting!
But 'tis the season for zucchini. I actually like zucchini recipes any time of year, since zucchini is pretty easy to find year round.
And if you want more zucchini recipes, you can always check out my zucchini archives! There are dozens of recipes to choose from, from Zucchini Bundt Cake to Double Chocolate Zucchini Bread!
But right now, let's talk about Zucchini Banana Bread.
I was inspired by my Blueberry Banana Bread recipe to make today's recipe – I wanted to change it up and create this Zucchini Banana Bread.
Oh my gosh, this Zucchini Banana Bread recipe is so good. Sweet, nutty, moist…everything you need in a perfect slice of bread! I know you'll love it as much as we do!
I chose NOT to put a glaze on today's Zucchini Banana Bread recipe. I knew I wanted to freeze the bread, and I usually try to freeze loaves of quick bread without the glaze (and add it fresh instead).
However, this cream cheese glaze that I used on the Apple Banana Carrot bread would be wonderful. Just sayin.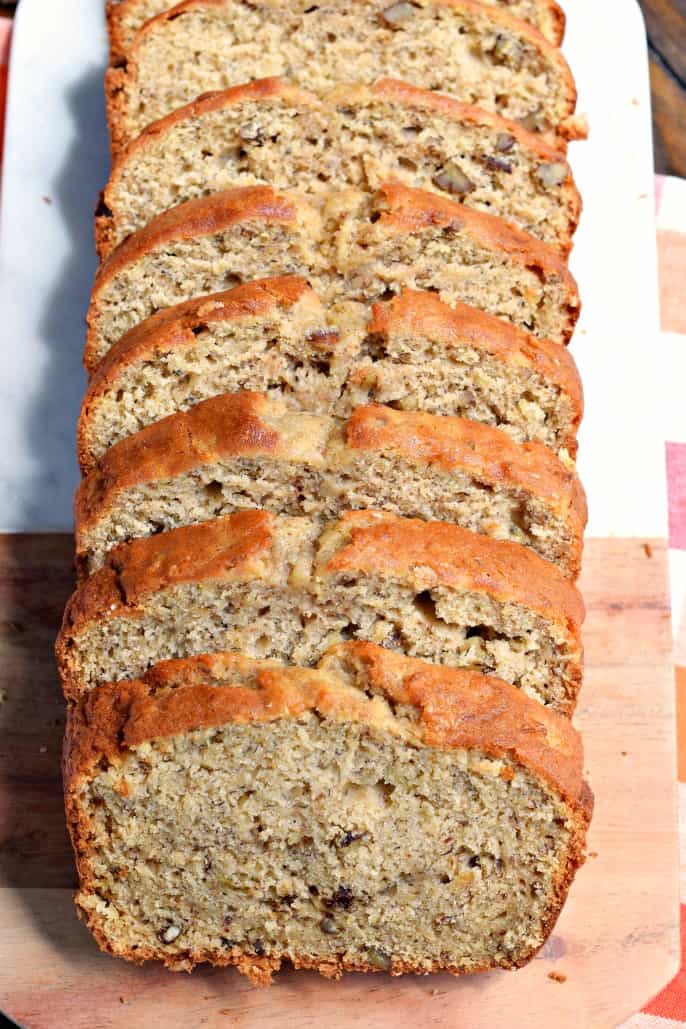 How to Make Zucchini Banana Bread
I love making quick breads, as they are not only a great breakfast, but also wonderful with a cup of coffee in the afternoon. And they freeze great, so you can enjoy them fresh from the oven or save them for unexpected visitors.
They're also easy and, as the name suggests, quick to make. Zucchini Banana Bread takes some time to bake, but you can get the batter ready while the oven preheats.
I also like that I can make this in one bowl. Quick to make, quick to clean up. Because you know I don't want to spend hours cleaning up the kitchen when there's bread to eat.
To make Zucchini Banana Bread, all you have to do is mix everything except for the zucchini and pecans together in one bowl, just as if you were making a regular banana bread recipe. Then fold in the shredded zucchini and chopped pecans.
Divide the bread batter between two loaf pans and bake for about an hour.
Can you Freeze Zucchini Bread
A great thing about quick breads? They freeze so well.
I like to double-wrap quick breads for freezing. Wrap them in a layer of foil and then seal them in a ziploc freezer bag. If you want to be extra safe, add a layer of plastic wrap before you wrap them in the foil.
Try freezing the loaves whole. Once you thaw them, you can serve them as-is or add a glaze first.
Whether you keep both loaves of Zucchini Banana Bread for yourself or share them with friends, enjoy them plain or glazed, your friends and family will love this zucchini spin on banana bread!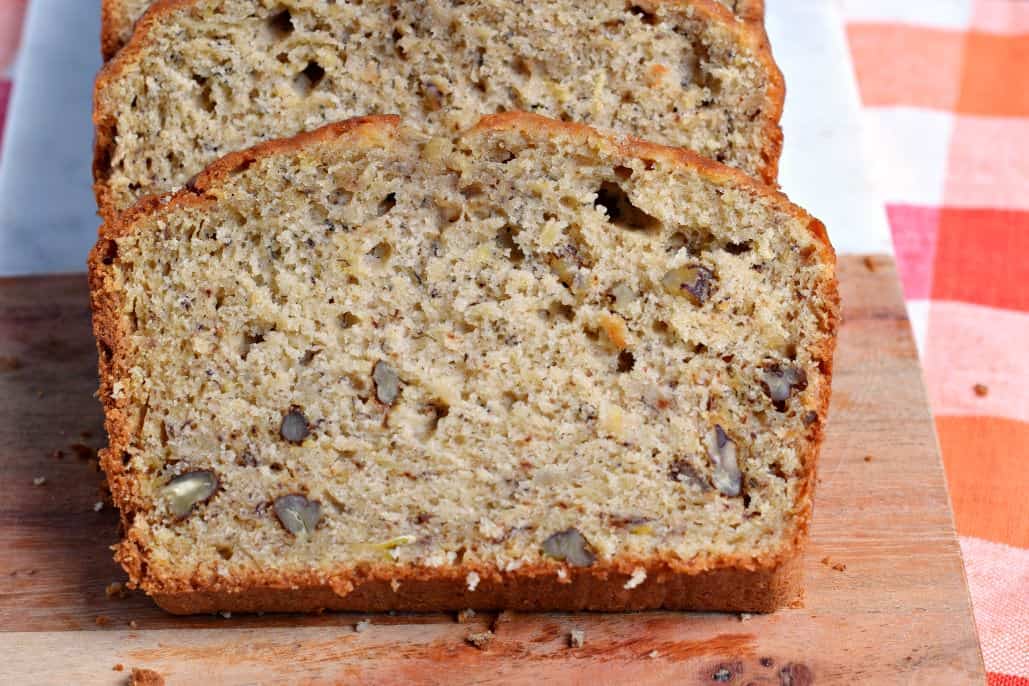 More Zucchini Recipes
Yield: 2 loaves
Zucchini Banana Bread
Sweet and nutty, this Zucchini Banana Bread is a great breakfast or dessert. With two loaves coming out of the oven, it's perfect to share or freeze for later!
Ingredients
4 cups all-purpose flour
2 cups granulated sugar
1 Tbsp baking powder
1 tsp baking soda
1 tsp kosher salt
3 large ripe bananas, mashed
1 cup unsalted butter, melted
1/4 cup milk (I use skim)
4 large eggs
2 tsp cinnamon
2 cups finely shredded zucchini
1 cup chopped pecans
Instructions
Grease and flour two 9-inch x 5-inch loaf pans (or use baking spray). I like to line the bottom of the pan with parchment paper as an extra precaution. Set aside.
In a large bowl, combine everything except zucchini and pecans. Beat until well blended, about 2 minutes. Fold in zucchini and pecans.
Pour into prepared pans and bake in a 350°F oven for 60-65 minutes. Remove and cool on wire rack 10 minutes. Remove from pan and cool completely.
Store in airtight container at room temperature, or freeze in a ziploc freezer bags. ENJOY!
Today's recipe for Zucchini Banana Bread was originally published on Shugary Sweets August 10, 2016.