Sweet and nutty, this Banana Zucchini Bread is a great breakfast or dessert. With two loaves coming out of the oven, you'll have plenty to share or freeze for later!
Want more zucchini recipes, you can always check out my zucchini archives! There are dozens of recipes to choose from, from Zucchini Bundt Cake to Double Chocolate Zucchini Bread!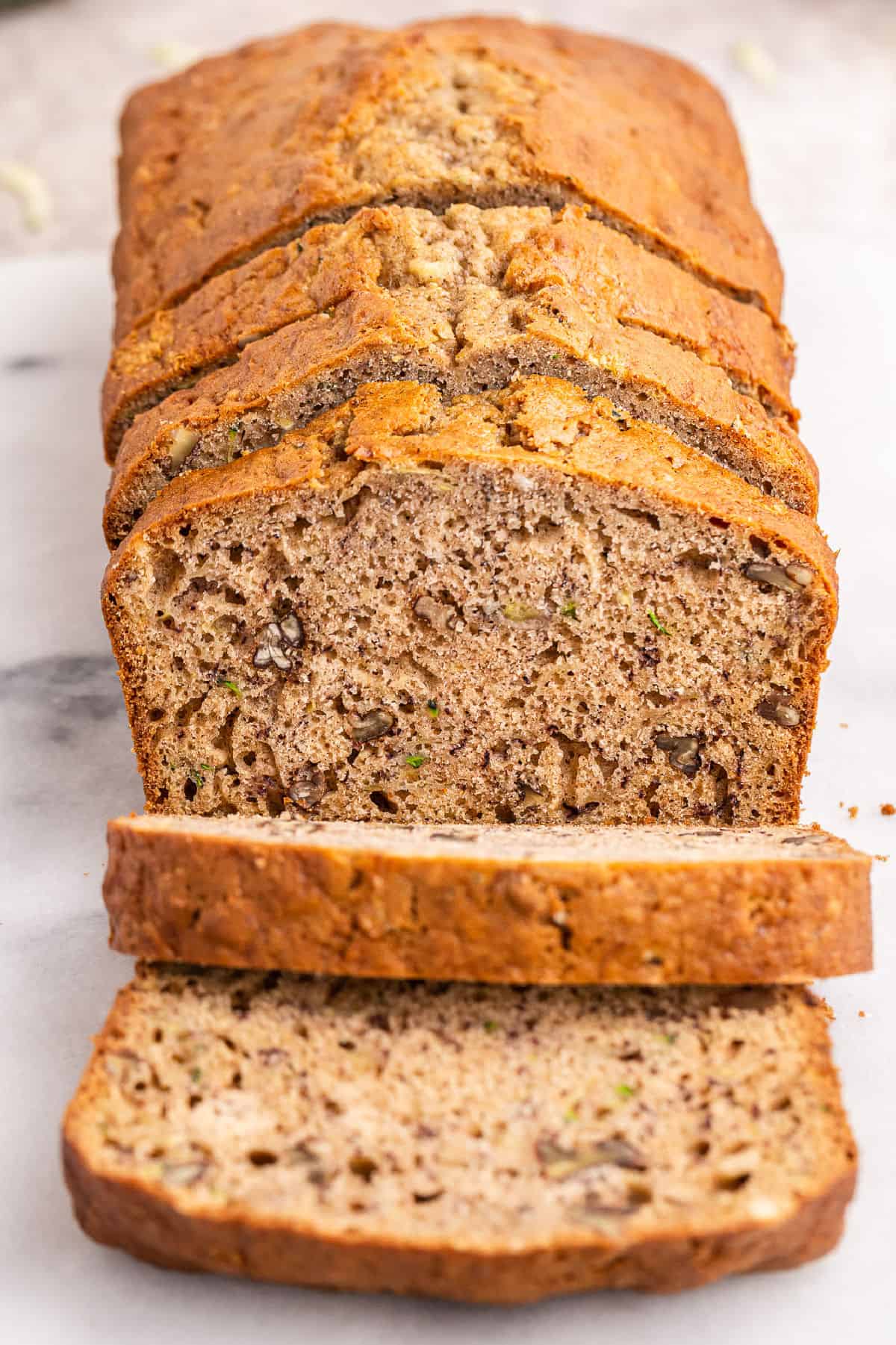 Why this Recipe Works
But right now, let's talk about Zucchini Banana Bread.
I was inspired by my Blueberry Banana Bread recipe to make today's recipe – I wanted to change it up and create this Zucchini Banana Bread.
Oh my gosh, this Zucchini Banana Bread recipe is so good.
I also like that I can make this in one bowl. Quick to make, quick to clean up. Because you know I don't want to spend hours cleaning up the kitchen when there's bread to eat.
I chose NOT to put an icing on today's Zucchini Banana Bread recipe. I knew I wanted to freeze the bread, and I usually try to freeze loaves of quick bread without the glaze (and add it fresh instead).
However, this cream cheese glaze that I used on the Apple Banana Carrot bread would be wonderful. Just sayin.
Ingredient Notes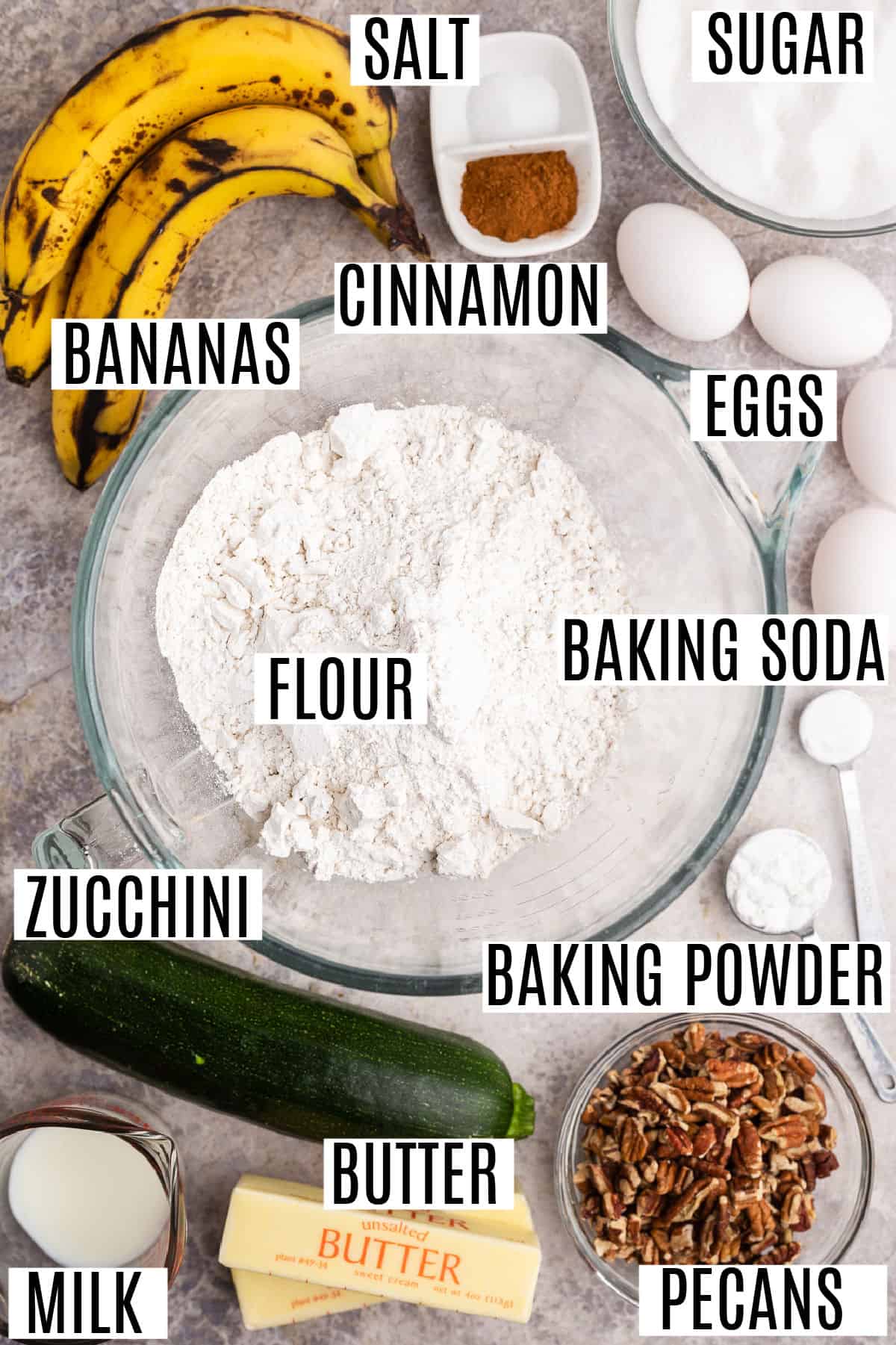 Bananas. The riper the better! Use our guide on how to ripen bananas in 20 minutes!
Butter. I always choose unsalted butter in my baking, unless I specify otherwise (like in these chocolate chunk cookies).
Kosher salt. I use kosher salt in all of my baking for best results.
Milk. I used skim but any kind of milk will do. You can even use dairy free milk if you like.
Shredded zucchini. You can easily shred zucchini at home with a hand held grater. Cut the zucchini into 4 sections length wise. Shred the zucchini over a large bowl by pressing it against the grater and drawing it downward.
Pecans. Toast the pecans for best flavor. Or add walnuts instead like we did in our banana nut muffins.
Tips and Tricks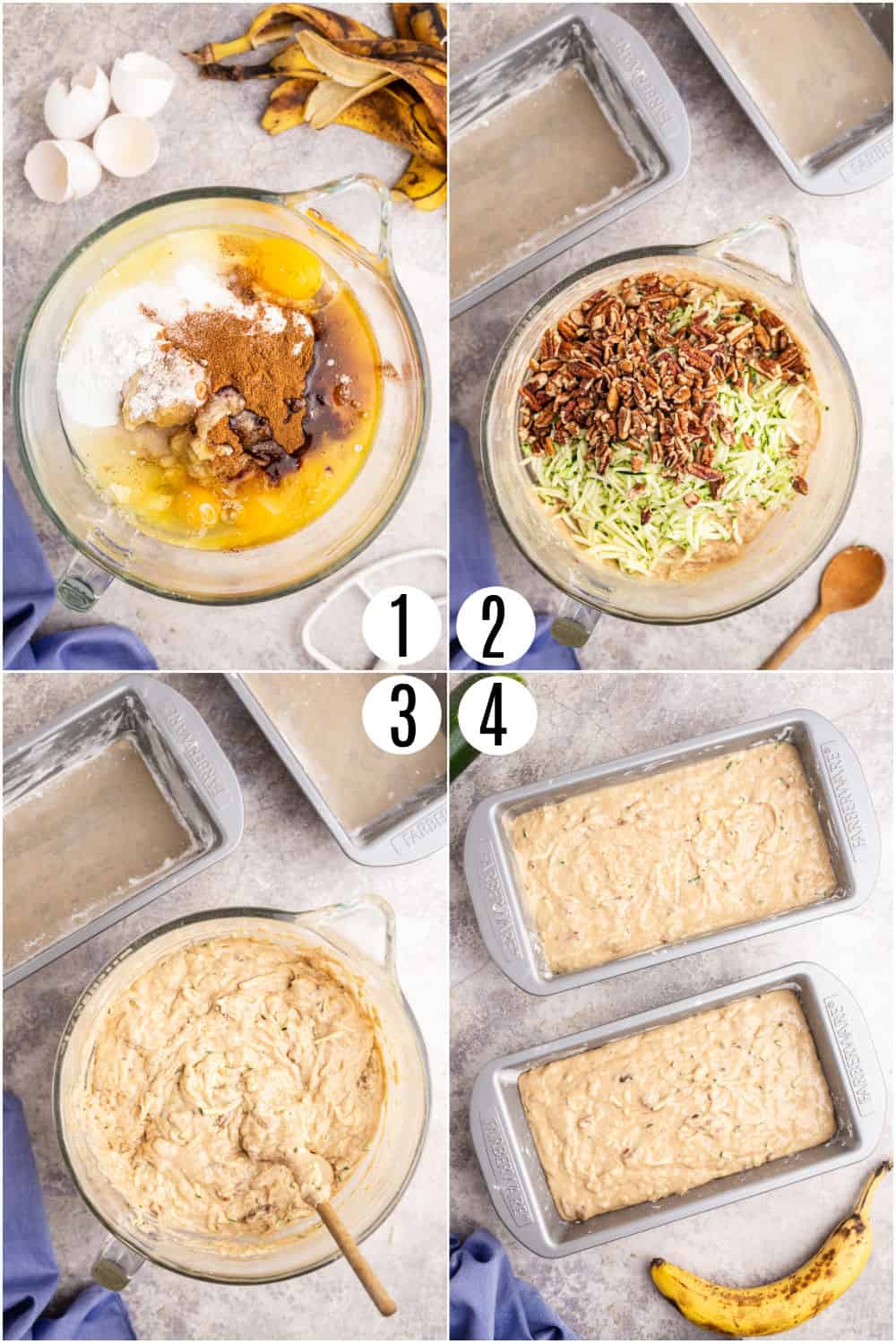 I love making quick breads. They're also easy and, as the name suggests, quick to make.
Preheat the oven first. Banana Zucchini Bread takes a bit of time to bake. Get the batter ready while the oven heats up.
Do not over mix. When making the batter, mix ingredients together until just combined. If you mix too vigorously, your zucchini bread will be tough and dense.
Line with parchment paper. In addition to greasing the pans with baking spray, I like to place a rectangle of parchment at the bottom. This helps the loaves slide out of the pans with ease.
Let cool completely. I know it's hard to resist digging into freshly baked banana zucchini bread immediately. But if you slice it too soon, the bread will crumble and fall apart. It's worth the wait to let it cool down!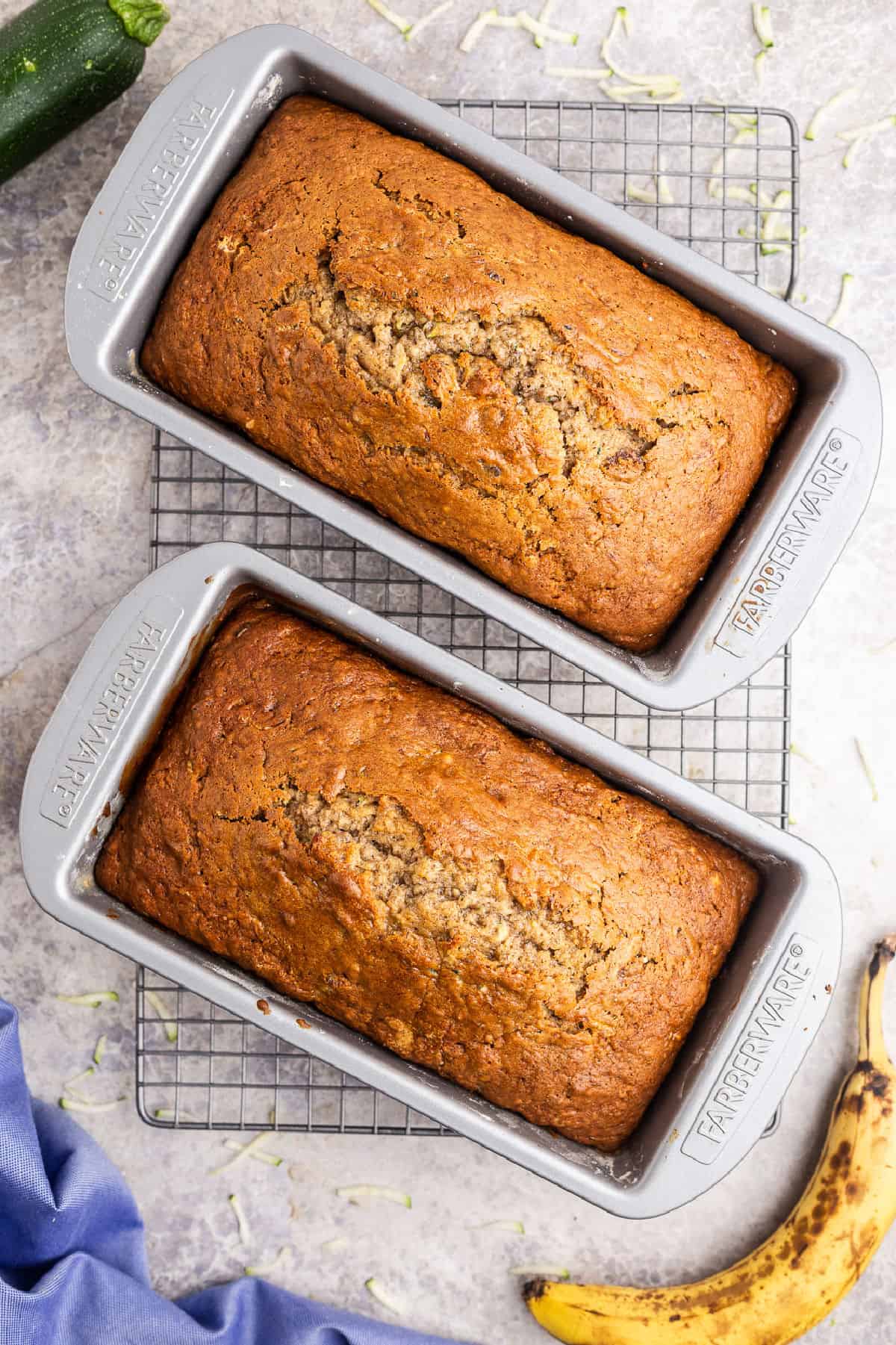 Recipe FAQs
Can you freeze zucchini bread?
This banana zucchini bread freezes keeps perfectly in the freezer. I like to double-wrap quick breads for freezing. Wrap them in a layer of foil and then seal them in a ziploc freezer bag. If you want to be extra safe, add a layer of plastic wrap before you wrap them in the foil.
Do you need to peel zucchini for zucchini bread?
It's up to you. The peel is so thin it will not affect the taste or texture of this quick bread. I like to peel my zucchini so I don't see any flecks of green in the finished loaf. Feel free to leave it in if you prefer.
Can I use frozen grated zucchini?
Yes, you can shred zucchini ahead of time and stash it in the freezer to use here. Thaw frozen zucchini and squeeze out any excess water before adding it to the batter.
Can I use walnuts instead of pecans?
Yes, go ahead and use walnuts if you prefer the taste. (Or that's what you have in the cupboard.)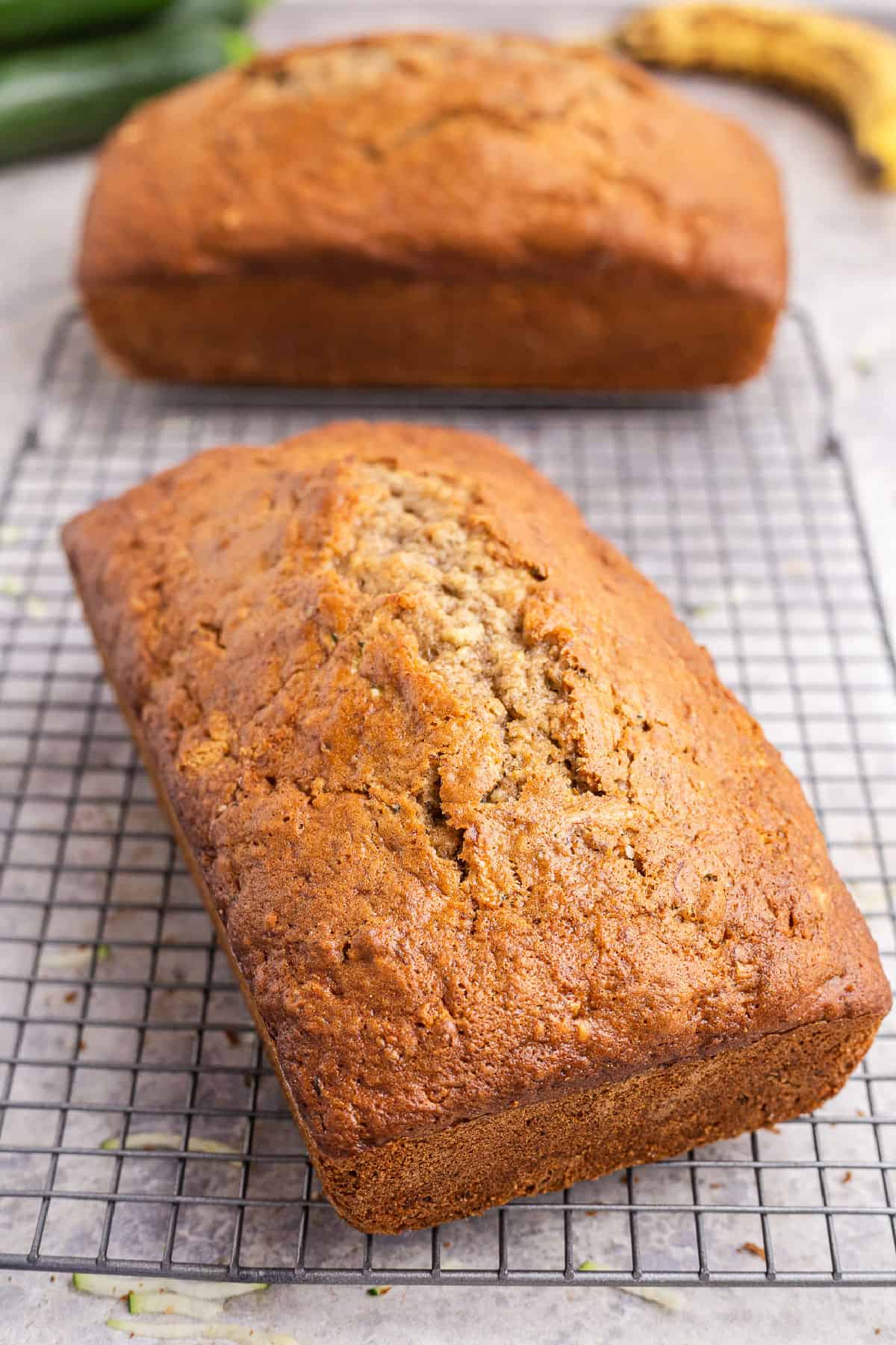 Whether you keep both loaves of Zucchini Banana Bread for yourself or share them with friends, enjoy them plain or glazed, your friends and family will love this zucchini spin on banana bread!