Zucchini Bundt Cake
Super moist and delicious, this Zucchini Bundt Cake with a decadent Cinnamon glaze is a fantastic dessert! Such a great way to use up some of that fresh zucchini in your garden!
Be sure to sign up for my free email subscription…new recipes in your inbox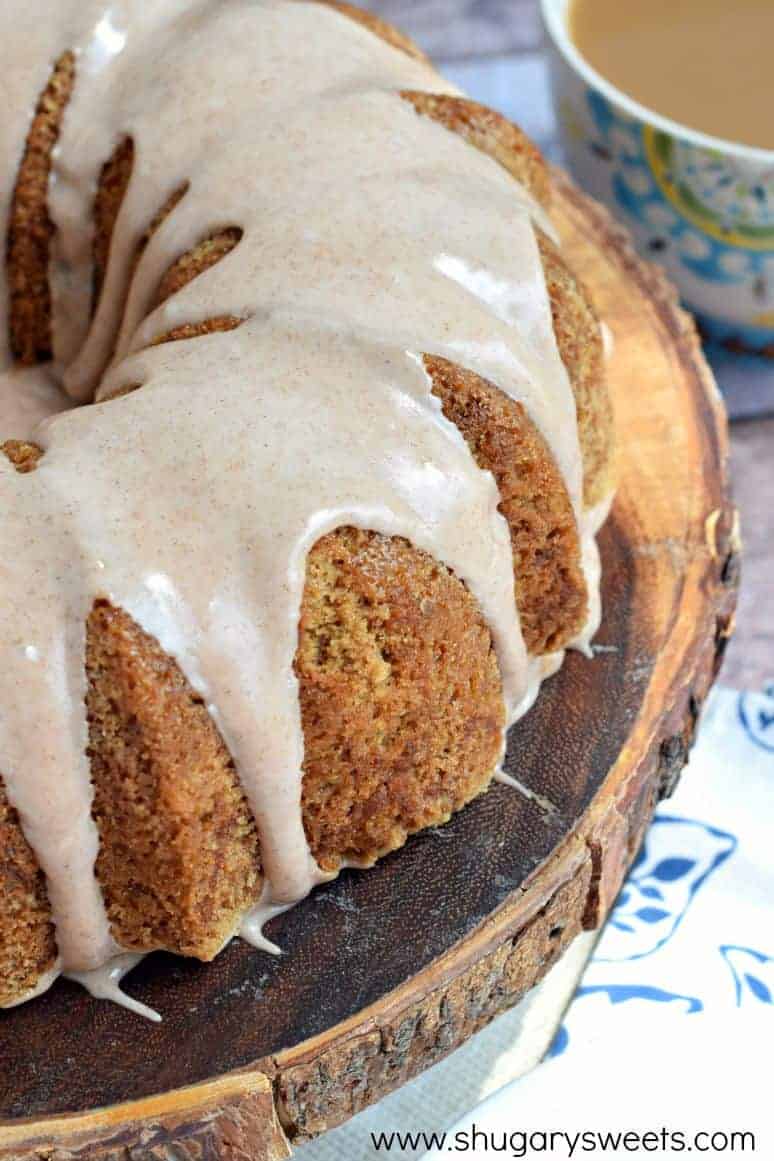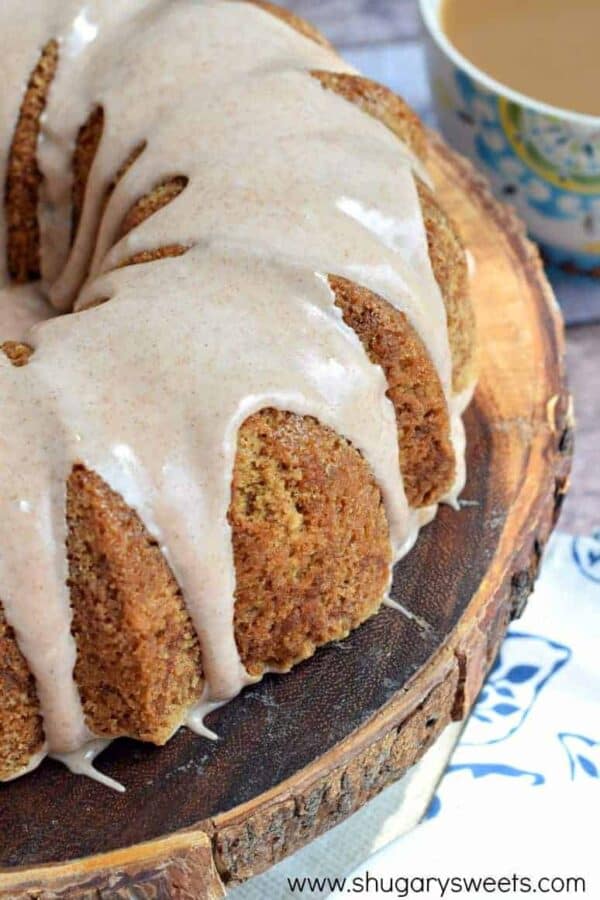 This is our first full summer in our new house. While I love my yard and all the shade it provides, it definitely is not made for having gardens. However, this year I did put in two tomato plants, two basil plants and jalapeno plant and one zucchini plant on the side of our house. The only spot that gets full sun all day long.
It may not look all the attractive from the street…but I am loving having fresh veggies again (I miss my raised beds in Ohio…I hope the new owners are using them!!).
One zucchini plant has flourished…and it's already given me two large zucchini with a couple more near ready for harvest. When growing zucchini (or picking out zucchini for baking)… BIGGER IS ALWAYS BETTER. I say this because the bigger the zucchini, the less seeds it has. Plus, when you go to shred it, there is more meat per zucchini. Bigger is just, well, bigger.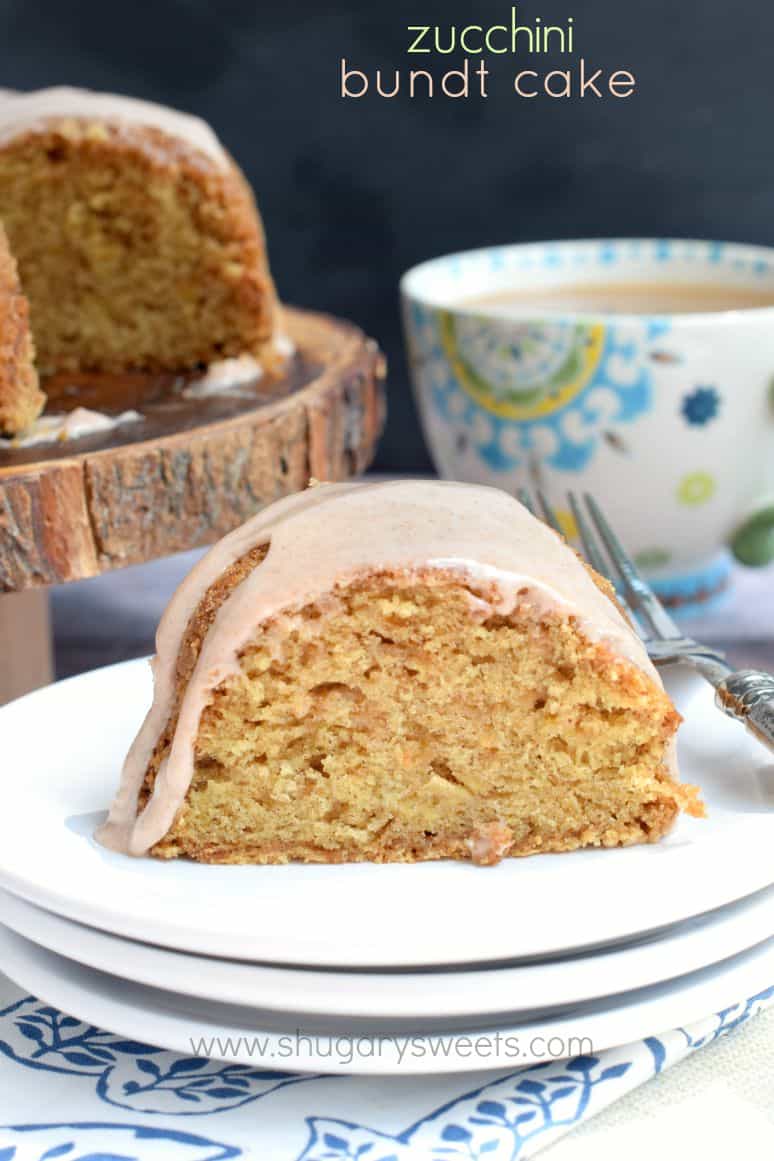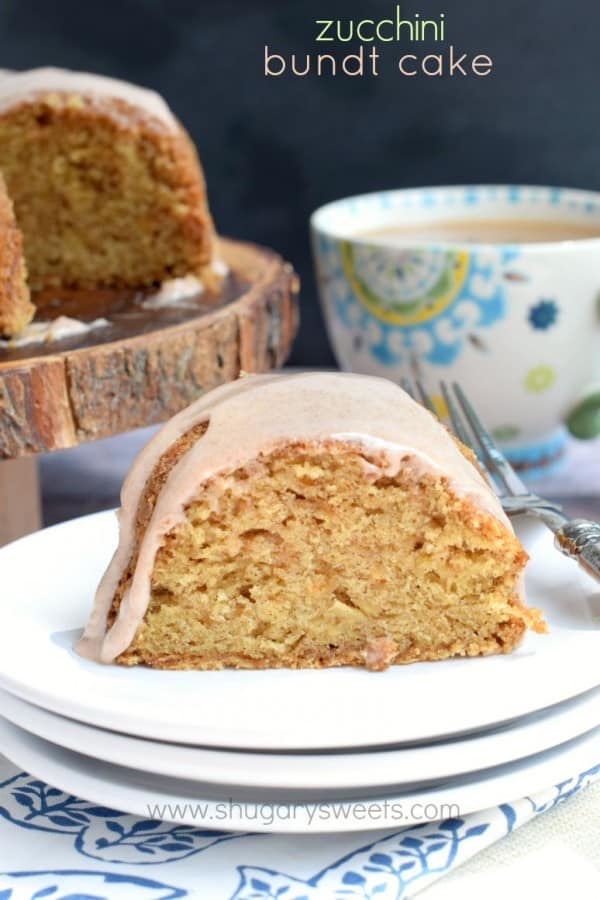 Some people ask if you can freeze shredded zucchini. While the answer is yes, I say so with a disclaimer. 2 cups of frozen zucchini will NOT lead to 2 cups of thawed zucchini. You will get a lot of water when you thaw that frozen zucchini. So plan accordingly. And press all that extra water out!
Or, you can do what I do, and have a huge zucchini baking day. I prefer to use my zucchini immediately in baked goods, and freeze those.
Did you know you can freeze cake too? With our son at boot camp and our daughter away at a swim meet all week, we have two less mouths to feed. And I should add, they are two of the biggest mouths (haha!!).
So after enjoying my fair share of this cake, I stuck it in the freezer. I find the best way to freeze cake is to first slice it. I cut this cake into 12 equal wedges. I then wrapped each wedge individually in parchment paper. Next, I stuck each individually wrapped slice of cake into a gallon sized ziploc freezer bag (it took two bags for the remainder of this cake). Make sure you label your bags!! Toss this into the freezer, and voila! Frozen cake for your next sweet tooth craving. You can remove one (or more!) slices of cake at a time.
If you KNOW you are going to be freezing the cake, you can hold off on adding the glaze until later. I don't mind freezing my frosting on the cake because I know it's only going to be my family eating it (and it ain't no beauty contest)!
Also, I love this reader's suggestion from instagram. I shared that I wanted to dive into the pool of frosting in the center of the cake. One reader said that her grandmother's bundt cake recipe says to pour extra glaze into the center. Why yes. Yes, I love that. ENJOY!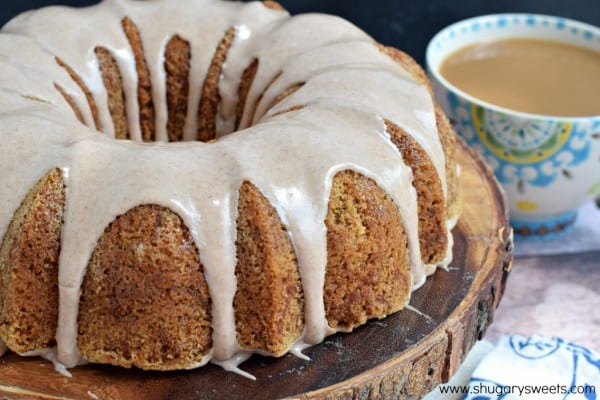 Additionally, before you ask, here is a link to my favorite Bundt Pan
. With a little baking spray, it pops out of the pan, EVERY TIME!!
Connect with Shugary Sweets!
Facebook | Twitter | Google+ Pinterest | instagram | Bloglovin'
Yield: serves 12
Zucchini Bundt Cake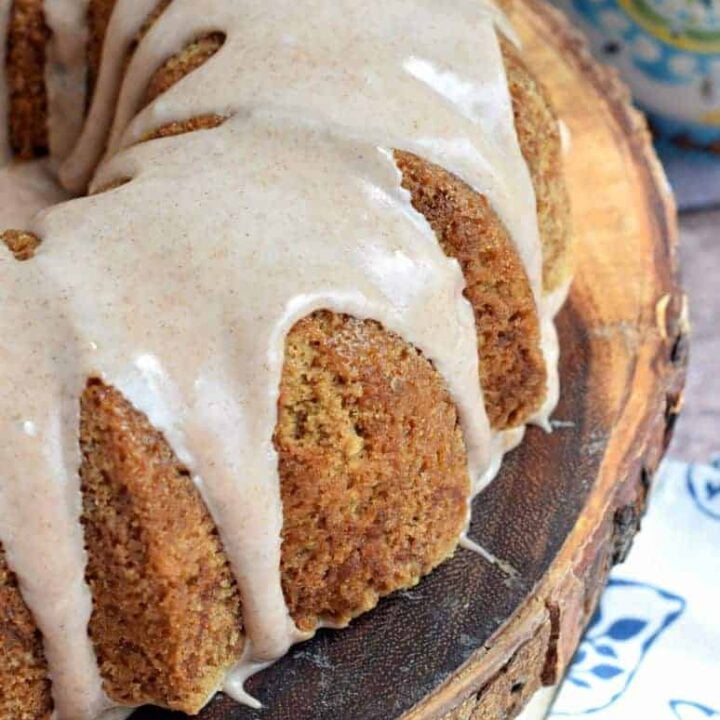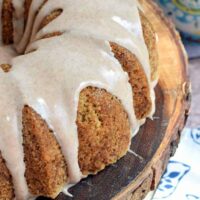 Prep Time 15 minutes

Cook Time 1 hour
Ingredients
For the cake:
1 1/2 cup granulated sugar
3/4 cup canola oil
3 large eggs
1 1/2 cup all-purpose flour
3/4 tsp baking soda
3/4 tsp baking powder
1 1/2 tsp cinnamon
1/2 tsp kosher salt
1 1/2 cup shredded zucchini
For the glaze:
3 cup powdered sugar
2 tsp cinnamon
1/4 cup milk (I use skim/fat free)
Instructions
Preheat oven to 325 degree F. Spray a 12 cup bundt pan with baking spray. Set aside.
In a large mixing bowl, beat sugar, oil and eggs until blended. Add in flour, baking soda, baking powder, cinnamon and salt. Beat for 2-3 minutes.
Fold in shredded zucchini. Pour into prepared bundt pan.
Bake for 55-60 minutes. Remove and cool in pan 5 minutes. Invert onto a cake plate and cool completely before adding glaze.
For the glaze, whisk together the sugar, cinnamon and milk until smooth. Drizzle over cake, allowing the excess to be added to the center hole (this can be used to drizzle over individual slices, or slurped up with a finger, haha).
Slice and enjoy!
Do you love zucchini? Here are some more delicious ways to add this veggie to your diet: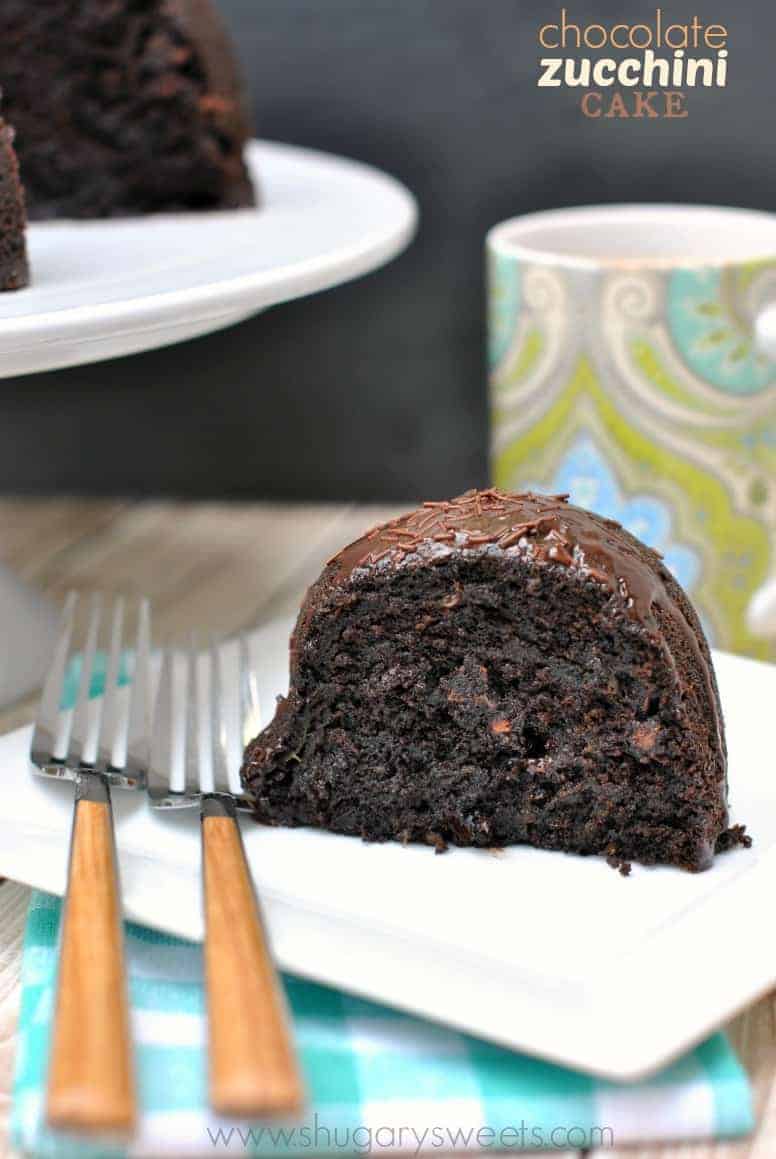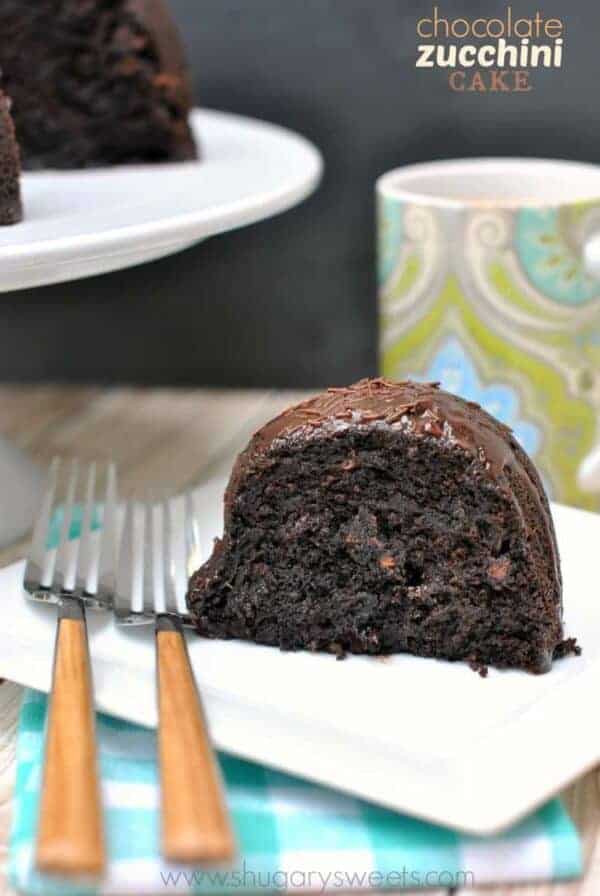 Chocolate Zucchini Bundt Cake: you already know how much I love a bundt cake. Now I've made it chocolate-y too!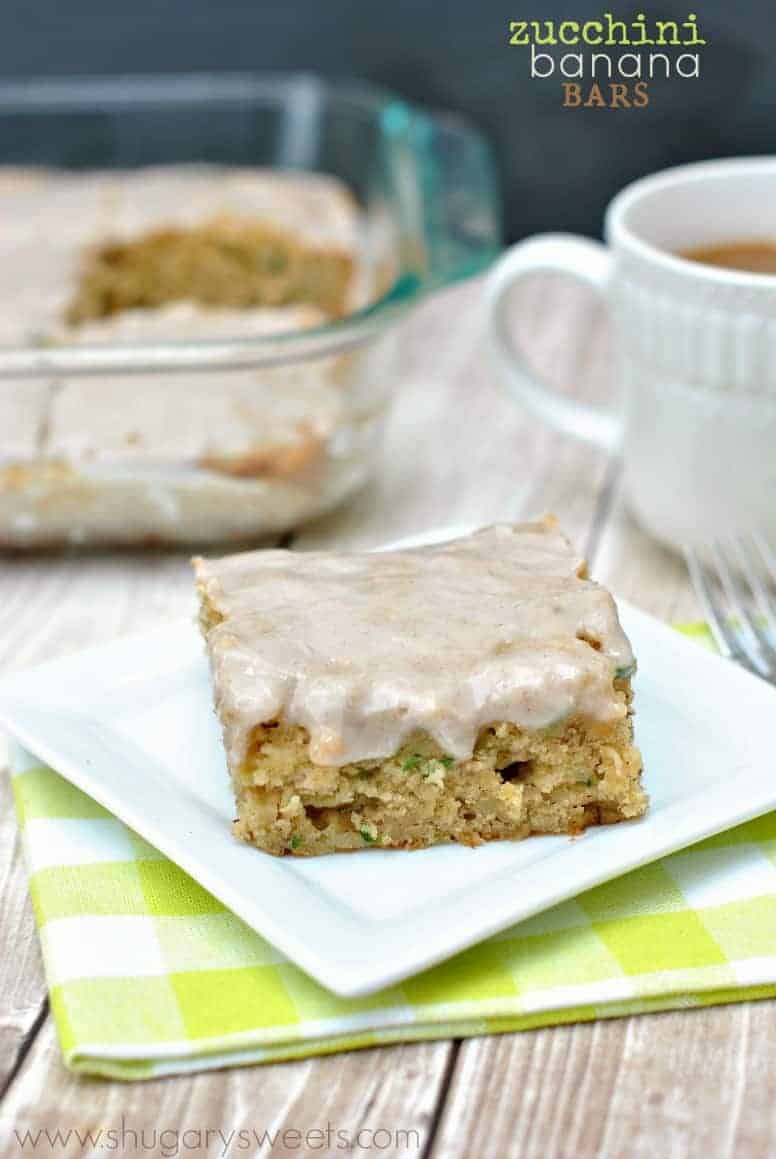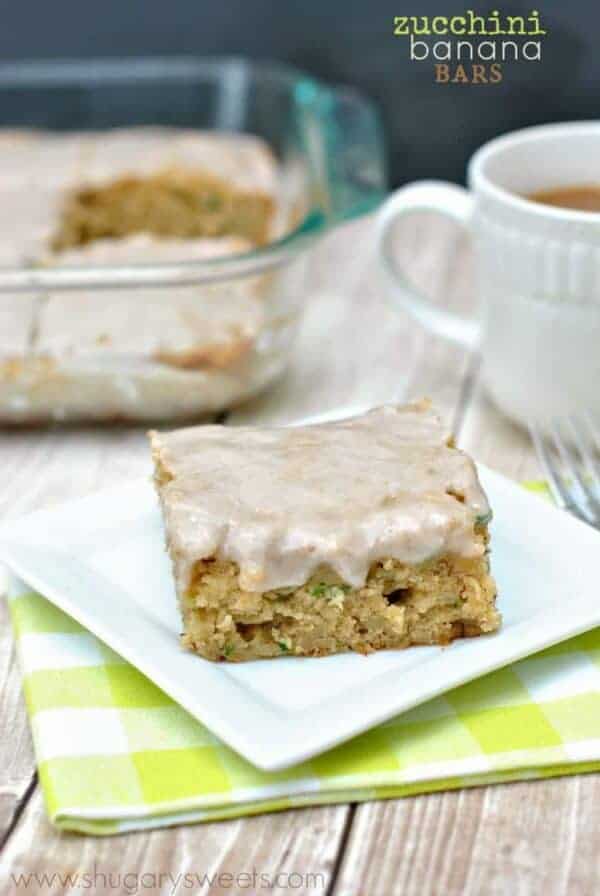 Zucchini Banana Bars: is it cake? is it a cookie? Why yes, it's both!!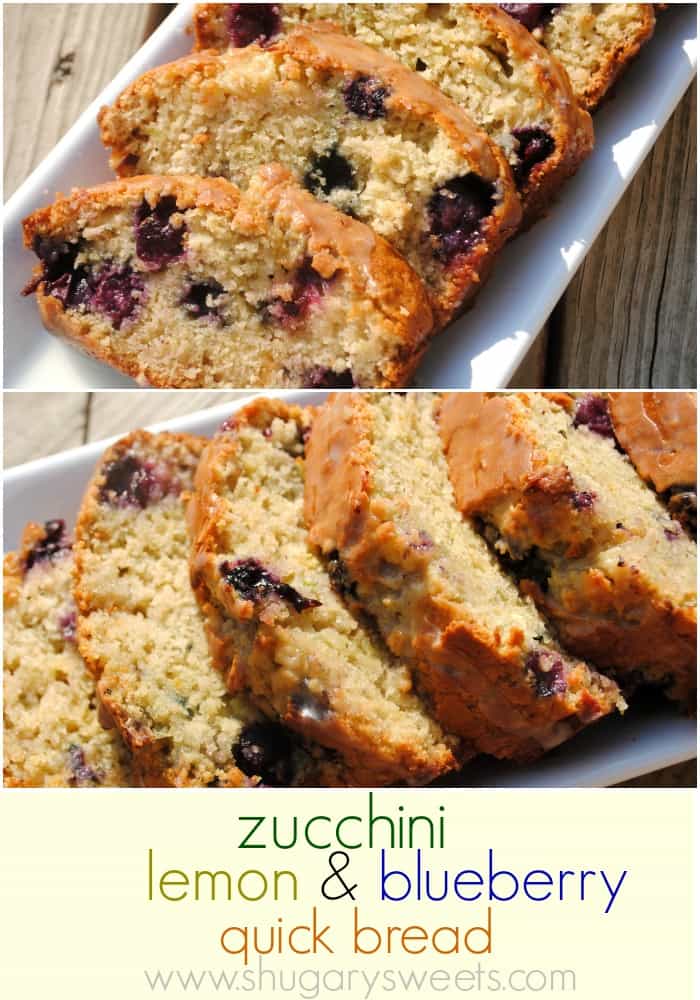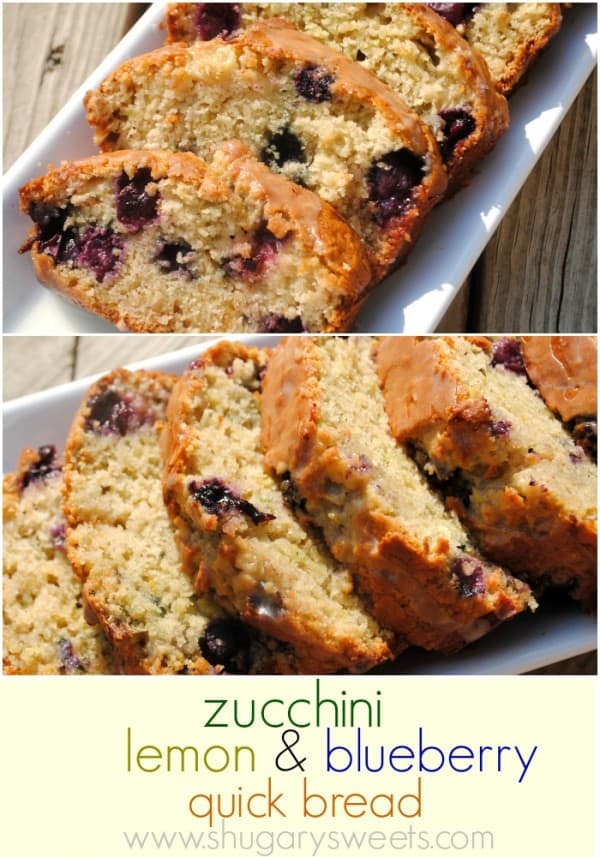 As good as it looks. This Zucchini Quick Bread is filled with blueberries and lemon!
Here are some delicious zucchini recipes from my friends:

 **There may be affiliate links in this post! By clicking on them, or purchasing recommended items I may receive a small compensation. However, I only recommend products I love! Thank you for supporting Shugary Sweets! See my disclosure policy for more info**