Super moist Zucchini Bundt Cake gets a touch of decadence with cinnamon glaze. A great recipe for using up garden zucchini and enjoying with a cup of coffee.
When you don't have time to mess with frosting bags, bundt cakes are your friend! Try this Carrot Bundt Cake Recipe next. OR give our delicious pistachio cake recipe a try.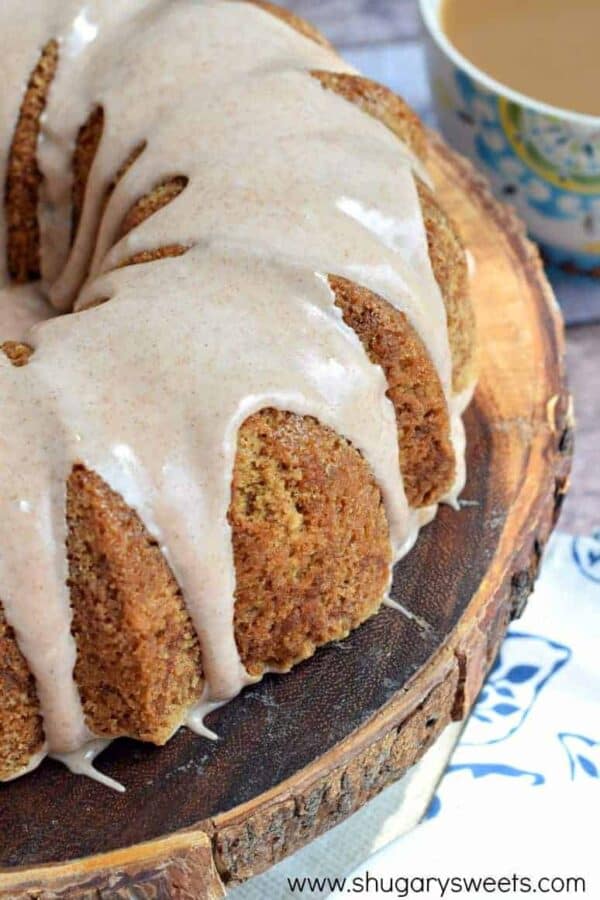 Why this Recipe Works
I'm a little addicted to baking with zucchini. As my Cinnamon Frosted Zucchini Bars recipe proves, nothing goes better with a zucchini dessert than cinnamon glaze!
Shredded zucchini keeps bundt cake super moist. This cake won't dry out, even days after baking.
Zucchini Bundt Cake is naturally dairy free because we use vegetable oil instead of butter. The cinnamon glaze can easily be made dairy free too!
A versatile cake that can be served for breakfast, tea time or dessert!
Freezer friendly recipe so you can make it as much as 2 months in advance. Enjoy homemade zucchini cake even long after the zucchini crop is gone!
Move over zucchini bread, we've got a new dessert in town.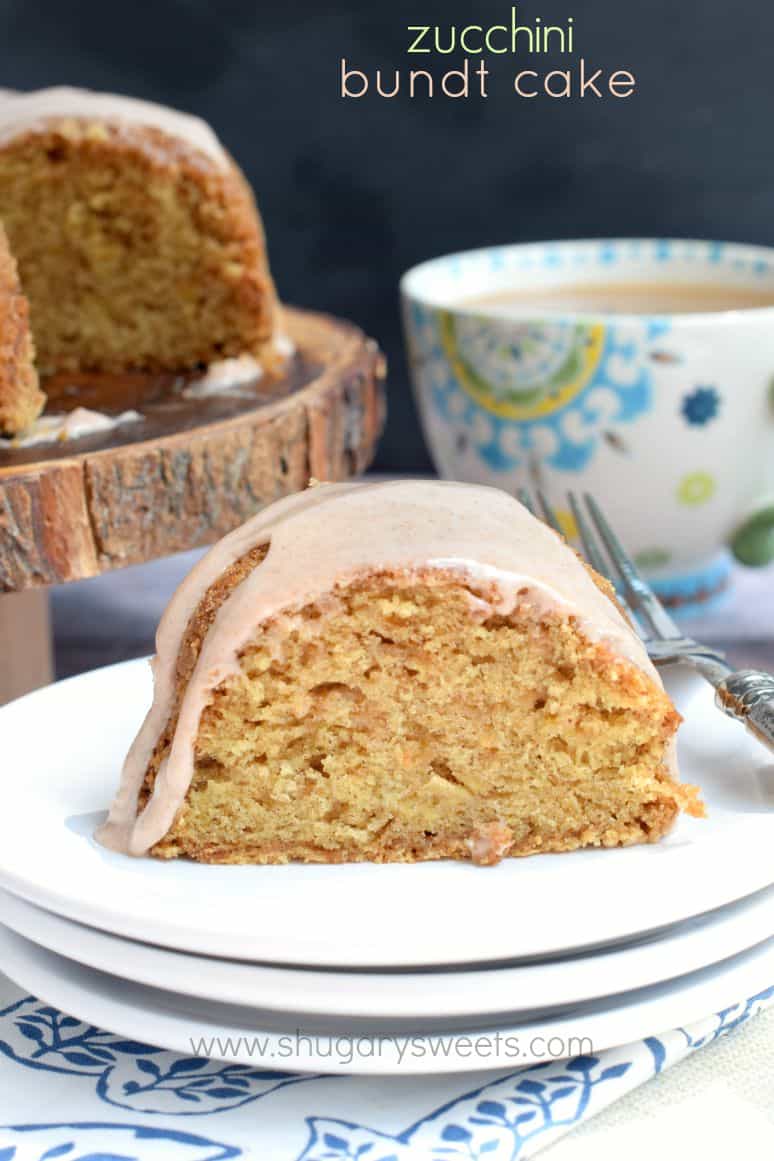 Ingredient Notes
Shredded zucchini. No need to peel the zucchini first, unless you prefer to. Use our guide on how to shred zucchini.
Milk. I used skim milk in my cinnamon glaze. To make this recipe dairy free, use a dairy free milk instead.
Salt. We use kosher salt in all of our recipes for consistently delicious results.
Vegetable oil. Use any mild flavored vegetable oil blend.
Additionally, before you ask, here is a link to my favorite Bundt Pan. With a little baking spray or homemade cake release, it pops out of the pan, EVERY TIME!
Easy Instructions
Bake the Cake.
Beat oil, sugar and eggs in a large bowl. Mix in the dry ingredients, then fold in shredded zucchini.
Pour batter into your prepared bundt pan. Bake for 55 – 60 minutes. Let it cool for 5 minutes in the pan. Invert to remove it from the pan and let cool completely.
Make the Glaze.
Whisk the ingredients together until smooth. Drizzle over the cake starting at the top and letting it drip down the sides.
Tips and Tricks
Have extra glaze? Reserve it for drizzling over individual slices before serving.
How to shred zucchini. Run the size of a zucchini up and down a box grater, over a bowl. Continue until the entire zucchini is shredded. You can also use a food processor fitted with a shredding attachment. Just be careful not to puree.
Storing shredded zucchini. You can shred the zucchini ahead of time and freeze it for several months. Before adding to baked goods, let thaw in the fridge and squeeze out any excess water with paper towels.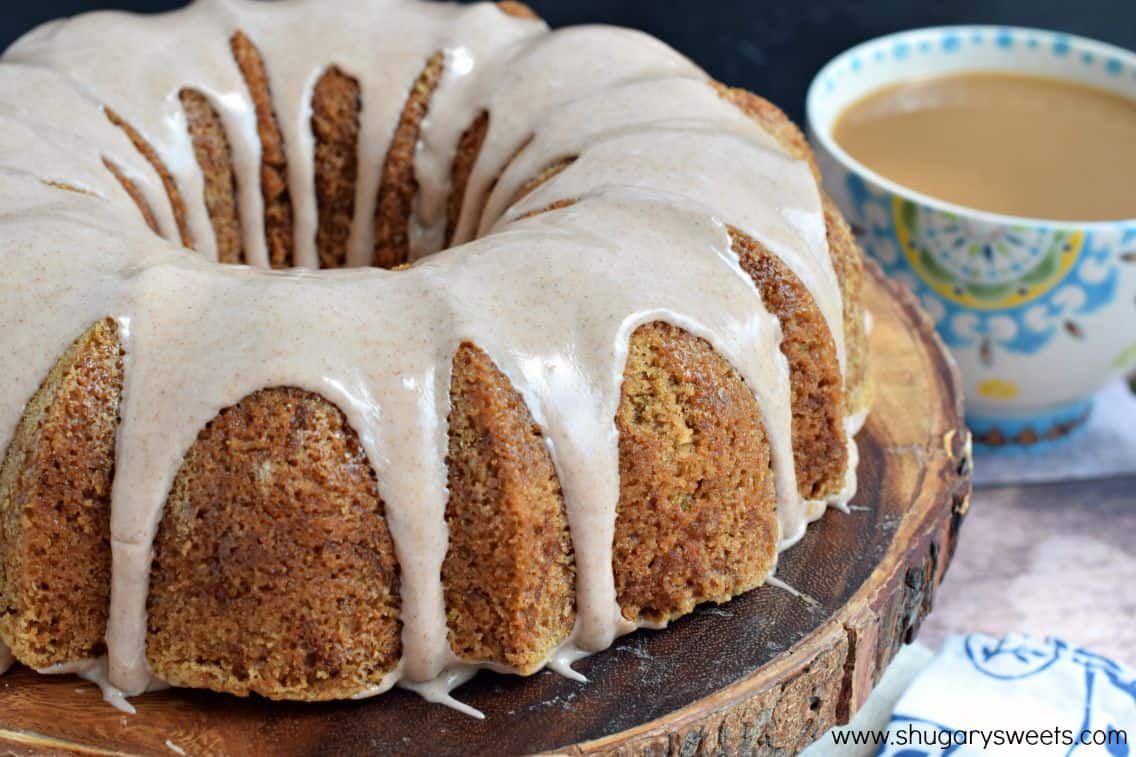 Recipe FAQs
Why is my bundt cake sticking to the pan?
Bundt cakes get stuck in the pan for lots of reasons. The most common is forgetting to spray the inside generously with baking spray first! Your cake may also get stuck if you try to invert it too soon. Let the zucchini bundt cake cool in the pan for at least 5 minutes before attempting to remove it.
Can I freeze this bundt cake?
Zucchini Bundt Cake holds up wonderfully in the freezer! Freeze before adding the glaze by double wrapping in foil. It'll keep well for 2 -3 months. When ready to enjoy, thaw and add cinnamon glaze before serving.
What size bundt pan do I need to make this cake?
I tested this recipe in my 12 cup bundt pan.
More Zucchini Recipes
If you love zucchini bread, you'll go nuts for Zucchini Bundt Cake with cinnamon glaze. Pour yourself a cup of coffee and enjoy!