Sweet and lightly spiced Cinnamon Apple Bread is pure homemade comfort in loaf form. Topped with a sweet vanilla frosting!
More classic bread recipes include my favorite zucchini bread and this sour cream banana bread! Happy baking!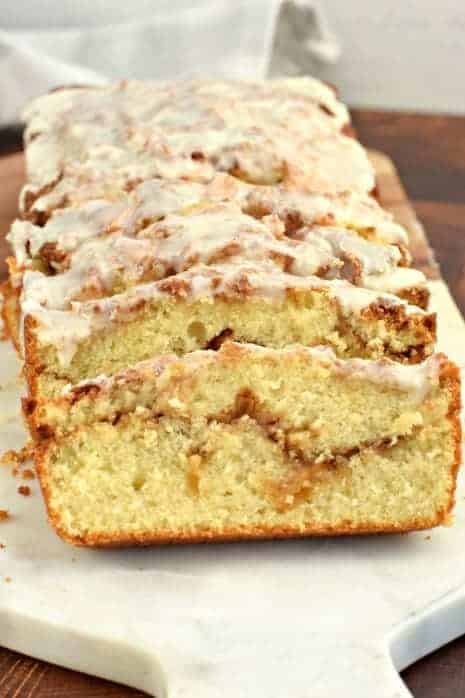 Apple Bread Recipe
Do you have any apple dessert lovers in your life?
I think I'm that person to my friends and family. Yes, I love just about all desserts and sweet things (I have a whole blog about them, after all) but I have soft spot in my heart for treats involving apples.
From Apple Doughnuts to Apple Cake, I love it all. Add a little cinnamon in the mix and you'll win me over for sure.
Apple cinnamon baked goods might make you think of falling leaves and crisp autumn temperatures but, in my opinion, apple desserts are appropriate any time of year.
These two ingredients were simply made for each other, and there's no better way to enjoy them than slicing into a loaf of Apple Cinnamon Bread.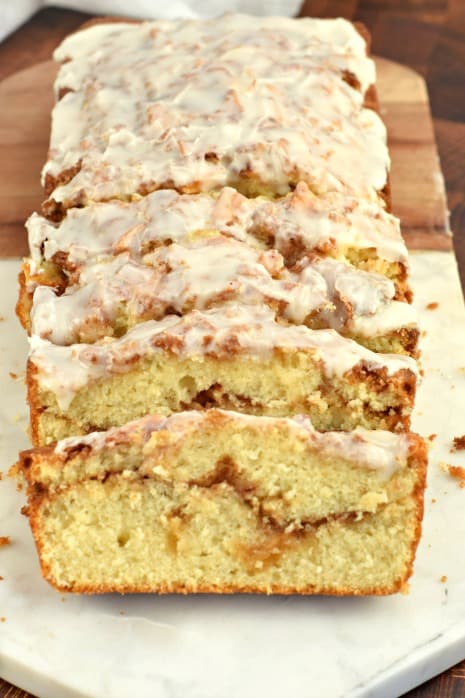 Fancy desserts like Cinnamon Apple Cheesecake Parfaits and Cinnamon Apple Crumb Cake tend to steal all the limelight in the apple-cinnamon world.
Apple bread made with real pieces of apple folded into the batter doesn't get nearly the attention it deserves.
With a vanilla icing on top and plenty of cinnamon, this Apple Cinnamon Loaf is easily one of my favorite quick breads.
It's a great treat to bring to parties and gatherings and also makes a fantastic hostess gift.
A slice of apple cinnamon bread with a hot cup of coffee first thing in the morning is all the motivation I need to get myself out of bed.
This bread is delicious all on its own. The icing on top is, well. . . just the icing on top. It adds a sweet crust to each bite and locks in the moisture of the apples.
While this bread looks and tastes impressive, it's a simple recipe that comes together in just about an hour.
Step by Step Instructions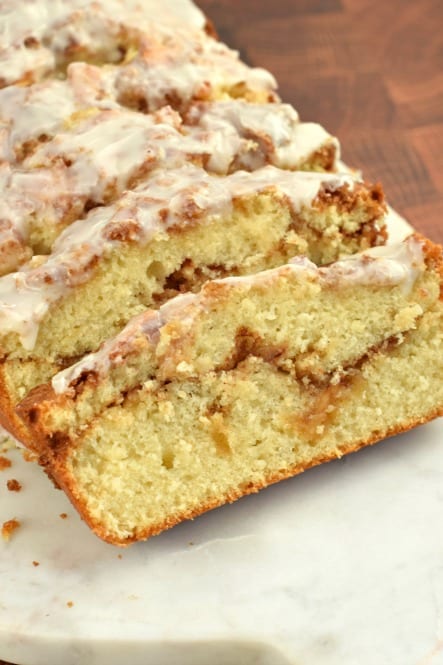 STEP 1. Prepare the Bread Batter
In a large mixing bowl, combine granulated sugar and butter until smooth. Add eggs and vanilla and continue to beat on medium speed until combined.
Add flour and baking powder, then mix in the milk.
STEP 2. Dice the Apple
Peel and core one large apple then dice into small chunks. You should have about 1 cup worth of apple.
Mix together a bowl of brown sugar and cinnamon and set aside.
STEP 3. Pour and Bake
Pour half the batter into a prepared bread pan (use baking spray or my homemade cake release).
Cover with half of the diced apples (press them slightly into the batter). Sprinkle with half of brown sugar and cinnamon mixture.
Pour the remaining batter over apple layer; top with remaining apples and add more brown sugar/cinnamon mixture.
Pat topping into the batter with the back of a large spoon.
Bake for 50 minutes in the oven at 350 degrees (or until a toothpick inserted into the center of the loaf comes out clean).
Cool the bread in the pan for 10 minutes before transferring to a cooling rack.
STEP 4. Make the icing
In a small bowl, combine powdered sugar, vanilla and milk. Whisk everything together until smooth.
Drizzle the icing over the cooled bread and allow to set, about 15 minutes. ENJOY.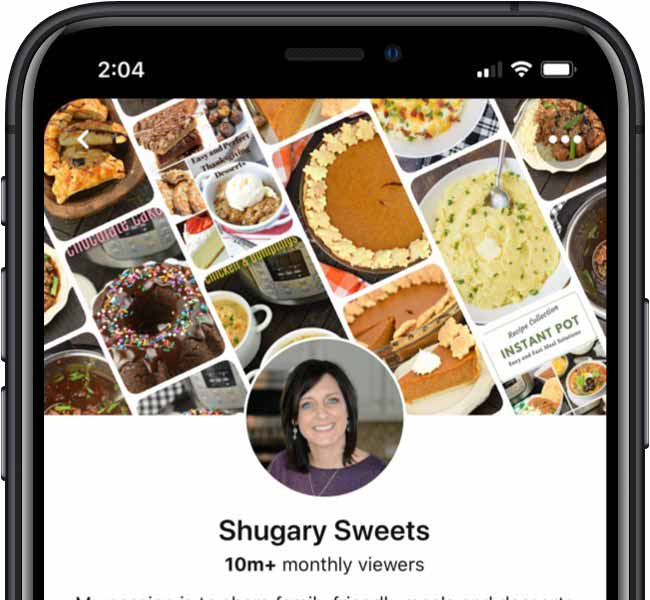 Recipe Notes for Apple Bread
Make sure the bread is cooled entirely before you pour the icing on top. If the bread is warm the icing will melt and not set on top.
Don't stress too much about getting every piece of apple exactly uniform. While you want the apple pieces roughly the same size a little variety is just fine, as they get baked right into the bread.
If you won't be serving the apple cinnamon bread immediately, wrap it tightly in plastic wrap to keep it moist.
My kids and I enjoy this bread for breakfasts, snacks and even as a dessert alongside a scoop of vanilla ice cream.
If you want a little less sweetness in your apple cake, I suppose you could leave off the icing. I, however, love what it adds to the bread in both taste and appearance.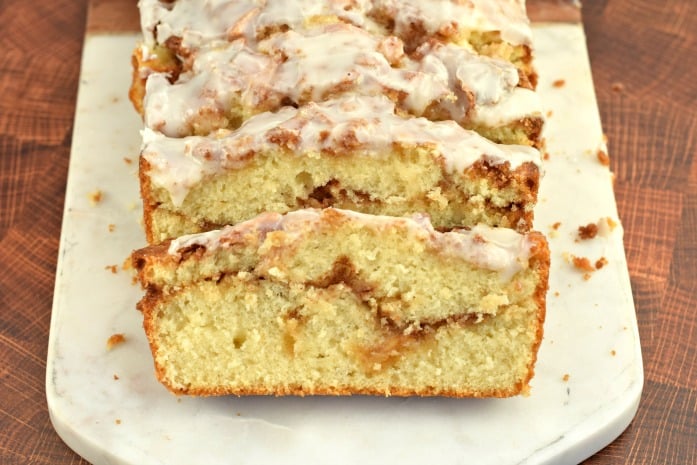 Recipe FAQs
Can you freeze Apple Bread?
Yes, apple bread freezes beautifully!
You can freeze the loaf whole or cut it into slices to freeze it in individual portions. (A great option if, like me, you could easily eat a whole loaf of this bread before you know what hits you!)
Thaw completely in the refrigerator or on the counter top before warming slightly to serve.
What kind of apples to use in baking?
I like a tarter apple like Granny Smith or Golden Delicious in this apple bread recipe. However, any kind of apple you like baking with will taste great in this bread.
Do you have to refrigerate apple bread?
Nope. Keep wrapped at room temperature. However, it is delicious served cold (or warm)!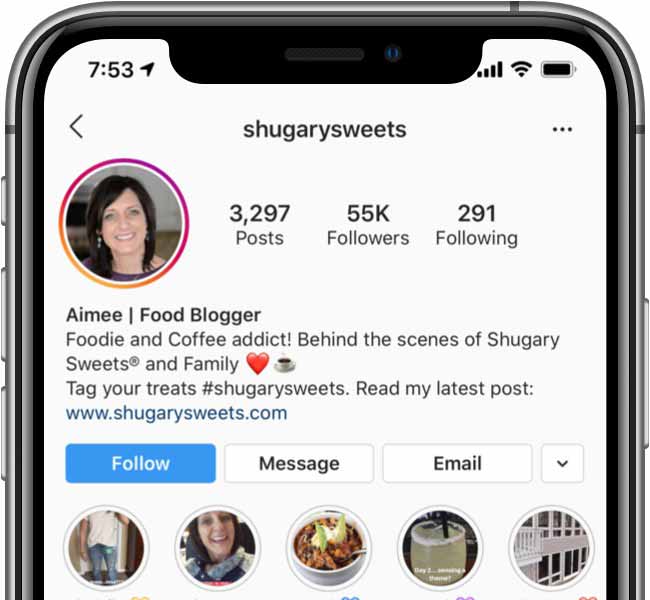 If you love today's Apple Bread, here are some more favorite recipes you may enjoy
PS. If you try this recipe, please leave a STAR rating in the recipe card below. I love your feedback! Connect with me on social media by following me on Instagram, Facebook, or Pinterest.
All the good flavors of apples and cinnamon baked into moist and sweet loaf of Apple bread.