Moist New York style Crumb Cake with a delicious, thick brown sugar topping! Better than any bakery, you'll fall in love with this classic breakfast cake recipe!
Love breakfast treats? Try our easy danish recipe for a simple starter to your day. Or give our pumpkin crumb cake a try for a flavorful treat.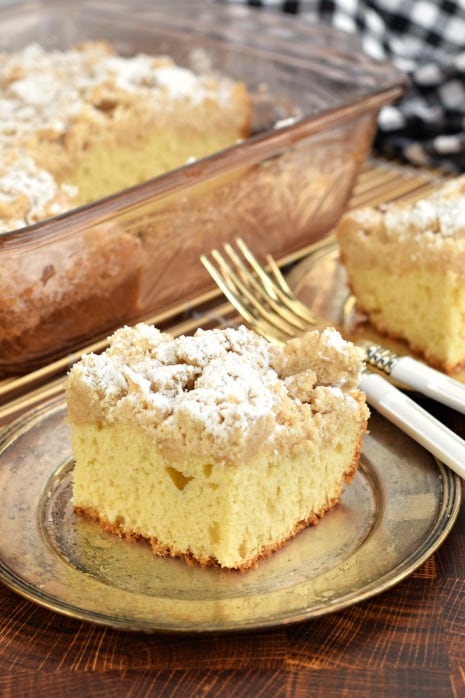 New York Style Crumb Cake Recipe
Going to my grandma's house always meant there would be coffee and an Entenmann's Crumb Cake served. I loved that cake with the crumbly topping.
What I didn't love? It was so DRY. And Grandma would send me home with the leftovers, that were dry and tasteless on day 2.
So I made it my mission to recreate that classic Crumb Cake recipe.
Here's why this one works:
Tender, moist cake
Thick brown sugar crumble on top
Soft crumb, not crunchy- it makes a difference!
Freezer friendly recipe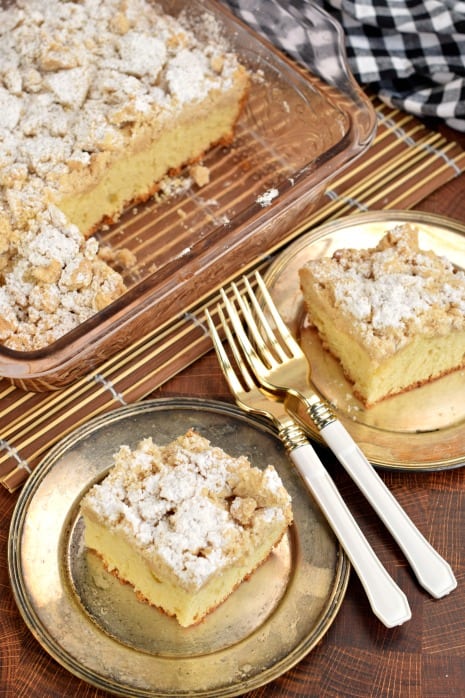 How to Make Crumb Cake
Make the brown sugar crumb topping. Combine the melted butter with the dry ingredients using your hands, until pieces crumble and stick together when pressed.
Make the Cake Batter. Combine the dry ingredients for the batter. In a bowl, combine the flour, sugar, salt, and baking soda. Add butter to the batter. Then add the eggs, buttermilk, and vanilla, and beat until combined.
Spread batter into pan. A 9-inch square pan is best for this cake.
Add crumb topping to the top of the cake. Pinch pieces of the crumb topping in your hand and drop them on the cake batter. You'll want some larger pieces mixed with smaller crumbs.
Bake. Bake in a 325 degree oven for about 45 minutes. Cool in pan before serving.
Sprinkle with powdered sugar before serving (after cooling).
Can you Freeze Breakfast Cakes
Yes! My favorite way to freeze this cake is wrap slices individually in parchment paper, then slide them into a ziploc freezer bag.
Thaw at room temperature overnight.
Serve Crumb Cake warm by placing in the microwave for 15 seconds per slice!
Tips for Cake success
Buttermilk: I love the tang of buttermilk in baked goods. You can swap it out for sour cream or plain Greek yogurt if you prefer. Do NOT use anything low-fat.
Softened Butter: To keep the batter thick, but smooth, start with softened, room temperature butter.
FRESHNESS. Avoid dry cake by storing in an airtight container for up to 4 days. Heat slices in microwave for 15 seconds before serving for extra flavor!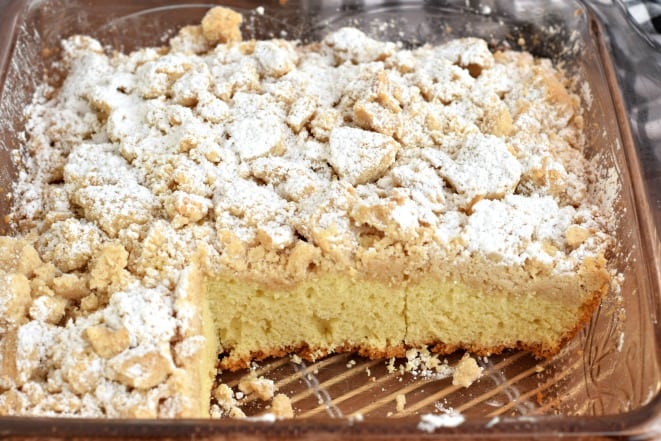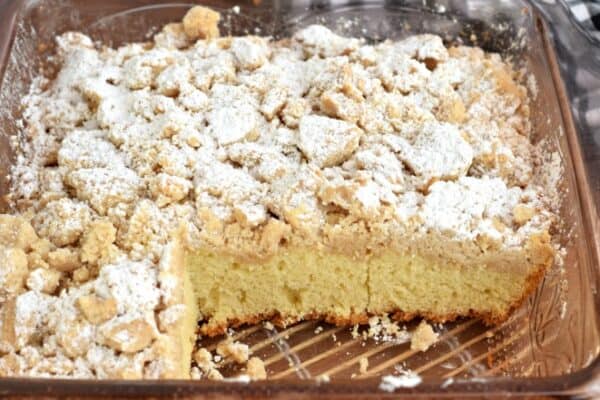 Thick and moist Crumb Cake is a New York-style classic breakfast cake recipe. Easy to make, you'll love this delicious treat.