Turtle Cheeseball
An easy, sweet Turtle Cheeseball recipe with caramel, pecans and chocolate chips! A great dip to serve with apples, animal crackers or grahams.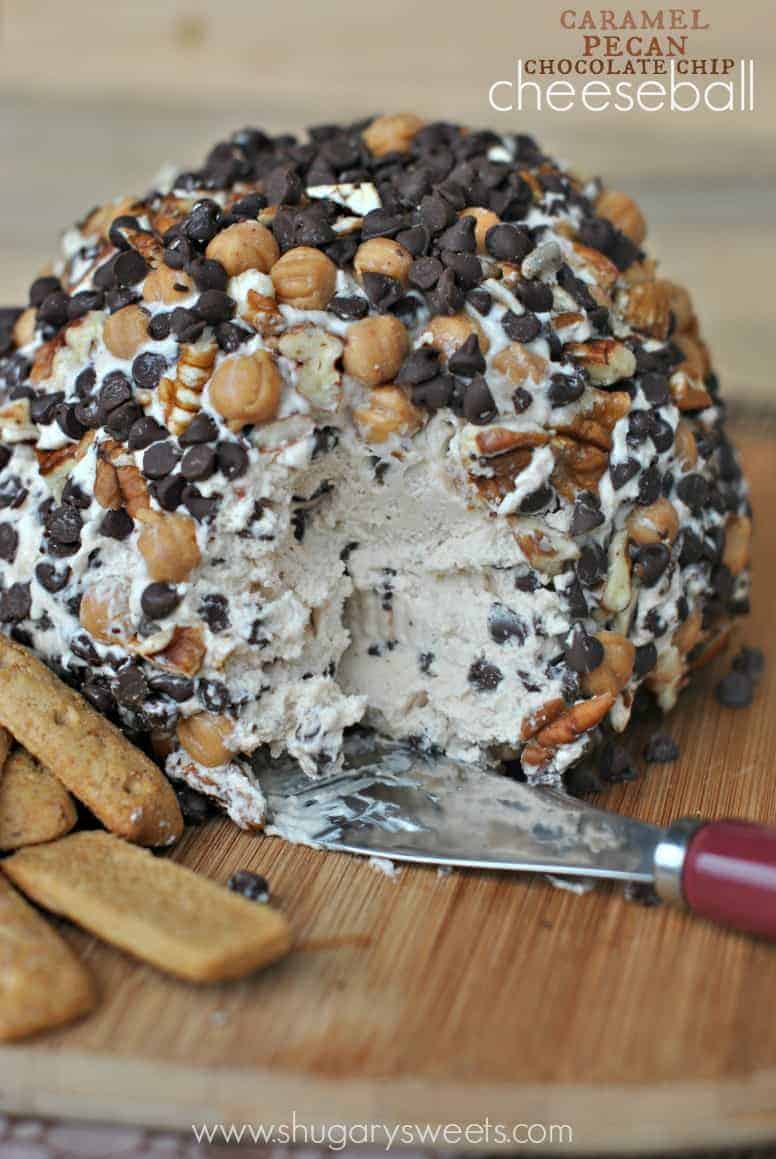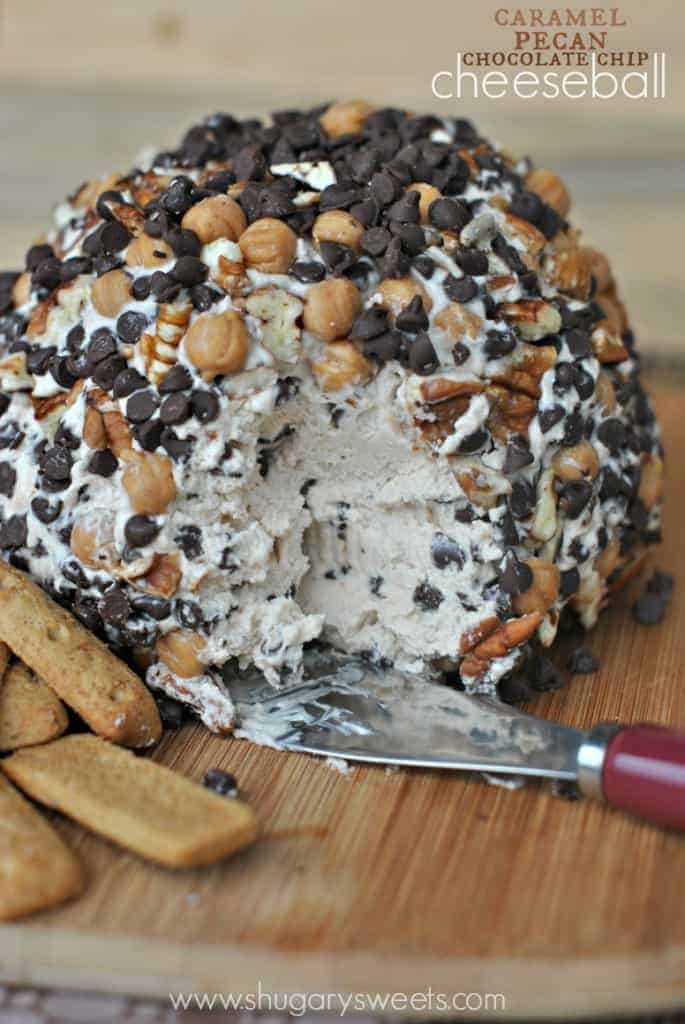 So, in case you don't live in the US, Thanksgiving is this week. You may be overwhelmed with all our turkey talk. But I've got a non holiday recipe for you.
Well, non holiday in there is no theme. Except DELICIOUS!
Whenever we entertain I love to serve a combination of salty and sweet treats. And while guacamole, jalapeno dip, and queso are all delicious choices, sometimes, a sweet dip is equally important.
I find myself taking bites of chips, then of this sweet cheeseball, and back to chips again. It really is a vicious cycle!
But a delicious, vicious cycle (ha, I love to rhyme)!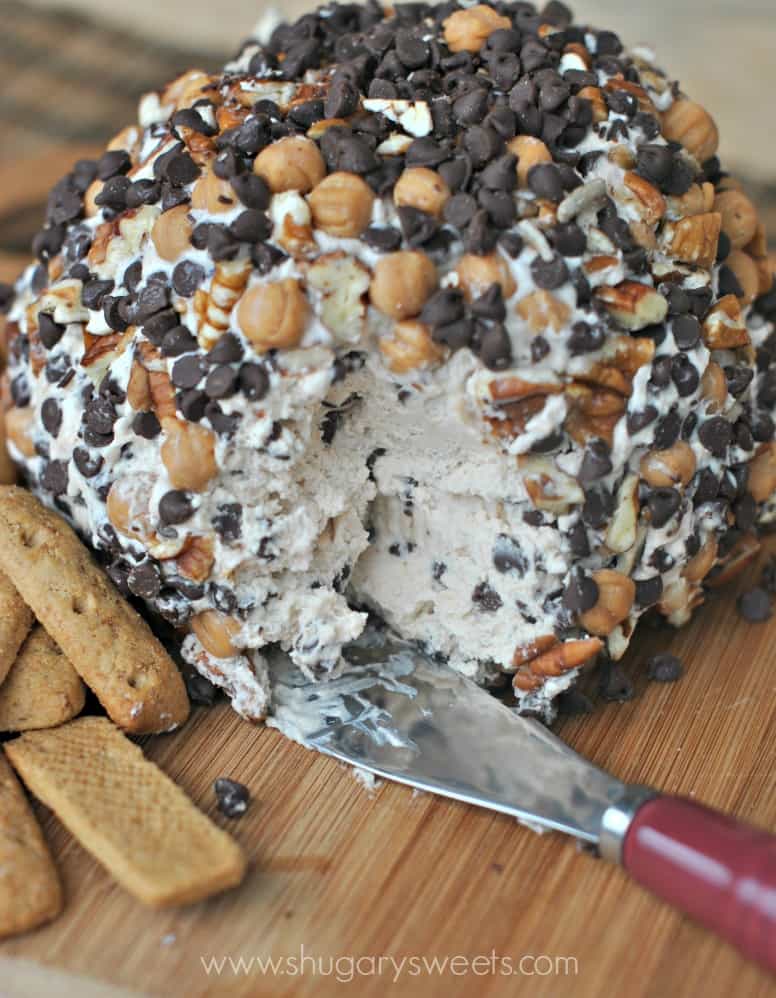 Today's recipe is easy to put together. You can make it the day before if you'd like. Mix all your ingredients together. I drop the entire bowl of cheeseball onto a piece of plastic wrap. I wrap the plastic around it and shape it into a cheeseball. Then refrigerate this ball for about an hour. Unwrap and roll it into a bowl filled with your toppings, pressing them into the ball gently. Rewrap your cheeseball into a new piece of plastic wrap. Keep wrapped until ready to serve!
Enjoy this with pretzels, apples, animal crackers and of course it's great spread onto graham crackers too!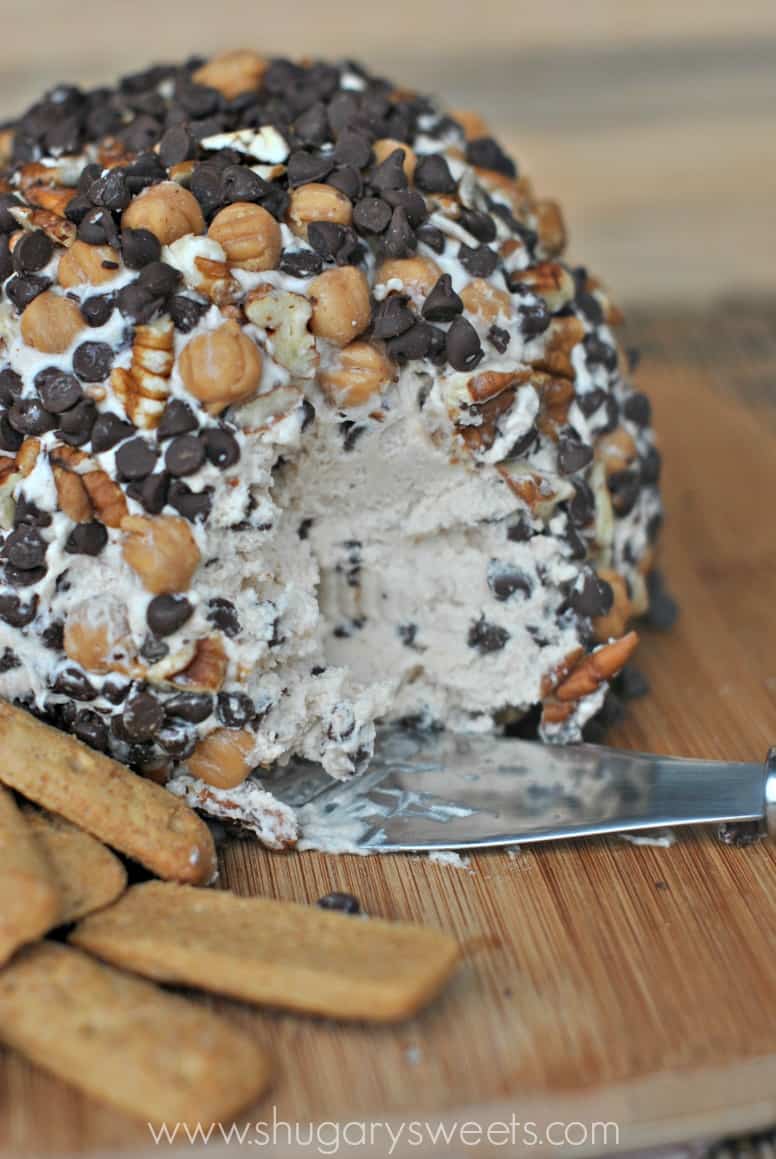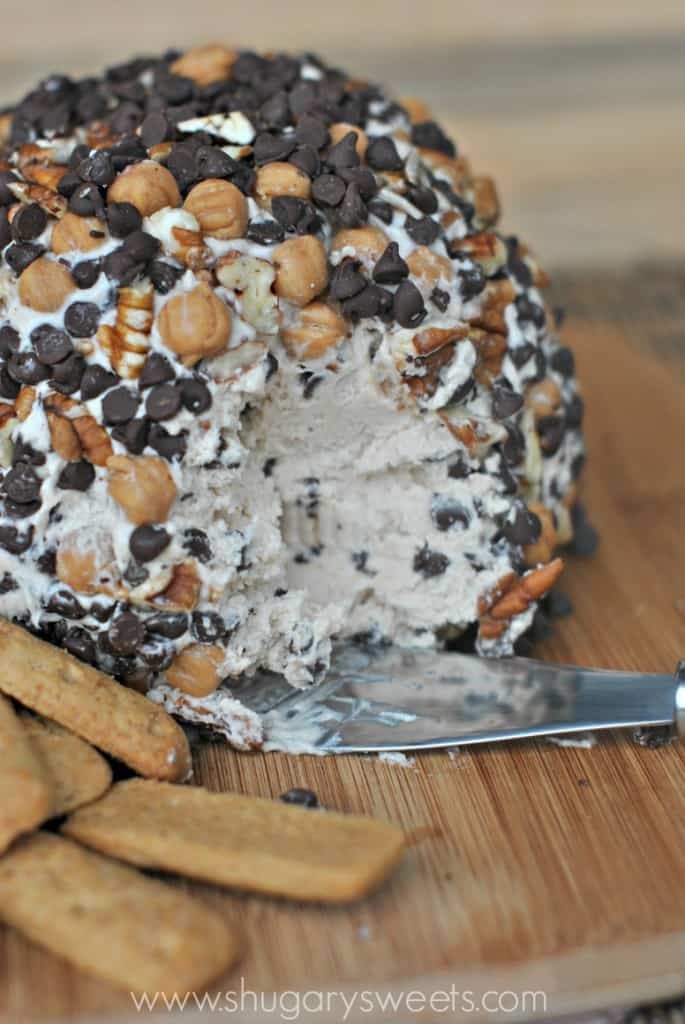 Connect with Shugary Sweets! Be sure to follow me on my social media, so you never miss a post!
Facebook | Twitter | Google+ | Pinterest | instagram | Bloglovin'
Turtle Cheeseball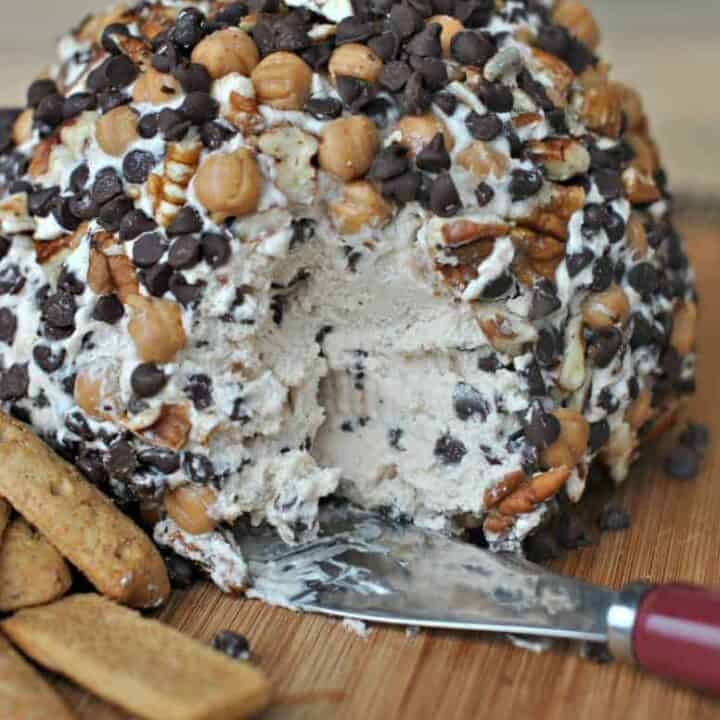 An easy, sweet Turtle Cheeseball recipe with caramel, pecans and chocolate chips! A great dip to serve with apples, animal crackers or grahams.
Ingredients
1 package (8oz) cream cheese, softened
1/2 cup unsalted butter, softened
2 Tbsp caramel sauce (I used caramel ice cream topping)
1 cup powdered sugar
2 Tbsp light brown sugar, packed
3/4 cup mini chocolate chips, divided
1/4 cup chopped pecans
1/4 cup caramel bits (I used Kraft)
Instructions
In a large bowl, mix cream cheese with butter until fully blended. Add caramel sauce and sugar and beat until combined. Add 1/2 cup mini chocolate chips.
Lay a large piece of plastic wrap on counter. Drop cheeseball onto plastic wrap and cover cheeseball completely. Once covered, shape into a ball. Refrigerate for one hour.
In a bowl, combine remaining 1/4 cup chocolate chips, pecans and caramel bits. Unwrap cheeseball and roll into bowl of chocolate chip mixture. Press toppings gently into the cheeseball.
Rewrap in plastic wrap (a new piece) and refrigerate until ready to serve! ENJOY.
Notes
If you can't find the Kraft Caramel Bits, you can use Werther's caramels or Kraft Caramels and chop them up!
Looking for more "CHEESEBALL" ideas?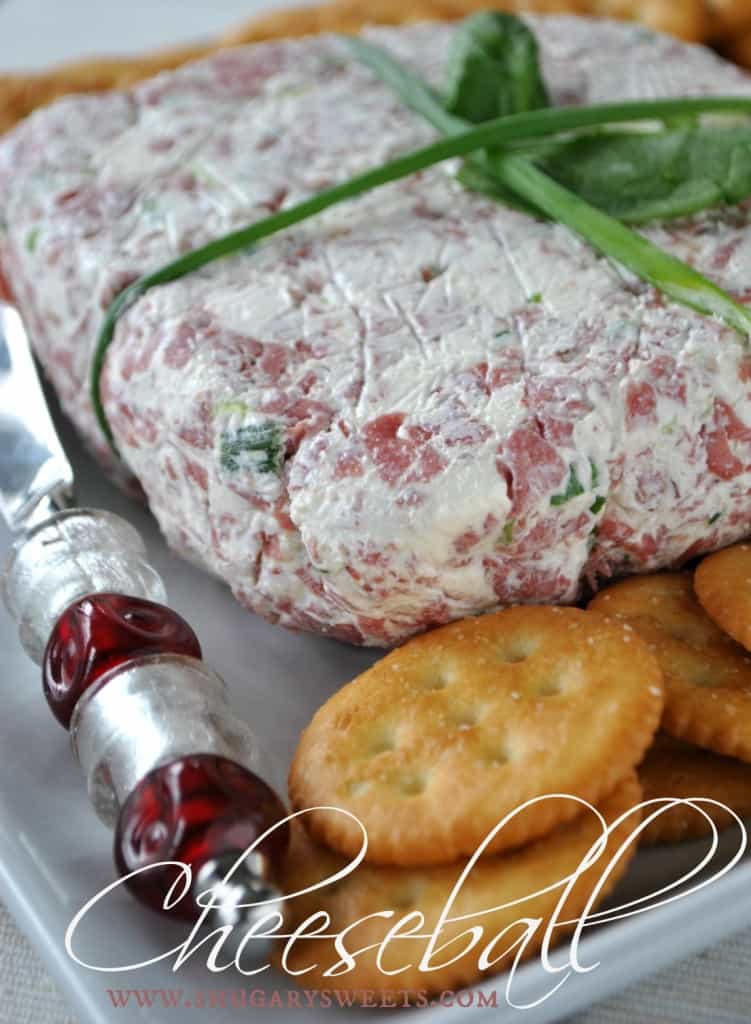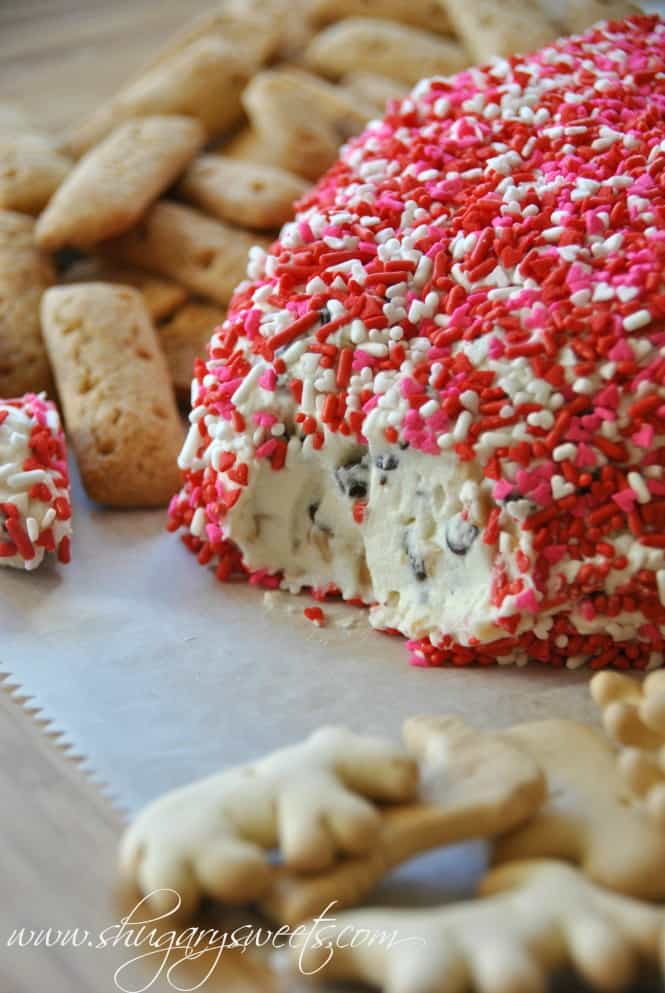 Toffee Chocolate Chip Cheeseball: can use any holiday sprinkles!!!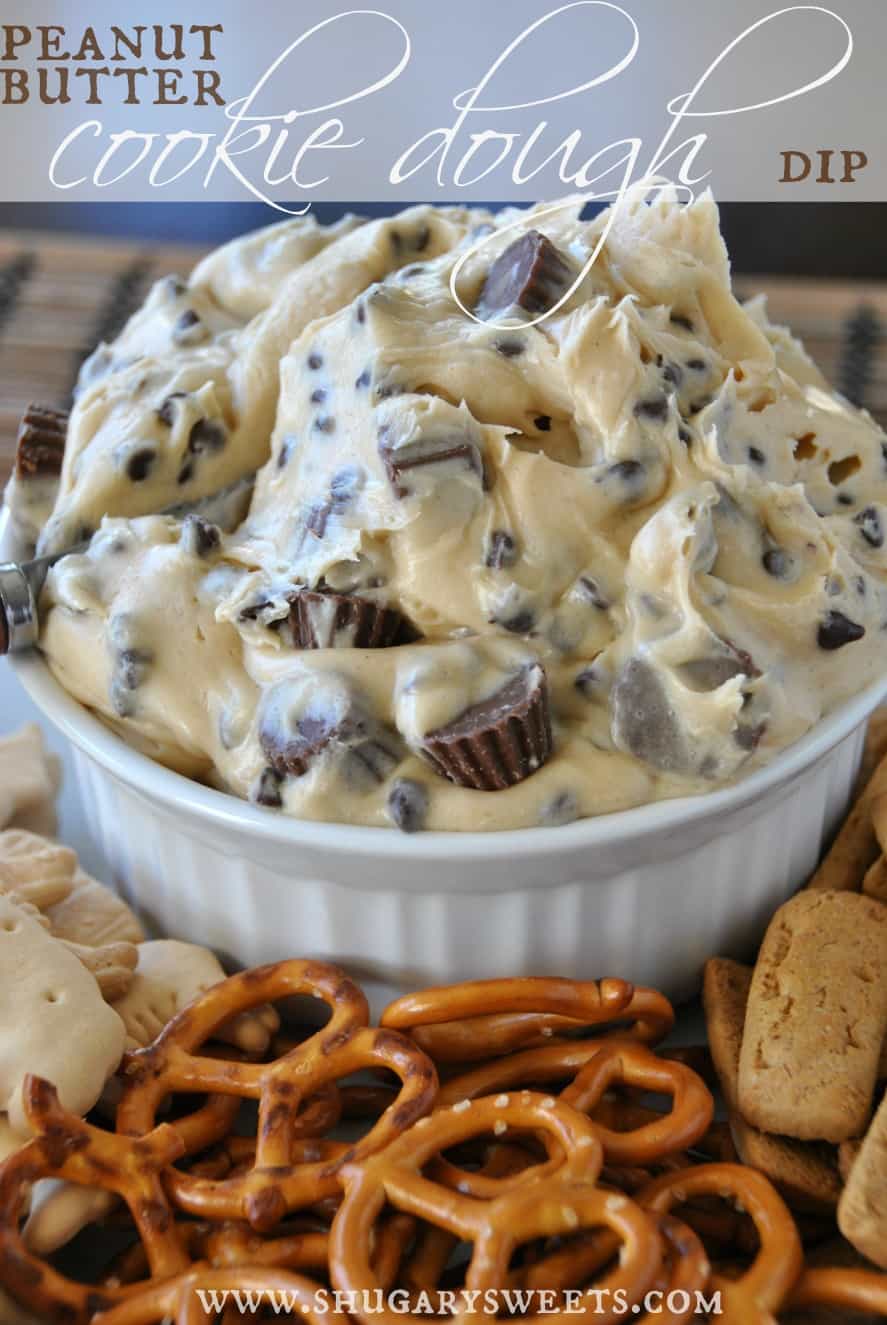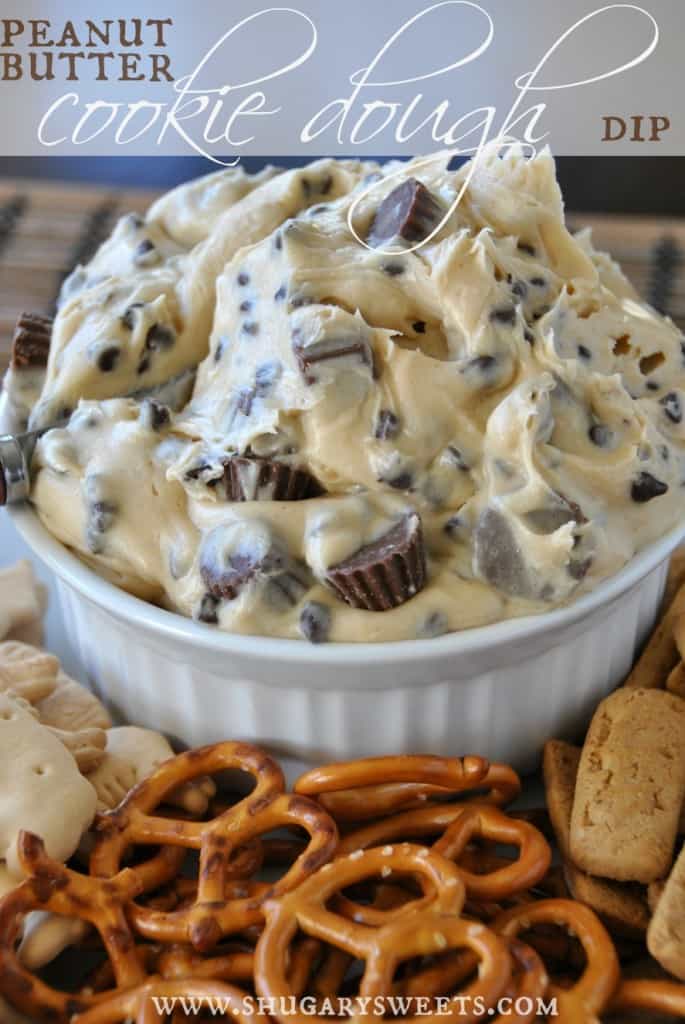 Reese's Cookie Dough Dip. No description necessary!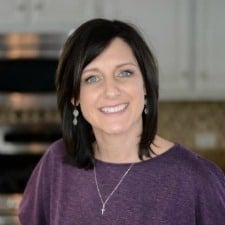 Aimee is a dessert lover (specifically rice krispie treats), workout enthusiast, self-taught foodie, and recipe creator. Her recipes have been featured in over 15 magazines, and her passion is to share her love of cooking with the everyday home cook! Learn more about Aimee.