If you're looking for the most delicious game day snack, this Pineapple Ham Cheese Ball recipe is your answer. The sweet, salty, savory snack that keeps you coming back for more!
Making cheese balls is one of my favorite things to do. They are not only easy, but delicious too. My mother in law first shared this Chipped Beef Cheese Ball recipe with me the year I met my husband. We also love this sweet Oreo Cheeseball too.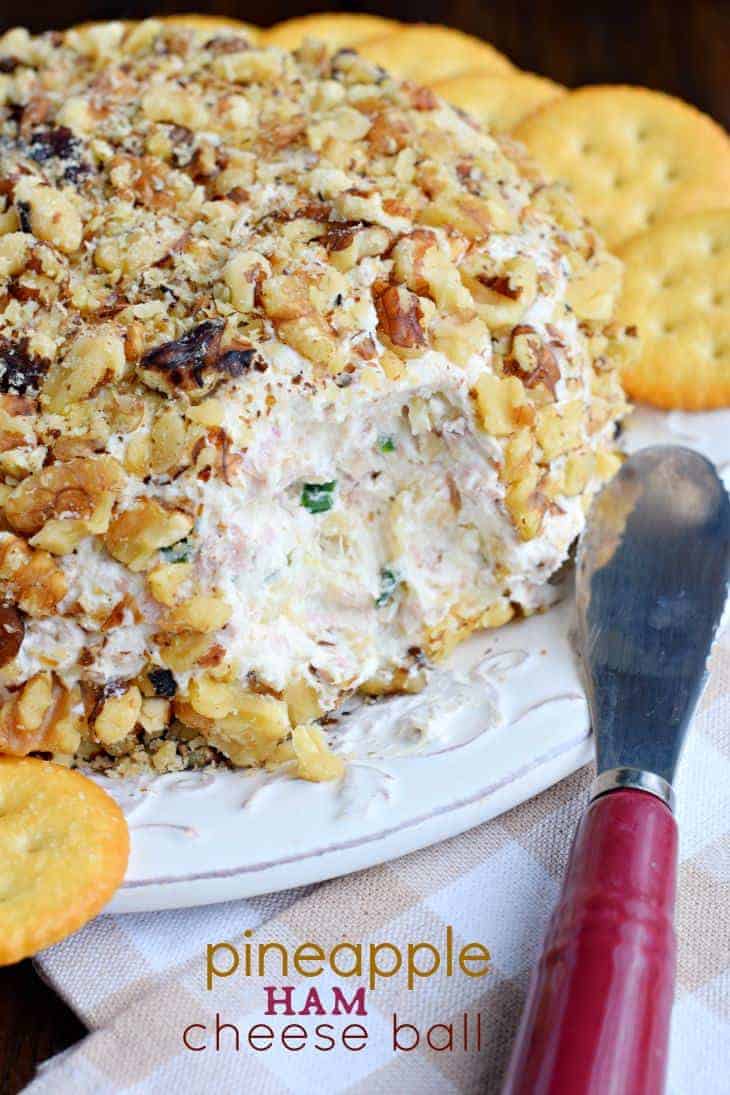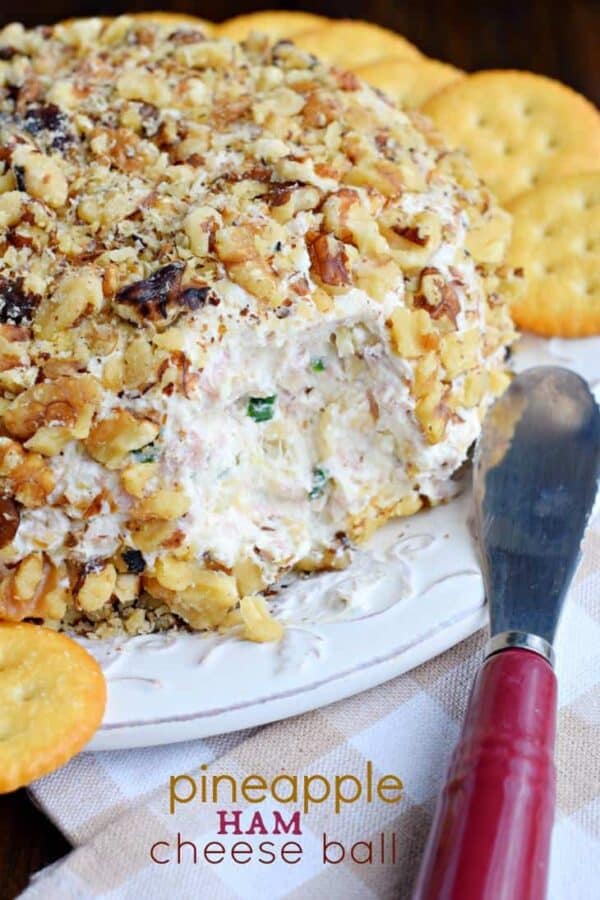 Why this Recipe Works
Any Hawaiian pizza lovers out there? This cheese ball is for you.
And even if you're NOT a fan of the ham-pineapple combination on pizza, I think you're in for a surprise with this cheese ball recipe.
This cheese ball is . . .
Full of salty, sweet and savory flavor. Italian dressing adds some tang!
Easy to make. If you can mix ingredients together, you can make this recipe!
Perfect party food. Serve with crackers and other dippers as an appetizer or party snack.
Ingredient Notes
Another reason to LOVE Pineapple Ham Cheese Ball? The ingredients are so simple.
Deli Ham. Any deli sliced ham you have in the fridge will do! Or use leftover holiday honey baked ham, cut into small pieces.
Crushed pineapple. Drain it well before using here.
Cream cheese. Full fat is best.
Walnuts. I used chopped nuts to add some crunch.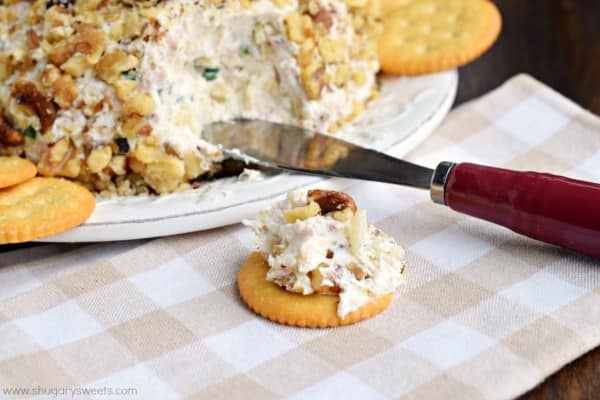 Tips and Tricks
Start with softened cream cheese. It will make blending the ingredients so much easier. You can use a wooden spoon, or the paddle attachment on an electric mixer.
DRAIN your crushed pineapple. You will need a cup of crushed pineapple, but you don't need the extra liquid. Squeeze the excess out by using a strainer (and pressing the juice out) or using paper towels and pressing the excess liquid.
Adding nuts. You'll want to add 1/2 cup of your chopped walnuts to the filling of the cheese ball. And you'll need an additional 1 cup of nuts to roll it in.
How to shape cheese ball. Place a large piece of plastic wrap inside a small bowl (3-4 cup size bowl). Drop your cheese ball mixture into the plastic wrapped bowl, and cover it. Refrigerate for about an hour, until the cream cheese has firmed up slightly. Remove the entire plastic wrapped cheese ball from the bowl and place it on a serving plate. Press your reserved cup of walnuts into the top and sides of your cheese ball. You can either serve immediately or cover and serve later.
Storing. Store covered in refrigerator for up to 3 days.
Recipe FAQs
Can I make this with fresh pineapple instead of crushed canned pineapple?
I have not tried this recipe with fresh pineapple. However, you should be able to swap the canned pineapple for fresh. The flavor might be less sweet since canned pineapple contains more concentrated juices and sugars.
What can you serve with cheese ball?
We love to scoop up bites of this cheese ball with crackers and tortilla chips. Fresh veggies like celery sticks and bell pepper slices are another delicious choice.
Can you freeze cheese balls?
Yes, you can freeze a cheese ball. I would freeze without adding the nuts on top. Wrap tightly in plastic wrap once the ball is set. Thaw in the fridge when ready to serve. Then place the extra nuts on the outside of the cheese ball after it's thawed.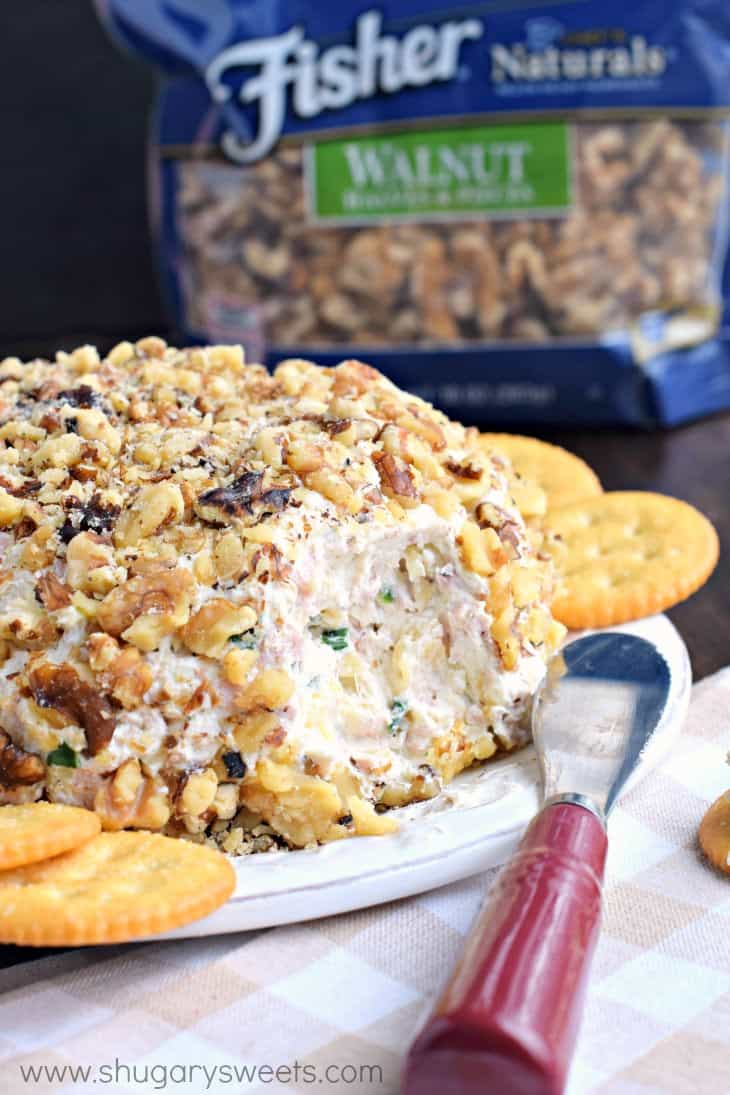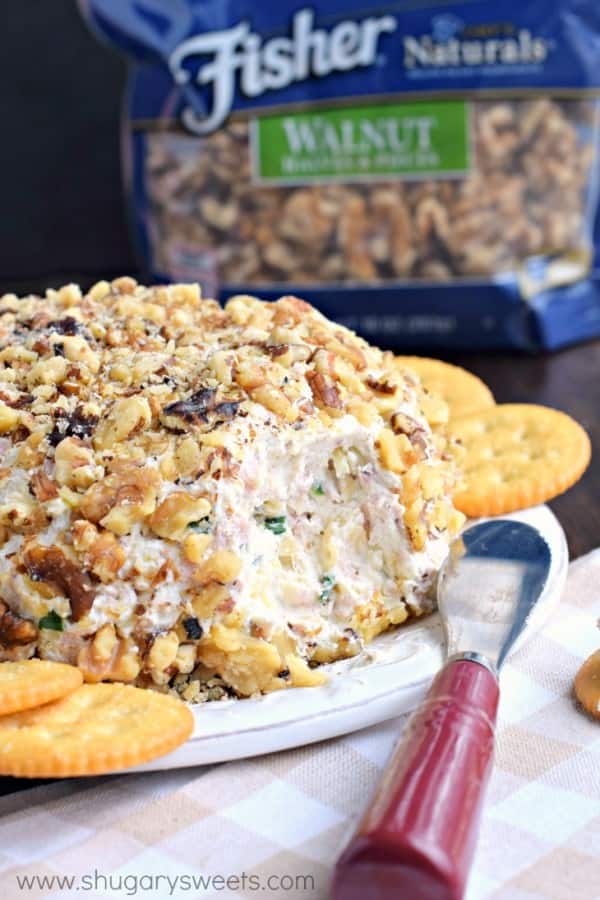 More Game Day Eats
You can't beat the salty, sweet, creamy combination of flavors in this Pineapple Ham Cheese Ball! For the holidays, a party or any time you need an easy dish to share, this recipe is a hit.