Delicious Hawaiian Pizza using Kalua Pork, goat cheese, pineapple, bbq sauce and more! Even the crust is easy to make for this incredible dinner idea!
If you love today's pizza, you've got to try our taco pizza recipe next! Or stick with the tropical theme and try our grilled huli huli chicken.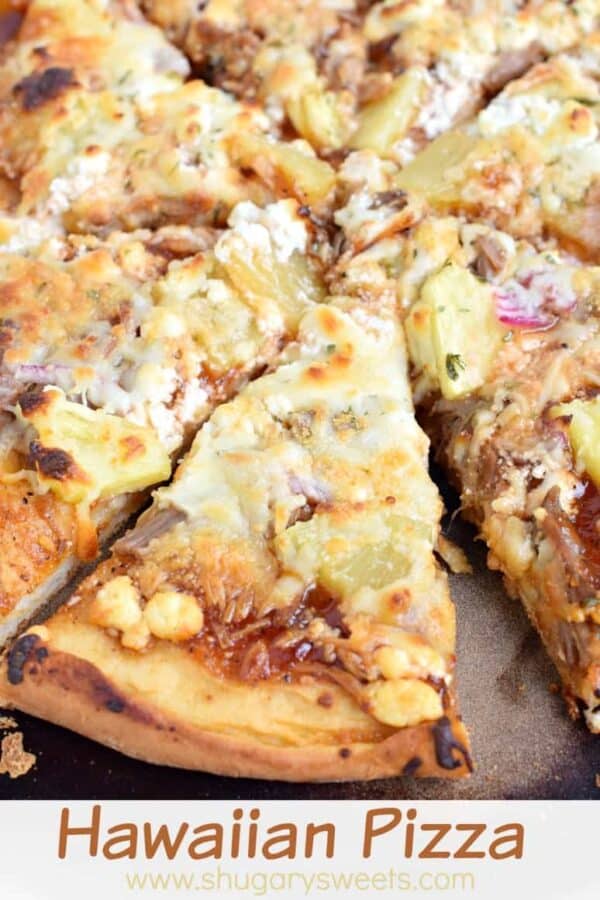 Why this Recipe Works
As promised, I've got a delicious Hawaiian Pizza recipe that uses up your leftover Kalua Pork.
Of course, any pulled pork leftovers would work, but the smokiness of Kalua Pork pairs nicely with the pineapple, creamy goat cheese and tangy bbq sauce!
I used my favorite homemade pizza crust recipe. It has yeast, but you don't have to wait for it to rise. Genius.
Most people think of Hawaiian Pizza as ham, bbq sauce, and pineapple.
Either the pineapple is too watery and makes the pizza soggy or the BBQ sauce is overpoweringly sweet. It's just never been my favorite pizza–until I had THIS type of pineapple pizza.
Seriously. You've GOT to try this version!
Fresh, juicy pineapple
Three Cheeses- parmesan, mozzarella, and goat cheese!
Smoky pork
Sweet vinegar bbq sauce
I've also got to put in a good word for this crust. It requires absolutely no rising time and bakes up with a beautifully crisp exterior.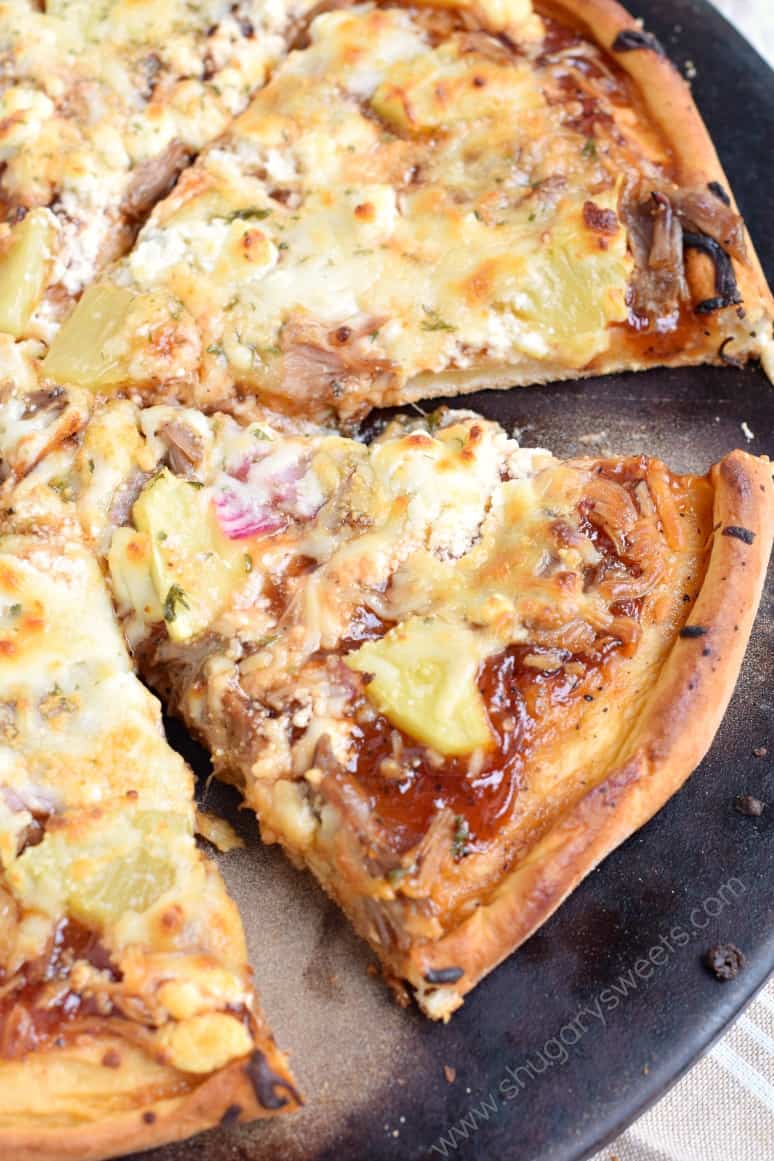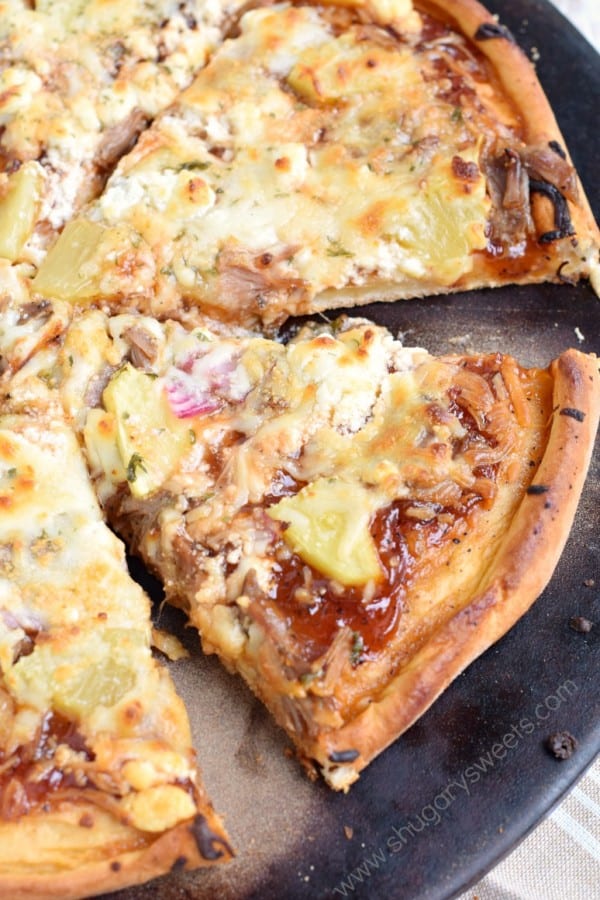 How to Make Pineapple Pizza
First, get your toppings ready! This particular style of Hawaiian Pizza calls for . . .
Pizza Crust Dough– store bought or homemade
BBQ sauce
Kalua Pork (or another variety of leftover shredded pork)
Red onion
Sliced fresh pineapple
Mozzarella, Parmesan and goat cheese
STEP 1. Pat one portion of the dough with floured hands to make a 12 inch round pizza (using a baking pizza stone or round pizza pan). Form a rim by pinching the edge of the dough.
STEP 2. Spread your BBQ sauce on bottom of each crust. Top with shredded pork, red onion and pineapple. Sprinkle pizza with three cheeses.
STEP 3. Bake in oven for 18-20 minutes, until cheese is bubbly and melted and the crust is browned. Slice and enjoy immediately!!
Tips and Tricks
This dough freezes beautifully, too, if you're not in need of two pizzas. Wrap dough in parchment paper, place in a ziploc freezer bag, and freeze until ready to use. Thaw the dough on the counter top before attempting to roll it out.
I find a vinegary BBQ sauce works best in this recipe! The tartness balances the sweetness of the pineapple and the smoky pork in a way that I find so satisfying. Carolina BBQ sauce varieties tend to the the most vinegar heavy. That said, feel free to use your family's preferred BBQ sauce here.
Need an even easier version of this recipe? Use a pre-made pizza dough! Many grocery stores sell ready made refrigerated balls of dough and often your local pizzeria will sell you a ball of their dough if you ask.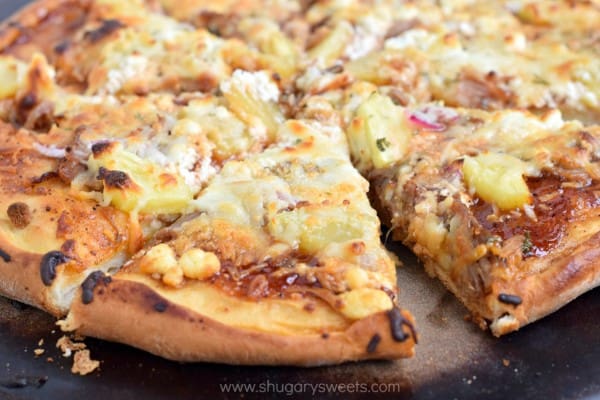 Pineapple Pizza
Whether you're a devotee of pineapple as a pizza topping or new to the whole Hawaiian pizza concept, I think you're going to be blown away by this recipe.
Hawaiian Pizza is a welcome sight at the dinner table any night of the week and is always a hit at parties, gatherings and movie nights! It would be a great addition to your menu for a Grilled Pizza Party, too!
Shake up pizza night with this out-of-this-world Hawaiian Pizza!