Hawaiian Pizza
Delicious Hawaiian Pizza using Kalua Pork, goat cheese, bbq sauce and more! Even the crust is easy to make for this incredible dinner idea!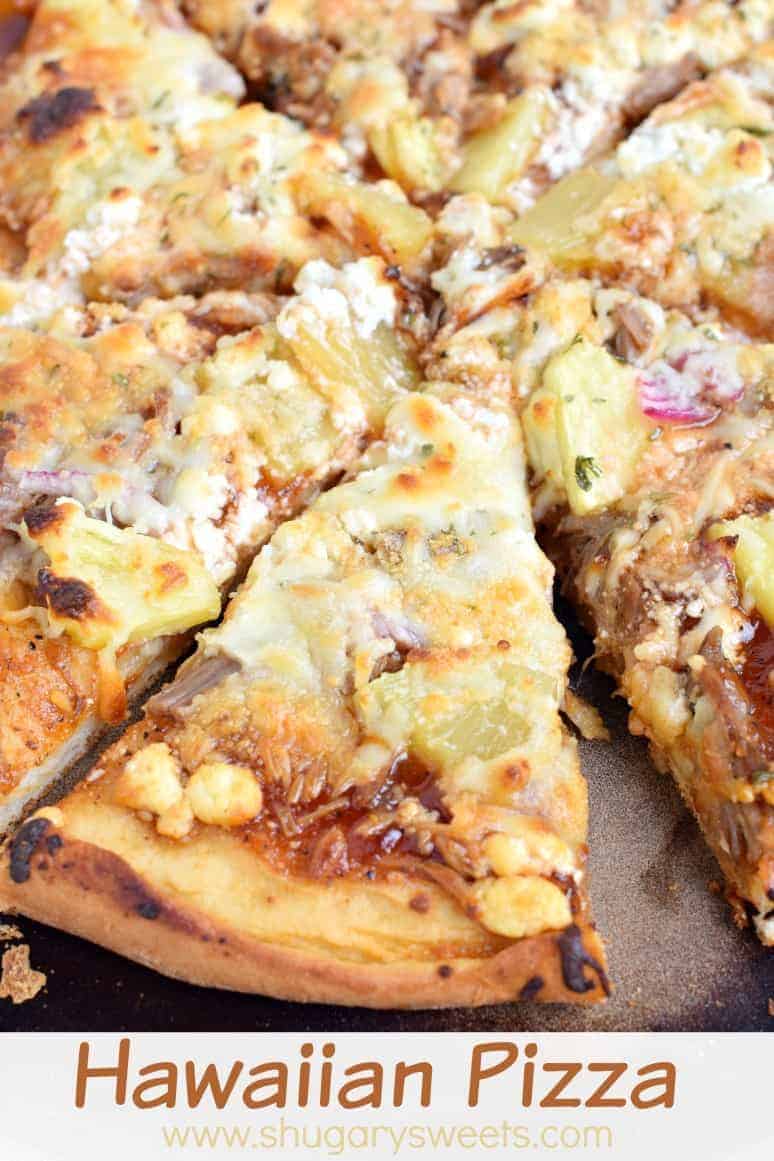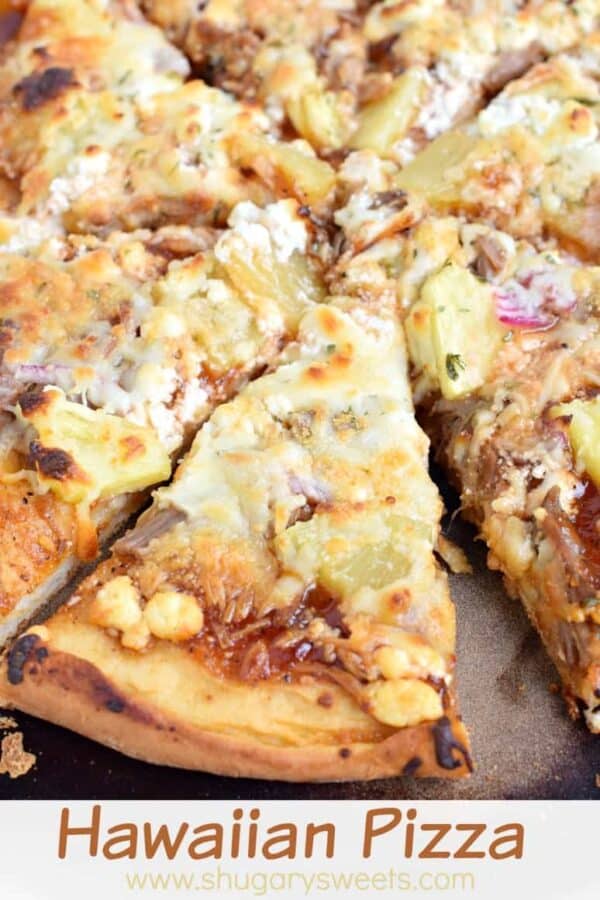 As promised, I've got a delicious Hawaiian Pizza recipe that uses up your leftover Kalua Pork. Of course, any old shredded pork leftovers would work, but the smokiness of Kalua Pork pairs nicely with the pineapple, creamy goat cheese and tangy bbq sauce!
One of the best tips we had on our Hawaiian vacation came to us while we were up in the trees ziplining off of Haleakala (aka East Maui Volcano). Our guides were fun and knowledgeable. We loved every minute of it (well, some of us loved every minute…some of us hated those first minutes before jumping off the ledges).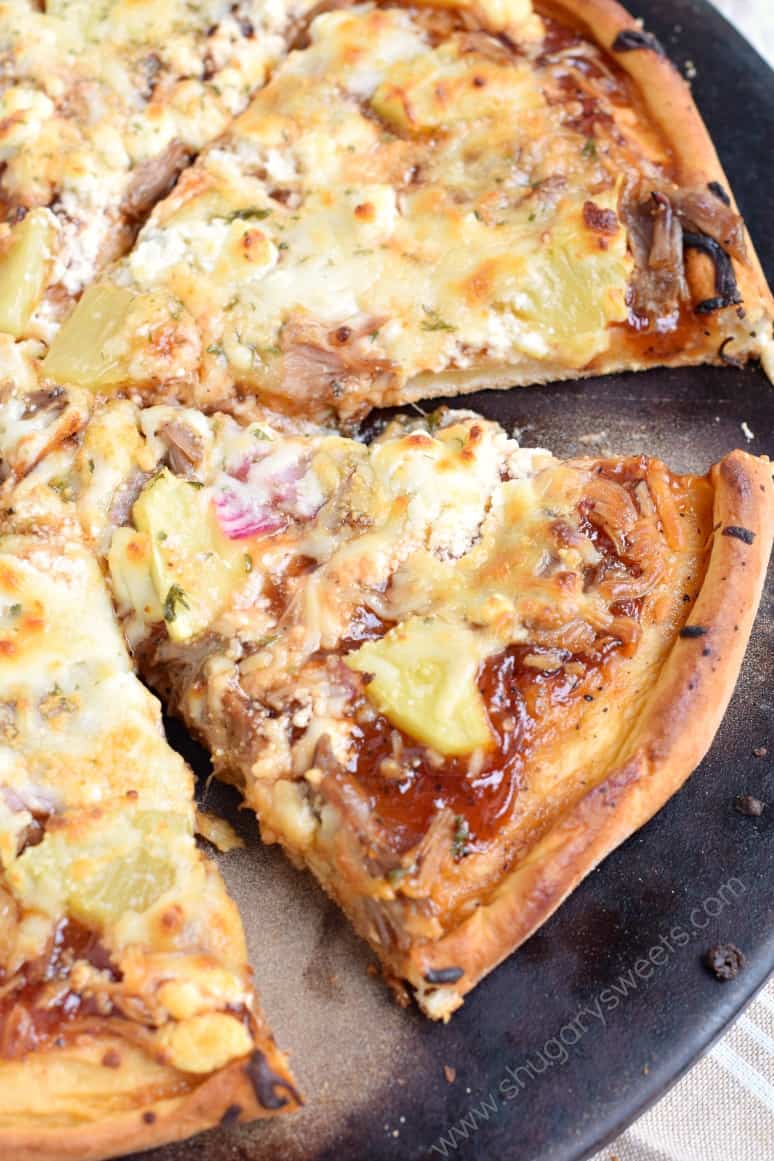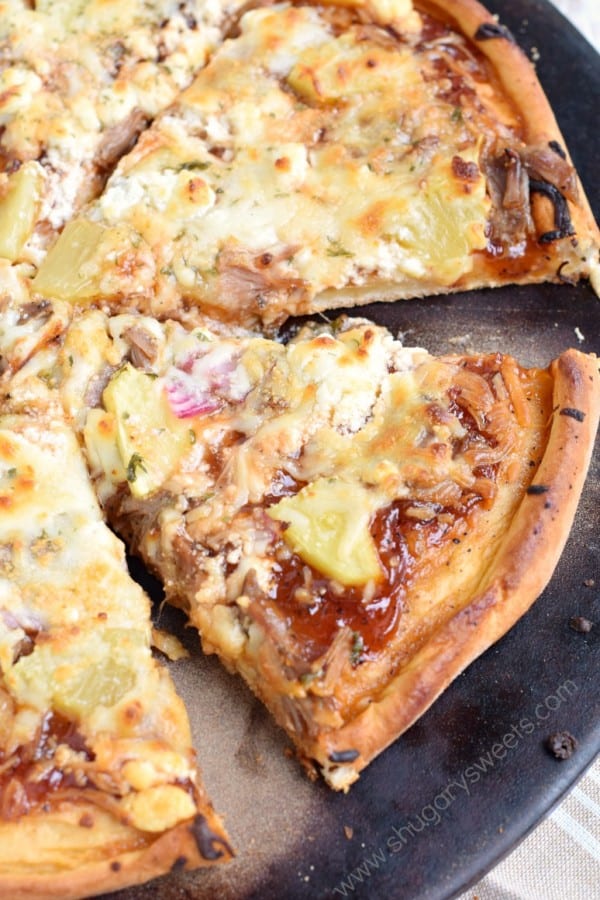 Back to my story….our zipline adventure was in the afternoon. So we knew we were going to be hungry for dinner. Who better to ask than some locals!? They recommended we head up to Ho'okipa Beach to check out the sea turtles coming to shore, and then head to Paia to a place called Flatbreads, for food.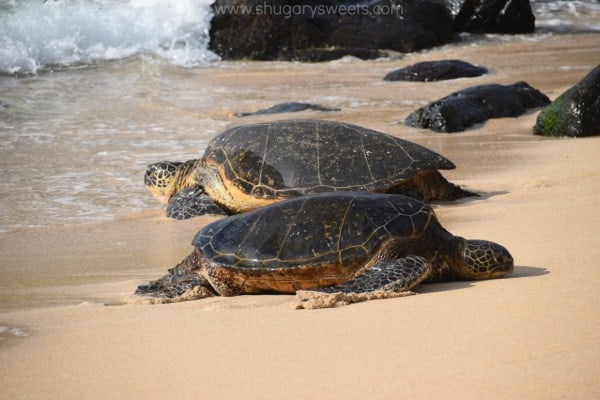 Best decision ever. It was about 20 minutes North and out of our way, but I'm so glad we went with their suggestion. First, to see those sea turtles coming out of the water, was spectacular. And to be up close to them, was just breath taking. (yes, you can see just how close we were, I took that picture above just a few feet away from these creatures). We watched them for a long time before our stomachs were growling so loud. From there we headed to Flatbreads and ordered about one million different flavors of pizza. All of which were amazing. Of course, we finished off our meal by getting some gelato at a place next door!
One of the flatbreads we ate, was called Mopsy's Kalua Pork. And in my attempt to recreate this masterpiece, I've got a delicious version for you today.
Of course, I used my favorite homemade pizza crust recipe. It has yeast, but you don't have to wait for it to rise. Genius.
You could use those store bought flatbreads…or make your own…which would make this recipe even closer to the original. But I went with what I know. And it was delicious!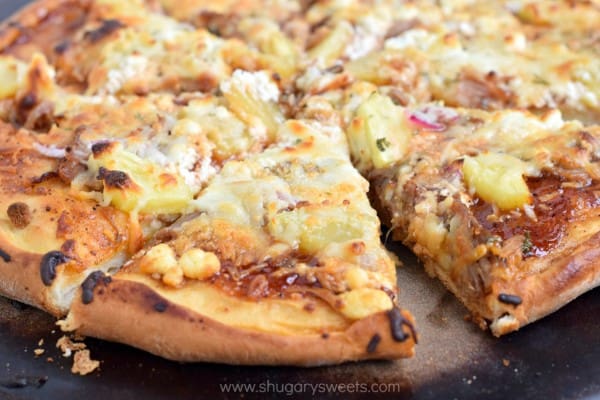 Most people think of Hawaiian Pizza as ham, bbq sauce, and pineapple. But you've GOT to try this version.
The creamy goat cheese with parmesan and mozzarella is enough to melt in your mouth. But paired with the smoky pork and the sweet vinegar bbq sauce, and the sweet fresh pineapple…this pizza is out of this world!
The crust makes enough for TWO 12-inch pizzas. The recipe below is for one Hawaiian pizza. You can use the other crust to make another favorite for your family! Or freeze the dough for a future pizza night. Or double the toppings and make TWO Hawaiian pizzas.
More DINNER Recipes:
Yield: 1-12inch pizza
Hawaiian Pizza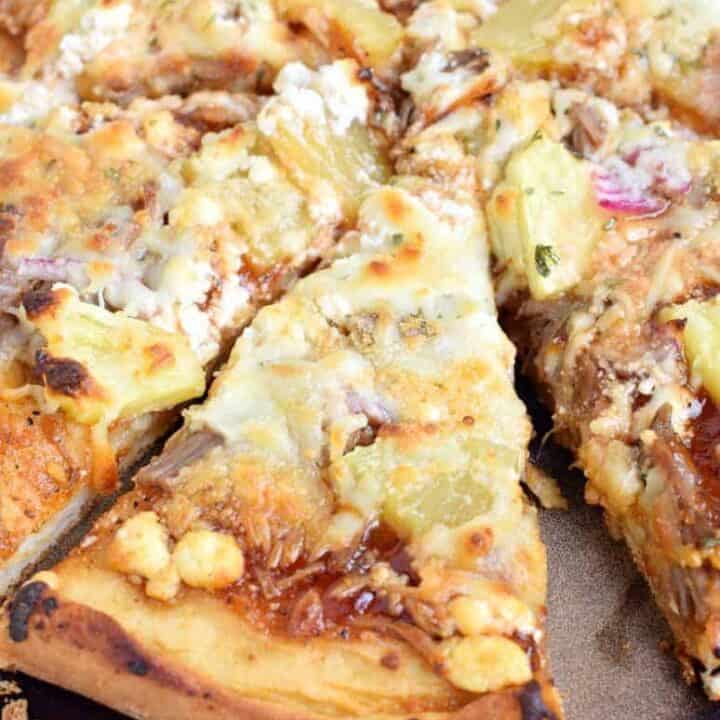 Pineapple Pork Pizza for an authentic Hawaiian Pizza taste!
Ingredients
For the crust (makes two crusts):
3 1/2 cup all-purpose flour
1 envelope rapid rise yeast
1 1/2 Tbsp granulated sugar
1 1/2 tsp kosher salt
1 1/3 cup very warm water (120-130 degree F)
1/3 cup canola oil
For the topping (for one pizza):
3/4 cup BBQ sauce (use your favorite)
1 cup cooked Kalua Pork (we love using our leftover shredded pork on pizza)
1/4 cup sliced red onion
1/3 cup sliced fresh pineapple
1 cup mozzarella cheese, shredded
1/4 cup goat cheese, crumbled
2 Tbsp parmesan cheese
Instructions
For the crust:
Preheat oven to 425 degree F.
In a large bowl, combine 2 cup of all-purpose flour, undissolved yeast, sugar and salt. Add very warm water and oil, mixing until well blended. (I used my electric mixer with paddle attachment). Gradually add the remaining flour to make a soft dough. The dough should form a ball and will be slightly sticky. Knead dough on a floured surface until smooth and elastic, for about 4 minutes (I used my electric mixer with dough hook attachment for this part instead, it worked great!!). Divide dough in half and cover with a clean dry towel until toppings are ready. No need to allow this to rise! This makes TWO pizza crusts. Use one for the hawaiian pizza, and use the second for your pizza of choice!
To assemble:
Pat each portion of dough with floured hands to make a 12inch round pizza (using a baking pizza stone or round pizza pan). Form a rim by pinching the edge of the dough.
Spread your bbq sauce on bottom of one crust. Top with shredded pork, red onion and pineapple. Sprinkle pizza with three cheeses.
Bake in oven for 18-20 minutes, until cheese is bubbly and melted and the crust is browned. Slice and enjoy immediately!!
Use the second crust to make an additional pizza (doubling the toppings above if you want another Hawaiian pizza). Or wrap dough in parchment paper, place in a ziploc freezer bag, and freeze until ready to use (thaw on counter or in fridge until soft).
Notes
**To get a nice crispy crust, slide the pizza off the baking pan for the last 5 minutes and allow to bake directly on the rack!**
Nutrition Information:
Yield:
8
Serving Size:
2 slice
Amount Per Serving:
Calories:

571
Total Fat:

19g
Saturated Fat:

5g
Trans Fat:

0g
Unsaturated Fat:

12g
Cholesterol:

34mg
Sodium:

870mg
Carbohydrates:

68g
Fiber:

2g
Sugar:

24g
Protein:

16g
*Nutrition facts are an estimate and not guaranteed to be accurate. Please see a registered dietitian for special diet advice.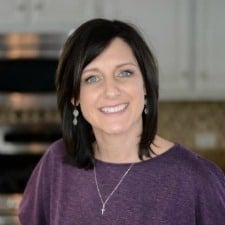 Aimee is a dessert lover (specifically rice krispie treats), workout enthusiast, self-taught foodie, and recipe creator. Her recipes have been featured in over 15 magazines, and her passion is to share her love of cooking with the everyday home cook! Learn more about Aimee.