Learn how to make perfect Huli Huli Chicken on the grill. Marinated in a tangy sweet sauce with garlic and ginger, this easy chicken recipe is a perfect main dish for your next grill night!
No meal is complete without dessert. Bake up a batch of these Skinny Pineapple Cupcakes to make your summer time dinner complete. Serve up our favorite potato salad with today's chicken for a complete meal.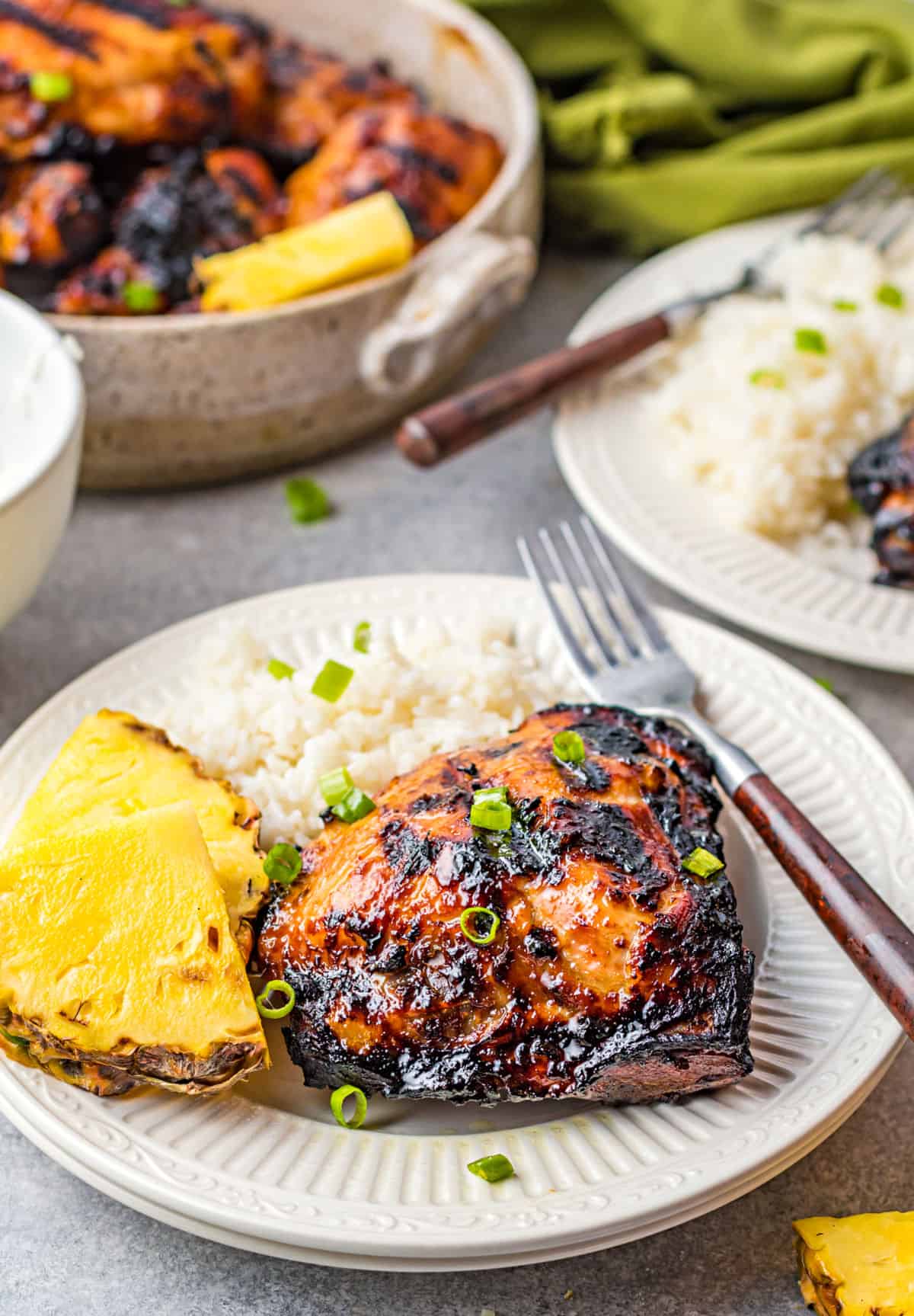 What is Huli Huli Chicken
Huli Huli Chicken is a Hawaiian dish made with a sweet marinade, similar to Teriyaki.
Traditional versions of Huli Huli Chicken call for a whole chicken to be spit roasted over a grill fire. Our easy variation uses chicken thighs and legs, marinated, then cooked on the grill top.
This Huli Huli marinade is a delicious balance of sweet, sour and garlicky.
Perfect for meal prepping. Toss the marinade ingredients together the night before to let the chicken soak up all those delicious flavors.
Cook marinated chicken on the grill and serve with all your favorite sides. So easy!
Love hawaiian inspired meals? Try our Hawaiian Pork in the Instant Pot or give our classic Kalua Pork recipe a try next.
Ingredient Notes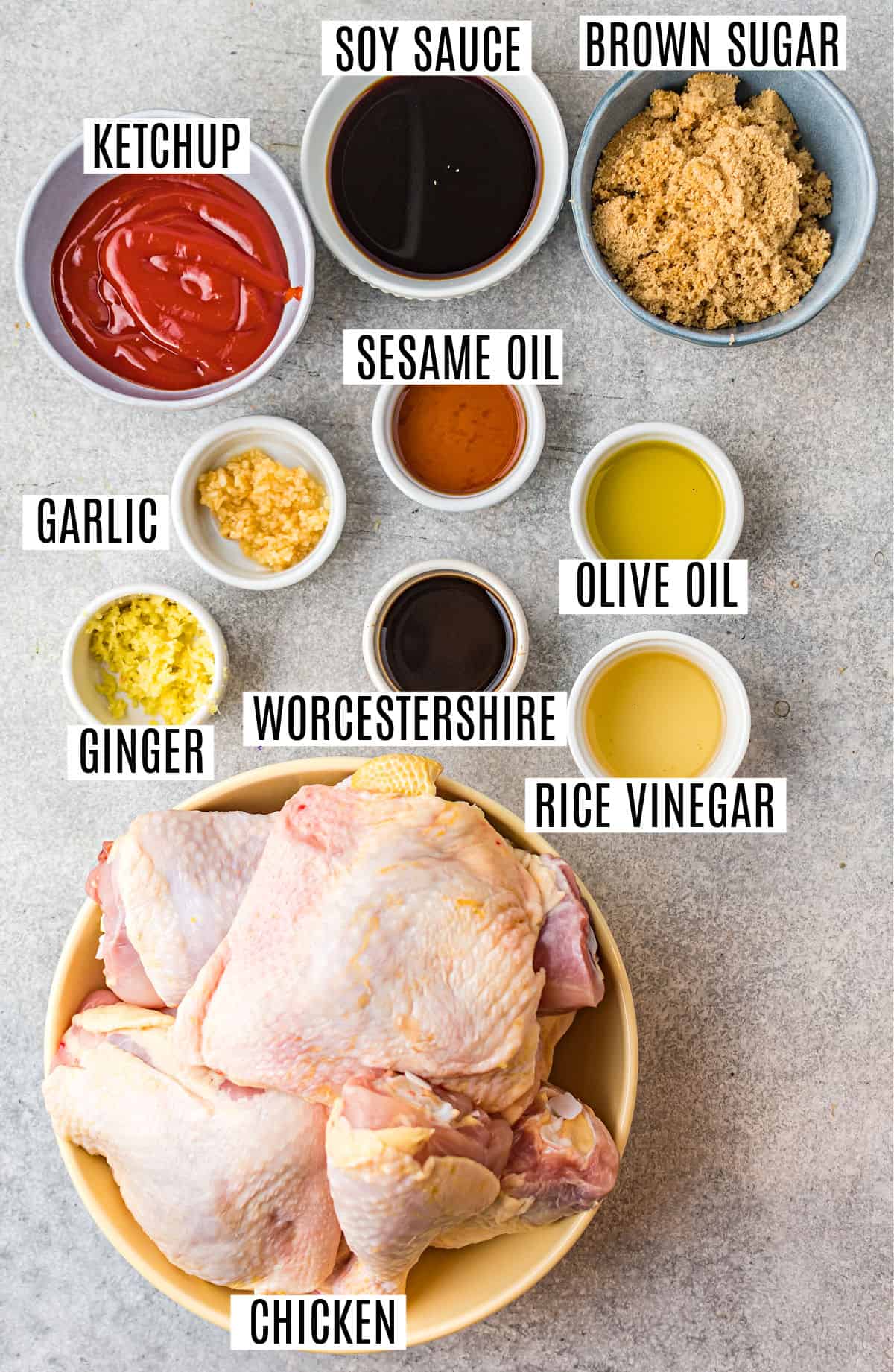 Chicken. We use a combination of bone-in legs and thighs for our Huli Huli chicken recipe.
Soy sauce. Low sodium soy sauce or tamari can be substituted.
Fresh ginger. It should be peeled grated before adding to the marinade.
Garlic. Use fresh garlic cloves, peeled and minced for best flavor.
Rice vinegar. This adds a wonderful extra tang to the marinade. Make sure to use unseasoned rice vinegar, as some brands have added flavor ingredients.
Grill Instructions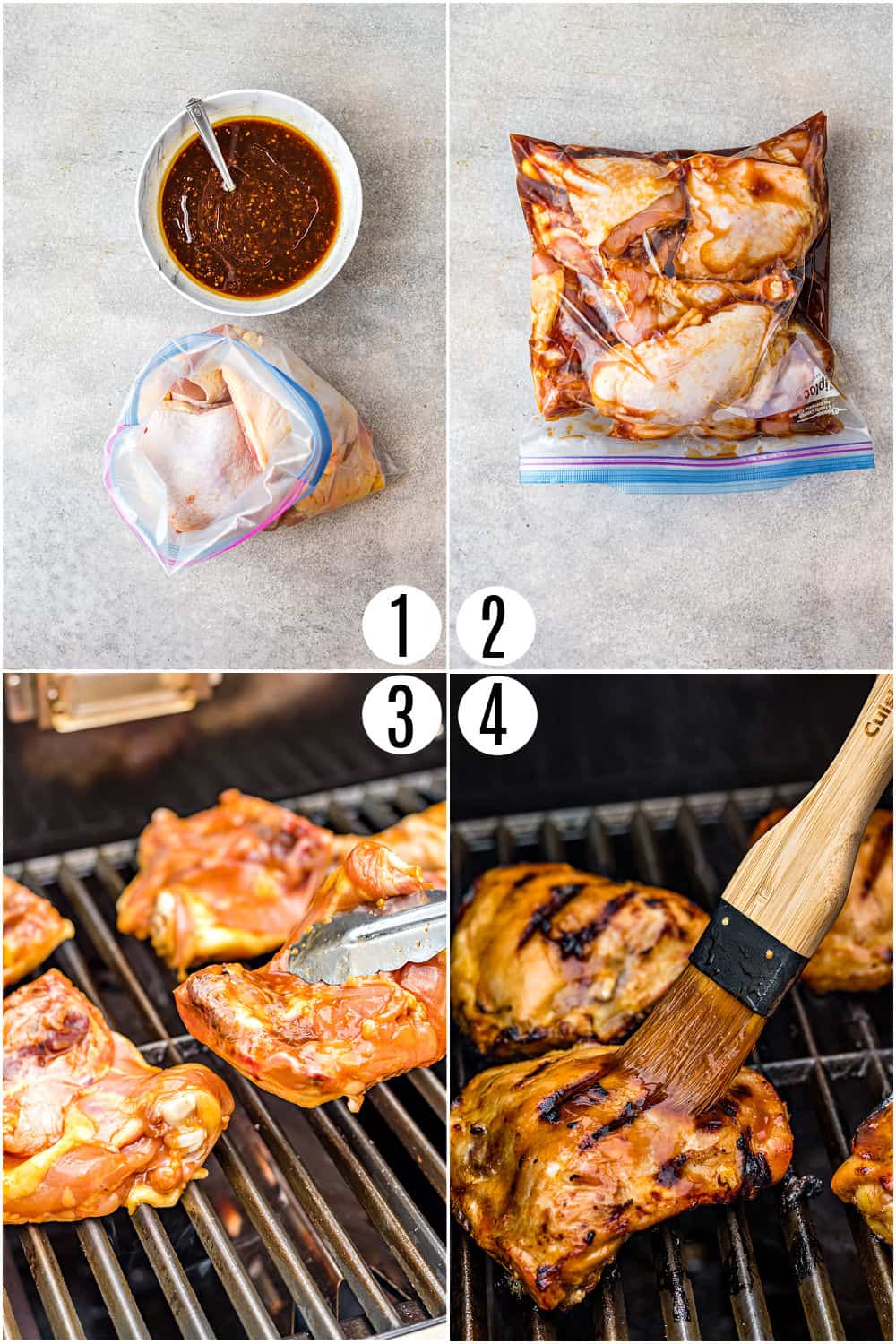 Marinade. The longer you allow the chicken to sit in the marinade the better (up to 24 hours). I usually try to make it in the morning before work, then it's ready to cook at dinner time.
Remove the chicken from the marinade.
Add it to a preheated grill over medium heat and cover. When the chicken legs and thighs have developed grill marks, turn them over.
Continue cooking, turning the chicken and basting with reserved marinade every five minutes.
After 25 – 30 minutes, use a meat thermometer to check for doneness. When cooked to 165 degrees F remove the chicken from the grill and serve.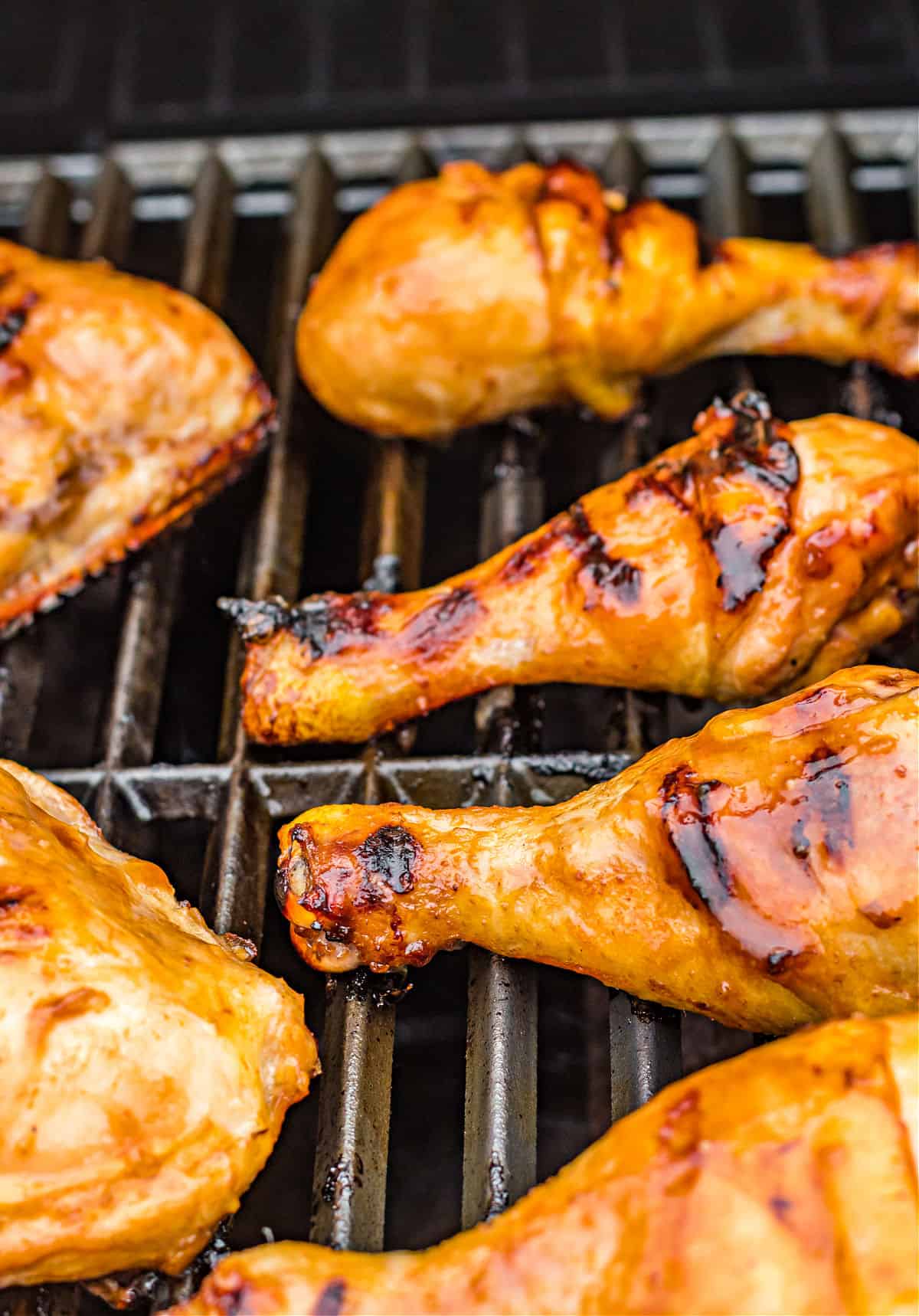 Tips and Tricks
Clean your grill! A dirty grill can ruin the flavor of even the best recipes. If needed, use a non-metal scrubber to remove leftover burnt debris.
Greasing the grill. Before firing up your grill, dip a paper towel in vegetable oil and rub over the grate over your grill to prevent sticking.
Baking option: No grill? Try baked Huli Huli chicken instead! Bake at 425 degrees, turning and basting every 10 minutes until cooked through.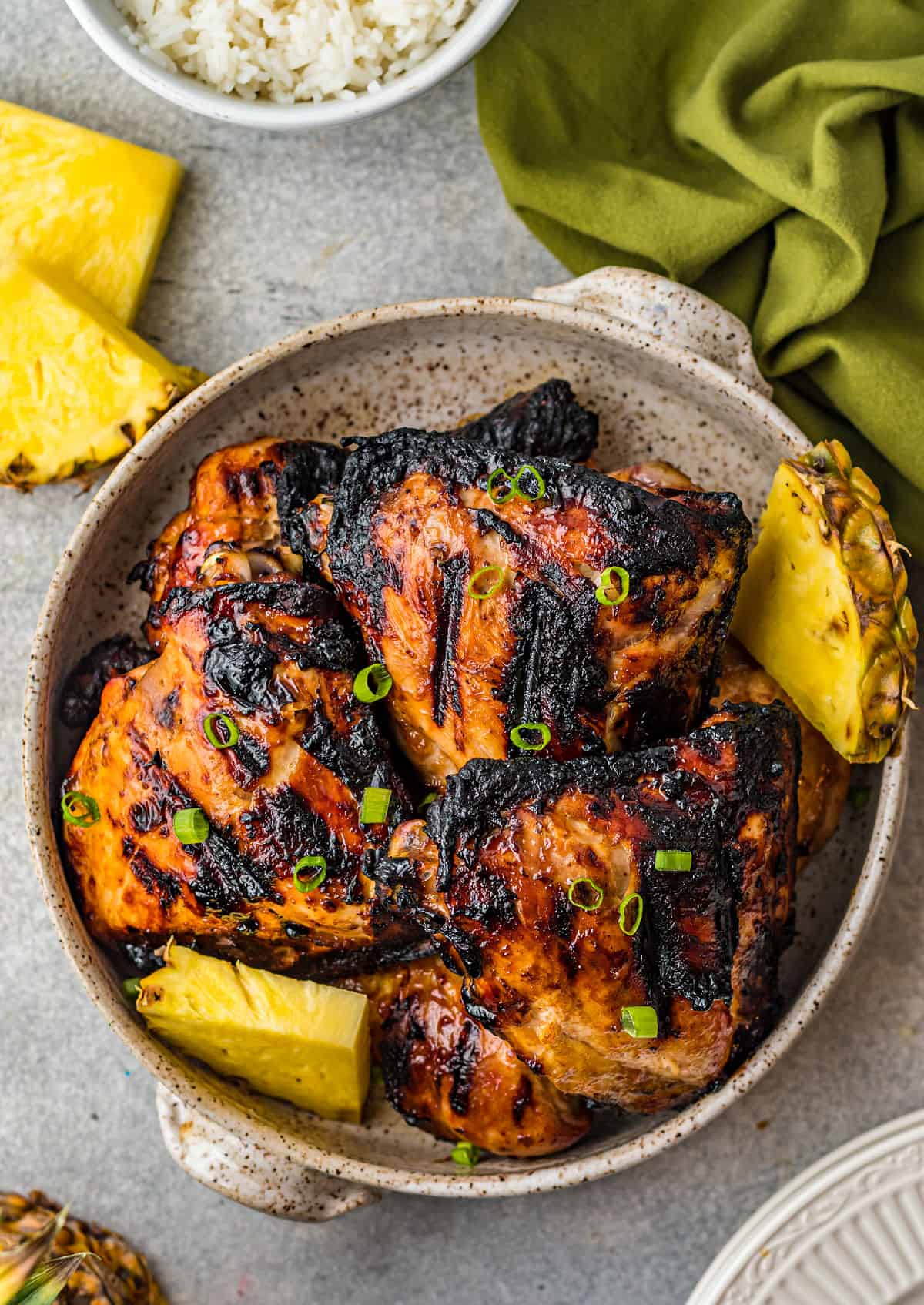 Recipe FAQs
I'm short on time! Do I have to let Huli Huli Chicken marinate over night?
Not at all! You can allow the chicken to marinate for about an hour or so before cooking. It's still delicious. The longer it marinates, the more flavor of the sauce the chicken soaks up.
How do I know when grilled chicken is done?
Stick a meat thermometer in the thickest part of each chicken piece. When the internal temperature reads between 165 degrees F, chicken is fully cooked and safe to eat.
What side dishes go well with Huli Huli Chicken?
Today's chicken recipe pairs beautifully with a side of simple Jasmine rice and fresh cut fruit. This Chinese Coleslaw would be tasty plated with Huli Huli chicken too. For dessert, try this Pina Colada Pound Cake!
More Easy Dinner Recipes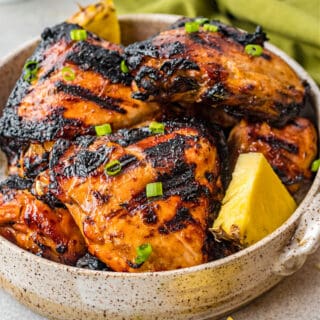 Grilled Huli Huli Chicken
Learn how to make perfect Huli Huli Chicken on the grill. Marinated in a tangy sweet sauce with garlic and ginger, this easy chicken recipe is a perfect main dish for your next grill night!
Ingredients
8

chicken thighs and legs

bone in

½

cup

packed light brown sugar

½

cup

ketchup

2

Tablespoons

rice vinegar

¼

cup

soy sauce

1

Tablespoon

worcestershire sauce

1 ½

Tablespoon

ginger

grated

1

Tablespoon

garlic

minced

2

Tablespoons

sesame oil

1

Tablespoon

olive oil
Instructions
Place the chicken in a large zip lock bag.

In a small mixing bowl, combine the remaining ingredients and stir well. Reserve ½ cup in a separate bowl for basting the meat.

Pour the remaining marinade over the chicken and shake to coat. Seal the bag, then place in the refrigerator to marinate for at least one hour or overnight.

Turn the grill on medium heat. Allow to preheat for 5 minutes.

Place the chicken on the grill and cover. Allow the meat to get some nice grill marks, then turn them over.

Cook for 25 to 35 minutes, turning every 5 minutes. Baste the chicken with the sauce each time you turn.

Use a meat thermometer to check for doneness. Test the thickest part of the meat. Chicken is cooked when it reaches 165°F. Serve immediately.
Notes
It's best to start with a clean grill. You can use a scrubber, but avoid any metal scrubbers. These can leave small shards, which, if ingested, can be very harmful.
To grease your grill, soak a paper towel in vegetable oil and rub over the grill before it is hot. If the grill is hot, turn it off, so you don't catch the paper towels on fire. Use tongs and rub the soaked paper towels over the grill.
Reserve ½ cup of the marinade for basting the chicken as it grills.
The chicken should have an internal temperature of 165°F. Use a meat thermometer to check the temperature.
Storage: Store any leftovers in an airtight container in the refrigerator for up to 5 days. You can freeze cooked, cooled meat for up to 3 months.
Nutrition
Calories:
391
kcal
,
Carbohydrates:
17
g
,
Protein:
31
g
,
Fat:
23
g
,
Saturated Fat:
6
g
,
Polyunsaturated Fat:
17
g
,
Cholesterol:
166
mg
,
Sodium:
825
mg
,
Sugar:
15
g
Our Huli Huli Chicken is an easy to make take on the popular Hawaiian recipe! Stir together a sauce, marinate and grill for an easy meal any night of the week.