I've got some delicious Grilled Pizza Party Ideas for your next get together. From the homemade pizza crust to all the toppings, I've got you covered with everything sweet and savory!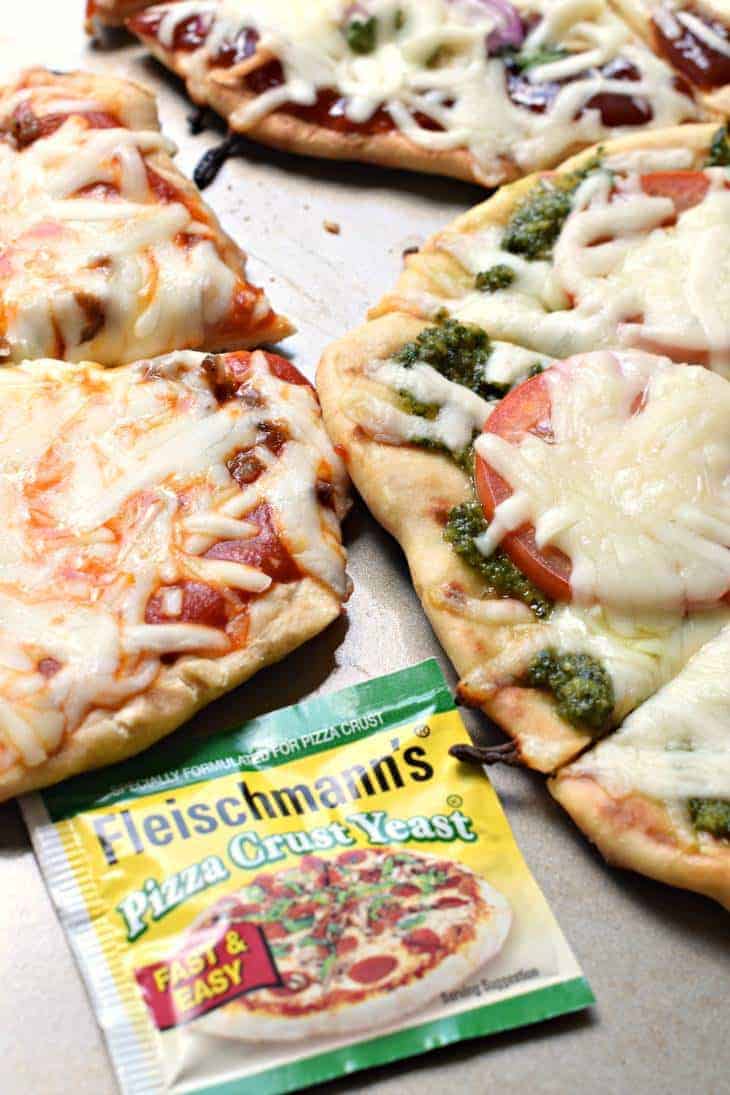 Can you believe I've never grilled a pizza before?
When I was partnered with Fleischmann's® Yeast to make a GRILLED PIZZA recipe, I'll admit I was little excited and nervous! I am no stranger to yeast recipes (remember this Cinnamon Maple Coffee Cake and these Garlic Parmesan Dinner Rolls??).
Even with my experience using yeast, I couldn't help but worry about how it would turn out on the grill!
But, let me tell you guys, it was easier than I thought!
The crust turned out perfect. It was chewy, yet crunchy and delicious. Even the kids loved it!
We used the Fleischmann's® Pizza Crust Yeast, which required ZERO rising time!
Each crust recipe made 8 (6 to 8-inch) pizzas, which was plenty for our hungry family of 5! You can make a second batch of crust for your dessert pizzas (YES, dessert pizzas!!!!).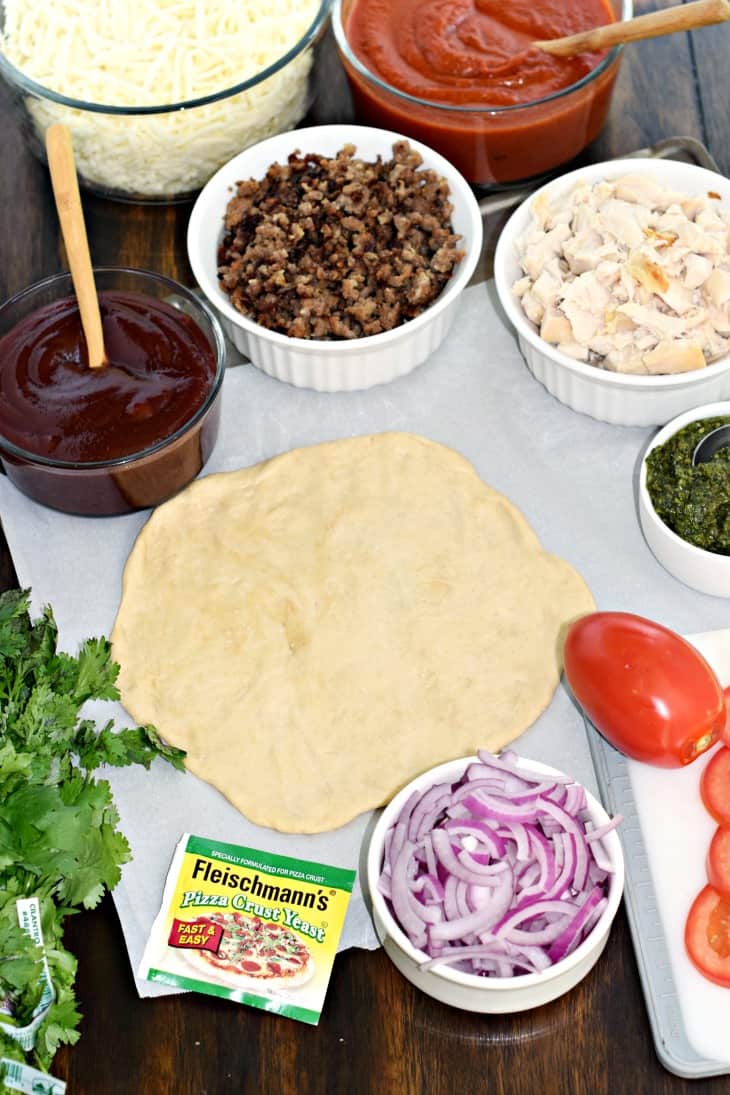 To add to the "fun" I set up a table filled with a variety of toppings to choose from, so we could all customize our own pizzas.
Because, everyone knows kids are more likely to eat something if you give them choices. Plus, they get to help make it, and it involves PIZZA!!!
We made 3 savory pizzas…
Tomato Pesto Pizza
Using my favorite basil pesto recipe as the "sauce", we added some sliced tomatoes, mozzarella and parmesan cheeses and cooked them to perfection with the basic Grilled Pizza crust recipe below!
This was my favorite of all the pizzas, but I'm a little biased as I could eat pesto with a spoon and be happy.
My youngest made one similar but added some of the cooked chicken to hers-also delicious!
It reminded me of our favorite Chicken Pesto Pasta recipe!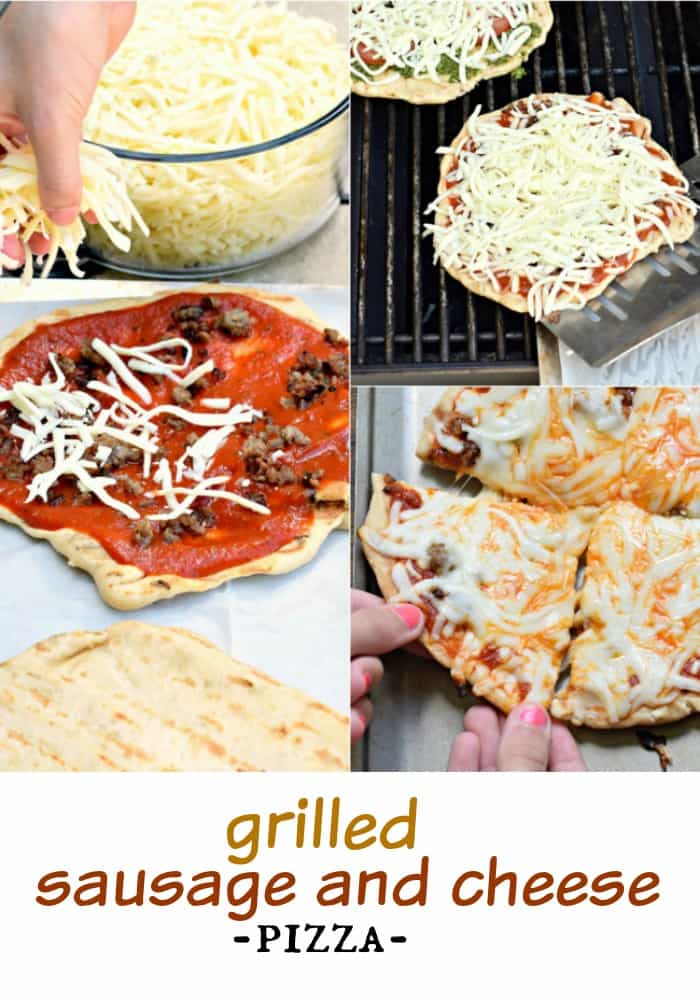 Cheese and Sausage Pizza
Traditional yet delicious this is the topping combination everyone knows and loves paired with your basic Grilled Pizza crust recipe.
If you want to have a Grilled Pizza Party but want to limit the toppings to one sauce, using this basic pizza crust recipe with a pizza sauce, mozzarella cheese and served with an assortment of toppings (sausage, pepperoni, mushrooms, green peppers, tomatoes, onions, etc).
And of course, for your pickier eaters, a plain cheese pizza is perfect.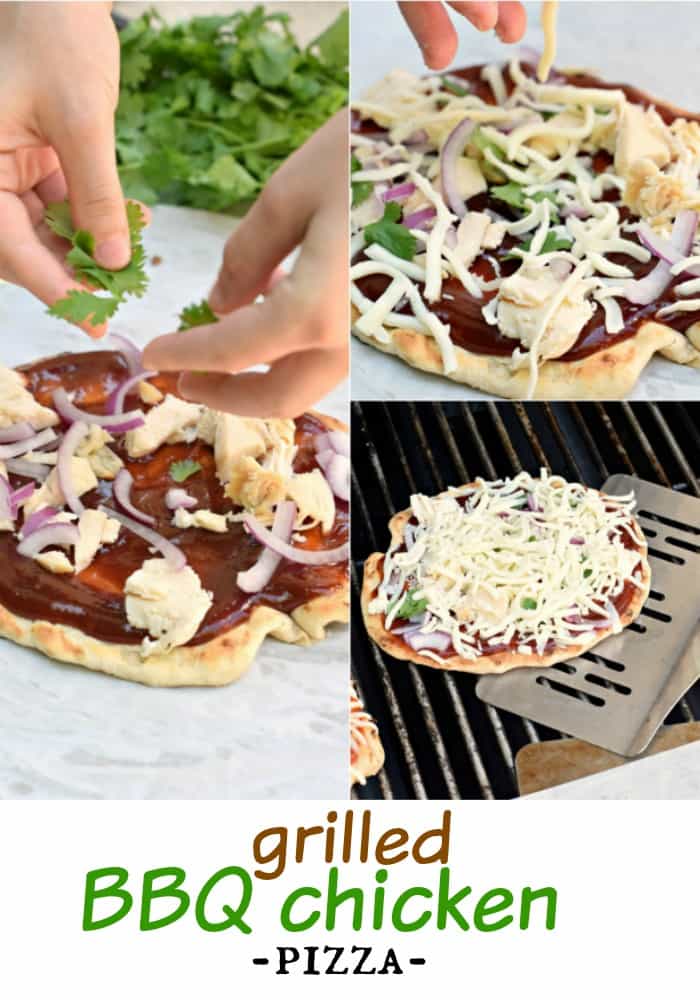 BBQ Chicken Pizza
With the basic pizza crust as our base, we topped this delicious pizza with some of our favorite barbecue sauce, grilled chicken, sliced red onions, mozzarella cheese and a sprinkle of fresh cilantro.
Oh my word, it turned out perfect!
Adding in some chunks of pineapple could have made it even better!
Tasted similar to my favorite Hawaiian Pizza, but easier to make!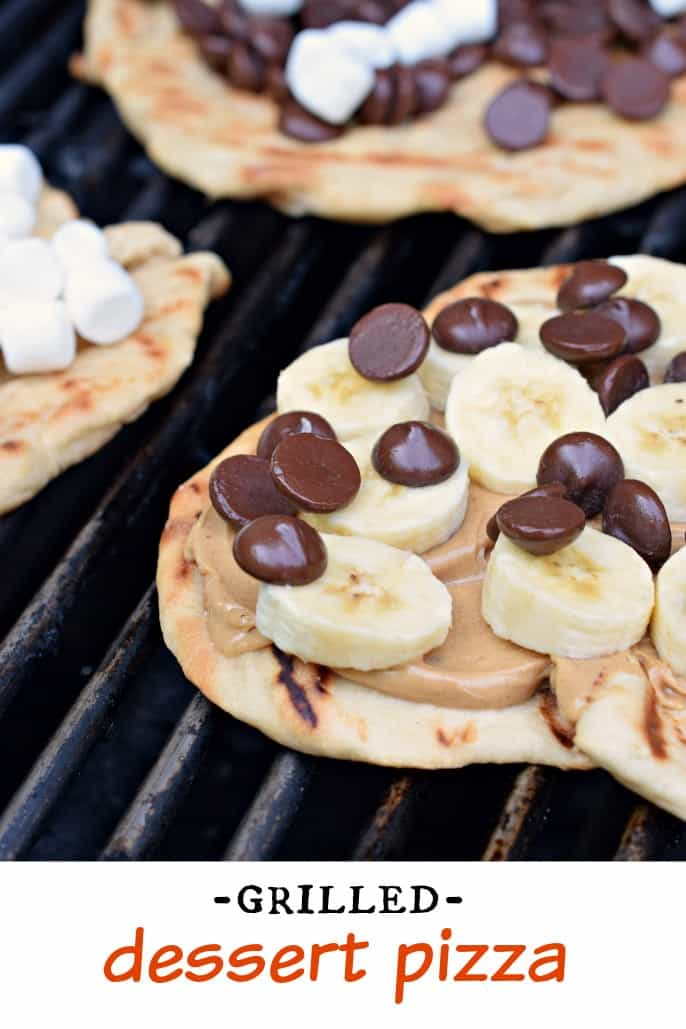 Dessert Pizzas
After we made our savory pizzas, of course we had to take the next step and whip up a few dessert pizzas!
For these, we grilled the crust on both sides first.
Dessert toppings don't take long to heat, so making sure the crusts were fully cooked was important.
Once cooked, remove from the grill and add your toppings.
We chose peanut butter, chocolate chips, chocolate bars, bananas, and marshmallows this time around, but I would love to try it again as a banana split pizza (just add some strawberries and pineapple!!).
These DESSERT Pizzas are so easy and delicious, the kids LOVED helping put their own toppings on their own pizzas!
What other flavors would you enjoy?