Pepperoni Pizza Hand Pies are ready in minutes with a handful of ingredients! Flaky pastry is filled with cheese and pepperoni for a perfect picky-eater-approved dinner.
Refrigerated pie crust is the start to many of my family's favorite meals, from Chicken Pot Pie to these hand pies!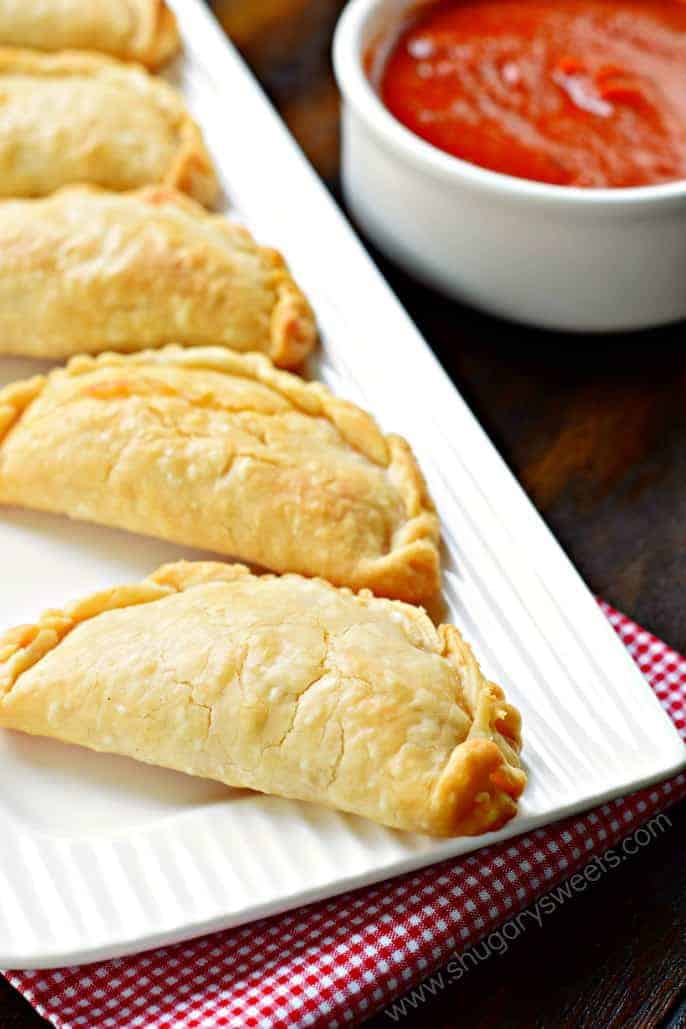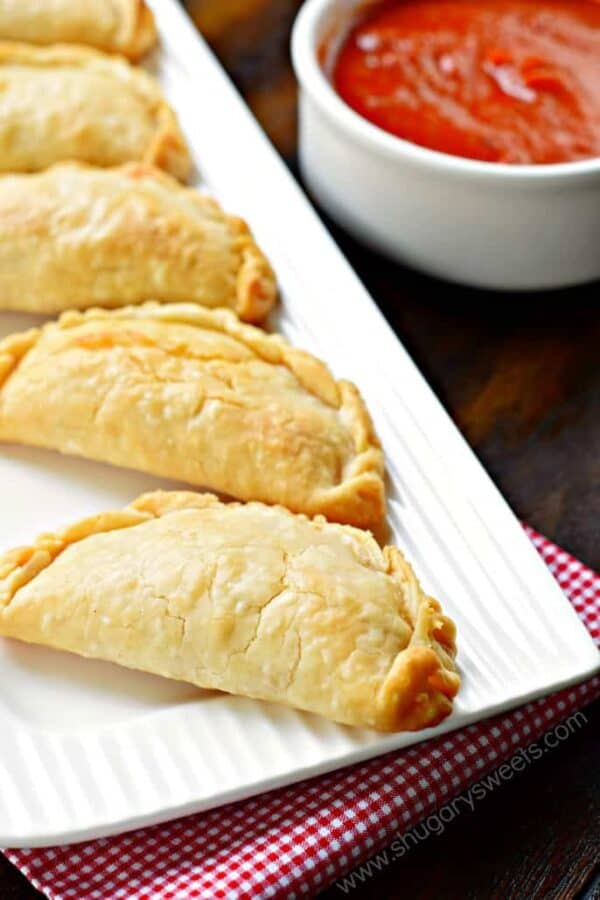 Why This Dinner is Best
Pizza Hand Pies are an amazing dinner hack! You'll love this recipe on busy weeknights but these hand pies are perfect for parties and get-togethers, too.
Have you ever panicked realizing you have no idea what to make for dinner? A quick check of the fridge reminds you it's been a while since your last grocery run.
Instead of reaching for the phone to order a subpar pizza that may or may not arrive on time, make Pepperoni Pizza Hand Pies!
Like a cross between a calzone and a pizza roll, these savory hand pies are hot, flavorful and loaded with cheese!
Ready in 30 minutes.
Kids LOVE these hand pies.
Budget friendly recipe.
Dip them into your favorite pizza sauce!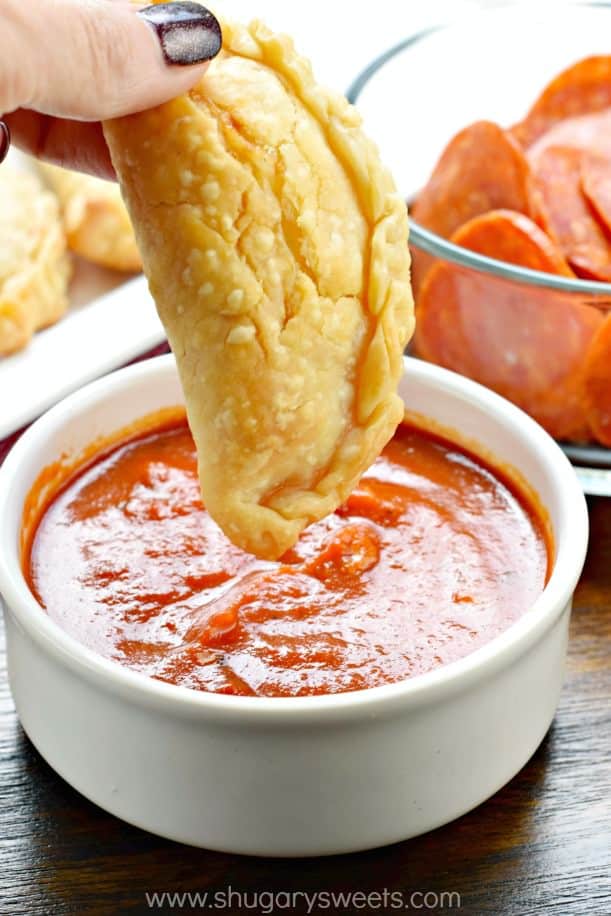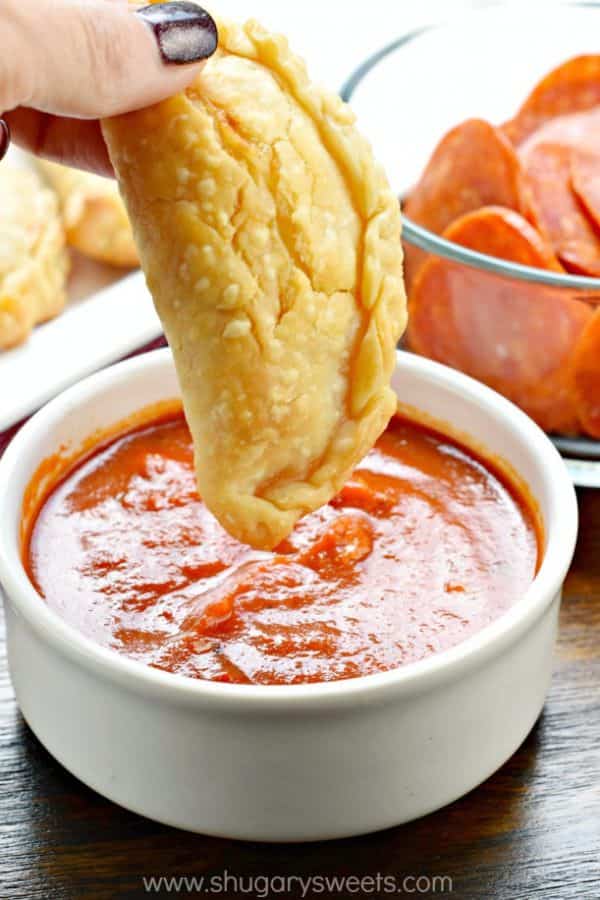 Just a Couple Ingredients
Want to know my very favorite thing about this hand pie recipe?
You only need THREE ingredients.
Refrigerated pie crust
Mozzarella cheese
Pepperoni
I also open up a jar of pizza sauce to serve with these hand pies for a grand total of four ingredients. Not bad for a homemade dinner!
Easy Instructions
It's so easy to make pizza hand pies, you can almost do it in your sleep!
STEP 1. Unroll the pie crusts. Use a biscuit cutter to cut each crust into 6 circles.
STEP 2. Add fillings. Put about 3 pepperoni into the center of each circle. Sprinkle a pinch of grated cheese on top then fold the edges of the crust together.
STEP 3. Bake until browned. This takes about 13 minutes in my oven.
Serve with pizza sauce or spaghetti sauce for dipping!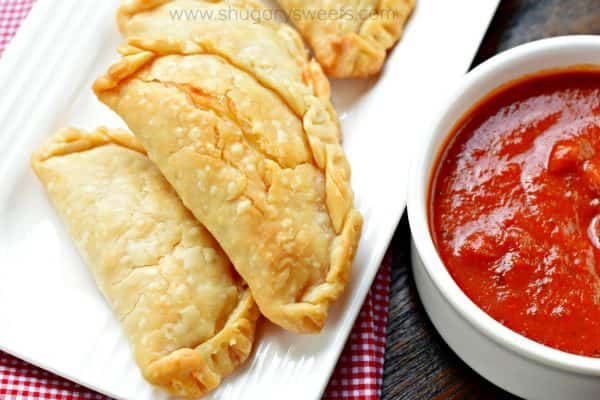 Recipe FAQs
What can I substitute for mozzarella?
Shredded parmesan cheese or a mild white cheddar cheese would be a delicious alternative to mozzarella in pepperoni pizza hand pies. Or use a combination of your favorites!
What other fillings can I put in pizza hand pies?
You can fill your pizza hand pies with all kinds of delicious veggies or meats, not just pepperoni. Instead of pepperoni, try mushrooms, peppers or olives inside of these hand pies (or a mix of all 3!). Spinach, tomatoes and cooked sausage are more good choices. Just make sure not to over fill the hand pies. You need to be able to fold the edges together and seal them with the tines of a fork without the crust breaking.
Can I put the pizza sauce inside the hand pies instead?
Yes, these pepperoni pizza hand pies are also tasty with the sauce baked right inside. The only reason I leave it out is because kids tend to burn their tongue on the hot sauce.
What side dishes go well with pizza hand pies?
Turn your pepperoni hand pies into a complete meal by adding sliced fresh veggies, fruit or an green salad with homemade dressing on the side.

Can these be made ahead of time?
To make these ahead of time, roll out and fill the pie crust, then store unbaked hand pies in the refrigerator until ready to bake and eat (up to 24 hours).
You can also freeze the unbaked hand pies! Store them in a freezer safe container and bake from frozen. No need to thaw first. It's the convenience of frozen pizza rolls meets the superior taste of homemade pizza!
How do I store them?
Pizza hand pies are best enjoyed fresh within a few hours of baking, but if you have leftovers, wrap them up tightly and store them in the fridge for up to 3 days.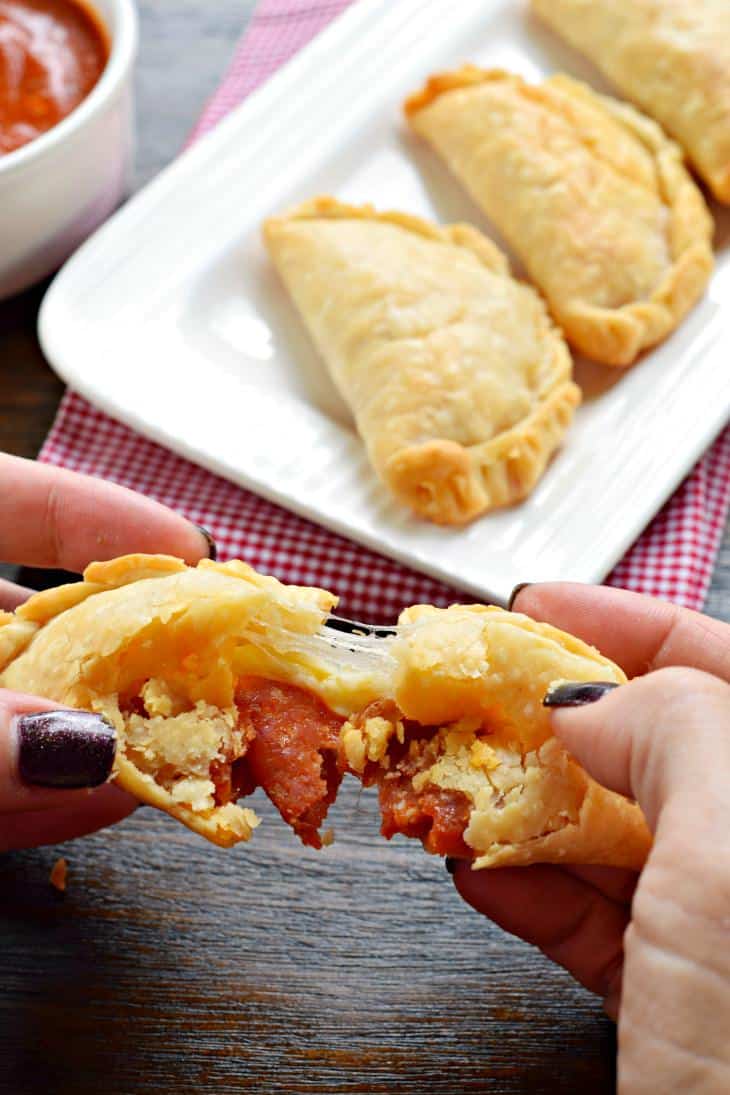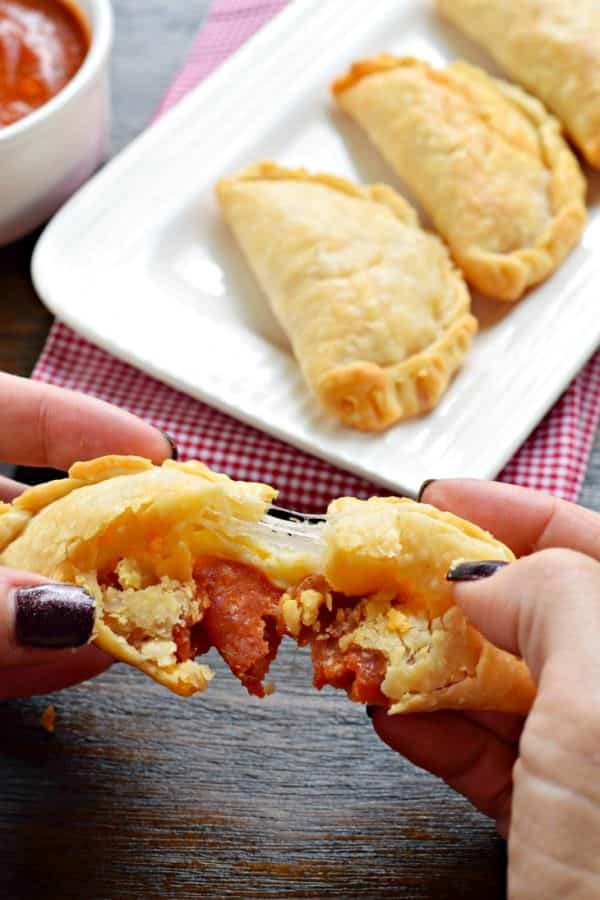 More hand pie recipes
These Strawberry Hand Pies are the perfect dessert. And in about 30 minutes, you'll have one of these delicious baked treats in your hands! Great for Valentine's Day too!
Dessert is ready in 30 minutes with these Glazed Peach Hand Pies! The flaky crust and spicy cinnamon filling are the perfect combo in a hand pie, plus they're baked not fried!
Easy, 3 ingredient, Oven Baked Lemon Hand Pies Recipe: flaky, baked hand pies with a sweet lemon filling! Don't forget the dusting of powdered sugar on top!
These Glazed Apple Hand Pies are the perfect fall treat. And in about 30 minutes, you'll have one of these delicious baked treats in your hands!
If you love pizza but don't have time to make a whole pie from scratch, these Pepperoni Pizza Hand Pies are bound to become your favorite easy dinner idea!