Oozing with cheese and stuffed with sausage, Chicago Style Deep Dish Pizza made at home will turn any dinner time into a party. 
Love Chicago? Try our homemade Italian Beef and Chicago Style hot dogs too!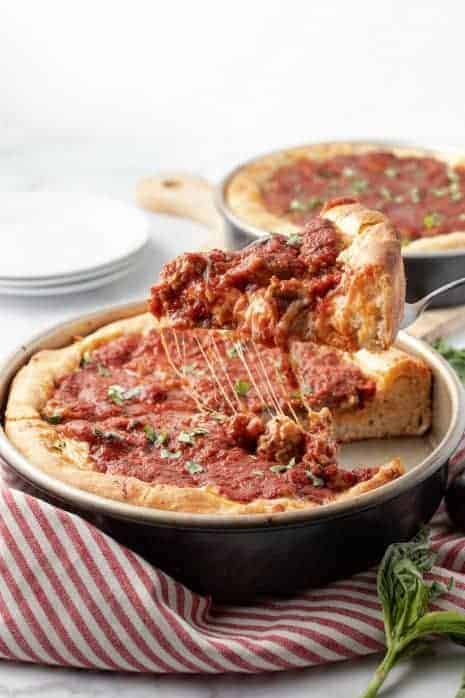 What is Chicago style pizza?
You don't need to travel all the way to the Windy City to enjoy a deep dish pizza. For cheese and meat lovers, Chicago style pizza is the ULTIMATE meal.
This is pizza you eat with a fork and best shared with lots of friends and family who can "Oooh" and "Ahhh" and "Mmmm" with you while you devour your deep dish pie.
Chicago style pizza is not your standard pie from the pizza delivery shop.
Instead of rolling the dough thin onto a pan, you shape it into a deep pie pan or cake pan. After layering cheese, meat and sauce over the dough, you bake the pie until bubbly.
It's no more difficult to make than other kinds of pizza and oh so satisfying to dig into with your fork.
The best deep dish pizza starts with a good homemade pizza dough made with both bread flour and all-purpose flour. Browned sausage, and a rich homemade tomato sauce complete the pizza along with a generous amount of shredded cheese.
Easy Instructions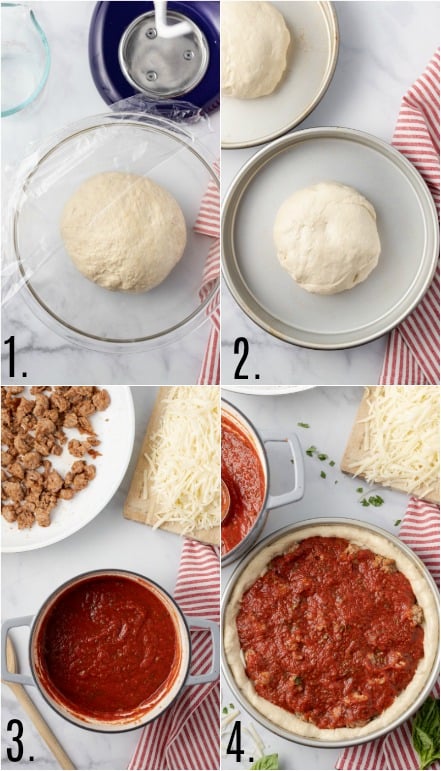 STEP 1. Make the Pizza Dough
In a large mixing bowl, combine, flours, yeast, salt and sugar. Slowly add water and olive oil. Mix with a paddle attachment for 2 minutes.
Remove and use dough hook to knead dough for 2-3 minutes. Remove and put in a greased bowl. Cover with saran wrap and allow to rise 2 hours in a warm place (I put it on top of my dryer).
Divide dough into two balls. Using hands, knead 1 Tbsp of softened butter into each dough ball. Put into a 9-inch cake pan (or deep dish pizza pan) and allow to rise and additional 1-2 hours in a warm place.
While the dough is rising, prepare the other pizza ingredients.
PRO TIP: Recipe makes two 9-inch deep dish pizzas. Freeze half dough for later if desired!
STEP 2. Brown the Sausage
Brown hot Italian sausage in a large skillet, breaking up into small chunks. Drain sausage completely.
STEP 3. Make the Pizza Sauce
In a large pot, combine tomatoes, salt, pepper, oregano, basil and garlic salt. Simmer on low heat for 1 -2 hours (while the dough rises).
STEP 4. Assemble and Bake
When ready to assemble pizzas, press dough lightly with fingertips to bottom and sides of pan. Lay 2 cups of shredded cheese in bottom of pizza. Top with browned sausage and about 2 1/2 cups of sauce. Bake in a 450 degree oven for 25 minutes. Allow to sit for about 10 minutes. Slice and eat. ENJOY!
A deep dish pizza is such a fun weekend meal. Serve with a side salad and bread sticks or enjoy all on its own. We love to share a deep dish pie on family movie night and it's also often requested for birthday dinners!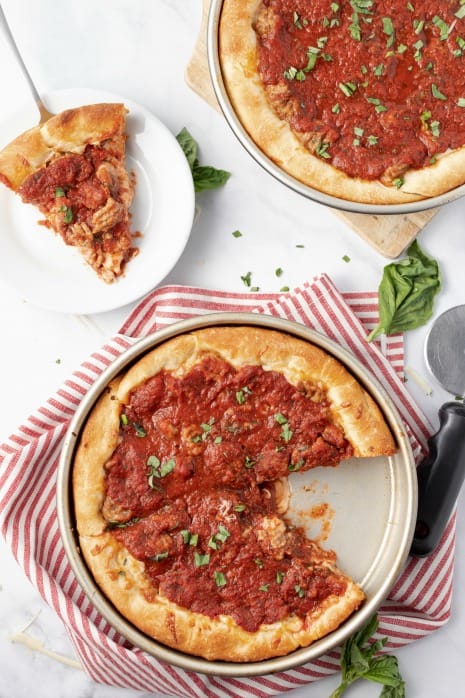 What kind of sausage should you use for deep dish pizza?
My preference by far is to use spicy Italian sausage with casings removed in my deep dish pizza.
This gives it an authentic flavor that can't be beat. If you can't find hot Italian sausage, add a pinch or two of red pepper flakes to regular Italian sausage.
What kind of cheese should you use for deep dish pizza?
This Chicago style pizza recipe calls for Mozzarella cheese. You use bagged mozzarella shreds for convenience or fresh mozzarella if you happen to have some on hand. Other blends of shredded Italian cheeses will also taste great in your deep dish pizza!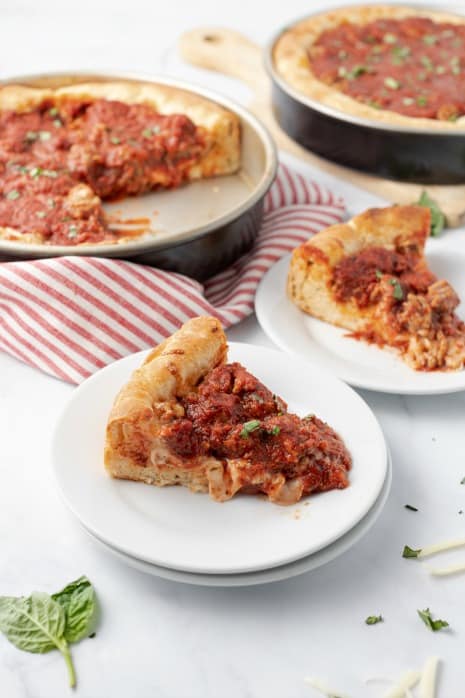 Make Ahead Meal
To make this pizza quicker and easier, you can prep the sauce and dough ahead of time! Follow the steps for making the dough up until it's time to knead in the butter.
Store prepared dough tightly wrapped in the fridge until ready to use and let it come to room temperature before continuing with the recipe. Don't forget to let it rise again in the pan before adding the other ingredients.
Sauce keeps will stored covered in the fridge for a few days or in the freezer for several months. As a bonus, I've found the sauce only tastes better when it's allowed to sit for a day or two.
All the garlic and herb flavors mingle beautifully with the tangy tomatoes to create a pizza sauce that's so much better than anything that comes from a can.
Recipe Notes
Don't have time to make your own dough? You can use your favorite prepared pizza dough for this recipe. If you buy refrigerated or frozen dough, just make sure it comes to room temperature before you work with it and allow it to rise again in the pan before you proceed with the recipe. Tip: Many pizza restaurants will sell their uncooked dough if you ask! 
Make sure to use sausage with the casings removed! 
Everyone loves digging into a deep dish Chicago style pizza! Skip the ordering and make your own pie at home for your next pizza night.