Looking for a delicious weeknight dinner idea? This Slow Cooker Italian Beef has very little prep work involved. Add everything to the slow cooker and come home to a hearty flavorful meal.
We never get tired of easy slow cooker recipes. For a different but equally delicious beef, try our Slow Cooker Mississippi Pot Roast Recipe too. Finish off your meal with a slice of classic apple pie!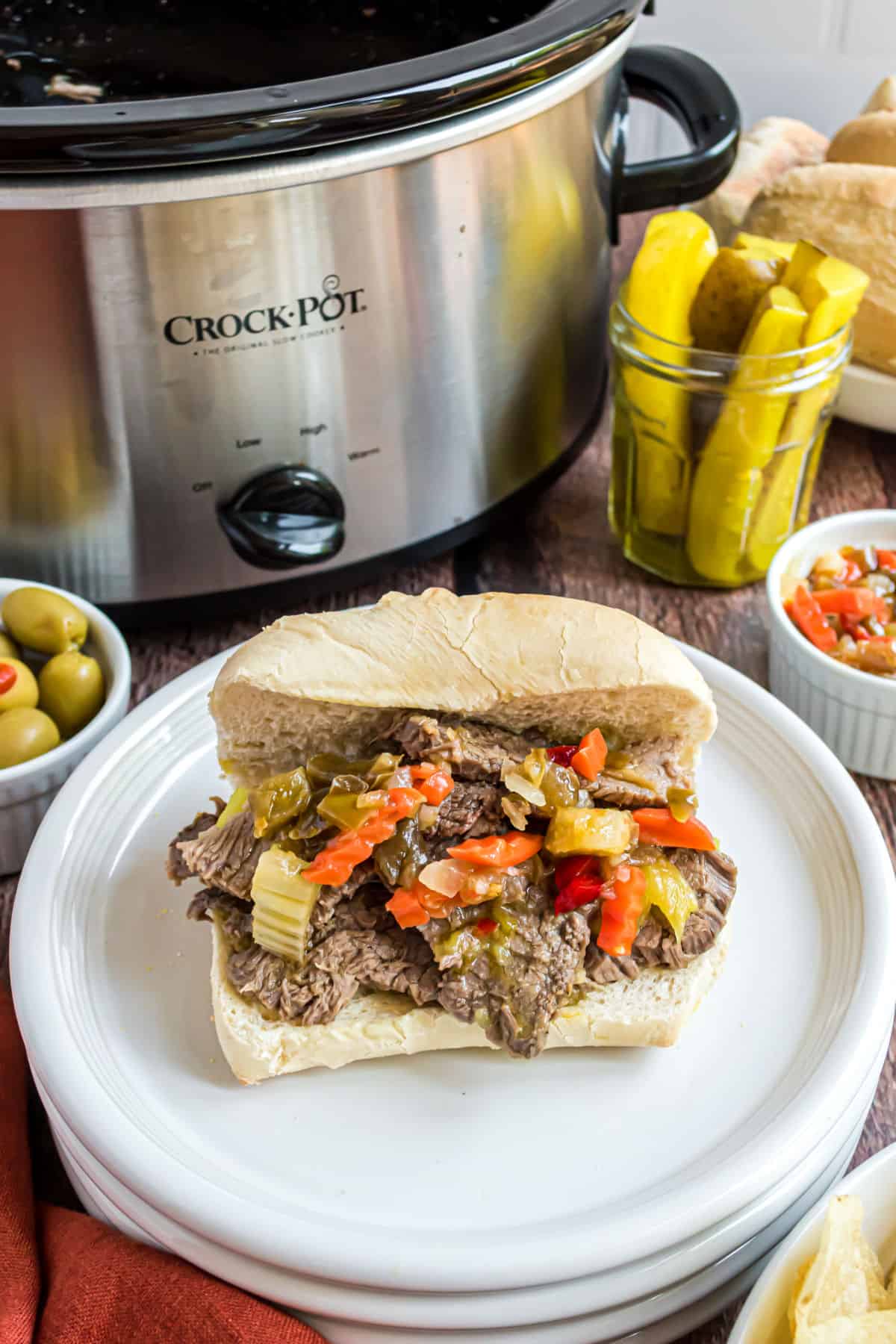 Why this Recipe Works
I love Chicago. I love the food we have here.
Everyone knows about Chicago style Deep Dish pizza and our famous Vienna Beef Hot Dogs.
Today's recipe is all about the unsung hero of Chicago food traditions: Italian Beef.
This isn't your everyday crockpot beef recipe. Chicago style Italian beef is thinly sliced and simmered with peppers. While it's similar to my Mississippi Pot Roast, this recipe is made with Italian seasonings and requires no butter.
The slow cooker is the perfect vehicle for cooking Italian Beef.
Simmering for hours with peppers transforms ordinary roast into fork tender perfection.
You only need three ingredients to make this recipe and it takes virtually no effort.
The meat is full of herby flavor and a peppery kick. You decide how spicy you like it!
Serve this beef with giardiniera on toasty French rolls for the full Chicago Italian Beef sandwich experience.
Ingredient Notes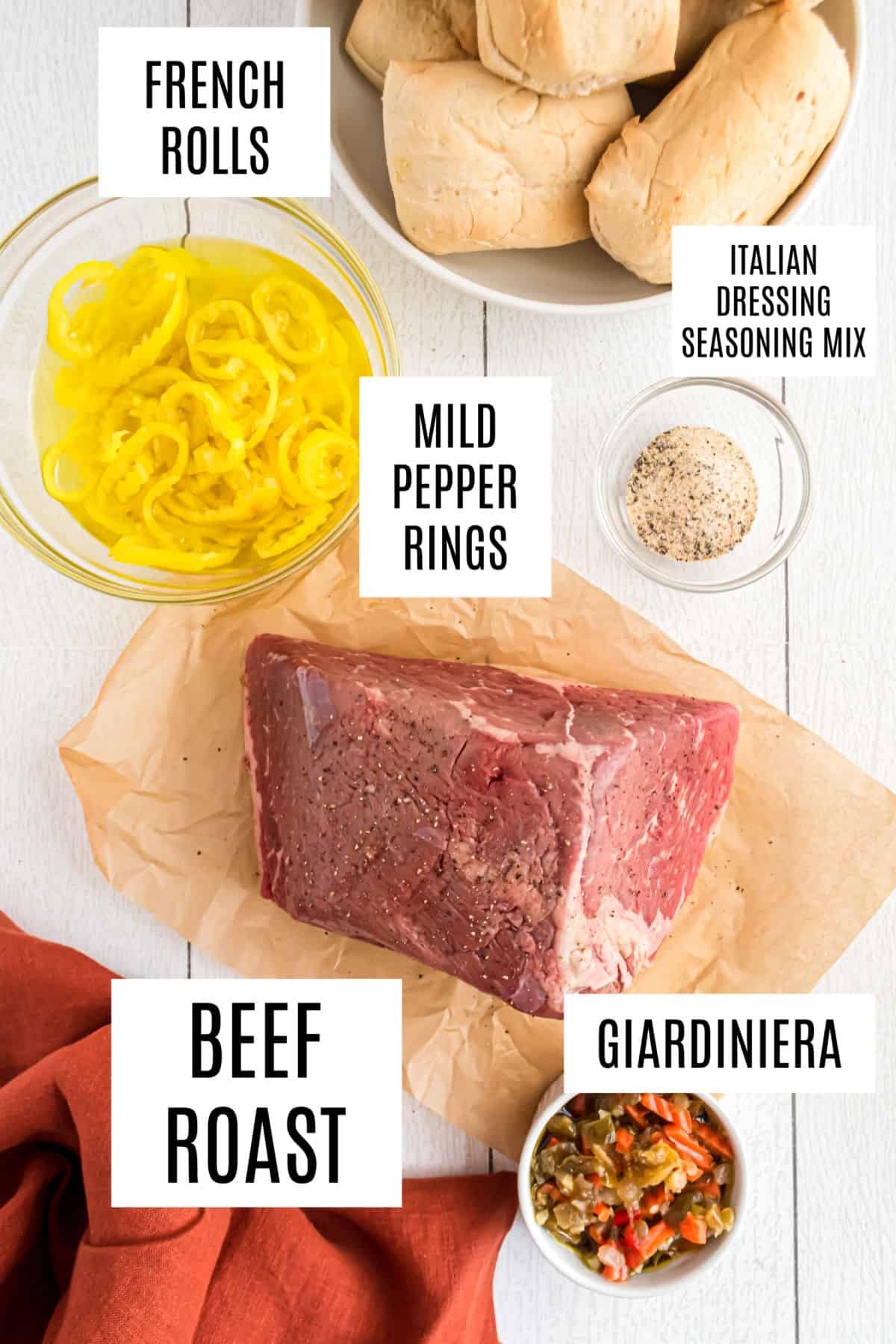 Here's what you need to make Slow Cooker Italian Beef.
Top Roast. I use boneless roasts for this recipe. Chuck roast is also an option, especially if you plan to shred the meat. A top roast will allow for you to slice the beef.
Pepper rings. These are canned peppers that are added right to the pot with the roast. You can buy the spicy ones, or mild, depending on how hot you want them to be.
Italian dressing seasoning mix. You'll find envelopes of dressing seasoning near the bottled salad dressings in the grocery store.
Serving Suggestions
Once the beef has simmered for at least 6 hours, you can serve it one of two ways:
Shredded. Use two sturdy forks to pull the meat apart. It's so tender that this shouldn't be hard!
Sliced. Place the cooked roast on a cutting board. Use a sharp knife to make thin slices.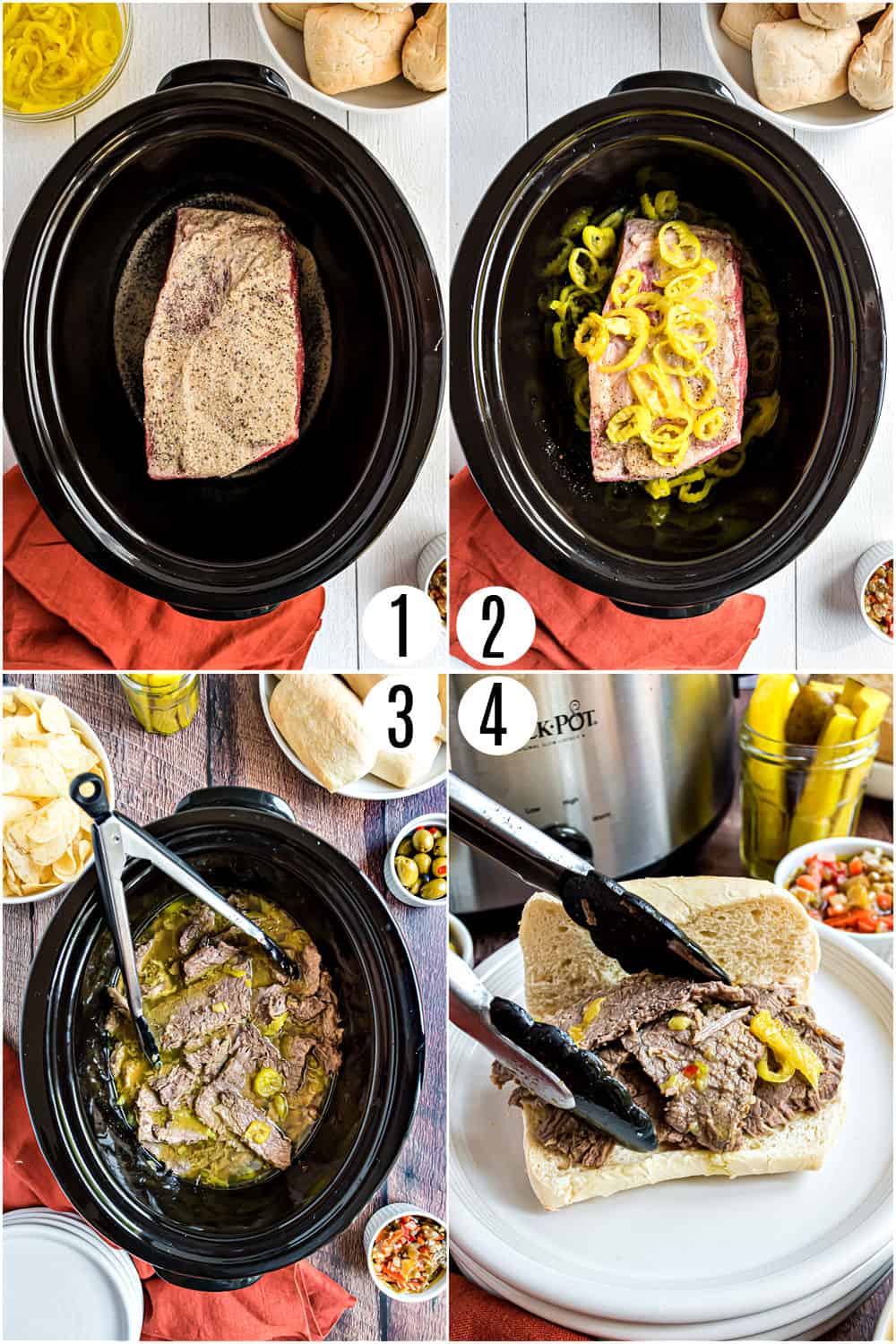 This beef is irresistible stuffed into a French roll or on a crusty Italian bread. Top with the giardiniera and you have a Chicagoan-approved Italian Beef sandwich.
Add a green salad with Homemade Italian Salad Dressing for a full meal.
Tips and Tricks
Put the roast in the slow cooker with the fat side up. If you prefer, you can also trim the fat first.
Sprinkle the Italian seasoning over the meat before adding peppers for best flavor.
Do NOT drain the liquid from the peppers! It adds delicious flavor and moisture to the beef.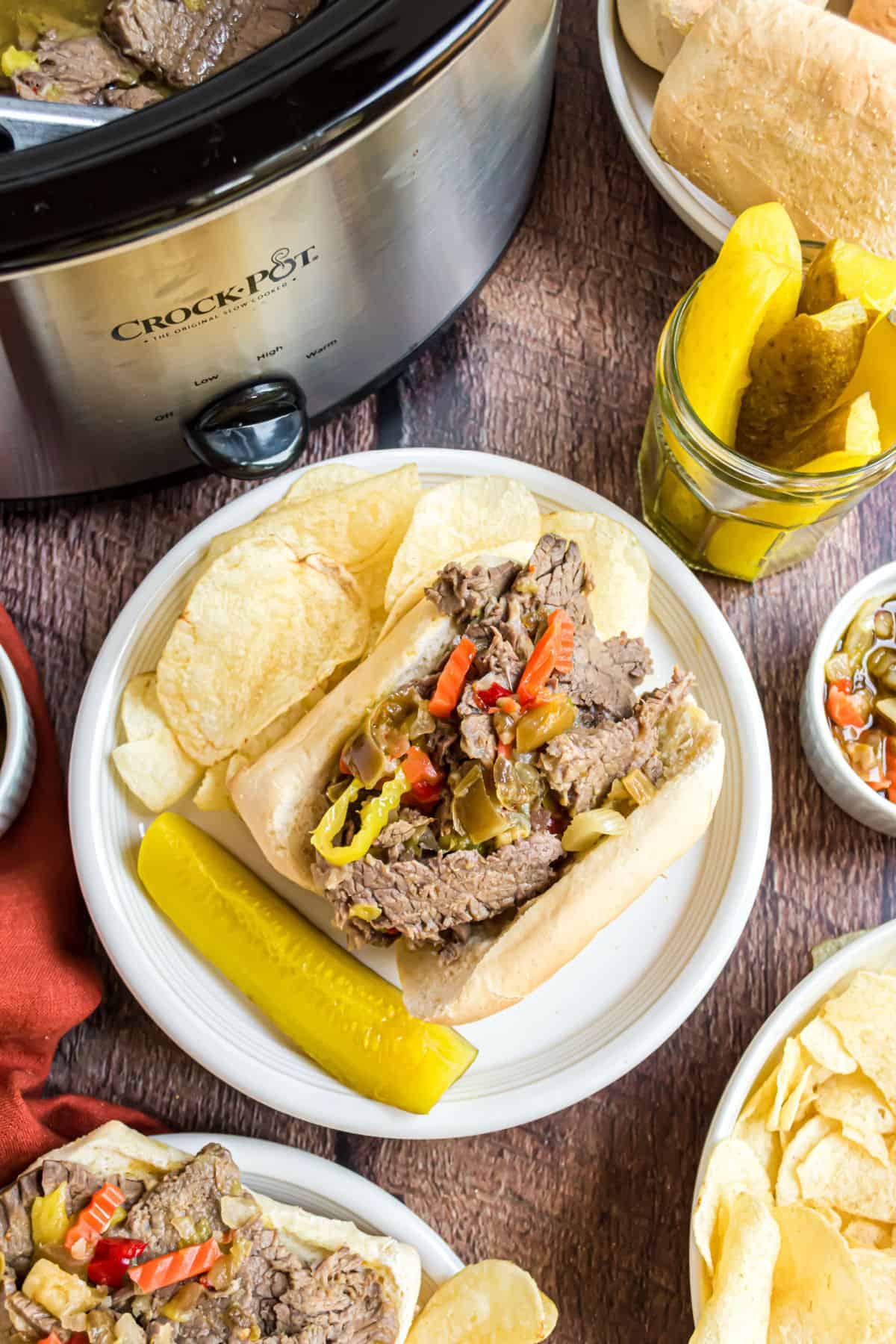 Recipe FAQs
What is giardiniera?
Giardiniera is a mixture of vegetables pickled in spices. It has Italian origins but is an especially popular condiment in Chicago.
Most store bought giardiniera includes peppers, cauliflower and celery. It may also contain onions, carrots or other veggies.
Can I use chuck roast in this recipe?
Yes, both chuck roast and top roast are delicious in this slow cooker recipe.
How do you store leftover Italian beef?
Transfer leftovers to an airtight container. Store in the fridge and enjoy reheated within 3 days.
I don't have French rolls. What other kinds of bread can I serve with the beef?
Any crusty or hearty bread works! You can even use regular hamburger or hot dug buns in a pinch.
Slow Cooker Italian Beef brings a taste of Chicago to your kitchen. Make a hearty homecooked main dish with just 3 ingredients!