Spicy Grilled Fish with Citrus Slaw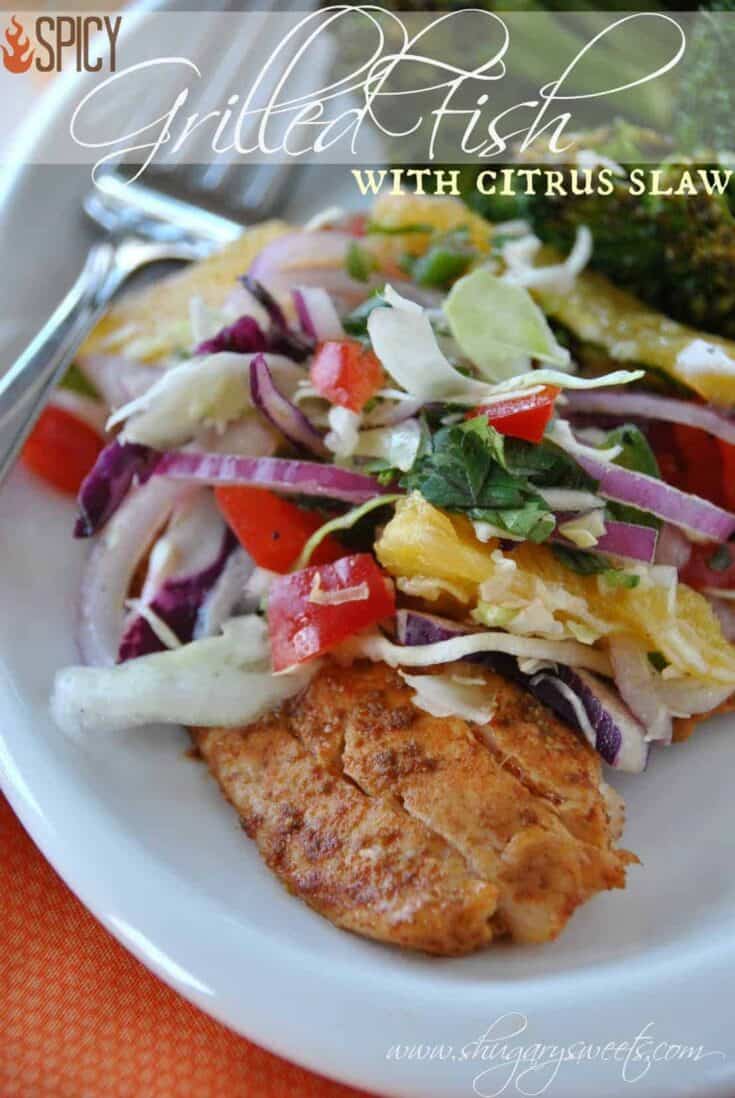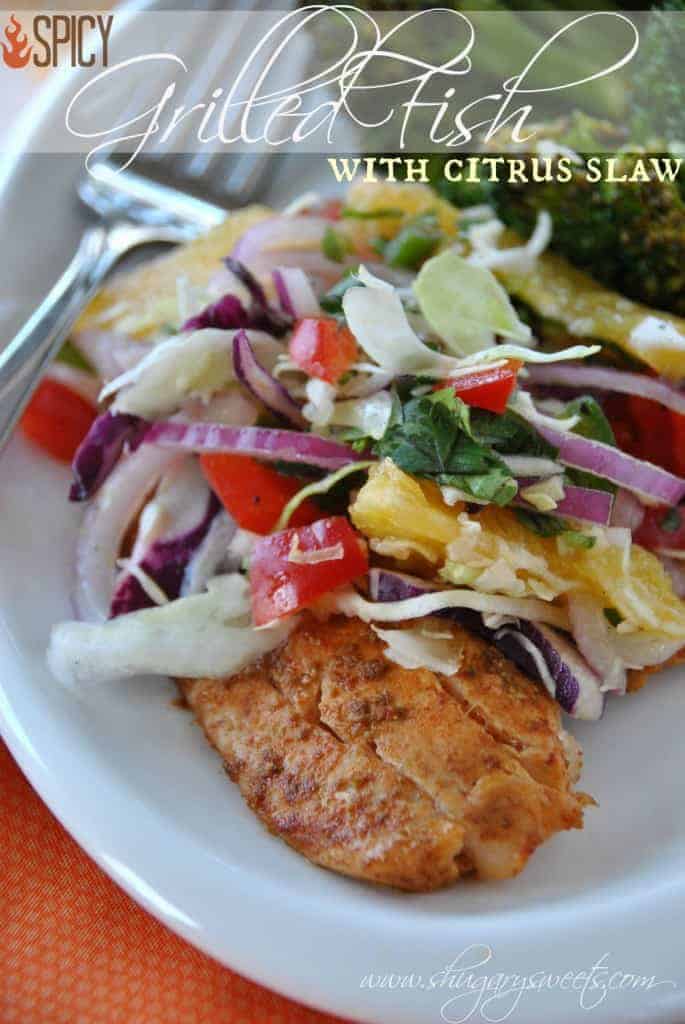 As promised, here is my first dinner recipe of 2013. It's a very healthy and colorful meal!
I think you might love this one! Well, if you love fish, you will love this recipe for Spicy Grilled Fish. PLEASE tell me you love fish?!? It's so good for you!
I'm very lucky, with 4 kids, they will all eat tilapia. Although, with this recipe, you might want to season with a little less chili powder if they don't like spicy. The coolness from the citrus salad combined with the spicy fish is a perfect match. you can also put this fish and slaw on a tortilla, I know my kids love to eat everything on a tortilla!
For years I never cooked fish at home. I would order it at restaurants because I love it so much, but when I would try to make fish at home it would come out brown and ugly, and totally not appetizing.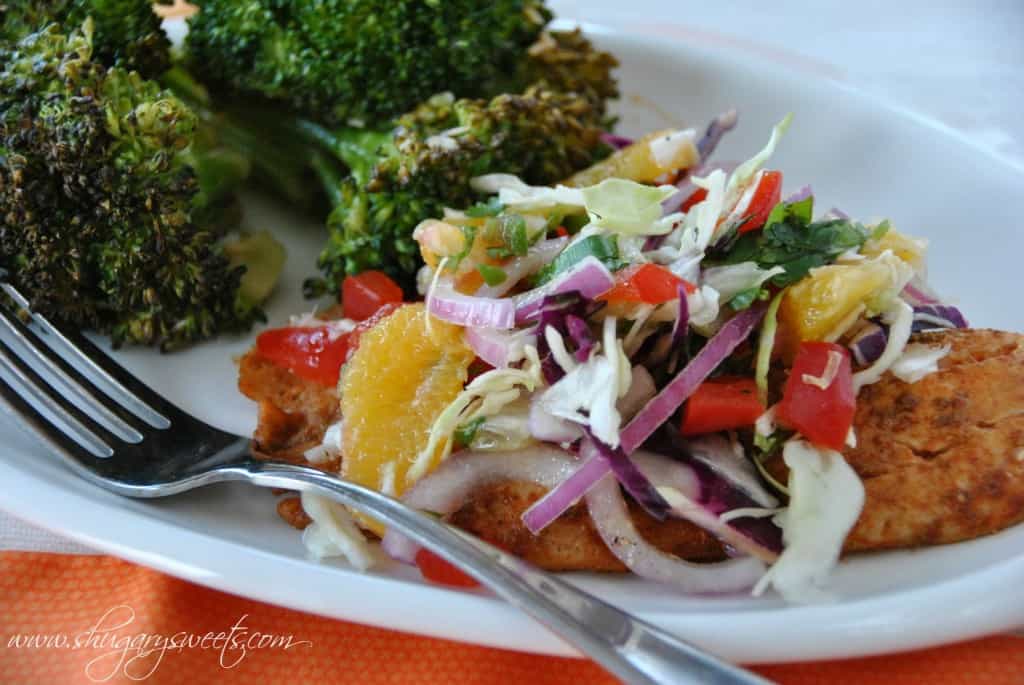 This grilled fish is so easy, I love using tilapia because it's a fish my kids love. You can try other varieties, just adjust your cooking time if your fillets are thicker!
And, can I just say one more thing about the citrus salad? If you have some of this leftover, please save it. It's delicious on a sandwich. Or a burger. Or just with a fork!
See that broccoli in the background? I know your wondering how to make that too, right? It's actually adapted from my Roasted Broccoli recipe: HERE. I just only used broccoli and I kept the parmesan cheese off to shave a few extra calories!
**Before you check out the recipes below, have you entered to win a new iPad yet? Contest ends January 15, 2013…HURRY!  And come back. I'm waiting for you! Click HERE to go enter.
Want more fish recipes? Here are some of my favorite, tried and true, seafood dishes! ENJOY!
Easy Tilapia with Strawberry Salsa: another spicy fish with a sweet salsa. This one is all about the strawberry salsa!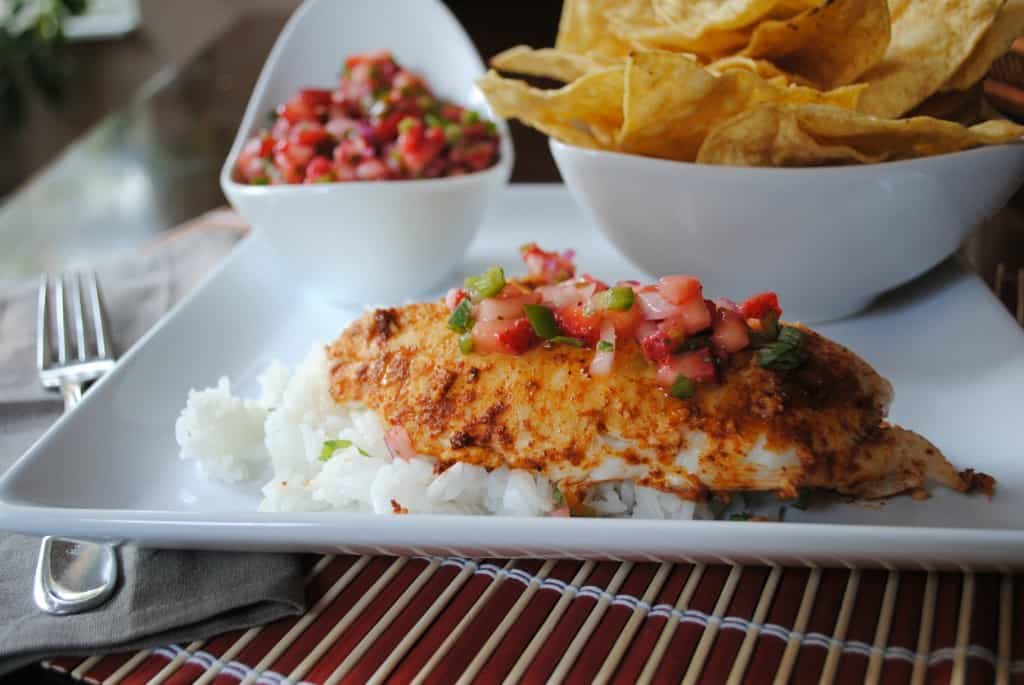 Fish Tacos with Avocado Sauce: I dream about this avocado sauce, it's what dreams are made of!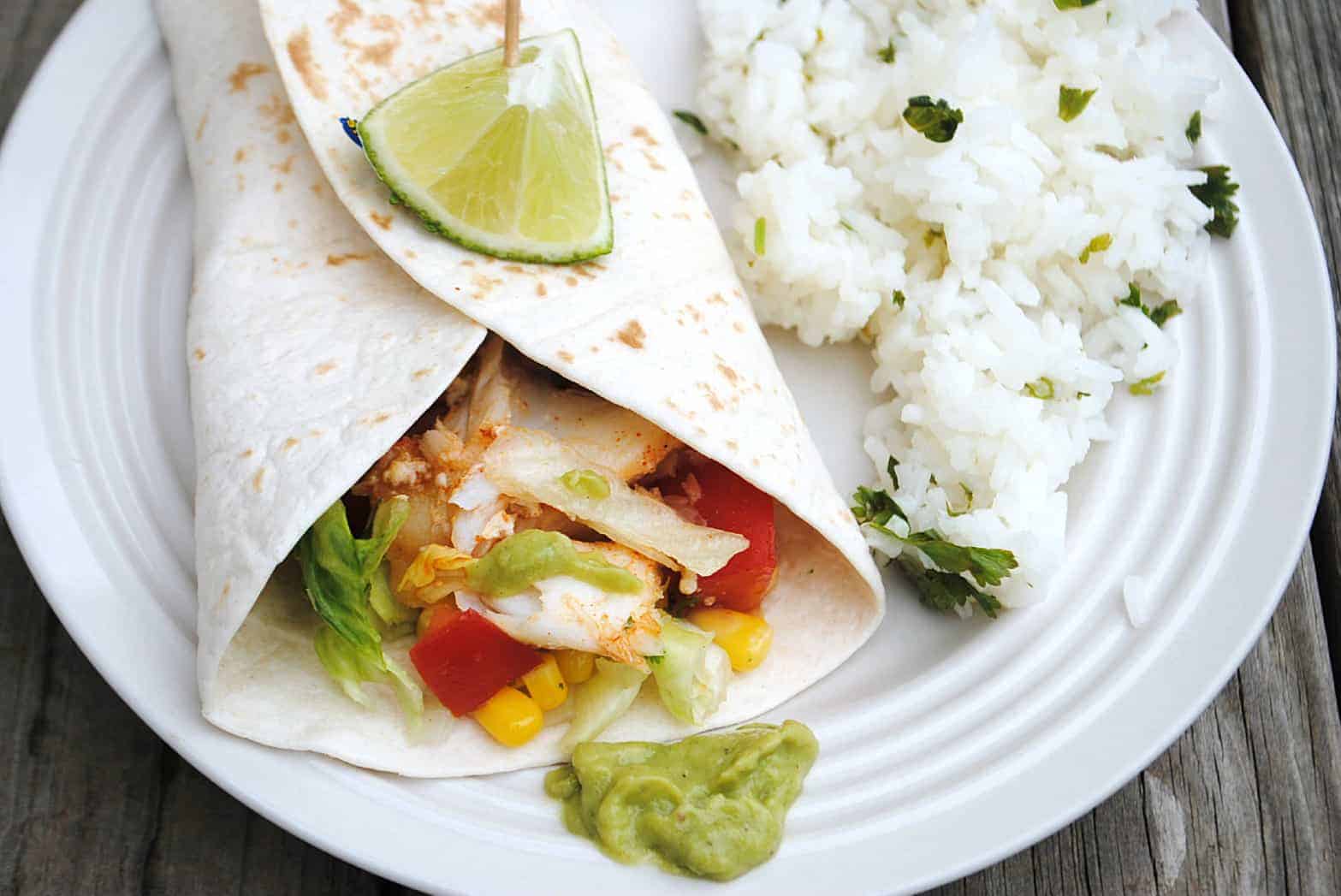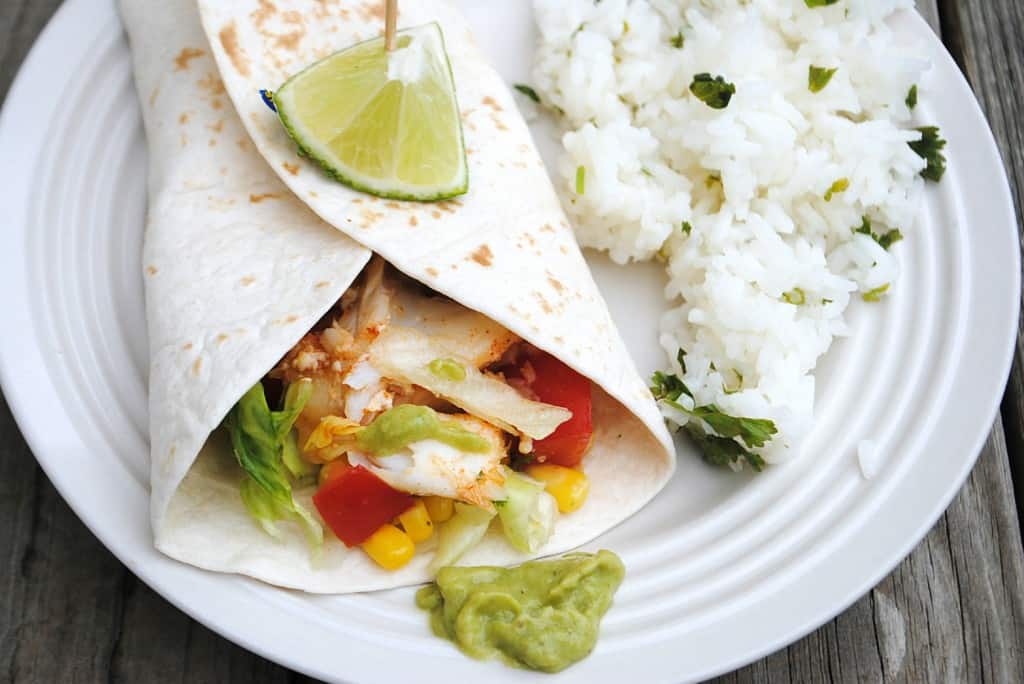 Parmesan Halibut with Tomato and Zucchini Orzo: the crunchy topping of this fish leaves you wanting another bite!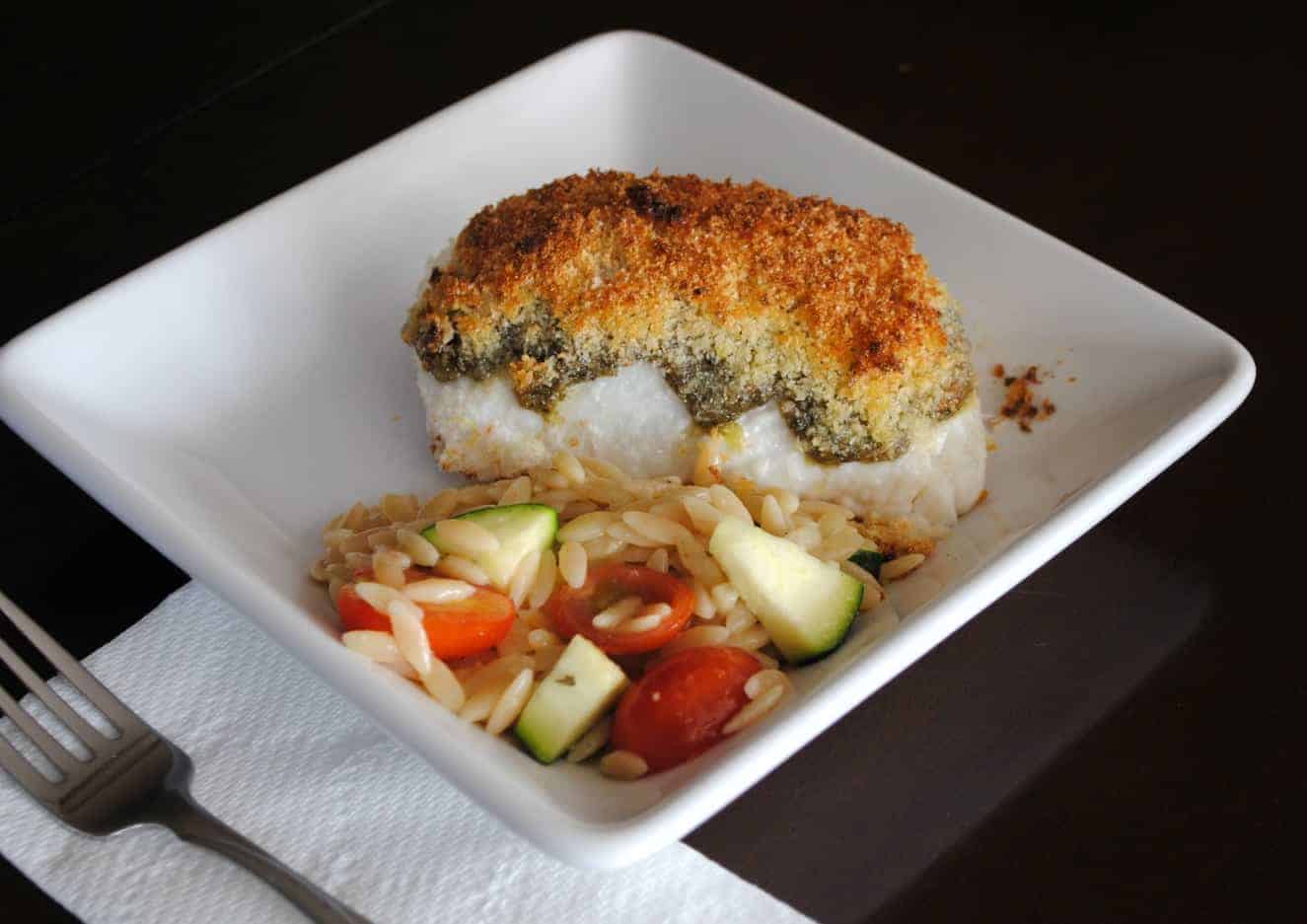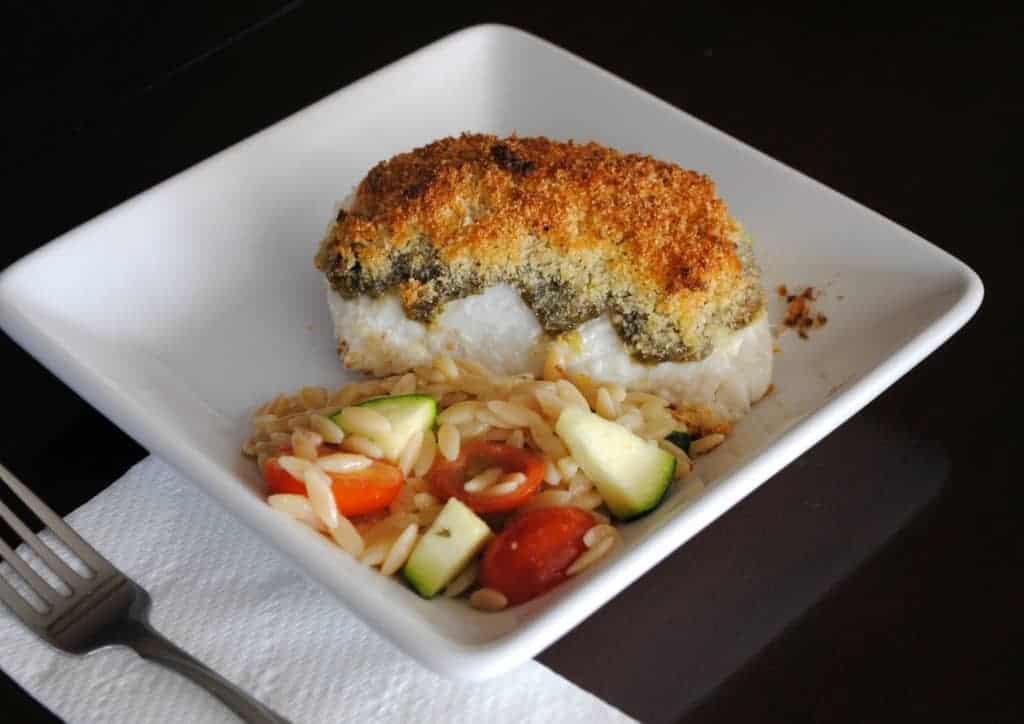 Blackened Salmon: Another spicy piece of fish, noticing a trend?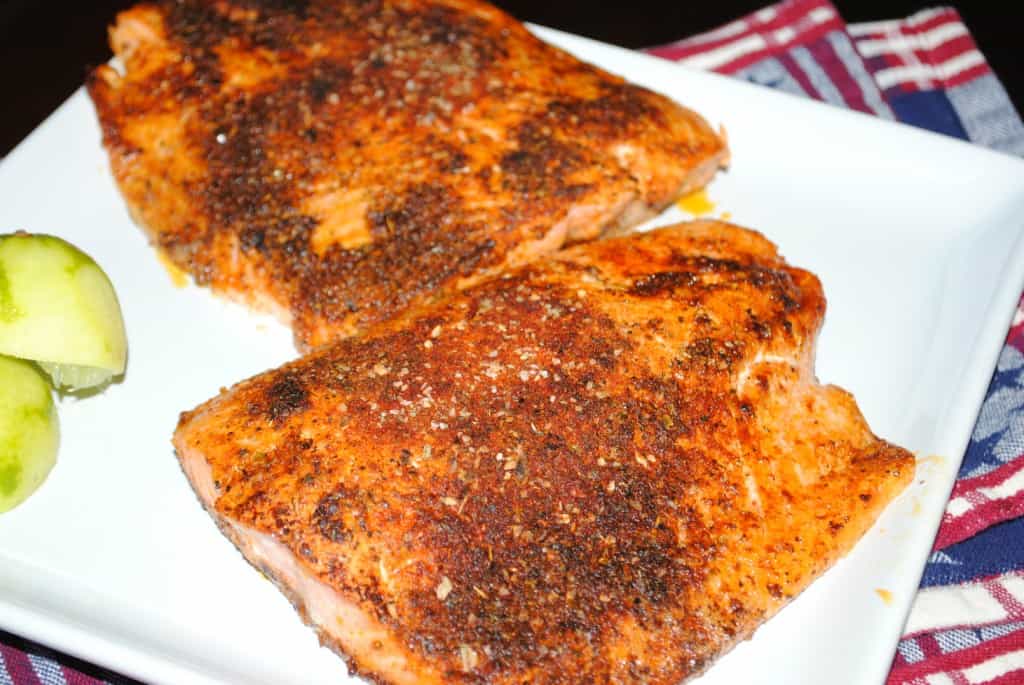 Connect with Shugary Sweets! I know you want to see behind the scenes…check out my instagram!
Facebook | Twitter | Google+ | Pinterest
Yield: serves 6
Spicy Grilled Fish with Citrus Slaw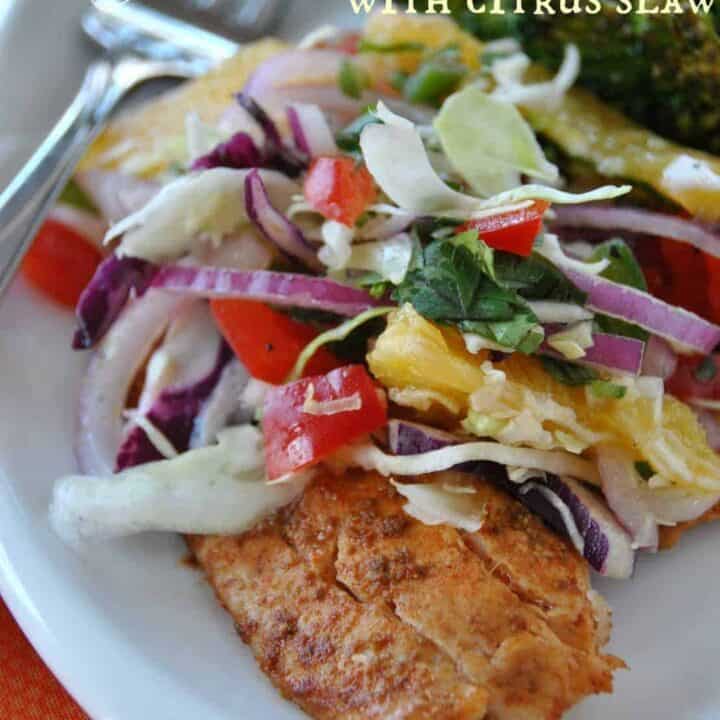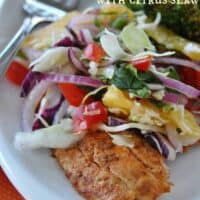 Prep Time 20 minutes

Cook Time 10 minutes

Total Time 30 minutes

Easy spicy grilled fish recipe with a homemade citrus cole slaw! Healthy and delicious.
Ingredients
For the Fish:
6 (4oz) tilapia fillets
1 1/2 tsp chili powder
1 tsp garlic salt
1/2 tsp kosher salt
1 Tbsp ground cumin
1 pinch cayenne pepper
1 lime, juiced
2 Tbsp olive oil
For the Slaw:
1 cup thinly sliced green cabbage
1/2 cup thinly sliced red cabbage
1/2 red pepper, diced
1/2 small red onion, sliced in thin strips
1/4 cup fresh basil, chopped
2 Tbsp fresh cilantro, chopped
1 jalapeno, seeded and chopped
1 large orange, peeled and sectioned
1 Tbsp olive oil
1/4 tsp kosher salt
1/8 tsp black pepper
Instructions
For the Slaw, mix everything in a large bowl. Refrigerate until ready to serve.
For the fish, mix chili powder, garlic salt, salt, cumin and cayenne in a small bowl. Add juice of one lime and mix thoroughly.
Heat grill pan on medium-high heat with olive oil in pan. Brush both sides of fish with seasoning. Grill 5 minutes on each side, or until flakes with a fork.
To serve: lay grilled fish on a plate and top with a heaping serving of citrus slaw. ENJOY.
**you can also warm up flour tortilla and place fish and slaw inside, eat and enjoy!
Linked To: Chic and Crafty I'm Lovin It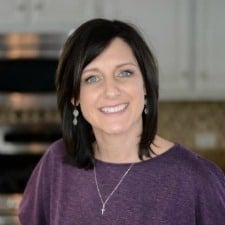 Aimee is a dessert lover (specifically rice krispie treats), workout enthusiast, self-taught foodie, and recipe creator. Her recipes have been featured in over 15 magazines, and her passion is to share her love of cooking with the everyday home cook! Learn more about Aimee.