Hawaiian Pulled Pork with a sticky pineapple glaze is quick and easy when you use the Instant Pot! Served in a bowl or on toasted buns, this shredded pork is an explosion of taste.
If you love today's pulled pork, be sure to try our Grilled Huli Huli Chicken recipe next. Serve it up with a side of chinese coleslaw!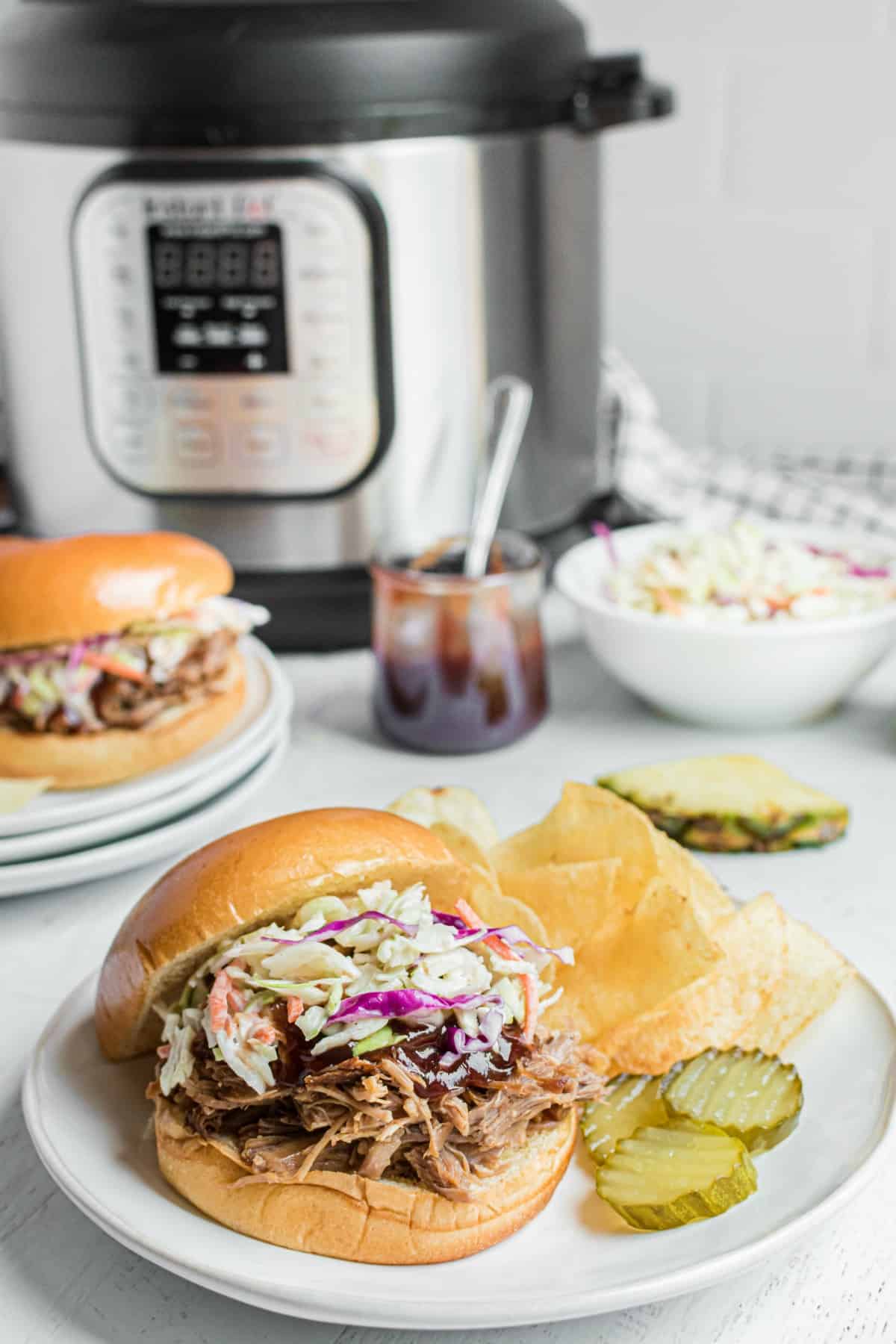 Why this Pork is Best
When it comes to favorite meals, a hot sandwich piled high with shredded pork and toppings is up there on the list. I've written about making Instant Pot Pulled Pork before and delicious variations like Root Beer Pulled Pork.
Today's Hawaiian Pulled Pork recipe is like no other. Pressure cooked with a garlic ginger pineapple sauce, this pork is imbibed with equal parts sweet, sour and savory flavors.
You need to add this Instant Pot recipe to your dinner menu this week!
This recipe is loosely based on the traditional Hawaiian pork called Kalua Pork. It's made by slow roasting a pig covered in banana leaves in a pit for hours.
Delicious, but not something most of us can manage on a typical weeknight.
This pressure cooking method makes flavorful pork that falls apart at the touch of the fork. I'm so happy to have discovered how easy it is to make in the Instant Pot.
Between prepping, cooking and pressure releasing, this dinner was ready in under 90 minutes and most of that time is hands off.
I started with Kalua Pork as my inspiration and I added pineapple and lots of garlic and ginger to the sauce to complement the fork tender meat. We enjoyed our Hawaiian Pulled Pork on buns topped with homemade coleslaw and everyone wanted seconds.
What kind of pork do you need for pulled pork?
With so many different kinds of pork available in the meat department these days, it's difficult to keep track of which ones should be used in which dishes.
For this recipe, you'll need boneless pork shoulder. Shoulder is available in both bone-in and boneless cuts, so unless you want to de-bone it yourself, check before you buy.
Pork Butt vs. Pork Shoulder: Pork Butt is also commonly used in pulled pork. However, it is a tougher cut of meat and needs a longer cooking time. That's why, for instant pot pork, you need to make sure to use the shoulder.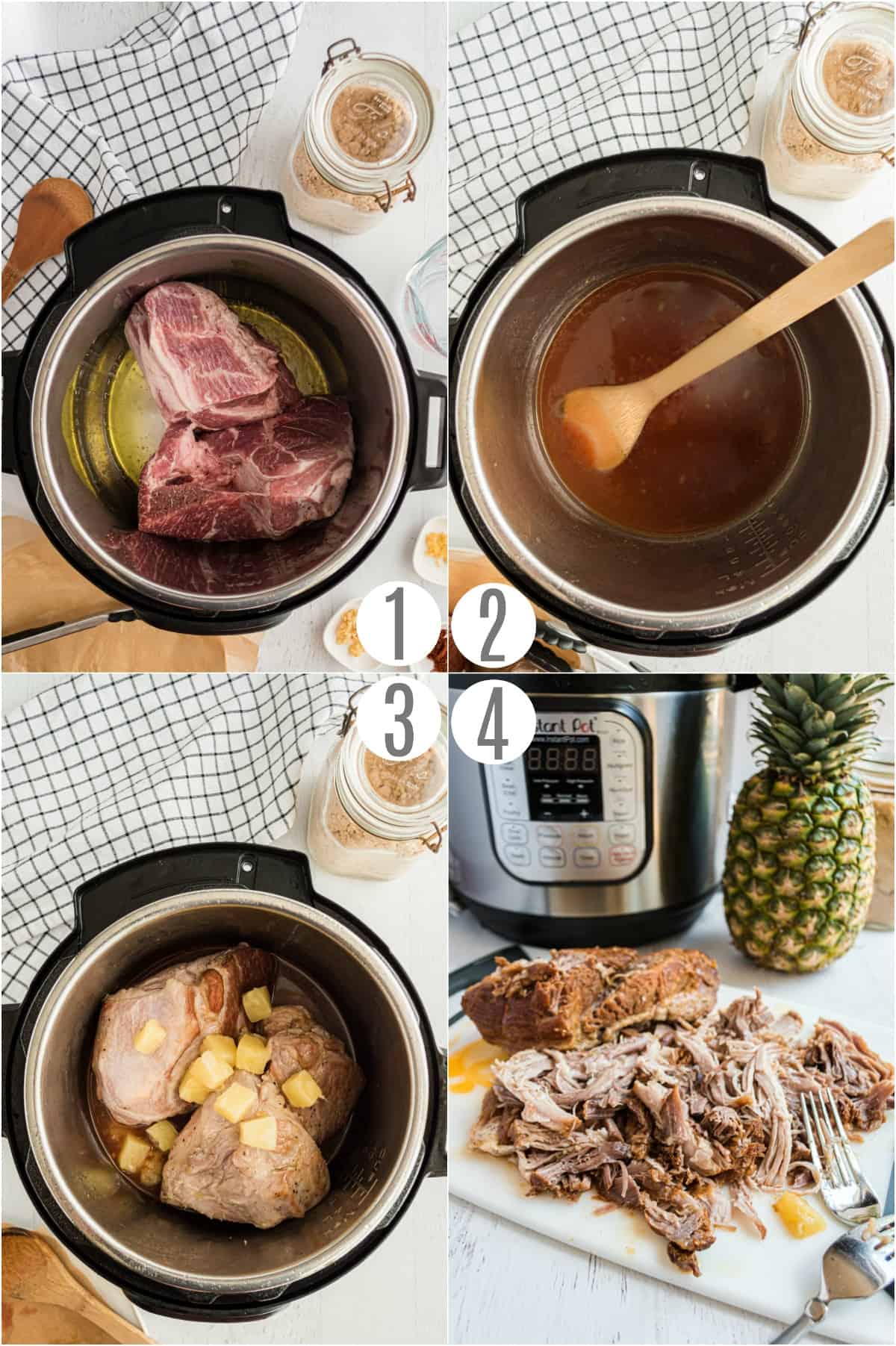 Hawaiian Pulled Pork Recipe
To make this pork, start by sauteeing chunks of pork shoulder in the Instant Pot with olive oil. By cutting your shoulder into chunks, you can cut down the cook time!
Deglaze the pot with water and use a wooden spoon or spatula to scrape off any pieces of meat stuck to the bottom and sides.
For the sauce, mix pineapple juice with chicken broth, vinegar, brown sugar, soy sauce and ketchup. Mix in garlic, ginger and chili powder. Add the sauce to the pot with the pork along with pineapple chunks.
To cook in the Instant Pot:
Seal the valve and cook on HIGH PRESSURE for 60 minutes. When the cooking time ends, allow the pot to naturally release for 10 minutes, then do a quick release of remaining pressure.
Remove the pork pieces from the instant pot and shred on a cutting board or serving plate. Transfer the shredded pork to a serving bowl and drizzle some of the remaining juices from the pot over it to keep it juicy!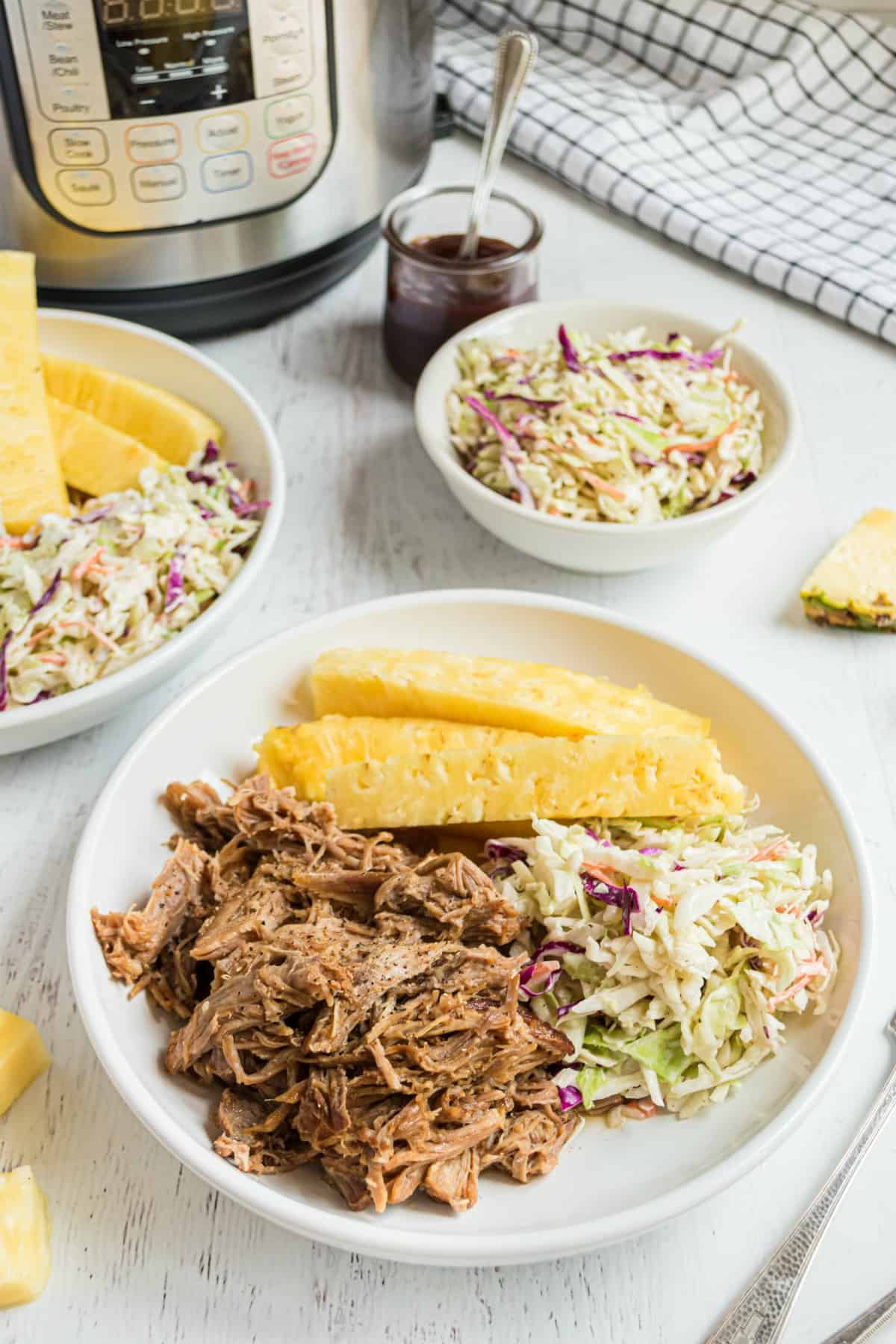 Serving Suggestions
For sandwiches:
This pork was so good in a sandwich! I love to use a sturdy bun like a Kaiser Roll. A toasted hamburger bun works, too! I highly recommend KFC coleslaw on top.
For Pulled Pork Bowls:
You can also enjoy Hawaiian Pulled Pork bun-less. Spoon it into bowls with extra fresh pineapple chunks and coleslaw for a satisfying meal, no bread needed.
What to serve with Hawaiian Pork:
We love serving this pulled pork year round with all our favorite salads.
From Broccoli salad to potato salad, they all pair perfectly.
Add a side or baked potatoes or roasted broccoli and zucchini if you prefer a warm vegetable.
Whip up a batch of garlic bread or serve with homemade applesauce.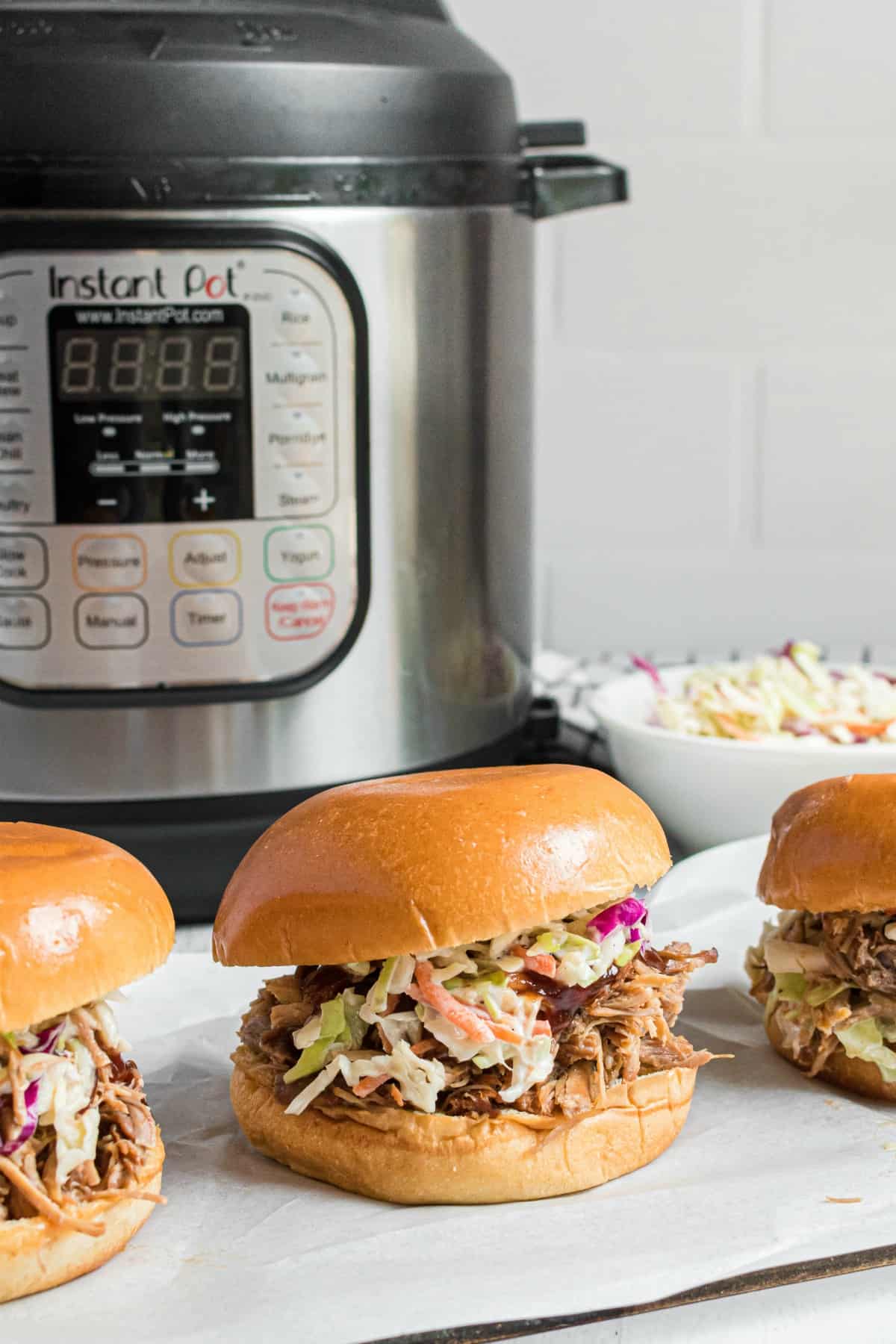 Tips and Tricks
Sauce – Feel free to adjust the ratios of pineapple juice to broth and water to your liking. If you want more sweetness, replace some of the broth with pineapple juice or visa versa.
To make it spicier – Add more chili powder or red pepper flakes to increase the heat. You can also squeeze a little hot sauce into the sauce before or after cooking.
For more smoky flavor – 1 tablespoon of liquid smoke added to the sauce ingredients mimics the smoky flavor of roasting pork in a pit
How to store – Hawaiian Pulled Pork will keep well in the fridge for 3 days. For longer storage, transfer to an airtight container and store it in the freezer for 2 to 3 months. It makes a great freezer meal!
With juicy pineapple and a hint of spice, Hawaiian Pulled Pork brings a touch of the tropical to your dinner table. When you make it in the Instant Pot, you can have fork tender pork ready in no time.