Sloppy Joes Pizza is two kid favorites in one dish! Seasoned ground beef, Dill pickles and plenty of gooey cheese are baked on a homemade crust in this fun family meal idea.
Even picky eaters love sloppy joes. Try my Instant Pot Sloppy Joes Recipe for another quick and easy dinner that the kids will gobble up without complaint.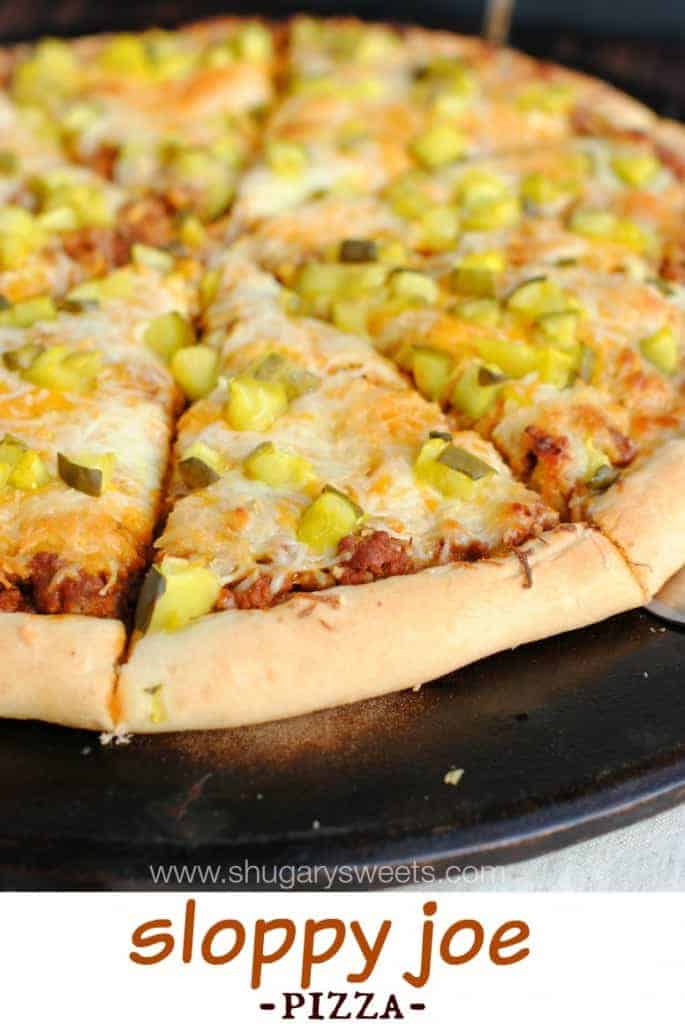 What is Sloppy Joe Pizza
Sloppy Joe Pizza is a pizza topped with the saucy meat usually found in Sloppy Joe sandwiches. Mixed with tomato sauce and Italian seasonings, the ground beef tastes delicious on a freshly baked crust.
This recipe takes the unusual pizza style one step further.
Dill pickles bring a salty-sour element to the pizzas that makes them taste out of this world!
Of course, pizza isn't pizza without cheese. This Sloppy Joes Pickle Pizza recipe definitely delivers on that front! You'll love picking up a slice of this pizza and seeing all those gooey strands of melty cheesy goodness.
Ingredient Notes
Rapid Rise Yeast is used in this pizza crust to save time. It works quickly so you don't need to wait for dough to rise!
Lean ground beef makes the sloppy joe topping flavorful without the extra grease of other ground beefs.
Cheese – We use a combination of mozzarella and cheddar cheese in this pickle pizza. Feel free to swap them out for other cheese you like on pizza, like colby or monterrey jack.
Tomato sauce – The unseasoned sauce from a can works best here. It's simmered with the ground beef and seasonings before being ladled onto the crust.
Dill pickles – These tangy pickles contrast the sweetness of the sauce to bring all the flavors in this pizza together. They're diced then added to the pizza after baking.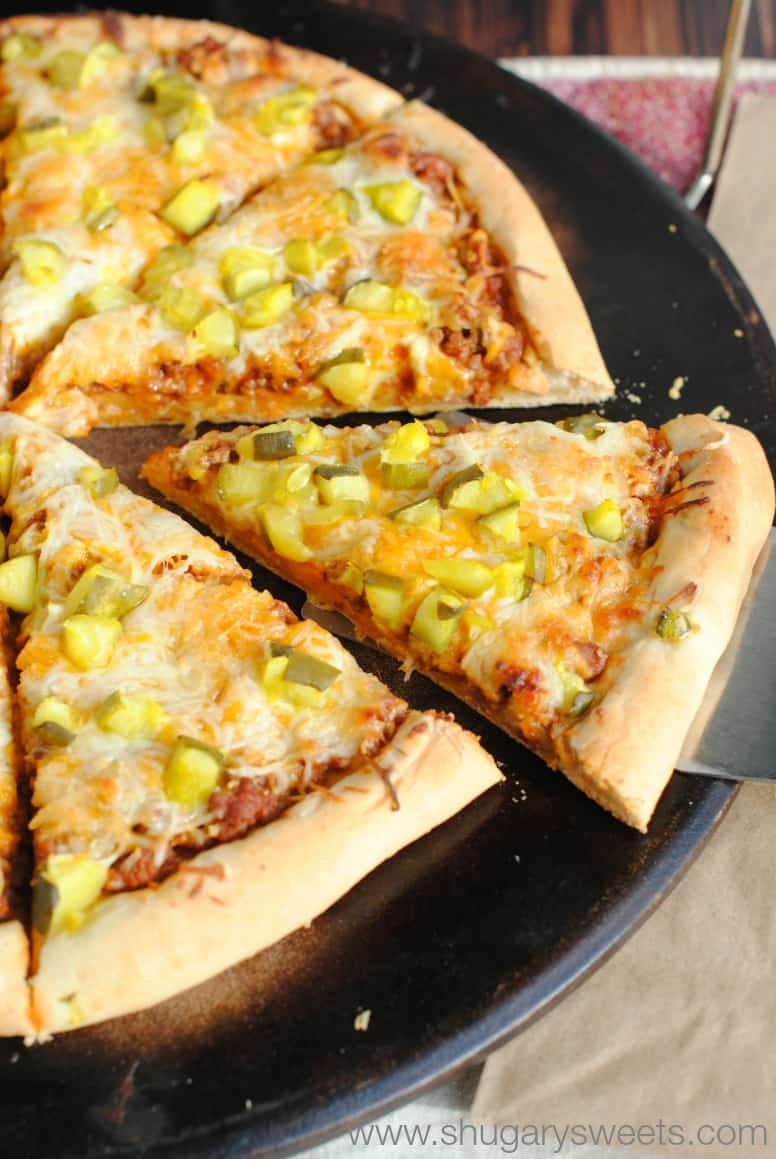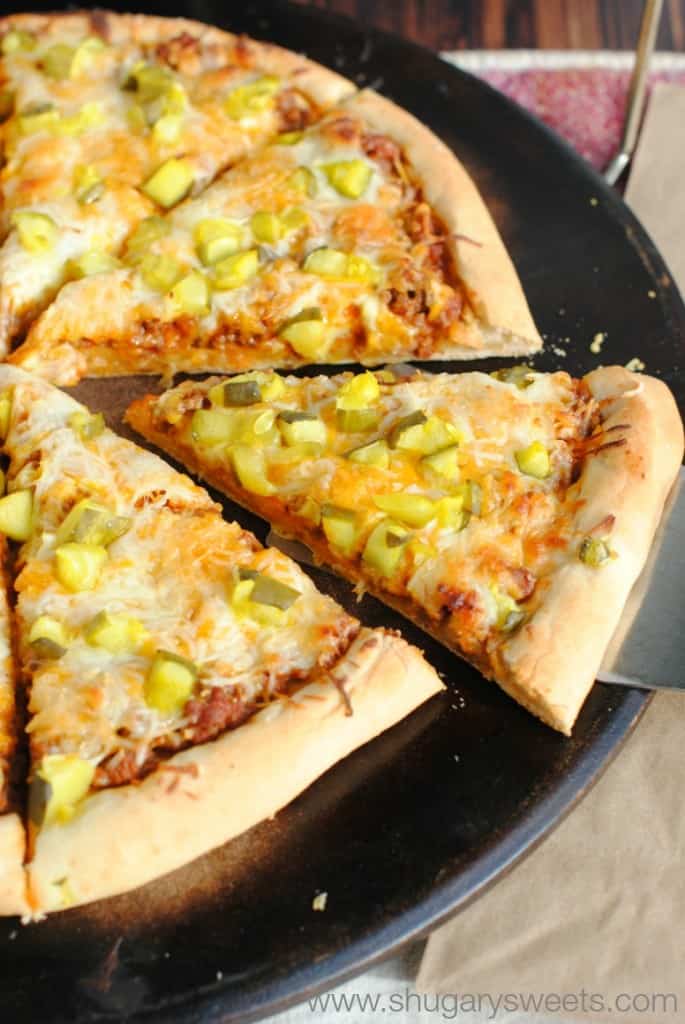 Easy Instructions
Make the pizza dough first.
Mix together all the ingredients to form a soft dough. Then knead it in your stand mixer or by hand for a few minutes until it gets soft and stretchy.
Cook the ground beef:
Brown beef in a skillet, then add the seasonings and tomato sauce with some water, letting the mixture come to a simmer.
How to assemble Sloppy Joe Pizza:
Roll out the pizza dough into a circle. Spread the sloppy joe mixture on top. Then sprinkle shredded cheese over the meat.
Bake until the cheese is melted and bubbly. Take the pizza out of the oven and cover with diced pickles.
Now it's ready to slice and eat!
Tips and Tricks
Serve immediately! Sloppy Joe Pizza tastes best fresh and hot.
Make ahead option: This recipe makes enough for two 12 inch pizzas. If you don't plan on eating two full pizzas at once, you can store half the pizza dough and sloppy joe meat in the fridge and make a second pizza the next day.
Use freshly grated cheese: Cheese you buy in blocks and grate yourself melts so much better on homemade pizza. It's worth the tiny bit of extra work.
Premade dough option: If you're short on time, feel free to use stoe bought refrigerated pizza dough to make your Sloppy Joe Pizza!
Recipe FAQs
Do I need to proof the yeast?
No, Rapid Rise Yeast does not need to be "proofed" (dissolved in water) before adding it to the recipe. You can add it right to the bowl with the other dough ingredients.
What kind of pan should I use for pizza?
A pizza stone or round pizza pan is preferred for this recipe, but if you don't have one, don't sweat! You can make this recipe "sheet pizza" style by pressing the dough into a rectangle on any baking sheet.
Can I use ground turkey for sloppy joe meat? What about ground pork?
You sure can use turkey! Any ground meat that's on the leaner side will work.
I don't recommend ground pork or other high-fat ground meats in this recipe. The excess grease tends seep into the crust making it soggy and oily. Ground turkey or leaned ground beef are perfect.
Sloppy Joes Pickle Pizza merges two of our favorite family dinners into one easy recipe. You have to taste this pizza to understand how good it is!