This Sloppy Joes Pickle and Cheese Pizza was a HUGE hit at our house! Even our pickiest eater enjoyed some of this pizza!
Love this recipe? Sign up for Shugary Sweets email subscription and never miss out again!
**Today's post is part of an ongoing partnership with ACH Foods and Fleischmann's® Yeast**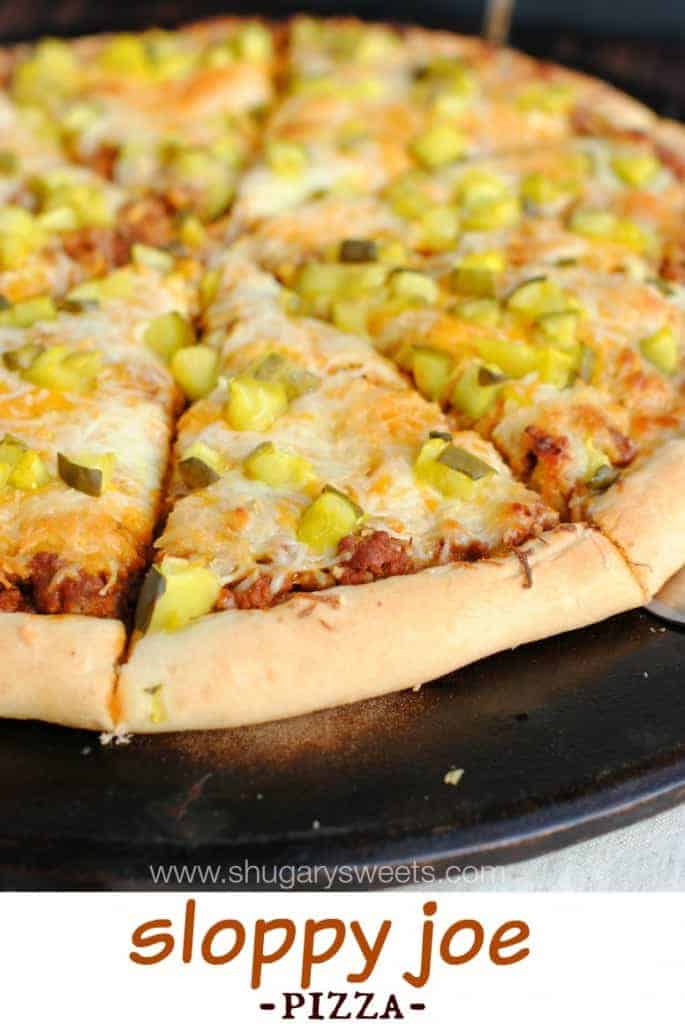 Do you make homemade pizza at your house, or do you call up a delivery service? (it's ok to be honest, I don't judge)!!
There are three different ranges of pizza night in my home:
Delivery: this is a must when we just have no time to be in the kitchen, or when the kids are spreading us too thin from their sports but we need to eat
English muffin pizza: spread a little sauce and cheese, bake, and enjoy. This happens when we are trying to clean out the pantry and fridge before grocery shopping!
Homemade pizza crust: similar to today's recipe, I love taking the time to make a delicious pizza dough and top it with our favorite toppings (usually cheese on one, sausage on the other)
Have you tried making homemade pizza dough? It's not hard, I promise. And it's so rewarding. Today's recipe makes TWO 12 inch pizzas, which was the right amount for my family of 6.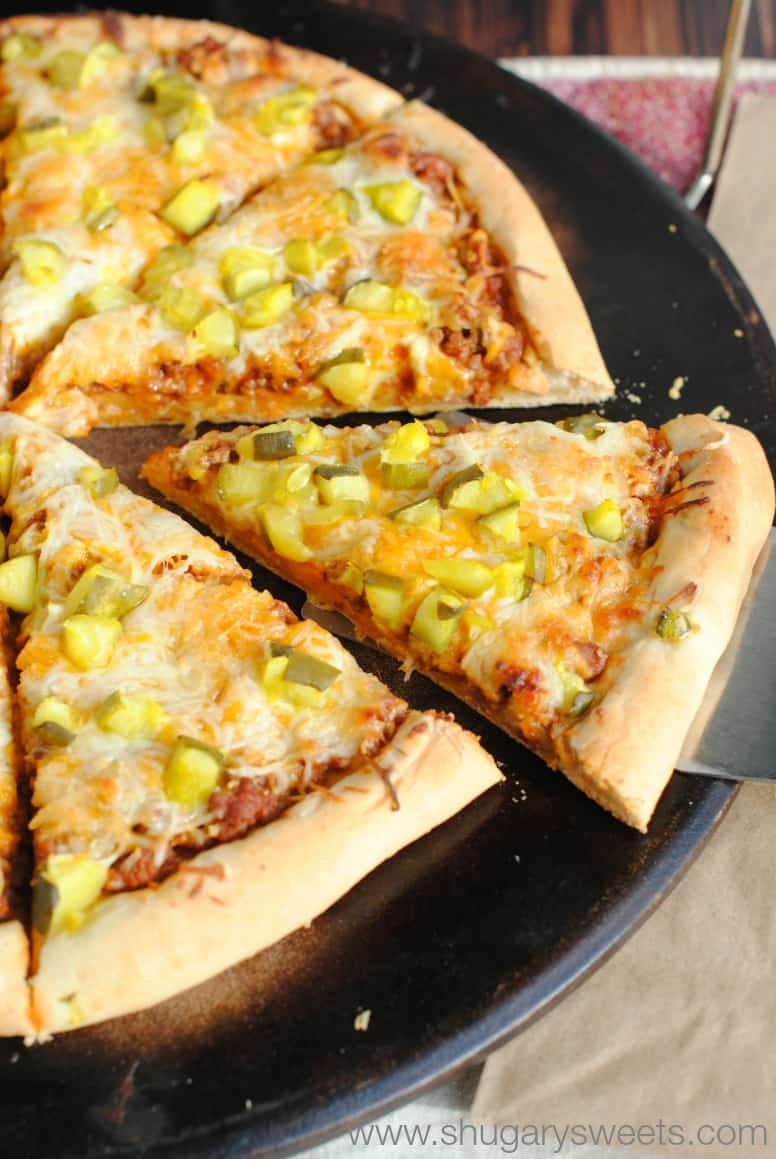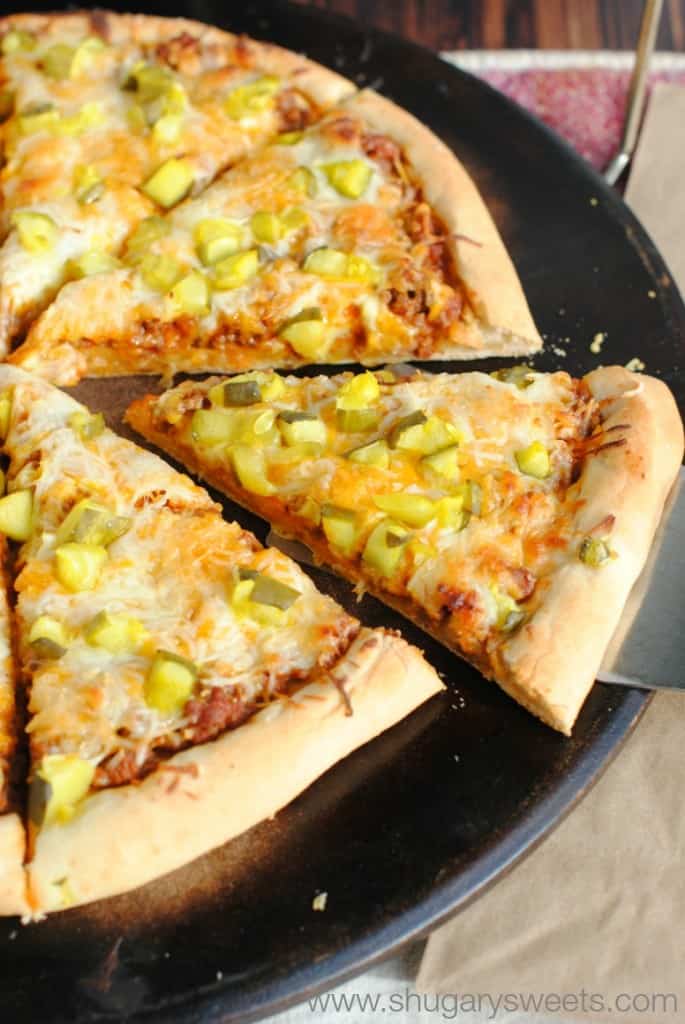 Are you curious about the toppings on today's "non traditional" pizza?
Yeah. I was too! When Fleischmann's® Yeast sent over a few recipes to add my own twist to and share with my readers, it's this one that caught my eye. I had no idea pickles on Sloppy Joes was a thing. Until I shared a picture on Instagram, and several of you said you LOVE pickles on Sloppy Joe sandwiches. Then I knew Fleischmann's® was on to something.
I think YOU need to try this one too!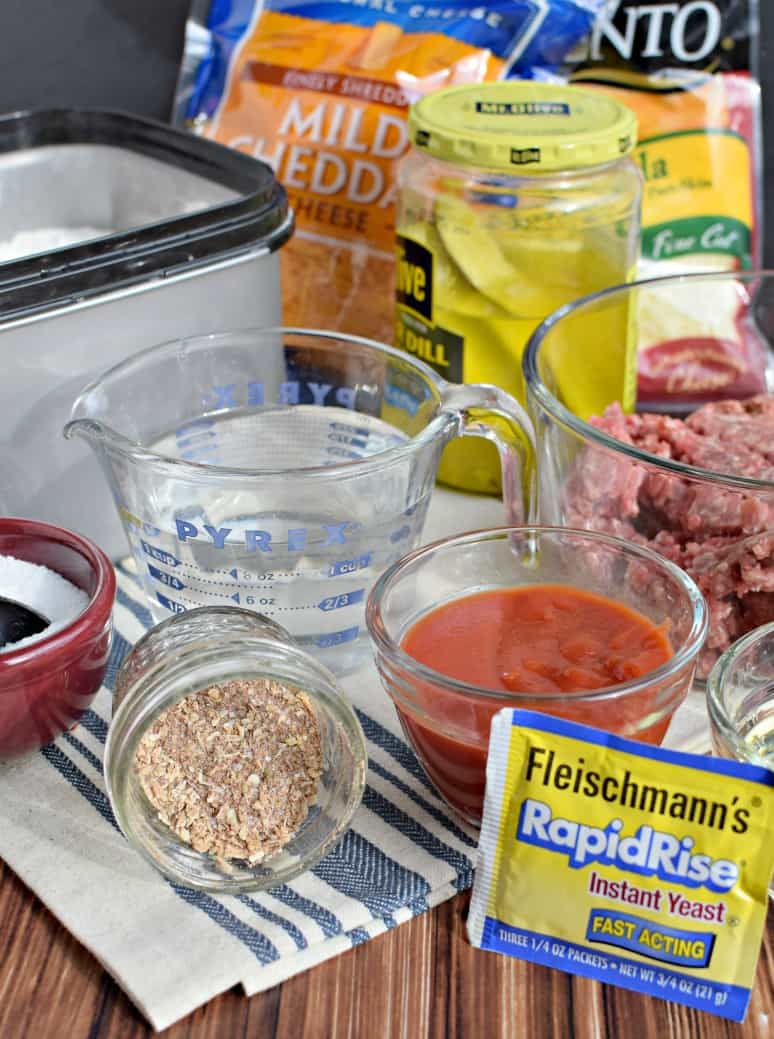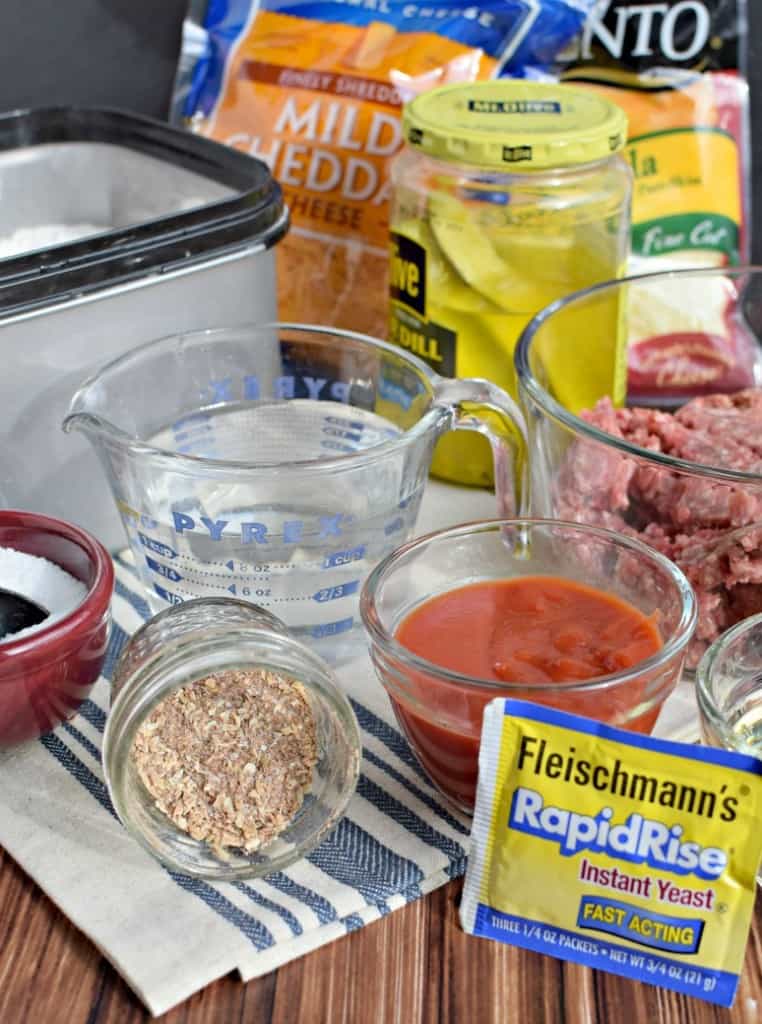 The original recipe came from the  Fleischmann's® Bread World website. I prefer to make my own seasoning recipes to control the salt and other flavors to my preference (like I did in this taco seasoning recipe) so I put my own spin on it by creating my own blend of Sloppy Joe mix.
Are Sloppy Joe toppings not your thing? That's okay! The most important thing is getting a great crust and this recipe is out of this world! Check out more great pizza recipes on the Fleischmann's website – breadworld.com or try a few of these great toppings ideas:
Taco Pizza using this taco seasoning recipe on your ground beef or turkey. Add some shredded jack cheese and green chilies before baking. Once done, top with shredded lettuce, tomato, sour cream and guacamole!
Supreme Pizza: top with cooked Italian sausage and pepperoni. Add diced onion, green pepper, mushroom and tomato sauce. Top with shredded mozzarella cheese and bake!
Dessert Pizza: spread your dough a little thinner to a 14 inch pizza (instead of the 12 inch). Brush with melted butter and sprinkle with cinnamon sugar. Bake. Once done baking, drizzle with a combo of powdered sugar and milk (whisk together until desired consistency). Oh yum guys.
Connect with Fleischmann's® Yeast:
website | facebook | pinterest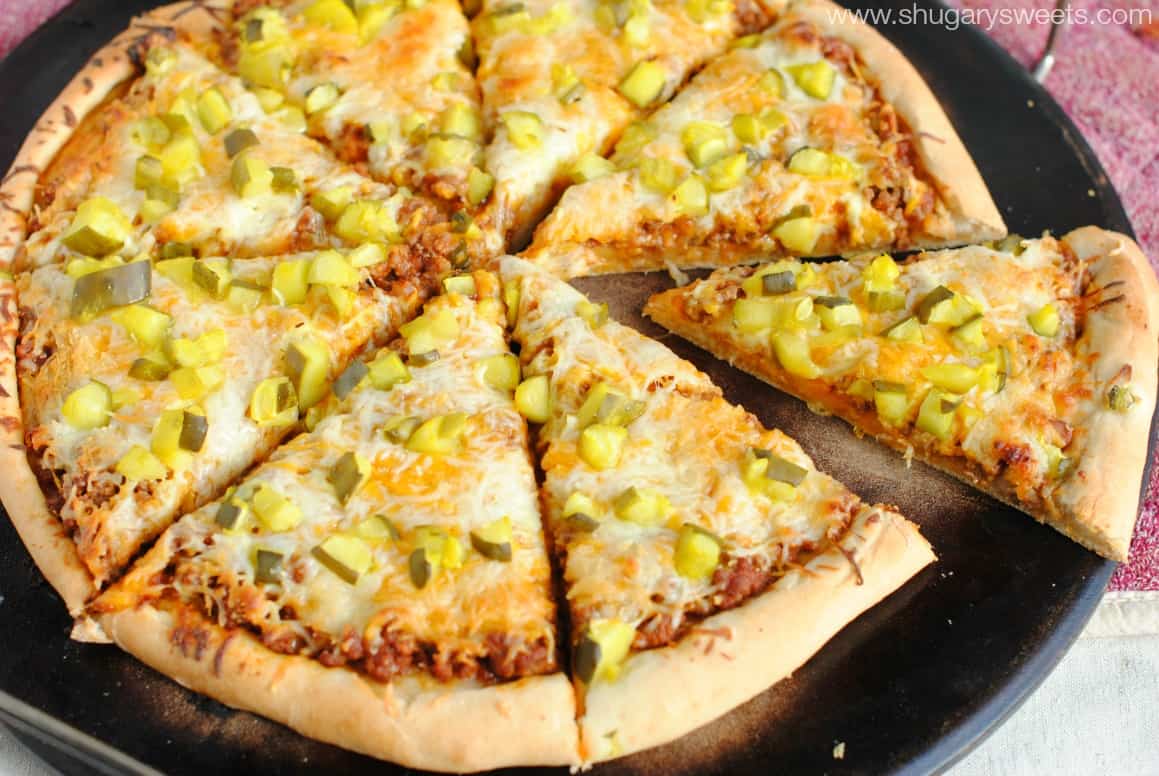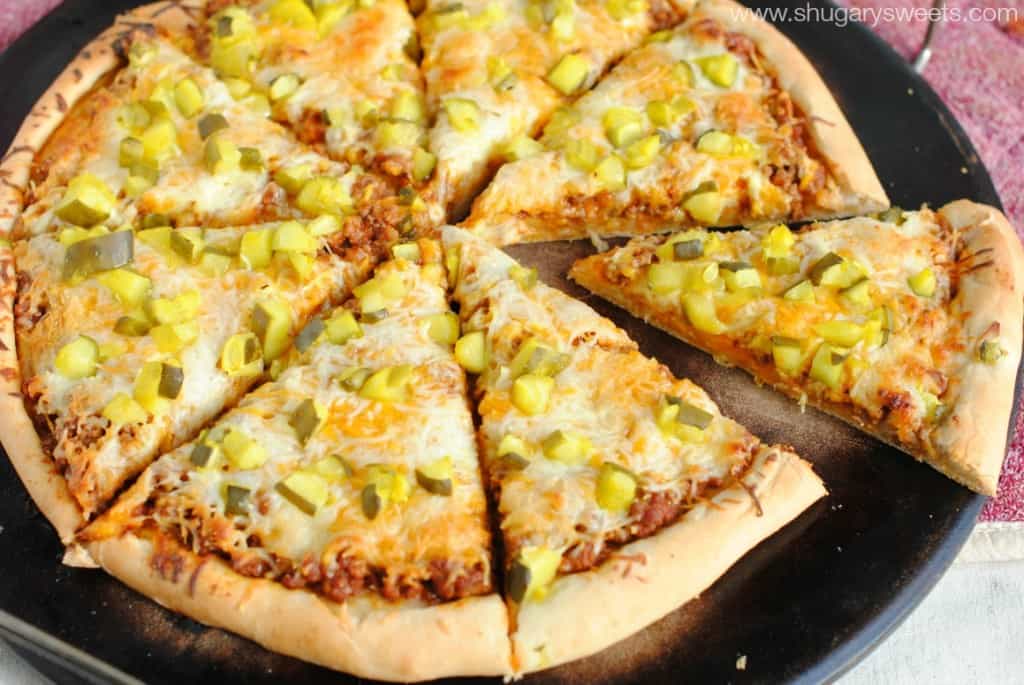 Yield: 2 - 12 inch pizzas
Sloppy Joes Pickle and Cheese Pizza
Ingredients
For the crust:
3 1/2 cup all-purpose flour
1 envelope Fleischmann's® Pizza Crust Yeast or Fleischmann's® RapidRise™ Yeast
1 1/2 Tbsp granulated sugar
1 1/2 tsp salt
1 1/3 cup very warm water (120degree to 130degree F)
1/3 cup canola oil
For the topping:
1 pound lean ground beef
1/4 tsp marjoram
1/2 tsp paprika
1 Tbsp minced onion
1/2 tsp kosher salt
1/2 tsp cornstarch
1/4 tsp garlic powder
1/4 tsp dry mustard
1/4 tsp celery seed
3/4 tsp chili powder
2 tsp granulated sugar
1/2 cup water
1 cup tomato sauce
2 cup shredded mozzarella cheese
2 cup shredded milk cheddar cheese
1 1/2 cup diced dill pickles
Instructions
Preheat oven to 425 degree F.
For the crust: In a large bowl, combine 2 cup of all-purpose flour, undissolved yeast, sugar and salt. Add very warm water and oil, mixing until well blended. (I used my electric mixer with paddle attachment). Gradually add the remaining flour to make a soft dough. The dough should form a ball and will be slightly sticky. Knead dough on a floured surface until smooth and elastic, for about 4 minutes (I used my electric mixer with dough hook attachment for this part instead, it worked great!!). Divide dough in half and cover with a clean dry towel until toppings are ready.
Cook and crumble the ground beef in a large skillet over medium high heat. Drain off the excess grease and return meat to the skillet. Add seasonings, water, and tomato sauce, mixing until fully blended. Simmer on low heat for 2-3 minutes.
Pat each portion of dough with floured hands to make a 12inch round pizza (using a baking pizza stone or round pizza pan). Form a rim by pinching the edge of the dough.
Spread half of the warm Sloppy Joe mixture onto pizza crust. Top with half the mozzarella and half the cheddar cheese. Sprinkle half the diced pickles over the pizza. Repeat with the second pizza.
Bake in oven for 18-20 minutes, until cheese is bubbly and melted and the crust is browned. Slice and enjoy immediately!!


 **I am part of the One2One Network and am working with ACH as a Baking Ambassador! While I have been compensated for this recipe post, all opinions about the product are 100% my own!**