When it comes to great cheese appetizers, it doesn't get any easier than Rotel Dip. With ground beef and juicy tomatoes, Rotel Dip is a tortilla chip's best friend! Only THREE Ingredients!
We love warm and cheesy dips! This Loaded Baked Potato Chip dip is a reader favorite! Or give our Buffalo Chicken Dip a try next. Both are great as a meal too!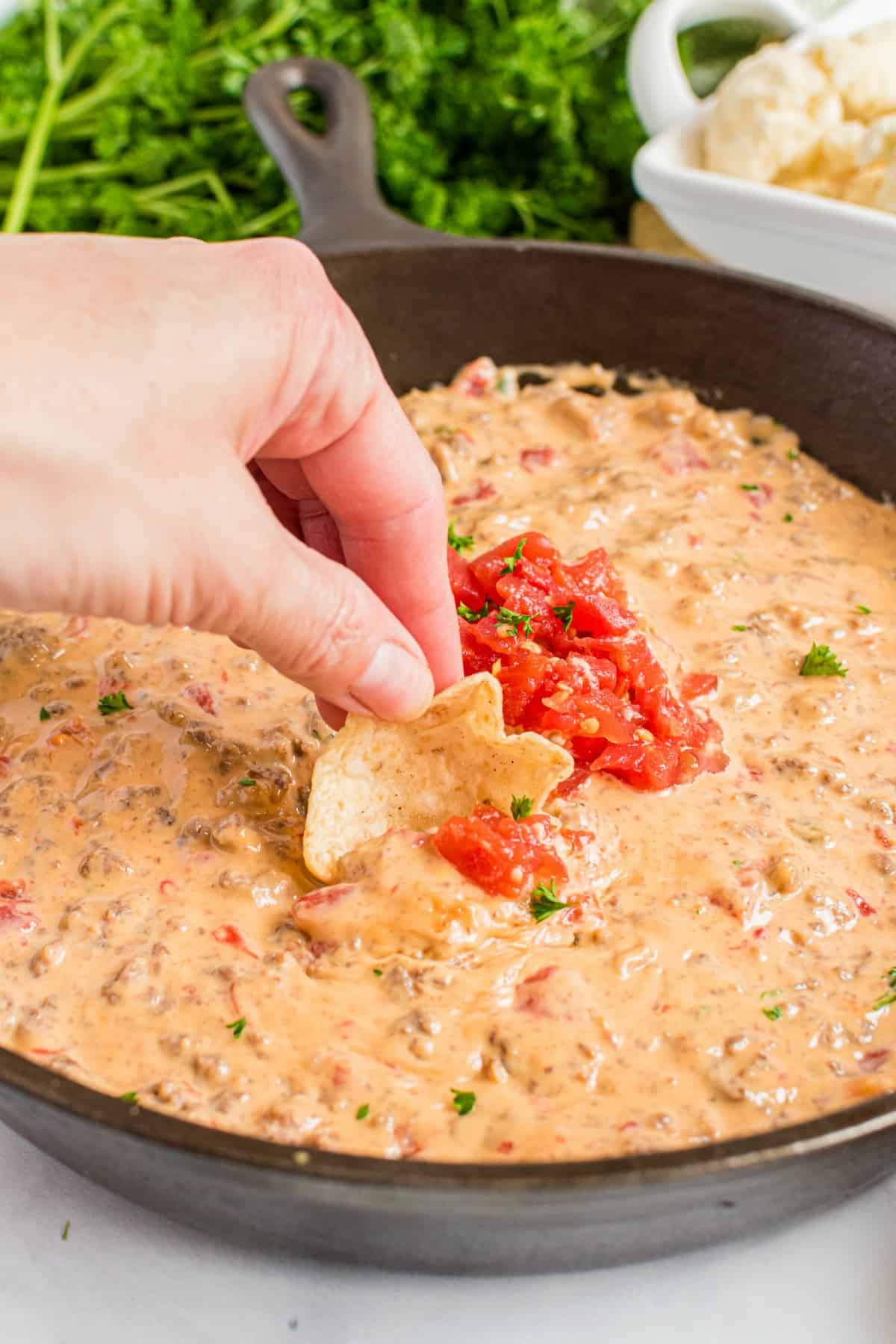 The Perfect Snack
The only appetizer better than cheese is MELTED cheese! The only thing better than melted cheese is melted cheese with rotel tomatoes and savory ground beef.
I love a dip with all kinds of fancy ingredients and spices, but sometimes you want simplicity. You want convenience. You want to get a scoop of melty cheese into your mouth as soon as possible.
Enter Rotel Dip!
I can't even begin to tell you how many times I've made some variation on this Velveeta and Rotel dip with ground beef over the years.
Variations like changing up the meat and cheese, adding spices or chopped peppers keep me from ever tiring of this classic and easy dip recipe!
The version I'm sharing with you today is Rotel Dip with Ground Beef in it's simplest form. Just 3 ingredients and one skillet and a few minutes to heat everything up.
Make it for your game day snacking, a midday nosh to keep the kids' hunger at bay or as an appetizer when you have company. You don't need any special reason to make a dip that's so easy and universally enjoyed.
Ingredient Notes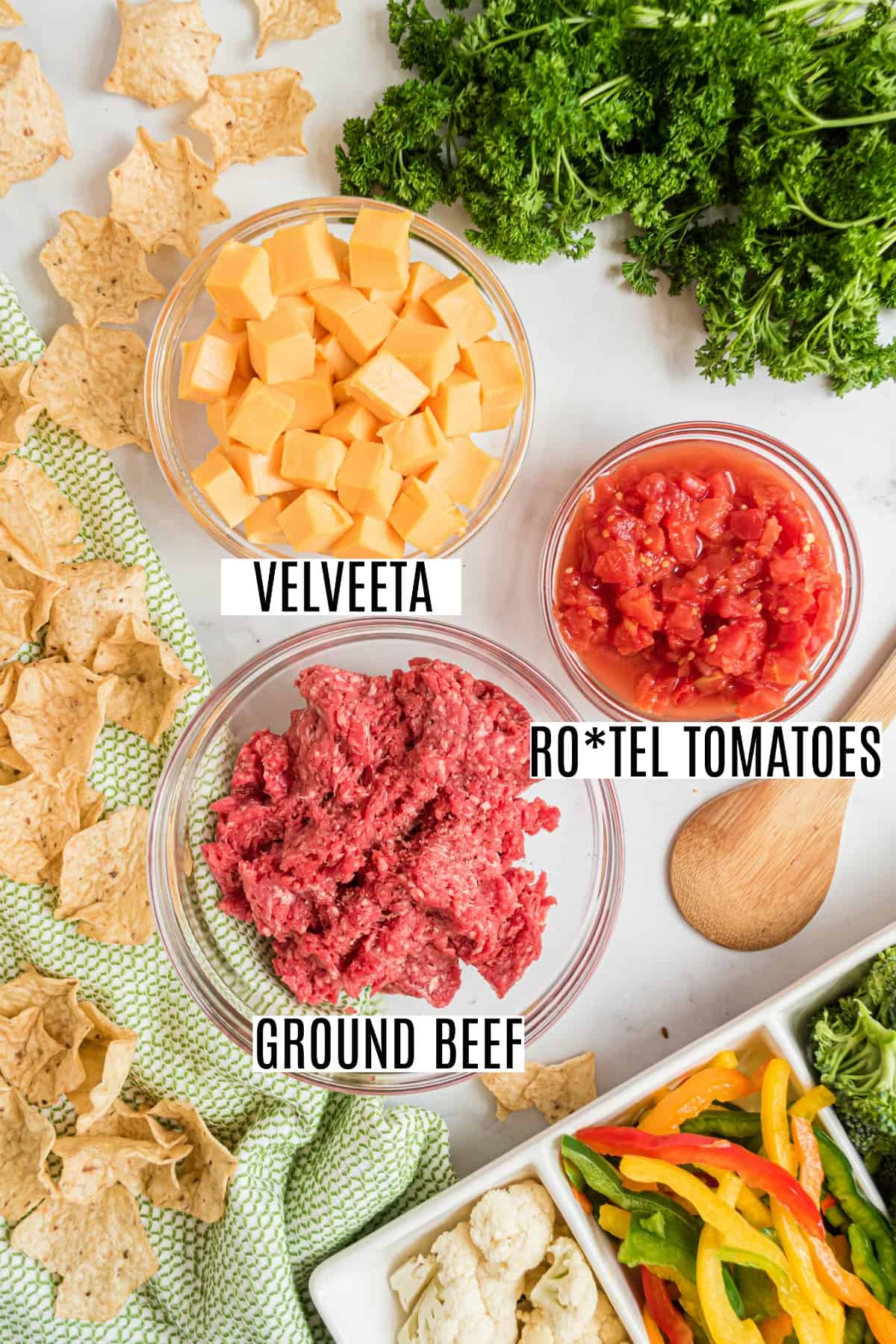 Adding ground beef to Rotel Dip elevates a very simple appetizer to another level. The meat adds tons of flavor and makes this dip filling enough to serve for dinner.
Yes, I've been known to serve blt dip or pizza dip for dinner.
Three Ingredients:
Ground Beef- Use a leaner beef so you have less grease to drain. You won't miss the fat thanks to the cheese!
Velveeta Cheese– Just the original box of cheese works!
Rotel tomatoes– decide how spicy you want it by choosing mild (original) or HOT.
Yes, I know it uses processed cheese. That's part of its charm. In most of my cooking, I use the less processed cheeses but when it comes to Rotel dip, you can't beat Velveeta which is designed to melt quickly and stay creamy.
Want a dip made with real cheddar cheese? This Instant Pot Queso Dip is perfection.
Step by Step Instructions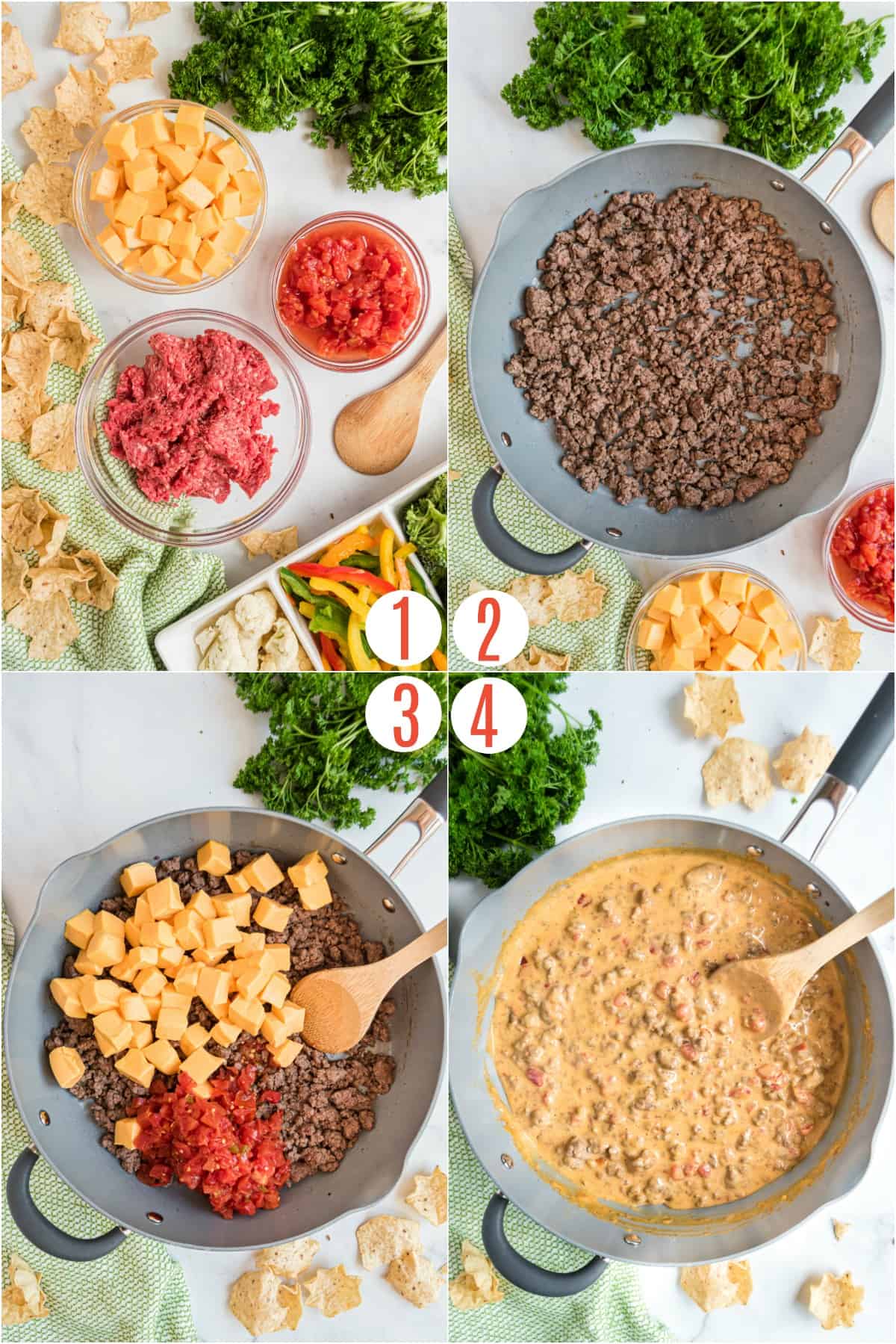 The dip comes together right on the stove using your cast iron skillet:
STEP 1. Brown ground beef in a cast iron skillet. Drain the grease.
STEP 2. Cut Velveeta cheese into cubes. Add cheese and tomatoes to the skillet with the beef. Stir until combined and cheese is smooth.
Serve immediately with tortilla chips or fresh veggies!
Variations
Consider this Rotel dip recipe your canvas to create! Changing out the meat and cheese is an instant way to customize this dip.
Sausage and ground turkey both make great subs for the beef. Here are a few more ideas for variations on Rotel dip:
Chili dip: Swap out the ground beef for a can of your favorite chili.
Spicy Rotel dip: Add a diced jalapeño for instant kick. A dash of chili powder is wonderful here, too.
Vegetarian: Omit the meat entirely or replace it with your favorite vegetarian ground beef substitute (or veggie chili).
Cream Cheese dip: Swap the Velveeta for two blocks of cream cheese to make a tangy, creamy Rotel dip.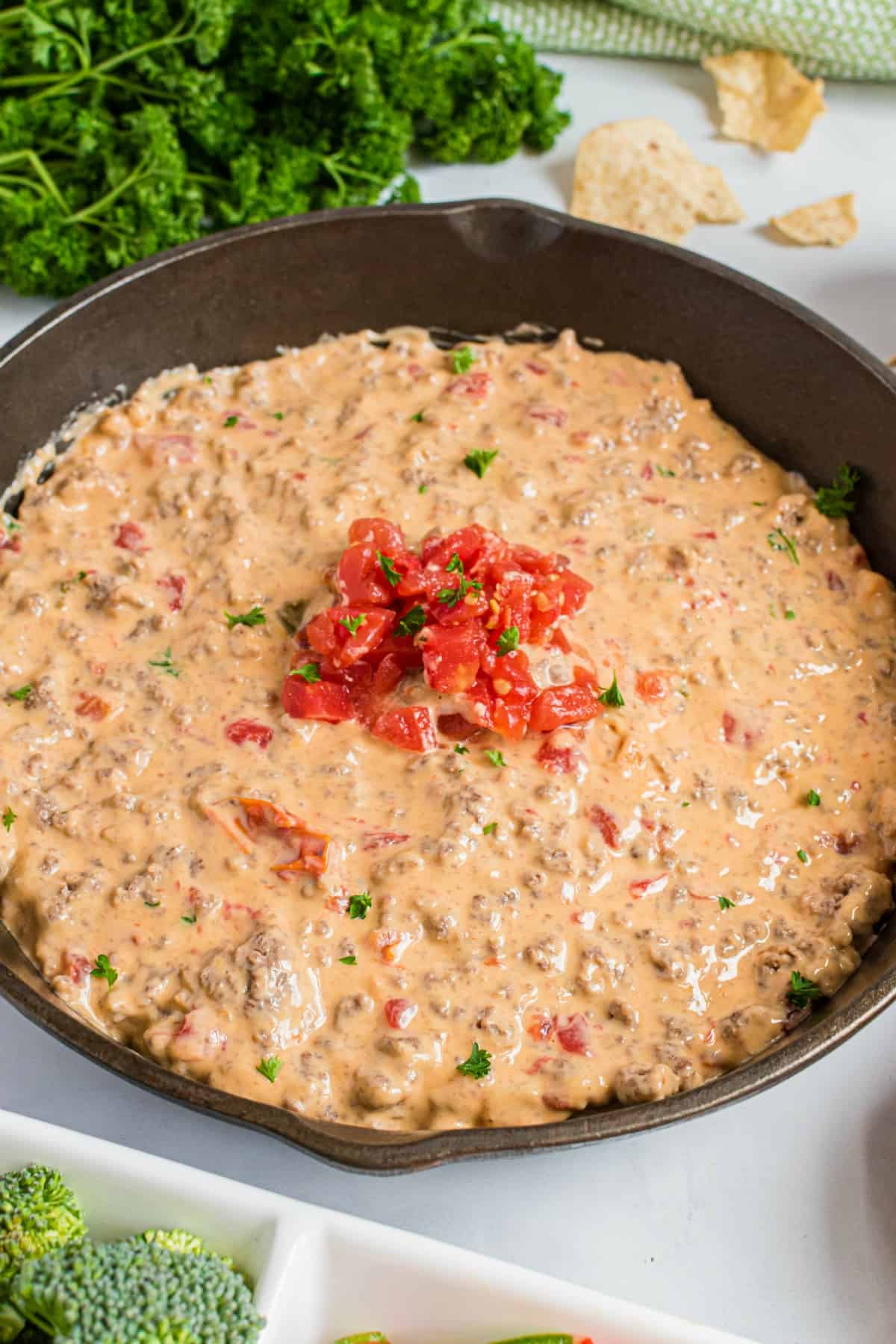 Tips and Tricks
If the cheese begins to harden, place your skillet over medium heat until creamy again. The longer you let the dip sit out, the more likely it is to harden, so I like to serve it right away.
Sharing this at a party? You can also serve Rotel dip in a small crockpot on warm to keep the dip the perfect consistency all party long.
I'll say it again: don't drain the canned tomatoes! the juice from the tomatoes keeps this dip creamy. It'll get much harder and tougher to scoop if you leave the juices out and won't have as much of that tangy tomato flavor.
Recipe FAQs
How do you make Rotel Dip in the slow cooker?
Brown your beef, then add it to the slow cooker with velveeta and rotel tomatoes. Turn on low for 3 hours, stirring occasionally.
What is in Rotel Tomatoes?
Rotel tomatoes are canned diced tomatoes with a hint of heat from green chiles that have been fire-roasted, diced and stirred into the simmering tomatoes. 
Can I use salsa instead of Rotel tomatoes?
Yes! But it does change the flavor of the dip slightly. Choose a mild or medium, THICK and CHUNKY salsa variety.
As an appetizer, a party food or a snack you keep all for yourself, Rotel Dip is easy, satisfying and always delicious!