Quick and easy Pimento Cheese Dip for all your snacking needs. Grab some crackers and veggie slices and get dipping!
Love appetizers? Whip up a batch of these easy Crab Puffs as a snack or a meal! Today's appetizer recipe is the perfect starter to Crack Chicken dinner!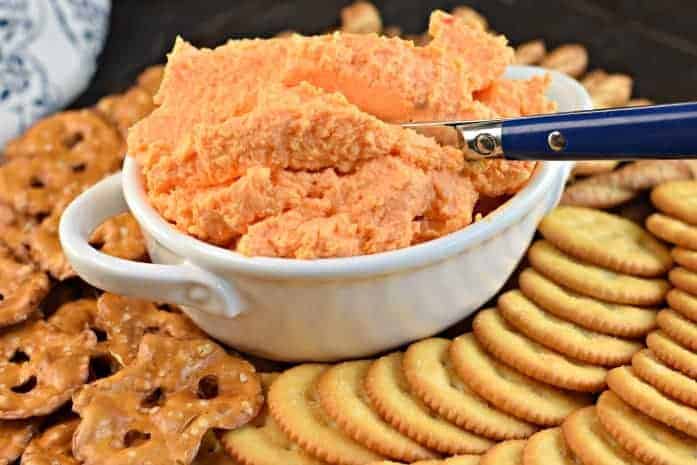 Why this Recipe is Best
Finger food is the best kind of food. This is a well-established fact.
In the summertime especially, my favorite kinds of meals are the ones that hardly look like traditional meals at all. Give me a platter of cheeses, meats, breads and fresh vegetables to nibble on (and maybe a glass of wine) and I'm beyond happy.
Filled with pimentos (obviously), cheddar cheese, protein-rich Greek yogurt and a hint of pepper jack, this dip is flavorful, smoky and finished with just a bit of heat.
But best of all, this Pimento Cheese Dip takes only 10 minutes to make and keeps in the fridge for a couple of weeks, making it the perfect summer snack to pull out whenever you need it.
Pimento Cheese is the ideal snack for between meals, party dip and addition to a charcuterie board, too!
Serve it up with some sliced cucumbers, baby carrots or toasted pitas for a simple but tasty appetizer. Food always tastes better when you don't need utensils to enjoy it!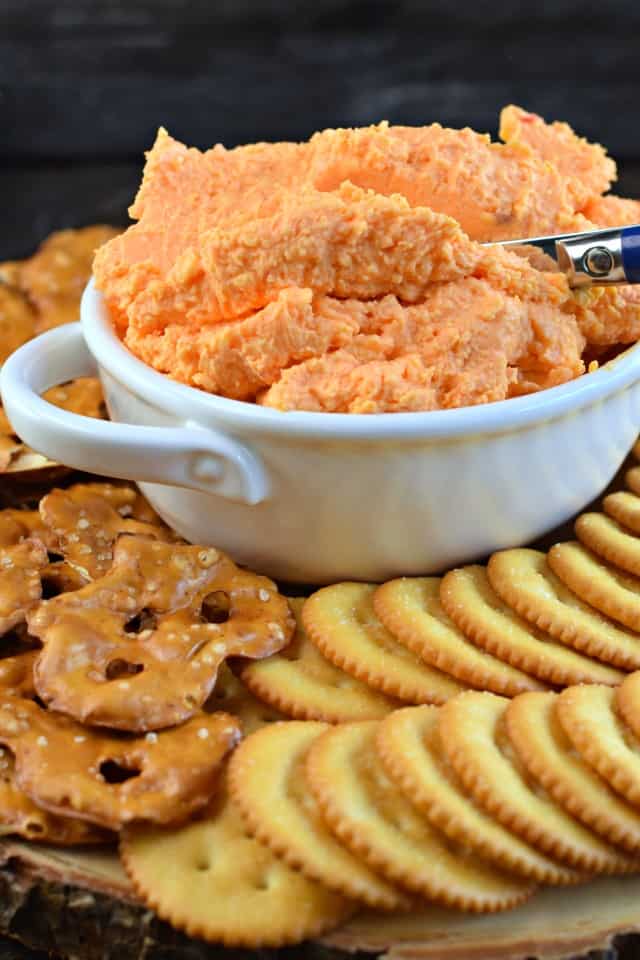 Ingredient Notes
All you do is combine the following ingredients in a food processor:
[Recipe at a glance; scroll down to printable recipe card for amounts]
extra sharp cheddar cheese, shredded
pepper jack cheese, shredded
1 jar of pimentos, drained
cream cheese
Greek yogurt
onion and garlic powders 
cayenne pepper 
Then, you pulse everything until well combined. Bam! Done.
Serve Pimento Cheese Dip immediately OR store it in the refrigerator until you're ready to snack.
Once you make pimento cheese dip a few times, you may want to start having some fun experimenting with different amounts of spice and seasoning.
This dip delivers just a bit of heat right at the end of each bite. However, if you're super sensitive to spice, feel free to omit it or reduce the amount. Likewise, if you're a spicy food nut, you may enjoy adding a dash more cayenne!
This dip tastes wonderful at room temperature or cold. Like any creamy dip, however, it shouldn't be left out at warm temperatures for more than a couple of hours.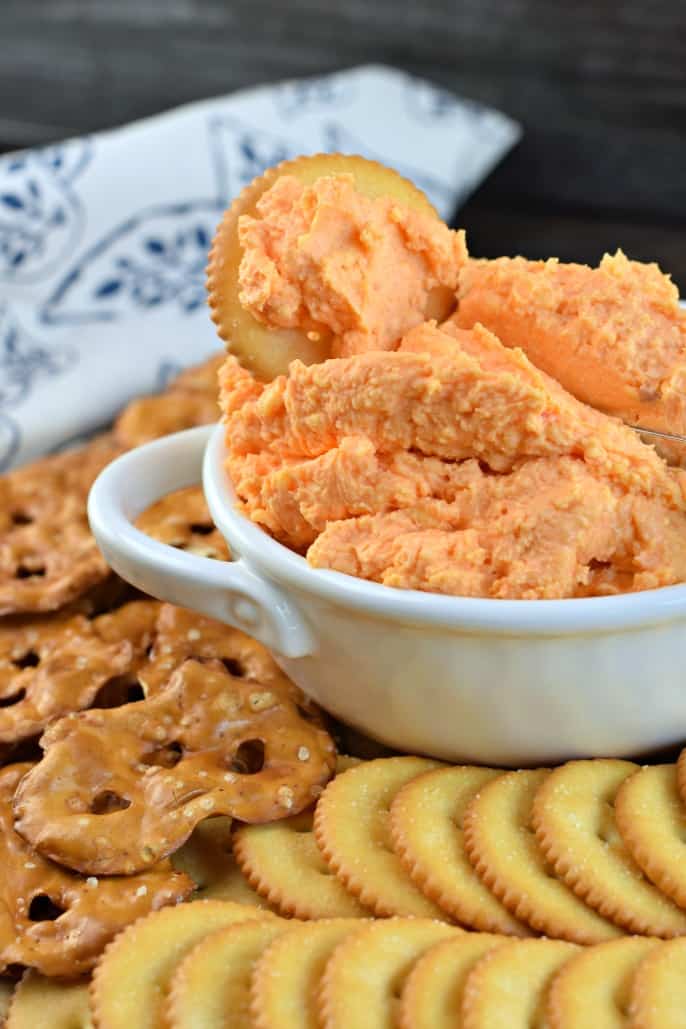 What to serve with Pimento Cheese Dip
Do I really need to tell you how to eat Pimento cheese? My guess is not, but if you want to think beyond the usual crackers, here are some of my favorites finger foods to dip into this spread:
Toasted triangles of pita bread
Pita chips
Toast points
Pretzels
Sliced cucumbers
Carrot slices
Celery
Tortilla chips
Broccoli and cauliflower florets
Sliced bell peppers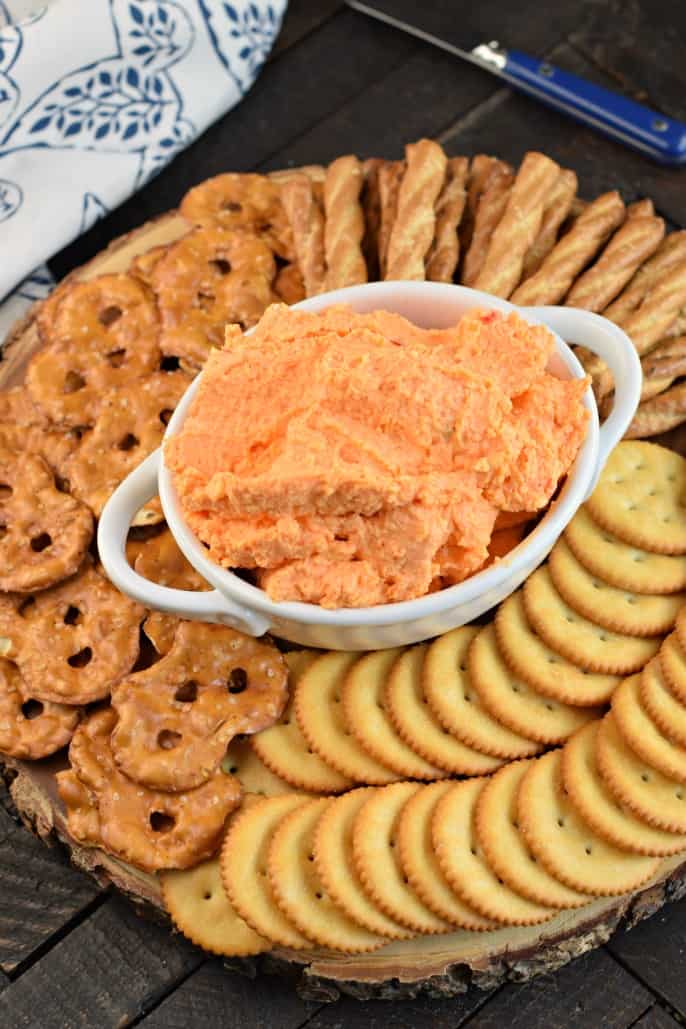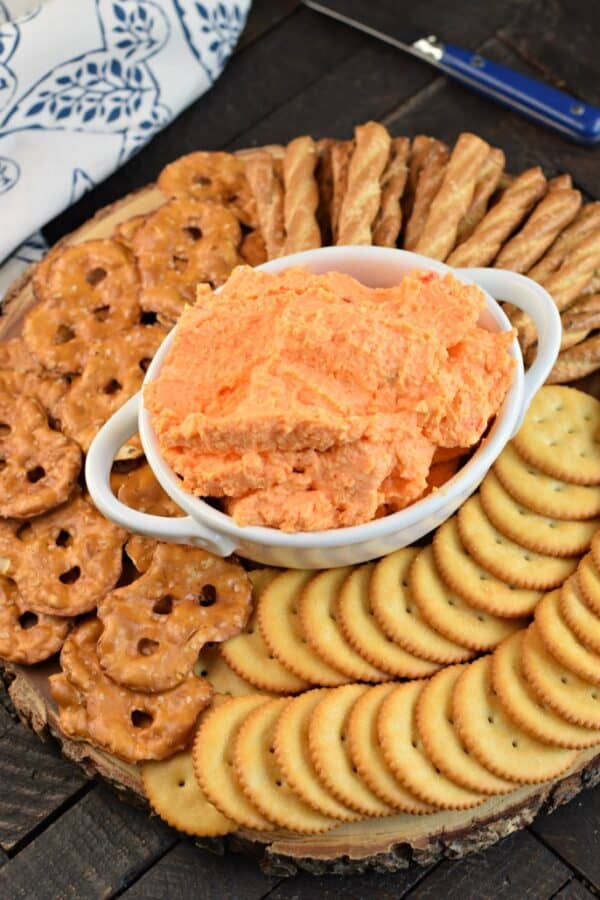 Pimento cheese snack ideas:
CHEESE BOATS: Spread pimento cheese into celery sticks. Enjoy as is or dot each "boat" with more pimentos, pine nuts or chopped olives.
SANDWICHES: Pimento cheese dip tastes great on a sandwich. Spread onto toasted bread, add veggies or your favorite deli meat and enjoy.
CHEESY CRACKERS: Spoon pimento cheese dip on to individual crackers. Heartier crackers like Triscuits or Ritz work well. Arrange onto a plate and serve as an easy afternoon snack.
Tips and Tricks
Be sure you use unsweetened Greek yogurt here! Even "plain" Greek yogurts sometimes contain added sugars, so double check the label.
The extra sharp cheddar cheese and jack cheese are by far my preferred cheeses for pimento cheese dip. Cheddar comes in a variety of colors so don't stress too much about choosing a white cheddar vs. orange or yellow. Just look for the words "extra sharp" on the label!
Shred your own cheese! Store bought shredded cheeses have a coating on them to keep the shreds from clumping, which makes it harder to get that dreamy creamy texture you want in a cheese dip. If you've never shredded your own cheese, it's super easy: use a box grater or your food processor and it's done in a pinch!
Recipe originally published July 7, 2014. Photos updated May 13, 2019.
Grab some cheese, a jar of pimentos and your favorite bread and get ready to enjoy a bowl of delicious tangy Pimento Cheese Dip tonight!