Savor the flavors of fall with this Apple Pie Poke Cake recipe. Perfectly sweetened white cake meets homemade apple pie filling to help you transition from summer to autumn. Vanilla pudding and whipped cream make this simple apple cake even more decadent!
Have you ever made a poke cake before? From Chocolate Mint Poke Cake to Coconut Cream Poke Cake, we can't get enough!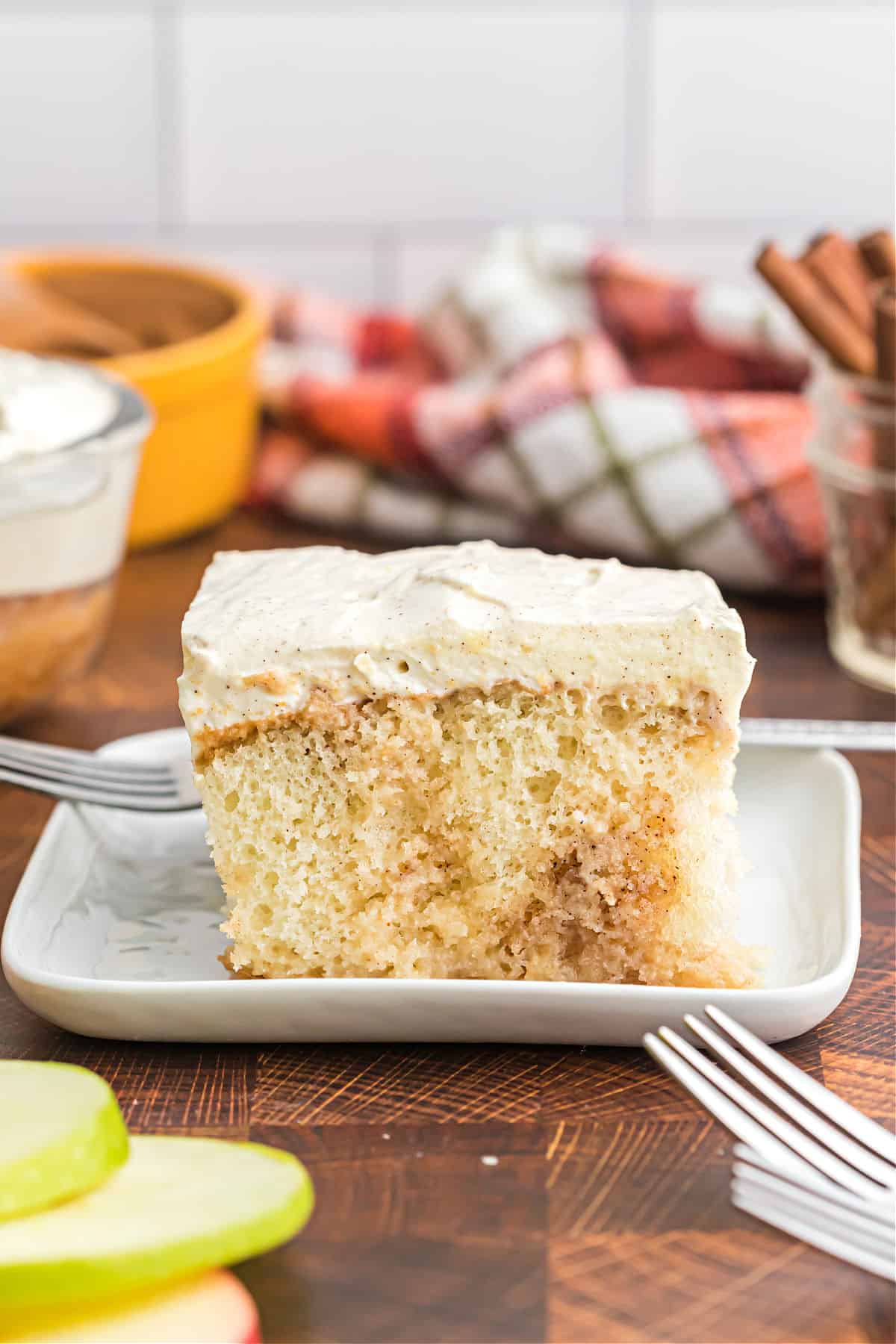 Why this Recipe is Best
If you haven't jumped on the Poke Cake bandwagon, what are you waiting for?
Poke Cake recipes start with a simple cake mix. The cake becomes a sweet canvas for adding any kind of pudding flavor or colorful JELL-O you can imagine.
After poking holes all over a baked cake, you pour pudding (or gelatin, in some cases) over the whole thing. The pudding seeps into every bite of the cake making it super moist and sweet!
This Apple Pie Poke Cake is my favorite version of apple poke cake for a few reasons:
Are you ready to try it yet?
Ingredient Notes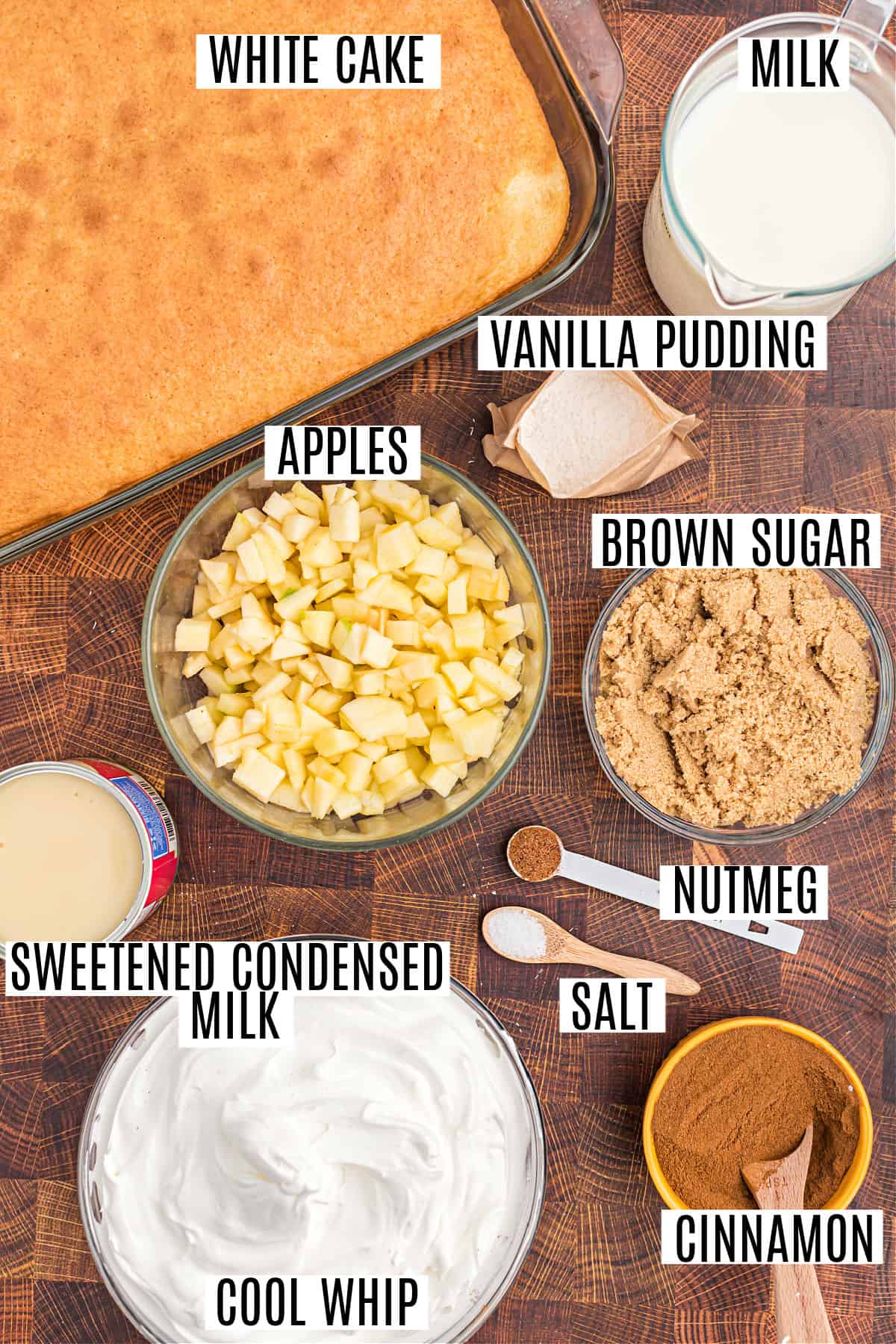 Easy Instructions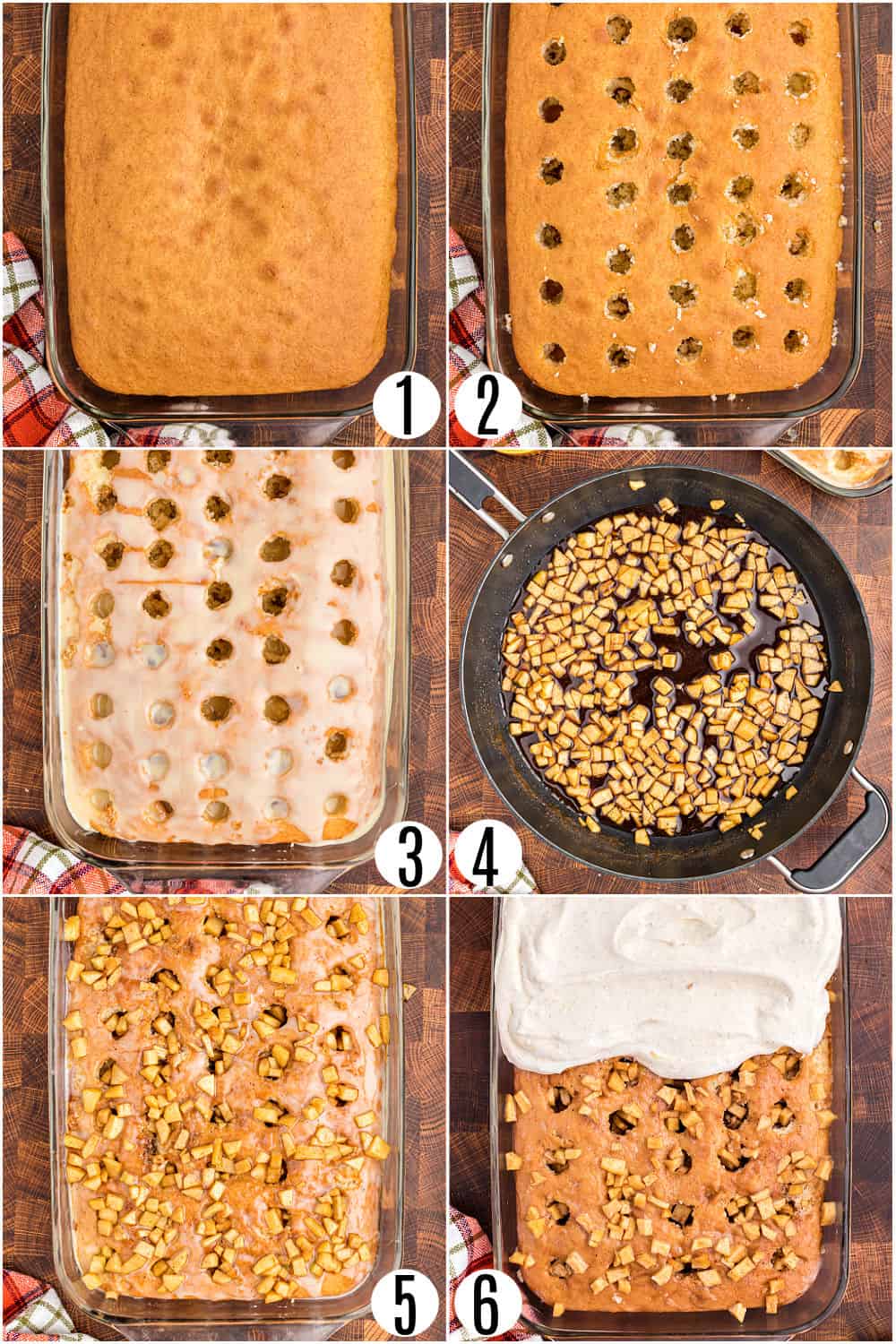 First things first: prepare your white cake.
While it's baking you can prepare the other components of the poke cake.
Make the apple pie filling:
Simmer the diced apples in a heated skillet with water, brown sugar, spices and salt. They'll take about 12 minutes to cook down.
Assemble the poke cake:
When the cake is done baking, poke holes all over the top. Immediately pour a can of sweetened condensed milk over the whole thing.
Next, pour the apple pie mixture onto the cake. Refrigerate for at least 3 hours.
While the cake is chilling, whisk the pudding mix with milk and cinnamon. Cover and refrigerate until it's time to top the cake.
Topping the cake:
Stir the chilled pudding mixture with thawed Cool Whip. Spoon over the top of the Apple Pie Poke Cake.
Slice into squares and serve!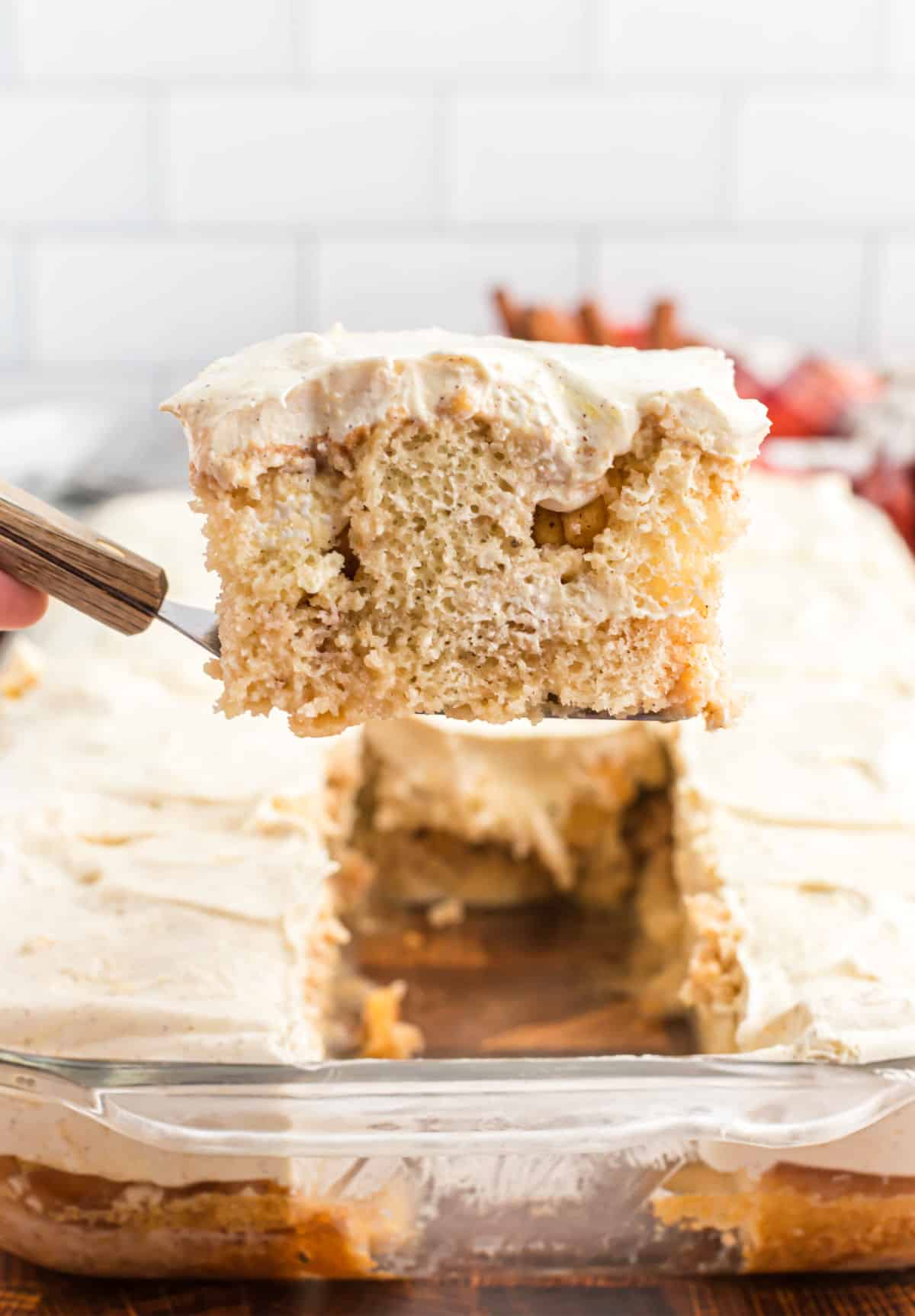 Tips and Tricks
Recipe FAQs
Can I use fresh whipped cream instead of Cool Whip?
Yes, homemade whipped cream will work in the pudding topping. It may melt off the cake more quickly than stabilized whipped cream toppings, so make sure to keep the cake chilled if you're not eating it right away.
Will canned apple pie filling work in this recipe?
It sure will! It'll give the cake a slightly different texture but will taste great, nonetheless.
How many apples do I need?
That all depends on the size of your apples. I'd approximate you'll need about 2 medium apples or 3 smaller ones. Measure your apples after dicing to ensure consistent results.
Can I add the whipped cream topping in advance? Or do I have to add it just before serving?
You can certainly add it ahead of time. Keep it covered in the refrigerator until you're ready to dig in!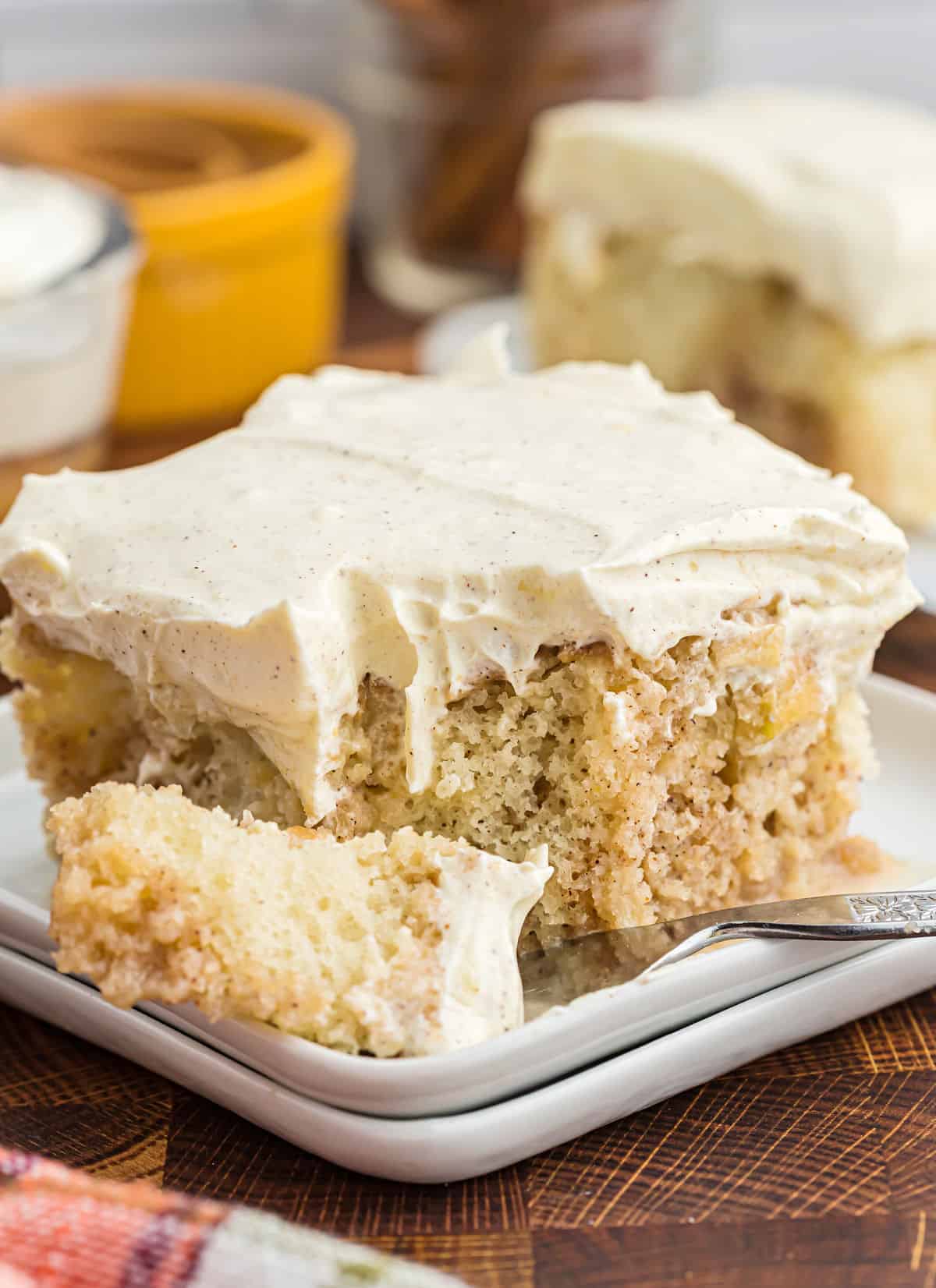 Spiced Apple Pie meets vanilla cake and whipped cream. What could be better? Apple Pie Poke Cake is just the recipe you need to welcome fall.