Make the best ever cinnamon Fried Apples with this easy skillet recipe. Caramelized with butter and brown sugar, these melt-in-your mouth apples are a southern staple!
Fried Apples are the perfect side dish for Instant Pot Pork Chops. Save the leftovers for topping your Homemade Waffles the next morning!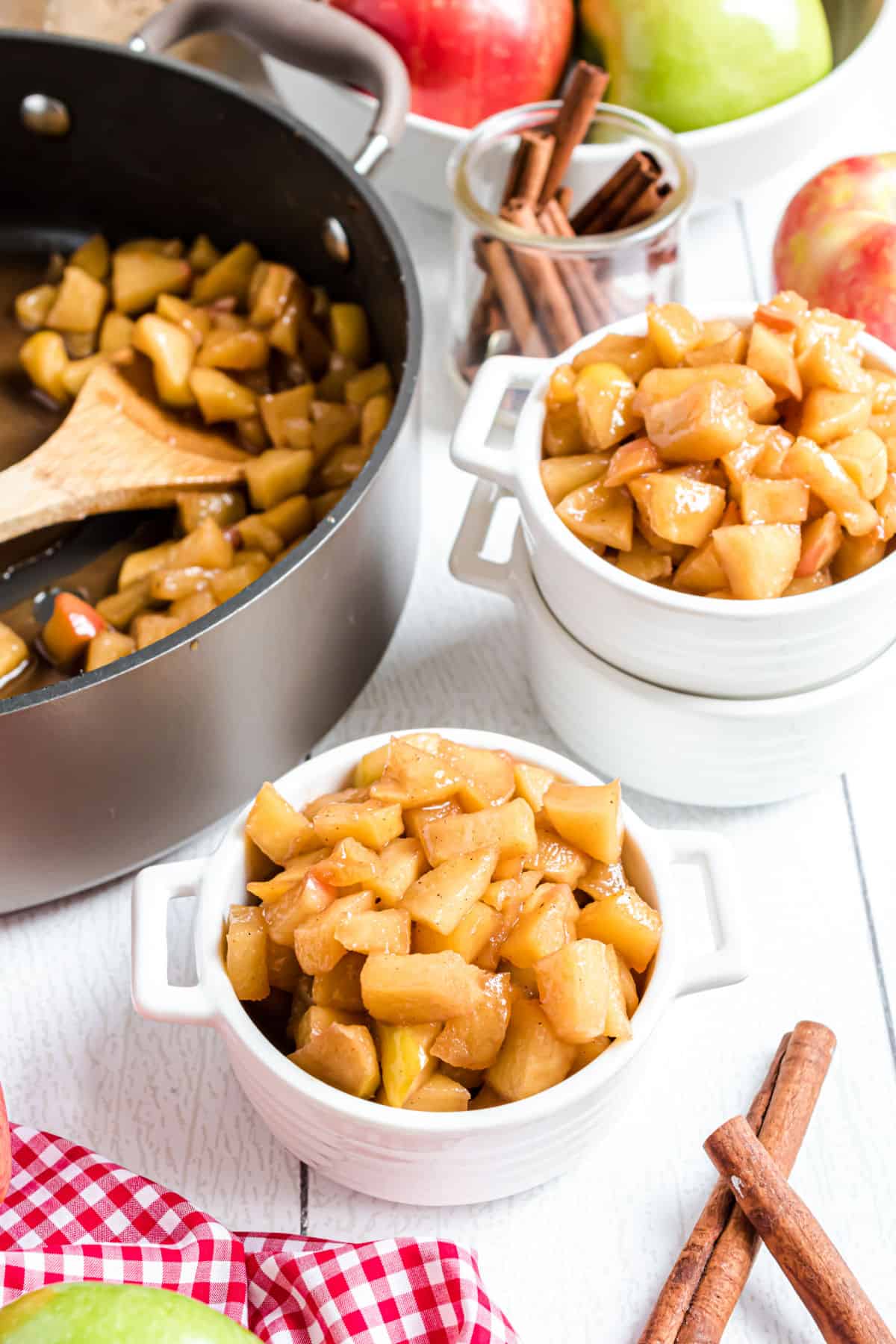 What are Fried Apples
Today's recipe is also known as "Skillet Apples" depending on where you're from. Fried Apples are diced or sliced, then cooked stove top with plenty of butter.
Sweetened with brown sugar, then sprinkled with spices, the apples caramelize as they cook. The result is a soft, flavorful apple dish you can serve as a side dish, breakfast or dessert!
There's nothing quite like waking up to the smell of apples and cinnamon simmering to buttery soft perfection.
This recipe makes a wonderful addition to Christmas breakfast or other holiday meal. But it's also quick and easy enough to whip up any day of the year!
Add some of these fried apples to our delicious Caramel Apple Cupcakes! You'll love the cinnamon buttercream too.
Ingredient Notes
Apples – Choose firm apples like Granny Smith, Honeycrisp or Gala for this recipe. Firmer apples will soften while cooking rather than becoming mushy.
Lemon juice – Citrus prevents the apples from browning and also adds a zip to the sweet apple taste.
Unsalted butter – Frying with unsalted butter allows you to control the saltiness in your fried apples.
Vanilla extract – Gives the fried apples an added depth of flavor. This is a perfect time to put your homemade Vanilla Extract to use.
Easy Instructions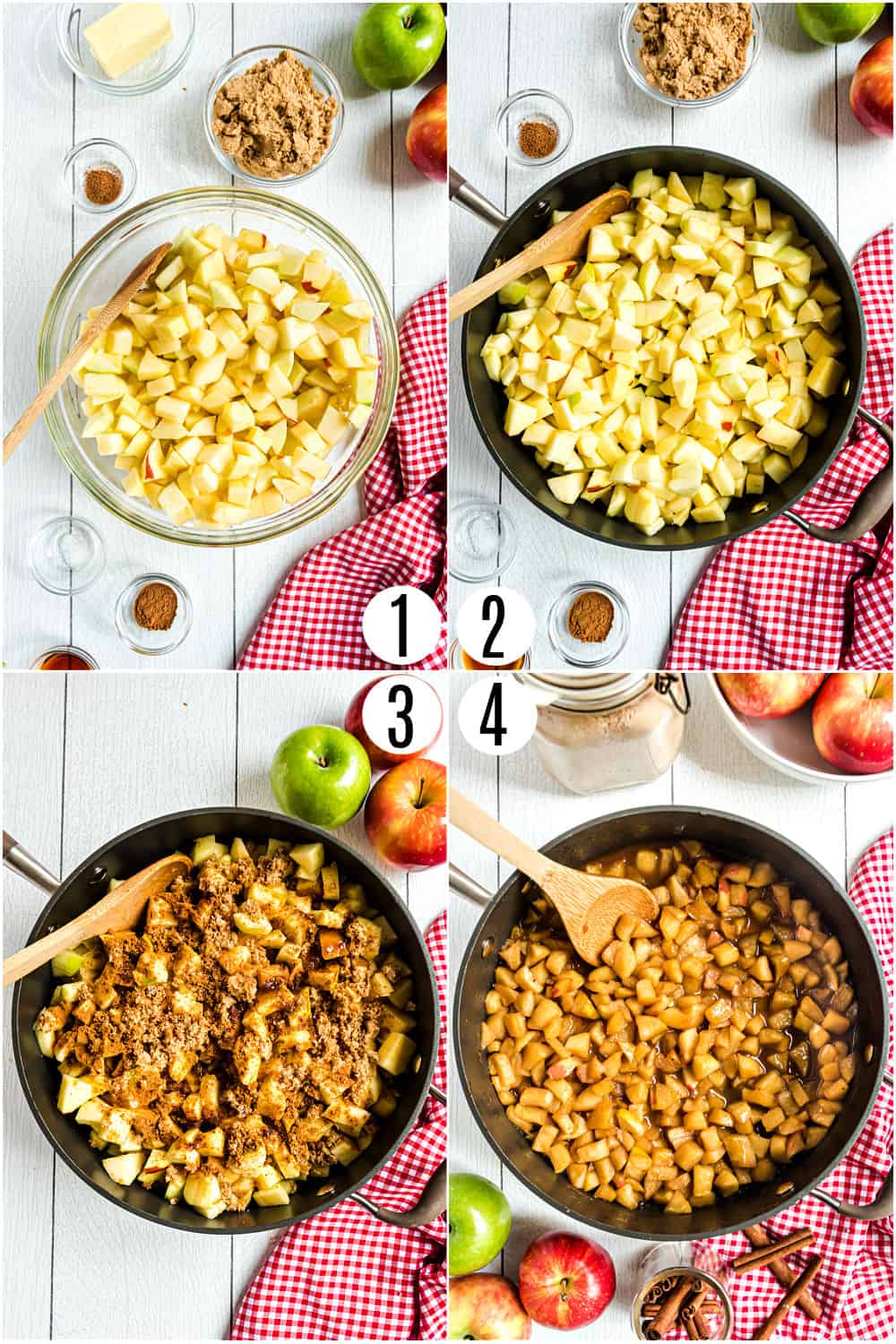 Peel and dice your apples:
Remove the core and dice the apples into small pieces. We recommend cutting the pieces no larger than half an inch long.
Squeeze lemon juice over the diced apples. Toss to coat them in the juice.
Fry in skillet:
Melt the butter in your skillet. Add the apples, brown sugar and spices.
Keep cooking the fried apples over medium heat. Stir occasionally until buttery soft. This will take between 10 and 15 minutes.
Remove from the stove and serve warm.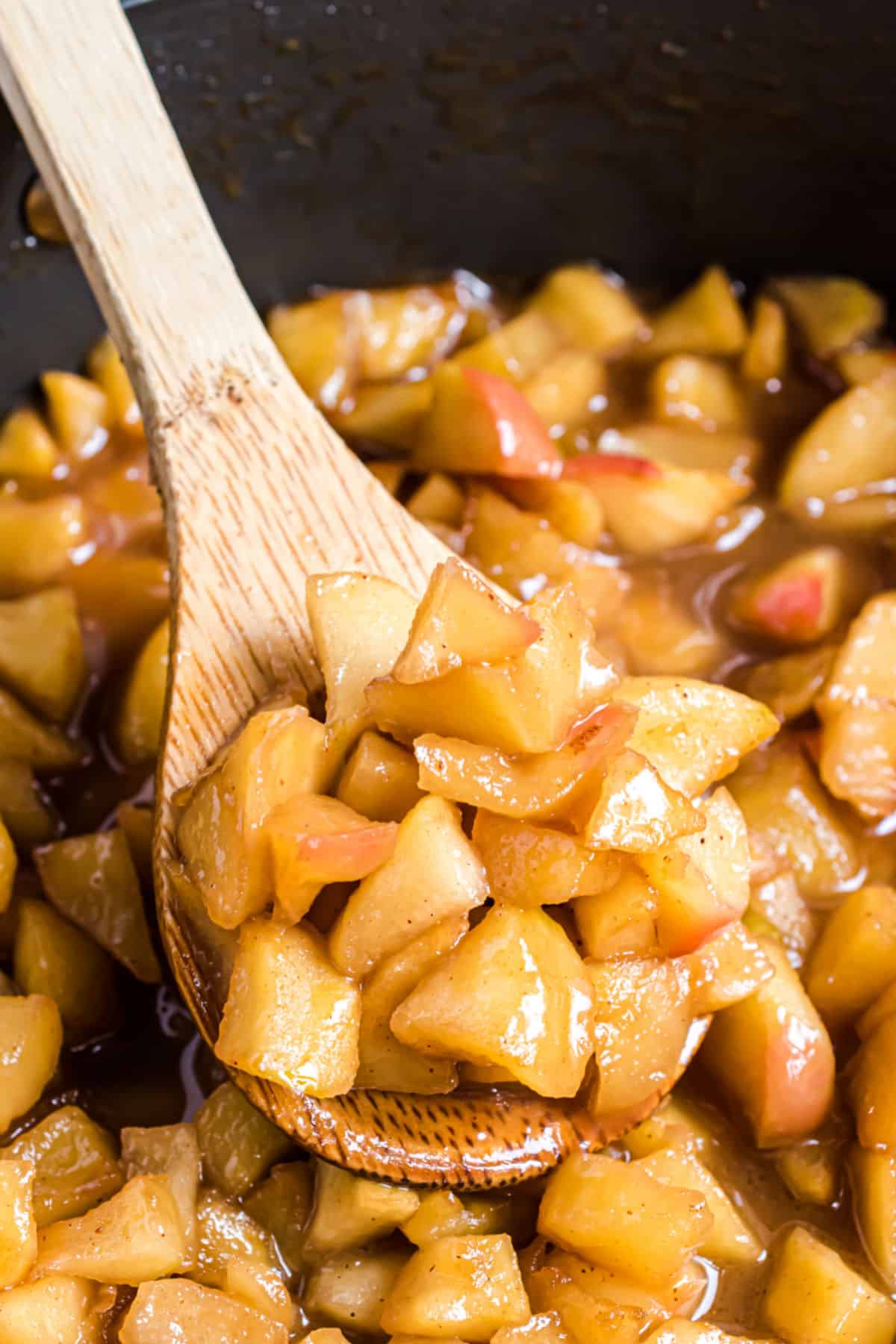 Tips and Tricks
Wondering how to serve these delicious copycat Cracker Barrel fried apples? Here are a few favorite serving suggestions.
Pancakes or waffles — Transform ordinary waffles or pancakes into a breakfast feast with a topping of fried apples. Why not add some Homemade Whipped Cream while you're at it?
Oatmeal – Stir a spoonful of these apples into your hot breakfast cereal for a sweet start to your day.
Ice cream – A scoop of Homemade Vanilla Ice Cream topped with fried apples tastes like an upside down apple pie!
Yogurt – Plain or vanilla yogurt is a perfect vehicle for these apples too.
Pork chops – A plate of baked pork chops isn't complete without a side of skillet apples!
Love apples for breakfast? Try our Apple Cinnamon Rolls next!
Dessert: Whip up this delicious German Apple Pie for your next gathering, there won't be a slice to spare!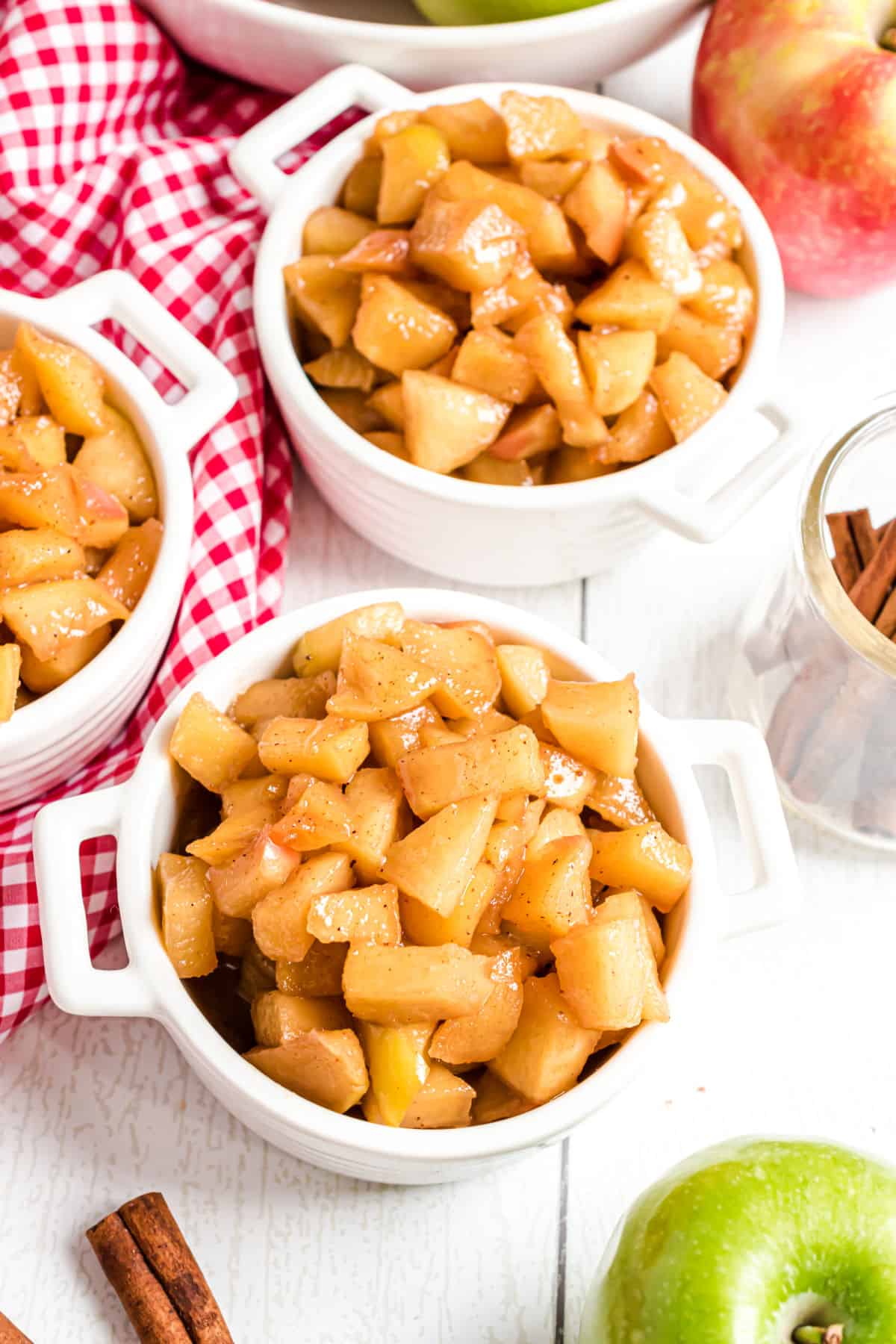 Recipe FAQs
How do you store fried apples?
Store these fried apples in a sealed container in the fridge. Enjoy the leftovers within 5 days.
Can I make skillet apples ahead of time and freeze them?
Skillet cooked apples can definitely be frozen for longer storage. Let them cool completely, then transfer to a freezer safe container. Enjoy within 3 – 6 months.
How do you reheat fried apples?
These fried apples reheat well in either the microwave or on the stove. You may need to add a splash of water to help them soften again. If reheating apples from frozen, be sure to let them thaw first. Then place them in a sauce pan on the stove and stir until warmed through.
More Apple Recipes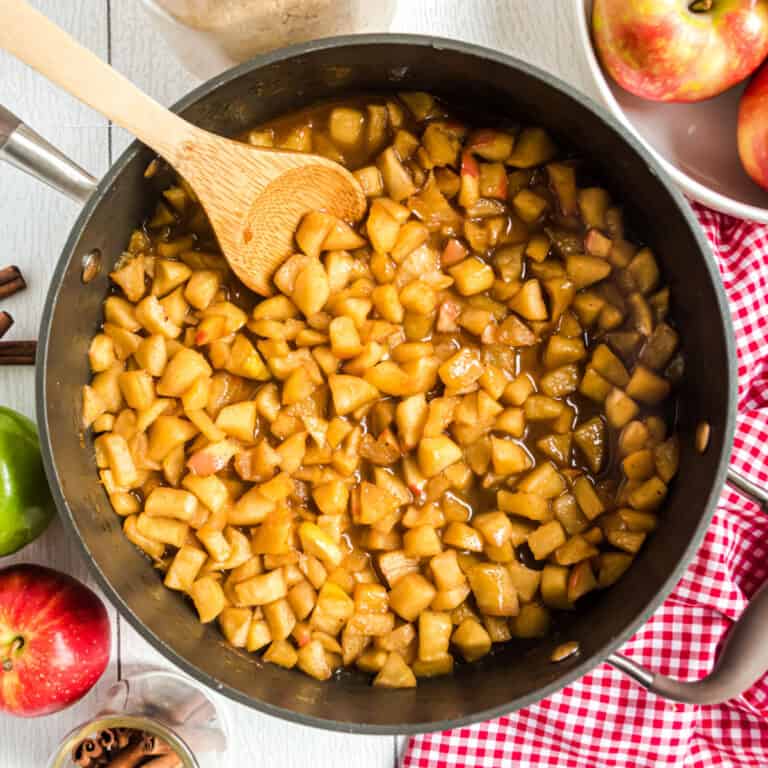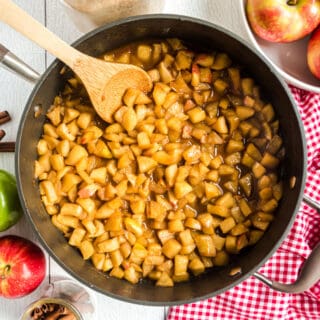 Fried Apples
Make the best ever cinnamon Fried Apples with this easy skillet recipe. Caramelized with butter and brown sugar, these melt-in-your mouth apples are a southern staple!
Ingredients
8

apples

about 7-8 cups diced

1

lemon

juiced (about 1 ½ – 2 Tablespoons)

¼

cup

unsalted butter

½

cup

light brown sugar

packed

1

teaspoon

ground cinnamon

¼

teaspoon

ground nutmeg

1

teaspoon

vanilla extract

Dash of kosher salt
Instructions
Peel, core and dice the apples into pieces no larger than ½", and place them into a large bowl.

Pour lemon juice over the apples and stir to coat.

In a large skillet, melt butter over medium heat.

Add apples and sprinkle the rest of the ingredients over the apples. Stir to coat.

Continue cooking over medium heat, stirring occasionally, for about 10-15 minutes or until apples have softened.
Notes
Lemon juice prevents the apples from browning and gives a little zip to the taste.
Granny Smith, Honeycrisp, Gala or other apple varieties that are a little more firm are good for this recipe. It prevents the apples from getting mushy upon cooking.
Storage: In an airtight container in the refrigerator for up to 5 days.
Reheating: In the microwave (might need to add a little water) or on the stovetop until heated through.
Freezing: After preparing the fried apples, let cool them completely, then place in an airtight, freezer-safe container for up to 3 to 6 months. To use, thaw in the refrigerator and warm in a saucepan over medium heat.
Uses: Topping for oatmeal, ice cream, yogurt, waffles, pancakes. Wonderful as a side dish to baked pork chops.
Nutrition
Serving:
1
scoop
,
Calories:
257
kcal
,
Carbohydrates:
49
g
,
Protein:
1
g
,
Fat:
8
g
,
Saturated Fat:
5
g
,
Polyunsaturated Fat:
3
g
,
Cholesterol:
20
mg
,
Sodium:
34
mg
,
Fiber:
6
g
,
Sugar:
40
g
Get warm and cozy with a skillet full of fried apples! With so many ways to serve it, this is a recipe you'll want to make over and over again.