This simple Cherry Slab Pie packs a ton of fruity flavor with minimal effort. The lattice crust topping creates a gorgeous, easy-to-cut dessert you'll want to show off at your next potluck!
Love slab pie? You're in luck! We love this easy apple slab pie recipe for weeknight dessert or serving a crowd. Our blueberry slab pie is equally delicious and quite easy as well.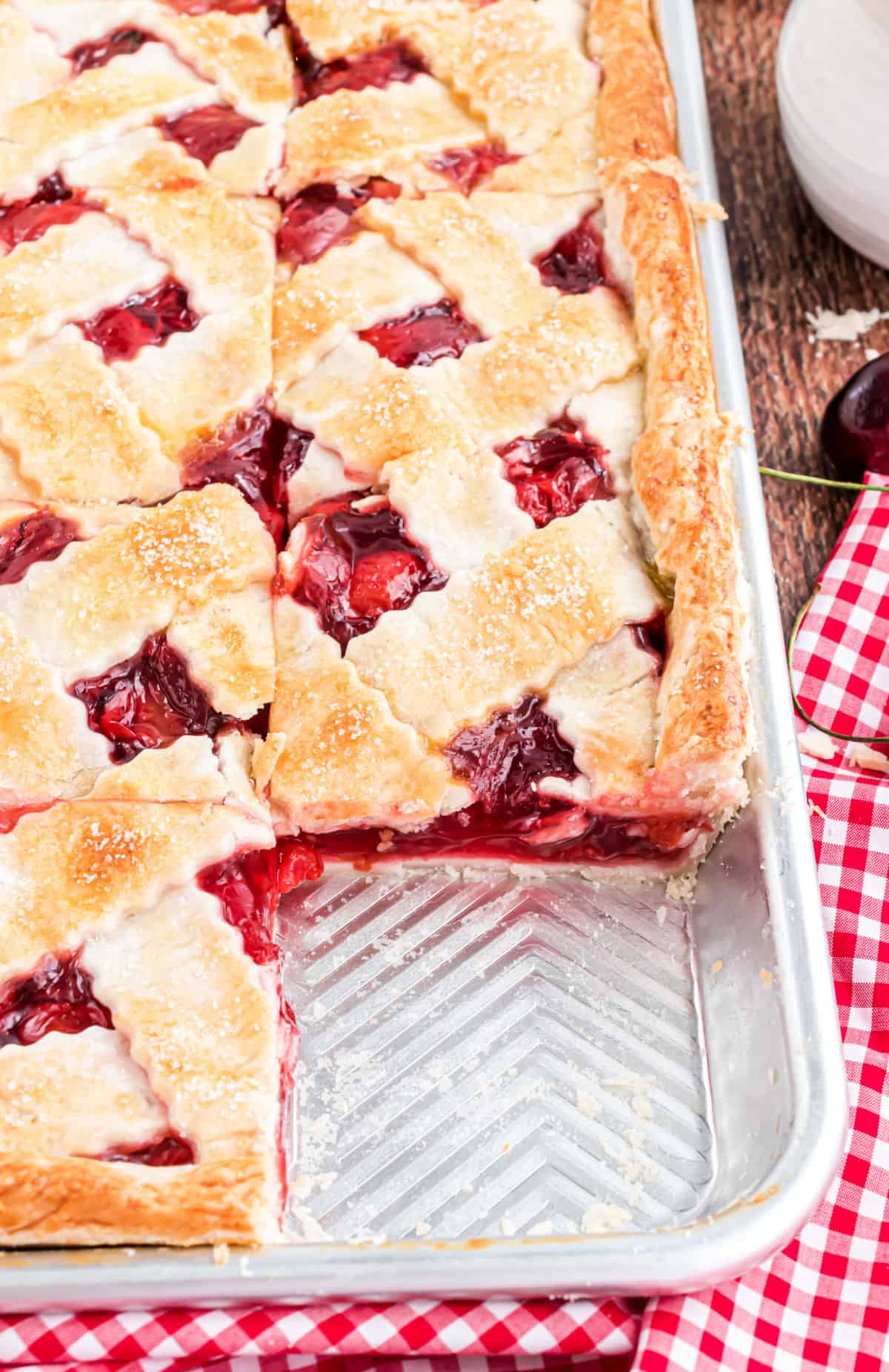 Why This Recipe Works
This easy pie recipe bakes all the joy of our favorite cherry pie into half the time. Here's why I love it.
Pre-made pie crusts save you a ton of time and effort.
Canned cherry pie filling is ready-made, delicious, and foolproof.
A woven lattice crust adds visual appeal to the finished pie.
Almond extract lends a touch of delectable amaretto flavor.
It can be frozen after baking which means you'll have pie on standby!
Cherry slab pie is easier to slice and serve than traditional round pies, so it's perfect for parties, picnics, and other big gatherings. Much like our fun cherry hand pies, today's recipe is even easier!
Ingredient Notes
Cherry Pie Filling – Ready-made pie filling is a breeze to use. Depending on your preference, you can use sweet or tart cherry pie filling. Or mix the two for the best of both worlds.
Almond Extract – This extract is optional, but it adds wonderful flavor. Feel free to omit it completely or substitute with vanilla extract if you prefer to avoid nuts.
Refrigerated, Thawed Pie Crusts – Most frozen pie crusts come with two in a package. You'll need 3 pie crusts for this recipe. Homemade pie crust can also be used.
Egg – Brushing your crusts with egg wash before baking guarantees a perfect golden-brown hue with a touch of shine.
Coarse Sanding Sugar – Sparkly sugar adds a finishing touch of crunch and sweetness to the slab pie.
Easy Instructions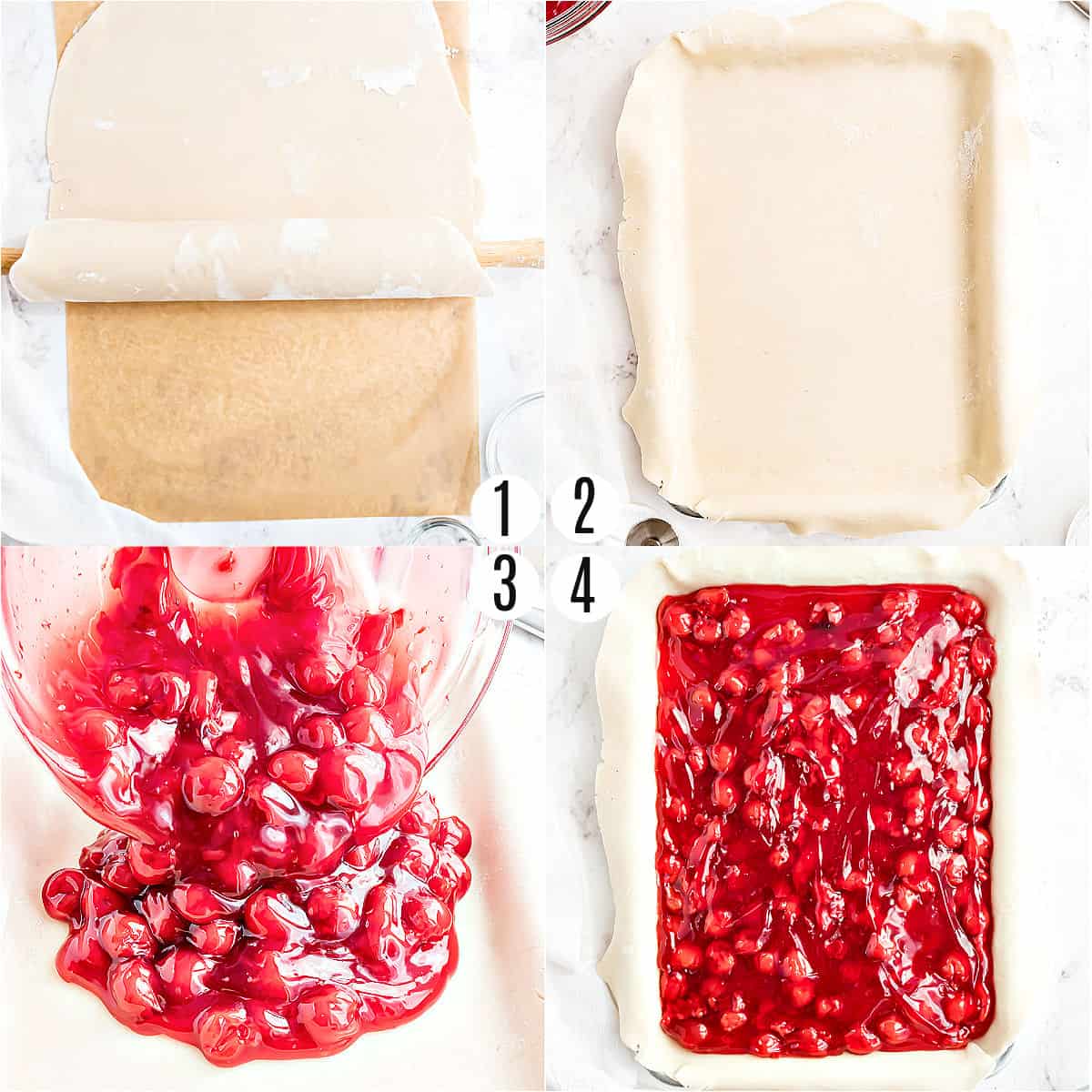 Thaw the crusts: First, you'll need to thaw your pie crusts ahead of time and have them ready in the refrigerator. Check your crust's packaging for the best instructions on how to thaw them properly.
Pro Tip: Keep your crusts sealed until you are ready to use them. This will prevent them from drying out!
Prepare the filling: Combine your cherry pie filling with the almond extract, so it's ready to go.
Roll out the pie crust base: Roll out 2 of the thawed pie shells together on a lightly floured counter. Keep rolling until they are big enough to cover the bottom and sides of your baking dish.
Start building the slab pie: Press your rolled-out crust into the baking pan, leaving enough hanging over the edges to make a folded-over crust later. Then pour the pie filling into the pan, covering the crust.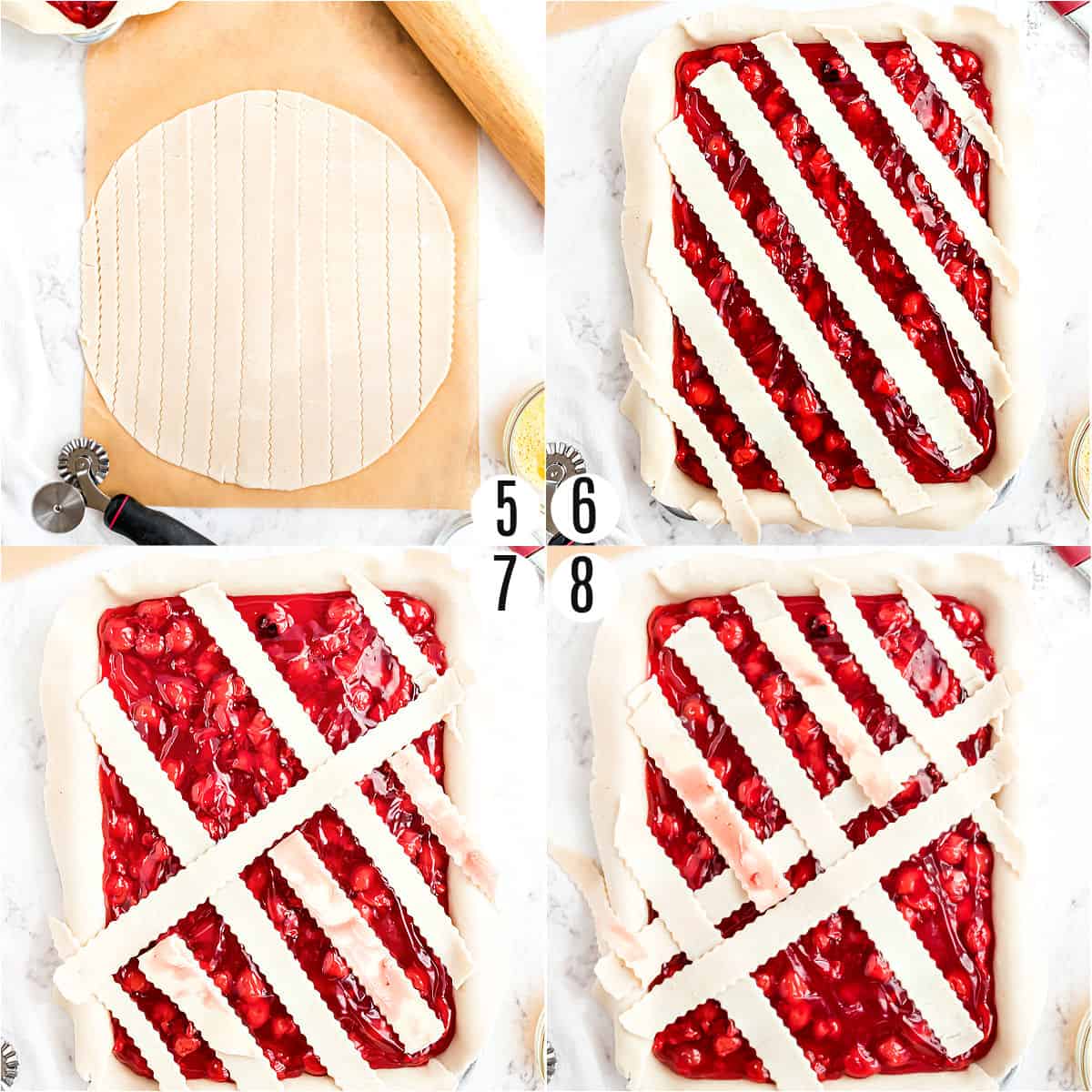 Prepare the lattice topping: Roll out the one remaining pie crust.
Cut the rolled crust into ½-inch strips, then carefully weave your lattice topping. Don't worry. It's easier than it looks!

Fold over the edges of the base crust to form a nice edge all the way around the pan.
Egg wash and bake: Brush the finished crust with egg wash, and bake for 30 minutes, until the crust is nicely browned and the cherry pie filling is bubbling.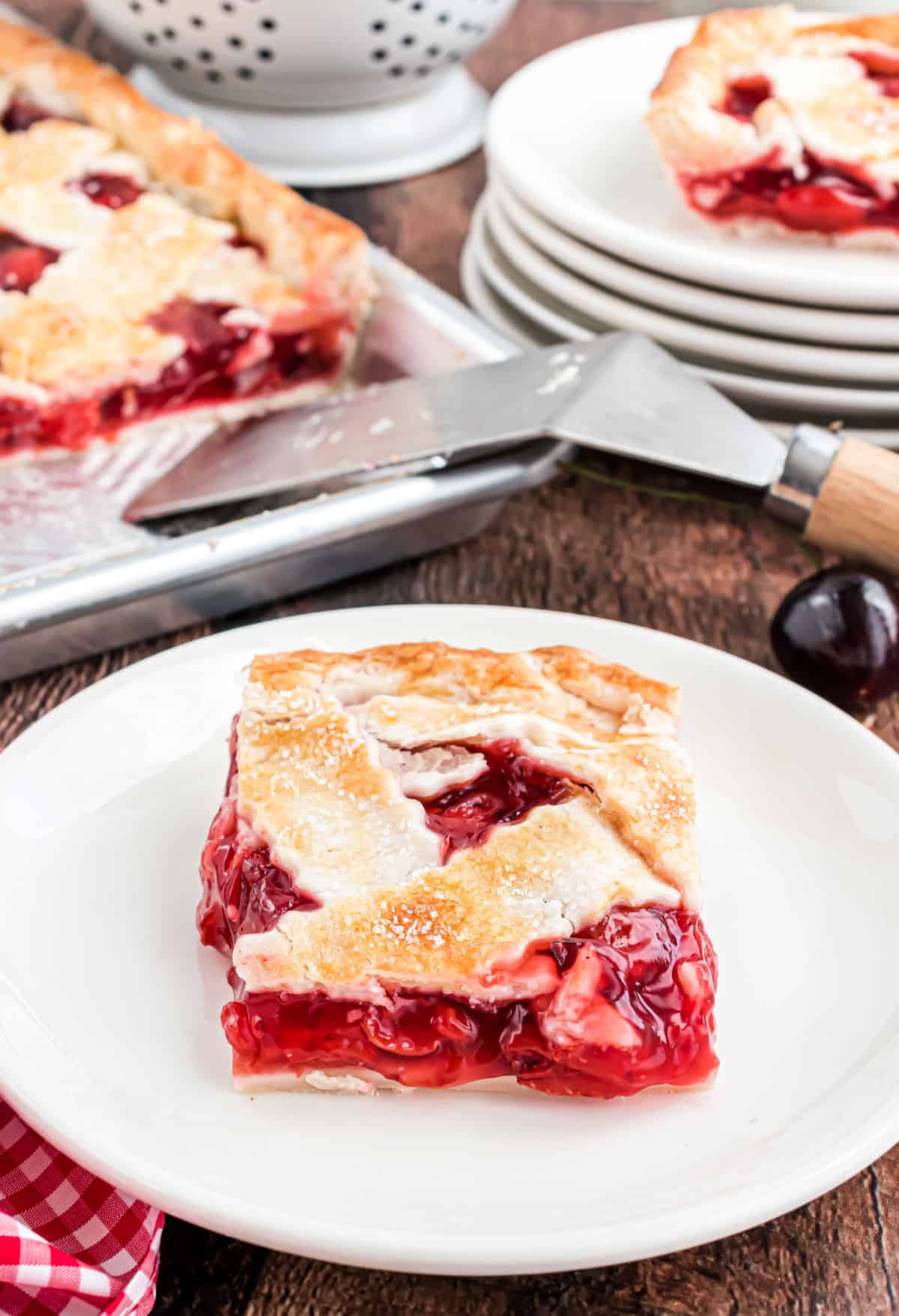 Tips and Tricks
Store this slab pie covered in the refrigerator for up to 5 days.
To make transferring the rolled-out crust to the pan easier, roll the crust around the rolling pin, and secure it with your hand to ensure it doesn't unroll. Then place the rolling pin at one end of the pan and carefully unroll the crust.
To prevent a soggy bottom on the crust brush it with egg white just before adding the cherry filling (this is optional).
To keep the edges of the crust from drying out when you're rolling them up, dip your fingers in a bit of water before handling.
The sanding sugar should be sprinkled on just before baking to add a sugary crunch. Although it won't stick to the crust in the same way, you can add additional sugar immediately before serving.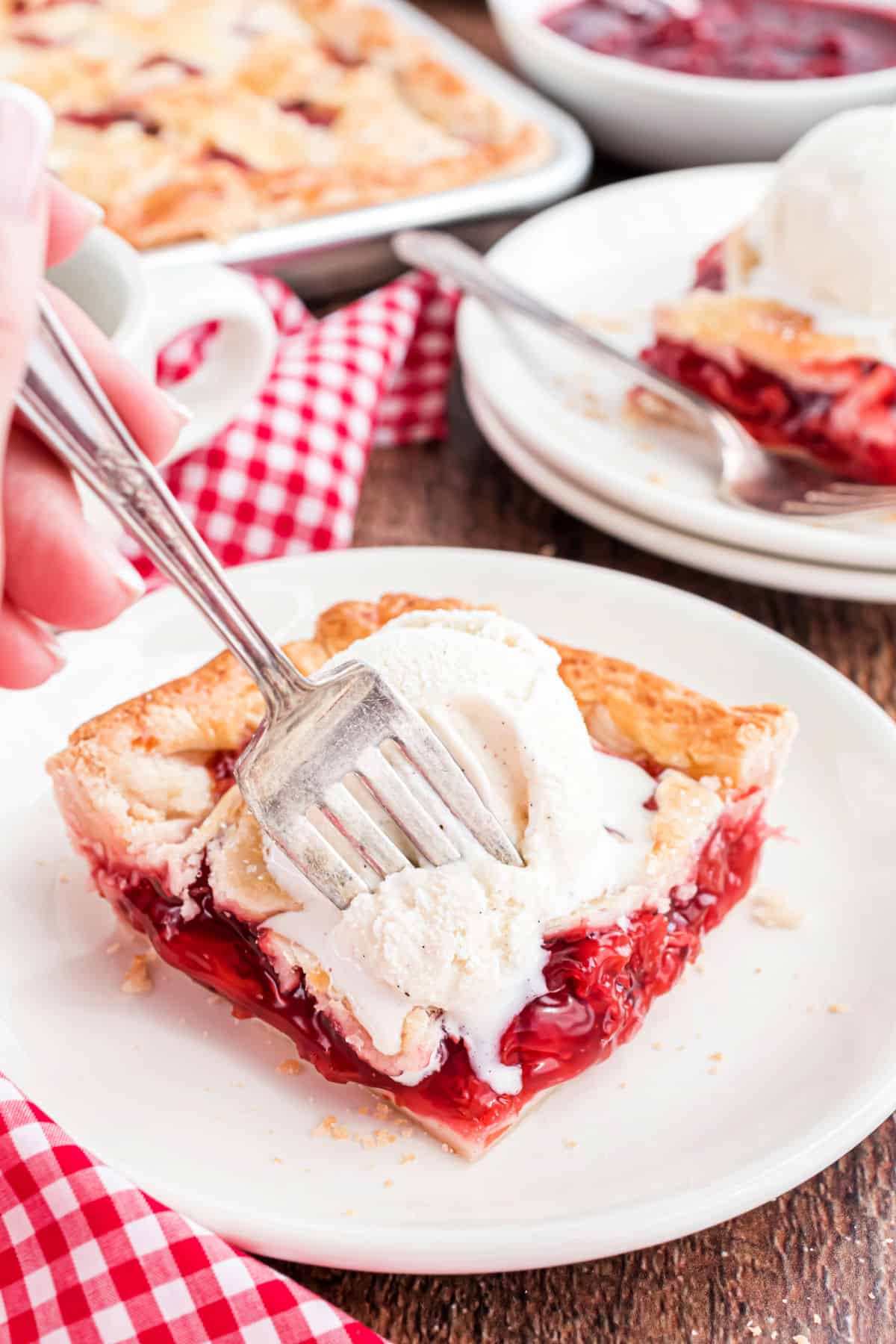 Serving Suggestions
To top off this cherry slab pie, you can never go wrong with homemade whipped cream. Serve it with a hot cup of coffee and imagine you're enjoying it in a booth at your favorite classic diner.
For an even more indulgent experience, have a slice à la mode with my no-churn vanilla ice cream. And if you're looking to create a pie-focused dessert buffet, take a peek at our pie and tart recipes.
Recipe FAQs
How can I make my own pie crust for this recipe? 
You can take this dessert to the next level by creating a homemade pie crust, which comes out perfectly flaky and is much easier than you might expect. It only takes 4 ingredients and 20 minutes of hands-on time (an hour total) to come together.
Can I make my own filling for this recipe?
Absolutely! Add real cherries and a touch of cinnamon spice, and you've got the best cherry pie filling you've ever tasted. In my opinion, using canned filling is the way to go if you have a need for speed. If you've got time, though, it's tough to beat the flavor when it's made from scratch. You'll need to double the batch of our homemade filling.
How do I freeze cherry pie after baking?
Once your cherry slab pie is baked, let it cool completely. Wrap it in plastic, then wrap it in foil. It can be frozen for up to 2 months. Thaw in the refrigerator before serving.
Do I need to egg wash the lattice strips before baking?
Egg washing the lattice strips is not necessary before baking. You'd also run the risk of brushing the pie filling onto the strips, which would affect their appearance after baking.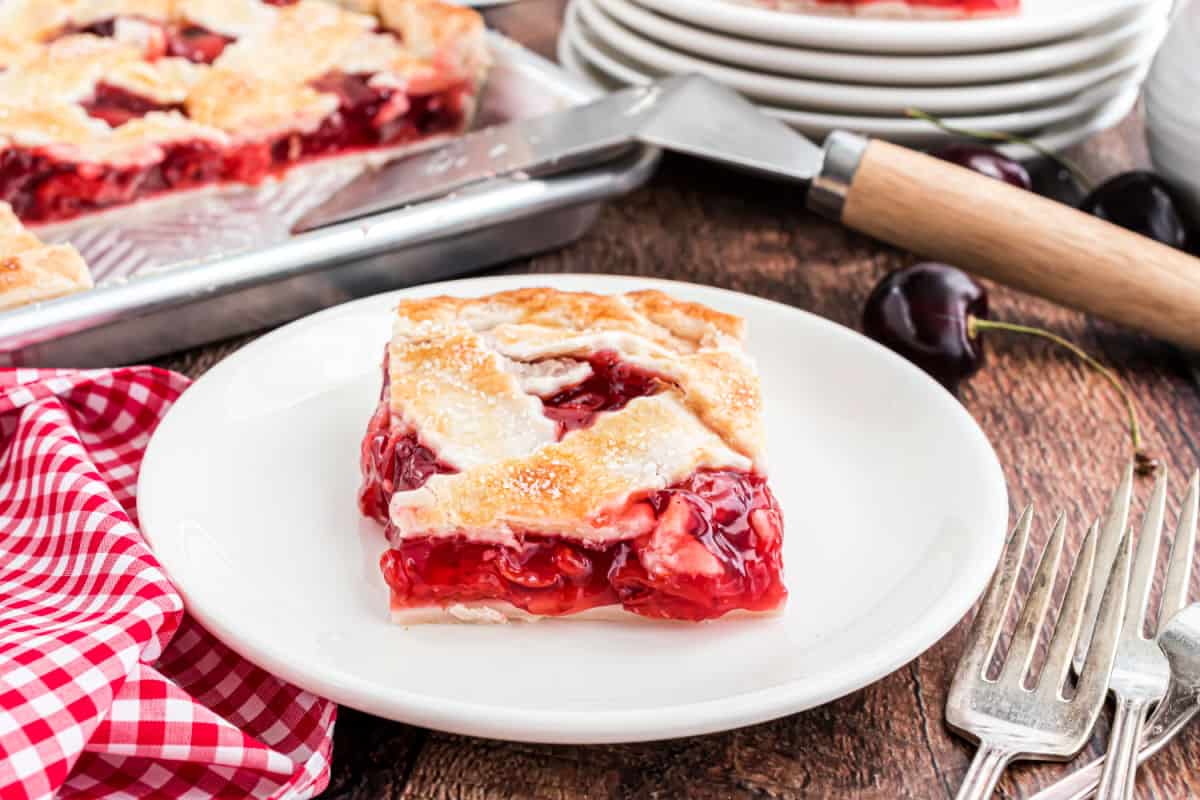 More Easy Dessert Recipes