I love banana muffins! Especially topped with streusel and cinnamon icing. These Cinnamon Glazed Banana Muffins are perfect for a weekday breakfast, weekend brunch, or after dinner treat!
Streusel topping makes every muffin better! Have you seen our Cinnamon Streusel Zucchini Muffins yet? Or our banana streusel coffee cake is a must make.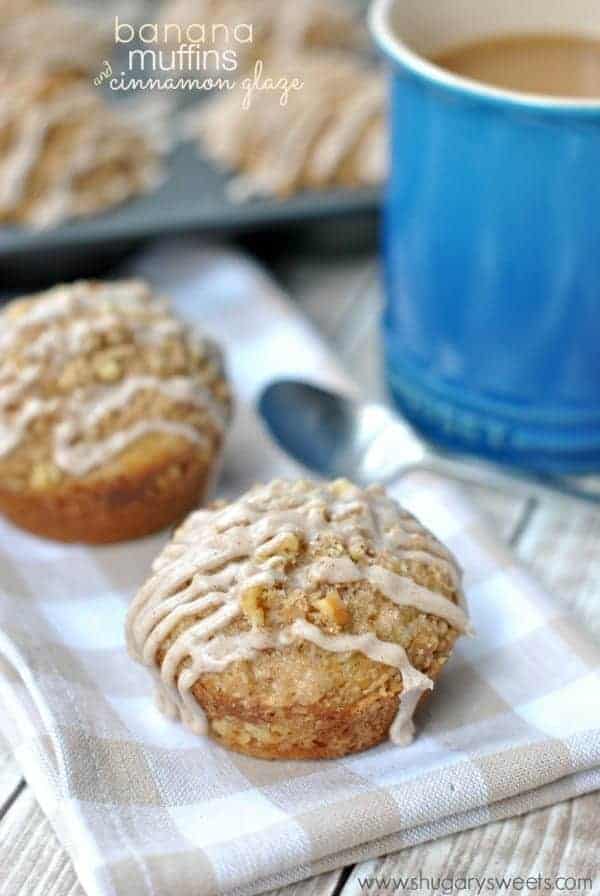 Why this Recipe Works
Can't decide between cinnamon glaze and streusel topping on your muffins? This recipe has BOTH!
The banana muffins themselves are full of sweetness from ripe bananas. Buttermilk helps them stay extra moist, even days later.
That means you can make a beautiful batch of muffins on a weekend and enjoy them all week long.
After baking the muffins with a streusel topping we took things one step further. A creamy cinnamon icing drizzled on top makes these absolutely drool worthy.
Better than anything in the pastry case at the coffee shop, Cinnamon Glazed Banana Muffins might just be the perfect breakfast muffin.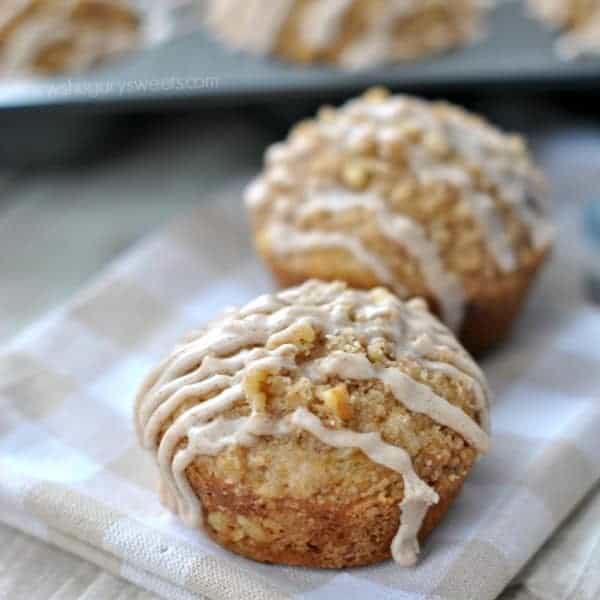 Ingredient Notes
Bananas. Like most baked goods with bananas, the riper the fruit the better. You will need about 3 bananas or the equivalent for 1.5 cups of mashed banana. Use our guide on how to ripen bananas in 20 minutes, the browner they are the sweeter they are!
Buttermilk. No buttermilk in the fridge? Homemade Buttermilk Substitute works wonders in today's muffin recipe.
Heavy cream. Full fat cream makes the cinnamon glaze rich and creamy. Whole milk can be used but your glaze will be a bit runnier.
Easy Instructions
To make the muffin batter:
Beat butter and sugar together. Then, add eggs and vanilla followed by bananas.
Blend in the flour, baking soda and salt. Mix in the buttermilk, then fold in walnuts.
Spray a muffin tin with baking spray.
For the streusel topping:
Mix the ingredients for the topping together in a clean dry bowl. Sprinkle about 1 tablespoon of streusel over each unbaked muffin.
Bake the muffins for about 15 minutes. Let cool completely before adding the glaze.
How to make cinnamon glaze:
Whisk together the powdered sugar with heavy cream and cinnamon. Drizzle over the banana muffins. Let the glaze set for a few minutes before digging in!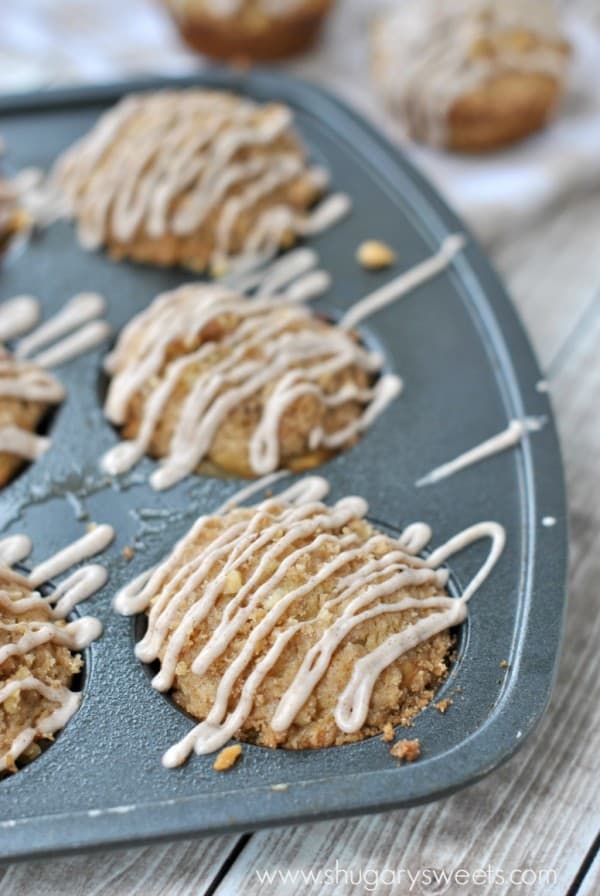 Tips and Tricks
How to store. Cinnamon Glazed Banana Muffins should be stored in an airtight container. Kept at room temperature, they stay moist and delicious for about 5 days.
Freezing glazed muffins. These are super freezer friendly too! For longer storage, slide cooled muffins into freezer bags. They keep well frozen for about 3 months.
Mashing bananas. If you're making the muffins in an electric mixer, you don't need to mash the bananas separately. Just add them to the batter whole. For low powered mixers or hand mixing, I recommend mashing the bananas in a separate bowl with a fork first.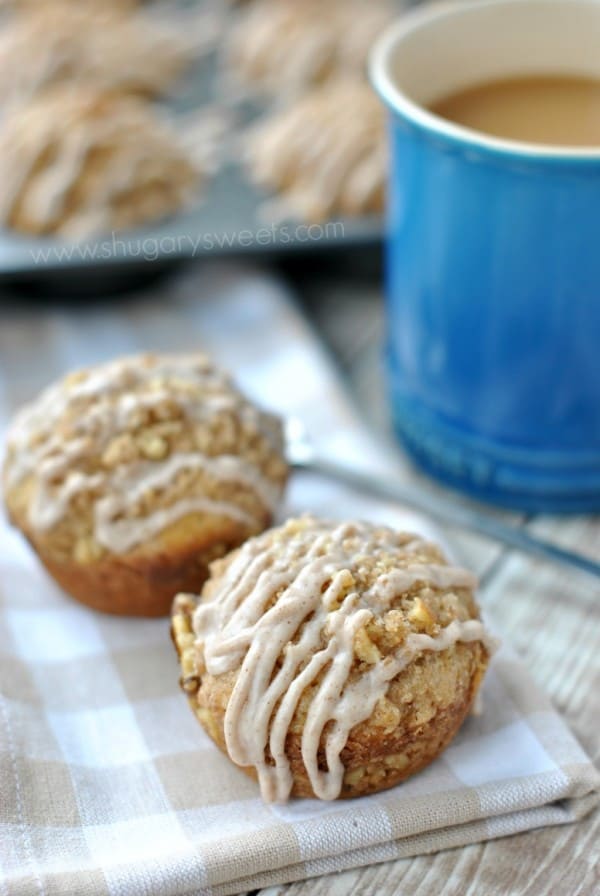 Recipe FAQs
What can I substitute for the walnuts?
Pecans are a tasty substitute for walnuts here! You can also leave the nuts out if needed, although the crumb topping will lose some of its lovely crunch.
Do you need to use muffin liners to make these?
No liners needed. Just be sure to give the muffin tin a generous spray with baking spray so the baked muffins are easy to remove.
How can I tell when banana muffins are done baking?
When fully baked, the tops of the muffins will spring back to the touch. The trusty toothpick test also lets you know when the muffins are ready to come out of the oven. Insert a toothpick into the center of one muffin. If it comes out clean or with just a few crumbs, the muffins are fully baked.
Do you freeze muffins with or without the glaze?
It's up to you! These freeze beautifully both with and without glaze. The color of the glaze may change a bit as it thaws but the taste is not affected by freezing.
Love Banana recipes?
Cinnamon Glazed Banana Streusel Muffins are as easy as they are delicious. This recipe features moist banana muffins topped with a buttery walnut crumb. A drizzle of cinnamon icing takes them to new heights!