Delicious and moist, this cake is filled with apples, cinnamon and nuts! It's a great addition to any brunch, or to pair with a cup of coffee on Saturday morning! Topped with a drizzle of honey icing for the perfect treat.
We love comfort food, and apple cake is a perfect example. If you have extra apples on hand be sure to give our Apple Dumplings a try, and top them with a scoop of homemade vanilla ice cream.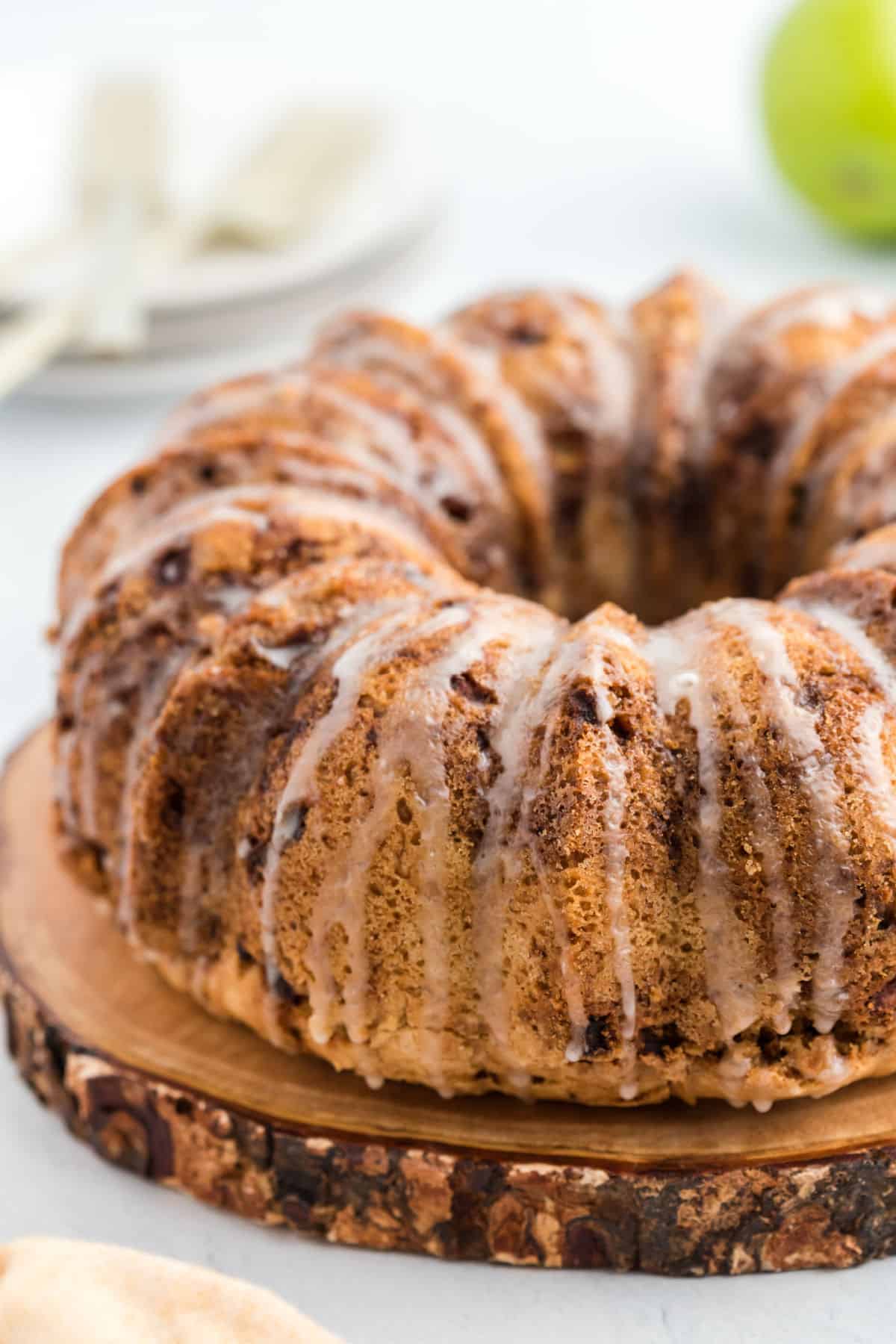 Paula Deen's Apple Cake
I owe this recipe to Paula Deen who claims to owe it to her Uncle Bob. It's filled with fresh Granny Smith apples sweetened with cinnamon, and an out-of-this-world honey glaze.
The walnuts add a perfect crunch!
Paula Deen makes a delicious banana pudding recipe, so I knew I would love this cake too!
Perfectly sweetened apple cake (with chunks of fresh apples).
Bundt cake for beautiful serving.
A touch of honey in the icing is a flavorful complement to this fall cake.
You'll never find me turning away an opportunity to bake (and eat) more apple cakes, so when I saw this recipe I knew I had to try it.
Love apples for breakfast? Try our apple cinnamon rolls next!
Ingredient Notes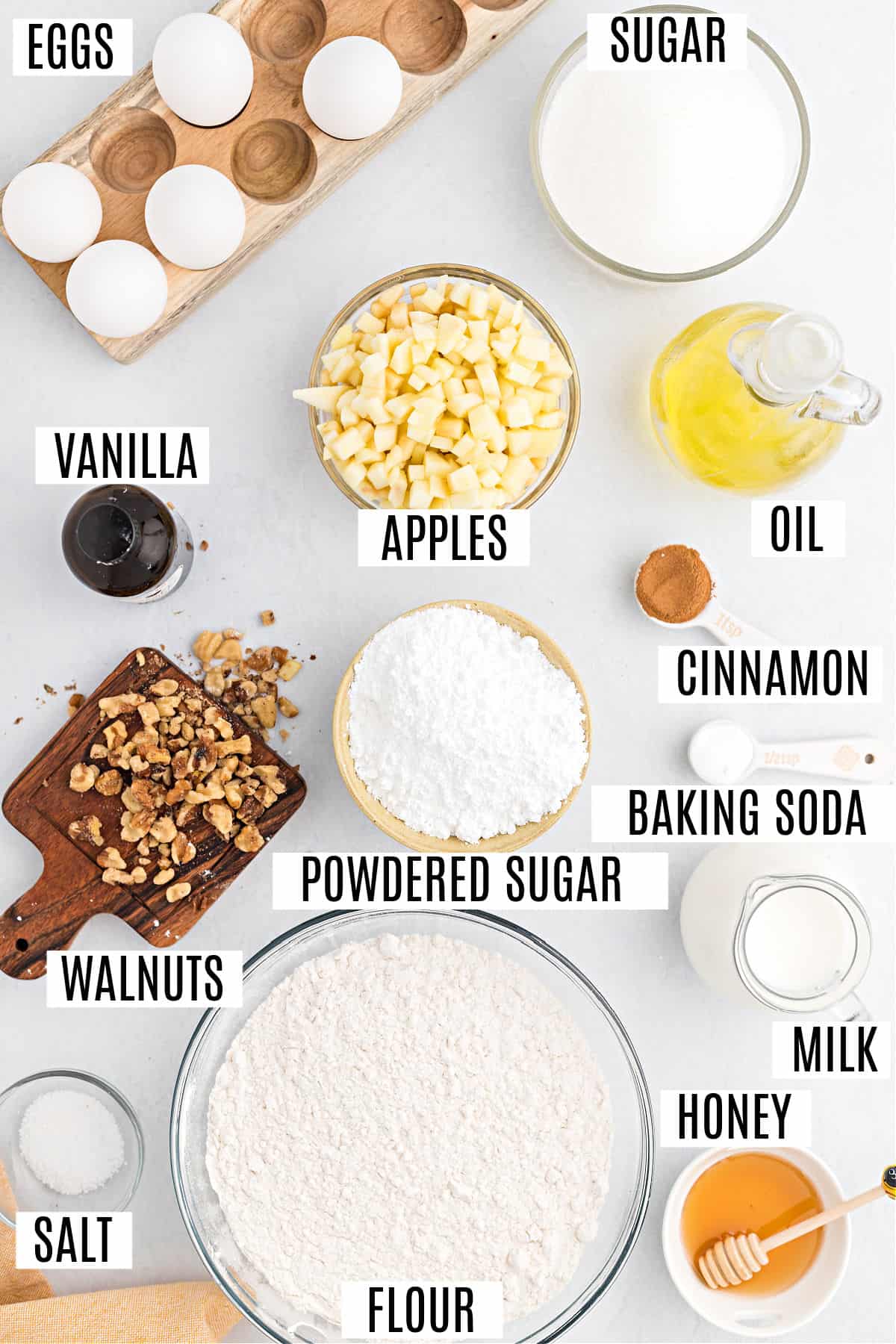 Apples – Fresh apples (not apple pie filling or canned). Peel, core and dice the apples before making the cake.
Walnuts – Pecans can be substituted. Toast the nuts first for best results. This cake would be tasty without the nuts too, if you need it to be nut free.
Honey – Maple syrup works as a substitute but (obviously) will give the cake a maple flavor–also delicious! You could also substitute agave nectar for a more mild flavor.
Step by Step Instructions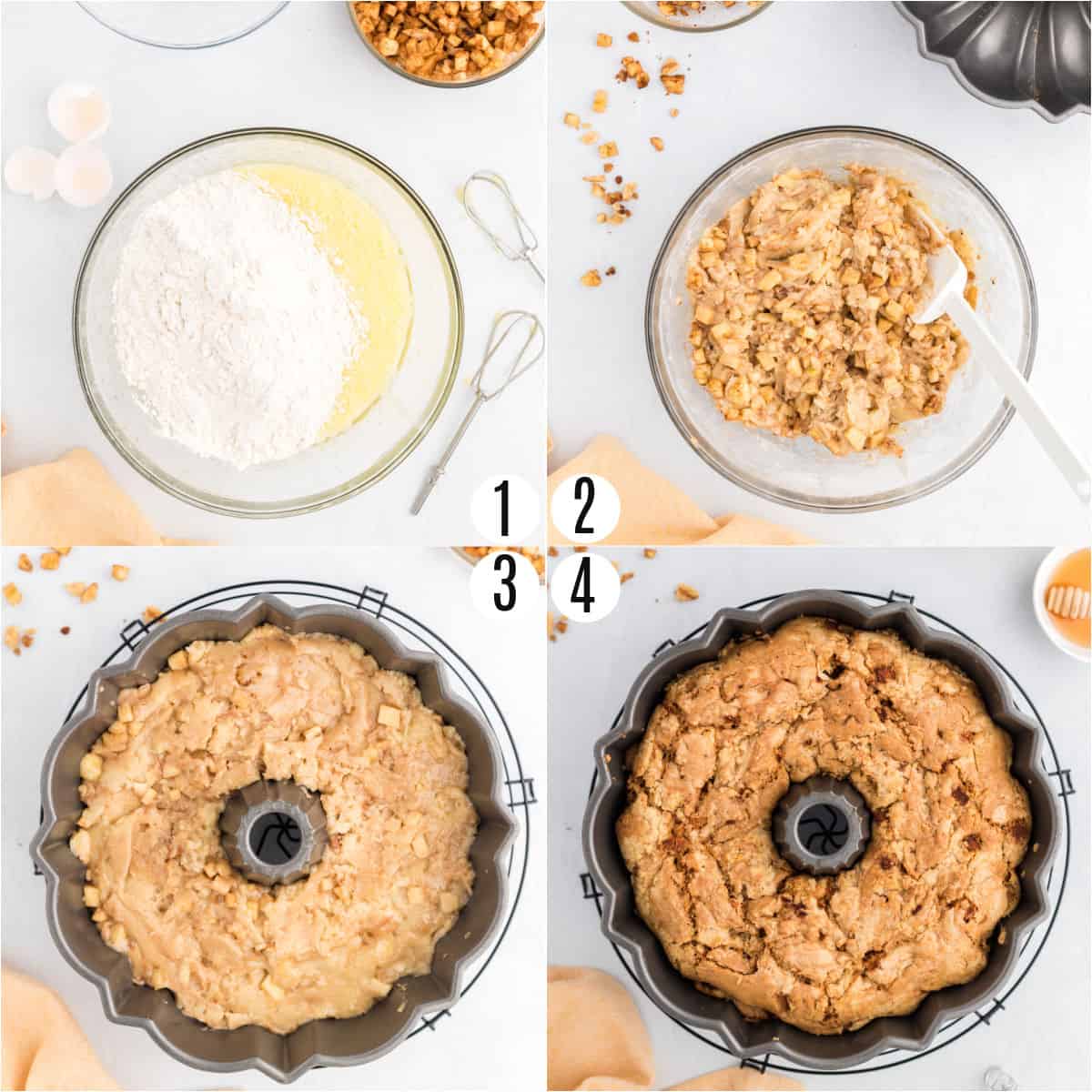 STEP 1. Divide ingredients into bowls
I get everything ready by dividing three combinations of ingredients into separate bowls.
In one bowl, toss the apples with walnuts, vanilla extract and cinnamon. In another bowl, sift together the flour with kosher salt and baking soda. In the third largest mixing bowl, beat the sugar with eggs and oil.
STEP 2. Make the batter
Now, add the flour mixture to the egg mixture, beating well until combined. Fold in the apple-walnut mixture.
STEP 3. Bake
Pour the batter into a greased bundt pan (or use my homemade cake release) and bake for about 1 hour and 30 minutes. For dark pans, you may need less time!
Let the cake cool in the pan completely, then turn it out on a cake plate.
STEP 4. Make the glaze
Combine the powdered sugar, honey and milk in a bowl or glass measuring cup and whisk until totally smooth.
Drizzle the honey glaze over the cooled apple cake. Slice and enjoy!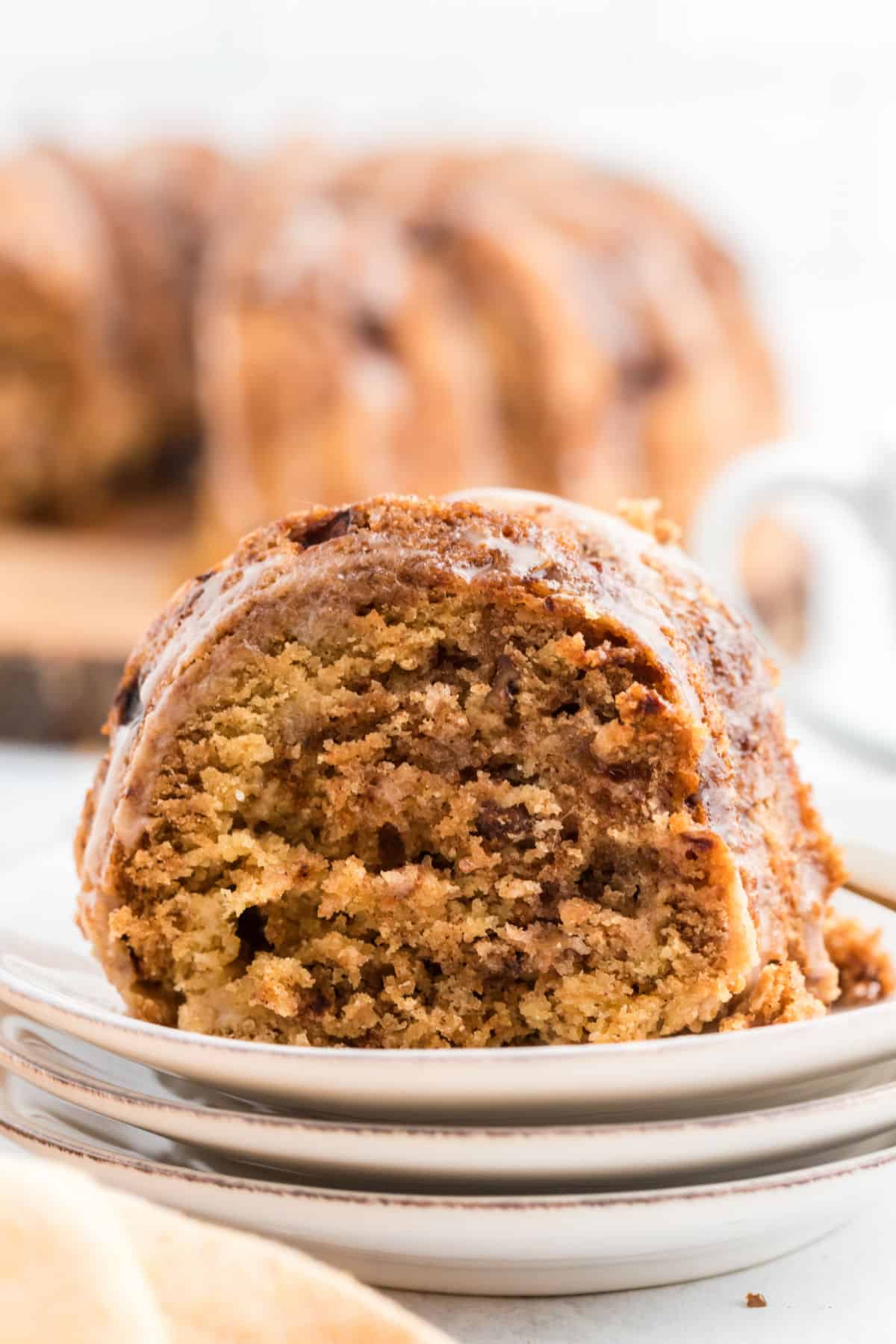 Recipe FAQs
What kind of apples should you use for baking?
Granny Smith are far and away my favorite apples for baking! If you don't have any and can't get them, choose the next tartest option for best flavor, such as Pink Lady.
What kind of pan do you need to make this?
A standard bundt pan (holds 12 cups of batter) or tube pan is preferred.
How can I tell when the cake is ready?
Use a long cake tester, inserted into the cake. If it comes out clean, your cake is ready to come out of the oven. This could take anywhere from 80 to 100 minutes, depending on your oven, environment and the color of your cake pan.
How should you store this apple cake?
Keep it covered in the fridge–a cake plate with a cover works great to store the cake. It will keep well for up to 3 days. I love the way it tastes cold from the fridge!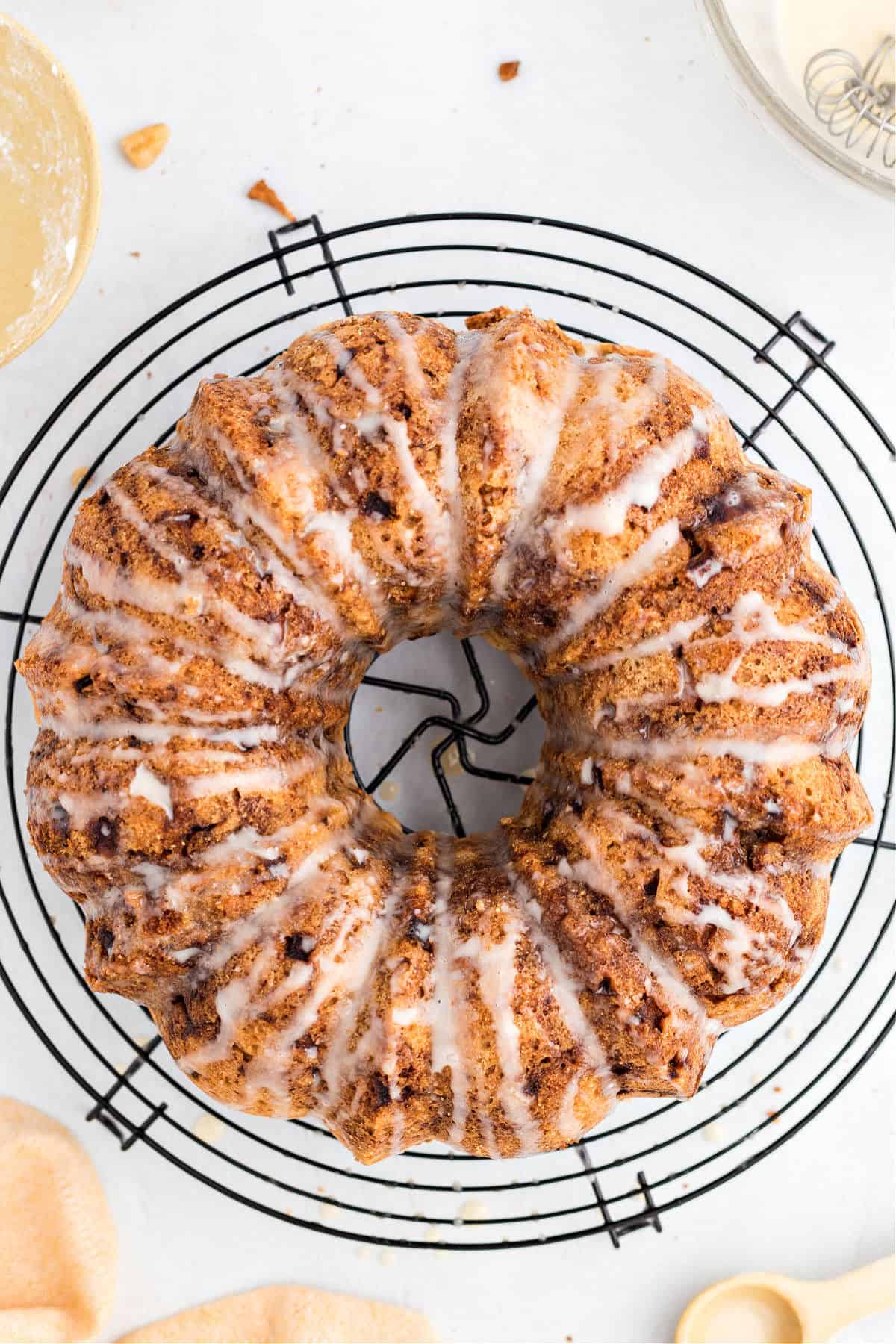 More Dessert Recipes
This best-ever Apple Bundt Cake with honey glaze never fails to impress. Save this recipe for your next autumn brunch gathering. . . or just to share with all the apple dessert lovers in your life!