This Instant Pot Apple Cake is packed with fresh apples, cinnamon flavor, and tastes amazing. So easy to make for breakfast or dessert!
If you love baking with apples, you've got to try our delicious applesauce cake. Or give our easy caramel apple cheesecake bars a try next.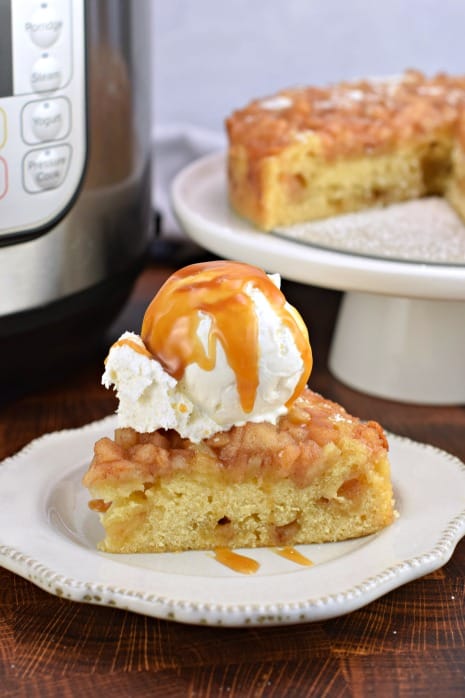 Apple Cake Recipe
It doesn't matter the time of year, our fruit crisper drawer is always filled with fresh apples.
If it's true what they say, an apple a day keeps the doctor away, then my family should be safe and sound. We all love to crunch on a delicious apple.
But sometimes I get carried away at the grocery store and stock up a little TOO much. Which means it's time to bake an apple dessert!
As you know, Instant Pot desserts can be amazing. I've already made this Apple Crisp and my family LOVED it.
You can also make brownies, chocolate cake, and cheesecake! And now, add this Apple Cake recipe to the list!
What you'll need for Instant Pot Apple Cake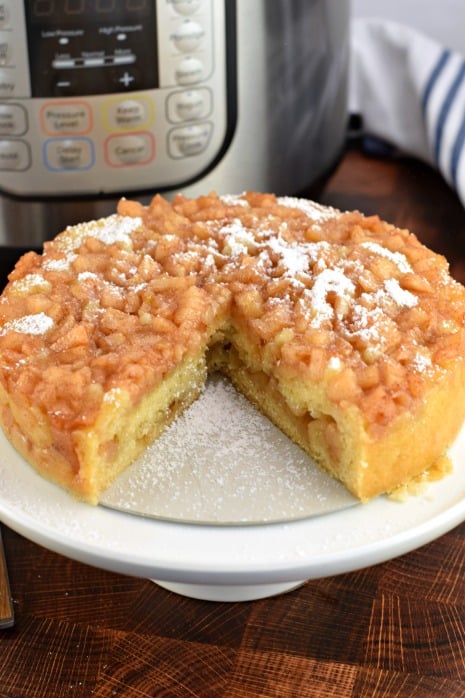 Apples. You may be wondering, what kind of apples are best?
My preference for baked goods is to choose something sweet and tangy, yet holds up well without getting mushy.
I choose Granny Smith Apples for almost all my baking!
Instant Pot. I make all my recipes using a 6qt Instant Pot. I don't use any of the fancy settings…just "pressure cook" for today's recipe.
Trivet or Sling. You'll be using the "pot in pot" method for today's cake recipe.
This means you will make the cake in a "pot" and insert that "pot" into the main Instant Pot. To do this, you'll need a trivet or sling to keep the pot/pan elevated and out of the water.
Cake Pan. There are several options when making today's apple cake recipe.
I used the Fat Daddio's 7×3-inch push pan. It's the same one I used when making Cornbread in the Instapot.
You could also use a springform pan or bundt cake pan as long as they fit. Make sure that there is room between the pan and the Instant Pot once it's inserted.
How to Make Apple Cake – in the Instant Pot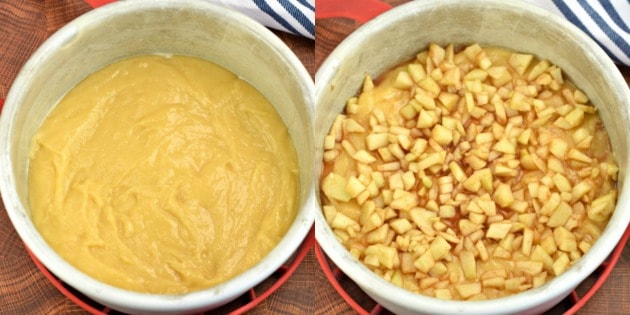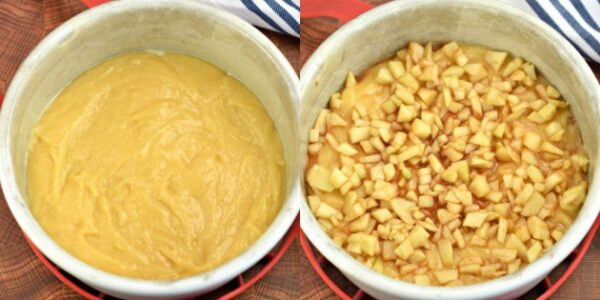 STEP 1. Apple Topping.
In a bowl, combine diced apples with cinnamon and sugar. Set this aside!
STEP 2. Cake batter.
In a mixing bowl, combine oil, orange juice, sugar, vanilla, and eggs. Whisk by hand until blended.
Add in flour, baking powder, and kosher salt. Mix by hand until combined. The batter will be very thick at this point.
STEP 3. Prepare the cake pan.
Grease a 7×3-inch push pan with baking spray (or use my homemade cake release).
Spread half of the cake batter in the bottom of the cake pan, using an offset spatula. Top with half of the apple mixture.
Repeat layers and cover the top of the pan with foil.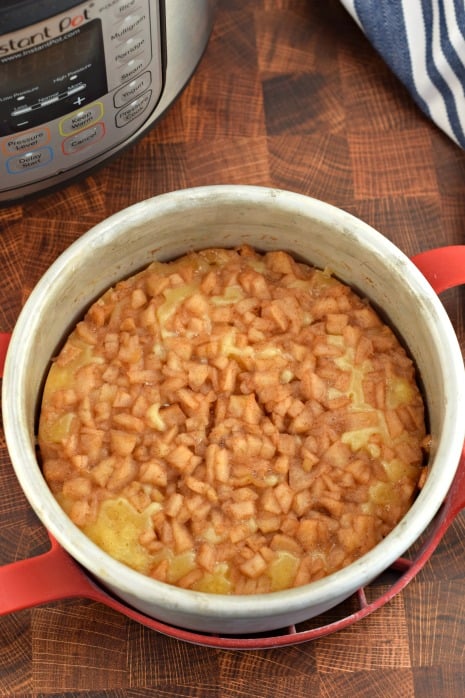 STEP 4. Pressure Cook.
Pour 1 cup of water in the bottom of pressure cooker. Place cake pan on sling and lower into the Instant Pot.
Secure the lid and make sure the valve on top is set to "SEALING."
Select HIGH PRESSURE and a cook time of 60 minutes.
When cook time ends, do a quick release of pressure by moving the valve on top to VENTING.
Remove cake by lifting the sling out of the Instant Pot. Remove the foil carefully.
Serve and enjoy warm!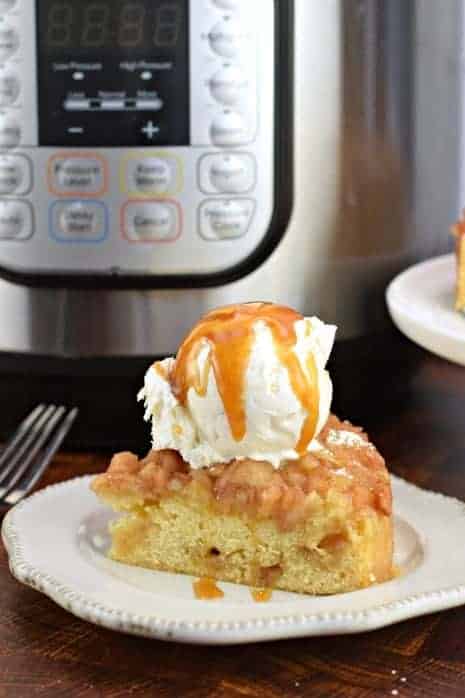 How to serve Apple Cake
First, this cake is best eaten warm. Whether you're enjoying it right after cooking, or heated up the next day, the cinnamon apple flavor is best when warm.
I like to add a generous amount of powdered sugar to the top of this cake! Then of course a scoop of ice cream is amazing too.
You can also top this with homemade whipped cream and/or caramel sauce. ENJOY.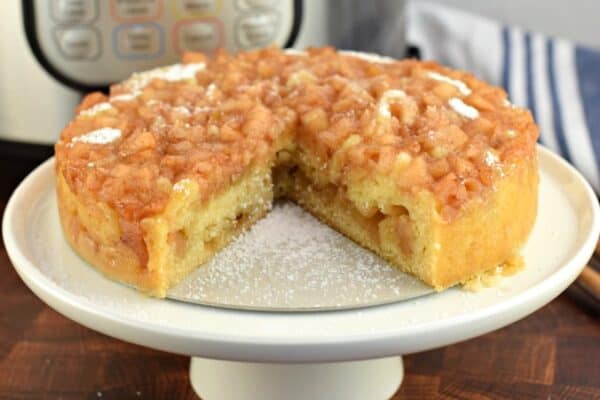 Easy Instant Pot Apple Cake loaded with fresh apples and cinnamon. You'll love this delicious breakfast cake, for dessert too!