Raise a glass to this fruity spiked punch! Tropical Champagne Cocktails are the perfect festive drink to mix up for your next celebration. With sparkling wine, orange juice and peach, it's bound to become your new favorite party drink. Cheers!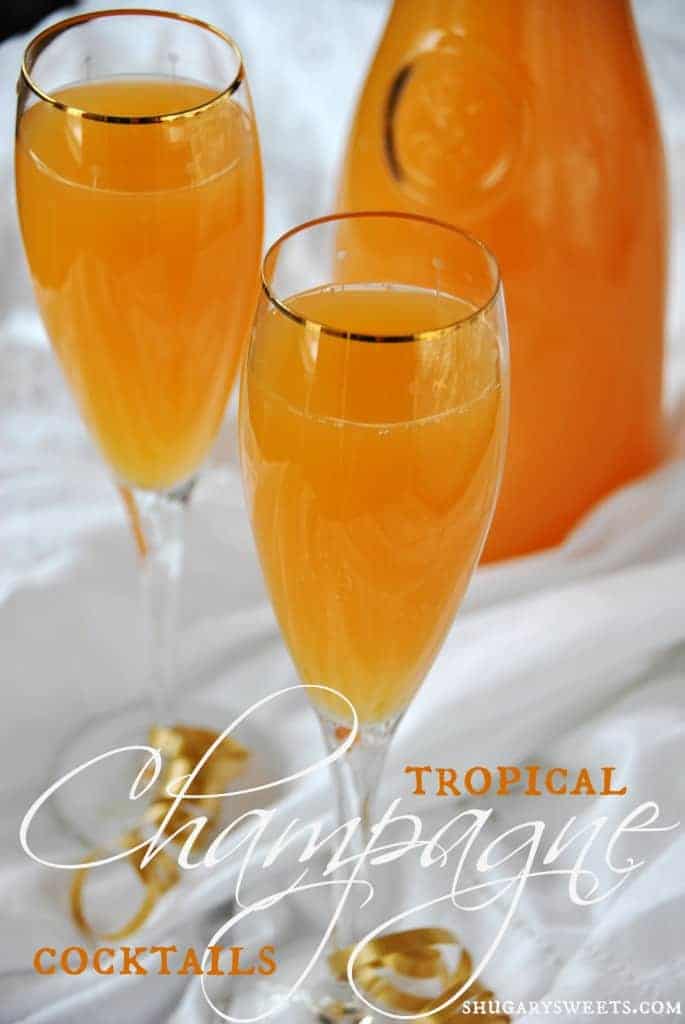 Why have just boring Champagne for New Years?
Try mixing it up by making this incredible easy punch recipe!
Champagne Cocktail Recipe
My grandma gave me this recipe several years back. The ladies in our family used to always get together and do an ornament exchange. She made champagne cocktails for us to sip while we celebrated together.
The beautiful color and pop of fizz from the sparkling wine made these an instant favorite for me. I know you will love them!
Just be careful, the kids see the pretty color and will want a drink too–Thankfully it's easy to make a nonalcoholic version everyone can enjoy.
The bubbly makes it great for holiday festivities but the tropical flavors scream "summertime" to me, too. I love a cocktail recipe that's for any and every season.
Ingredient Notes
Sparkling Wine – No need to spring for top shelf champagne. Any bottle of prosecco or other dry sparkling wine will be delicious. Substitute a 24 ounce bottle of club soda to make this non-alcoholic.
Peach Schnapps – Substitute fruit juice or leave it out for the mocktail version.
Tropical Fruit Punch – V8 is my go-to when making this. Tropicana's tropical blend is another great option!
Orange Juice – I think the punch is best with a pulp free OJ.
Easy Instructions
Grab a large pitcher and pour in the Peach Schnapps and juices. Add the sparkling wine (or club soda) on top and you're ready to serve.
Serving a crowd? The recipe is easy to double. Use one of the large beverage dispensers with a spigot to make it easy for everyone to serve themselves.
For New Year's Eve or other special occasions, serve in champagne flutes and don't forget to toast!
Recipe FAQs
Can this cocktail be made ahead of time?
You can mix together the juices and schnapps in advance, but wait to add the champagne until just before serving. Drink within an hour of pouring for best bubbly taste.
How do you make this non-acoholic?
Make a non-alcoholic punch by swapping the sparkling wine for club soda or tonic water. You can substitute more juice for the peach schnapps or leave it out.
What's the best wine to use?
I prefer a dry white sparkling wine such as Prosecco or champagne to balance out the sweetness of the juice. Moscato can be used for a sweeter version but it's not quite as bubbly. Sparkling rosé would be another tasty choice for a slightly different flavor.
Ring in the New Year (or just a new day!) in style with this sweet tropical Champagne Punch–a cocktail that's easy to make for a crowd and endlessly sippable!