Cherry Cupcakes with a hint of almond are even better when you top them with fluffy cherry buttercream! Take a break from the chocolate desserts and give these cherry almond cupcakes a try instead.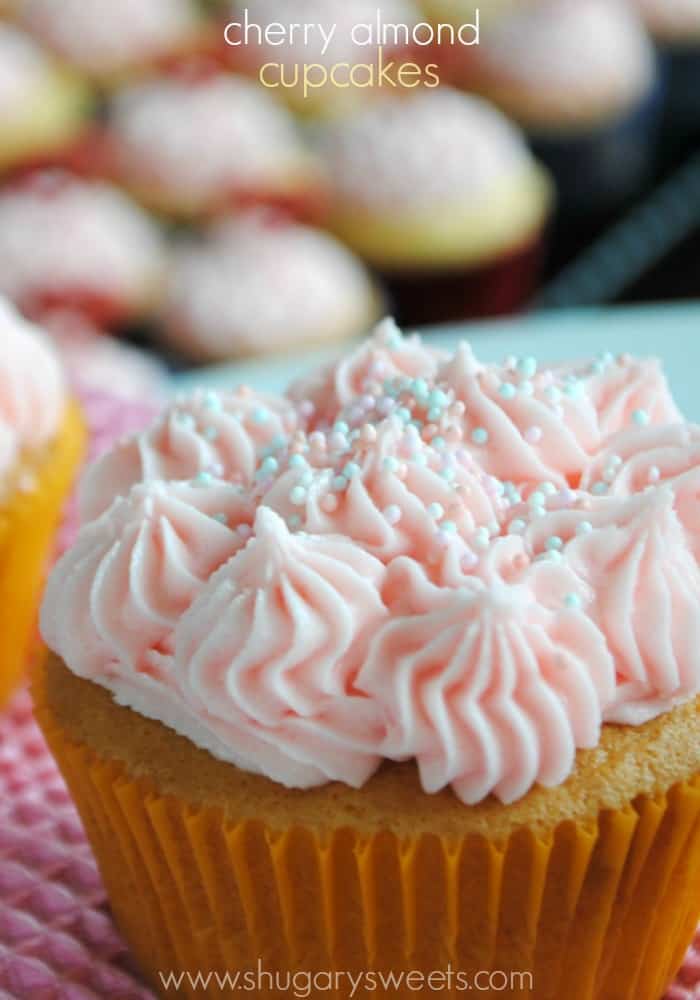 Any fans of cherry flavored desserts out there? This cupcake recipe is for you!
Cherry Cupcakes
Believe it or not there are times when I want a cupcake that's NOT chocolate. I know, I know. Who am I? Don't worry, I'm still baking my fair share of chocolate treats, but these Cherry Almond Cupcakes made a nice change from the norm.
I originally created these as a treat for a birthday party and they were a big hit with both the kids AND the grown ups. Topped with a pretty-in-pink cherry buttercream frosting, the cupcakes look extra adorable (if I do say so myself).
Almond Cupcakes
The hint of almond in these cupcakes comes from the almond extract in both the cupcakes and the frosting.
You've probably noticed by now that almond extract actually smells like maraschino cherries. That's because maraschino cherries are infused with almond extract! Adding a bit of additional almond extract to the batter enhances the cherry flavor in the frosting.
Speaking of the frosting. . . . Oh. My. Word. This cherry buttercream frosting is DREAMY: smooth, fluffy and positively bursting with cherry!
How to Make Cherry Almond Cupcakes
You're going to love how easy this cupcake recipe is! If you're new to baking cupcakes, almond cupcakes are a great place to start. There's very little prep time involved and you'll be ready to eat these in well under an hour (including the time they need to cool!).
For the batter:
This cupcake recipe starts with a simple box of butter cake mix. Add it to a bowl with some butter, eggs, water and almond extract and you have a fool proof batter ready to get baked into cupcakes.
To bake the cupcakes: 
Line your cupcake pan with paper liners and fill them half way up with the batter. Bake at 350 degrees for about 15 minutes or until a toothpick inserted to the center comes out clean.
Remove from the oven and let the cupcakes cool completely while you make the frosting!
Cherry Buttercream
For the cherry buttercream frosting, whip together softened butter with powdered sugar with a little maraschino cherry juice and another spoonful of almond extract.
Electric beaters or a stand mixer fitted with the whisk attachment work best for getting the buttercream nice and fluffy!
How to frost cherry cupcakes
Once the cupcakes are fully cooled, scoop the frosting into your decorating bag with the tip of your choice. Decorate each cupcake with as much frosting as desired.
I love adding a few sprinkles to the top of each cupcake for garnish. A maraschino cherry poised on top would be cute, too! These are wonderful as a birthday treat, for Valentine's Day or just about any occasion.
This frosting tastes so delicious that I think I'll be making it for all kinds of desserts, not just almond cupcakes. I can't wait to try it on a chocolate cupcake!
See? You knew I'd bring it back to chocolate eventually.
Storing Cherry Buttercream
If you want to make the frosting in advance (or make extra to use on other cakes later on), it keeps well covered in the fridge for up to 5 days.
Did you know you can freeze buttercream too? Transfer it to an airtight freezer safe container and you can keep it in the freezer for as long as 3 months.
Storing Almond Cupcakes
Keep these cupcakes covered and enjoy them within 3 days for best flavor. These also freeze well! I prefer to freeze the almond cupcakes un-frosted in a ziploc bag, then frost them after they've thawed.
Tips for Cherry Cupcakes
If you don't have a frosting bag: You can use a spatula to spread a layer of frosting; they won't look as "finished" but they still taste great. You can also use a ziploc bag. Cut a small hole in the corner of the bag and pipe the frosting onto the cupcakes as desired.
For mini cupcakes: Divide the batter evenly into your mini muffin pan and bake for about 10 minutes.
Go ahead and make these Cherry Almond Cupcakes today and treat yourself–and your loved ones. You know you want to!